Country: USA
Islands: Maui, Big Island
Highlights: Haleakala National Park, Road to Hana, Volcanoes National Park
Who wouldn't want to take a girl's trip to Hawaii? These islands have it all – beautiful beaches, clear-blue waters, and all-around relaxing vibes. With such a long journey from the east coast (best coast) of the US, we wanted to make a longer trip out of it. Of course, as always, we plan our trips with our somewhat limited finances in mind, but we had to have a couple of splurges while in the Aloha State! Keep reading to see where we saved and where we splurged (and what SHOULD NOT be missed).
The first step when planning any Hawaii trip is deciding WHICH island to go to! Because we were limited on time, we decided to keep it to 2 or 3 islands so we weren't flying to a different island every other day. However, there are 7 major islands in Hawaii each with their own distinct personality. How to decide?? Research. Lots and lots of research. (Sorry.) We asked ourselves what we wanted to experience most, what we wanted the vibe to be, and how much time we wanted to spend traveling, just as a start.
In the end, we decided on Maui for their world-famous beaches and Road to Hana adventure, and the "Big Island" (Hawaii) for Volcanoes National Park. Additionally, Jenny ended up adding a few days in Oahu, but that itinerary will be posted at a later time.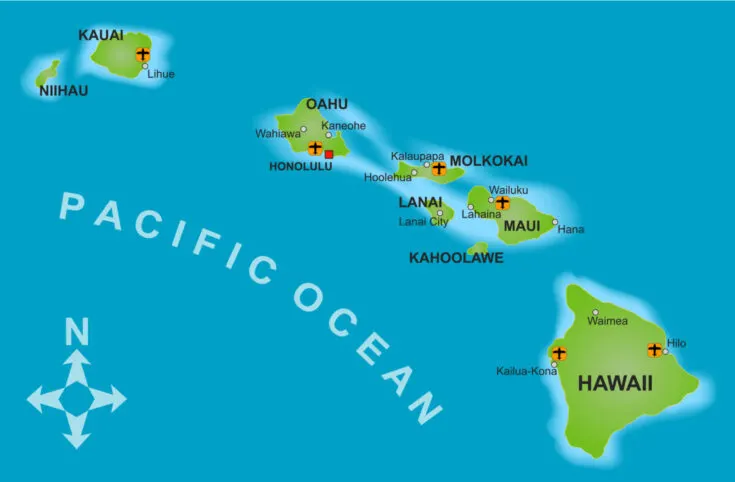 Day 1: Traveling to Maui
We decided to start off our trip in Maui, so we could get a good chunk of traveling out of the way in the beginning. There were no direct flights to Maui from Newark Airport, so we had to first fly to the Big Island and from there, catch a Southern Airlines flight to Maui. We left 3 hours in between landing on the Big Island and catching our next flight, and although NOT at the main airport terminal, that did leave us enough time.
PRO TIP: There are not many airlines that hop between Hawaiian Islands. Mokulele Airlines is part of Southern Airways, which confused us a bit as our tickets said Southern Airways but we checked in at a desk called Mokulele Airlines. We do recommend Mokulele Airlines – we had no issues traveling and they were very flexible with timing (letting us on earlier flights if one was available). NOTE that the check-in is not in the main terminal, so it can be a bit confusing to get to. You have to leave the main terminal and then take a shuttle or walk to Terminal 3, the commuter terminal. There is no additional security to go through.
The flight to Maui was BEAUTIFUL, but terrifying! The plane could fit about 10 people. However, the ride was almost like a tour – sea life below, volcanoes in the distance, each of us with our own personal window seat.
We always like to share which side of the plane has better views, but in this case, both were great! The right side had views of the island below, while the left side had beautiful sunset views over the ocean (of course this depends on the time of your flight). Win, win!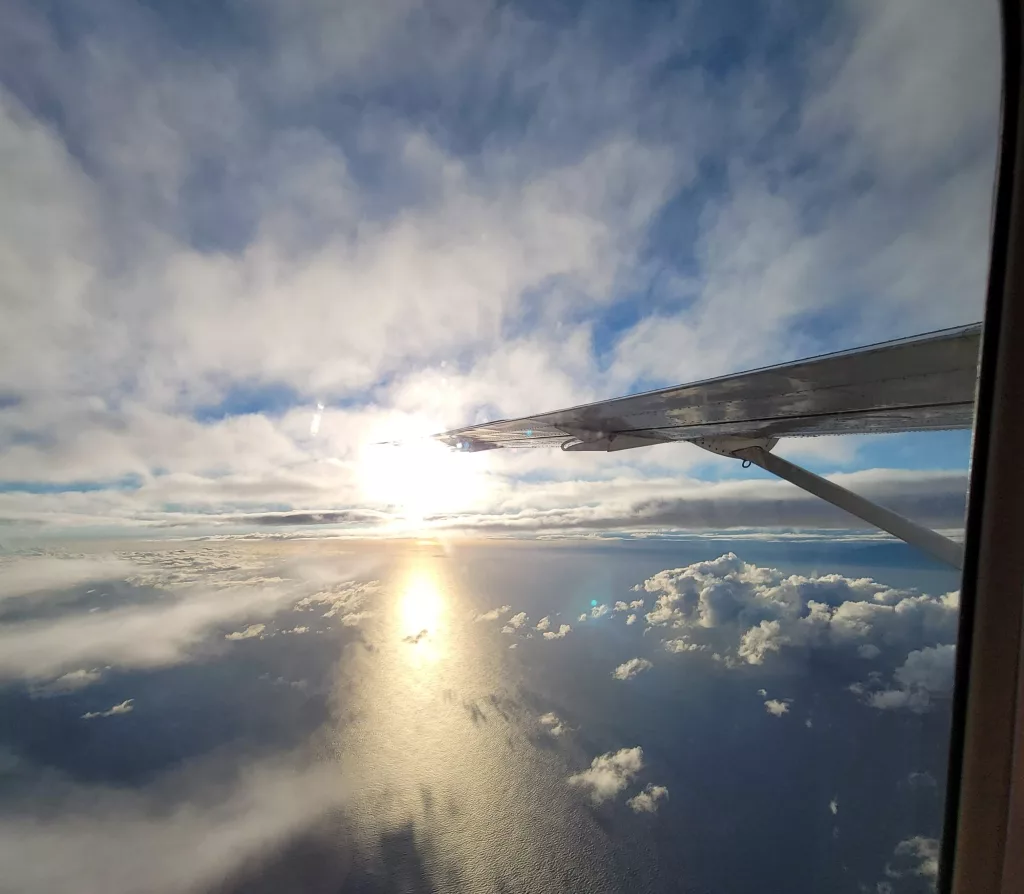 Once we landed in Maui, it was time to pick up our rental car at Aloha. There was a convenient free shuttle from the airport, and picking up the car went smoothly. We splurged for a convertible, but beware, these and Jeeps sell out quickly so book early! I will say the car was not in the BEST shape (a bit dirty and outdated), and it was VERY low to the ground so off-roading was out of the question. But it got us from point A to point B so we'll take it.
After that, we headed to our Airbnb in Kihei. This is where we wanted to save some money, so we booked two rooms in a shared house with our host, Kaon. Having a host was great! He gave us suggestions for the best tours, best places to eat, provided beach gear, and even showed us where the turtles come up every night! We decided on Kihei because it was more affordable, and on Maui, everything is just a drive away! We had an early morning planned, so we grabbed some dinner nearby and called it a night.
Day 2: Snorkeling and Haleakala Sunset
We don't waste any time! It was time to head out to the ocean. We booked a 5.5 hour Sea Caves and Snorkeling Tour with Blue Water Rafting in advance. Meeting time was 6:30am so we got a pretty view of the sunrise before hopping on our boat.
There were a ton of people waiting to go on tours, but eventually we were put on a boat with about 20 others. The first part of the trip consisted of getting to and exploring the Kanaio Sea Caves. I will say, this was the scariest boat ride of my life. It was VERY choppy and very difficult to take any pictures as we were just holding on for dear life the entire time. I was certain we were going to hit the rocky shore and all drown or get eaten by sharks, but alas, we survived.
It was a fun experience, but overall, I could have skipped it. Next, we headed to Molokini Crater, one of the best snorkeling spots in Hawaii! On the way there, we were greeted by a lively pod of dolphins, which was exciting. Once at the crater, we got out with our gear and swam with a huge variety of mesmerizing tropical fish. The tour took us to 2 different locations, one close to the crater, and another at a 200ft drop off! Unfortunately we didn't get many photos, but we definitely recommend checking this out for yourself!
When the tour ended, it was still pretty early, so we decided to check out the sunset at the best place there is to go – Haleakala National Park. This is a MUST DO. You can go for either sunrise or sunset, drive yourself or go with a tour, but no matter what, it is a highlight of Maui. It can take a while to get there, and there will be a TON of people looking for parking and places to sit, so we recommend going early. Additionally, bring a sweater, blanket/chairs to sit on, and maybe even dinner!
The drive up to the top of the mountain was long and windy, but not particularly terrifying. There are many places to stop for hikes or just a good view, so we recommend grabbing a trail map when you first arrive. We ended up doing the Halemau'u Haleakala Overlook Trail, but only about 1/2 mile in (where the good views are!), as well as a couple of other short overlook trails.
We made our way up to the top, found a spot to sit, and watched the sunset while we ate dinner. It was magical. The clouds below us seemed to dance, and the view of the entire island down below was perfect.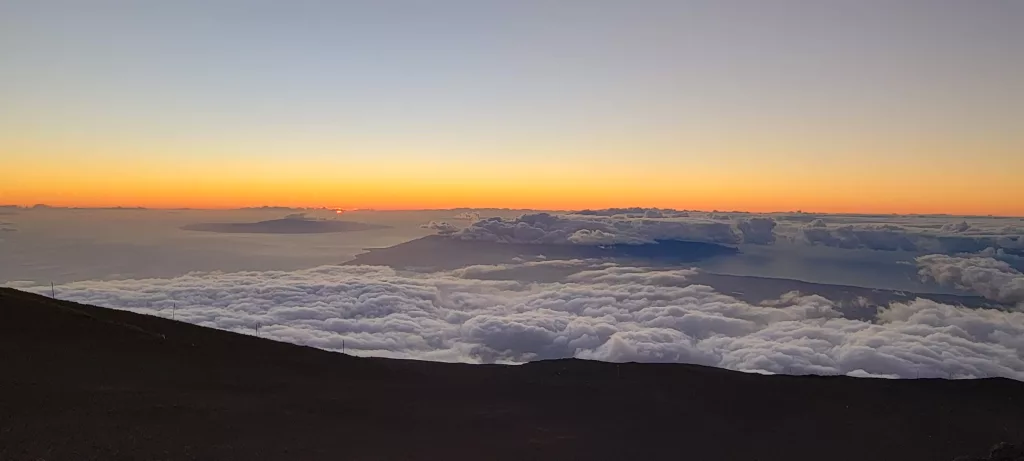 After the sun set, it was freezing! We put up our convertible top, blasted the heat, and drove back to our Airbnb for a good night's rest.
Day 3: Beach Day
It was time for a relaxing beach day! We decided to hit the road and check out one of the things that makes Hawaii so popular – beautiful blue waters and soft sandy beaches. Of course, there are A LOT to choose from, but with the help of our Airbnb host, Kaon, we were able to narrow it down a bit. We wanted good snorkeling, clear waters, and not a ton of people. This led us to Mokuleia Bay, specifically Slaughterhouse Beach. We found an empty spot on the beach and spent most of the day snorkeling, relaxing and enjoying the peaceful atmosphere.
This particular beach is close to a Marine Conservation, so there are tons of turtles! They are friendly, but please do not touch them.
PRO TIP: With most places in Hawaii, parking lots fill up fast. We recommend getting an early start to the day if you don't want to spend a good amount of time driving around looking for parking.
After we had had our share of beach time, we decided to explore the island a little bit via car. We drove up to MamaLei's Homemade Goodness, a little snack stand on the side of the road, picked up some DELICIOUS banana bread (a Hawaiian staple) and cookies, and took a hike to Nakalele Blowhole. This was a fairly short hike, but something more than flip flops is recommended. If you have time, check out this hike. But beware, it was WINDY!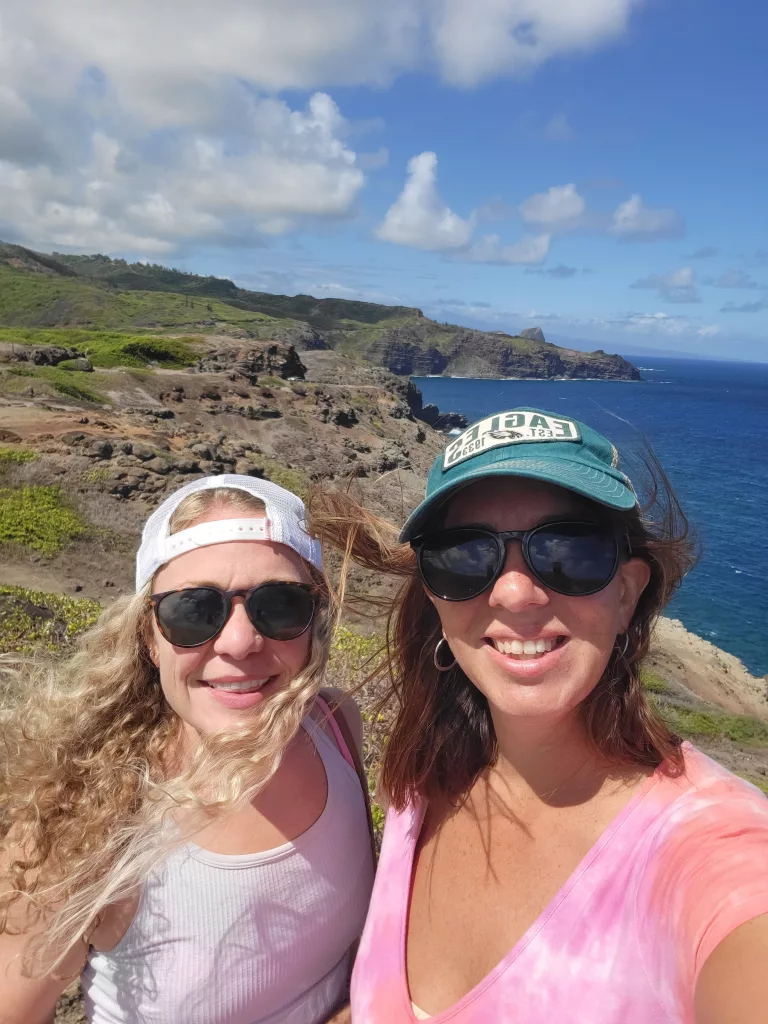 After that, we just drove around the island stopping at various overlooks (they are scattered along the roads). One stop that we very much enjoyed was the Honolua Bay Access Trail. This was an easy little walk in a dense tropical rainforest. It felt magical, like we were walking in an enchanted place. We recommend it for a quick stop!
The rest of the night was spent hanging out the Airbnb before going out for dinners and Mai Tais! Maui is known for their Mai Tais so do not miss getting one (or two or three) before you leave!
Day 4: The Road to Hana
Arguably, this was THE reason we came to Maui. The Road to Hana is an ALL DAY drive, but it's not about the destination, it's about the journey. This beautiful drive has 617 turns and 59 one-lane bridges so START EARLY. Think you're starting early? Start earlier. We started at about 6am, and even then, we had several other people with us all day long (but we did mostly find parking). Bring food, water, bathing suits, towels, warm clothes, sandals, hiking shoes, etc. There are beautiful waterfalls, unique beaches, and various interesting hikes, so we'd recommend making a list of your must-sees before starting out.
PRO TIP: There are already lots of guides about the best places to stop along the Road to Hana. However, one guide we really enjoyed was the Gypsy Guide. This uses your GPS to play various tips, stories and fun facts automatically, based on your location. It's super easy to use and VERY helpful.
Since there are SO MANY stops, I won't go into every stop we made in this post, but I will go over the highlights for us. Our first stop was Ho'okipa Beach Park. This was a quick stop, but we got to see turtles on the beach and early morning surfers starting their day, which was fun.
The next stop we made was the Waikamoi Nature Trailhead. To be honest, I would skip this. We wasted WAY too much time wandering around and although we saw some cool bamboo and a little waterfall, there was nothing particularly exciting about this stop.
The next MUST STOP was Ke'anae Arboretum. There were a lot of cool flora and fauna here, but the star of the show was the infamous Rainbow Eucalyptus Tree. These trees were awesome to see in person and we highly recommend you don't miss it!
The next area is a little off the main Road to Hana, but definitely worth the drive. Head to Keanae Point Lookout on the Ke'anae Peninsula first for a quick view of the coast. From there, head to Aunty Sandy's for the BEST banana bread you've ever had!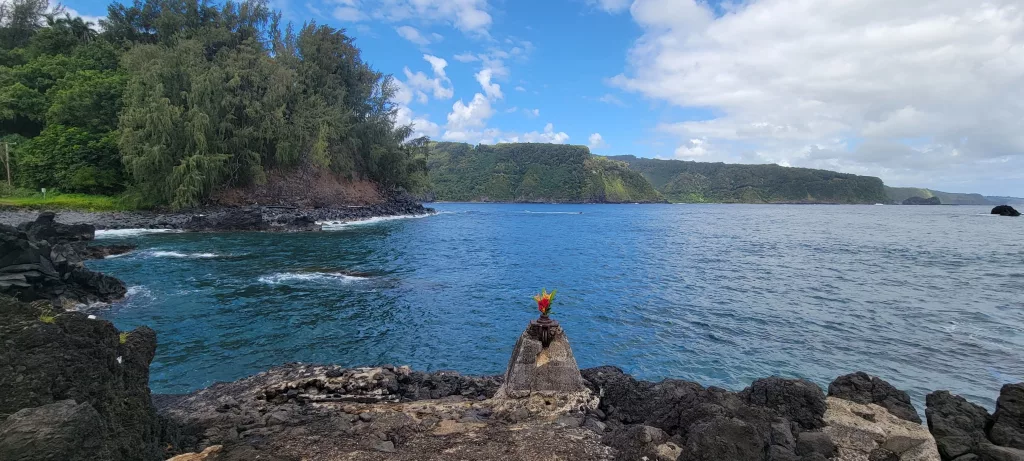 Next, drive a little further for some amazing lava formations! There is also a historic church that survived the last eruption. AND public bathrooms if you're in need of a quick pit stop.
At this point, you're almost Halfway to Hana! There is a little refreshments stand there if you need it, although we found it to be quite crowded.
The next stop worth stopping at is the Upper Waikani Falls aka Three Bears (Papa Bear, Momma Bear and Baby Bear). There is a swimming hole here, but we were feeling a bit behind on time and parking was limited so we decided to just admire the beautiful view from afar.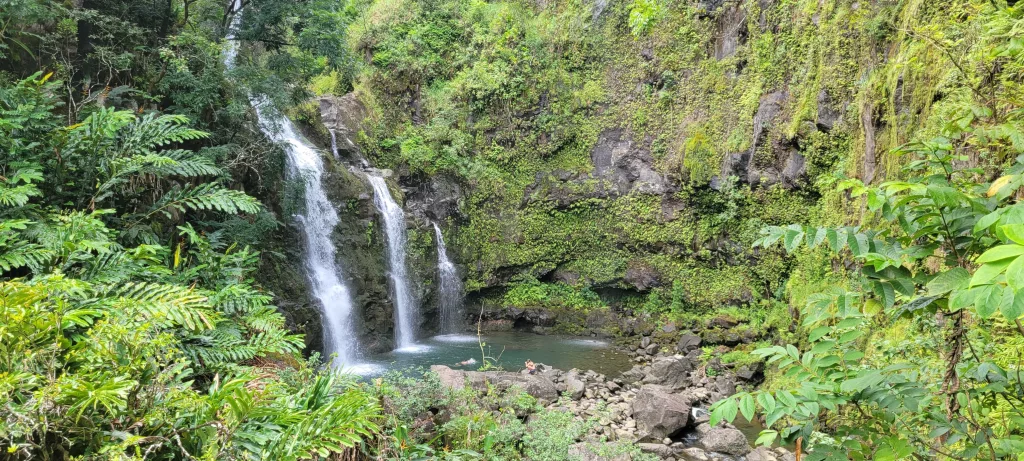 Love ice cream as much as we do? Then don't miss our next stop, Coconut Glen's! This adorable stop sells some of the best ice cream in Hawaii, made all from coconut milk! There's plenty of parking and service was very quick, so it's definitely an easy stop that we recommend.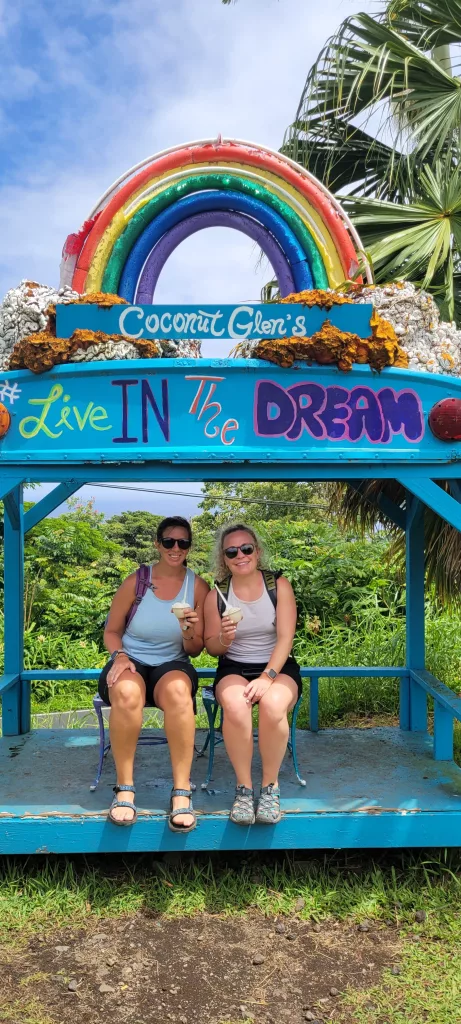 The next part of the trip was definitely the sketchiest. On our list was Kaihalulu Red Sand Beach. However, actually getting to it was an issue. It is accessed only via a steep trail on private property with no parking. There are cops circling the streets and we saw many people get tickets as we were circling trying to figure out what to do. In the end, we decided that only one of us should go while the other drove the car around until we were finished.
The hike to the beach was a bit scary, but not impossible. There are stories of many people falling, so good shoes are definitely recommended. It took about 15 minutes each way.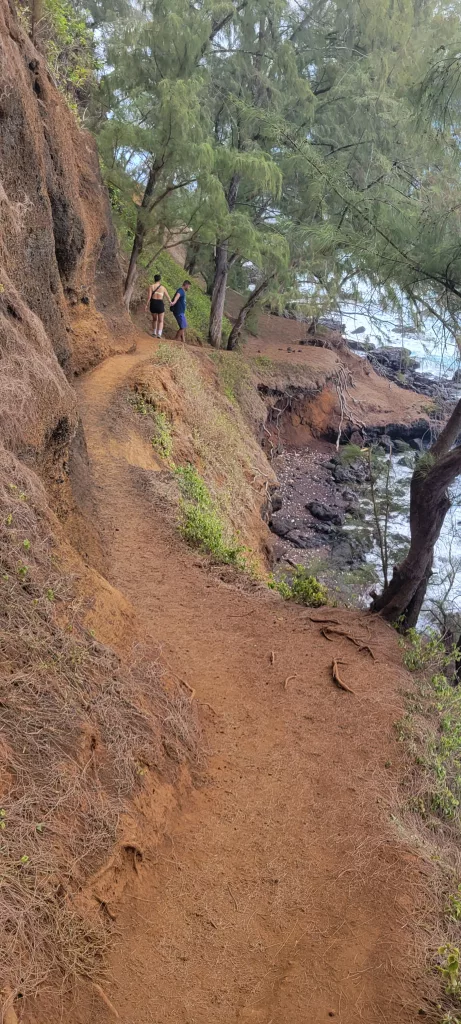 The beach itself was beautiful. The red sand contrasted perfectly with the turquoise waters. There were very few people and it was quite peaceful. I will leave it up to your discretion if you want to make this stop, as I believe people have gotten in trouble attempting it in the past, but it definitely was unique.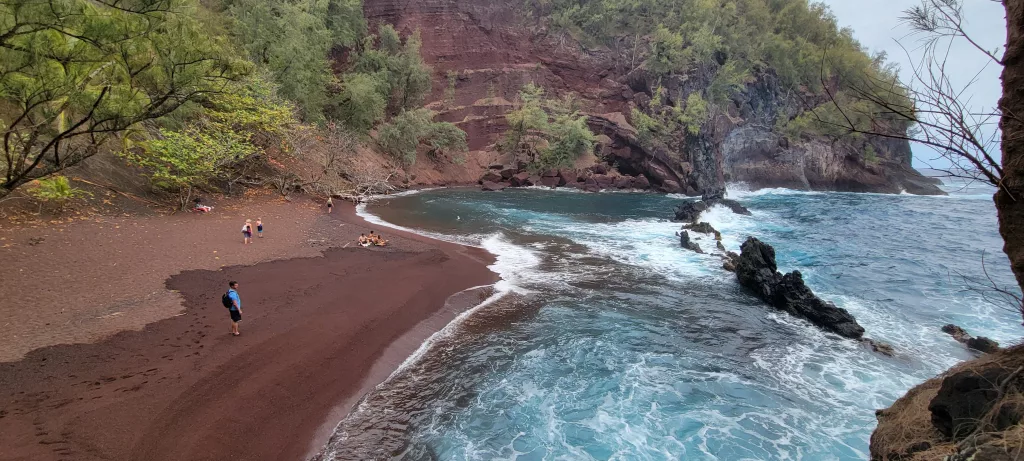 PRO TIP: There is also a black sand beach on the Road to Hana: Wai'anapanapa State Park. This requires advance registration. Unfortunately this was sold out when we tried to reserve, but if you're interested, check 30 days in advance!
The next stop was one of our FAVORITES! It was finally time to get in a swimming hole. We stopped at Wailua Falls, got changed into our bathing suits, and made the short hike into the waterfall. When we initially got there, it was quite crowded, but as luck would have it, the crowds seemed to all leave at the same time (with a few exceptions)! We hopped into the refreshing pool and had the time of our lives swimming around and under the falls. We highly recommend this stop if you can find parking (again, leave early!).
The last and final stop on the Road to Hana was also our longest. We drove to Kipahulu Visitor Center and paid the entrance fee. This is a National Park, so if you have a National Park Pass (which we recommend!), it will be included. From the Visitor's Center, there are several hikes. The first hike is the Pipiwai Trail to Waimoku Falls. We highly recommend this hike because all of the amazing sights along the way! It is almost 4 miles though, so make sure you don't start too late and get caught in the dark!
The first cool thing you will see about .5 mile in is the ancient Banyan Tree. I was just blown away by the size and intricacy of this tree. Check it out below!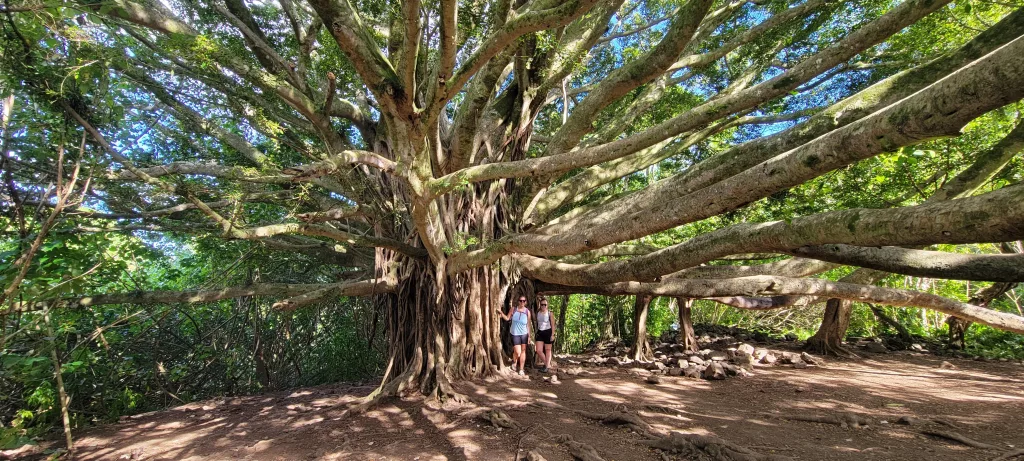 We kept hiking until we passed through the tranquil Bamboo Forest. We were losing daylight, so unfortunately we couldn't spend a ton of time here, but it was so serene.
Finally, we made it to your destination of Waimoku Falls. These impressive falls are over 400 ft high!
We turned around and hurriedly hiked the 2 miles back to the start of the trail. From there, we connected to the Kuloa Point Trail, which is only 0.5 mile loop and passes the Seven Sacred Pools. Unfortunately, you can no longer swim in the pools, but they were still beautiful to look at. You can also walk a bit further to the coast for some awesome views out to sea.
At that point, we were at the end of the Road to Hana and had to make the decision to continue the loop back to our Airbnb, or turn around and reverse the entire trip. This was a huge decision for us, as we were told the drive back is only on dirt roads that can be treacherous for rental cars (in fact, most agencies will not allow you to take it all the way around). But we decided to go for it!
The drive back was interesting. There were a few dicey spots, but overall, I didn't think it was that bad. We made it with our low-rider convertible, so I'm confident most cars should have no issue. We found a cool spot for our last sunset in Maui and then called it a day.
Day 5: Travel to Big Island and Explore
Unfortunately it was time to say goodbye to Maui. We took an early flight (using Mokulele Airlines again) to the Big Island. Again, the ride felt like a tour with beautiful views on either side! I'm pretty certain I even saw a whale from the sky!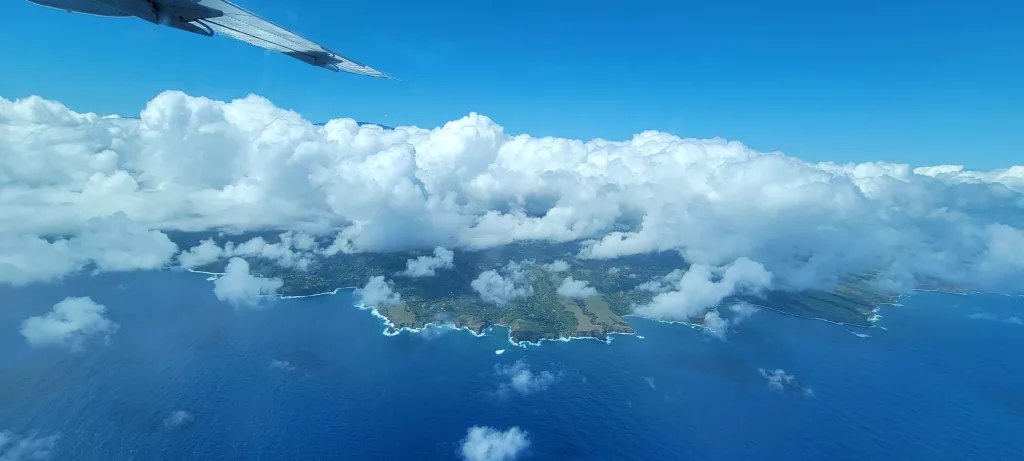 We decided to splurge a little bit more on the Big Island. We opted for a Jeep Rental (more expensive but it was worth it!) and a private Airbnb with an ocean view! We arrived a little too early to check in to our Airbnb, so decided to explore a little bit. We had read about a lava tube fresh water cave called the Queen's Bath, so we headed on an adventure to find it. It wasn't easy, BUT we did find it.
If you're interested in doing this, head to Kiholo State Park Reserve. You will need a jeep to drive down this road. Park in the designated parking lot, head towards the beach and turn right. After a couple hundred feet, you will find it pushed back from the oceanfront. Here is the exact location we found it.
The water was frigid, but how cool is it to say you swam in a lava tube?! We were there with one other local family, who was friendly. They even helped us get out, which was a bit tricky to say the least!
We eventually packed up and headed to our Airbnb in downtown Kona. This was a great spot with lots of daily entertainment! After getting settled, we headed out for some Mai Tais at Huggo's On the Rocks. Although a bit expensive, we went to this bar almost every night for their magnificent sunset views. But as always, get there early as reservations fill up fast!
We had a little night on the town. There are lots of bars in the area but we enjoyed Laverne's Sports Bar for the vibes. There were plenty of other fun places too!
Day 6: Captain Cook Snorkeling
nother day, another snorkeling adventure! We had read that the Captain Cook Monument had some of the best snorkeling around, so we booked a tour to check it out. Unfortunately I didn't take too many pictures, but it was a nice trip. To be honest, the snorkeling in Maui was better, but it's still always fun to see tropical fish in the wild. Our guide also took us into several sea caves, which was interesting!
After the tour, we used the rest of the day to just hang out at the beach and relax. We had a long day planned for the next day, so we went to bed early.
Day 7: Volcanoes National Park
Why did we choose the Big Island? To see volcanoes! Fortunately and unfortunately, none were actively spewing lava while we were there, but still, the entire landscape was amazing to see! As this is a National Park, you will need to either have a pass or pay an entrance fee.
On the way there, we first stopped at Punalu'u Black Sand Beach. We really enjoyed this stop as it was just so unique. First of all, there were sea turtles there, but secondly, the black sand was exquisite.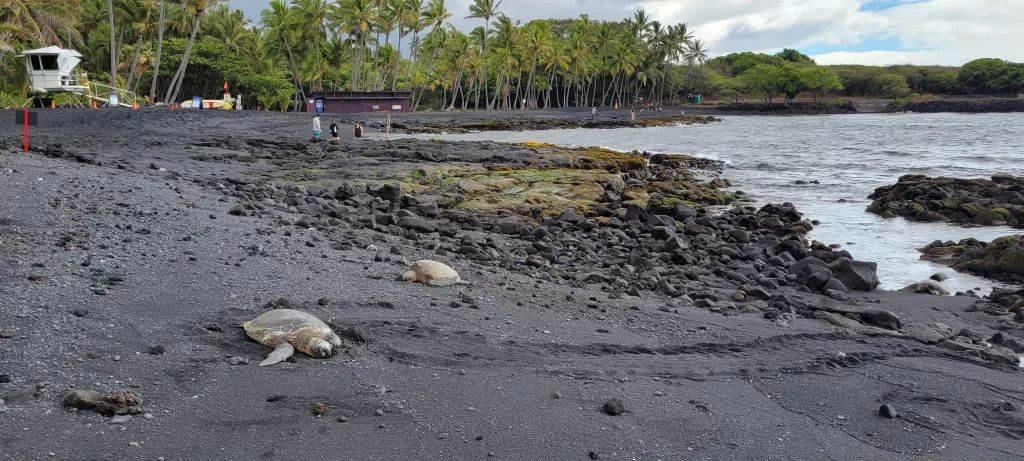 When we got to Volcanoes National Park, after picking up a map, we headed towards the Nakuha Thurston Lava Tube. This is a giant lava tube that you can walk through. It's a short and easy walk, so we think it's worth it to check out!
After that, we drove through the park stopping at various overlooks. Just seeing the land and imagining how it was all once lava was remarkable. It almost felt like you were on the surface of Mars or some other alien planet.
One of the most talked about features in the Park is Holei Sea Arch. It's a short hike from the parking lot, and while it's a cool concept (an arch of lava into the sea), I was a little bit disappointed by the site of it. It was fine, but I think the drive TO the sea arch was better than the sea arch itself.
After the arch, we drove back into the main area of the park and decided it was time for a longer hike. There were several to choose from, but we wanted to get in the thick of things. We decided on the Kilauea Iki Trail and Crater Rim Trail, a 3.2 mile moderate loop. This was probably my favorite part of Volcanoes National Park. You could see and feel the steam coming out of the ground. I felt like I could be swallowed by lava at any minute. It was just very exciting and felt like a once-in-a-lifetime experience. We highly recommend it!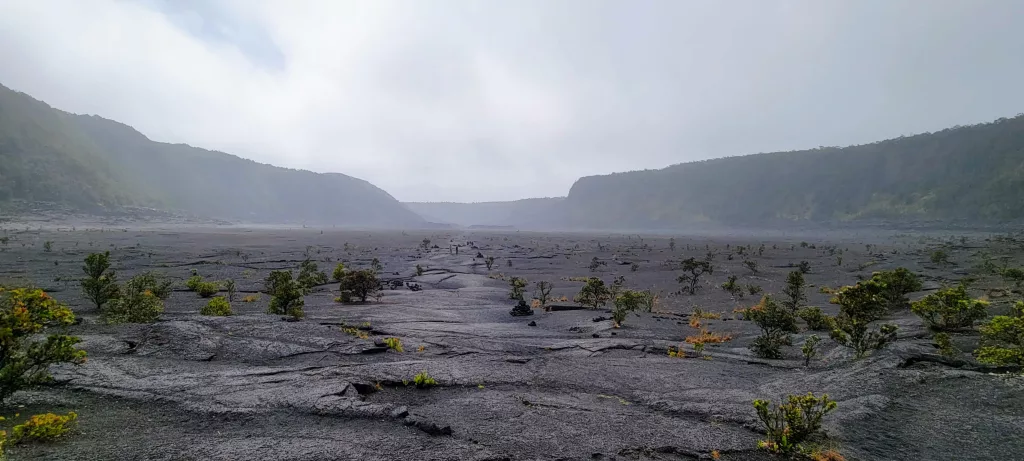 We explored by driving around a little more and then headed back to Kona for sunset dinner and drinks.
Day 8: Relaxing Beach Day
It was my (Caroline's) last full day in Hawaii and I wanted to just relax for one more day. This trip admittedly was a lot more laid back than normal, but sometimes that's just needed. We headed to Beach 69 (Waialea Beach), known for it's snorkeling and white sand beaches. Again, our Airbnb provided chairs and snorkeling gear, so it took the hassle out of trying to find rental gear, which was awesome.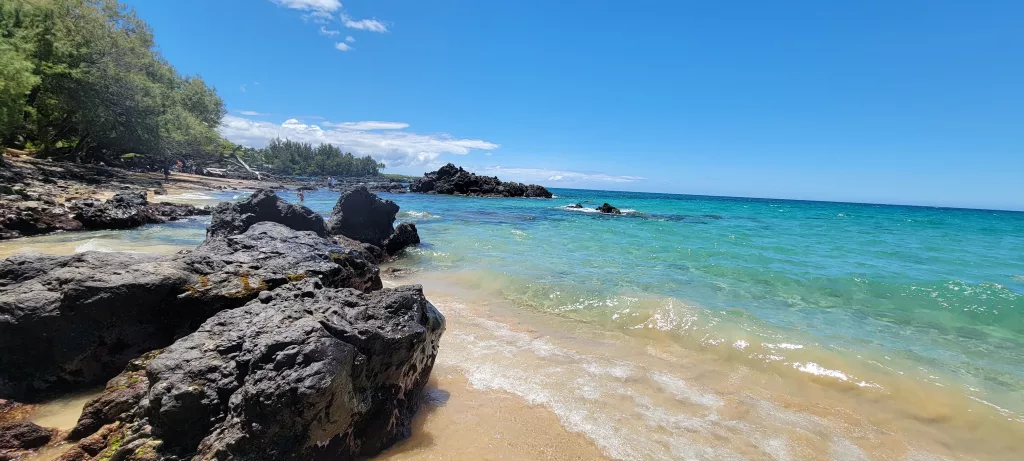 We hung out, read books, basked in the beautiful sun and water, and eventually headed back for my last sunset in Hawaii, while drinking a Mai Tai.
Day 9: Caroline Heads Back to the Mainland, Jenny Heads to Oahu
As Jenny is a teacher with more time off, she had more time to explore Hawaii. She also had some friends in Honolulu, so Jenny flew from Kona to Honolulu on Oahu. Unfortunately for me, it was time to head back to the mainland USA, but it was a trip I'll never forget.
Jenny will be posting her additional blog for her time in Oahu soon, so stay tuned!