Country: Germany
Cities: Berlin, Nuremberg, Bamberg, Munich
Highlights: Reichstag, Holocaust Museum, Berlin Wall, Nuremberg Castle, Hofbrauhaus, Dachau, Marienplatz, Neuschwanstein Castle
Germany has a ton to offer – from history to charm to beer and pretzels – what's not to like? We wanted an itinerary that encompassed all of this, but as usual, we were short on time and money. We did our best to squeeze in as much as we could into this roughly one week itinerary and it was perfect! Keep on reading to discover the best of Germany!
PRO TIP: Berlin offers a Berlin Pass which includes entry to some of Berlin's most visited attractions. Make a list of what you want to see, add it up, and see if the cost of the pass makes sense to you!
Day 1: Flying into Berlin and Exploring – Reichstag
As per usual, we caught a red eye from Newark into Berlin. We took the Express bus to Alexanderplatz, near our hostel, but check here for the latest bus/train information regarding how to get downtown. We stayed at Wombatz City Hostel Berlin, but that is now unfortunately permanently closed. Check here for your best hostel rates/reviews.
One of the things I remember most about our Germany trip is that the airport lost BOTH of our checked suitcases. For many days! We ended up finding a Poshmark, buying a few clothing items, and washing our clothes in the sink every night. Talk about an adventure!
Anyway, after some rest, it was time to start exploring. We met up with our friend Jess and her then boyfriend, Matt, and headed towards downtown Berlin. Our first stop would be the Reichstag, a historic building in Berlin that houses part of Germany's government. You can walk around the dome, which is quite impressive, but advance registration is now required. There is also a rooftop restaurant!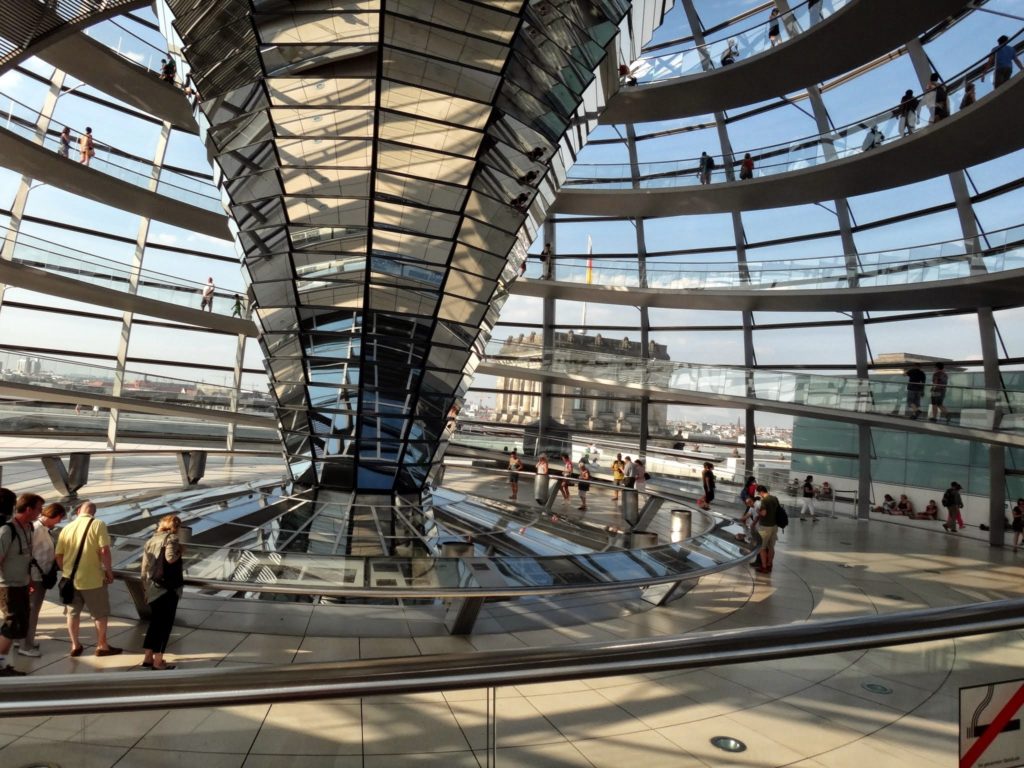 It was getting to be dinnertime and we were quite hungry, so we found a lovely spot for dinner along The Spree River. There are many dining options and there's a beautiful view, so we definitely recommend doing this. I was not yet ready to make the jump into schnitzel or doner kebabs, so I opted for a brat. It was delicious!
After dinner, we walked around a little bit more before heading back to the hostel and getting an early night.
Day 2 – Berlin Hop On/Hop Off Bus
As we were short on time, one of the best ways to see a city is the Hop On/Hop Off bus. Luckily, Berlin has one of these tours, so we hopped right on! Note that this bus is included in the Berlin Pass as well!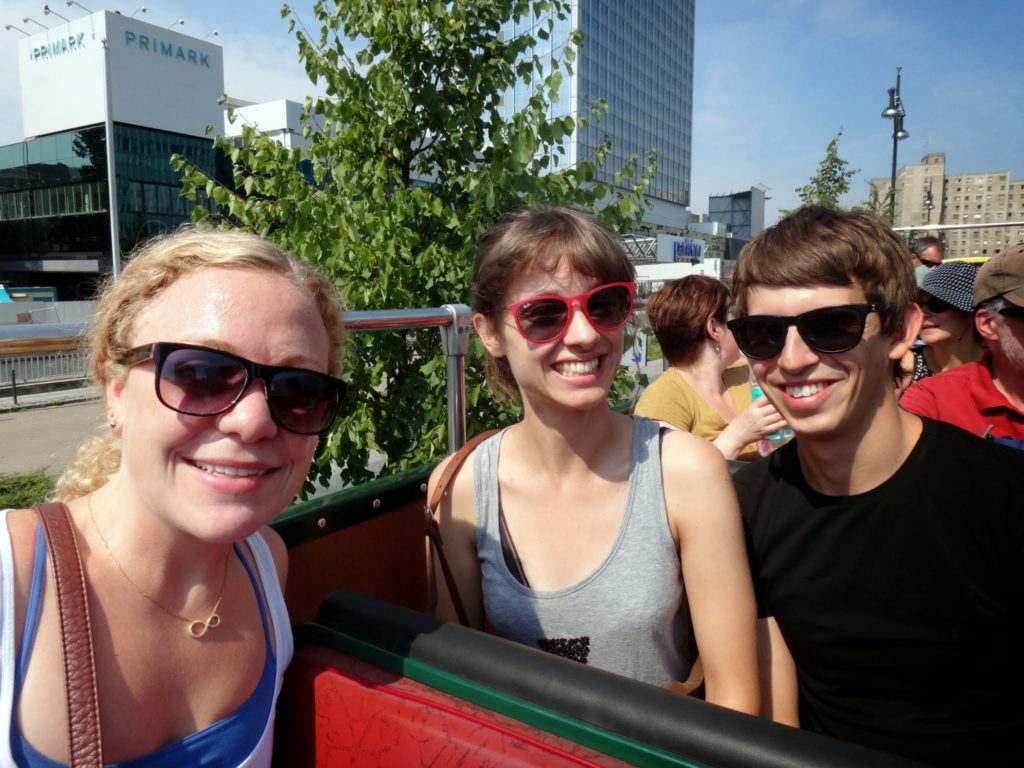 As you can imagine, there are many, many sites to see on this tour! I won't list all of them, but I will list our favorite.
Brandenberg Gate: One of the most famous stops was the Brandenberg Gate. This beautiful monument is now a symbol of peace and unity. It was a beautiful site and to see, albeit a bit crowded. Also, we stopped for gelato nearby. 🙂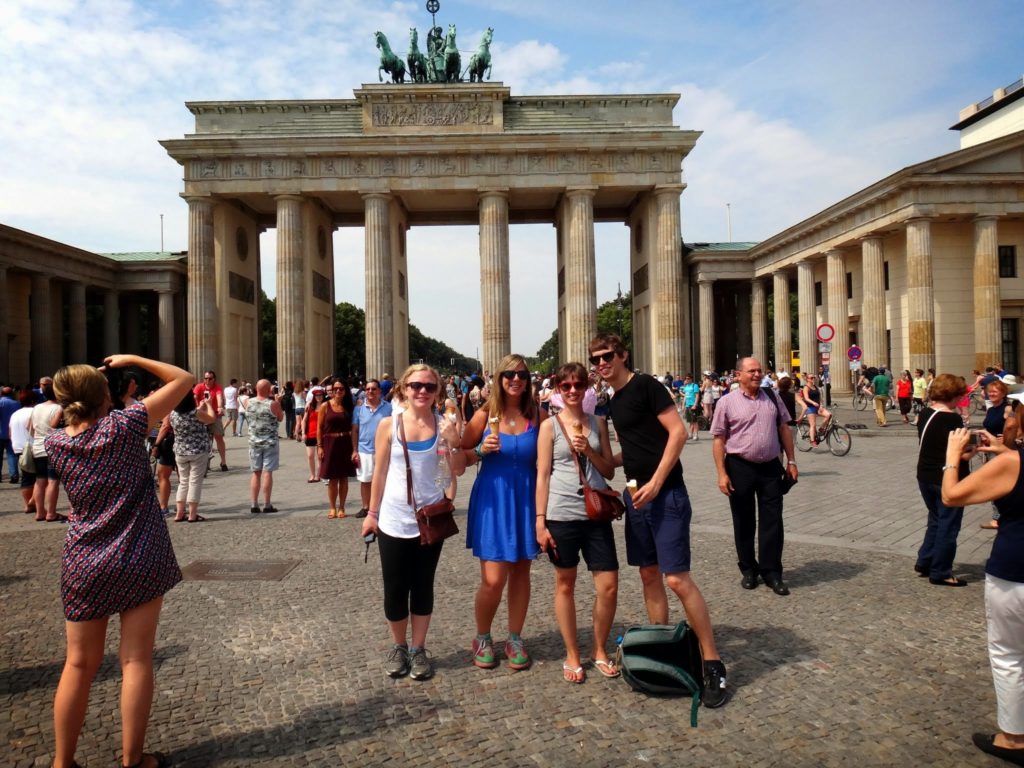 Memorial to the Murdered Jews of Europe: Definitely a sobering experience, walking through the Holocaust Memorial is a must-do. There is also a free museum underneath that is very informative.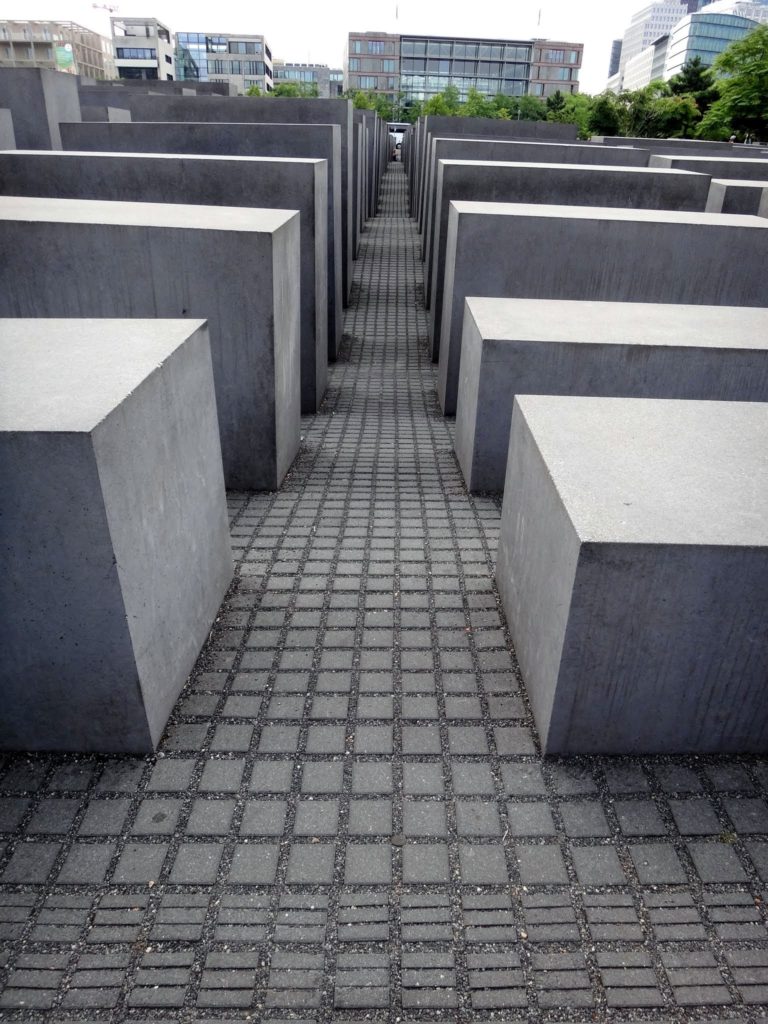 Berlin Cathedral: The Berlin Cathedral is impressive and beautiful. There is a small fee to enter, but you can enter for free with the Berlin Pass.
Checkpoint Charlie: Checkpoint Charlie was the main crossing point between East and West Berlin during the Cold War. The iconic guardhouse as now kept as a museum which requires a fee to enter, or is included in the Berlin Pass.
Berlin Wall: From the Checkpoint Charlie area, we walked around and learned more about the Berlin Wall. There were lots of informational plaques and signs and it was super interesting to see this history up close.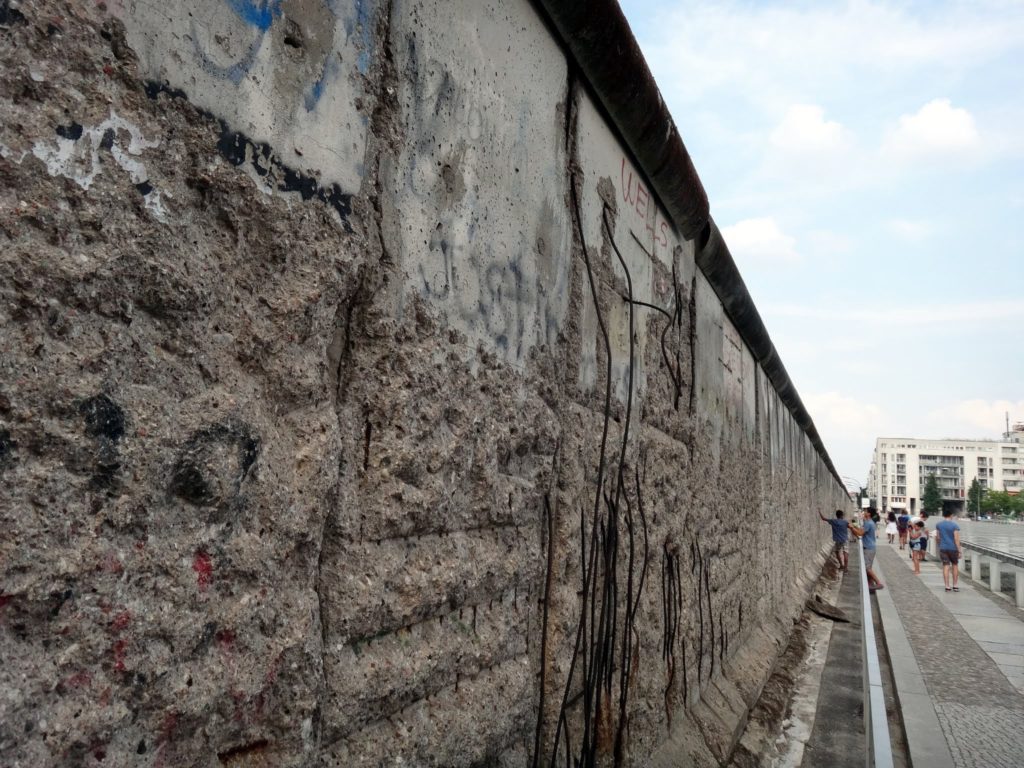 After grabbing lunch, we hopped back on the bus and mostly just viewed locations from the outside. There were lots of beautiful sites and the bus was very informative, but we were quite exhausted. I'm sure there would be enough time to visit a few more sites up close and personal, if you have the umph to do so! We headed back to our hostel and met some friends to hang out with for the rest of the night.
Day 3: Berlin to Nuremburg
It was time to head out of the city and into a little more charm! Nuremburg had that Bavarian feel we wanted to experience. We took the 5 hour train ride from Alexanderplatz in Berlin to Nuremberg, although now it appears there are more high-speed options (average train ride is 3 hrs 45 mins). The train was comfortable and the towns we passed by were very cute! It was an enjoyable ride and went by quickly.
Once we got to Nuremberg, we went straight to our hostel – A&O Hostel. This hostel was in the middle of it all – close to the train station and close to town! We wandered into town for dinner and drinks and was amazed just by how CUTE everything was.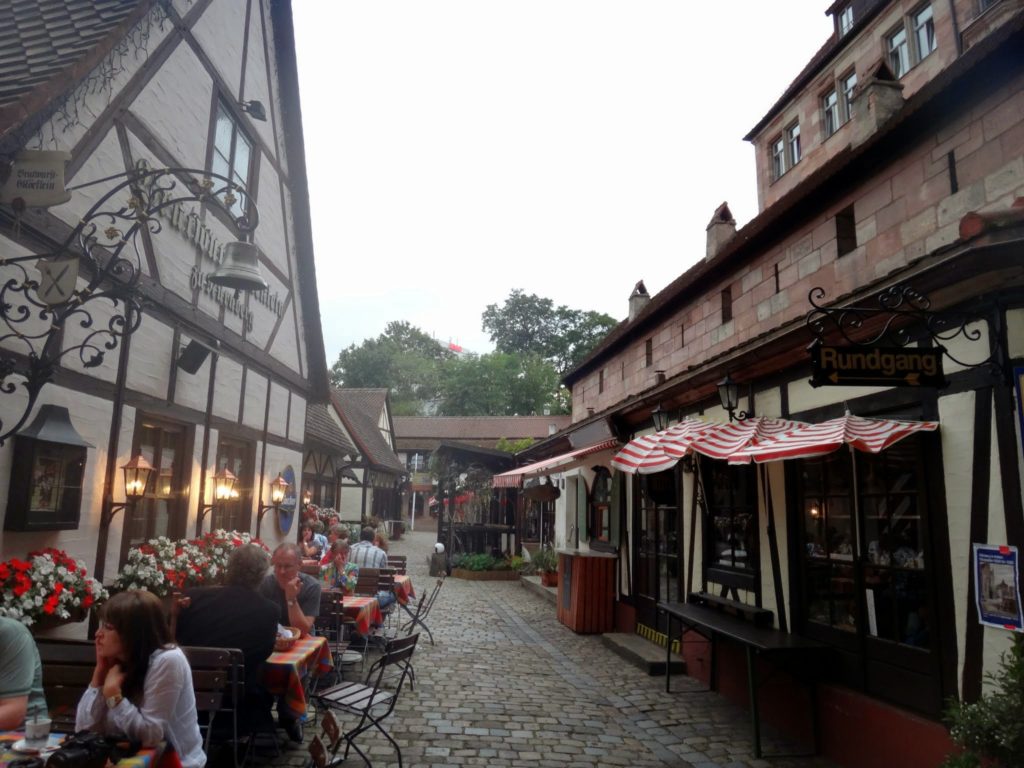 After dinner, we explored Nuremberg after dark. It was truly beautiful, even if we didn't have the best camera for nighttime photos. We saw the Frauenkirche, a beautiful German church, as well as Nuremberg Castle.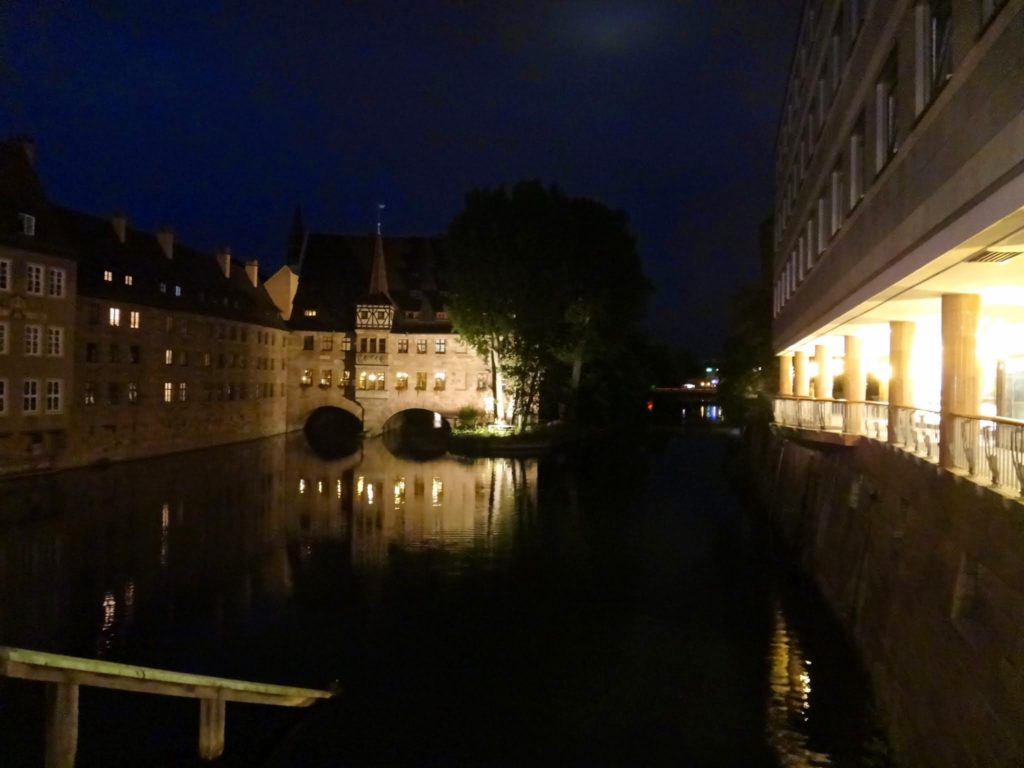 Day 4 – Exploring Nuremberg
Nuremberg was beautiful at night, but what about during the day? We signed up for a walking tour and met up with our group. I highly recommend doing a walking tour, as the town is small enough to see it all by walking, but large enough that you might miss something if you do it yourself!
Our first stop would of course be Nuremberg Castle and Walls. The city is surrounded by these walls, and this fortification is considered to be one of the most formidable in all of Europe. You can visit inside the castle – more details can be found here.
Next we passed by the beautiful St. Lorenz Cathedral (Lorenzkirche). Admission is free and this impressive building was heavily damaged (and later restored) in the Second World War. I recommend taking a look.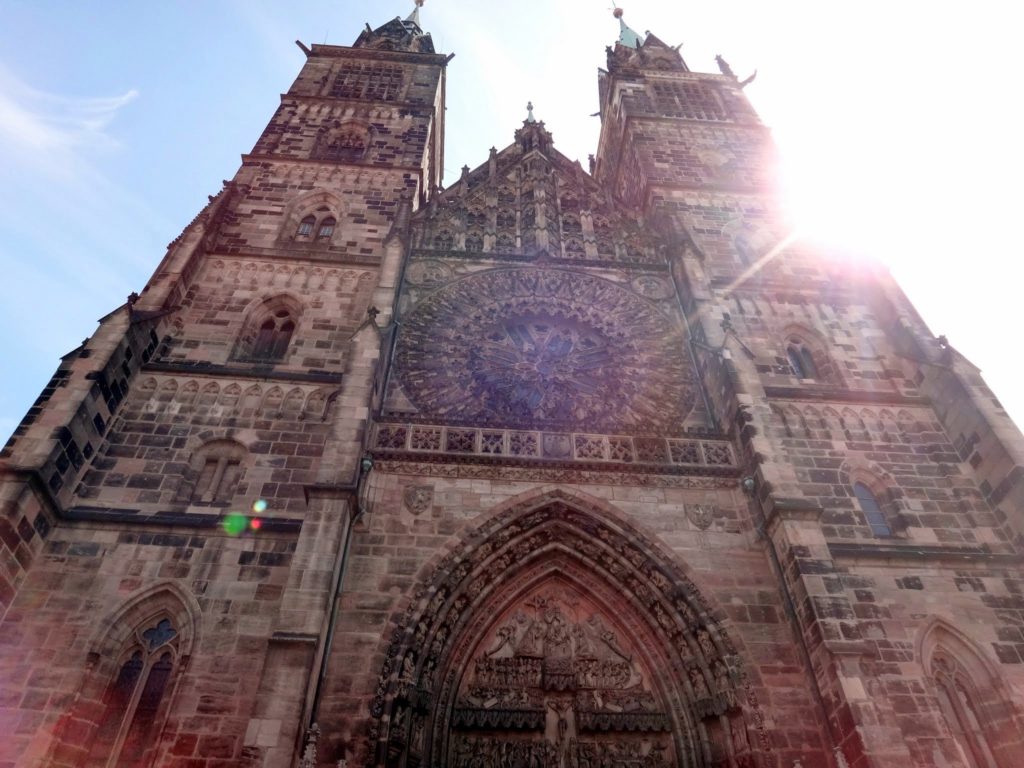 Our guide next took us to one of the most iconic photo spots in all of Nuremberg, on the bridge near the Castle.
Next it was time to head to Hauptmarkt (Main Market Square). There was an open air market offering various fresh foods for sale. This market is open every day Monday through Saturday.
Also in this square is where you will find the Frauenkirche, the beautiful church with the famous moving medieval figurines. Don't miss this amazing show from the 14th century every day at noon!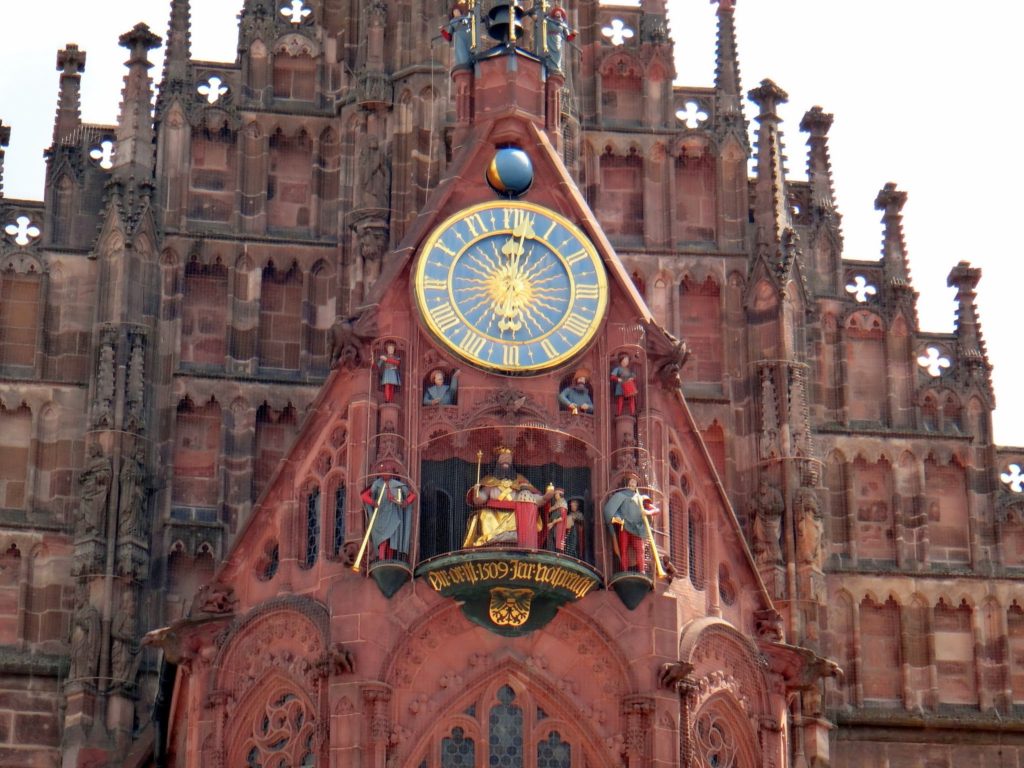 The last site of the Main Square is the beautiful fountain, Schoner Brunnen, built in the 14th century. Local legend has it that if you turn the golden ring three times while you make a wish, your wish will come true! You know we just had to!
Our next stop on our walking tour would be Albrecht Durer's house. Albrecht Durer is a famous German Renaissance artist, and just seeing the house really brings you back in time. You can go on a tour of the inside of his home for a small fee, which I recommend doing if you can swing it!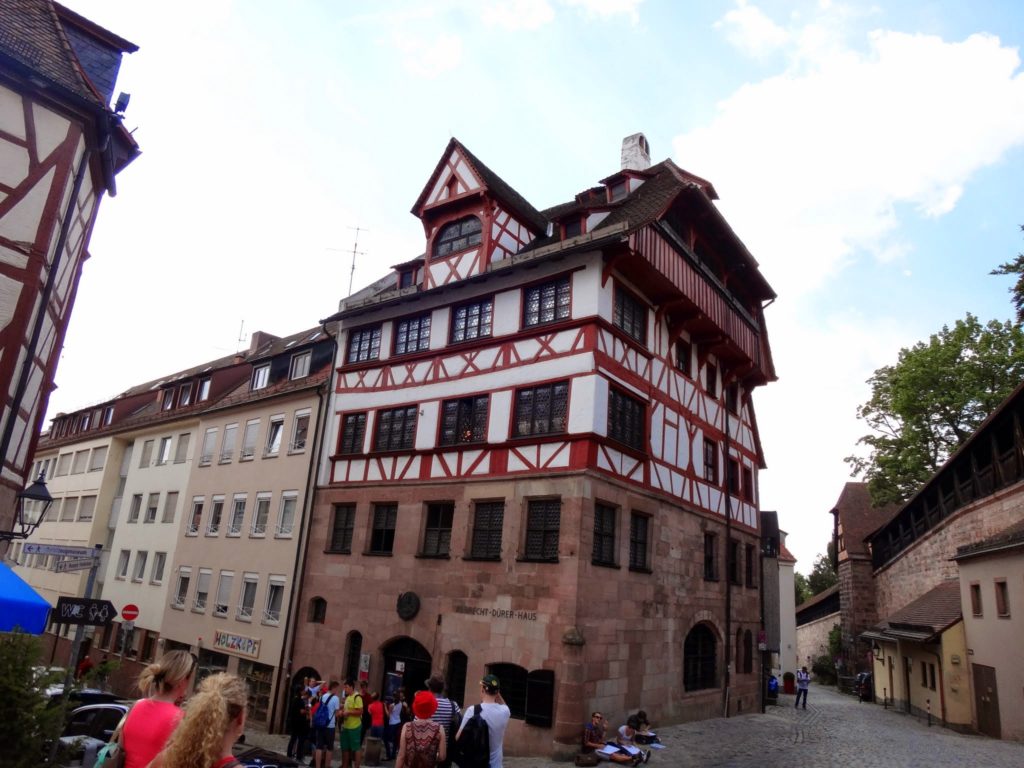 After that, we got to explore the castle walls and castle itself! From the top, the view of Nuremberg is beautiful, and I recommend you don't miss this.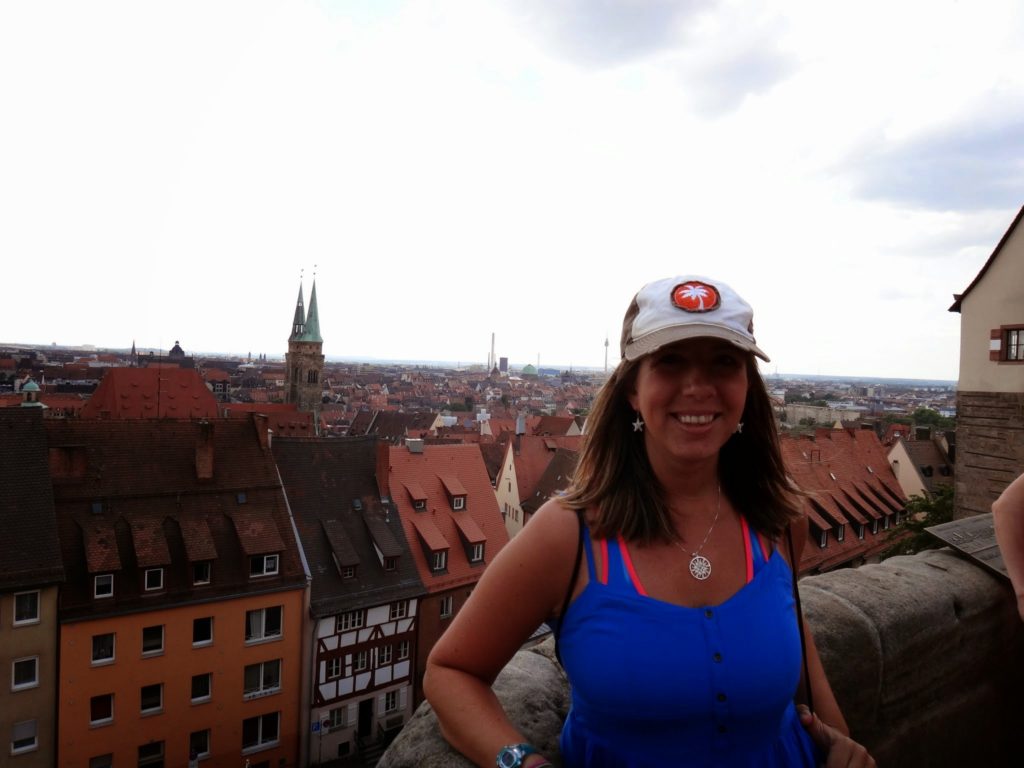 That concluded the tour so we decided to explore a little more on our own and grab food before hanging out at the hostel.
Day 5 – Day Trip to Bamberg
Bamberg was another quaint Bavarian town, only about a half-hour train ride away from Nuremberg, that seemed to be worth a visit. Bamberg is a Unesco World Heritage Site and it's old town preserves structures from the 11th to 19th centuries!
We got off the train and just started walking. There was so much to see in this cute town. The houses were beautiful, the roads were beautiful, everywhere you looked was just adorable and pleasing to the eye.
Honestly this was just kind of a go-with-the-flow day. We grabbed lunch in a random park and walked around various streets without really any idea of where we were going and where we would end up. Sometimes you just need those kinds of days!
After lunch, we found a place that doing River Cruises! Why not? We very much enjoyed this cruise and learned a lot about the history of Bamberg (and saw it from a different angle!).
After the cruise, we had discovered there was so much more of Bamberg we hadn't seen, so we went off on foot. First we went to the Old Town, with many shops and cobbled streets, followed by Neue Residenz Bamberg – the palace. You can buy tickets to go inside the palace, but we opted not to (although I wish we had now).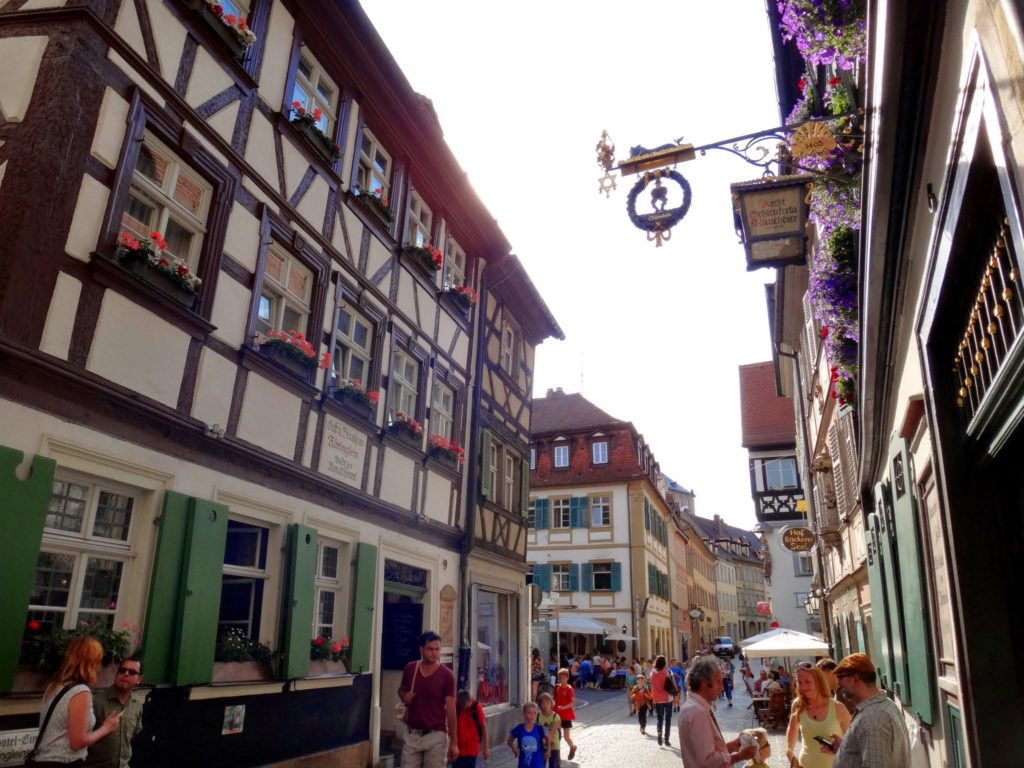 Nearby the palace was the Bamberg Cathedral, completed in the 13th century. I recommend taking a look inside, but because the cathedral is up on a hill, the views of surrounding Bamberg are amazing as well!
Next we went to the historical center and medieval Old Town Hall. There are pedestrian walkways over a roaring river, and there were kayakers getting some practice in down below. It was really entertaining to watch! In the Old Town Hall is a porcelain museum, which you can visit for a small fee.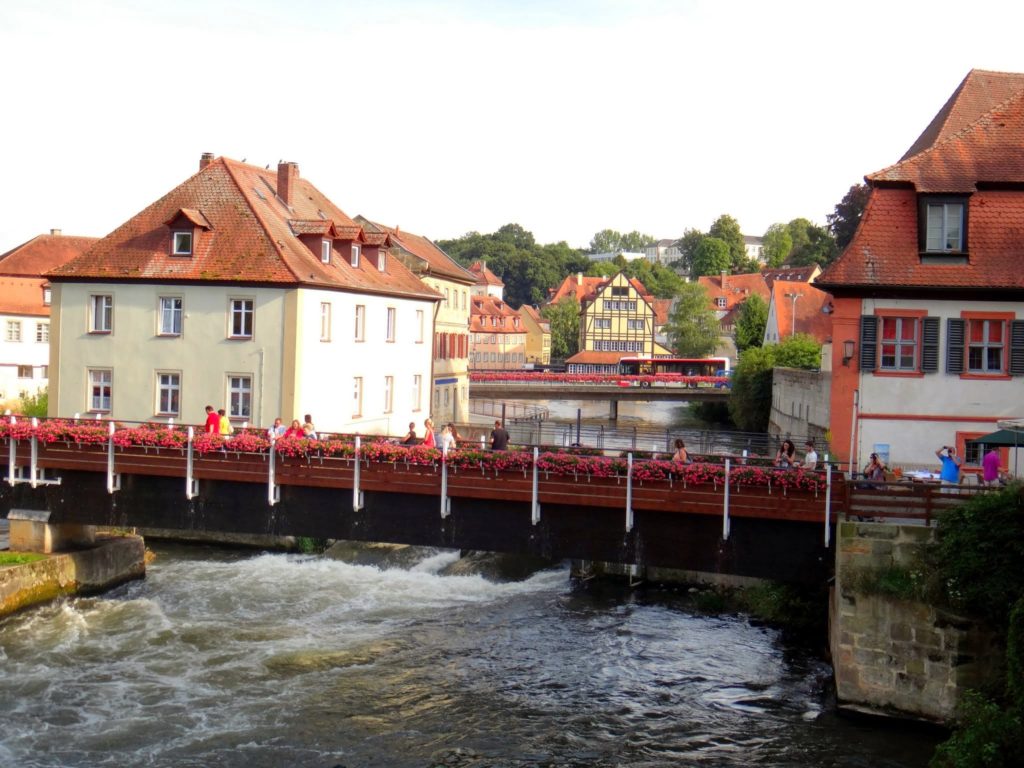 We walked around a bit more, into some interesting parks and down more quaint streets. Eventually it was time to grab some dinner and take the short train ride back to Nuremberg.
Day 6: Nuremberg to Munich
Next we were off to Munich! We took the roughly 1.5 hour train ride from Nuremberg to Munich before checking into our next hostel – Jaeger's Hostel. I was pleasantly surprised with our room and view.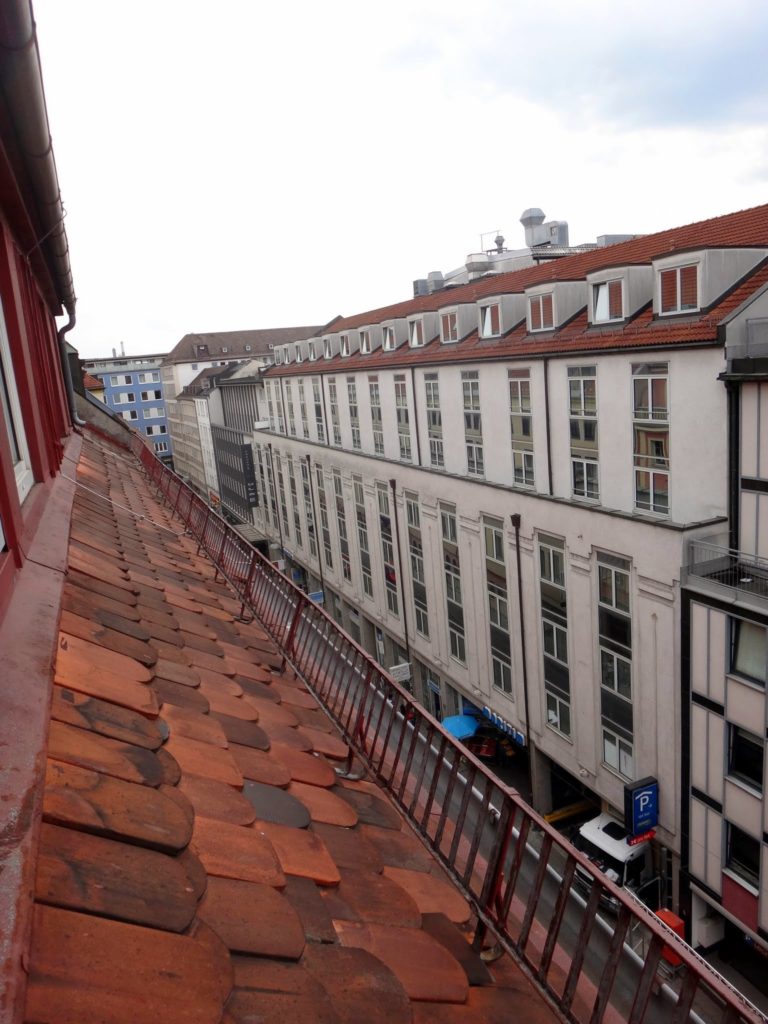 This day was spent exploring Munich. Of course we had to head to Marienplatz, the famous square known for it's Christmas market and glockenspiel. The New Town Hall dominates this plaza. Make sure you catch the show there every day at 11am and noon! You can also go to the top of the tower for a beautiful view of Munich for a small entrance fee.
Also located in Marienplatz is the Old Town Hall, the Fish Fountain, Church of Saint Peter, statue of Juliet Capulet and various stores and restaurants. I recommend a walking tour to get the most of your time here.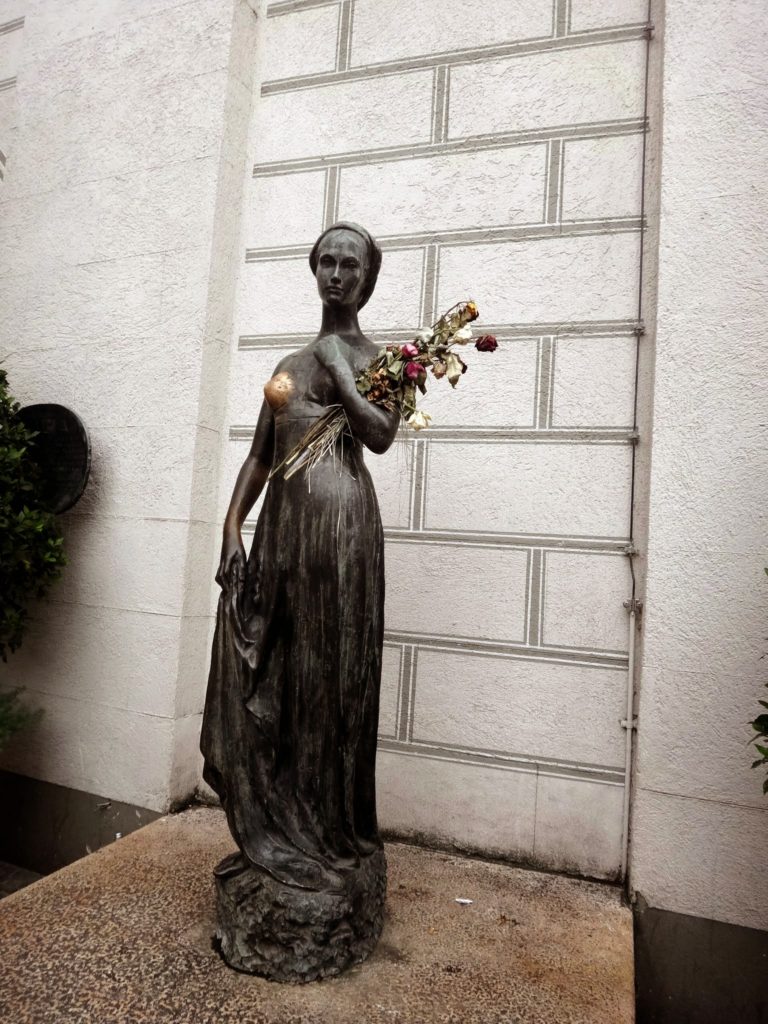 A trip to Munich would not be complete without a stop by Hofbrauhaus – the world's most famous tavern! We walked in, were seated a random table with random people, ordered a large pretzel and beer, and enjoyed the famous oompah band perform. This was truly such a fun experience, and one that shouldn't be missed! I even recommend you join in on the dancing. 🙂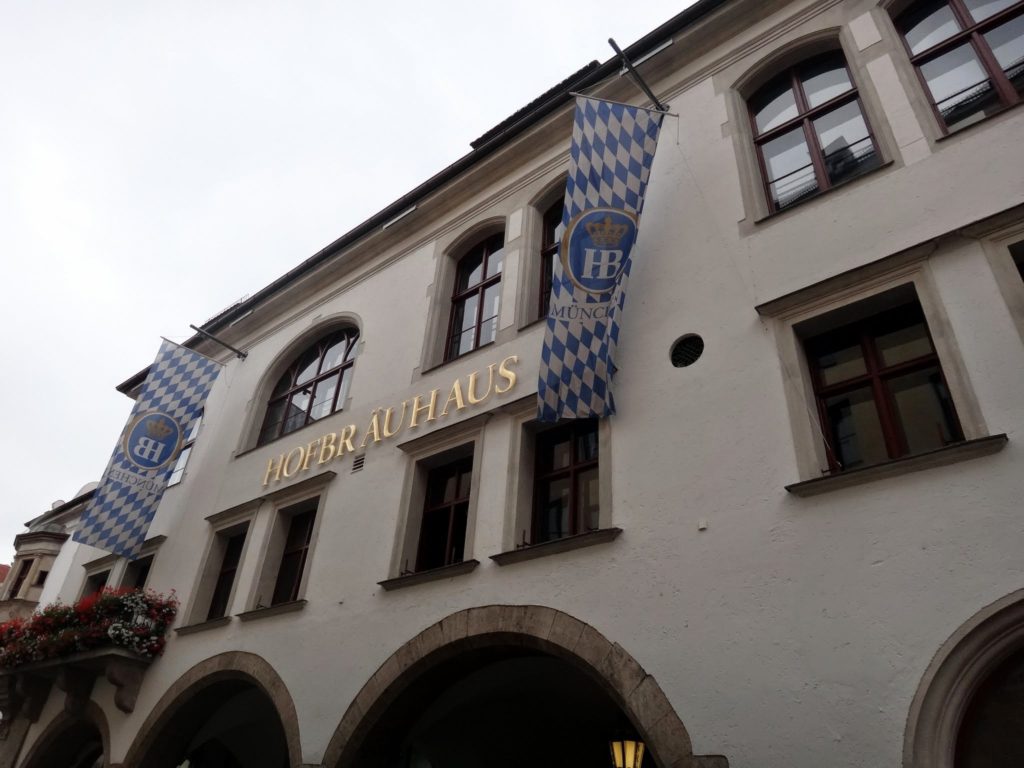 After that, we were ready to explore Munich's nightlife! There are a lot of options, but I recommend checking this website for the most up to date information on nightlife in Munich.
Day 7: Dachau
Although there has been a lot of fun and partying on this trip, we also understand the historical significance that Germany played in WWII, and we thought we would be remiss not to take a trip to a concentration camp. My grandfather actually helped in the liberation of Dachau, so it was of significant importance to me. We booked a Viator tour in advance from Munich.
As one might expect, this was not a fun tour, but it was extremely fascinating and heartbreaking at the same time. The tour took us all around the property, from bunk houses to bathrooms to furnaces. We learned the stories of several prisoners out of the 200,000 that once resided there. It was a very moving experience and one that I highly recommend.
Day 8: Neuschwanstein Castle
On this day, we had another tour booked in advance – a bike tour to Neuschwanstein Castle! Reservations in advance are highly recommended. This was an all day tour but one that we couldn't miss! Neuschwanstein Castle is the castle that inspired the Sleeping Beauty castle, and as a big Disney fan, I had to see it in person!
We took a bus to the start of the bike portion of the tour and were handed our bikes. Immediately we could see the castle in the distance, and it was beautiful. The bike tour was a lot of fun and I recommend it if you like riding bikes! The scenery was amazing and the ride was easy.
As we rode on, the clouds got darker and darker. Eventually, we were stuck in a downpour. Our guide handed us all ponchos and off we went! It was honestly a highlight of the trip. Riding in a downpour was hilarious and fun, and we made the most of it!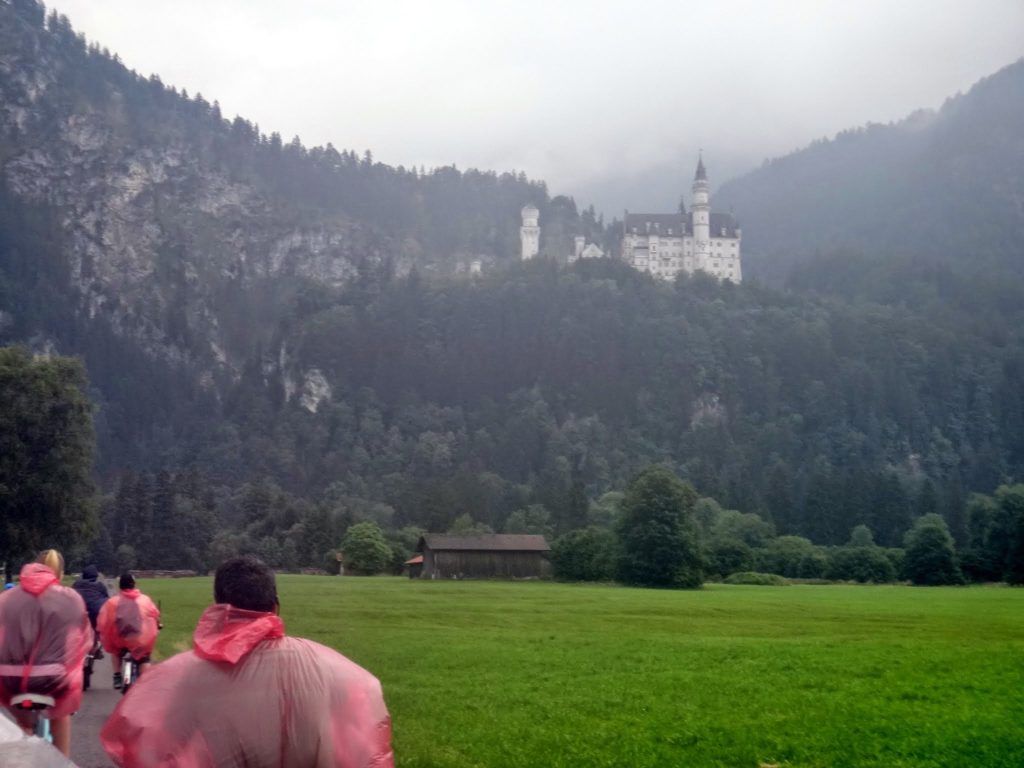 Eventually we arrived at Queen Mary's Bridge, the perfect vantage point for beautiful photos of the Castle. It was crowded, but worth it.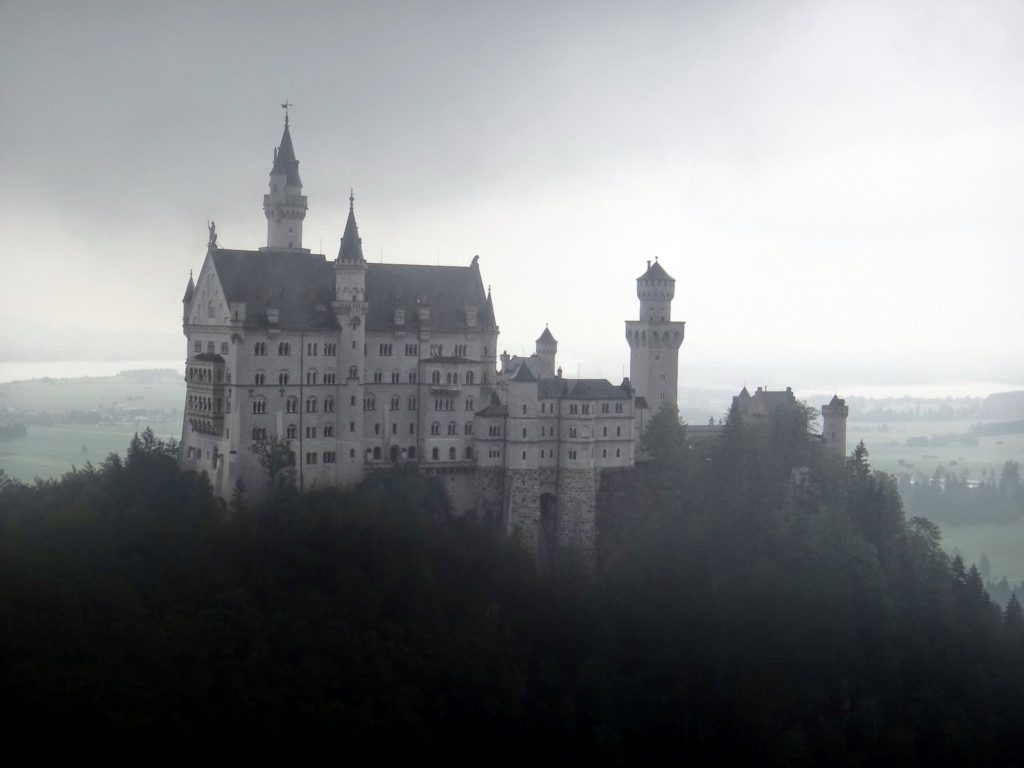 After that, we got up and close and personal with the castle. There are guided tours inside, but our particular tour did not include that. However, I recommend it if you have the time! We grabbed some lunch/dinner (schnitzel this time) and made our way back to Munich.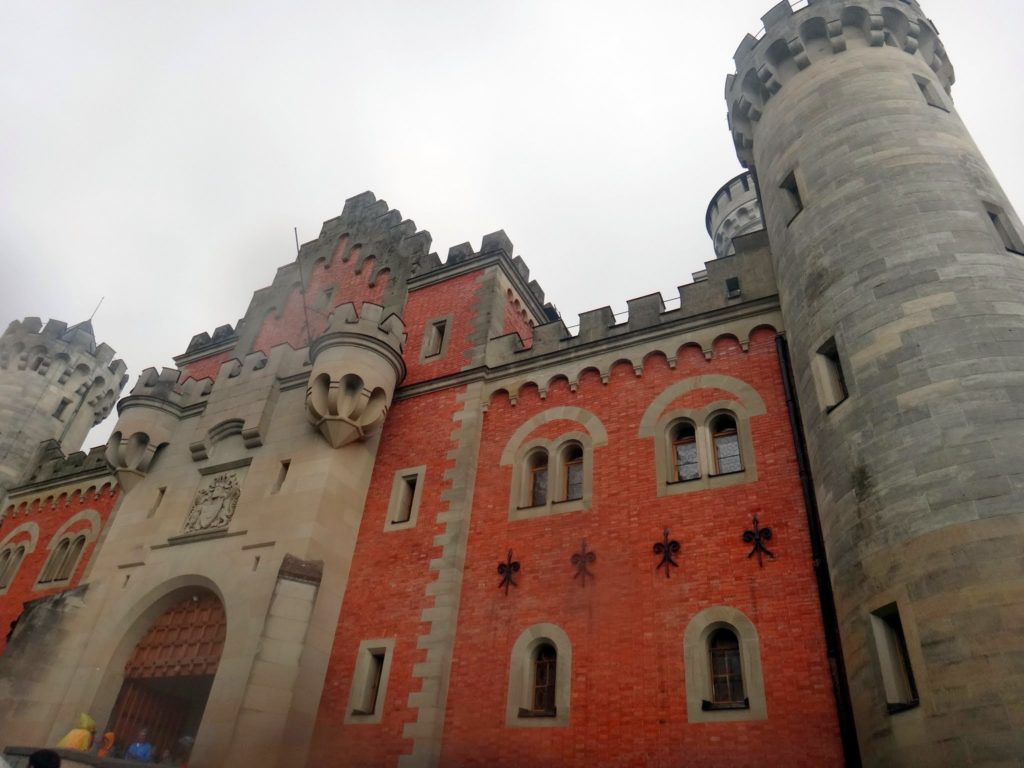 Day 9: On to Austria
After this, we actually continued our journey onto Austria, but you can head home or to any number of different places. Read about our Austria trip here!
As always, if you have any questions, please feel free to contact us here. Safe travels!