Country: USA
Cities: San Diego, Yucca Valley, Dunlap, Santa Monica, Laguna Beach
Highlights: Joshua Tree National Park, Sequoia National Park, King's Canyon National Park, Crystal Cove State Park, Sunset Cliffs Natural Park
With COVID restrictions still in place, 2021 was the perfect year to explore more of the beautiful USA. We had been to California before, but it's so large we have to keep going back! Spring Break seemed like the perfect amount of time to get in a mini road-trip. While there was a lot of driving involved with this trip, it was totally worth it! From the mountains to the sea, this trip had it all!
Day 1: Travel and Get to Joshua Tree National Park
Our first stop on our road trip would be Joshua Tree National Park. There are several airports you can fly into. Palm Springs International Airport (PSP) is the closest, about 50 minutes away, followed by Los Angeles International Airport (LAX), about 2.5 to 3 hours away. Slightly unfortunately for us, the cheapest flights landed in San Diego International Airport (SAN), so we had to make it work. The drive from San Diego to Joshua Tree NP is about 3 hours, so not much further than flying into LAX. We landed in San Diego, picked up our rental car at FOX Rent a Car (super easy and fast – highly recommend!), and ventured out to find lunch. We ended up at Coasterra, a modern Mexican restaurant with beautiful views of the San Diego skyline. Portions were large and the food was delicious! Plus it was close to the airport! If you find yourself in this area, don't pass up the chance to eat here.
After lunch, it was time to make our way to Joshua Tree. We decided to glamp our first night, as it's just always an awesome experience. We stayed at this Airbnb in Yucca Valley, a decked out glamping tent with a queen bed and easy access to the park. There was a little but efficient kitchen, clean bathrooms, and even a hot tub and fire pit area for hanging out or meeting new people. It was a lovely place, but we were exhausted after a long day of travel, so we ate some dinner by our private fire pit and went to bed early.
PRO TIP: Joshua Tree is a designated International Dark Sky Park, meaning it has some of the lowest light pollution on Earth! Because of this, it is also one of the best places in the world to stargaze. Make sure you check out the amazing evening sky!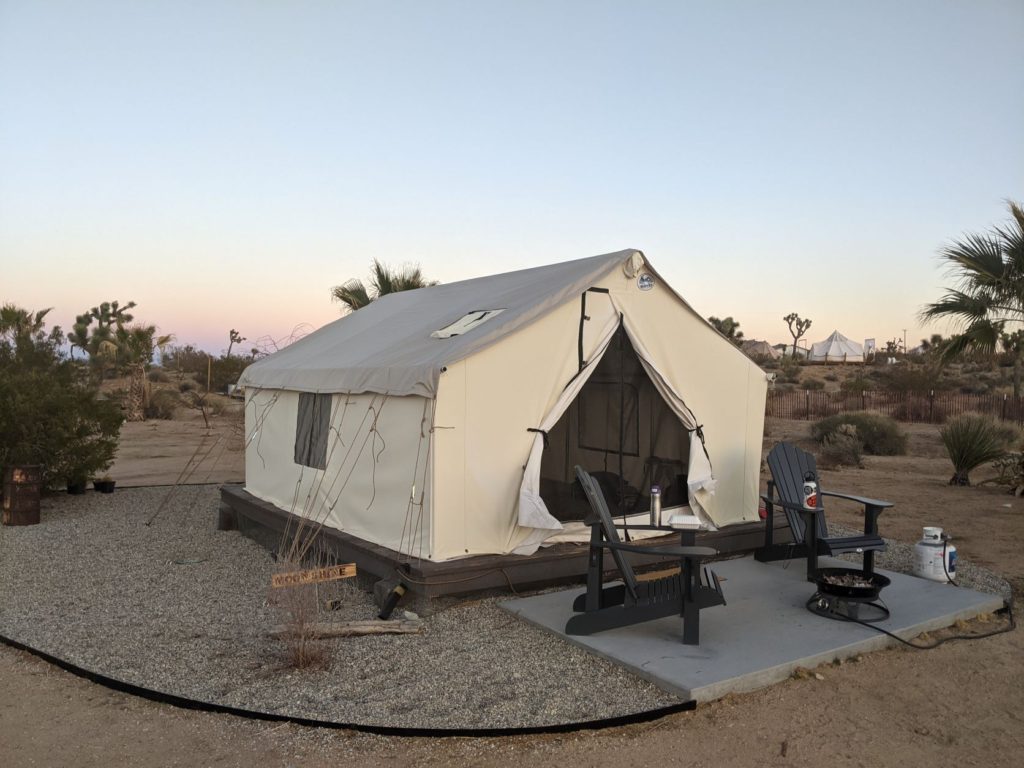 PRO TIP: Cell phone service can be spotty, especially in the park. Make sure to download any directions you may need, stock up on water and food supplies, and fill up your car with gas before heading out for the day.
Day 2: Explore Joshua Tree National Park
PRO TIP: All US National Parks require an entrance fee or pass. As we were seeing at least 3 parks on this trip, it made the most sense to buy an America the Beautiful pass. These passes can be purchased here or at any of these physical locations. Otherwise, the entrance fee for Joshua Tree is $30 (but always double check here in case fees have changed from the time of posting).
Here at Two Girls Getaway, we are ALL about sunrises and sunsets. As we had gone to bed early, we decided to wake up early and make the most of our day with a beautiful sunrise in Joshua Tree. After some research, we found that Cholla Cactus Garden is the best spot for sunrise photos in the park. We arrived before the sun had come up and it was COLD. Make sure to wear layers, as the air temperature can drastically change throughout the day.
The garden was absolutely beautiful, and the sunrise tip is no secret – there were lots of other photographers there for the sunrise. However, there is plenty of room to move about and make sure you get the best photos.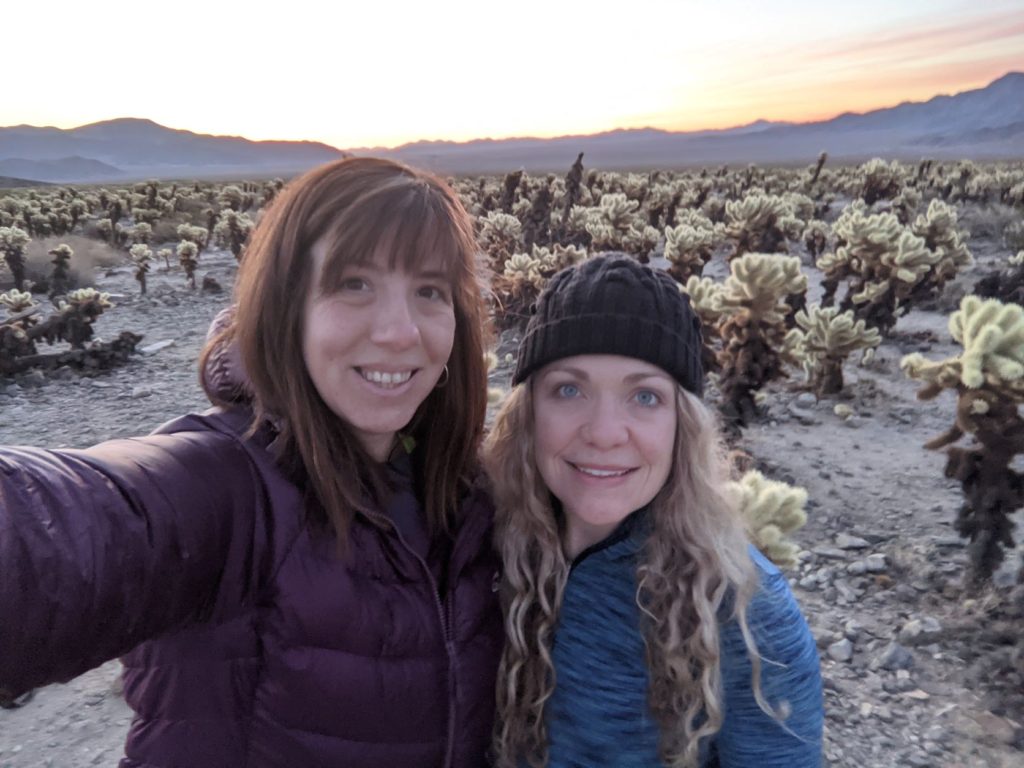 PRO TIP: The cacti are SUPER spiky and sticky. While trying to get a good photo, Jenny squatted down only to surprisingly get a cactus stuck to her butt! OUCH! They are known as "jumping chollas" because of their ability to attach to anything and anyone, even if they don't seem so close. So be EXTRA careful not to get pricked while exploring these gardens.
After the sunrise, it was time to get to some hiking! There are lots of beautiful places to visit in the park, but we decided to start with Arch Rock, as it typically gets very busy and we wanted to beat the rush. The hike was about 1.4 miles from the trailhead, and passed through a campground, but it was quite easy and scenic. Arch Rock was amazing to see in person! We explored the area a bit more before heading back to the car for the next stop.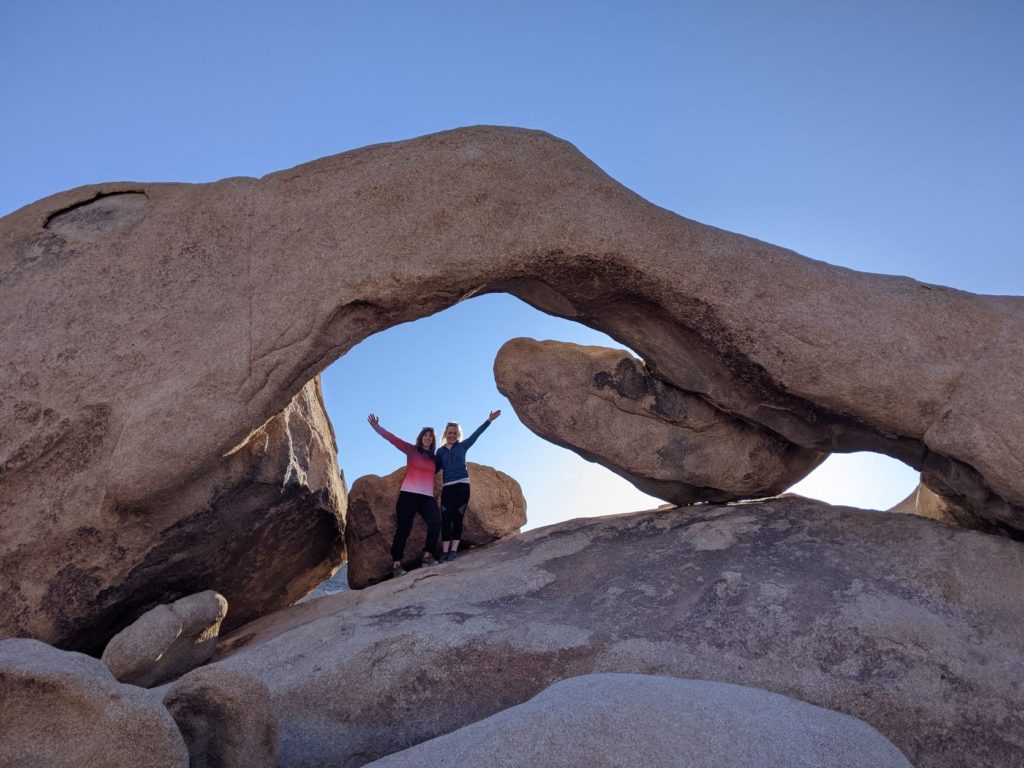 Next we were off to Skull Rock. As one might guess, this rock gets it's name from it's interesting formation. To be honest, this area wasn't super impressive, but it's a super short hike so feel free to make the quick detour if you have the time.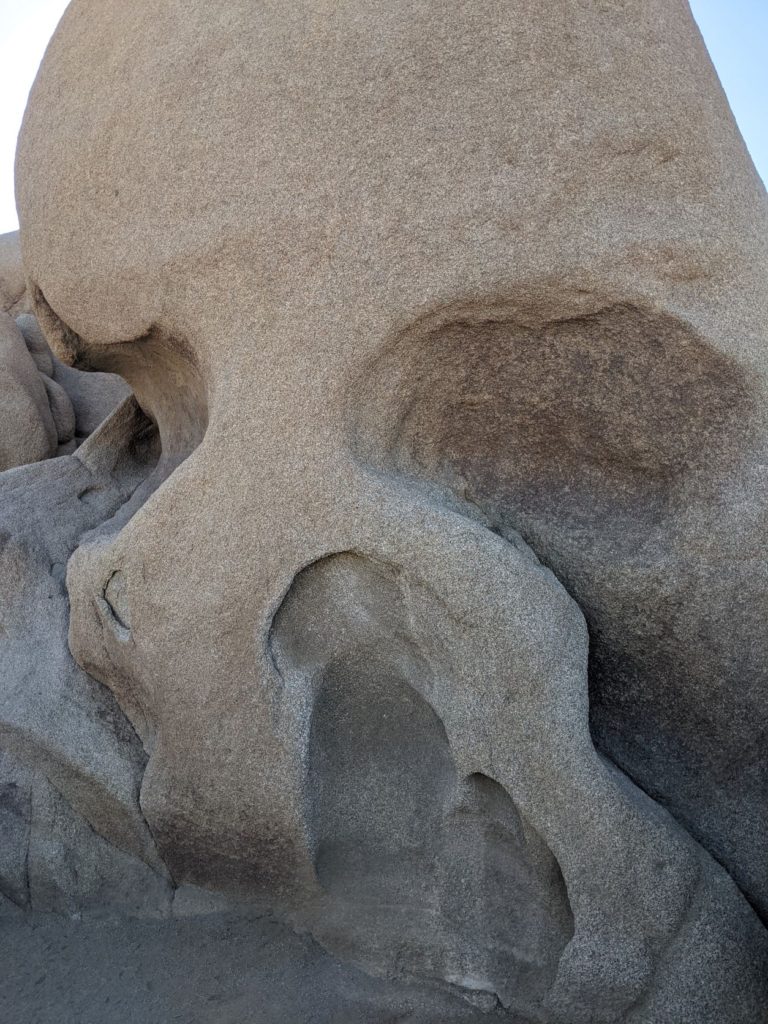 Next we were off to Jumbo Rocks Campground. While we weren't camping, this is still an AWESOME place to explore a bit. The rocks were certainly gigantic, and hiking around on them made us feel miniscule. There aren't many marked paths, but we just walked around and made sure we didn't lose track of where we parked our car. Note that in the pictures, we're already in tank tops – the weather sure does change quickly!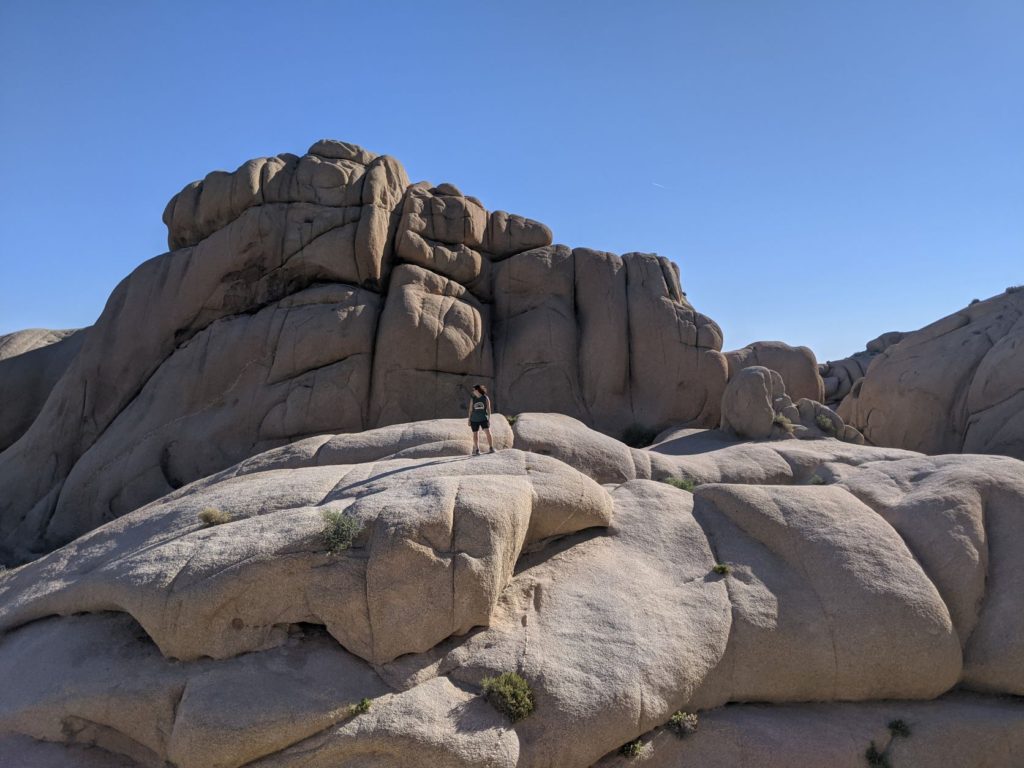 Next stop: Keys View! There aren't many panoramic overlooks in Joshua Tree, so we knew we had to stop at Keys View to get at least one! On the way, we also passed through an area of thick Joshua Trees, so we made a quick photo stop.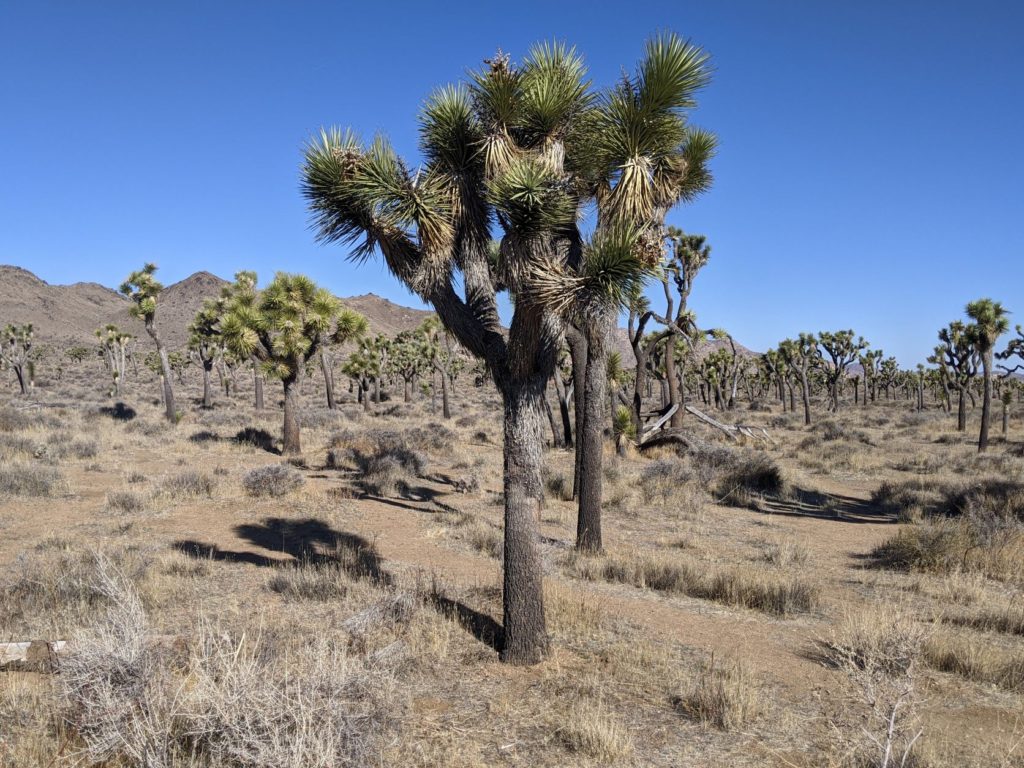 DID YOU KNOW? The Joshua Tree isn't actually a tree at all! They are actually a Yucca plant and can live to be up to 150 years old!
There is a short, paved walkway up to the Keys View viewpoint. From there, you can see down into Coachella Valley and even into Mexico on a clear day! Note that it was quite windy up there, but beautiful nonetheless.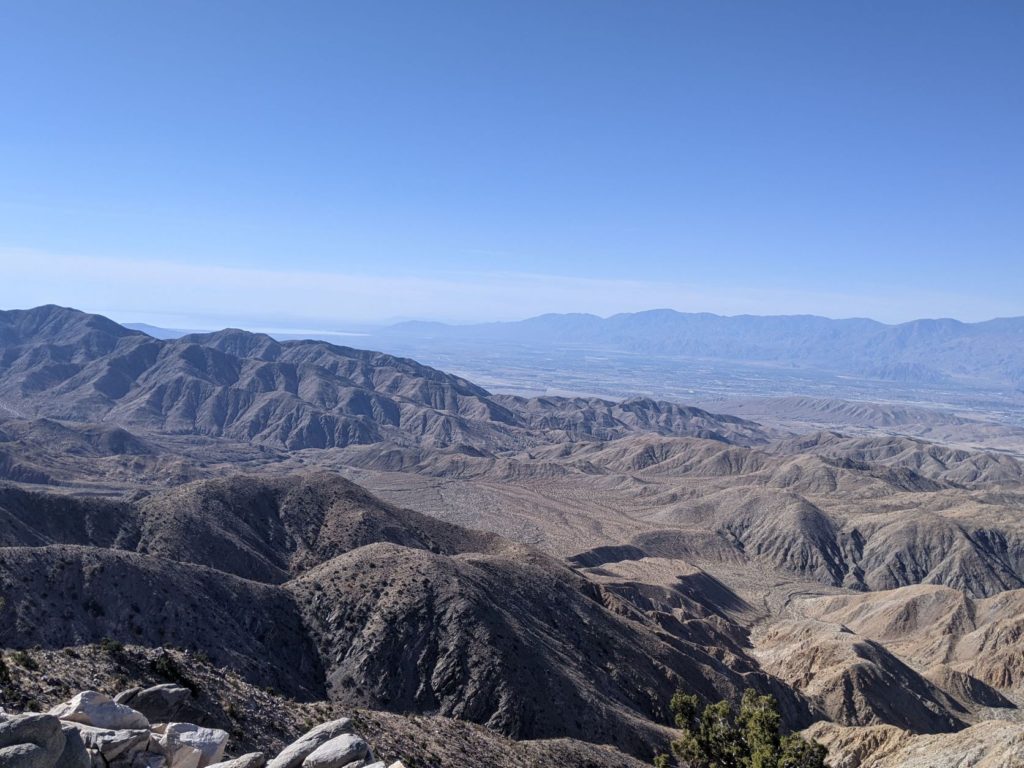 We would next head to Barker Dam Trail, a 1.3 mile easy hike. Because of it's ease, this trail can get quite crowded. Unfortunately for us, everything near the dam was dried up, and the most interesting part of the hike were the petroglyphs. There was a sign that these had been vandalized in recent years, which was very disappointing to read. Unless you're interested in the petroglyphs, this might be a hike to skip.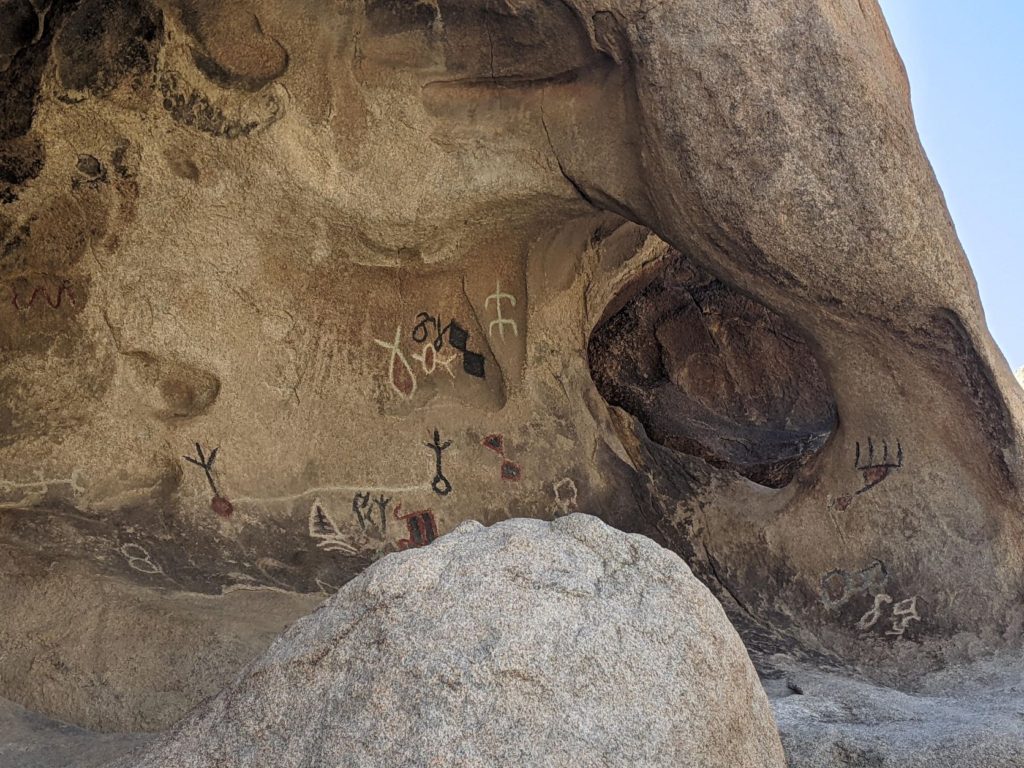 The hike that we enjoyed next was the Wall Street Mill hike. In only 1.5 miles, this hike packed in a lot! We passed old abandoned cars and ruins on our way to the old gold mill. The feeling of a "ghost town" really crept in, and we enjoyed learning about Worth Bagley, who died in an old western shoot-out. This was one of our favorite hikes, and it was easy, so definitely check it out!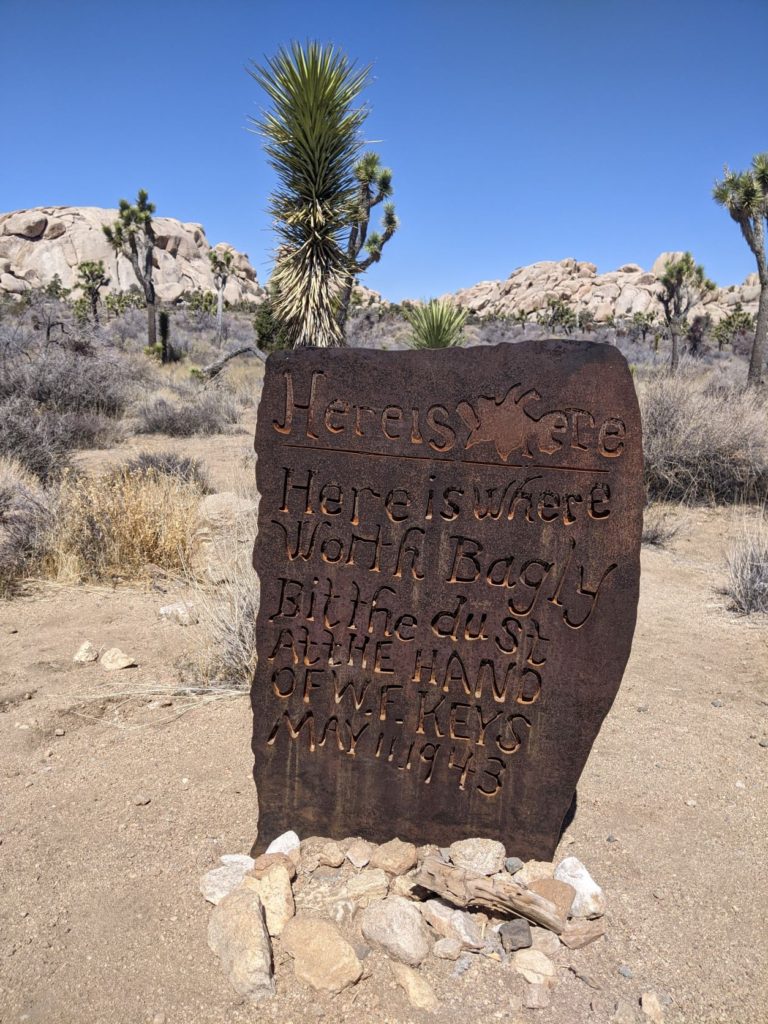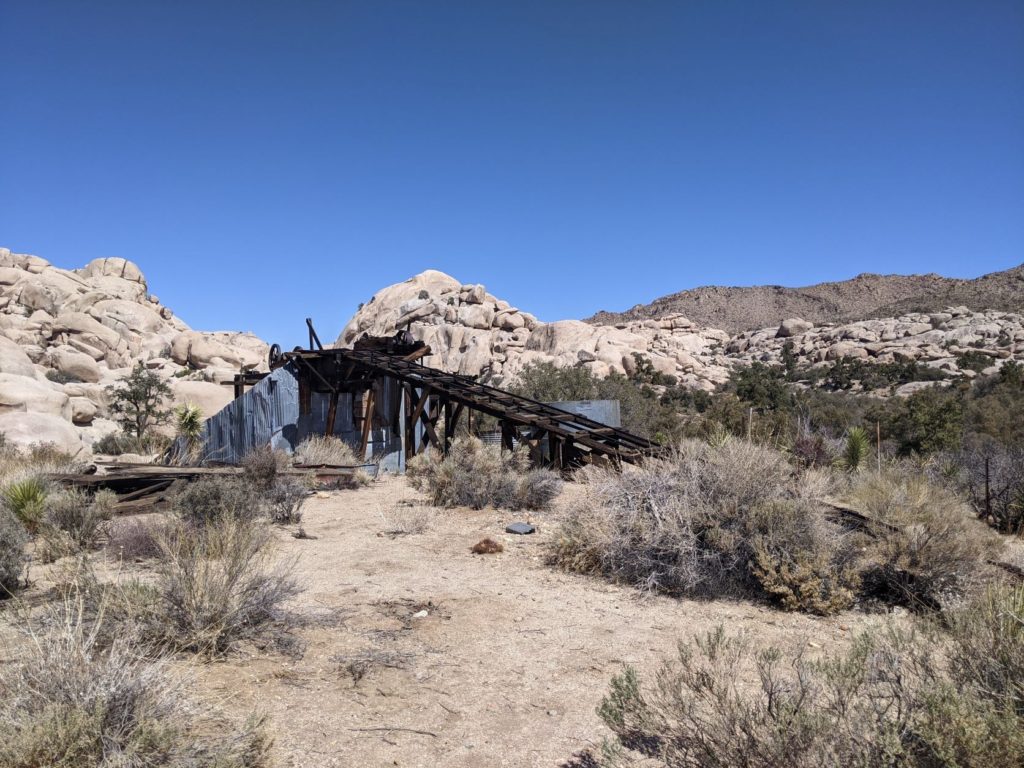 Although there is probably much more to explore in Joshua Tree NP, it was time to head to our next destination – right outside of King's Canyon and Sequoia National Parks. It was about a 5.5 hour drive to our Airbnb, which we highly recommend! This Airbnb was truly unique in that it was part of a winery (with complimentary wine tasting) and was once an art studio for renowned California painter Helen Clingan! The close location to the National Parks and the surrounding orchards was simply amazing. We grabbed some dinner, jumped in the hot tub, and ended the day with a relaxing soak.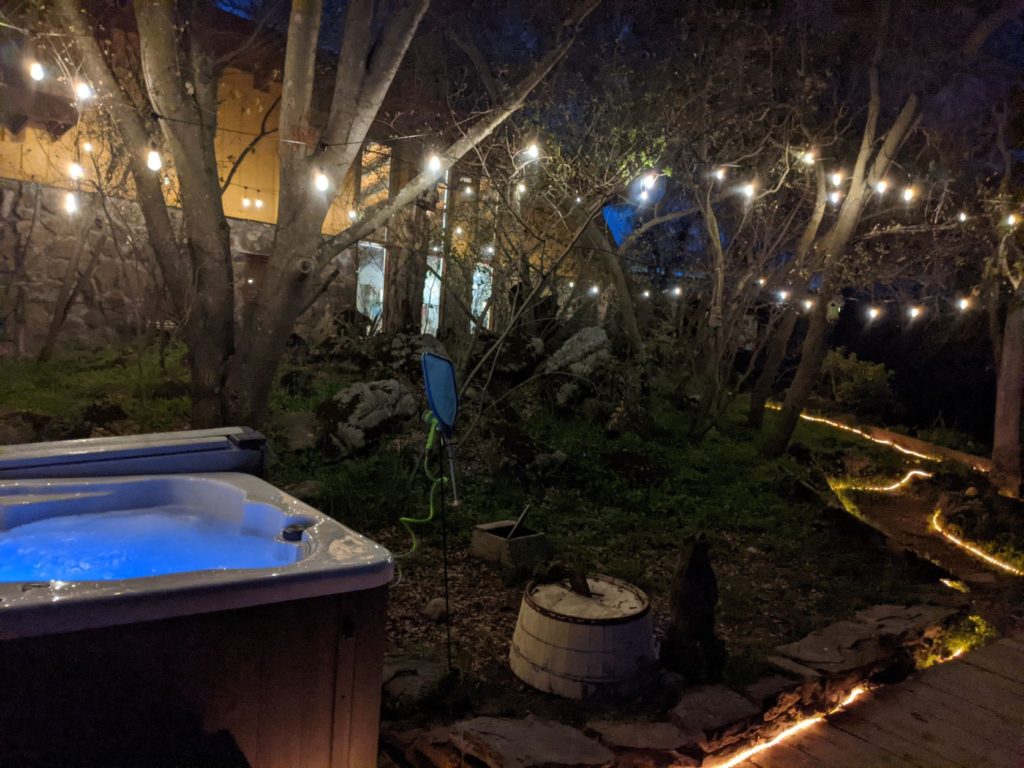 Day 3: Sequoia National Park
Another early morning! We woke up and started the drive towards Sequoia National Park. On our way, we were surrounded by fields and fields of orange trees. It was truly a beautiful site, and we made a mental note to take a tour of an orchard later on in our trip. Unfortunately, we never found the time, but if you end up doing this, let us know how it was!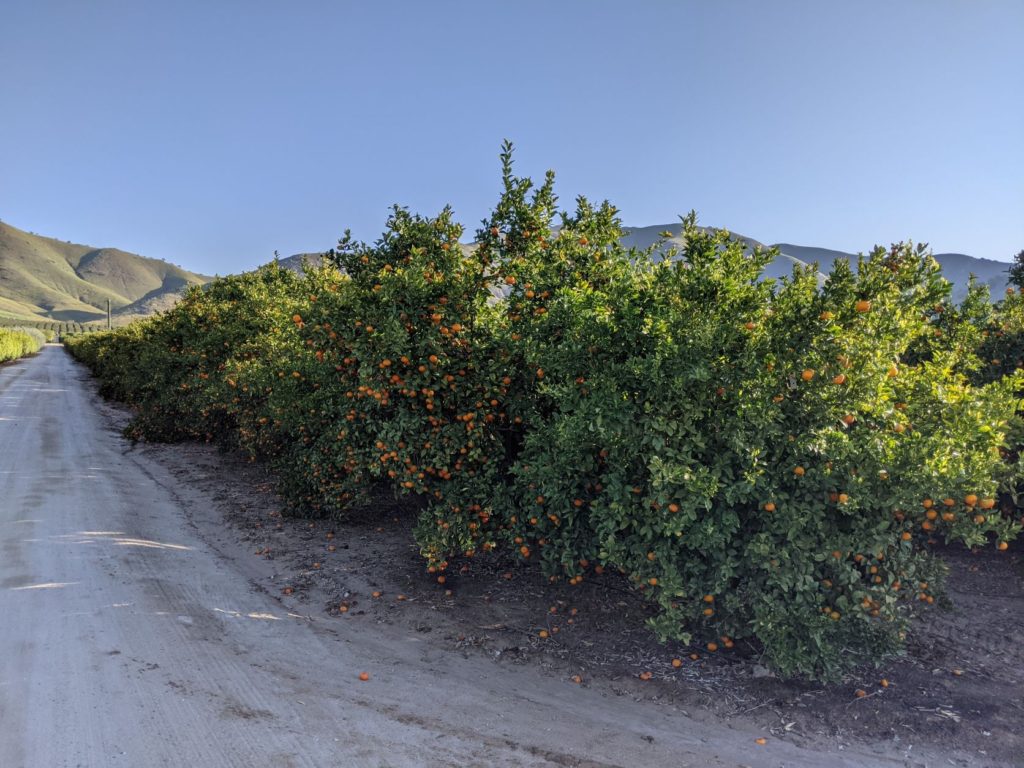 After about a beautiful hour long drive, we made it to the entrance of Sequoia National Park. Time to get out your America the Beautiful pass! If you didn't buy the pass, the entrance fee is $35 and covers entrance to both Sequoia National Park and King's Canyon (check here for the latest information!).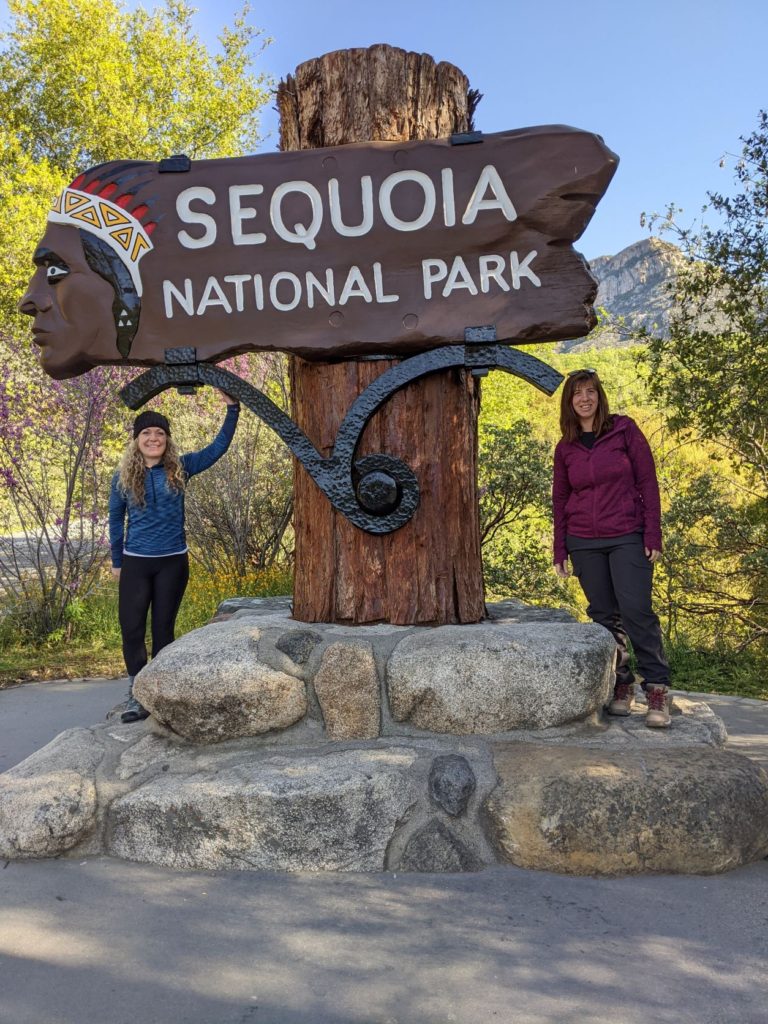 There are many beautiful overlooks, but we again wanted to beat the rush and head straight to General Sherman Tree – the largest tree in the world by volume. There are plenty of signs and parking, so you shouldn't get lost. Unfortunately, even with getting there early, there was still a bit of a crowd. There is a short hike to get to the tree, but this should NOT be missed! The size is truly magnificent!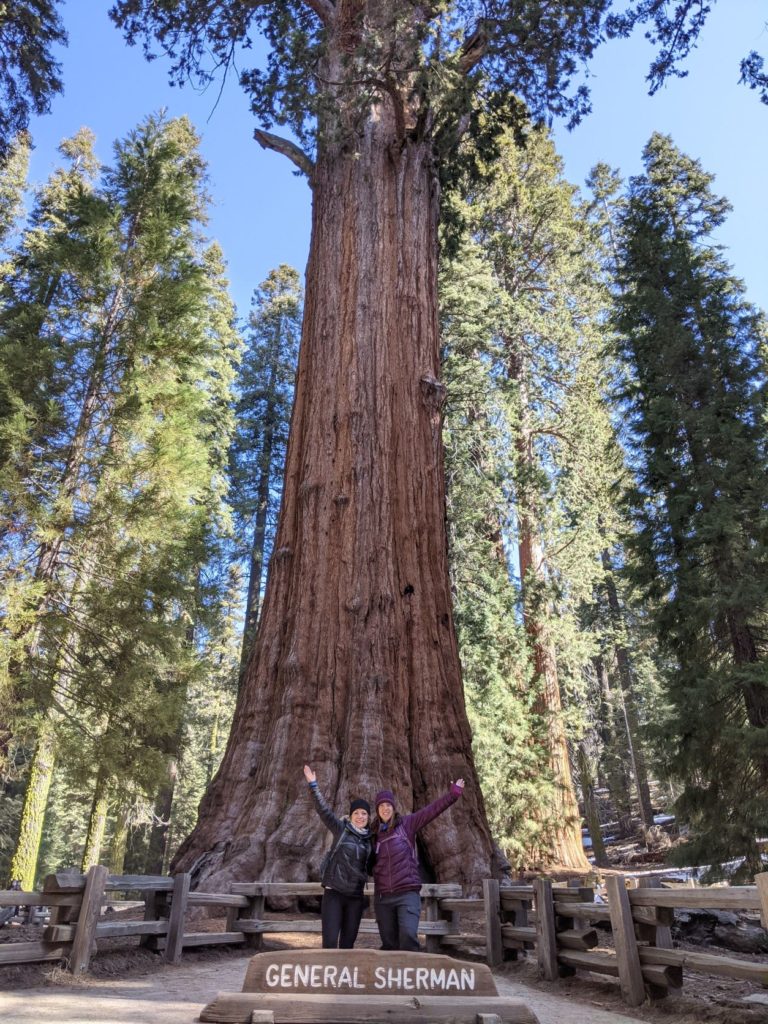 After getting your picture with General Sherman, be sure to explore the area some more. There are downed trees that have been tunneled out to walk through, there are giant twin trees, and most importantly, there is the Congress Trail. This is a 3 mile loop through some of the world's biggest trees, and it was truly astounding. If you can only do one hike in Sequoia, I recommend this one!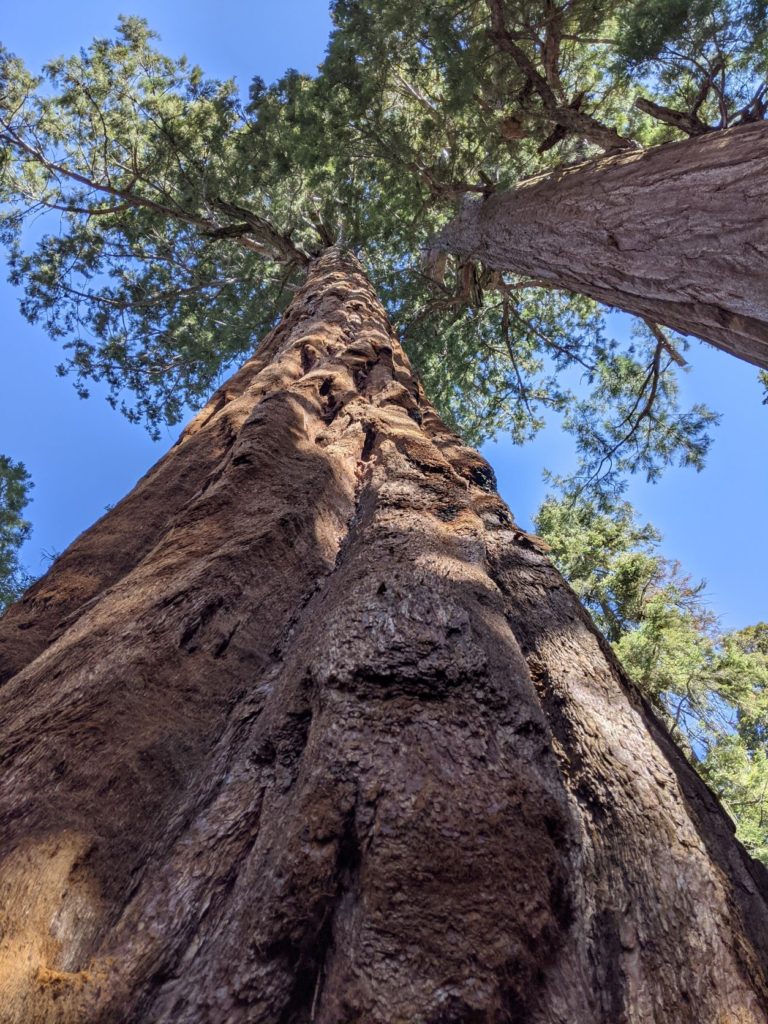 Make sure you stop at the Senate, the President, and all of the other aptly named trees on this hike. There were far fewer people than at General Sherman, and we had plenty of time to explore in just the sounds of nature.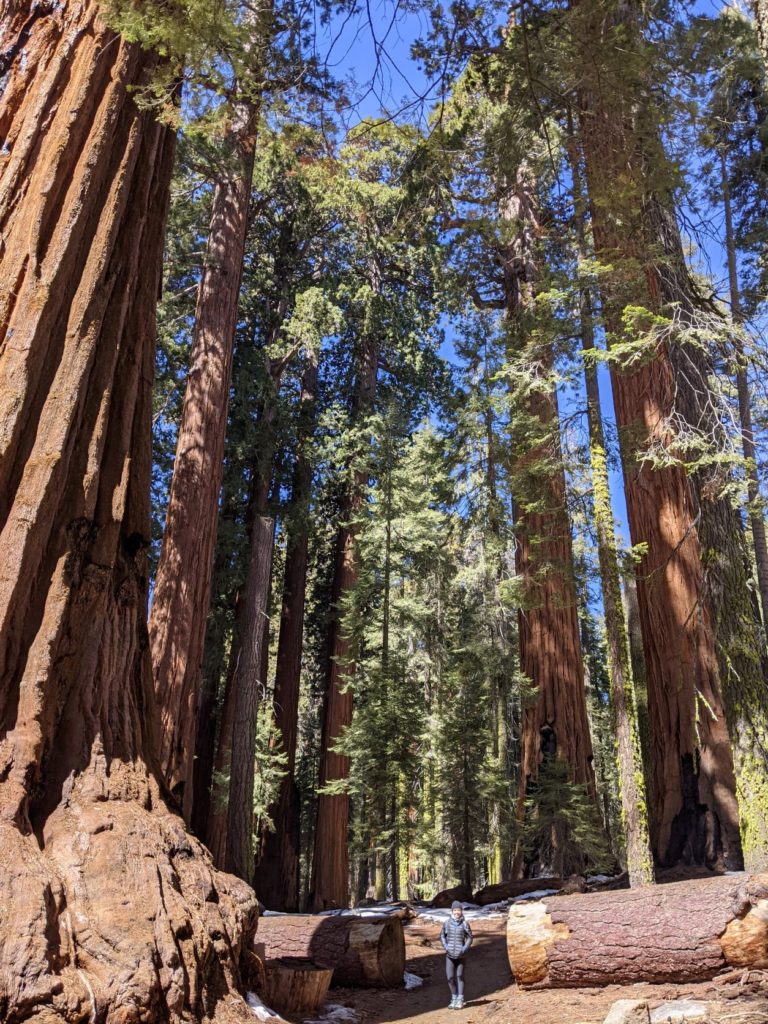 Next, we headed to Moro Rock Trail. While it was only .25 mile to the summit, there are A LOT of steps (over 350!). Take your time and when you get to the top, you will be rewarded with beautiful panoramic views. I recommend this hike, but beware, it can get crowded!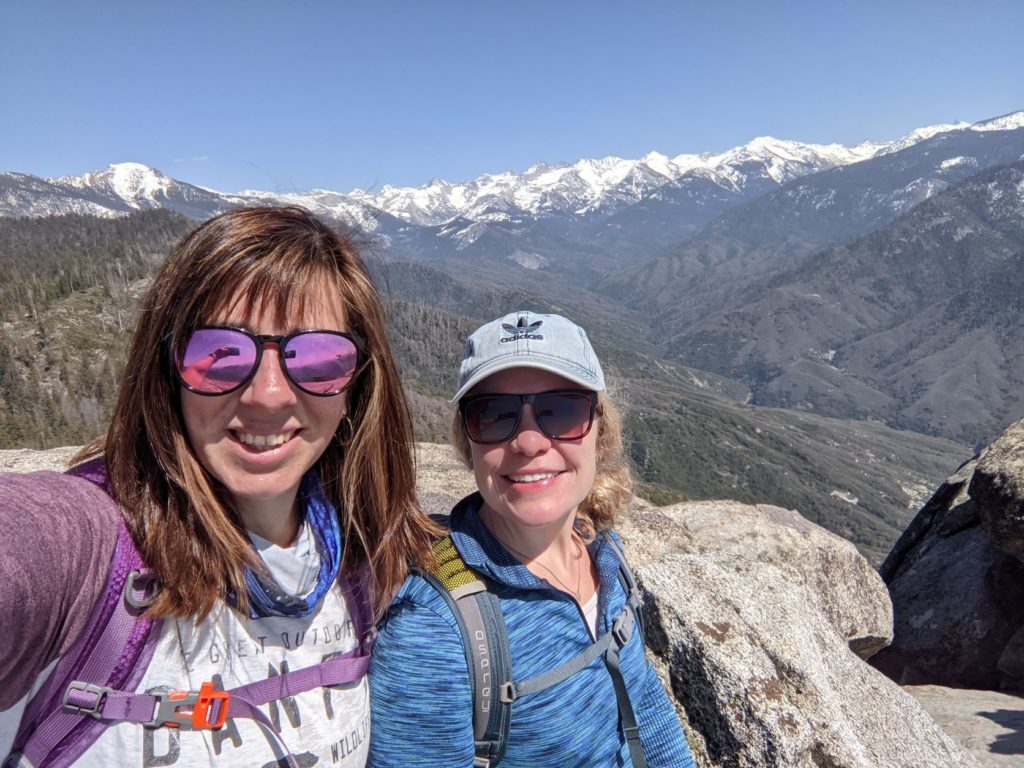 After heading back down, we decided to go seek out Tunnel Log. Apparently during the summer, you can drive your car through this downed tree. Unfortunately during the spring, the road was closed and we had to walk 1.5 miles each way. The hike started at the Great Forest Museum (which we did not check out) and went mostly along the road. I probably would not recommend this hike unless you had the extra time. The views were pretty similar to what we had seen before, with the exception of a cool downed tree with the roots exposed.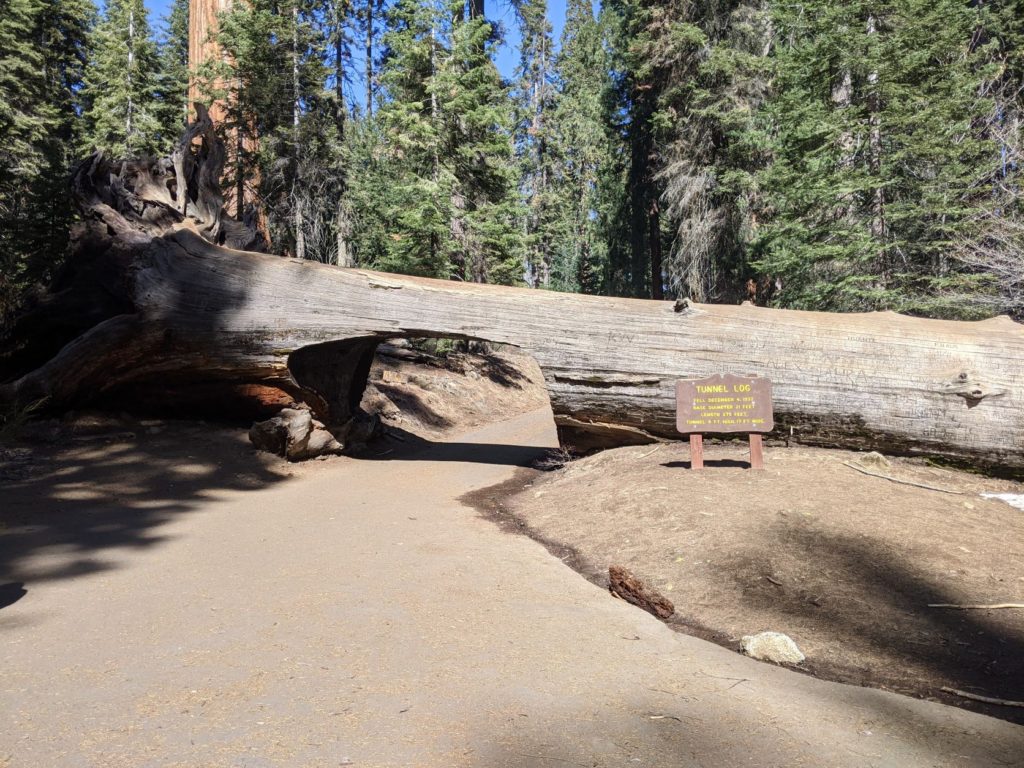 After Tunnel Log, we decided to head back towards our Airbnb, find a place for dinner, a sunset view (I told you we like our sunsets!) and enjoy the hot tub a little more. We ended up at Twin Valleys Smoky Mountain BBQ for some delicious food, and actually just pulled off on the side of the road somewhere outside of King's Canyon. There are several overlooks scattered every couple of miles, so we just picked one that was western facing and ate dinner with a beautiful view.
The sun set over the mountains and we drove back to our cozy Airbnb for some much needed rest and relaxation.
Day 4: King's Canyon National Park
We had set aside this day for exploring all that King's Canyon National Park had to offer. Little did we know that road closures would very much limit our ability to explore the area.
PRO TIP: Be sure to check the current conditions before heading out for the day. Although spring and fall may bring with it less visitors, it also brings snow and road closures.
Our first stop would be the General Grant Tree. This is the second largest tree in the world! And much less crowded than General Sherman! After admiring it's impressive size, there were several other trails in the area that we could investigate. One of my favorite places in this area was a downed tree that you could walk through. There were pictures of early loggers taking shelter in this tree, and just thinking about how long these trees have been around amazed me.
A little further down the road in King's Canyon, we were able to stop and admire the beauty of some yellow wildflowers.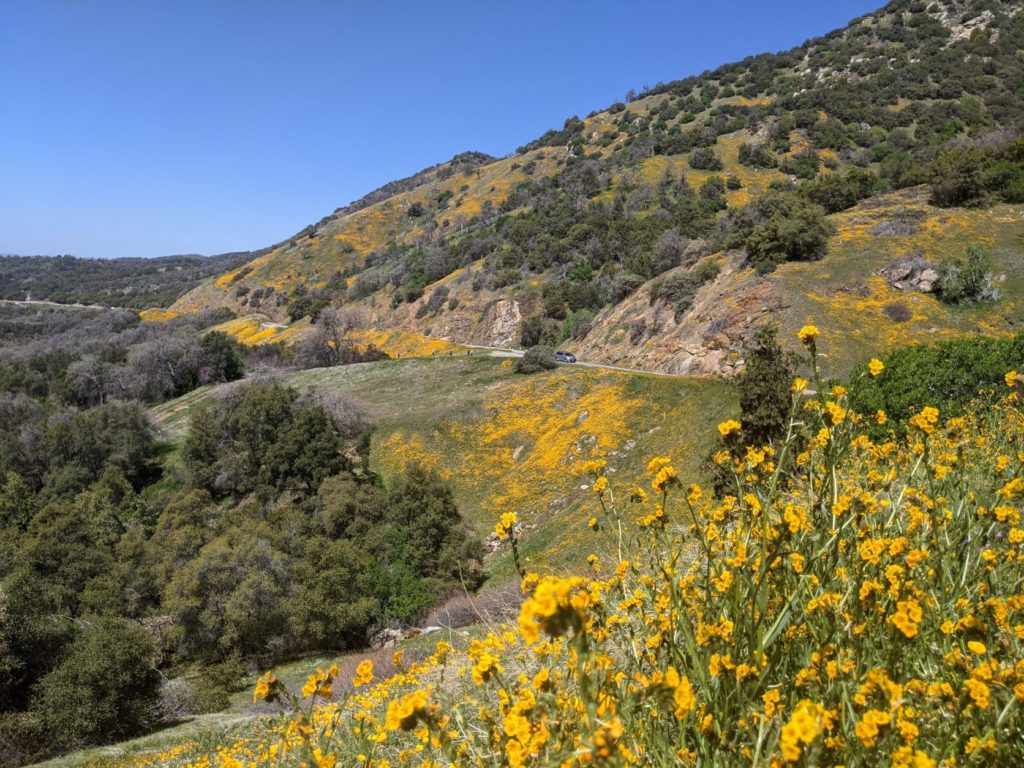 Unfortunately, that was just about as far as we could go. However, if you're in the area and roads are open, we have heard great things about Big Baldy hike! I guess we'll just have to come back and try it out next time.
We used our newly-found free time to take advantage of the complimentary wine-tasting offered by our Airbnb. We also ordered a charcuterie board, which was AMAZING.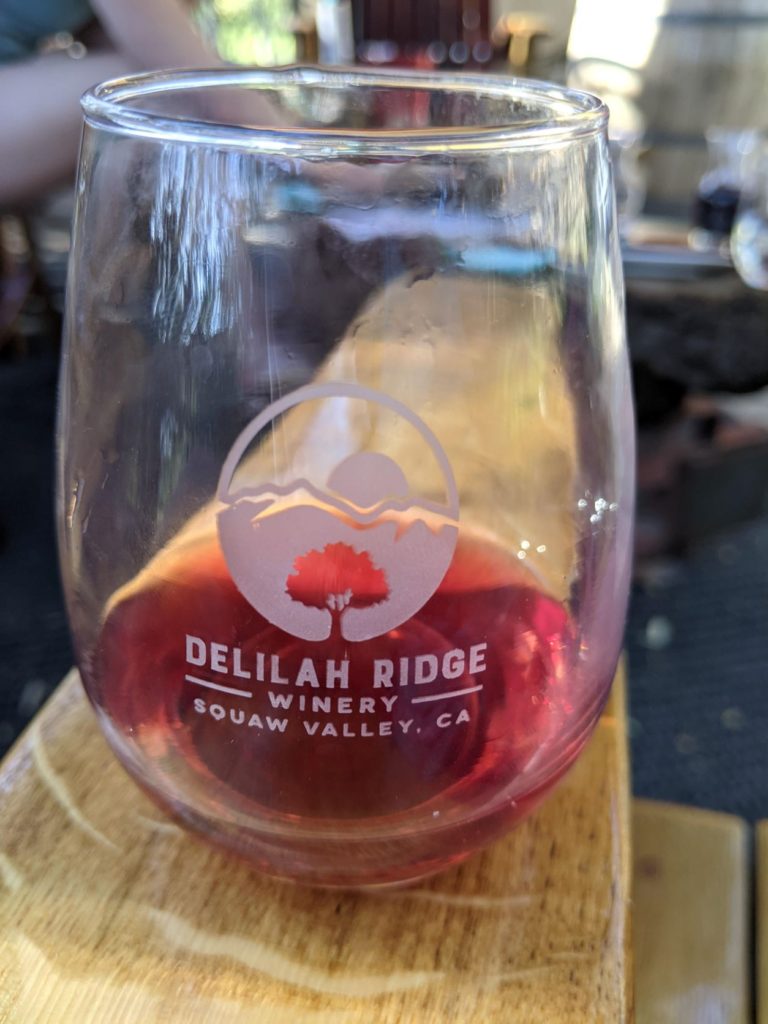 We had the pleasure to chat with our hosts and learn about their lives. They suggested we explore the winery grounds a bit after our chat, and we did so with pleasure. The vineyard was beautiful and there were adorable cows everywhere! We enjoyed the sunset with the cows before heading back for our final night at our Airbnb,
Day 5: Highway One Road Trip Back to San Diego
As our flight was departing from San Diego, we had to make our way back. This would be a long day of driving, but we got to see a lot! From our Airbnb to Los Angeles was a 4 hour drive so we started early. We debated going over to Big Sur and then driving down, but unfortunately we just didn't have the time. If you have an extra day in your itinerary, I would highly recommend this!
We arrived in Santa Monica in the early afternoon, and rented bikes for a stroll down the beach. We stopped at the usual landmarks – the Santa Monica Pier, Muscle Beach, and the infamous Venice sign to name a few.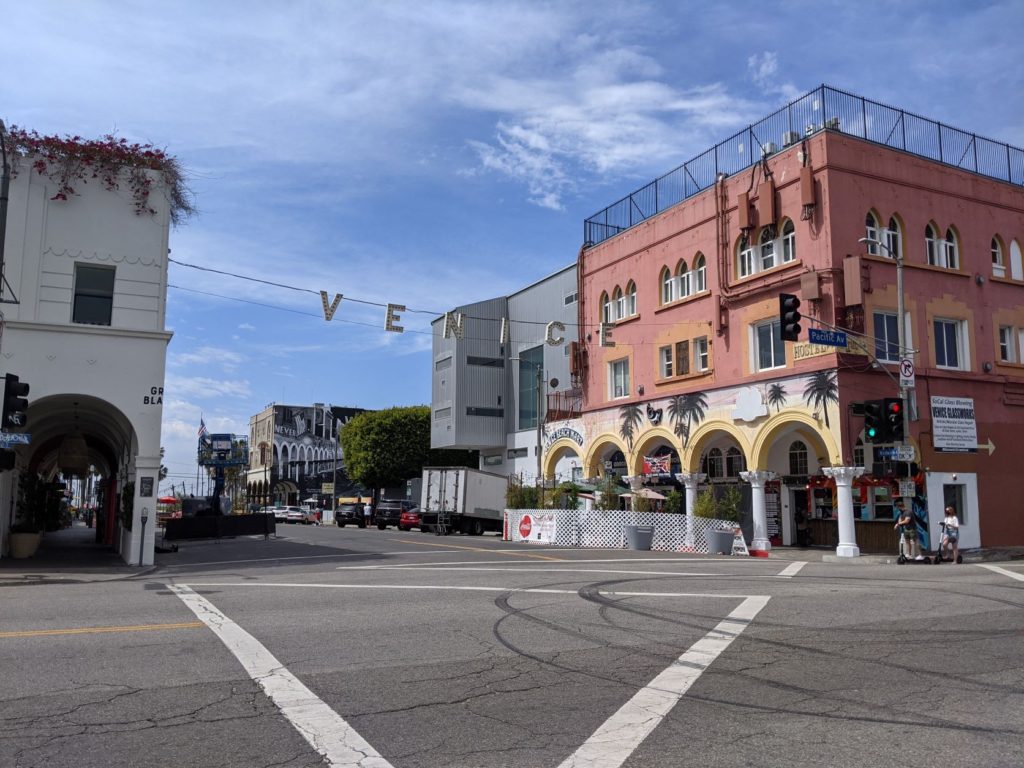 After grabbing lunch in Santa Monica, we headed down Hwy 1 for about an hour to Crystal Cove State Park aka Laguna Beach. There was a parking fee, but it wasn't much (check here for the latest details). We hiked along some trails and down to the water, where we stuck our feet in the Pacific Ocean for the first time. The beach felt very "California" to me, with the cliffs jutting directly up from the sandy beach.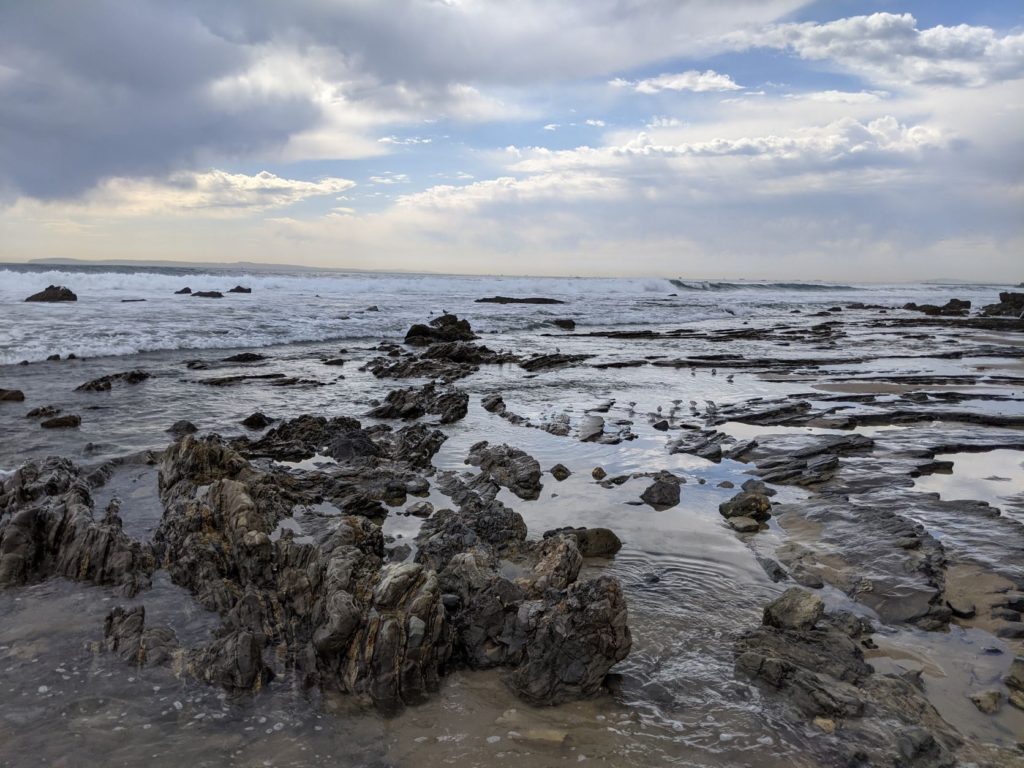 A short drive away, we stopped at Crescent Bay Beach, known for it's fancy houses and tide pools. Street parking was a bit difficult to find, and the beach itself was just fine I'd say. The tide pools were interesting to see, but quite crowded. If you want, feel free to skip this one.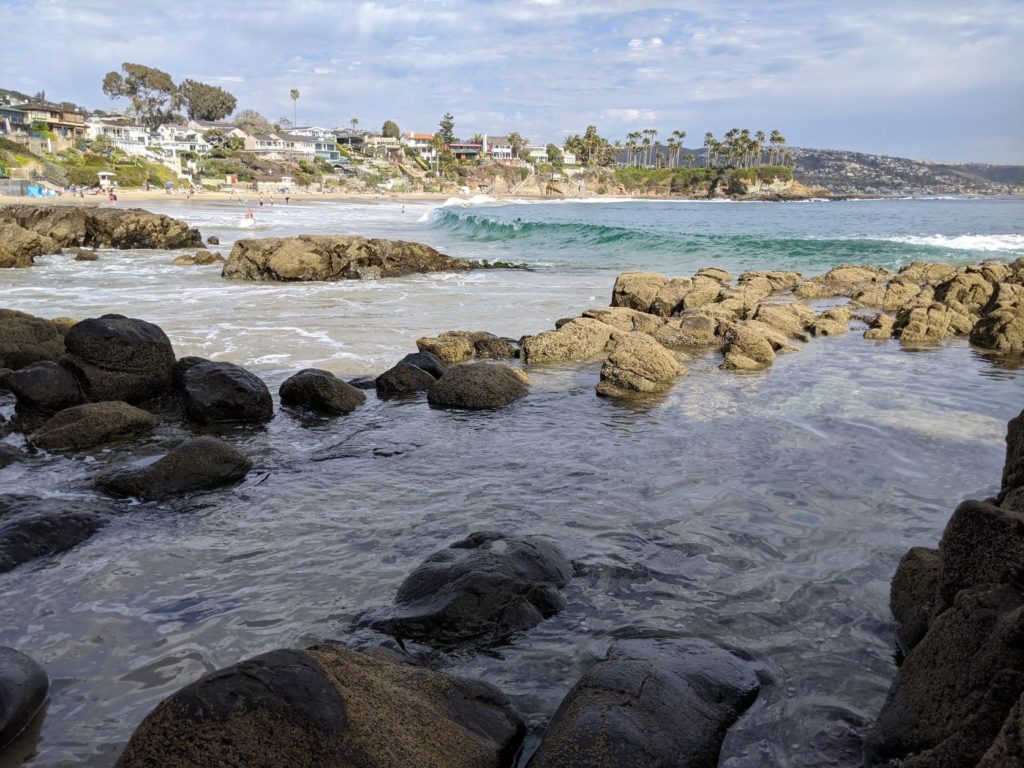 From Crescent Bay Beach, we had wanted to stop in La Jolla. Unfortunately we were running out of time and couldn't make it. An hour and a half later, and we arrived at our last stop right in San Diego – Sunset Cliffs Natural Park. This is MUST DO! Make sure you get there early, as parking and seating spots fill up quickly. There are lots of trails and lots of places to view the sunset and surfers below, so do a little exploring to find the perfect spot if you have the time.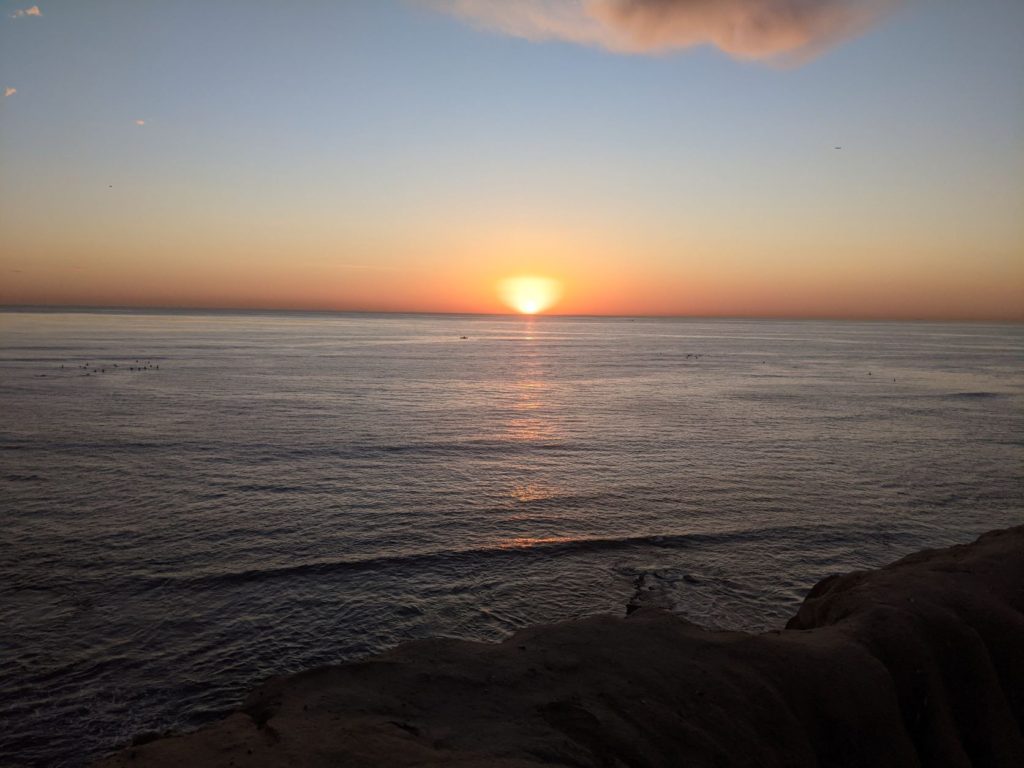 This was the PERFECT last night in California. We headed over to our hotel in San Diego, Little Italy House by FOUND. Unfortunately, we do not recommend this hotel. The walls are paper thin, there were unknown hairs everywhere and it smelled like smoke. At least it was cheap!
Day 6: San Diego and Head Home
Our flight back home wasn't until the afternoon, so we had some time to explore San Diego on the last day! We started off with what I believe was the best bacon, egg and cheese sandwich I've ever had – from Pappalecco. Highly recommend!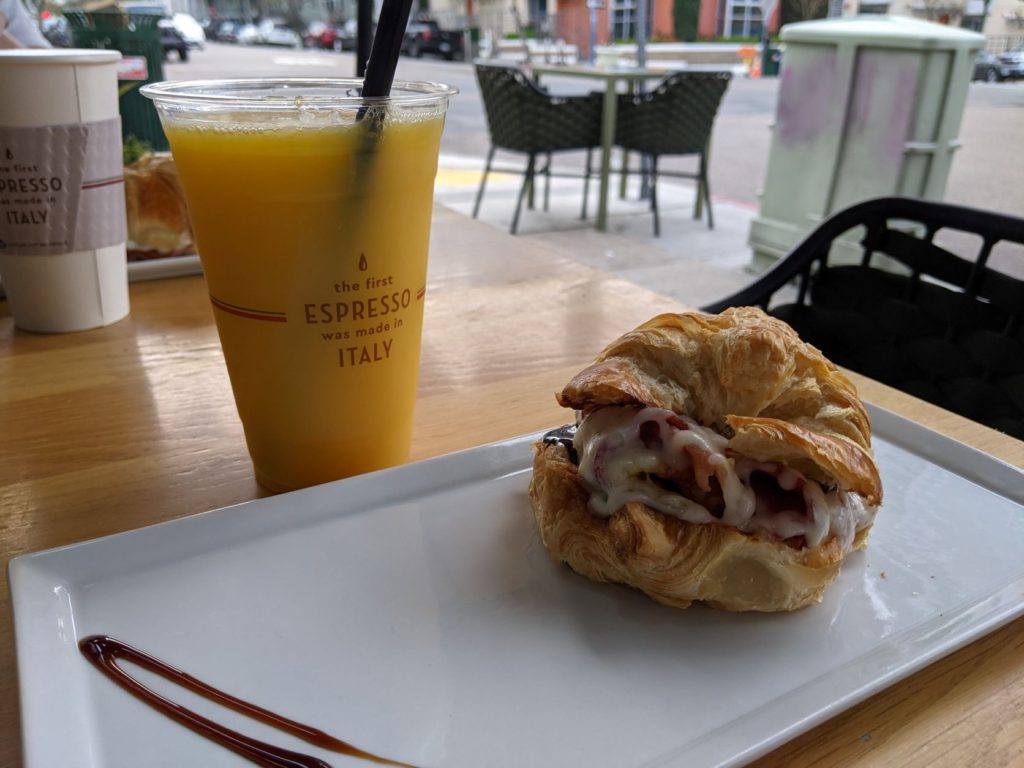 After our delicious breakfast, we thought it would be a fun idea to explore San Diego via scooter. We had never done this before, but there's always a first time for everything! It was a little bit frightening how fast these scooters went, but luckily they were speed-controlled in various tourist areas. (Also, we think the locals do not like them, as we were yelled at a few times, even though we followed the rules).
Balboa Park was a beautiful area to explore! We scooted around the various museums and gardens, taking in the different sites and laughing at how ridiculous we must have looked.
If we had more time, I would have liked to explore these museums, but alas it was time to get to the airport and back home!
As always, if you have any questions, feel free to contact us here.