Country: Greece
Cities: Athens, Santorini, Mykonos
Sites: Fira, Oia, Perissa Black Sand Beach, Red Beach, Ornos Beach, Acropolis of Athens
In the summer of 2012, I traveled with 3 of my best girlfriends to the amazing country of Greece! When planning our vacation to Greece, it seemed like a monumental task. There are over 6,000 islands and 227 of them are inhabited! Should we rent a car? Should we book a cruise? Which islands should we go to? We had a lot to figure out. After some extensive research, we decided to enlist the help of ATB Holidays to assist us in planning the trip of a lifetime! Side note: Our representative, Lucy K., from ATB was awesome to work with. We hit a few bumps along the road with missing planes and ferries and the company was easy to communicate with and very helpful with rebooking travel plans.
PRO TIP: It's helpful to use a travel agent to book your hotel and ferry tickets as the agent will be legally obliged to get you to your destination!
When people refer to island hopping in Greece, everyone is talking about The Cyclades (famous group of islands). The island group lies to the southeast of mainland Greece and Athens. Santorini and Mykonos are probably the most well-known of the islands. Santorini is often know as a honeymoon destination due to it's laid-back culture, romantic sunsets, and beautiful houses. Mykonos, on the other hand, is associated with its vibrant nightlife and party culture!
Getting to the Cyclades
The Cyclades Islands can be reached by several ferry companies that will take you from Piraeus or Rafina to the islands and between islands. The ferry schedule changes frequently depending on the season, so be sure to check the schedule in advance. I recommend using DANAE ferry tickets online for the most up to date information. I also recommend taking a high-speed boat from Piraeus to the larger islands to save time – more on that later.
If you'd rather look into flying to the islands, there are airports in Naxos, Mykonos, and Santorini which have charter flights from Europe. There are smaller airports found in Paros, Milos, and Syros.
After working with our agent from ATB Holidays, we decided on an 8 day itinerary for Athens, Santorini, and Mykonos. Athens was not included in our package since we decided to book our accommodations on our own. However, the transfers to the ferry ports in Athens, Santorini, and Mykonos, as well accommodations and hotel transfers in Santorini and Mykonos were booked in advance with ATB Holidays.
Day 1: Athens
We booked flights on Aegean Airlines and had a 2 1/2 hour layover in Munich before arriving in Athens in the afternoon. We had a transfer booked in advance to get us from the airport to our hotel/hostel: Athens Style Hotel & Hostel.
Side note: Caroline was supposed to meet us in Athens, but her flights were cancelled due to weather. With the help of ATB Holidays, she was able to make the trip, but about 24 hours later. She met us Day 3 in Santorini! If you ever experience a missed flight, be sure to contact your tour company or head to the nearest customer service agent for your airline as soon as possible to get on the next flight out!
We highly recommend Athens Style Hotel & Hostel located in the heart of historic Athens. They offer a variety of room options, we got a private flat with a balcony. And, they have amazing views from the rooftop!
View of the Acropolis of Athens from the rooftop at Athen Style Hotel & Hostel!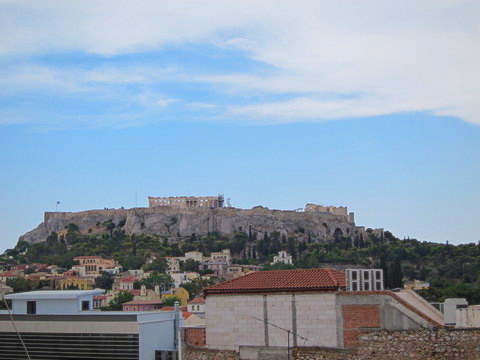 The Acropolis is open year-round and tickets are available at the entrance, but be prepared to wait. We recommend visiting either early in the morning or after 5pm to avoid the crowds and the heat!
After getting settled in our hostel, we set out on foot to explore historic Athens on our own and stopped for some authentic gyros!
PRO TIP: Did you know the Acropolis of Athens is one of the most famous ancient archaeological sites in the world? Located on a limestone hill high above Athens, Greece, the Acropolis has been inhabited since prehistoric times (from history.com).
Day 2: Santorini
This morning we left Athens for Santorini. Our booking agent from ATP Holiday set us up with a hotel transfer to Pireaus Port. Once at the port, we boarded a high-speed ferry to Santorini, which took about 5 hours.
PRO TIP: You have a few ferry options to Santorini. Blue Star ferries are said to be the most comfortable and smooth (could be a good option if you suffer from seasickness), but your ride will be close to 8 hours. However, it will be the cheaper option – about $44 one way. Seajets run high speed boats, with one way fares of about $87. The trip will take about 5 hours, however they tend to be a bumpier ride. Side-note: I get horrible seasickness, but felt fine on the high-speed boat with the assistance of Dramamine 🙂
Santorini is a beautiful crescent-shaped island located in the southern Aegean Sea. One of history's largest volcanic eruptions took place here during the Minoan civilization. When you dock in Santorini, notice the surrounding cliffs that form the volcanic caldera.
When you arrive on the island, you can rent a car, moped, or a scooter. If you take your vehicle on the ferry, be careful driving and navigating the somewhat terrifying road up the side of the caldera and cliffs.
We were thankful that our agent set up for our hotel to pick us up at the port. The ride up the caldera is a little scary, but gorgeous nonetheless!
We arrived at our next hotel, Margarita Hotel. It is truly a beautiful (budget) accommodation! We had stunning views of the sunrise from our balcony and enjoyed the serene pool in the center of the hotel.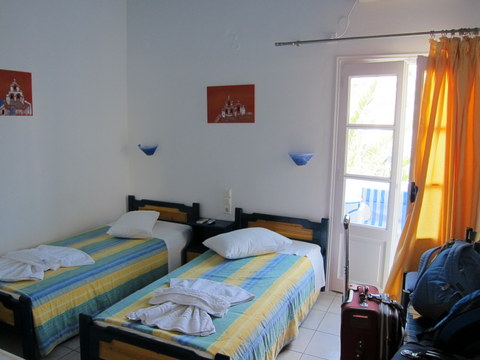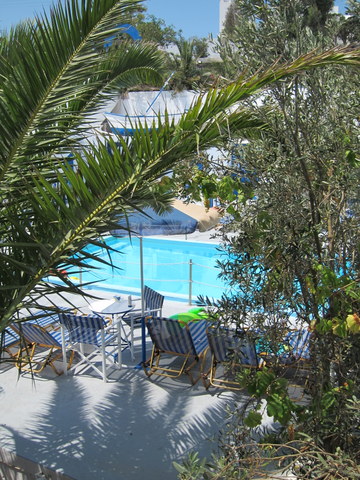 After getting settled at our hotel, we decided to spend the day exploring the island on our own. We stopped at Taverna Romantica for some food before embarking on our hike from Fira to Oia!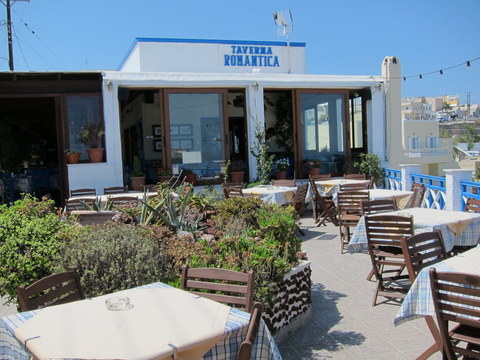 As you explore the island take note of all the beauty that surrounds you. Santorini is known for its blue-domed buildings…
…and its smooth, white-washed houses…
…its narrow streets and alleys…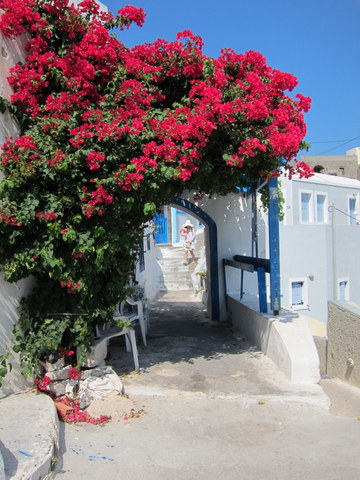 And of course, its spectacular views of the Aegean sea.
We then set out to hike the popular Caldera Trail from Fira to Oia. It takes about 4-5 hours to complete (including stops for pictures), but you'll see breathtaking views over the volcano while walking on the rim of the caldera. Along the way you will follow an old mule trail and pass through the villages of Fira, Firostefani, Imerovigli, and end in Oia. Be on the lookout for signs to Oia/Ia- it's easy to get lost!
PRO TIP: If tackling this hike on your own sounds too overwhelming, check out this guided hike which includes a picnic and sunset view!
The trail will take you through beautiful villages with the iconic white-washed houses and beautiful churches.
At one point, I got super scared on the trail as we were really high up and the trail got very narrow, so we made our way down the rim to the street level and finished our way to Oia.
Once we arrived, we rewarded ourselves with some Greek baklava!
And, we stayed long enough to admire the most gorgeous sunset!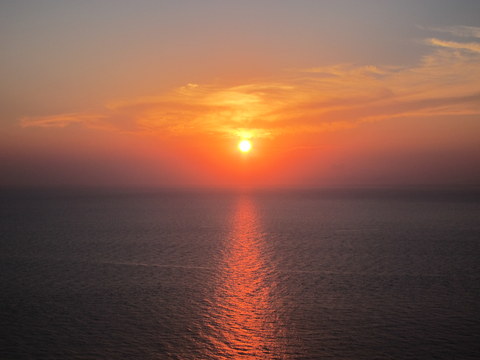 To return back to Fira, we either took a bus or taxi, I can't quite remember. But, have no fear, you don't have to hike back in the dark 🙂
Day 3: Santorini by ATV, Black Sand Beach, Red Beach (and Caroline arrives!)
Caroline finally arrived after dealing with airport delays and cancellations! We rented ATVs for the day to get around the island. This is a GREAT option for traveling on the islands. You will see locals and tourists alike out on the roads.
PRO TIP: There are plenty of companies that rent ATVs. Just ask you hotel concierge or locals for nearby recommendations!
Make sure to pick up a map at the ATV rental place if you are outon your own!
We stopped to take pictures of the "New" and "Old" Volcano. You can jump on a boat to get out to the hot springs there! If you'd like to take half a day to visit the hot springs, check out this Santorini hot springs tour.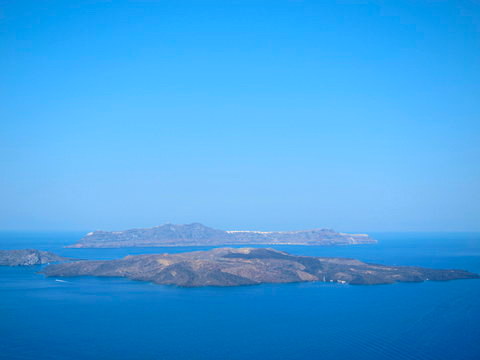 From here, we made our way to one of two black sand beaches: Perissa Beach located on the southeast coastline of Santorini. Perivolos Beach is the other black sand beach and the two together make one long beach famous for its black volcanic sand!
Perissa Beach is known for its beach bars that host various DJs, serve cocktails by the pool, and have a fun atmosphere with plenty of bars and restaurants from which to choose. There are beach umbrellas and sun beds, and several activities such as jet skiing, canoeing, parasailing, windsurfing, and diving.
The refreshing, crystal-clear waters along with the unique black sand make it one of the best and most popular beaches in Santorini!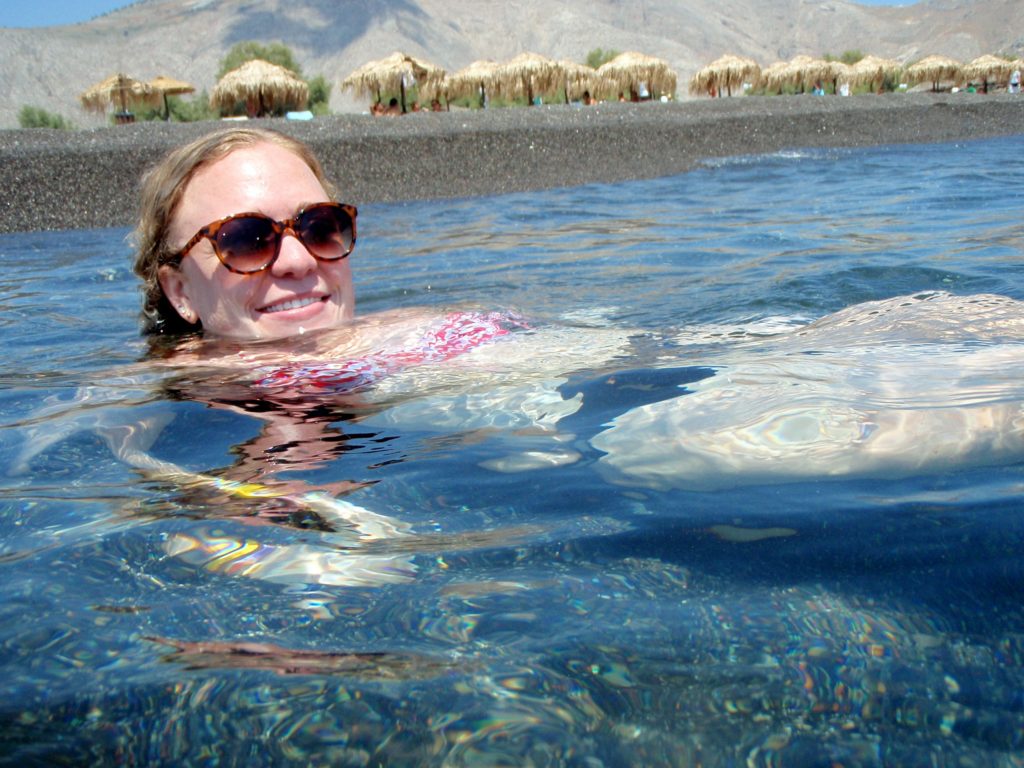 After spending some time here, we stopped at a nearby restaurant for some lunch!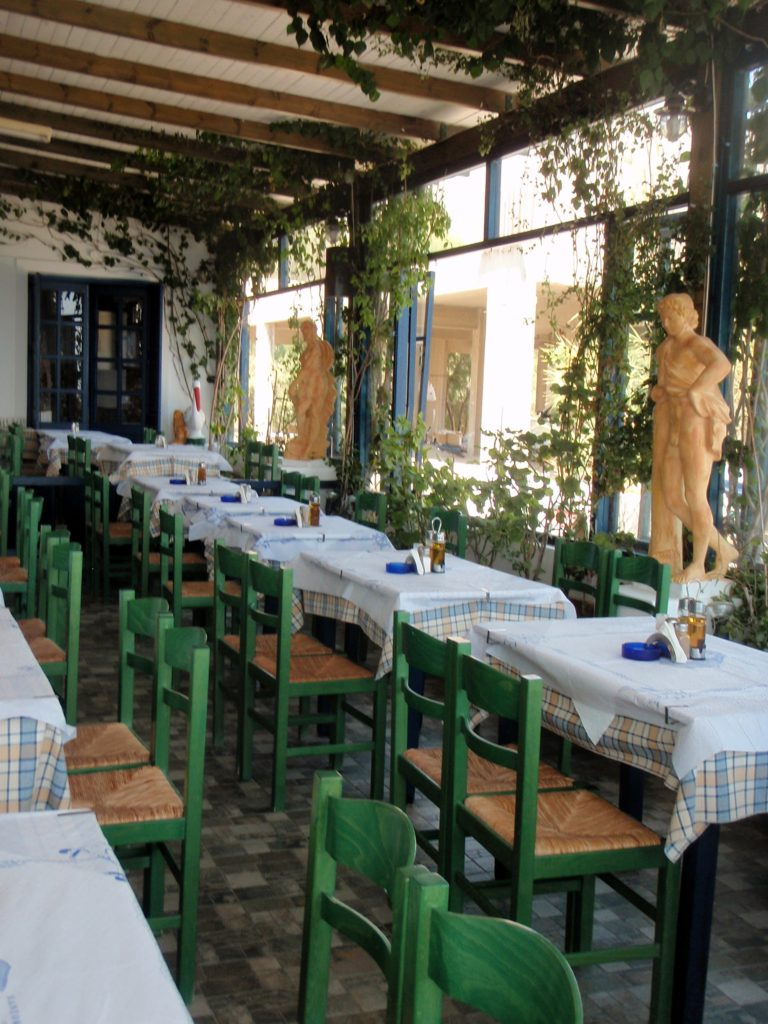 Then, it was time to jump back on our ATVs and head to one of the most interesting and iconic beaches: Red Beach!
Located at the southernmost tip of Santorini in Akrotiri village you will find Red Beach. There is plenty of parking, or you can take the bus from Fira. To reach the beach you have to walk for a few minutes on a downhill path. A great number of visitors come to Red Beach just to stare and photograph it, so expect crowds!
Hike up the path to the top of the hill to view the best panoramic view of the beach!
Red Beach is definitely a rare sight and probably one of the most unique beaches we've experienced with its red color dominating its surroundings. The beach was created from a volcano eruption and is comprised of small pebbles and sand of various colors with dark, blue-green water.
Be careful when heading down the path to the beach! It's steep, narrow, and slippery if you're in flip-flops.
The beach has sun beds and umbrellas, but make sure you bring your own snacks and water. There are no facilities or water sports on the beach. Right before you walk down the path to the beach, you can get some water from a stand, but you're better off being prepared ahead of time. You can also rent snorkel equipment before you get down on the beach and enjoy the marine life and cool rock formations!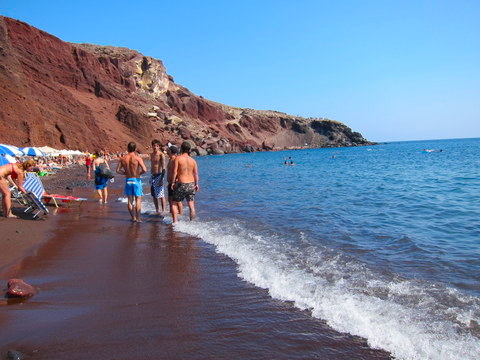 PRO TIP: Red Beach can get really, really hot as it is naturally sheltered from the wind. Definitely be prepared with sunscreen, water, and expect to spend most of your time in the water cooling off!
After the beach, we headed to a nearby restaurant for refreshing beverages! And, might I add, we had the best view too!
We stayed for the sunset in Oia, which is the most spectacular view ever! Find a cliff to hang at, bring a bottle of wine, and just be prepared for some stunning views. Also, be prepared for crowds! This was when we were super glad we rented ATVs because getting a taxi back to Fira would have been nearly impossible. But, there are always extra buses waiting for crowds after the sunset, so often times you don't have to wait to get back home.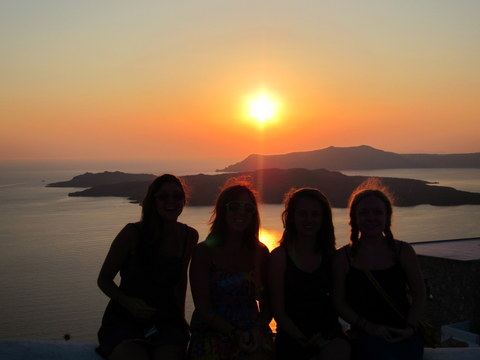 Day 4: Santorini
Today we decided to explore more of Santorini on foot. Caroline missed our first day here, so we tried to recreate it the best we could! We did a little "window" shopping and got some souvenirs along the way!
We walked toward the cable car station and passed by the Catholic Monastery of Dominican Nuns (in Thira). It's open to the public so you can explore this beautiful church any time you want. We decided to go in because, well, why not, it's gorgeous!
As you explore Santorini, don't forget to turn around once in awhile and admire the colorful houses perched on the edge of the cliff!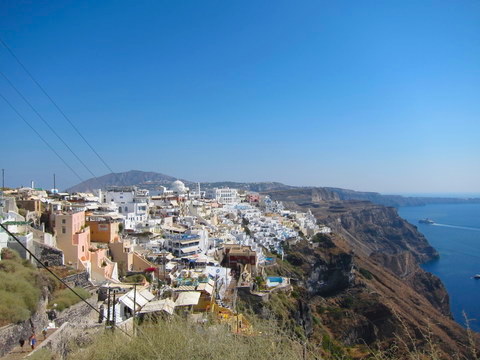 We decided to take the cable car from the capital, Fira, down to the Old Port. It's a cheap ride and only takes about 3 minutes, so many people just take it for the views. Check out this website for the most recent timetable and pricing for the cable car.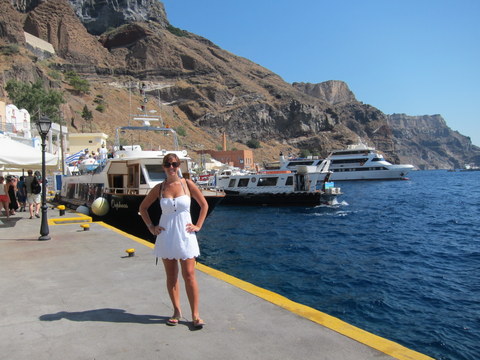 We explored the Old Port area once we got off the cable car.
We took the cable car back up to Fira and found a fish spa! This is definitely a bizarre, but fun experience. After you get seated, you dunk your feet into a foot bath filled with Garra Rufa fish. Don't worry they don't have teeth, but they gently suck the dead cells off your skin and provide a mini-massage to your food to increase blood circulation (honestly, I thought it was much more soothing than going for a pedicure where they try to "shave" off your dead skin). The experience is slightly ticklish at first, but as your skin becomes softer and smoother it tickles less.
We headed back to our hotel from here and enjoyed some relaxation at our hotel's pool.
After getting refreshed, we went back out for our last night in Santorini! We enjoyed a delicious dinner with a sunset!
Day 5: Mykonos
This morning we got on our pre-booked ferry to Mykonos. The ferry system in Greece seemed very convenient, reliable and it only took us about 2.5 hours to arrive in Mykonos from Santorini. There are about 4 ferries per day and the companies that run between the two islands are Seajet and Hellenic Seaways.
When we arrived at the port, we were met by our hotel shuttle and headed to Petinaros Hotel.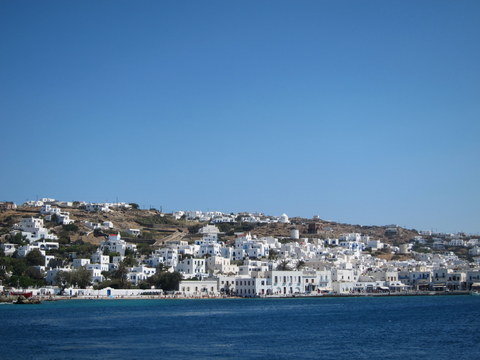 Petinaros Hotel is a budget hotel, but it didn't seem that way to us! The location was just right – only a few steps away from the town center.
After getting settled at our hotel, we went out on our own to explore the island!
Mykonos is one of the Cyclades islands in the Aegean Sea. The Mykonos windmills are iconic features of this Greek island and can be seen from every point of the village!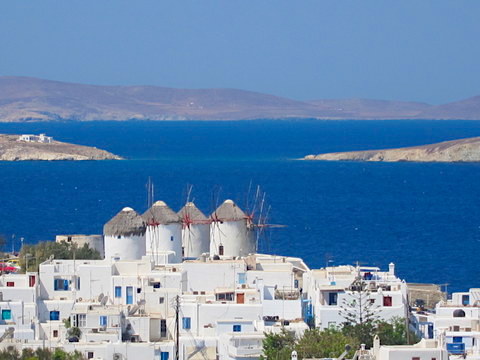 We stopped for lunch at (what I think) was La Rosticceria and got some delicious pizza!
We made our way to Chora, also known as "Mykonos Town." It's home to the majority of the island's restaurants, bars, attractions, hotels, etc. Motorized vehicles are prohibited so you will have to walk or bike to get around the town.
We headed back to our hotel to change and get refreshed for dinner. We enjoyed a sunset view from our hotel before heading back out!
We headed back into Chora (Mykonos Town) and found a great place for dinner. The area was super energetic, lively and the food was awesome!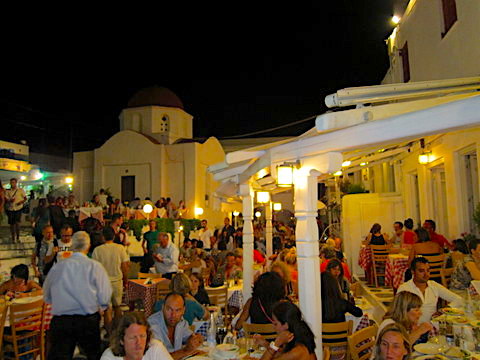 After dinner, we stumbled upon JackieO bar and were greeted with an entertaining drag show by Priscilla!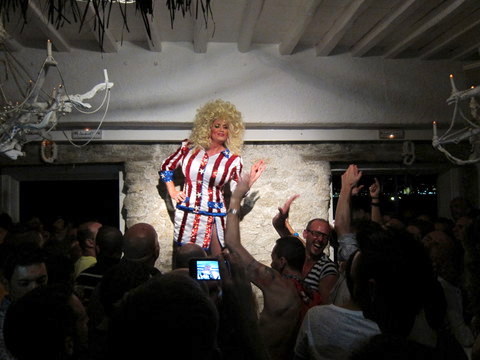 Day 6: Mykonos
Today we ventured out for a beach day at Ornos Beach. Ornos is a family-friendly beach, but it's also one of the most popular beaches. Several boats and yachts stop here during the day. There are a lot of hotels and restaurants, sun beds and umbrellas, making it feel very much like a "resort beach"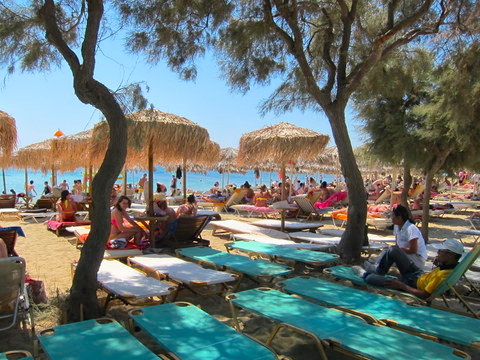 Ornos beach is about 10 minutes by car from Mykonos Town, you can also get there by bus. Check this site out for information on how to get around Mykonos.
Flag down one of the waiters walking around and you can get food and drinks delivered right to your sun bed 🙂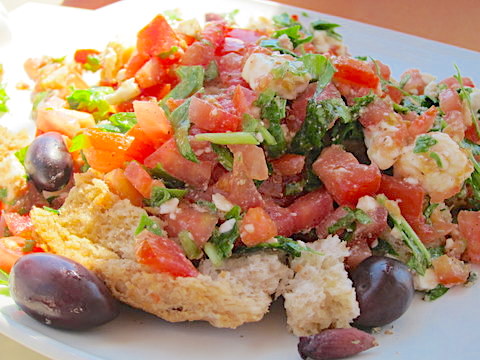 Or, walk up to one of the many (crowded) bars to place your order!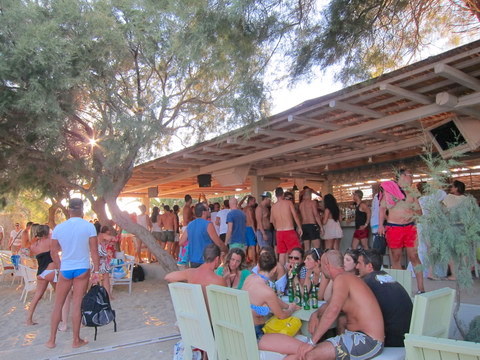 From here, we made our way to an amazing seaside restaurant near "Little Venice" of Mykonos. "Little Venice" is an elegant neighborhood with old, white-washed houses with colorful shutters sitting on the edge of the sea. It's about 3.5 km away from Ornos Beach and you can get a bus here from Mykonos Town at the Fabrika central bus station.
The sunset views in "Little Venice" are quite amazing and bring in hoards of people!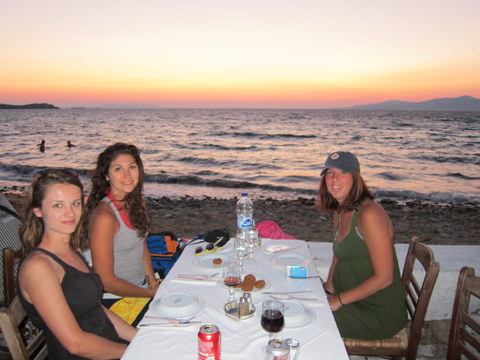 PRO TIP: "Little Venice" is one of the most photographed neighborhoods in all of Europe and is definitely a must-see!
After dinner, we did some souvenir shopping through the streets of Mykonos.
Then, headed back to our hotel and got ready for a night out in Mykonos Town!
We decided to go to Paradise Club Mykonos, voted #14 BEST CLUB in the world (apparently). The venue brings in some of the most influential DJs and people from all around the world.
Day 7: Mykonos to Athens
We had a blast last night, but somehow got split up after meeting and befriending other Europeans. We luckily all made it back to the hotel in the very, VERY early hours of the morning. And I woke up on the beach to a beautiful sunrise!
We headed to the ferry to catch our scheduled ferry back to Athens (about a 4 hour journey). We were hurting just a little bit from our night out to say the least…
When we arrived in Athens, we caught a cab to our hostel: Athens Backpackers. We booked this hostel on our own as it was not part of our ATB Holiday booking.
We were STARVING after our 4ish hour ferry ride from Mykonos to Athens (and for not eating on the ferry due our hangovers). So, once we settled in at our hostel, we found a great spot for lunch at Gods Restaurant and ordered basically every Greek dish we could.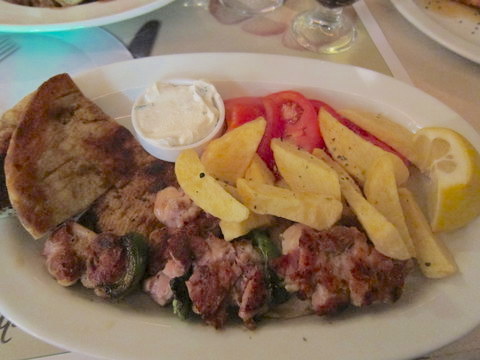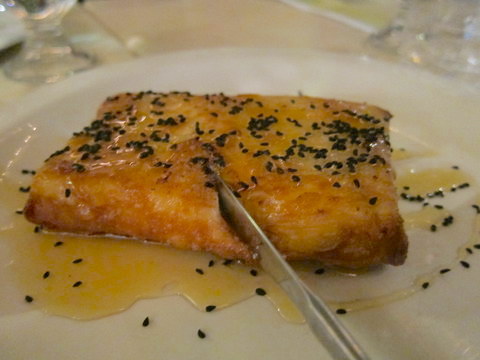 Day 8: Athens
Today we got a fresh start to the day and joined in the on the FREE walking tour of Athens hosted by our hostel! This was awesome! We got to see all the sites with a great, knowledgeable guide. If you aren't staying in a hostel, but want a city of Athens tour, check this one out: Athens half-day tour.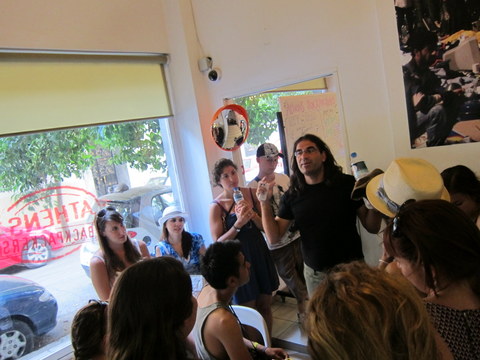 PRO TIP: Don't shy away from checking out hostels. We stay in our own private rooms with private bathrooms (if possible). Hostels often have cheap eats, free tours, happy hours, nightly entertainment, etc! Plus, you can learn so much by interacting with all the travelers that pass through 🙂
Our tour started at The Arch of Hadrian, built in 131 CE for the Roman Emperor Hadrian. Today, the archway is located in the center of Athens standing between the Acropolis of Athens and the Temple of Olympian Zeus. It marks the line between the ancient city and the modern one.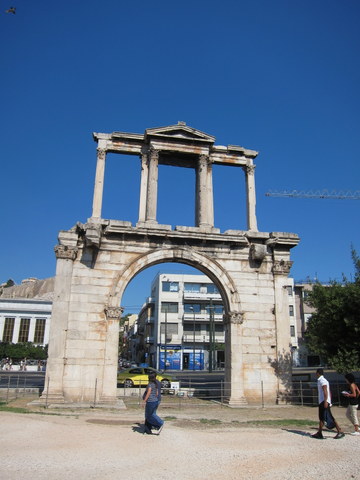 Here we have the Temple of Olympian Zeus. I really can't describe how MASSIVE these columns are, you just have to experience it first hand 🙂
Next we stopped at The Zappeion, a building in the National Gardens of Athens used for both official and private meetings and ceremonies. It's right in the heart of the historic district of Athens!
Then, we stopped at Syntagma Square, the central square of Athens. It is located in front of the 19th century Old Royal Palace, housing the Greek Parliament.
PRO TIP: I got pick-pocketed in pure daylight in this square! I was taking a picture and when I turned back to my side-body purse I noticed it was unzipped and my wallet was missing. These cons are professionals, so I would advise you to keep your belongings under your clothes in a travel money belt. The locals saw the guy do it, but no one stopped him, probably because it happens all the time and they don't want to put their life in danger 🙁
We stopped to admire the ruins of Hadrian's Library created by the Roman Emperor Hadrian in AD 132.
The Hephaestus Temple is the best preserved ancient temple in Greece! It was dedicated to Hephaestus, the ancient god of fire and Athena, goddess of pottery and crafts.
Next, we had a great overlook to Lykavittos Hill, the highest point in Athens. You can climb the hill by foot or take the funicular up. Most guides recommend that you take the funicular up and walk down. Once you reach the top, there is a restaurant for you to relax!
We then came upon the Stoa of Attalos , which was mainly used for by the public and markets.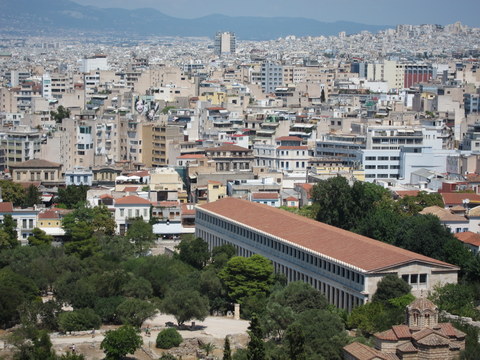 We stopped at the Odeon of Herodes Atticus, a stone Roman theater located on the southwest part of the Acropolis of Athens.
We finally made it to the Acropolis of Athens! It's the iconic symbol of Athens that you've probably seen in pictures just about EVERYWHERE. The Acropolis sit on top of a hill with ruins dating back 2,500 years. When you're visiting it's helpful to understand that the whole site is called the Acropolis of Athens, but the ruins on it each have their own name.
PRO TIP: Did you know Acropolis comes from the Greek word (akron) meaning highest point, and (polis) meaning city?
The most famous ruins at the Acropolis is the Parthenon, but you may also recognize the Temple of Athena Nike and the Erechtheion.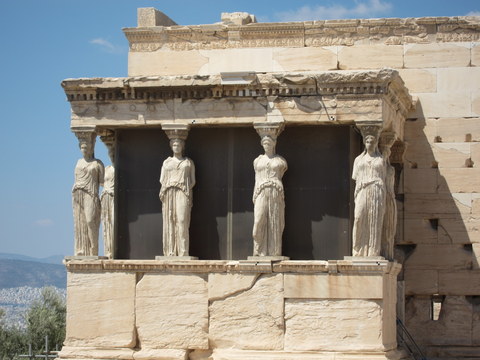 When the tour concluded, we got to do some last minute souvenir shopping and had our LAST Greek salad 🙂
And we decided for our last night together in Athens that we would enjoy the hostel vibe!
Day 9: Departure
Today we sadly left Athens for Philadelphia on Aegean Airlines. We had a 2 hour layover in Rome.
As always, if you have any questions, feel free to contact us here.