Country: USA
City: Woodstock, New Hampshire. Portland, Maine.
Highlights: Mount Washington Summit, Mount Lafayette and Franconia Ridge Trail, The Basin, Kancamagus Highway, Portland Head Lighthouse
While travel plans across the world have come to a halt, it's best to take advantage of destinations within driving distance to you! Being from PA and NJ, we wanted to do something on the East Coast but away from crowds as much as possible. The White Mountains, located in New Hampshire, seemed like a perfect place to get away from the craziness and re-connect with nature.
PRO TIP: Before booking anything, check with the requirements of your destination as well as local requirements. Some states require negative COVID-19 tests, some states require self quarantining upon arrival or return, some states require nothing. These requirements change DAILY, so check often!
We booked an Airbnb in Woodstock, NH, close to several hikes and landmarks in the White Mountains. This location ended up being perfect for us! Both Woodstock and Lincoln (a few miles away) are very cute towns with restaurants, souvenirs and gas stations.
Day 1: Mount Washington Summit
We started out very early in the morning and drove the 7.5 hours from NJ to the Mount Washington Auto Road. This winding road takes you up to the highest point in the Northeast (6,288 ft above sea level)! You can drive up the steep and narrow road yourself, but note that there are no guardrails and we don't recommend it for those afraid of heights. You can also take a guided driving tour, which is what we did! We recommend booking in advance. For a more expensive, yet more unique experience, check out the Mt. Washington Cog Railway.
The 30 minute car ride up the top was lovely. We learned about the 4 distinct ecosystems found on the mountain, as well as more information about the Presidential Range. Once at the top, we were given an hour to explore the area and take in the 360 degree views.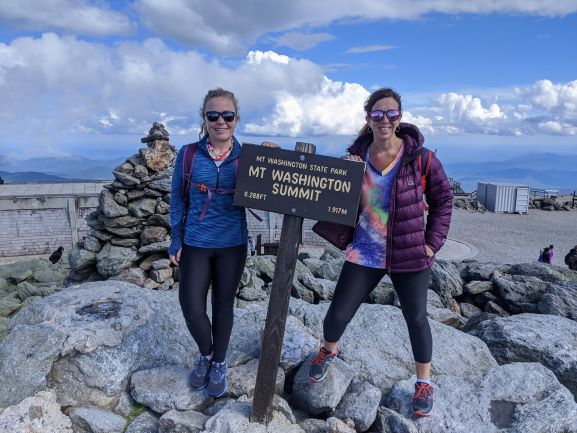 It was cold and windy at the top, so be sure to pack a jacket! In fact, the highest wind ever observed by man was recorded there (231 miles per hour!). There are many trails that lead up to the top, so we took some time to explore the trails a bit more.
After we were done exploring, we descended for 30 minutes back to the Visitor's Center, got in our car and drove to our Airbnb in Woodstock (about an hour away).
Day 2: Mount Lafayette and Franconia Ridge Trail
On Day 2, we planned for the Mount Lafayette and Franconia Ridge Trail hike. Knowing that it was a long and strenuous hike, we packed our day bags the night before with enough snacks, water, and additional clothing for the day. We woke up early, ate a quick breakfast, and drove over to the trailhead by 7:30am. Unfortunately, the parking lot was already full!
PRO TIP: If you are doing this hike, get there EARLY. Earlier than you think you need. Getting there after the parking lot is full will add over 4.5 miles to your hike!
Instead of parking in the trailhead parking lot, we were directed to the Cannon Tramway parking lot, about 2 miles down the road. The Tramway was closed due to COVID-19, so the parking lot had plenty of spaces available. Unfortunately, it meant that we could not take the route we had originally planned. There were several alternate options, but we chose to walk 2 miles along a bike path to the original start of the trailhead, and then return via the Greenleaf Trail to the Tramway parking lot.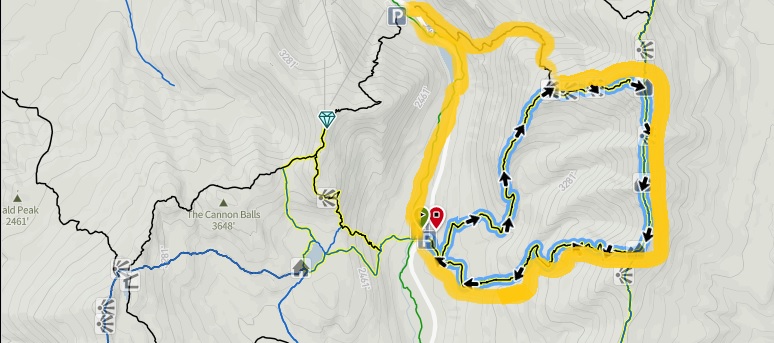 Note that while we are not in the BEST of shape, we are also not in the worst of shape. We hike and exercise regularly, so while we were warned this would be a strenuous hike, we thought it would be do-able. But I am here to tell you now, it was TOUGH. It was more difficult than I could have imagined, and I didn't think I would be able to move again the rest of the trip afterwards. Was it worth it? I'll let you decide that for yourself. 🙂
After walking the 2 miles along the bike path to the original trailhead, we started up Falling Waters trail. It is recommended if you do the loop to take this trail up and Old Bridle Path down, as Falling Waters is treacherous to come down. Falling Waters trail, as expected, was riddled with numerous creeks and waterfalls and was a beautiful, although completely uphill, path.
PRO TIP: Along Falling Waters trail, you will see a sign opposite the trail direction for "Shining Rock". It adds about a quarter mile to your trip to see, so we debated it, but we recommend it! At the end of the trail you will see a giant slab of rock with water streaming down it. It was very impressive!
Finally, we made it to the top of Little Haystack. Naively, I thought this was the end of having to go up any further. We found a nice big rock to sit on, ate our lunch and took in the beautiful views.
We soon found out that we actually weren't at the top. We had two more mountains to go! Next would be Mt. Lincoln, which can be seen in the distance. We walked along the ridge with mountains on either side of us. It was breathtaking! Although it doesn't look that much taller in the pictures, don't be fooled. There is a good amount of elevation to reach this next summit. 🙂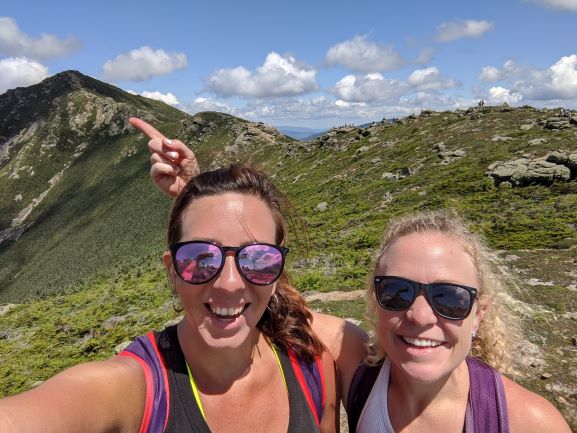 Once we go to the summit of Mt. Lincoln, we were finally able to see our final destination – Mt. Lafayette!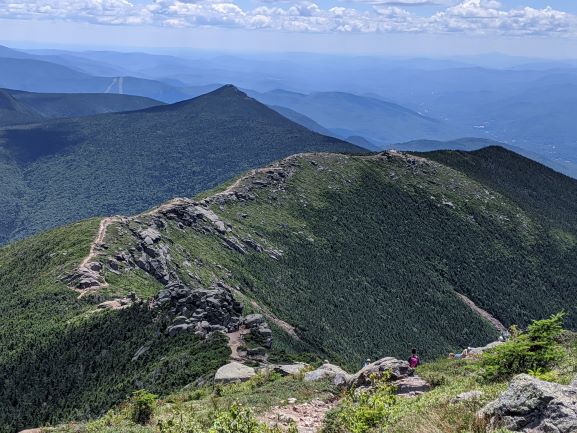 We finally made it! We took some time to rest our legs and eat some snacks at the top, enjoying the cool breeze and chatting with other hikers. While it was a difficult hike, the views were absolutely unbelievable.
Unfortunately, we still had to come back down. This may have been the hardest part of the trip! The rocks were slippery, the trails were steep, and there was a long line of people trying to get down from the summit. Our bodies were sore and hurt, we were tired and honestly it was not very fun at all. We briefly stopped at the Greenleaf Hut to fill up our water bottles and use the restroom before continuing the path downward.
PRO TIP: Bring some cash if you want to buy some snacks at the Greenleaf Hut. They have small baked goods and chips, but also warm foods like Quesadillas and Hot Dogs!
After about 13.5 miles, 5000 ft of elevation, and 8.5 hours of hiking (with some breaks in between), we arrived back at our car! We had planned to go swimming after our hike, but we were honestly so exhausted we just wanted to rest our feet. We ended up ordering a pizza from GH Pizza, taking it to our Airbnb and calling it a night.
Day 3: The Basin, Kancamagus Highway, Portland
After enjoying a relaxing breakfast by the creek of our Airbnb, we headed towards The Basin, a glacial pothole known for it's blue waters and smooth granite walls. While you cannot swim in the Basin, you can dip your feet or hands in the freezing cold water a little downstream. It's also only a short easy walk from the parking lot (perfect for our hurting bodies).
Next, we decided to the drive the Kancamagus Highway (or "the Kanc" as the locals call it). This is a scenic highway with a variety of stops featuring hikes, waterfalls and mountain views. Our first stop would be Rocky Gorge. We ventured around the rocks and trails to get magnificent views of the formations and waterfalls below.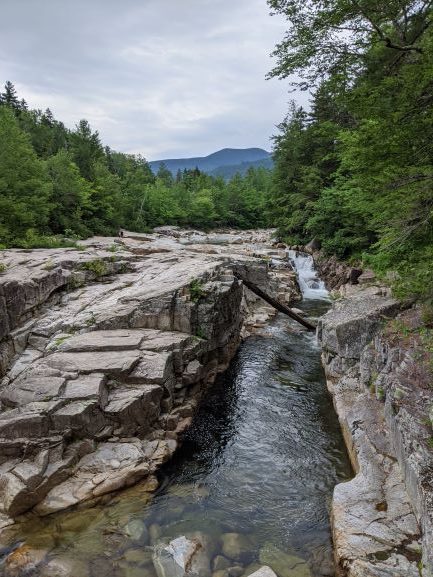 We continued along the highway, stopping at various exits. One of the most famous is Lower Falls, a popular area of the river for swimming. We debated stopping our trip then and just swimming for the rest of the day, but it was cloudy and rain was in the forecast.
Instead, we decided to continue our journey towards Portland, Maine. While it wasn't really on our radar at the beginning of the trip, our Airbnb hosts recommended it if we had nothing else going on. So we decided to go for it! It was about another hour and 15 minutes after the end of the Kancamagus Highway.
Once we arrived in Portland, we realized that a lot of attractions were closed. However, the Portland Schooner company was still hosting sailing tours and since we had never been on a sailboat before, it seemed like the perfect time. We booked our tour for later in the day, with some time to kill for eating and sightseeing.
Next, we had lunch at Boone's Fish House. Maine is well-known for their seafood, so we'd be remiss not to try the lobster roll. If seafood is your thing, definitely check it out! After lunch, we walked around the cute streets. We saw a place called "Victoria Mansion" on the map, so we walked to it. The outside of the mansion was a little underwhelming, but if we were able to go inside, it might have been worth the walk.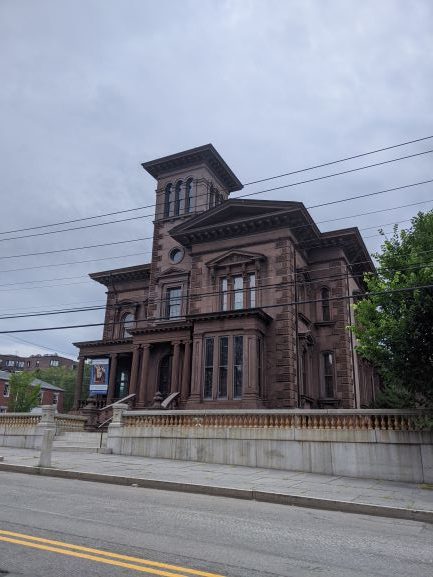 Eventually it was time to go on our sailboat ride! We boarded with our masks, which we kept on while the crew was setting up the sails. Once we were moving, we were able to take them off and move about the boat as needed.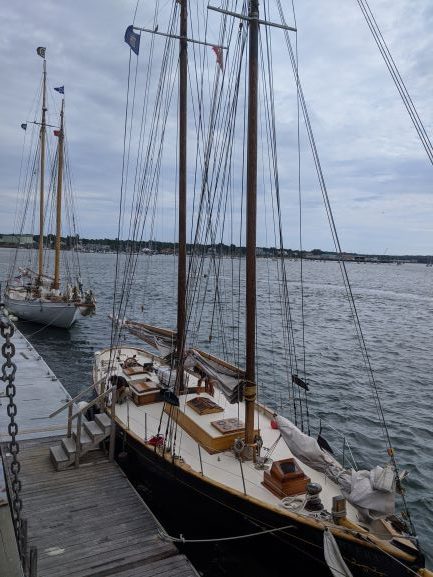 PRO TIP: Bring drinks and food aboard the boat! We did not think of this. Meanwhile, everyone else had wine and chocolate, and we were quite jealous. 🙂
The tour did not include any narration, but we were able to ask questions about the sites we were seeing and got detailed responses. We saw many islands, forts and lighthouses. It was also very interesting watching how the sailors set up their lines and moved the sails around as needed.
After our sailing tour, we headed towards my favorite spot of the day, the Portland Head Light in Fort Willams Park. This lighthouse is one of the most painted, photographed and visited lighthouses in the US, and for good reason. It was stunning! We climbed the surrounding rocks and read about the history of the lighthouse. DO NOT MISS THIS STOP!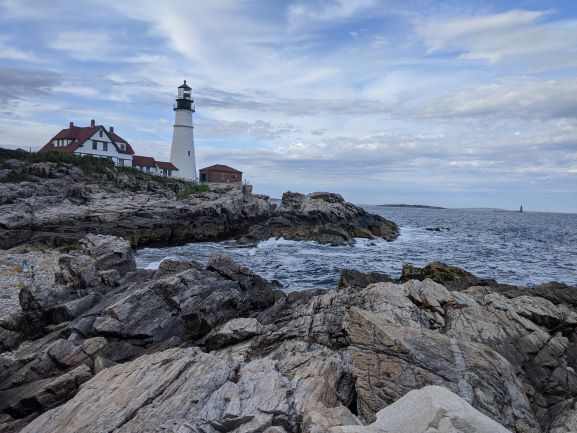 After exploring the lighthouse, it was time to head back to our Airbnb in New Hampshire. But first, we grabbed some Maine Blueberry ice cream for dinner! Yum!
Day 4: The Drive Home
If you have time to do anything on this day, we recommend The Flume Gorge or another nearby hike (there are too many to choose from – use the AllTrails app to find them). Instead, we met up with an old friend for lunch and made the long journey home. It was a perfect ending to a wonderful mini getaway!
As always, if you have any questions, feel free to contact us here.