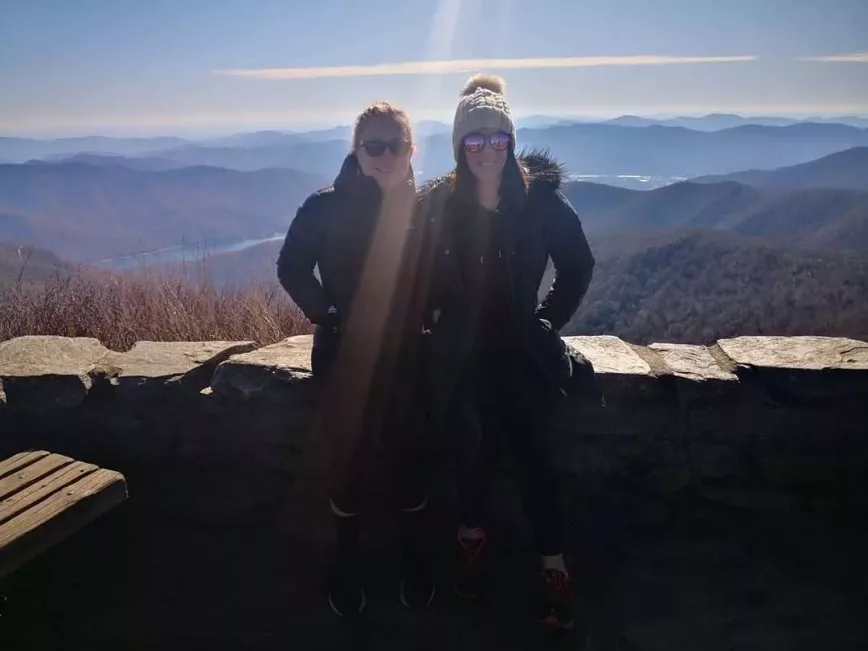 Country: USA
Cities: Asheville, NC
Highlights: Blue Ridge Parkway, Biltmore Estate, Lake Lure
With Jenny being a teacher, vacation time during the school year can be hard to come by. We sometimes can squeeze in short 3 or 4 day vacations, and Asheville proved to be the perfect home base for such a trip!
Day 1: Getting Started
There is an airport in Asheville, but it is typically MUCH cheaper to fly into Charlotte. As you'll need a rental car anyway, the 2 hour drive from Charlotte to Asheville is well worth the hundreds of dollars you'll be saving. We ended up with an early morning flight and were able to check in early to our Airbnb.
There are many lodging options to choose from, but we decided on something a little more out of town, but with beautiful views, easy access to the Blue Ridge Parkway, and a sauna (which we put to very good use!). We were a little bit worried about Ubers coming out that far, but it was no issue at all.
After getting settled in our Airbnb, we headed to downtown Asheville for lunch. We were recommended a restaurant called Tupelo Honey and it was fantastic! The portions were so large we both had leftovers for breakfast, which were just as delicious.
After lunch, we stocked up on snacks at the local grocery store and headed out to find the Blue Ridge Parkway. There are many entrances close by, and we used the free app to navigate us there. We decided to head south for the first day, and venture north another day.
PRO TIP: Be sure to check the road closure map before heading out! Weather changes quickly in the mountains, and roads close regularly for snow and ice.
Heading south along the Blue Ridge Parkway, there are many beautiful overlooks and hikes. As we had a late start and the weather wasn't the best, we decided to skip the hikes. The overlooks were still worth the drive out there though!
Side note: the amount of lady bugs was RIDICULOUS. The second you step out of you car, you are swarmed with lady bugs. We went in late fall, so YMMV.
Day 2: Biltmore House and Winery
A trip to Asheville isn't complete without a visit to the Biltmore Estate! The grounds of the estate feature a winery, hotel, restaurants, gift shops, hiking paths, and of course the famous mansion. Biltmore House is the largest privately owned house in the United States with over 250 rooms and 178,000 sq. ft!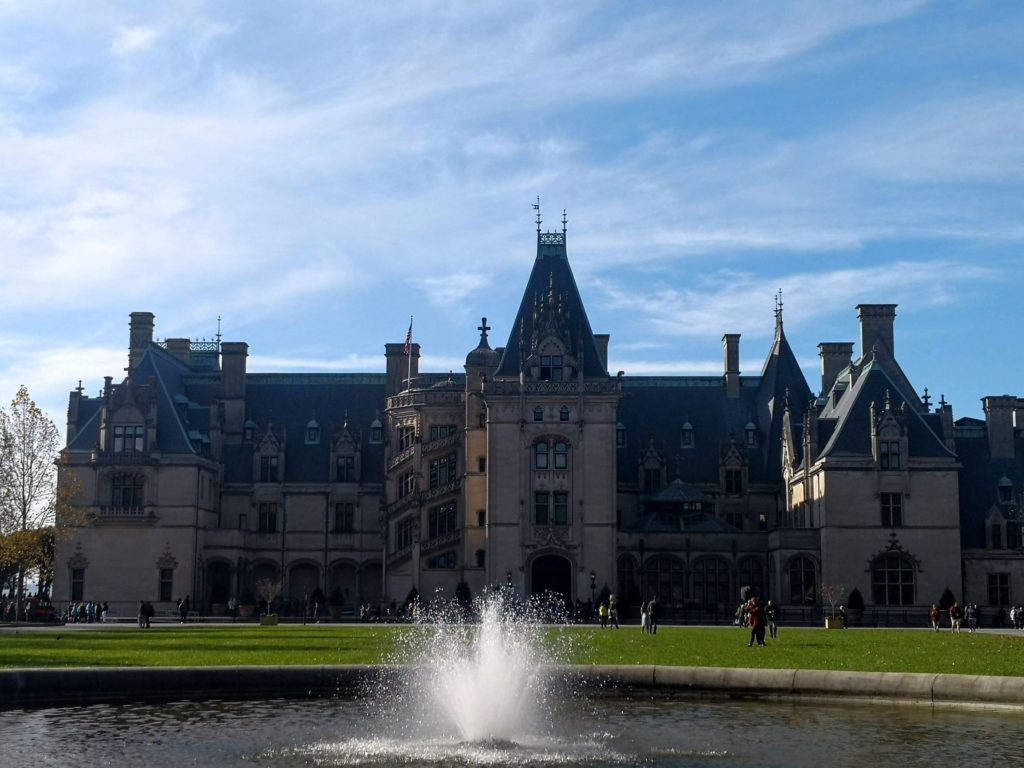 You can buy your Biltmore tickets online here. If you go in late fall or winter, you can choose Daytime or Evening Christmas tours, where the mansion is decorated for the holidays and trees are lit up all around you! Without the Christmas decorations, the mansion is still extremely extravagant, so don't fret if you can only go in spring/summer.
PRO TIP: You must book your arrival time when purchasing your ticket. We opted for an afternoon arrival at the mansion, so we had the morning to explore the other areas of the estate. It's totally your preference, but this worked out perfectly for us timing-wise.
We began the day at the Biltmore Winery, which we suggest if you want to beat the lines. There is a short tour through the wine cellars with a history of the winery (which used to be a dairy farm!), or you can just skip to the gift shop and wine tasting through the main level doors.
The wine tasting experience was awesome! You are given a card with all of the available wines and asked to pick around 5 to taste. The sommelier pours your wine and gives you some information on it (flavors to expect, what to pair it with, etc). We actually ended up having around 8 tastings each, as they are quite generous with their offerings. Then we were ushered into the gift shop, where we picked up a full bottle to enjoy later that night.
After all of that wine, we decided it was probably best to have some lunch. Cedric's Tavern was only a short walk away and had two open spots at the bar for lunch (there was a wait for actual tables). The food was reasonably priced and service was very fast! Nearby, there was an Outdoor Adventure Center which provided us with hiking maps of the grounds (and offered other outdoors activities!)
PRO TIP: The Outdoor Adventure Center is actually made from the same logs as the original lodge used by the rangers on the estate, which have been moved to the present location.
Biltmore also has a variety of exhibits that come and go (check the website for details). At the time of our visit, Downton Abbey was hosting an exhibit. After exploring this area for some time, we decided to drive down to the Biltmore House area for some hiking.
It's a good thing we left early because the parking situation down by the mansion was quite confusing for us. Unless you are a season pass holder, it is likely you will have to park in one of the lots farther away and be shuttled to the mansion (lots C, D and E). Leave time for finding parking, waiting in shuttle lines, and the actual shuttle time!
Because we had spent so much time figuring out the parking situation, hiking was now out of the question, but we were too early to go right in for our tour time. We used this free time to explore the grounds some (the gardens would be beautiful in the warmer months!). There are also a variety of gift shops, restaurants and cafes that kept us busy until our allotted time.
At least our time had come to enter the House! We opted for the audio guides (which were very informative – I recommend!) which we picked up once we were inside. There is a path to follow throughout the house with guides in most rooms if you have any questions.
The tour lasts about two hours and takes you through the main living quarters of the family, as well as the servants. The extravagance cannot be rivaled and it really is a must-see if you're in the Asheville area!
Due to our late afternoon tour, by the time we were finished, the sun was just getting ready to set. We spent some time watching the sun go down over the beautiful mountains behind the house and took the shuttle back to the parking lot to leave.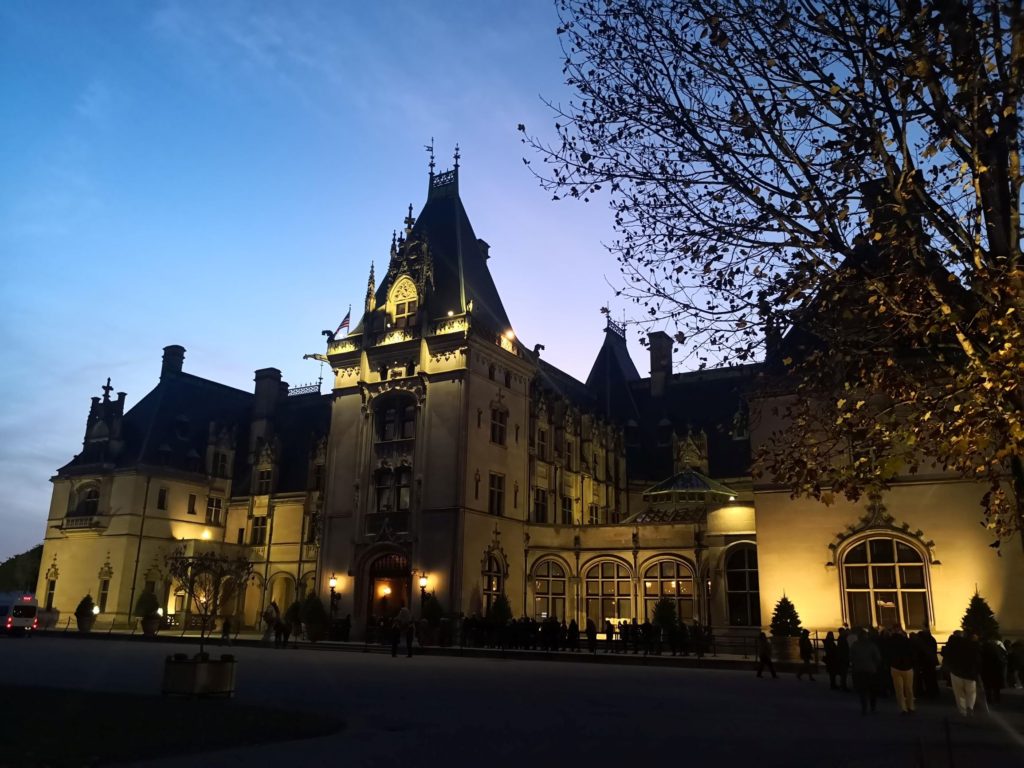 Once back in downtown Asheville, we found some great, local BBQ at Luella's (we highly recommend trying their homemade sauces, sweet potato chips with ranch dipping sauce, and don't miss the Hush Puppies!) and then, it was sauna time and an early night's rest at the Airbnb.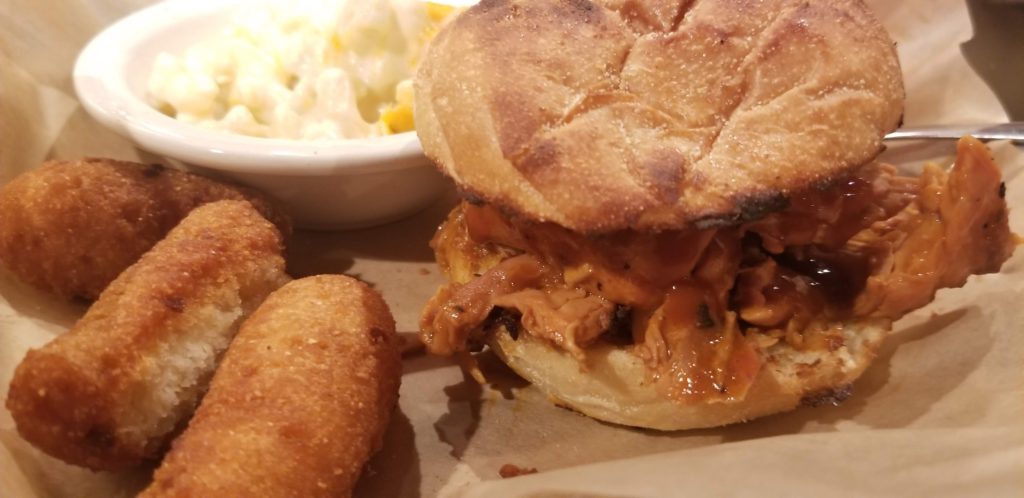 Day 3: Blue Ridge Parkway
This day was by far our busiest! We knew it was going to be a long one, so we woke up early and headed over to Hole Doughnuts for breakfast. The donuts are made right in front of you and are soooo delicious! They have 3 permanent flavors (vanilla glazed, toasted almond sesame cinnamon, and cinnamon sugar) and one rotating flavor. The line can be long, but goes fast! Plus you can watch them make your donuts while you wait!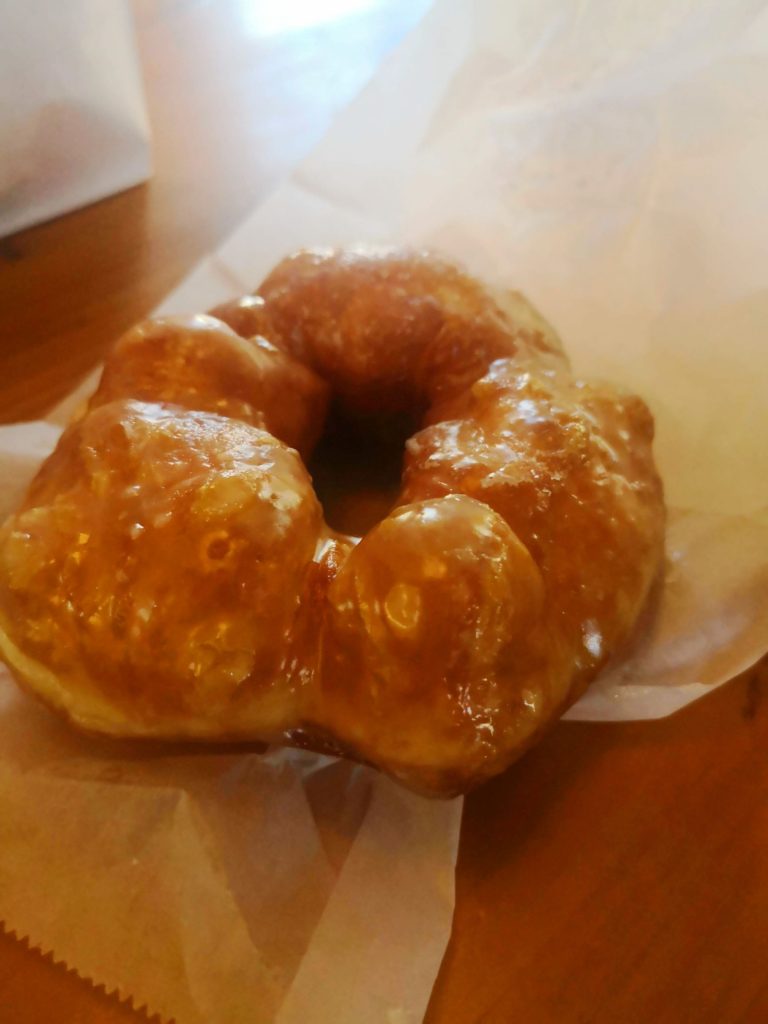 After donuts, we headed again towards the Blue Ridge Parkway, but went north. There are many, many hiking trails but because it was cold, we wanted the most bang for our buck. We stopped at numerous overlooks, and decided to try the Craggy Pinnacle trail. It was short (1.4 miles roundtrip) and not all that strenuous, but there were icy patches near the top which were somewhat daunting. The 360 degree views at the top were definitely worth it though!
PRO TIP: The parking lot for Craggy Pinnacle is just past the tunnel on the left after the Craggy Gardens Visitor Center. There are also porta potties at the Visitor Center, which we recommend you take advantage of while you can!
From there, we continued driving north until we reached Mt. Mitchell, the highest peak east of the Mississippi. There is plenty of free parking and the short trail up to the top is paved, so I recommend this stop even if it's just to say you've been there. There are also informative signs at the top so you can identify which mountain peaks you're looking at, and a gift shop in the warmer months.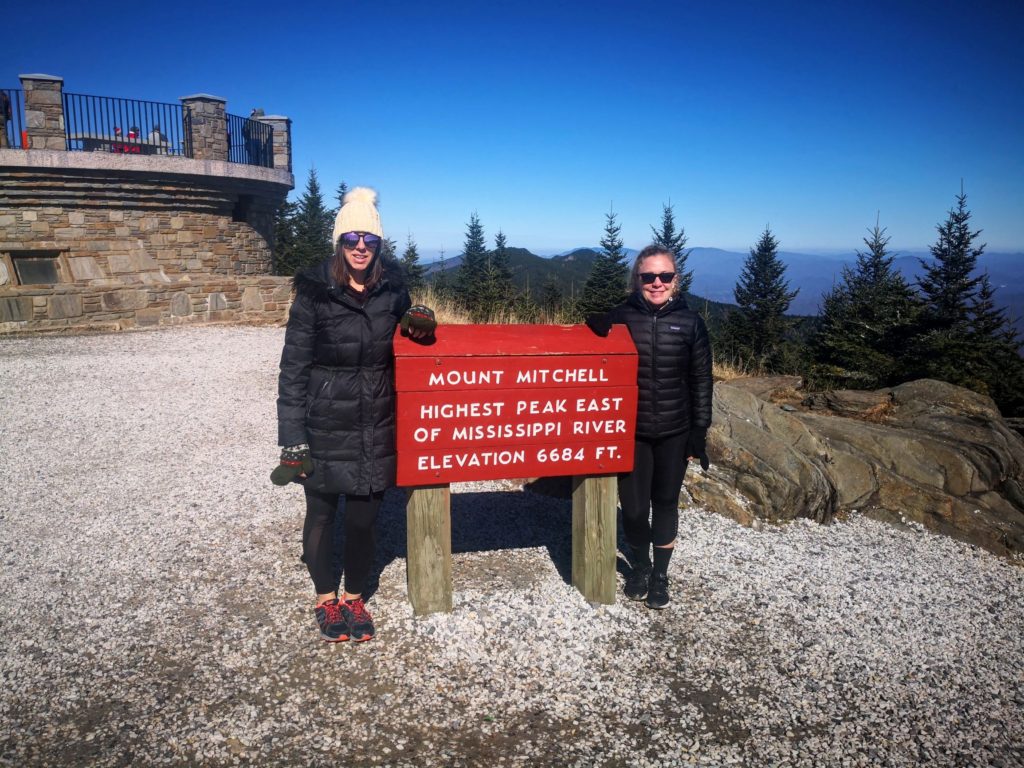 We continued our drive up north, stopping at various overlooks along the way. In need a bathroom break, we stopped in Little Switzerland. This cute town offers restaurants, gift shops, and even a mine tour, but we skipped these due to our tight schedule.
Back on the road, we found our favorite overlook: Bear Den Overlook. It had amazing views as far as the eye can see, and a great rock wall for posing for a photo! We stopped at this overlook in both directions because it was just that great. 🙂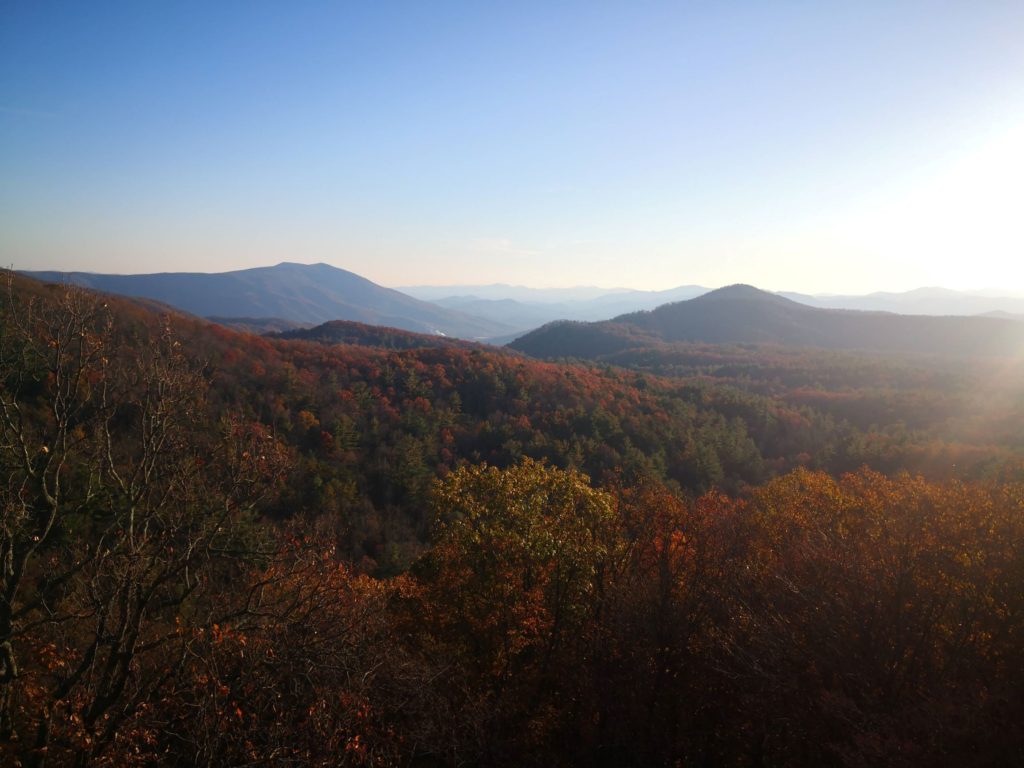 Our last stop before turning around was the Linn Cove Viaduct. This engineering marvel was the last section of the Parkway to be completed (in 1987!) There is a parking lot right past the Viaduct and then a nearby short trail you can take to get a closer look. There is also a museum that is open in the warmer months.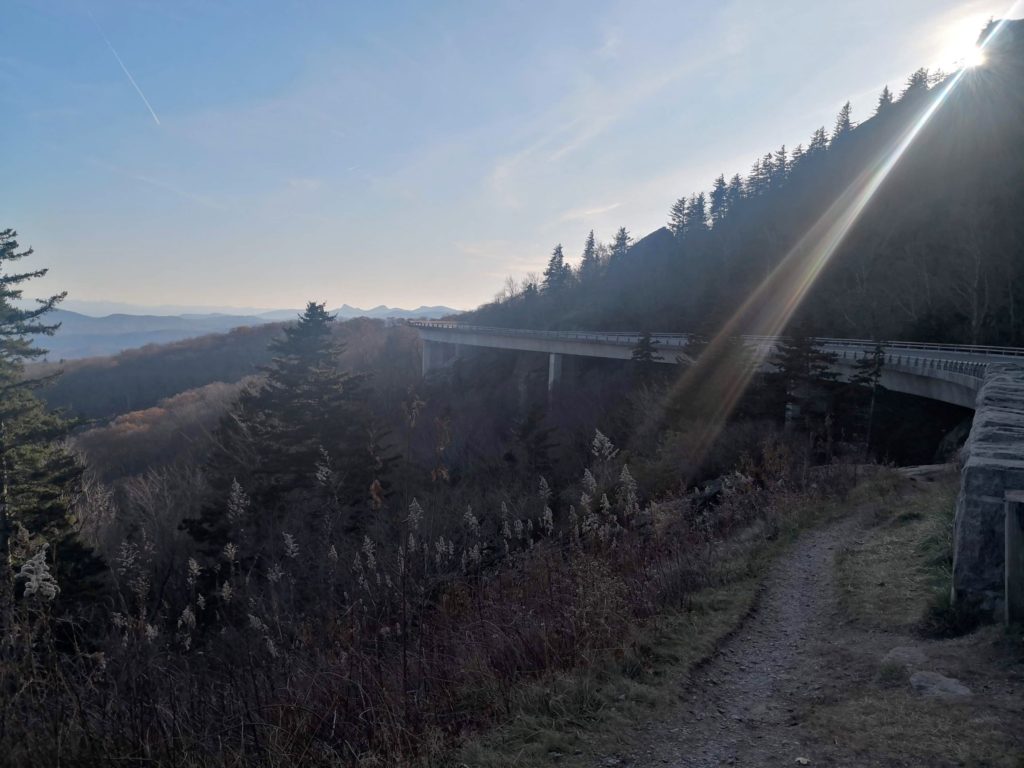 The sun was going down fast so we decided to turn around and find a good overlook for the sunset. Although it had taken us all day to get to the Viaduct, it was only an hour and a half drive back to Asheville (if we didn't stop). But we did stop, to watch the sun go down over the mountains, and it was one of the more beautiful sunsets we've ever seen.
We continued the drive back to Asheville in the dark (which was a bit scary! Watch out for deer!) and decided to grab a quick dinner at Asheville Pizza and Brewing Co. While I can't say it was the BEST pizza I've ever had, it was cheap, quick and hit the spot (I mean, pizza is pizza).
After freshening up, we decided to have a night on the town. We took an Uber to Jack of the Wood, a local bar known for it's live music. It certainly didn't disappoint. We danced the night away to some amazing Bluegrass. Everyone was super friendly, and we had a great time, but decided to check out a nearby dueling pianos bar called Off the Wagon. There was a $10 cover, but as always at dueling piano bars, we had a great time!
Day 4: The Journey Home
We had a flight out of Charlotte in the evening, so the final day was spent lazily meandering our way in that direction. We decided to head towards Chimney Rock, which has a beautiful view of the mountains below (with an elevator to get there!). Unfortunately, because we slept in later than expected, we didn't pay to go to the top. But the cute village below had lots of shops and restaurants, and just driving through this cute town was enough for us.
PRO TIP: Although most roads in the NC mountains are windy, this stretch to Chimney Rock from Asheville was EXTREMELY windy. If you get carsick, be prepared with anti-nausea medication!
Next we stopped at Lake Lure, just a short drive away. This is where Dirty Dancing was filmed! There is a festival every year, and tons of fun activities in the warmer months. Since it was so cold, we took a short walk along the lakeside path to check out the foliage and then continued on.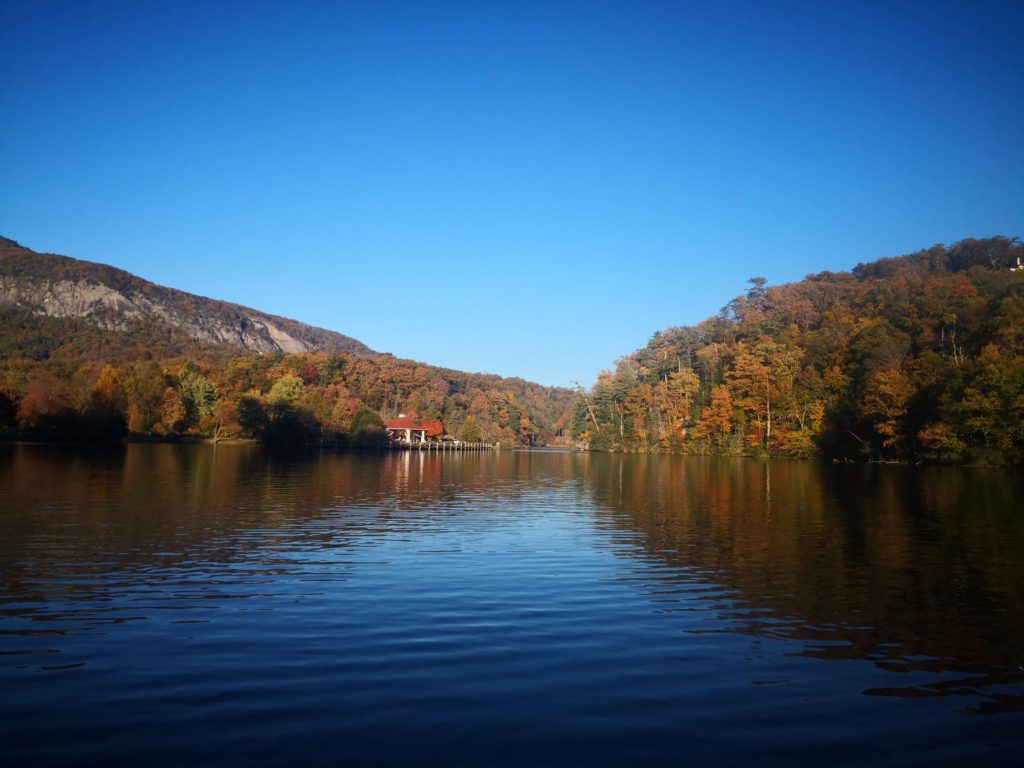 From here, it was pretty much a straight shot back to Charlotte. We returned our rental car and headed for home, feeling refreshed after a relaxing long weekend getaway.
As always, feel free to contact us with any questions here.