Country: Canada
Cities: Montreal
Highlights: St. Joseph's Oratory, Old Montreal, Port of Old Montreal, Habitat 67, Montreal Botanical Gardens, Notre Dame Basilica, St. Louis Square
Sometimes we just NEED to get away, even if just for a 4-day weekend. Montreal was always someplace relatively close (8 hours drive from my home), but far away enough to keep pushing off the trip. One Friday, I was invited to tag along on an already planned trip for that weekend (Jenny did the planning). My travel bug was acting up again, so I spontaneously agreed and left that afternoon.
Day 1: The Drive There
We headed up after work on a Friday, driving through NJ and NY before passing the border into Canada. It was dark so there wasn't too much to see.
PRO TIP: If you have Global Entry, you can skip the lines and use the Nexus queue on your crossing into the US (which we did). Websites are unclear if you can use it when entering Canada, so we didn't take the risk.
We checked into our Airbnb which was conveniently located in the heart of the Village. Because we were so excited, we decided to check out some of the local bars. We ventured to Taverne Normandie, which was only a few blocks away and had karaoke. We were surprised to find out that they only accepted cash, so make sure you bring your debit card out with you!
PRO TIP: 99% of the people that talked to us started speaking to us in French. Learn the phrase "Je ne parle pas français" which means "I do not speak French" and use it. They will thank you for making the effort to learn at least that, and switch to English (almost everyone is bilingual).
The karaoke bar was fun, although the line to sing was very long and I have a feeling the bartenders were trying to overcharge us since they knew we were tourists (although I cannot confirm). Bars in Canada close at 3am, so we stayed until closing and called it a night.
Day 2: Exploring the City
We had heard that Montreal bagels were the best around, so of course we had to try them. We took an Uber to Dorcester Square and found the nearby bagel shop La Fabrique de Bagel. The verdict (in my amateur opinion): Montreal bagels are no better than NJ bagels. They are still delicious though!
Next we opted to do a Hop-on Hop-off bus tour to get an understanding of the city and decide what we really wanted to focus on. The ticket office and main bus pick-up were located in Dorcester Square, which also happens to be the site of St. Mary's Cathedral. We took a stroll around the beautiful cathedral before buying our tickets and hopping on the bus.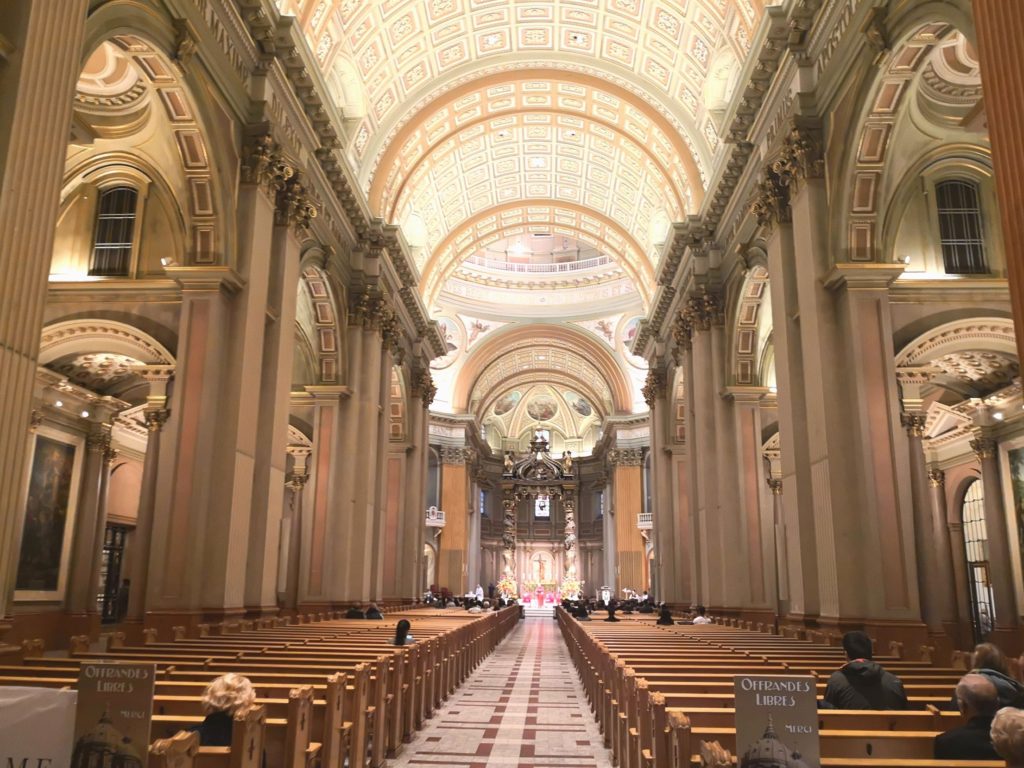 The Hop-on Hop-off tours have live tour guides, who provided us with a lot of useful information about Montreal in general. We could have hopped off at many stops, but it was raining and we wanted to stay inside the warm bus as long as possible. We ended up getting off at Saint Joseph's Oratory of Mount Royal, the largest church in Canada (and one of the largest domes in the world!)
After climbing the steps and entering the first level of the church, we were surprised to be greeted by some type of ceremony happening. Even the bishop was there! We watched quietly for some time and then continued exploring the enormous church. There are several levels and you are free to walk around (and visit the gift shop) as you wish.
After St. Joseph's, we returned to the bus stop and continued on our journey. We were starting to get hungry, so we decided to get off in Old Montreal for lunch. This was one of our favorite spots, so we decided to add this to the list of places to explore more once the weather was nicer. We had our lunch at 3 Brasseurs, which was delicious, and walked the streets of Old Montreal.
After a walk down St. Paul Street (seeing the old Market and other churches/historical buildings), we headed towards the Old Port of Montreal. There was a giant ferris wheel here, which is said to have good views of Montreal, as well as other activities and fun things to do!
As it was getting dark, we had one last stop we knew we wanted to see in Montreal: Habitat 67. We had to drive there, as it's not directly in the city, but the views of the city from there were GREAT (we recommend going for sunset!). Habitat 67 is just a housing complex, but the architecture is what makes it so unique. The entire complex is made up of 354 identical concrete forms, arranged in different combinations.
After taking lots of pictures of this magnificent structure, we headed towards the Olympic Stadium and Montreal Botanical Gardens. We had thought about doing a tour of the Olympic Stadium, but had heard it wasn't all that great. Instead, we saw it from the outside and headed towards the Botanical Gardens for a light show that happened to be going on that night (see their website for rotating exhibits).
PRO TIP: You must pay for parking at the Botanical Gardens, and when we were there, the kiosk lines were LONG. Tickets were timed for this event, so we ended up being about a half hour late due to the parking situation. They still let us in, but make sure to factor this into your timing!
After that, it was time for a night on the town! We wanted to get out of the Village and a little bit more downtown, so we headed for Hurley's Irish Pub. There was a live band upstairs (classic rock) and a live band downstairs (traditional Irish). Both bands were great, the vibe was relaxed and we loved it there! We decided to check out another bar with a live band, Grumpy's, which was also cool but quite empty for a Saturday night if I'm being honest. The night ended with making some new friends, as everyone was extremely friendly!
Day 3: More Exploration
There were still a few things on our list of sites to see, and the weather had finally improved! We started the day with a short hike up to the Mount Royal Overlook. From here, you get the entire view of the city! We stopped at several other overlooks, but this was the best.
After this, we decided to book a walking tour of Old Montreal. There were several options, but we went with the one on Viator because it was cheaper and had good reviews. We met at the Notre Dame Basilica (which we learned is NOT in any way associated with the one in Paris) and were taken inside. It was absolutely stunning and I highly recommend not missing out on going inside.
PRO TIP: You can buy guided or unguided tours from the Basilica directly, or go with a tour group like we did. Visiting hours end at 4:30pm on weekdays, and even earlier on weekends, so be sure to get there early!
The tour continued through Old Montreal, and we learned a lot about the history and design of different places such as Place Jacques-Cartier (a square filled with restaurants and cafes) and Marche Bonsecours (the old market). I highly recommend this short but informative tour. Our tour guide gave us a lot of good tips about other things to see in Montreal as well!
At last it was time for dinner, so we decided to check out Little Italy. We had a gluten free traveler with us, and were a bit nervous about finding something suitable in Little Italy, but Restaurant Corneli fit the bill. Their food was delicious, but service was very slow, so don't go here if you're in a rush (or maybe it was the gluten free pasta that took so much time? I don't know). We decided to have an early night as the next day was the long drive back.
Day 4: The Drive Home
There was still one last stop I had wanted to see in Montreal before we left: the colorful Victorian houses. I had asked the tour guide where to go and she recommended the area around St. Louis Square. We wandered around these streets and saw many beautiful houses. Unfortunately some construction got in the way of seeing EVERYTHING, but it was still a nice way to end the trip.
We grabbed breakfast nearby at Mamie Clafoutis, using any leftover Canadian money we had (it's cash only!), and then headed past the Molson Brewery and out of Montreal.
On the way back, we had read that Route 9 is a scenic alternative to Route 87, so we decided to try it after we passed the border. While I believe it was more scenic, there was nowhere really to stop and take pictures, and the short distance we drove on it basically doubled the time it would take to get home due to traffic, winding roads, and slower speed limits. We nixed this idea after about an hour, but I suppose if time was not important, it would make for a nice drive.
As always, if you have any questions, feel free to contact us here.