Country: Canada
Cities: Calgary, Banff, Jasper
Highlights: Banff National Park, Yoho National Park, Jasper National Park, Icefields Parkway, Moraine Lake, Lake Louise, Takakkaw Falls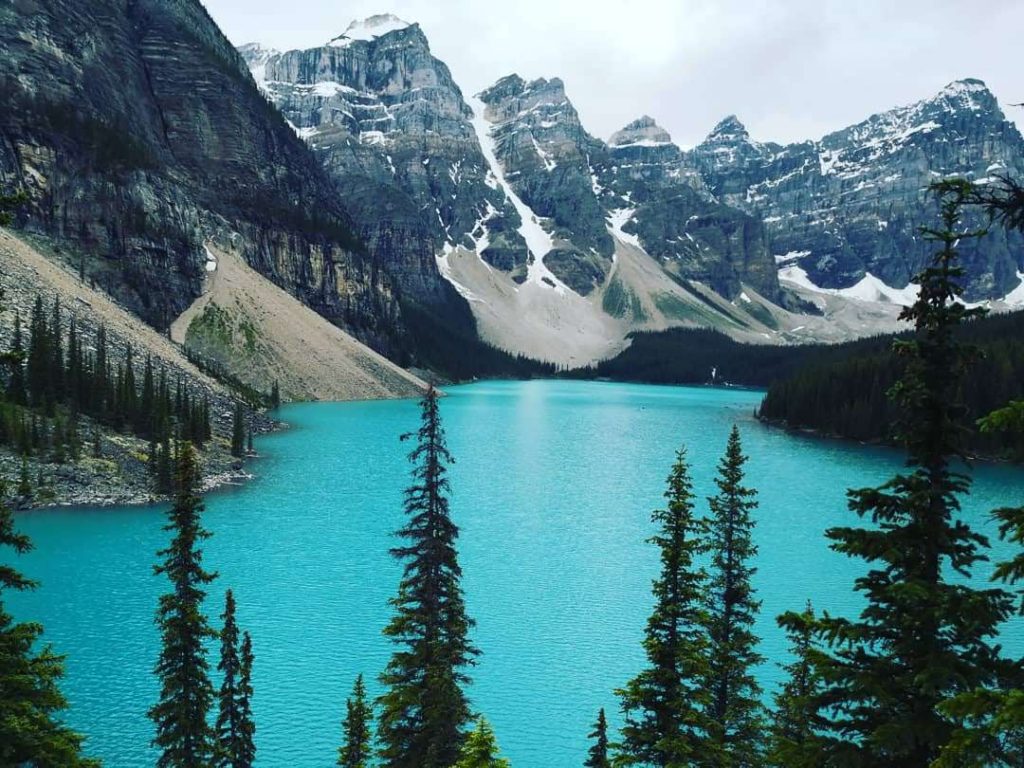 Let me start off by saying that this was the biggest adventure we had planned yet! While we love the outdoors, camping for 10 days straight in another country seemed like a monumental task. However, it is TOTALLY do-able, as long as you're prepared.
First things first: you must have a pass to enter the Canadian National Parks. There are a variety of options but the most economical for us (and for most people) was the Discovery Pass, which can be bought here. Order this in advance, as you must have it on your dashboard to enter the park! They can also be purchased once you arrive, but it's cheaper and faster to do it online.
Another thing to do in advance: book accommodation! Whether it's camping or Airbnb, most accommodations fill up FAST.
PRO TIP: If you plan on staying at Two Jack Lakeside Campground (which we did) or any other popular campground, be prepared to reserve the SECOND reservations open. Reservations for the upcoming season typically open in early January. See here for more info.
Day 1: Arrival and Preparation
We landed in Calgary early morning and picked up our rental SUV. An SUV absolutely was necessary for this trip, if you plan on camping like we did. Anything smaller and one of us would have had to walk. 🙂
PRO TIP: Renting from a location not directly at the airport saved us hundreds of dollars. Instead of renting from Enterprise-Calgary International, we rented from Enterprise-Calgary North Central and just Ubered as needed (about a 15 minute Uber ride from the airport).
The morning was spent picking up necessary supplies. See here for a list of supplies we packed and supplies we bought once we arrived. It's important to do this in Calgary, as Banff and Jasper can be quite expensive. The rest of the day was spent driving to our campsite in Banff (about a 2 hour drive) and setting up our site. The first two nights we stayed in Tunnel Mountain Village 1.
PRO TIP: All campsites in Banff require that you use their wood, so don't bother buying any beforehand. Simply buy the fire permit ($8.80/night) and take as much wood from their pile as you need.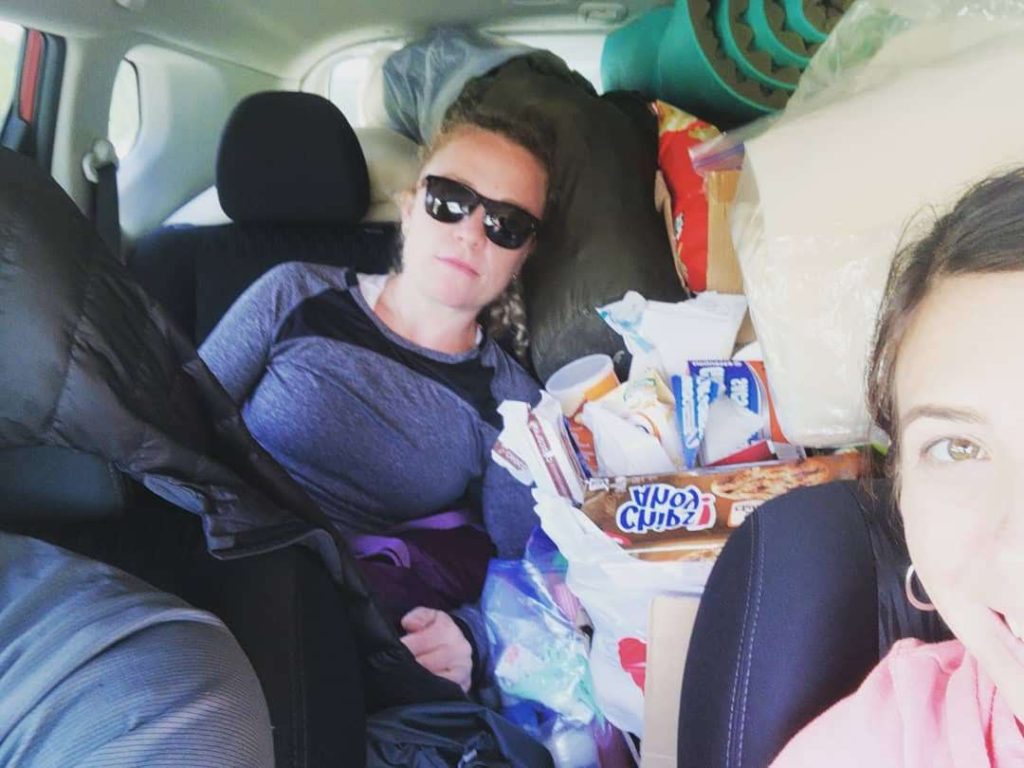 Day 2: Sunshine Meadows
I consider this hike a MUST. I highly recommend getting the Gondola and Chairlift package ($45 CAD) to get the top of the mountain, as that is one long hike up before the real hikes even begin! Dress in layers, as it can get quite cold at 8,000ft. Although there is a restaurant in Sunshine Village, I recommend bringing lots of water and snacks.
Start by taking the Gondola up from Sunshine Village and arrive at the base village. Walk over to the Standish Chairlift to get the rest of the way up the mountain.
Once you've made it to the top of the mountain, take a short walk to the Standish Viewing Area to be rewarded with a stunning overlook. There is a guide here to help answer any questions you may have about hikes (there are LOTS of options), wildlife, or even take your pictures!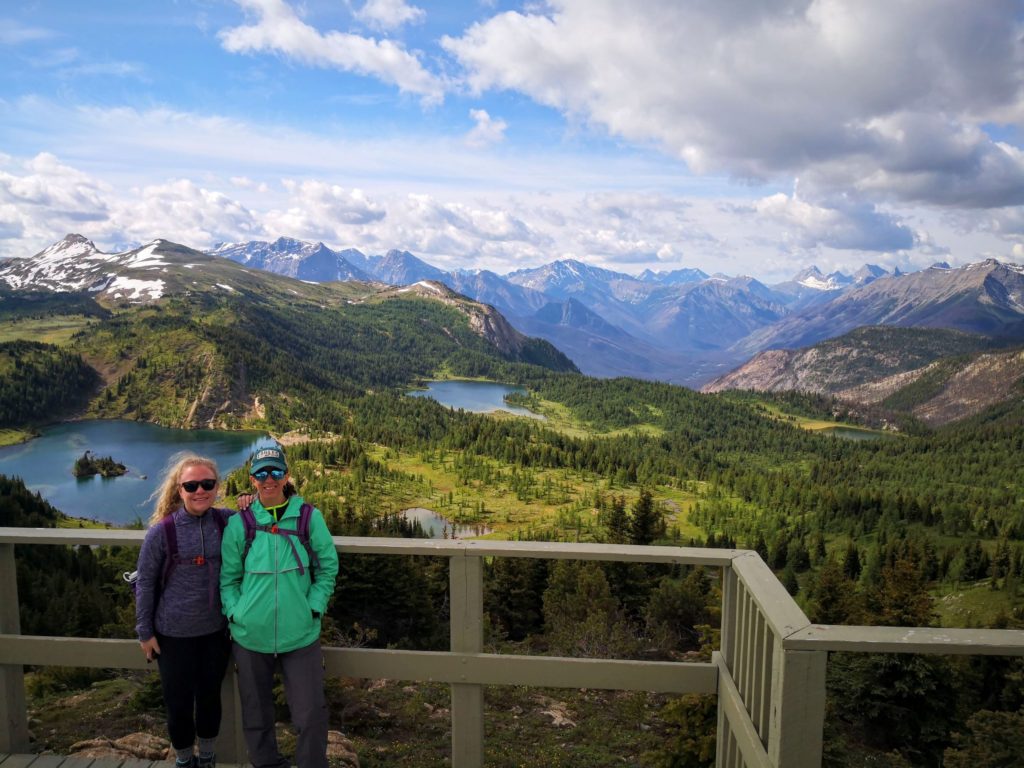 From the viewing deck, take the stairs on the right and follow the path around. You will approach the lakes below and have the opportunity to hike around each of them. Keep an eye out for wildlife!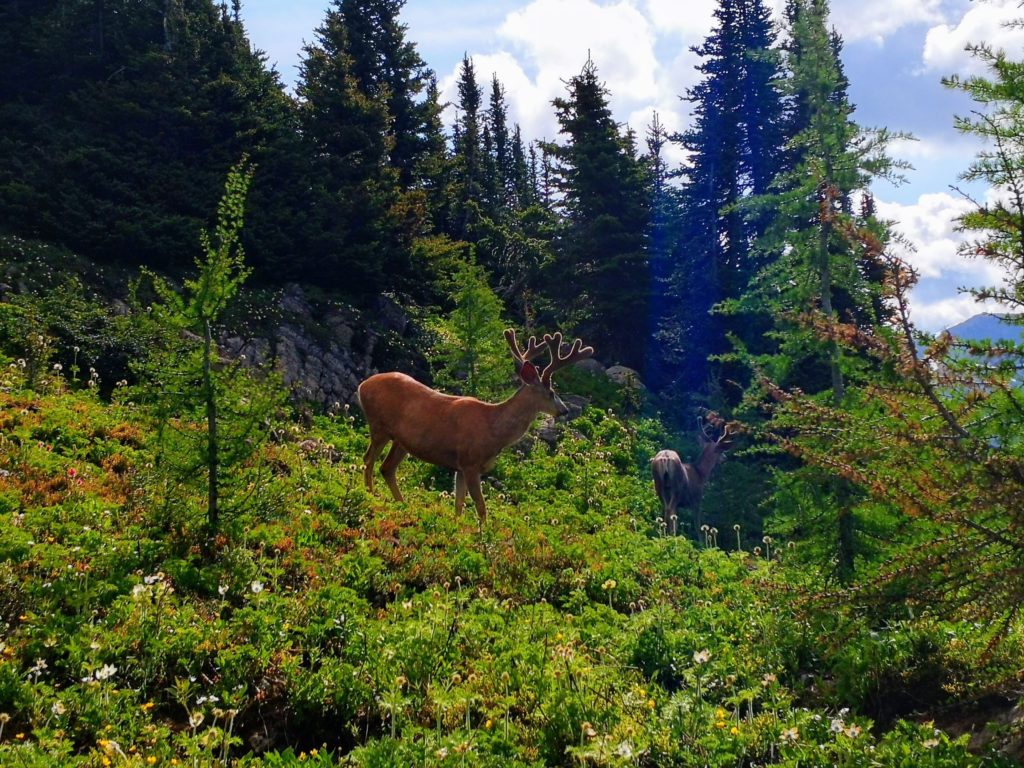 We walked around every lake we came to, because why not? There are park benches around each of the lakes, which we stopped at for an afternoon lunch. If you continue to follow the trail away from the overlook, it will eventually lead you down a trail back to the base village. If you choose to just do this, it will be about a 5 mile hike from the overlook back to the village. However, we decided to take another detour.

The detour we decided to take was the Citadel Pass. You will come to a fork in the path and if you continue left, you will go back to the village. We decided to go right towards Mt. Assiniboine and Howard Douglas Lake. To be honest, while beautiful, this hike is not necessarily worth the payoff.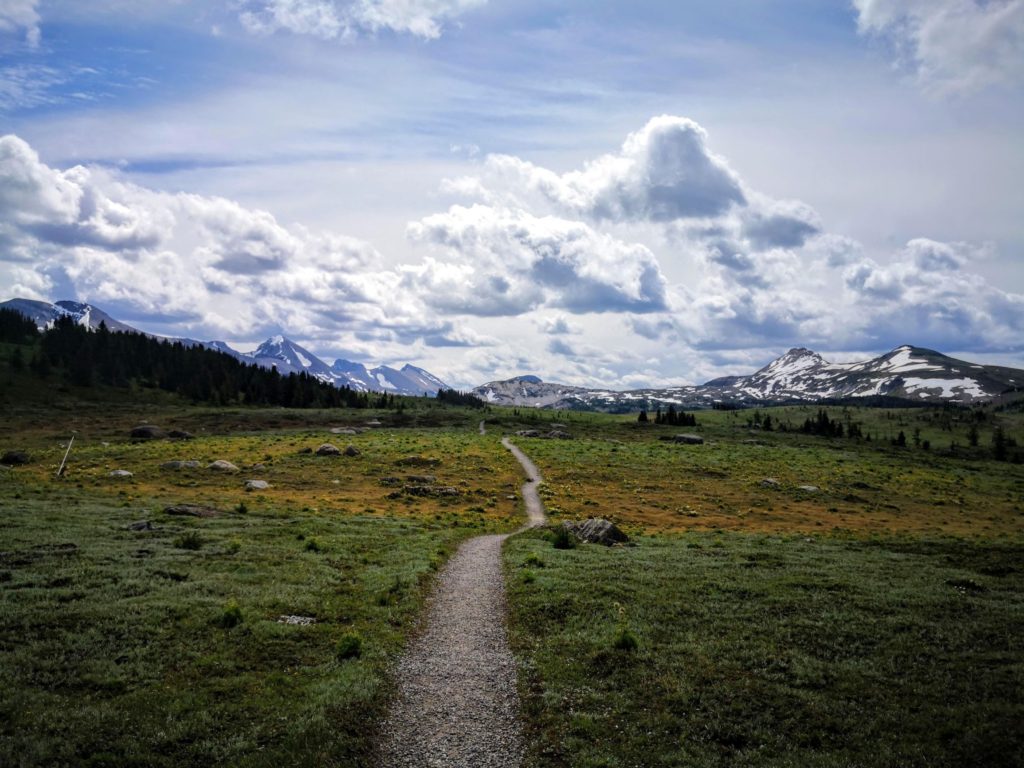 This was about a 2 mile hike to the overlook of Howard Douglas Lake, and while most of it was flat, there was a good portion of elevation gain right at the end. We were rewarded with a nice view of the Pass and a place to catch up with fellow backpackers for a bit.
The hike back seemed like a lifetime, and the weather quickly changed (which happens frequently in the Canadian Rockies), so we decided to stop at the restaurant at the base village for some hot chocolate and warm food. After taking the Gondola back down, the rest of the day was spent hanging around the campfire and getting to bed early.
Day 3: Lake Louise, Moraine Lake, Yoho National Park (Natural Bridge, Takakkaw Falls, Emerald Lake)
As always, trips don't often go as planned. Due to the extremely rainy weather on this day, we opted out of a planned 10 mile hike to do some shorter stops on our list.
We started with an early stop at Lake Louise. We got there around 7am to beat the tourist rush, but there were still lots of people around. Luckily there are plenty of spots along the shoreline for a good photo.
PRO TIP: If you get to Lake Louise early enough, you can park in the main parking lot. Otherwise, be prepared to take (and wait for) a shuttle which stops at Lake Louise, Moraine Lake, and the Park & Ride ($8 CAD).
We walked the 1.2 mile (each way) shoreline trail but ended up taking this very same path to do the Plain of Six Glaciers hike the following day, so if you plan on doing this hike, skip the shoreline for now.
From here we drove over to Moraine Lake. By the time we got there, we were in the middle of a downpour and tried to wait it out with some hot chocolate in the cafe there. The rain persisted, so we decided to save it for another day.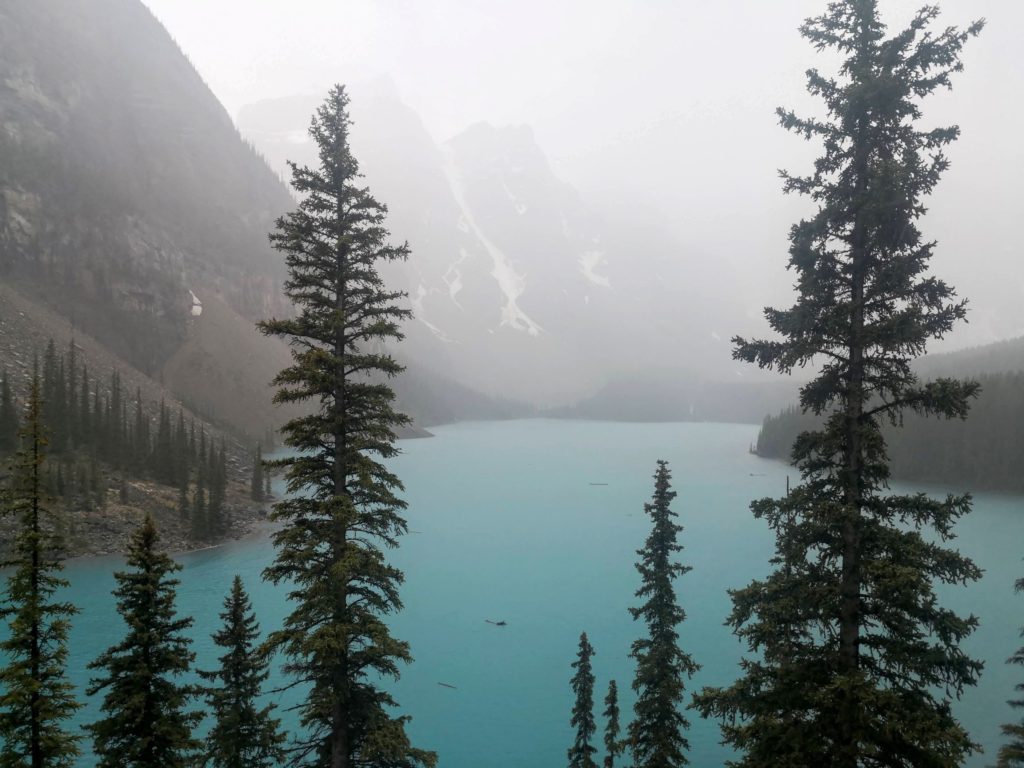 We decided to test our luck at Yoho National Park. Yoho National Park is only about an hour's drive from Moraine Lake with many beautiful stops. The first stop was at Takakkaw Falls, a very powerful waterfall only a short walk from the parking lot.
A short drive away, we stopped next at Natural Bridge, which is another quick walk from the parking lot. There are many overlooks to take in this awesome natural formation.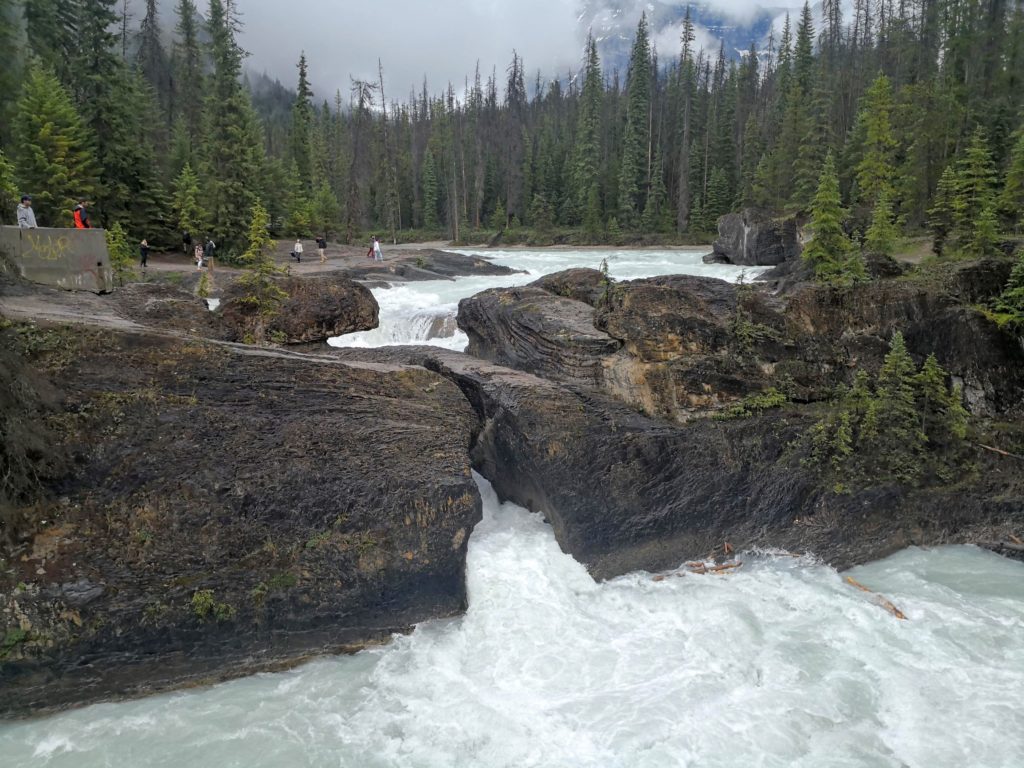 Then we headed over to Emerald Lake Loop. This is supposed to be a 3 mile loop around the beautiful lake. However, due to all of the rain, many parts were completely washed out and we ended up doing an out-and-back hike of about the same distance. The weather started to clear, and this was my favorite part of the day. The color of the lake was just unreal!
PRO TIP: If you are looking to rent a kayak on the lake, do it at Emerald Lake instead of Moraine Lake/Lake Louise. It is much cheaper but with very similar views!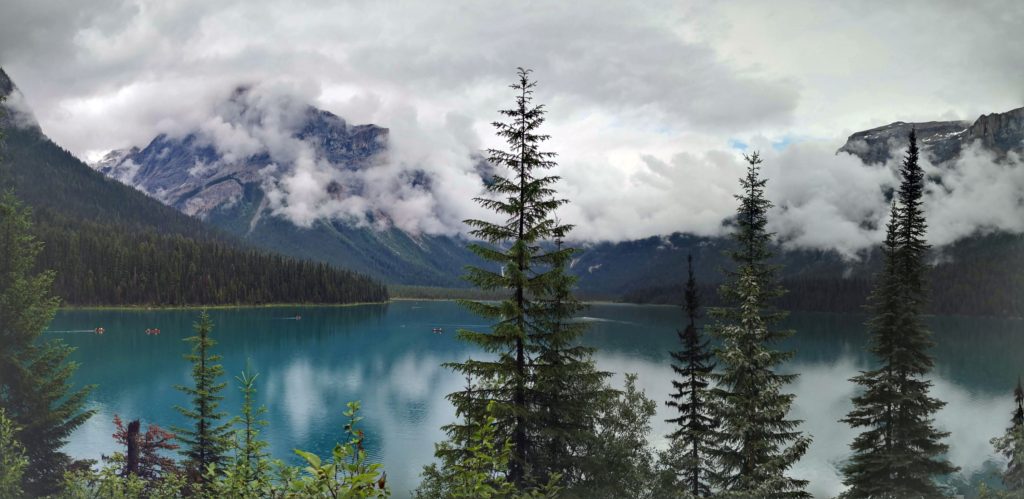 There are also several other hikes you can take from this loop, but we decided not to venture off of the main trail. As always, stay on trails to avoid damaging wildflowers.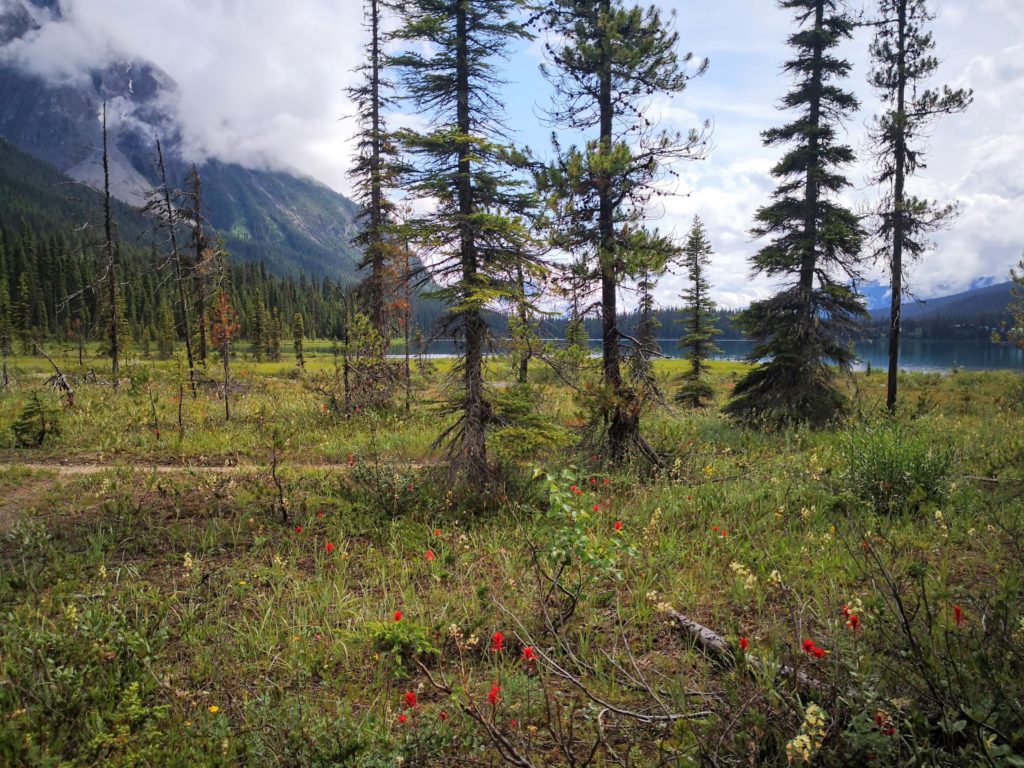 Of course no trip would be complete without a picture in front of the National Park sign, so we drove back to Banff and found the sign at the entrance of town.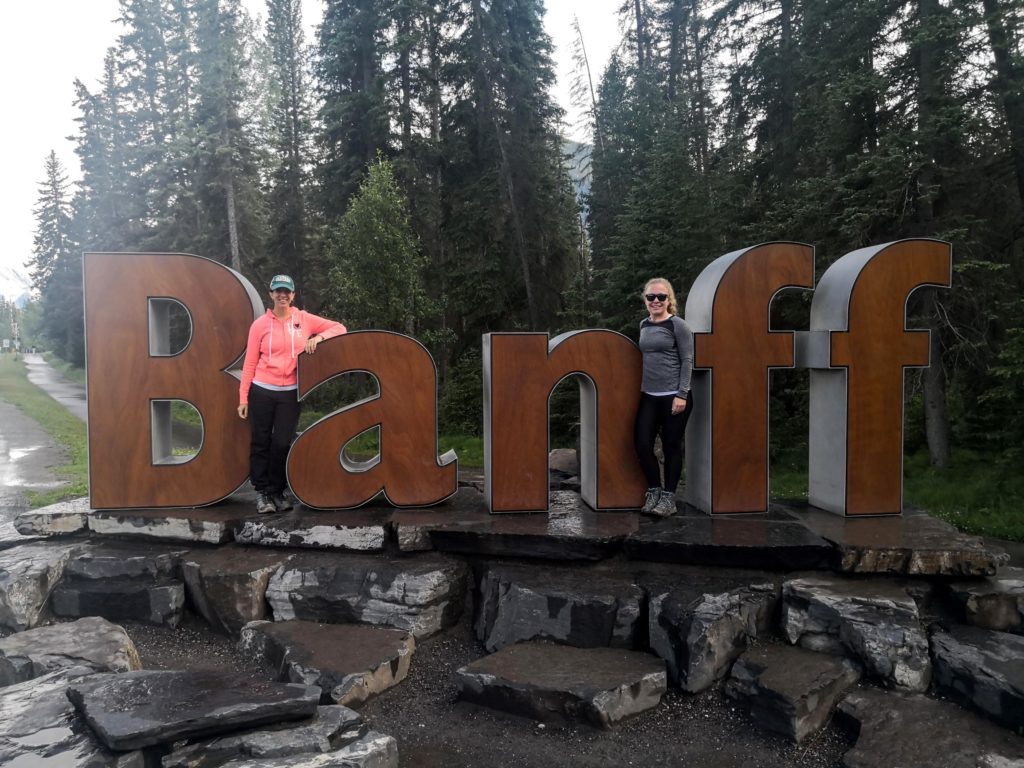 To end the day, we had to move to a different campground. We moved from Tunnel Mountain Village to Two Jack Lakeside. While the view was beautiful, parking was a bit trickier here. We had to carry our things quite a long distance to and from the car, so be prepared if you're staying in this campground.
PRO TIP: NEVER leave your campsite unattended unless everything is securely stored away. The rangers are very stringent on this requirement and we got into trouble with even being away 2 minutes.
Day 4: Lake Louise, Plain of Six Glaciers, Moraine Lake
This day was definitely one of the highlights of the trip! We woke up early, drove over to Lake Louise and started the Plain of Six Glaciers hike, which begins at the end of the Lake Louise Shore Trail. Most of the trail was uphill, but the views are totally worth it! This hike ended up being about 10 miles long, but with stops at both tea houses and several overlooks, it didn't feel that long.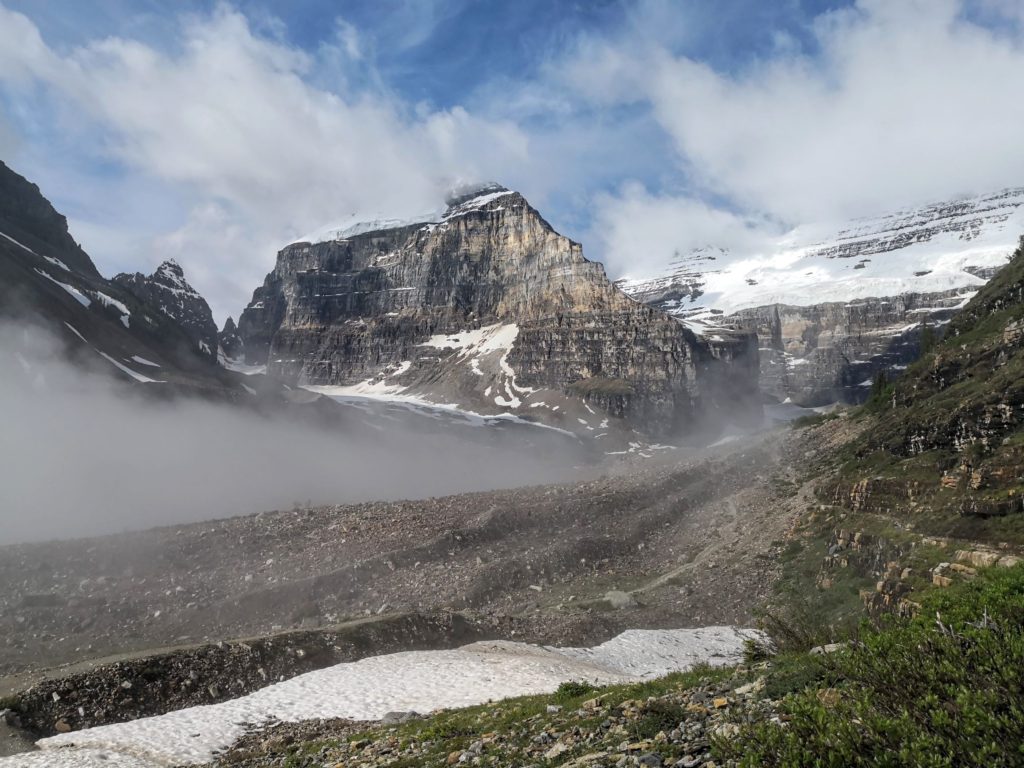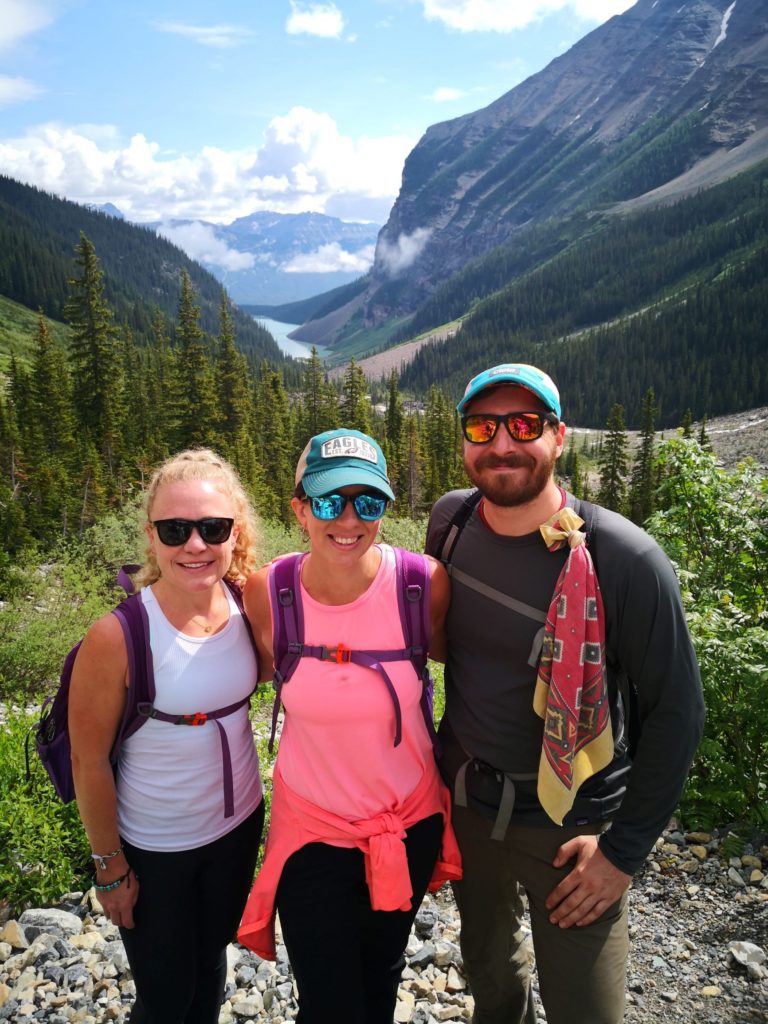 Note we walked by the picturesque spot above TWICE, and both times there was a long line to get a picture.
At about 4 miles, we made it to the first tea house (Plain of Six Glaciers Tea House), which is just as adorable as imagined. They're known for their chocolate cake, so of course we had to oblige. I highly recommend!
PRO TIP: The tea houses only accept cash. Make sure to pack it before you leave!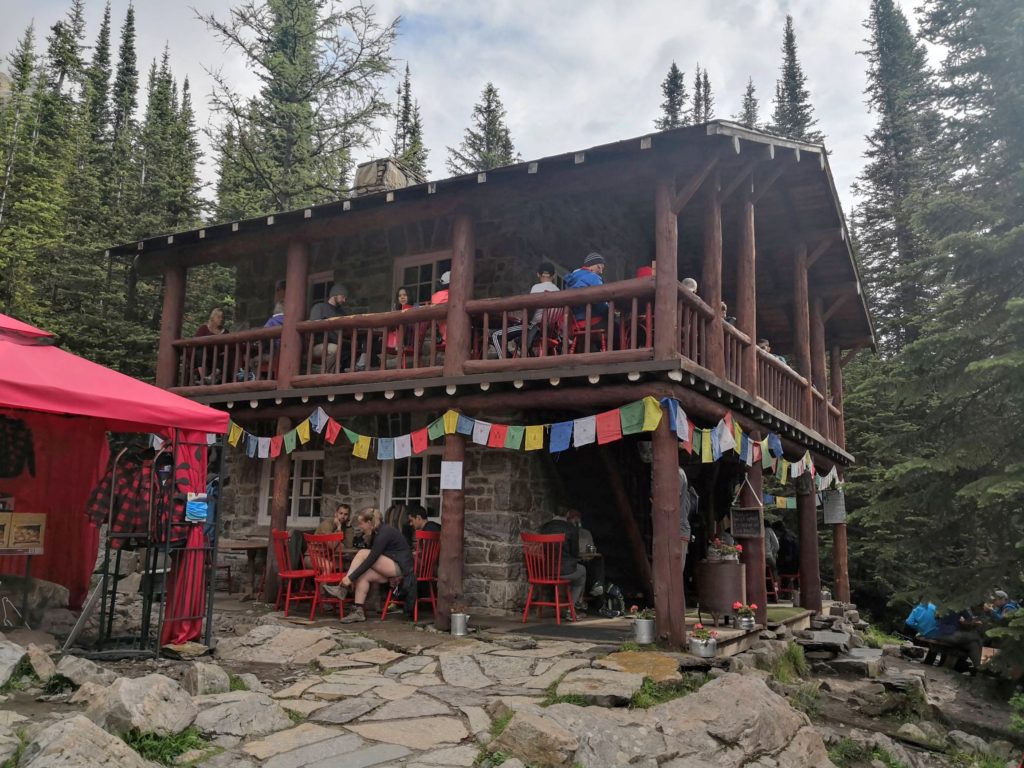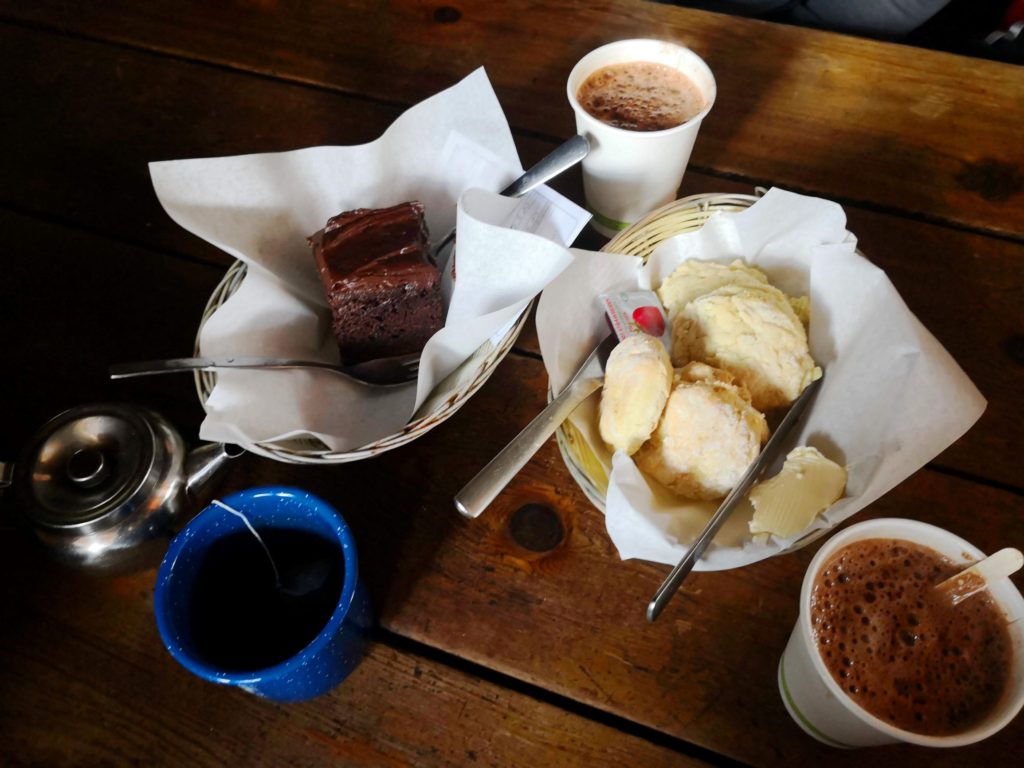 This would also be a good time to take a bathroom break. There are some small outhouses near the tea-house. After that, it's back to hiking! The trail is well-marked and we followed it along until we got to the next overlook.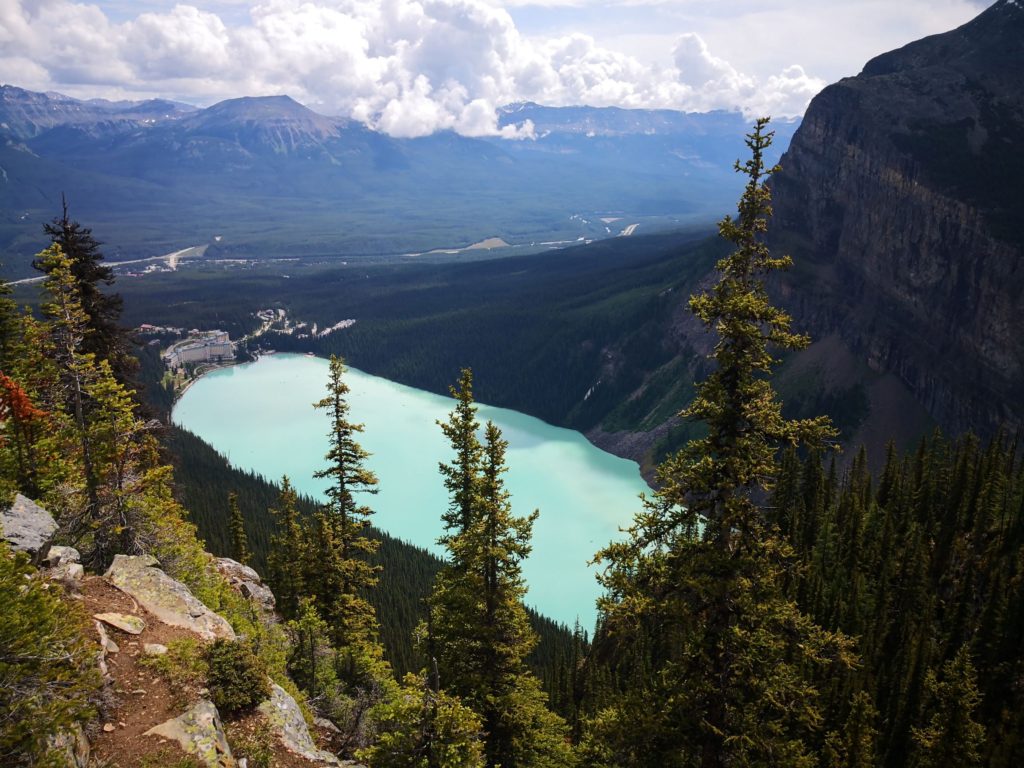 We continued to follow the trail until we got to the Lake Agnes Tea House. This tea house was not as cute (in my opinion) but did have lots of picnic benches (and a bathroom!) so it was a good stop for lunch.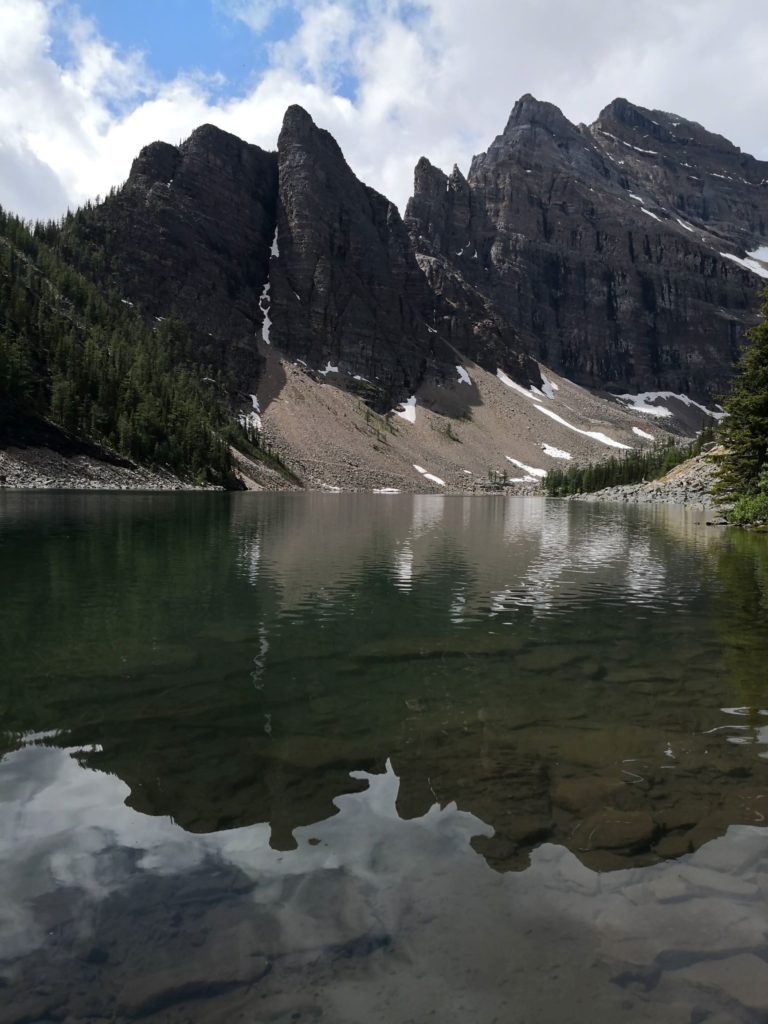 From here, you're not very far from being at the beginning of the trail. There are a few other lakes and beautiful views, but we decided to rush back to get some time at Moraine Lake. After taking the shuttle to Moraine Lake, we took the Rockpile Trail, which is a short trail to the best views.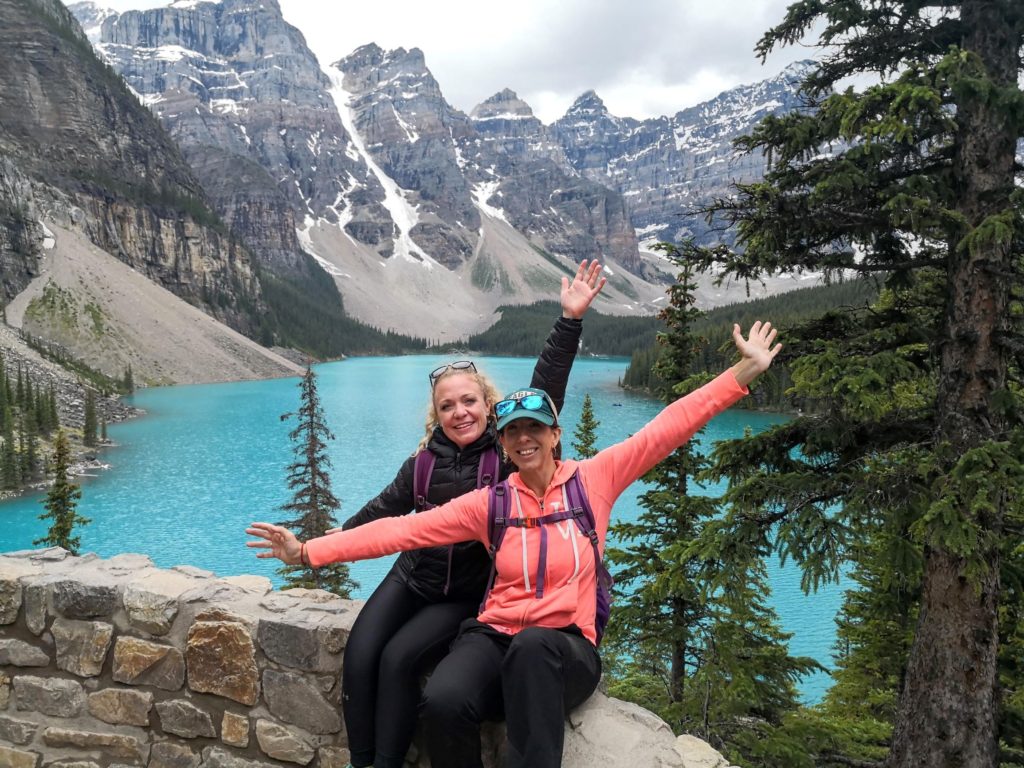 There are other trails around Moraine Lake, but after a long day of hiking, we were exhausted. We decided to head to Banff town for dinner and drinks, and what better than pizza! Bear Street Tavern came highly recommended to us and did not disappoint.
Day 5: Johnston Canyon and Banff Town
We planned a "free day" in our itinerary to catch up on anything we had previously missed. Unfortunately this also happened to be the rainiest day of the trip. We decided to head to Johnston Canyon as it is only a couple of miles to each of the falls.
Even with the rain, this hike was extremely crowded (and a bit underwhelming). There are several viewing platforms to view the falls, but the lines to get to them were long. Overall, I wouldn't recommend this hike.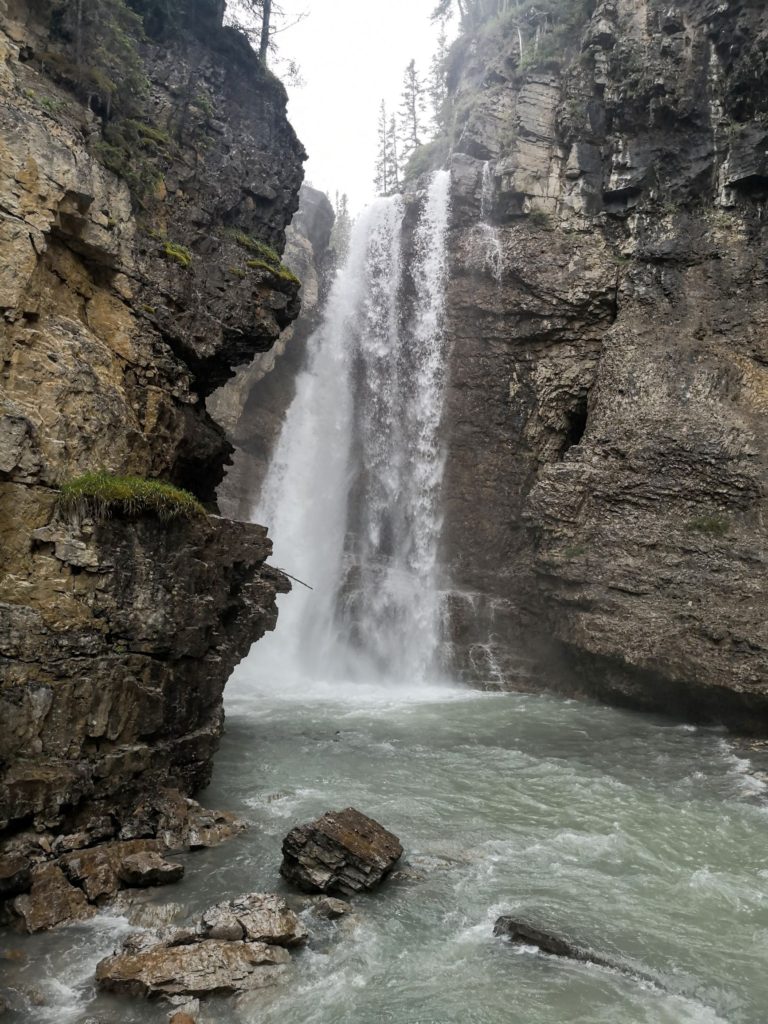 After Johnston Canyon we headed back to Banff town for lunch and souvenirs. What I CAN recommend is the ice cream from COWS Banff (which also had long lines, but at least they went fast!). We actually ended up going to see a movie at the movie theater, as the rain did not subside all day.
Day 6: Icefields Parkway
The Icefields Parkway was another highlight of our trip! Wake up early, as this is going to be your busiest and longest day! This is the beautiful scenic drive from Banff to Jasper.
PRO TIP: Get the GypsyGuide app before you leave. It's $7 USD but it was SO informative and helpful, we listened to it both ways! Plus you don't need any service to use it (other than GPS)!
We stopped at MANY overlooks, and I'm sure you will too, so I am just going to cover the main ones here.
Peyto Lake
This hike is a must! It's about 3 miles round-trip but with a beautiful view of Peyto Lake below.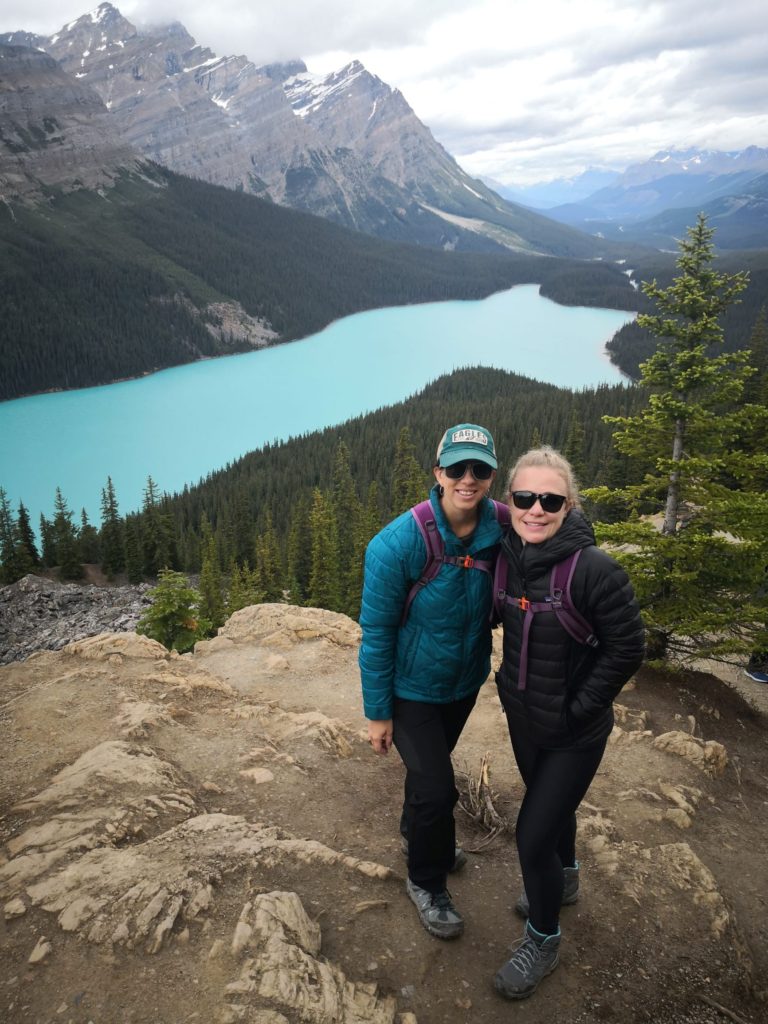 Mistaya Canyon
This is just a short walk to the Canyon from the parking lot, and well worth it!
Columbia Icefield
Yes, you can take a bus to go walk out on the glacier here. But because we didn't buy tickets in advance, it was a 4 hour wait! So if you are DYING to do this, definitely buy in advance! We found a short hike that goes up to the edge of the glacier, and while it was freezing cold, it was also amazing to just feel the wind and power coming off of this giant block of ice.
Sunwapta Falls
The Sunwapta Falls hike was short, but it wasn't exactly breathtaking. It's a fine stop if you have the time, but one that I would say can be missed if necessary.
Athabasca Falls
This is another short hike from the parking lot, but I liked it more than Sunwapta Falls. You could feel the power of the waterfalls from several different overlooks and explore different canyons.
As previously mentioned, there are many overlooks just off the side of the road, as well as longer hikes that can be taken. I'd say at most we could have gotten in two 3-mile hikes and the rest of the shorter (under 1 mile) hikes.
Keep a look out for wildlife. Anytime you see a car on the side of the road stopped, it is MOST LIKELY because there is wildlife somewhere nearby. And if there is wildlife somewhere nearby, PLEASE stay in your car.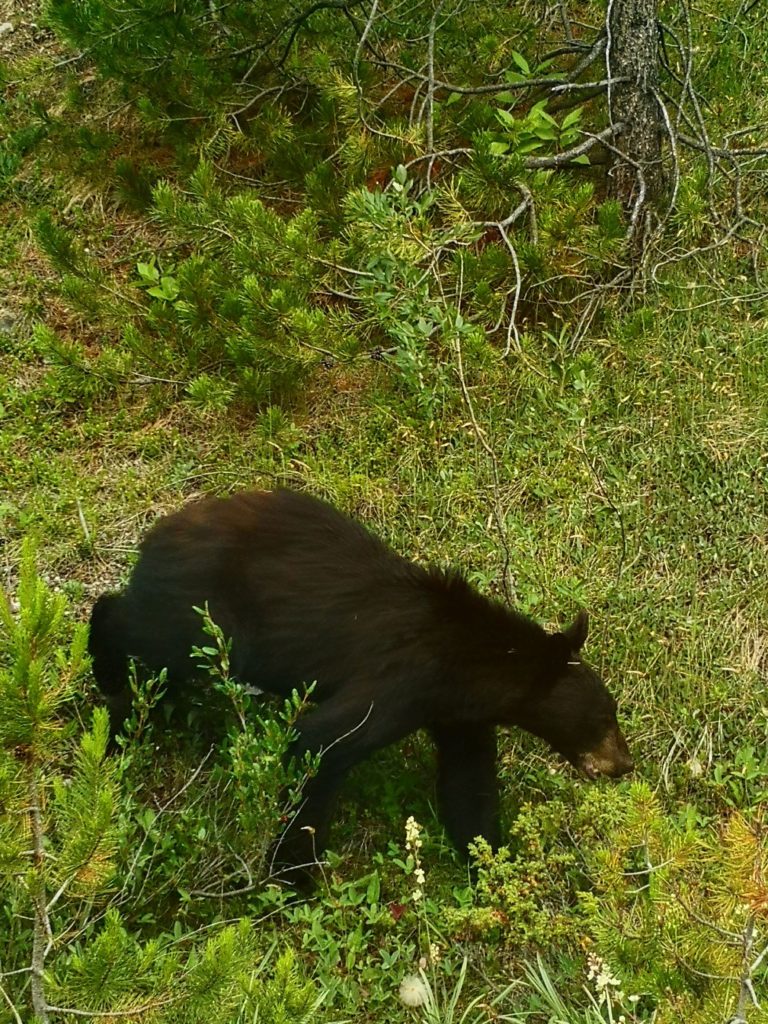 We arrived in Jasper and set up camp at Wapiti Campground. Almost immediately we were greeted by a very large elk. This would only be the beginning of many animals we'd see in Jasper.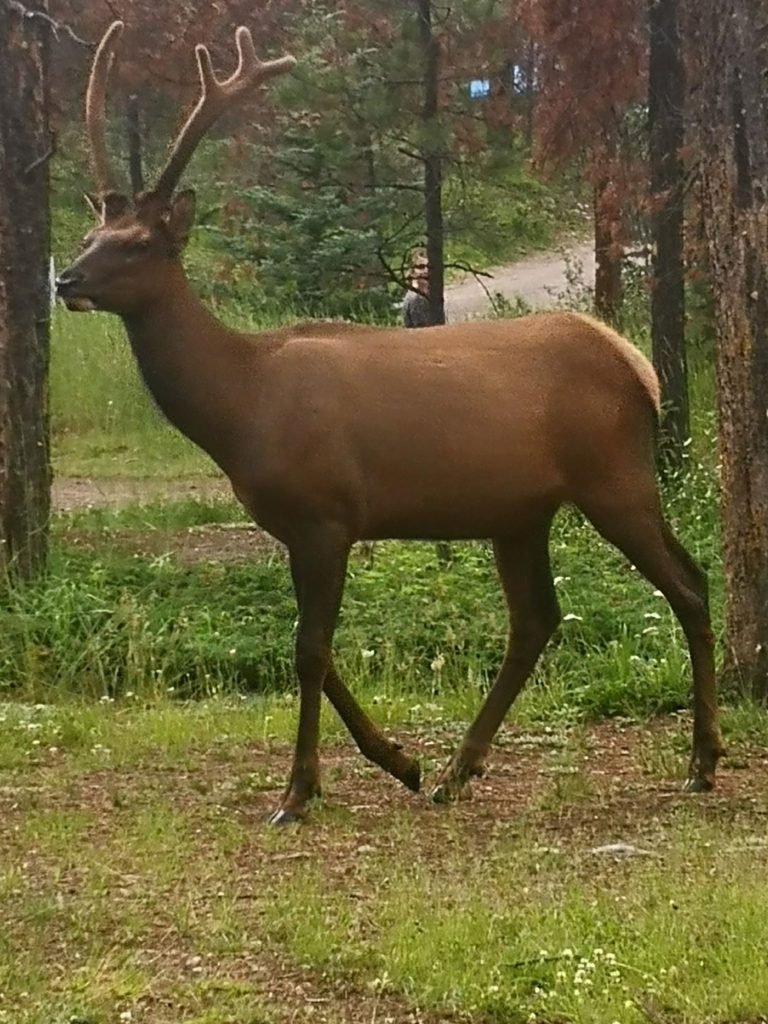 Day 7: Indian Ridge Hike with Jasper Skytram, Maligne Lake
We decided to start the day by taking the Jasper Skytram up to the top of Whistlers Mountain. Tickets can be purchased in advance, but we bought ours on the day of with no problem. Unfortunately, the weather had other plans. As soon as we got up to the top, a blizzard rolled in! We were unable to take the gondola back down and didn't want to hike in a blizzard, so we had some poutine and hot chocolate in the restaurant to pass the time. It was delicious. 🙂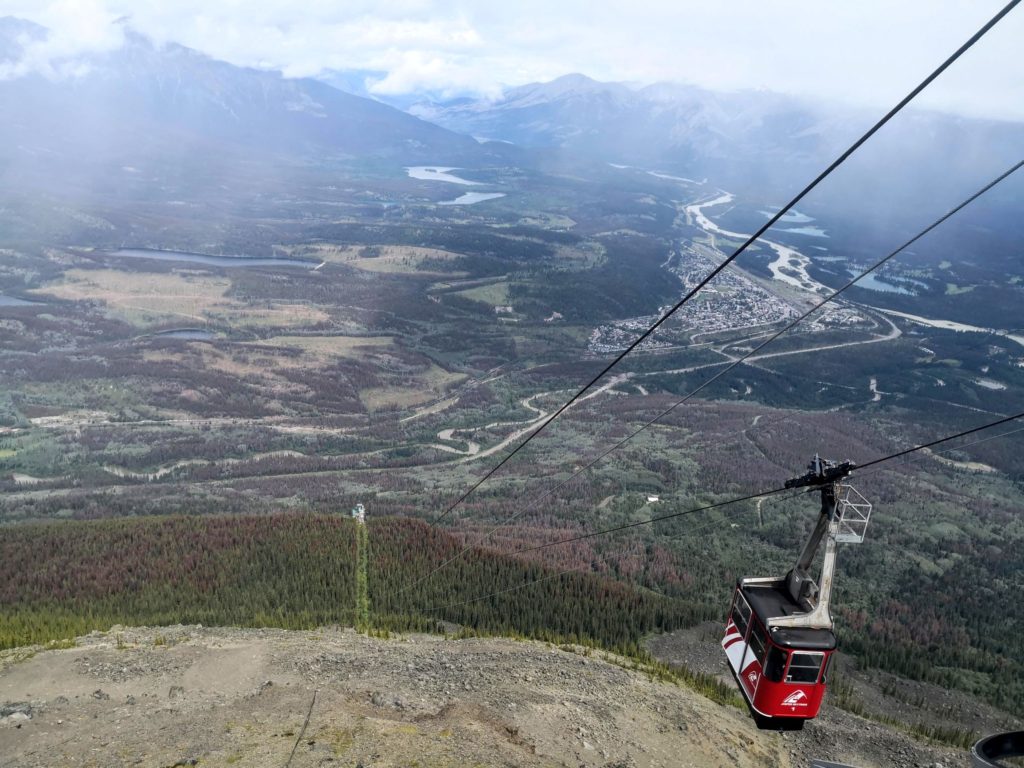 Once the weather cleared, we hiked up to the summit. It took about 30 minutes and was pretty difficult (especially for those afraid of heights). To be honest, the view wasn't that much different than it was from the restaurant, but it felt good to say we reached the summit!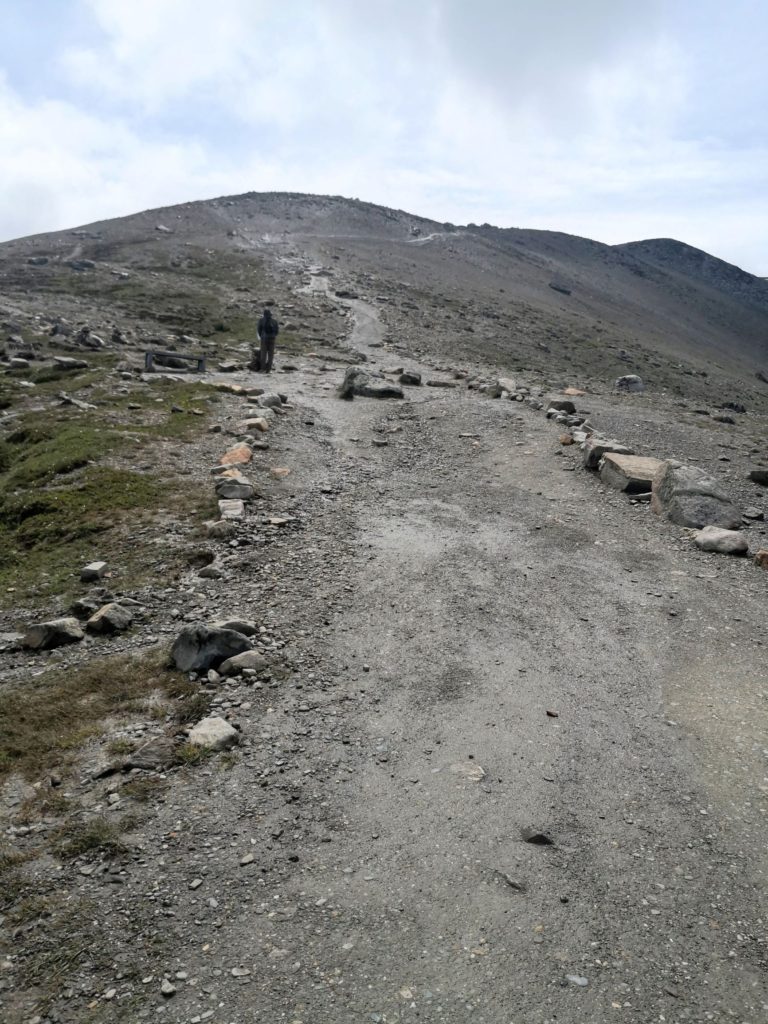 Also, there are more hiking trails up there if you have the time. Unfortunately another snowstorm rolled in and we had to head back down before we were stuck.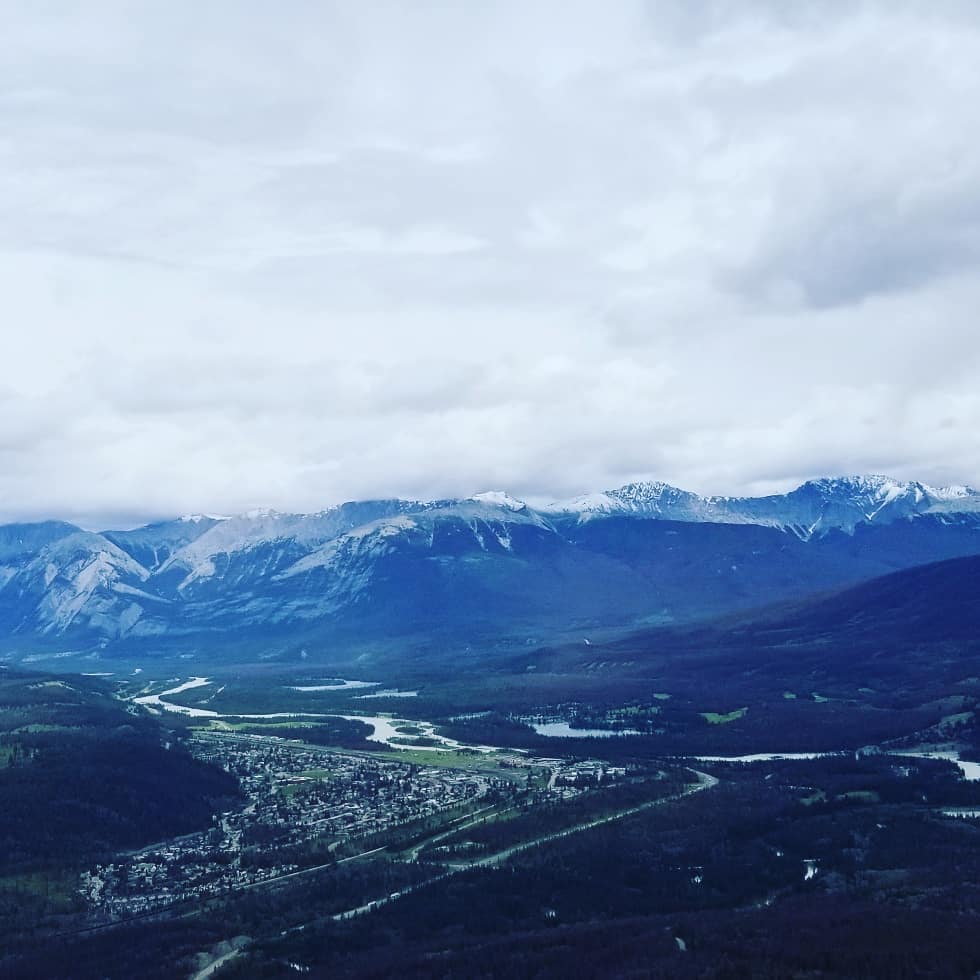 Next we drove to Maligne Lake. While the lake was beautiful (as always), the most exciting part was all of the wildlife we saw on the drive there. On this drive alone, we saw bears (and baby bears), mountain goats, and even a moose!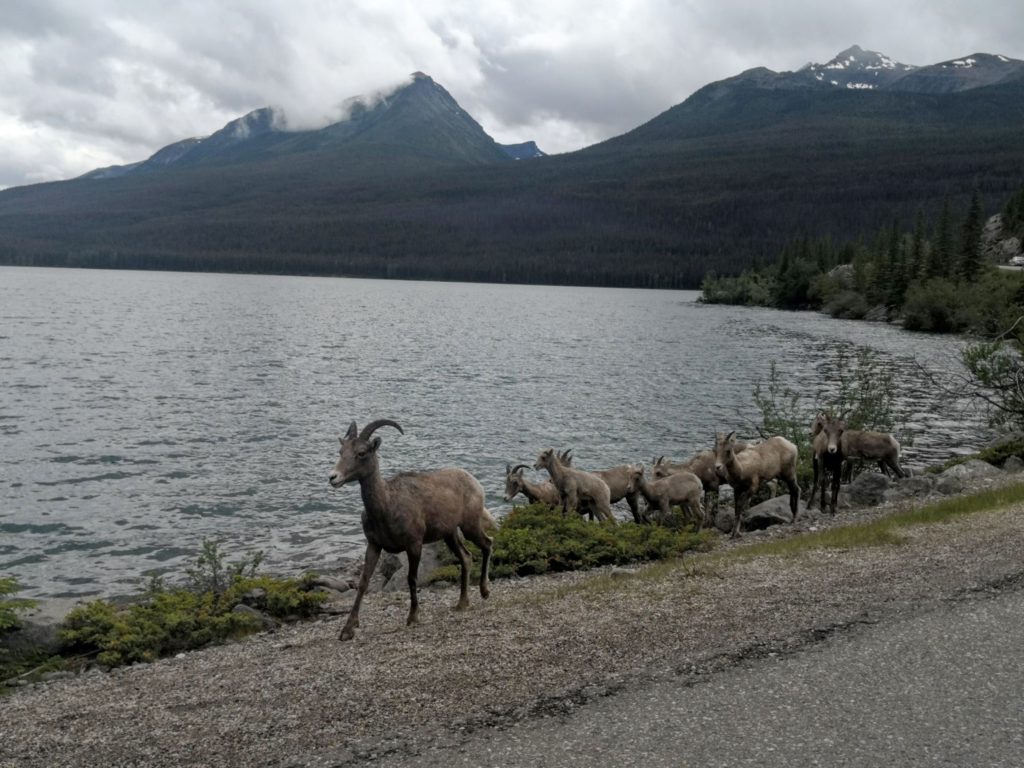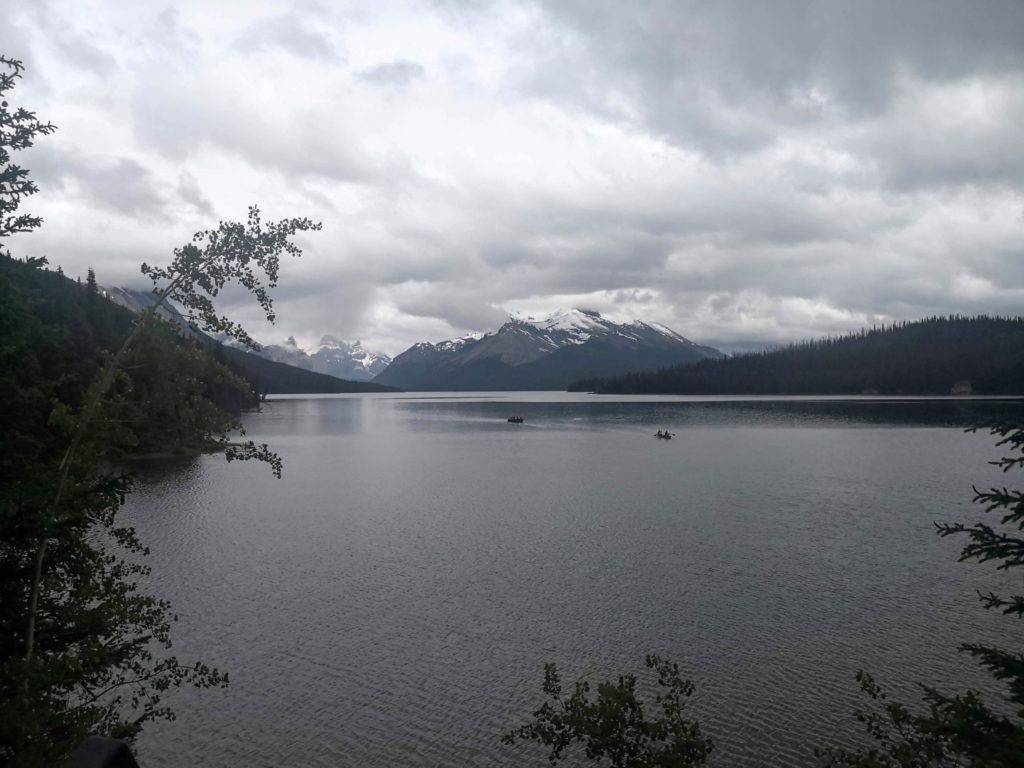 We did an easy 3 mile hike that goes along the edge of Maligne Lake and back to the parking lot. Only part of this trail is along the lake and then it goes back through some woods, so keep this in mind if you're only doing it for lake views. There is also a boat cruise you can do on this lake, but we were too late for it.
Next we headed to Pyramid Lake which has a cute little bridge you can walk over to an island. It was a nice, short stop, but nothing spectacular. Although we did see a Grizzly in this area! There are also a lot of small lakes nearby, which are nice for a quick stop.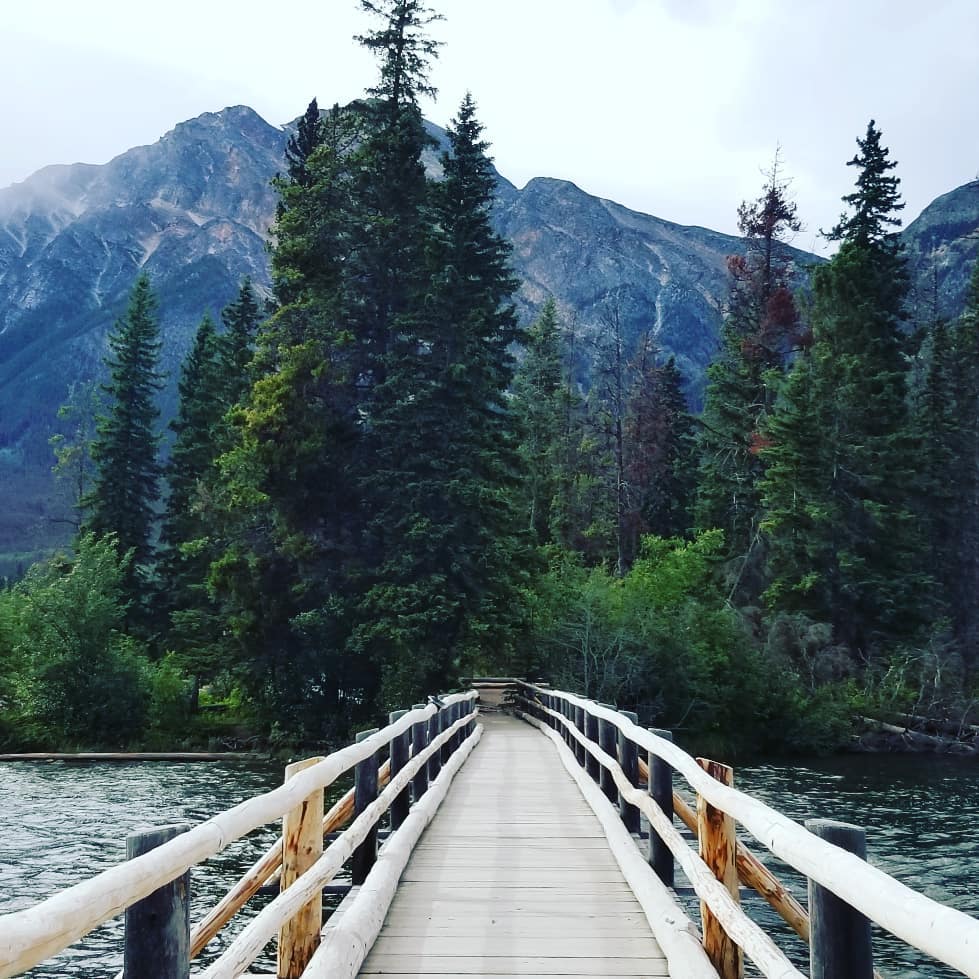 Day 8: Mount Robson Park and Jasper Town
We woke to another day of rain so decided to do some driving. We went to Mount Robson Park in search of the highest point in the Canadian Rockies. This is about a half hour drive from Jasper. Unfortunately it was too cloudy to see Mount Robson, but we did enjoy a nice 5-mile out and back hike to Kinney Lake. The entire hike is along a beautiful blue river and ends up at a serene lake.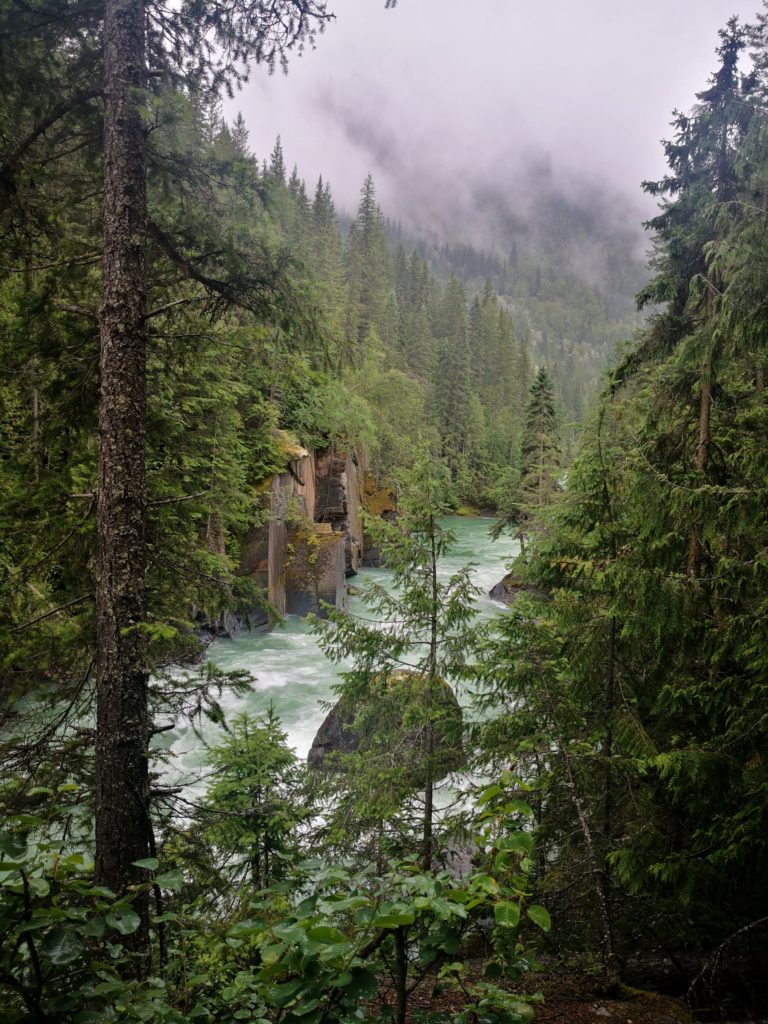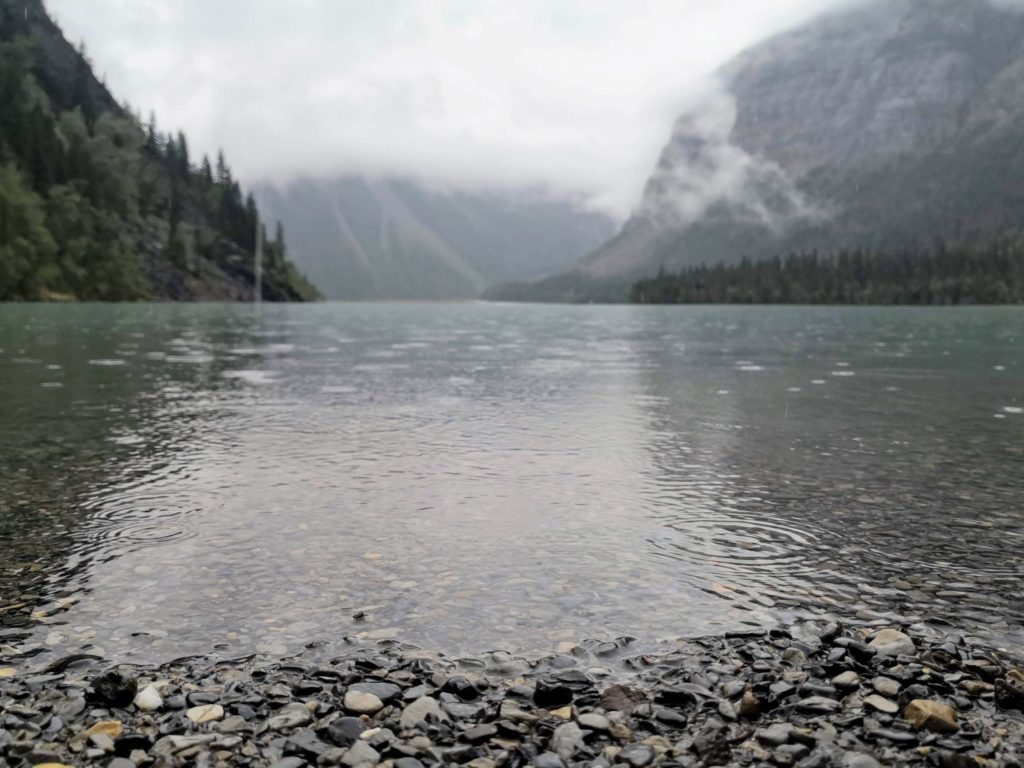 After the wet hike, we decided to see what Jasper's downtown had to offer. Similar to Banff (but a bit smaller), there were souvenir shops, cafes and restaurants. We grabbed a drink at several different pubs and headed back to our wet campground.
Day 9: Drive back to Calgary (Icefields Parkway)
We woke up early and took the Icefields Parkway back towards Calgary. We again used the GypsyGuide, and although it was the same information, it was still very entertaining and informative. We stopped at some of the stops we didn't get to on the way out due to time, and gained a whole new perspective on the Icefields Parkway.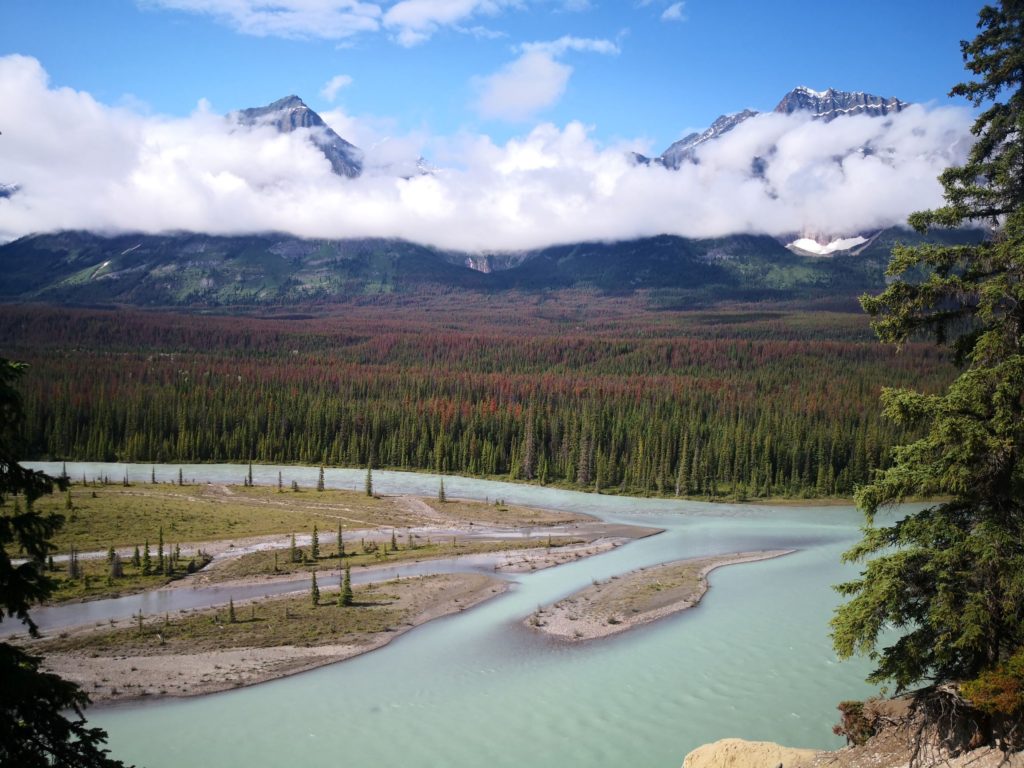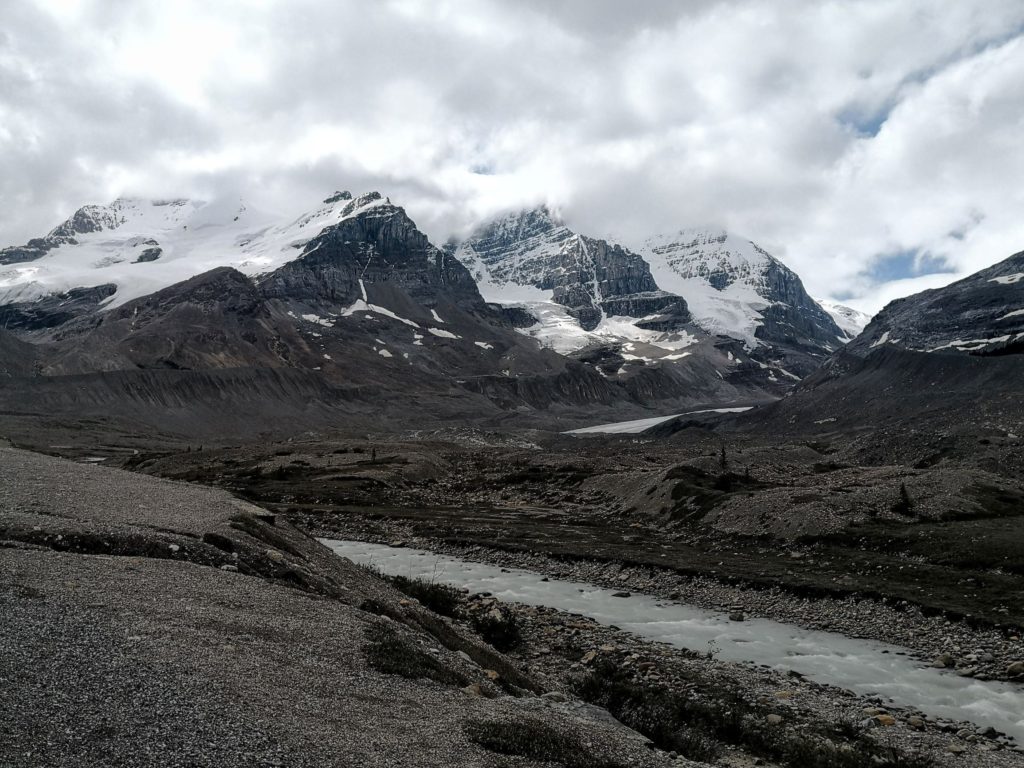 Once arriving back in Calgary, it was time to donate the items that could be donated and throw out the rest. After returning the rental car, we Ubered to the airport for an overnight flight.
As always, if you have any further questions, feel free to contact us here.