Country: Spain
Cities: Barcelona, Ibiza, Seville, Granada
Highlights: La Sagrada Familia, Park Guell, Casa Batllo, Playa d'en Bossa, Plaza de Espana, Gypsy caves in Sacromonte, Alhambra
We never imagined Spain becoming one of our favorite countries! From the tapas to the architecture to the beaches and flamenco dancing, Spain has something for everyone. It's a country with diverse landscapes, friendly locals, and affordable food! Our suggested week and a half itinerary will hopefully help you narrow down some of your bucket-list sights.
We travelled during the summer of 2015, and let's just say, it was hot (105 degrees to be precise). Nevertheless, we recommend this time of year if you want to get in some beach time and come home with a tan!
Day 1: Barcelona
Our travels started with a flight from Philly to Barcelona. We landed early in the morning and took the Aerobus from the airport to Plaza Catalina where we then walked to our hostel: Itaca Hostel. We had the whole day ahead of us, but we were also tired from traveling, so we bought tickets for the Hop on Hop off double decker bus city tour. I think we've done one of these bus tours just about in every country we've been to. They allow you to visit all the top sights at your own pace. Plus, they have an audio guide to give you the rich history of the city!
We saw quite a bit of Barcelona this day. We walked around Barceloneta Beach, which is probably the most distinguished beach. We weren't prepared with our swimsuits, but we dipped our feet in the warm water.
PRO TIP: Barcelona has free city-wide wifi!
We made our way to the Teleferic (Barcelona cable car) to Montjuic Castle. The cable car offers panoramic views of Barcelona and takes you up to the castle. Ticket prices are approximately $15.
Afterwards, we got back on the bus and passed by more sites including: Gaudi's buildings (Casa Batllo, Casa Mila (La Pedrera), La Sagrada Familia…more on these later), an old bull fighting ring, the FCB Barcelona Futbol stadium, and the music palace, among many other sites.
For dinner we made our way to the Gothic Quarter and found a great place for paella and sangria! The Gothic Quarter consists of cute, tiny shops, tapas restaurants, cobblestone roads; you can spend hours just walking around here. It was a great way to end the night!
PRO TIP: Spanish people eat dinner after 8pm, typically closer to 10pm. It is their lighter meal, while lunch is their biggest meal served around 2-4pm.
Day 2: Barcelona
Today started with an excursion to visit La Sagrada Familia. This church was designed by the Catalan architect, Antoni Gaudi. It's an unfinished Roman Catholic Church that has been under construction since the 1800s. It's supposedly in its final 11 years of construction, but we'll see!
Regardless of the construction on the outside, this church is an unbelievable sight! It's the most breathtaking church we've seen! When we first stepped inside, we simultaneously gasped. We were blown away by the colorful glow from the stained glass that permeated the church walls. We recommend you take the time to visit this church and tower with an audio guide. When you go up to the tower you can get a panoramic view of the city. Book your ticket (approximately $40) in advance as it is one of the most popular sights in Barcelona! We bought tickets for the 2pm entrance into the church, and 2:30 entrance for the tower. You can also buy "Skip the Line Guided Tours" here.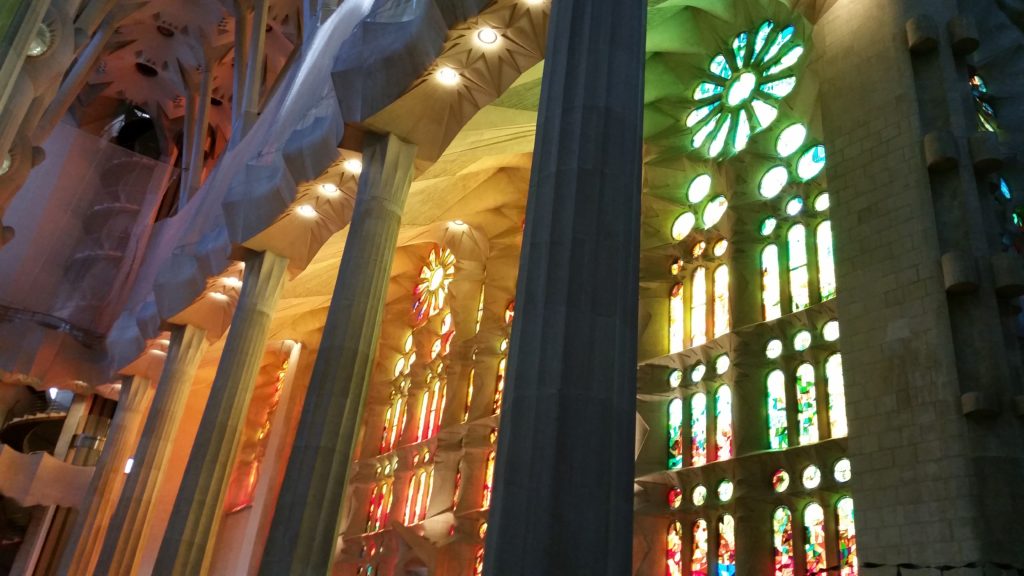 Our next stop was Park Guell, another Gaudi construction and a public park located on Carmel Hill. It's one of the most famous sights in Barcelona, known for the mosaic structures found throughout the park. We recommend getting tickets in advance. We bought tickets (approximately $12) to enter at 5:30, which gave us time plenty of time to view La Sagrada Familia beforehand. The park is located approximately 1.5 miles away from the church, just on the outskirts of the city. We walked, but you can take an Uber or bus.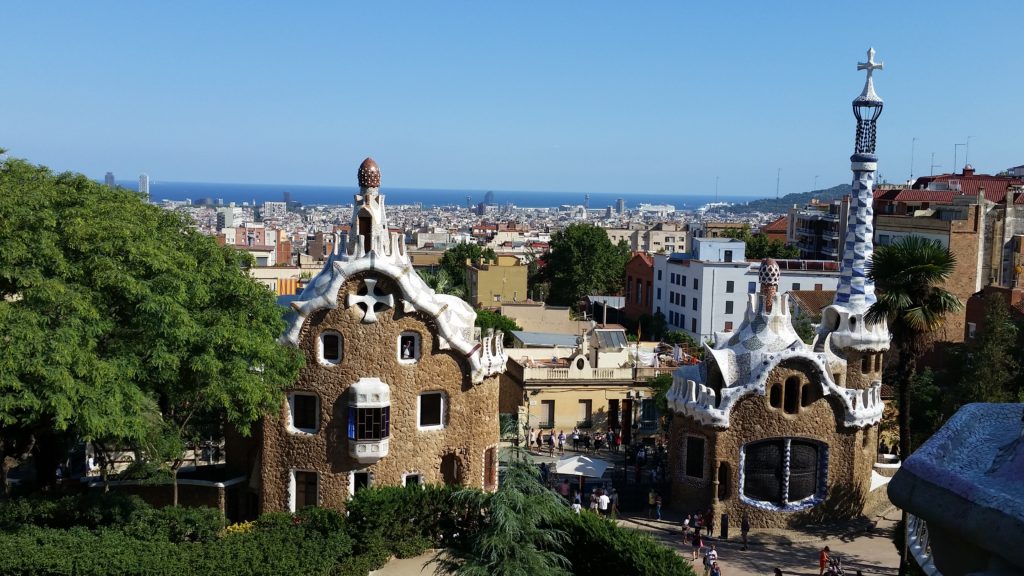 We made our way back into Barcelona and found a place for tapas (small portion plates) called Restaurant Santa Anna on Las Ramblas, the famous "main street" that runs through the city. Be sure to walk Las Ramblas at some point! There isn't much to do on the street, but you can find lots of food and the well-known fresh produce market, La Boqueria.
After dinner, we ventured back to Montjuic Castle for the magic fountain show (via subway). This FREE show is truly spectacular! The fountain bubbles and changes shape to every color of the rainbow. The show runs at different hours depending on the time of year, so check online for the schedule (expect it to be in the 8-10pm time frame).
Day 3: Barcelona
Today was our last day in Barcelona. We found an advertisement for a free walking tour of the city. Our tour guide was awesome, she did a great job explaining the history of the city, the Catalan language spoken in Barcelona, and gave us recommendations of things to see, which would have been more helpful if it was not our last day here 🙂
After we completed the tour, we made our way to the famous Gaudi buildings: Casa Mila (also known as La Pedrera) (~$30 USD), and Casa Batllo (~$30 USD). We decided to only buy tickets to one of the buildings, due to time and money constraints, so we agreed to visit Casa Batllo. However, if we could do it again, we would have like to have seen both!
Casa Mila, or more popularly known as La Pedrera or "The stone quarry", is a Gaudi masterpiece built in the early 1900s. Its loved for its shape and unique facade. The outside is supposed to represent waves and seaweed.
Next, we went to Casa Batllo, located in the center of the city. We bought tickets and audio guides so we could learn about the history and construction of the building. These houses can get quite crowded, so if you are looking for great photography, it may be better to go first thing in the morning.
PRO TIP: As you walk around Gaudi's buildings, notice his small gestures where he tried to mimic nature and animals in his designs.
Day 4: Ibiza
We headed back to the Barcelona airport to fly to Ibiza. We bought our flights ahead of time using Ryanair, which has some of Europe's cheapest airfare. We decided on Ibiza for the beaches and to experience the nightlife. When we landed in Ibiza, we took Bus 10 (or you can get a taxi) to our hostel: Europa Punica Hostel.
PRO TIP: If you're worried about flying a cheap, unknown airline, don't be! Typically, these budget airlines don't offer as many flights, making them more affordable, but they are perfectly safe!
Today was a beach day! We made our way to Figueretas Beach, which honestly was not the nicest beach we've been to. It was near a lot of hotels and apartments. However, it is right next to Ibiza Town, so there is a lot to do and see on the nearby promenade.
Later for dinner, we went to Fusion, which is a restaurant right on the promenade over looking the water in Ibiza Town near Figeretas Beach.
Day 5: Ibiza
Today was another beach day, but we decided to check out a different beach on the island in San Jose: Playa d'en Bossa. This beach is the longest beach on the island with shallow water and a strip of land lined with beach clubs and bars. This beach is not quite for solitude and relaxation. There were loads of people, loud music, and dancing. The water was much nicer than Figueretas and there are a lot of activities for rent: paddle boards, kayaks, jet skis, catamarans, etc.
PRO TIP: European beaches have loungers with umbrellas spread across the beaches for rent. We always try to be resourceful and just use our towels, but the sand was too hot to lay on! You may want to invest in the lounger, especially if you are there for most of the day.
Later that night, we grabbed dinner at a place to see the sunset in San Antonio, a large resort area set in an open bay with sunset cafes, restaurants, bars, and tons of clubs. After extensive research online, we settled on a place, which turned out to be THE BEST location for the sunset and dinner, the tapas restaurant: Kasbah Sunset Ibiza. The food is reasonably priced with a spectacular view. Make sure you grab a seat on the edge, near the bay, so you can capture the beautiful sunset!
After dinner we walked around San Antonio for a while and checked out a few lounges. This town is very vibrant with parties going on everywhere! If you're here in the summer, you will definitely meet English people (as we did) — they all vacation here!
Later that night, we checked out the infamous club scene in Ibiza and bought tickets to Privilege. Honestly, the place was a little sketchy (people offering us drugs) and the headliner DJ (Paul Oakenfold) didn't come on until maybe 3 or 4am, which is pretty typical of the clubs here. Keep in mind that they party until 6am! We bought tickets that night and we don't think it's necessary to book this is advance unless it's a VERY popular DJ.
Day 6: Seville
This morning we packed up and flew from Ibiza to Seville on Vueling airline, another budget airline. The flight was just over an hour and once we arrived we took a bus to our hostel, Samay Hostel.
Guess what we did?! Another hop on hop off bus tour through Seville 🙂 It was incredibly hot (106 degrees), so we figured this would be a good way to view the city, while getting a reprieve from the heat.
We walked around Plaza de Espana in Parque de Maria Luisa. It was constructed for the world's fair to showcase Spain's role in history, industry, and technology. Definitely stop here and walk around and view the beautiful mosaics.
After visiting the plaza, we walked around Parque de Maria Luisa. It's a nice place to stop and have a snack, drink, or relax out of the sun!
The bus tour also took us to the oldest bullfighting ring, The Plaza de toros de la Real Maestranza de Caballeria de Sevilla. Bullfights take place on Sundays and you can sign up to take a tour when you're there, which is what we did. We learned a lot about this age-old sporting event, including the costumes, customs, and the pro and con arguments of bullfighting.
From here, we went to check out the Seville Cathedral and La Giralda Tower. It's a 12th century cathedral with a dramatic, Gothic appearance. You can climb the stairs of the tower for stunning, panoramic views of Seville. You can buy tickets there, which is what we did, or purchase in advance online: Seville Cathedral and Giralda Tower Tickets.
PRO TIP: Women may not enter with strapless shirts and shorts and men cannot enter wearing tank tops. A visit to the church and tower is FREE on Mondays!
Later, we got dinner then bought tickets to a flamenco show. We did not reserve this in advance, but we did a fair amount of research to find an authentic flamenco experience. Our ticket included the show and one drink at Museo del Baile Flamenco.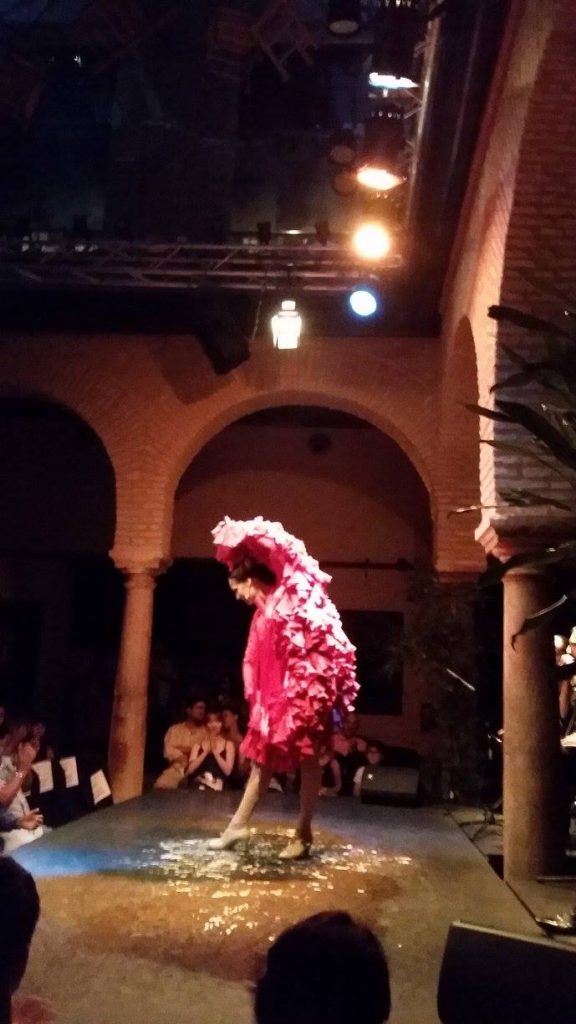 PRO TIP: Be careful when researching authentic flamenco shows, some can be a tourist traps, and there are a lot of people advertising for shows in the street. The show should have 3 components: singing, guitar, and dance. Look for a modest-sized, intimate venue, where you can see and feel the emotion of the performers. Avoid large venues that advertise flamenco performances as large, ostentatious theatrical productions.
Day 7: Seville
Today we took a guided walking tour of Seville. We always recommend finding a walking tour in whatever city you're in. The guides are locals and passionate about their city!
PRO TIP: There was no plan when it came to the construction of the streets in Seville. The neighborhoods and cobblestone streets can be very confusing, very much like a labyrinth! It's easy to get lost, but that's the whole fun of traveling, right? 🙂
Later that night, we went to La Carboneria to see another flamenco show. We had read other travel blogs all recommending to check this place out. The flamenco theater is built in what was an old coal warehouse where the atmosphere is super chill and they serve up drinks, tapas, and a great flamenco show! Entrance is FREE, but you are expected to buy something to eat or drink.
PRO TIP: La Carboneria is tricky to find. It's about a 10 minute walk from the Seville Cathedral, but 10 minutes can quickly turn into 20 or 30 minutes due to the windy streets. We started to wonder if this place really existed, but it does, so persevere! You will be greeted by a giant red door once you arrive!
Day 8: Granada
We left Seville for Granada in the morning. We had not planned in advance how to get to there, however, our hostel managers recommended that we use BlaBlaCar (there was no Uber or Lyft), which is a long distance carpooling service that connects drivers with empty seats to people traveling in their same direction. Co-travellers pay car owners a contribution to help offset their costs of the trip.
We were a little apprehensive about using the service at first, so we booked a ride with a female driver. It turned out to be a great trip and, we would totally use this ride-share again! We met the drive at an agreed-upon location, which we planned through the online private-messaging service, and she and her brother took us to Granada. We got to see the Sierra Nevada mountain range on the way!
PRO TIP: Did you know that the city of Granada has the same name as the Pomegranate!?! The Spanish word for the fruit is Granada and therefore the symbol of the city. The pomegranate and pomegranate tree appears throughout the streets as you wander around the city.
After about a 3 hour drive, we arrived at our hostel in Granada: Makuto House Hostel. We then set out on our own to explore the streets and different neighborhoods of Granada! We explored the Alcaiceria, which is an Arabic-style market with narrow street, trinkets, and Arabic ceramic tiles.
PRO TIP: Granada was once a Muslim kingdom, so much of the city has been built in a style of Islamic architecture. Granada is the capital of Andalusia, a large autonomous region in Southern Spain.
Our hostel also offered a free walking tour of Granada, which was AMAZING! The highlights were seeing the gypsy caves in Sacromonte and viewing the Alhambra from afar at sunset.
In the hills above Granada lie the gypsy cave community of Sacromonte. After the Moorish empire fell in the 1500s, the Roma came and carved out little cave homes which is now a Gypsy neighborhood (and also a tourist spot). The caves were originally inhabited by people of Romani or Gitano descent. Now, they are inhabited by "modern gypsies", as in nomads, free-spirited travelers, foreign refugees, etc. Most of the caves have electricity, running water, outhouse-style toilets, and some have TVs.
PRO TIP: For the best view of the Alhambra and the Sierra Nevada Mountains, go to the Mirador de San Nicolas. Walk up from Plaza Nueva through the Albaicin and find a spot on the wall. Enjoy the sunset over the Alhambra palace, the Sierra Nevada Mountains, and on the city below. The Andalusian sunset in Granada is spectacular!
Day 9: Granada
Today we visited the Alhambra, which is a giant palace and fortress built in the mid-13th century. It is one of the top tourist attractions in Granada. To plan your trip to the Alhambra, it is best to buy your tickets well in advance. They offer audio guides and guided tours. We opted for the audio guide so we could go at our own pace and bought tickets for a 3pm entrance. Plan to be in the Alhambra for several hours and bring fans to combat the heat!
After visiting the Alhambra, we went back into town and explored the streets of Granada. We stopped to watch a jam session that we randomly came across, explored more of the Arab markets, and got tapas and drinks!
PRO TIP: In Granada, you can get free tapas when you order a drink!
Day 10: Granada to Barcelona
Today we flew back to Barcelona on Vueling airline at 7:30pm. The flight back is only about an hour and a half. Once we arrived, we checked into our hostel Ideal Youth Hostel. We didn't make any plans for Barcelona tonight because we had an early morning flight home the next day. We walked around the famous Las Ramblas street and found a place to eat for dinner.



As always, if you have any questions, feel free to contact us here.