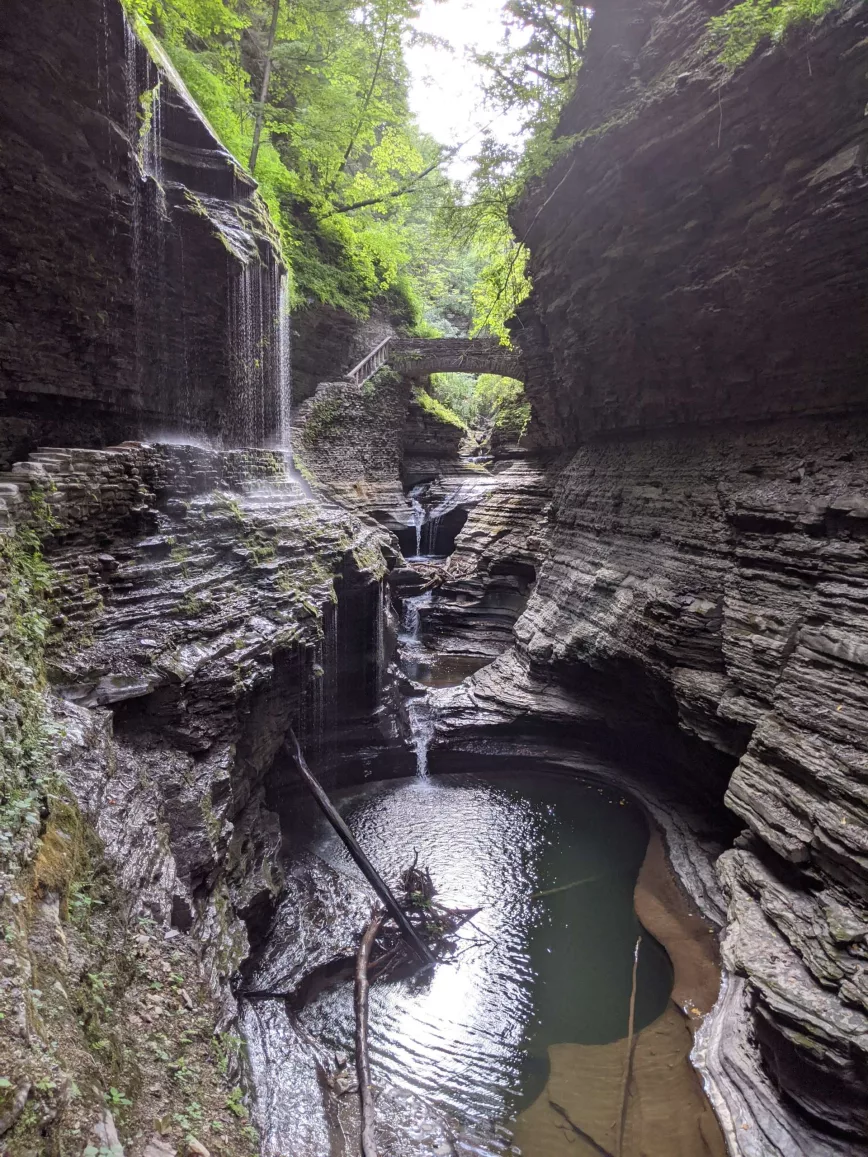 Country: USA
Cities: Seneca Falls, Watkins Glen, Ithaca, Canandaigua, Corning
Highlights: Watkins Glen State Park, Robert H. Treman State Park, Buttermilk Falls State Park, Taughannock Falls State Park, Grimes Glen State Park, Cayuga Lake State Park, Seneca Lake State Park, Niagara Falls, Corning Museum of Glass
With COVID-19 restrictions limiting available vacation destinations, we decided to head to a location that was in driving distance and relatively open – the Finger Lakes. This region of New York offers a wide variety of activities, most notably an abundance of wineries and waterfalls. It was the perfect getaway to maintain social distance but also take in the surrounding natural beauty.
PRO TIP: Before booking anything, check with the requirements of your destination as well as local requirements. Some states require negative COVID-19 tests, some states require self quarantining upon arrival or return, some states require nothing. These requirements change DAILY, so check often!
Day 1: Watkins Glen State Park
Our first stop (even before our Airbnb) on this trip was the one I had heard the most about – Watkins Glen State Park. As the drive from PA to NY took about 5 hours for us, we didn't arrive at Watkins Glen State Park until about 4:30pm. This turned out to be the best time to arrive, as crowds were mostly gone and the weather was perfect. Due to COVID, several trails were closed or restricted, so we took the main Gorge Trail until we were allowed to go no further, and took the Indian Trail back.
PRO TIP: Most New York State Parks charge a vehicle use fee for day use. Make sure to pay at the kiosk before leaving the parking lot. You can find more information here.
The easy 1-mile hike through Watkins Glen State Park felt like a fairy tale. There were beautiful gorges, stone bridges and stunning waterfalls all around.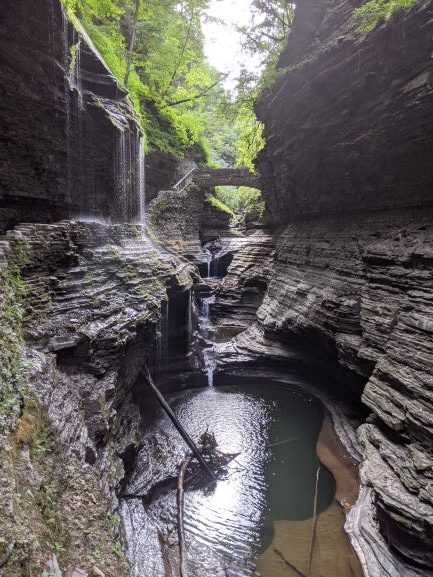 There are more trails to explore in this area, and if you have the time, I recommend you do so. Unfortunately, it was getting late and we had to head to our next destination.
After our hike, we drove the last hour to Seneca Falls, NY. This is where our home-base would be for the trip. Although Seneca Falls is an adorable town with lots of history, I might recommend something closer to Ithaca, as the drive to most of the state parks was about an hour each day. We stayed in this Airbnb, which was within walking distance to town and quite affordable.
After getting settled in, we grabbed dinner in downtown Seneca Falls and went to bed.
Day 2: Robert H. Treman, Buttermilk Falls, Ithaca, Taughannock Falls, and downtown Seneca Falls
This was easily our most packed day of the trip! We woke up early and drove the hour to Robert H. Treman State Park. Again, trails were marked so you could only go one way, and several trails were closed. We started at the Upper Robert Treman parking lot (after paying the entrance fee). From there, we took the Rim Trail to Lucifer Falls, and the Gorge Trail on the return. See the trail we took here.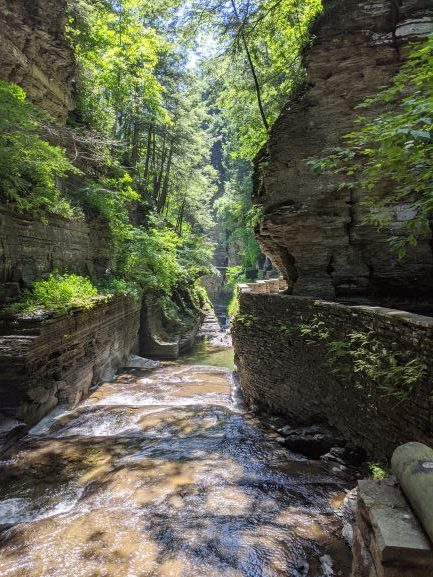 This was another easy 1-mile trail with a great payoff! More stone bridges, a giant cascading waterfall and beautiful pools of water just begging us to swim (several others WERE swimming, but we weren't dressed properly at this time).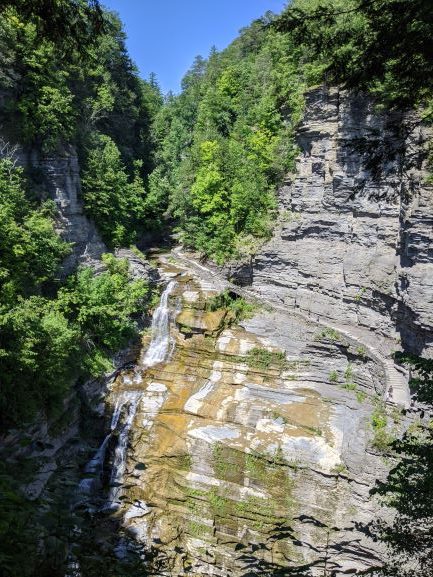 We could have kept hiking to the Lower Robert Treman parking lot, but for the sake of time, we drove. At this parking lot, there were public bathrooms so we changed into our bathing suits. Just a short 5 minute walk later, we were at the Lower Falls. This was a great swim spot, with lifeguards. bathrooms, and spaced spots for sunbathing. The water was FREEZING, even in mid-August, so be prepared!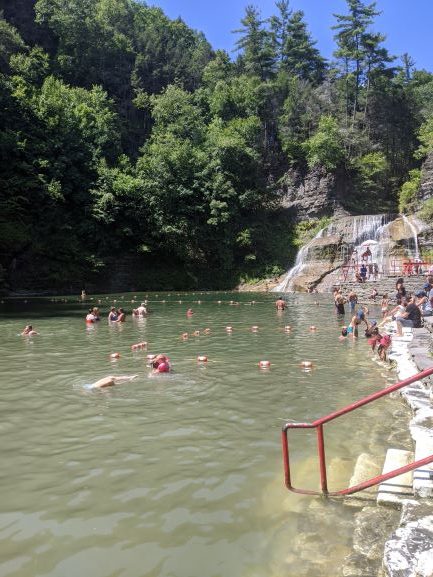 After cooling off with a dip, we drove to Buttermilk Falls State Park. Although it said swimming was prohibited, we saw several people cooling off in the pools along the trail. It was another beautiful and easy hike.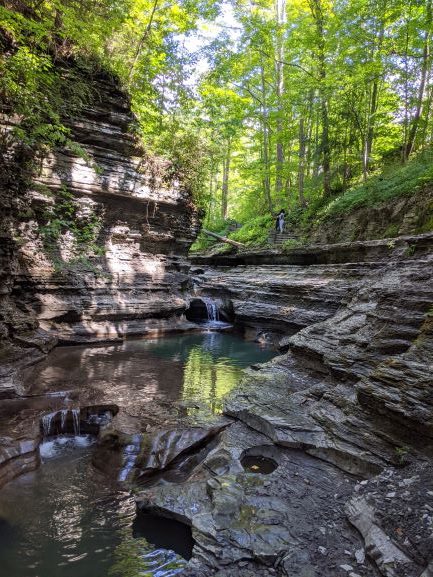 There is also a large swimming hole near the parking lot of Buttermilk Falls, but it was closed when we were there. Instead, we made our way over to Ithaca for lunch. Ithaca is a quaint town with lots of restaurant options. We opted for burgers at the Mahogany Grill, which were delicious.
After lunch, we drove over to Taughannock Falls State Park. These impressive falls are one of the highest east of the Rocky Mountains, dropping 215ft! There are several viewing points in which to see them. We started at the upper viewing point, and then did the short hike to the bottom of the falls. I recommend the hike, as the view is much more impressive close up! Unfortunately, the water level was quite low, but it was still a great stop.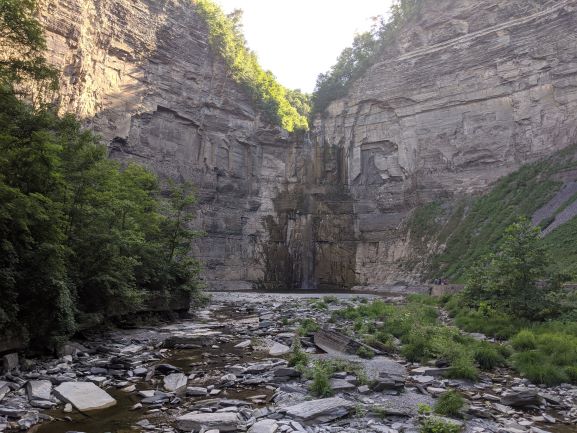 After our short hike, we decided it was time to head back to Seneca Falls. It wasn't yet dinner time, so we opted to explore the downtown. What we found is that Seneca Falls is one of the birthplaces of women's rights! The Seneca Falls Convention was the first women's rights convention held in the US in 1848, which launched the women's suffrage movement. Although there was a museum, it was closed at the time of our arrival.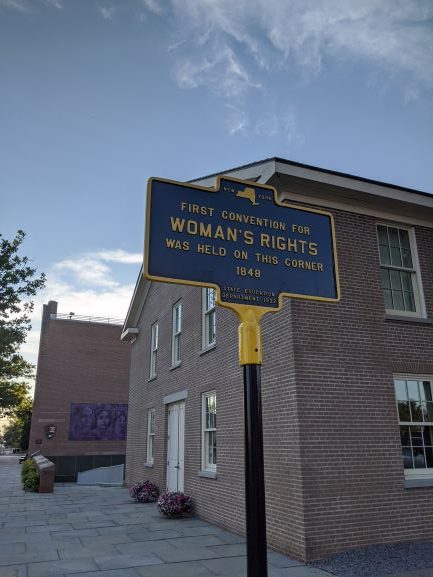 We next discovered that Seneca Falls is said to have inspired the famous Christmas movie, "It's a Wonderful Life!". Again, there was a (closed) museum, but we were still able to explore the iconic bridge.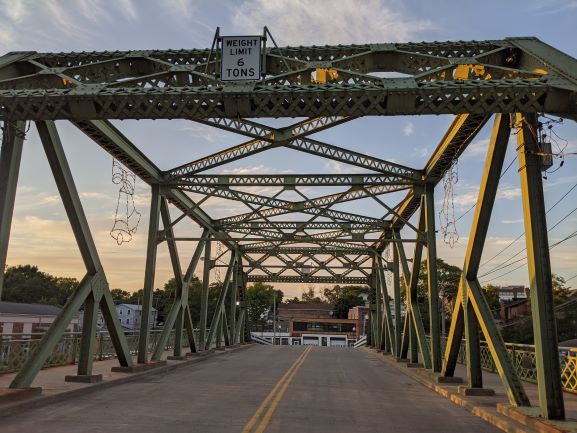 After exploring the bridge, we grabbed pizza at Little Italy and enjoyed live music in a nearby park.
Day 3: Grimes Glen State Park, Gannet Hill, Canandaigua Boathouses, Wineries
Another morning, another hour's drive to our first hike. We started the day at Grimes Glen State Park, another easy hike which consisted of two waterfalls. There were again some people swimming in the pools at the bottom of the waterfall, but we just sat and relaxed in the cool water.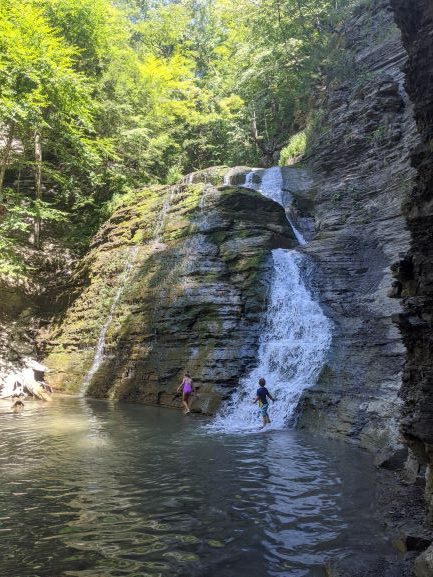 We had seen so many waterfalls, I thought it might be a good time to see if we could find any overlooks. Google pointed me to the Ontario County Park at Gannet Hill. To be honest, this "overlook" was a little underwhelming. However, it was a great spot to stop for lunch with all of the picnic tables around.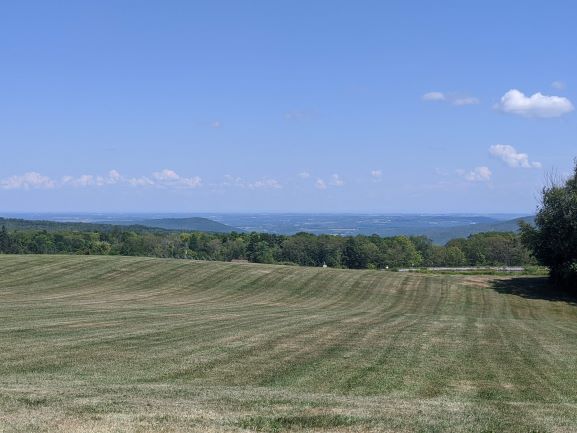 After lunch, we made our way to Canandaigua. What interested me about this town were the colorful boathouses. We walked through the picturesque docks, looking at an array of adorable houses.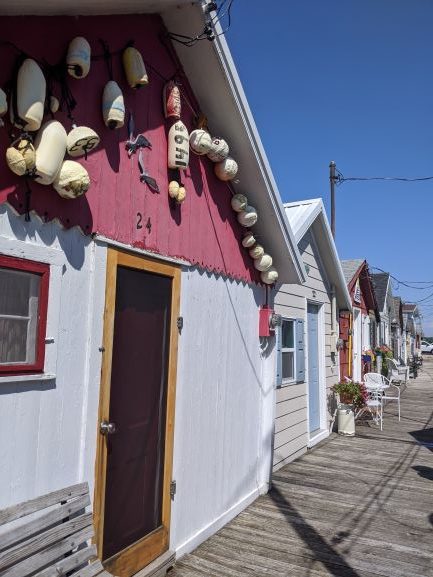 Nearby, we grabbed some ice cream and sat on the lake's edge watching the boats drive by.
After our ice cream, we headed back to our Airbnb in Seneca Falls and got dressed for a fancy night out! The Finger Lakes are known for their wineries, and although not the biggest wine fans around, we would be remiss to go all the way to the Finger Lakes without doing a wine tasting. We had driven past many, many different wineries, but one in particular stood out as they promoted live outdoor music that night. We went to Wagner Vineyards, and loved it! We sipped on a variety of wines while listening to great music and overlooking the beautiful lake.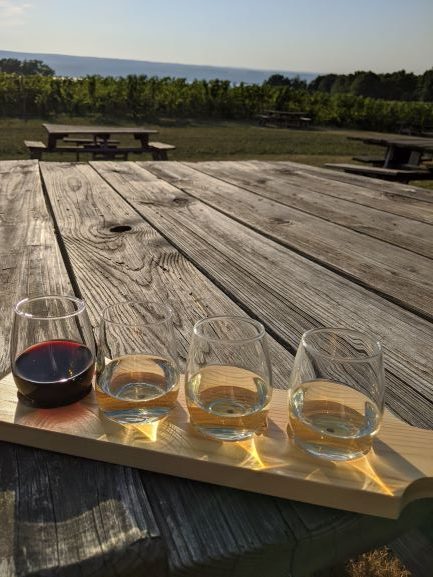 We grabbed dinner there as well, and watched the sun go down over the vineyard.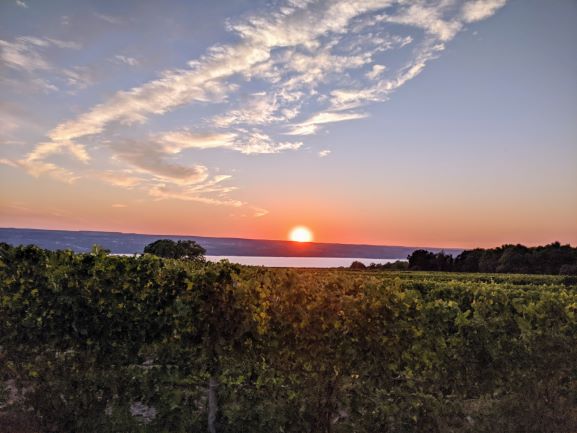 Day 4: Cayuga Lake State Park
With so much activity crammed into the first few days, we took the next two days as relaxing beach days. First, we went to Cayuga Lake State Park. The water was very warm and the sun was hot, but there were many trees around for shade. The "sand" beach was only a few feet wide, and the rest was grass, which was odd to us. It was a bit uncomfortable sunbathing on grass, but otherwise the facilities were wonderful. There was a lifeguard and a designated swimming section, which unfortunately got a bit crowded.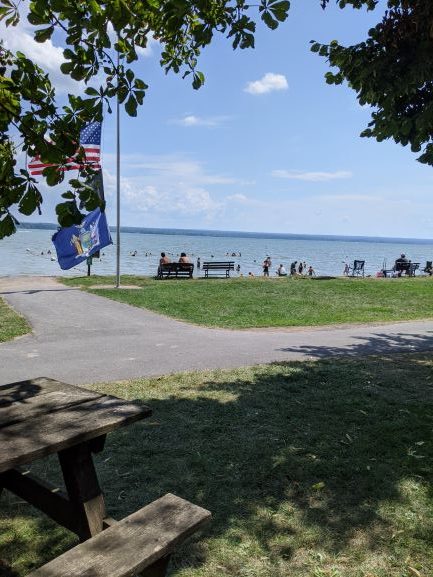 After the beach, we went out in downtown Seneca Falls. We grabbed dinner at Parker's Grille and Taphouse, which had great food and drinks, and an awesome vibe.
Day 5: Seneca Lake State Park
We had another beach day planned, but this time we tried Seneca Lake State Park. This beach was definitely more sandy and less crowded. However, the water was FILLED with algae, so swimming was quite gross. There were no lifeguards, perhaps due to the lack of swimming, and facilities were further away. However, we really enjoyed it because of the lack of people.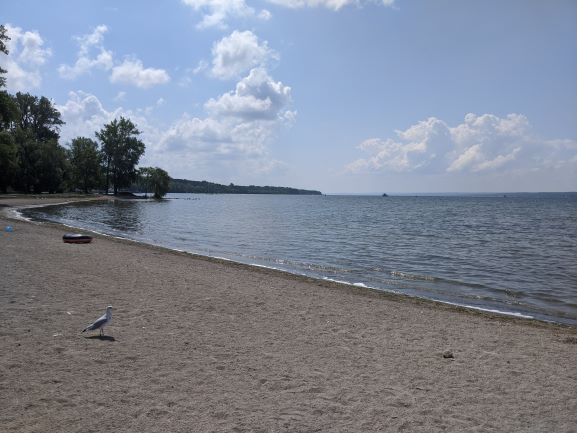 After our relaxing beach day, we brought a pizza and wine back to the Airbnb and stayed in for the night.
Day 6: Niagara Falls
With our last full day, we decided on an impromptu trip to Niagara Falls. It was about 2 hours away, so it wasn't really on our agenda, but the weather wasn't suitable for a beach day and we had never seen the US side before. Upon arrival, we immediately booked our Cave of the Winds ticket. Note that tickets cannot be purchased in advance, so the first available timeslot when we purchased at 11am was 4pm. Be sure to get there early if you need an earlier timeslot!
Because we then had 5 hours to kill, we walked pretty much the entirety of the US side. There are maps everywhere, so it is easy to get around, as well as a cheap shuttle if needed. Apparently there is also a Walking Tour app, but we didn't know about it at the time. The Falls, as expected, were beautiful and powerful. We walked from Horseshoe Falls to Bridal Veil Falls, and everywhere in between.
We still had some time to kill before our Cave of the Winds tour, so we grabbed lunch at a local pizzeria, Donatello's. At last, it was time for our tour down to the bottom of Bridal Veil Falls. After checking in, an elevator takes you to a platform that walks around the bottom of the falls. Make sure to wear your supplied poncho, as you WILL get soaked! It was extremely impressive and powerful, and although I recommend it if you have the time, I might not wait around 5 hours for it. 🙂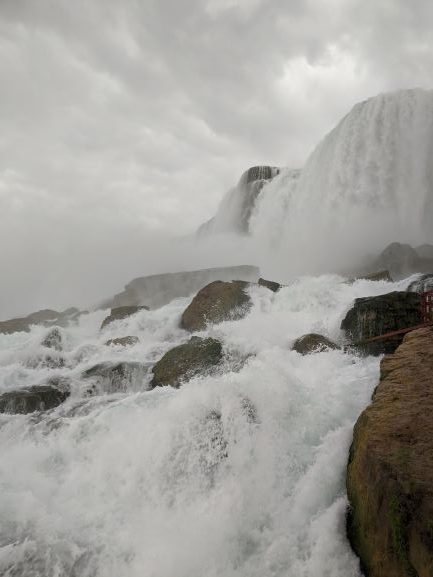 After our tour, it was time to head back to Seneca Falls. However, I found one more stop that I wanted to make on the way – the Second Coming House of Prophet Isaiah. This was an odd stop but popped up my Roadside America (a favorite website of mine to find odd things), so I figured why not? The house was definitely an oddity!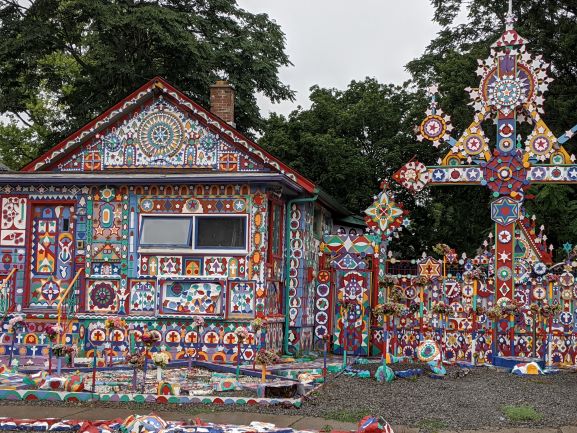 Day 7: Corning Museum of Glass and Drive Home
On our last day, we opted to stop on at the Corning Museum of Glass on our drive home. This museum had glass art exhibits, glass blowing demonstrations, the history of glass, and much more! I never knew there was even so much to know about glass. A lot of people say they spend 4-5 hours here, but we saw enough after about 2.5 – there's only so much glass I can look at and not get bored! It was a nice stop, but I probably wouldn't go back.
After that, there were no more stops. We made our way home after a fun-filled week, and a chance to get out of the house for a bit.
As always, if you have any questions, feel free to contact us here.