Country: Mexico
City: Playa del Carmen, Valladolid, Chichen Itza, Quintana Roo
Sites: Cenote Saamal, Xel-ha, Chichen Itza, Coba, Traditional Mayan village
Cheap fares to Mexico are not uncommon, so if you are looking for a budget-friendly getaway, keep reading! In an effort to save money, we took a one week trip to Mexico using a package through CheapCaribbean. Reviews of this website are mixed, but we certainly had no problem and spent about $950 for roundtrip flights and an all inclusive hotel for one week. Talk about a steal!
Note that while most of our trips are EXTREMELY packed with activities, we decided to make this one a little more relaxing. There are a few just "relax" days in the itinerary, but feel free to add activities on these days as you wish!
PRO TIP: While you might think an all-inclusive resort will have everything you need taken care of, make sure to pack biodegradable sunscreen in advance, as it can be quite costly once in Mexico and is required at many major sites. (Regular sunscreen destroys their ecosystems.)
Day 1: Getting to Mexico
The first day was mostly a travel day. We booked transfer services to our resort through Canada Transfers in advance, but there are many options available. Upon landing in the Cancun airport, our shuttle was waiting for us and drove us for approximately 1.5 hours to our resort. We would be staying at Barcelo Maya Beach and Caribe for the entirety of our trip, an all-inclusive family resort.
After checking in and getting organized in our room, we walked around the resort, catching one of the free shows happening that night.
Day 2: Relaxing on the Beach
This was one of our planned "relax" days. After sleeping in and grabbing food at the breakfast buffet, we grabbed our towels and headed for the beautiful waters! The day was spent reading, eating and swimming.
Note that there WAS seaweed on the coast, but the resort's workers did their best to clean it up as much as possible. It wasn't a huge issue, but was pretty gross when entering/exiting the ocean. This has been an ongoing problem in Riviera Maya for many years that they are still looking for a permanent solution for.
That night we enjoyed a fancy dinner and got dressed up to head to Jaguars, our local nightclub. We danced the night away!
Day 3: Relaxing by the Pool
Well, we relaxed by the beach. Now it was time to relax by the pool! After having a few Pina Coladas, we joined in water aerobics and dance lessons in the pool!
We also spent this day wandering around our resort to see what else it had to offer. We found some beautiful blue waters and a "Riviera Maya" sign – a great spot for some photos!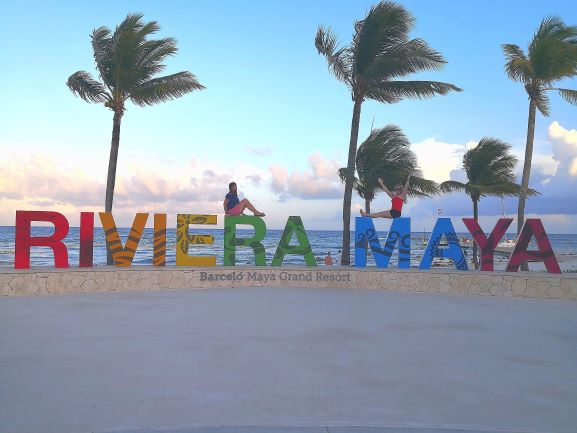 That night we did a photo shoot on the beach. I was able to use my nighttime lens with my Sony a6000 to get some fancy shots!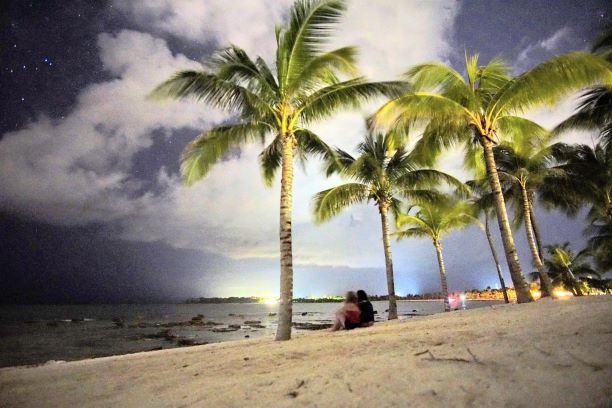 Day 4: Cenote Saamal, Chichen Itza, Valladolid
We booked a full day tour in advance through Viator, which would bring us to a cenote (swimming hole), Chichen Itza, and Valladolid. We were picked up at our hotel at 7am. If you are doing this tour, I would wear comfortable clothes but pack a bag with your bathing suit, flip flops, some snacks, and towel.
Our first stop was Cenote Saamal. Cenotes are natural sinkholes that were once considered sacred by the Mayans. This cenote had locker rentals, private changing booths, mandatory life jacket rentals (for $1), a natural waterfall, and a deck to jump from if you are the adventurous type! We spent ample amount of time swimming around in the refreshing water. This was a great cenote to visit!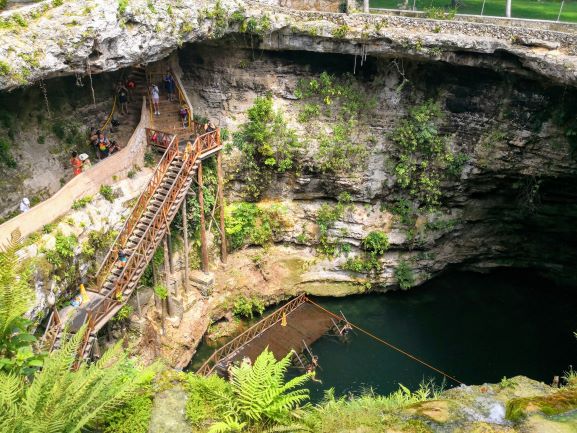 Our next stop would be for a traditional Mexican lunch at Cooperativa Maya Ixchel y Restaurante Yaxkin. This was an all-you-can-eat style buffet with wonderful entertainment! We were treated to a traditional Yucatan bottle dance as we enjoyed our meals.
After lunch, we were off to Chichen Itza! Chichen Itza is classified as one of the New Seven Wonders of the World. Founded by the Mayans around 500 AD, this site is one of the best preserved archaeological sites in existence! There is plenty to see and do here, but the most famous attraction is El Castillo. El Castillo is a pyramid that served as a temple to the god Kukulkan.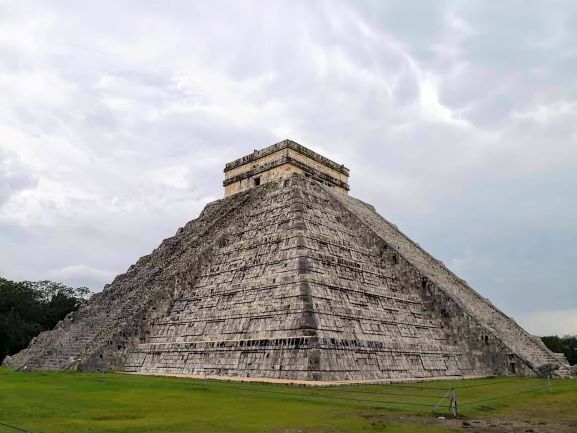 PRO TIP: Visit on the equinox to see the shadow of a serpent climb El Castillo!
There is plenty to explore in Chichen Itza, from the Great Ball Court to the Temple of Warriors. It is amazing to visit these structures and imagine how the Mayans must have lived. One bummer though – the walkway to and from the main entrance is lined with people trying to sell you something! They ARE aggressive so be prepared! If you go with the tour linked above, you will be given a guided tour but also have free time to explore on your own.
After exploring the various areas, we were off to Valladolid. We weren't given much time in this town, but we did have enough time to grab a fresh churro and walk the colorful streets for a bit!
After our tour bus dropped us off back at the resort, we decided to book another tour (for the next day!). Our resort helped us with the booking, but it could have easily been done online as well.
Day 5: Coba, Cenote, and Mayan Village
We were picked up early, given tequila sunrises, and were on our way to Coba! Coba is another ancient Mayan village, but is different from Chichen Itza in that you can actually climb the tallest pyramid! To get to the pyramid from the entrance, you can either be "driven" in a bike taxi, or rent your own bike (or walk, but we don't recommend this as it's quite far). We decided to ride our own bikes through the village, stopping at various sites with our tour guide. It felt a lot less touristy than Chichen Itza, which we enjoyed. Of course the most impressive site was Nohoch Mul Pyramid.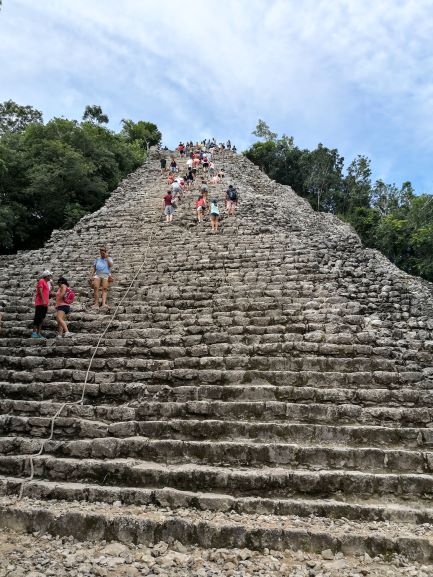 The climb up was a little bit scary, but at least there was a rope to hold on to! Once you reach the top, you're rewarded with beautiful expansive views of the jungle below.
Next it was time for a dip in a cenote! Unfortunately I can't remember the name of the cenote, but it was in Coba. Definitely refreshing after that long hike up!
We were then given a little bit of free time to explore Coba on our own before returning to the tour bus.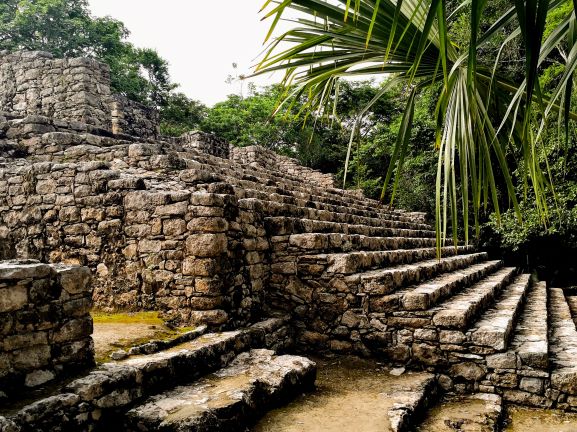 Soon after it was time for lunch! We stopped at Restaurante Xaibé for some traditional Mayan cuisine and dance! The show was very entertaining and the food was delicious.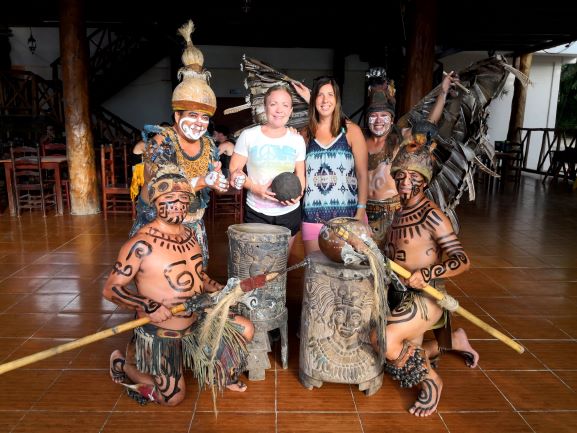 Our last stop on the tour would be the traditional Mayan village ahau chooc Aldea maya. We were given great insight into how the Mayans live off the earth, how they build their huts, and what they eat. We were even given a taste of traditional tacos. And their hospitality cannot be beat! Do not miss this stop!
After a long day, we headed back to our resort and relaxed for the rest of the night.
PRO TIP: Tulum is another great site for Mayan ruins. If you have time in your itinerary, consider adding a stop here as well.
Day 6: Xel-ha
There are A LOT of options for aquatic theme parks near Riviera Maya, but after a lot of research, we opted to purchase tickets for Xel-ha. There are also a ton of way to purchase tickets, but we purchased through mycancuntours.com as they were the cheapest at the time. Transportation to/from the park from our resort was included.
The park itself is large, clean and with tons of activities for adults and children! Make sure to wear biodegradable sunscreen as you will be spending a lot of time in the sun today. Also, bring some snacks if you want to save some money!
We rode tubes through the mangroves, ziplined into the blue waters, and snorkeled in a large lagoon, just to start. There are cliffs to dive from, tropical birds to hold, and plenty of dining options.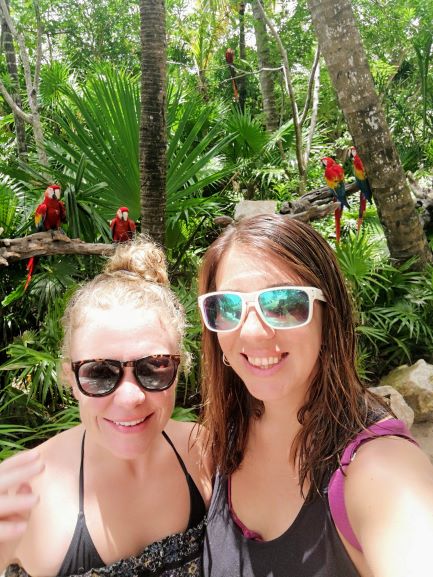 There is so much to see and do here, we definitely recommend a full day! There's even an area just to fall asleep in the hammocks, if all the activity wipes you out like it did to us!
After a full day at Xel-ha, we were driven back to our resort and got dolled up for a fancy "last dinner".
The night ended at Jaguar's, our local nightclub, yet again. 🙂
Day 7: Last Day in Mexico
We had an evening flight, which allowed us some time to hang out at the resort in the early part of the day. We had made some friends at Jaguar's the night before, so we used today to hang out in the pool with our new friends!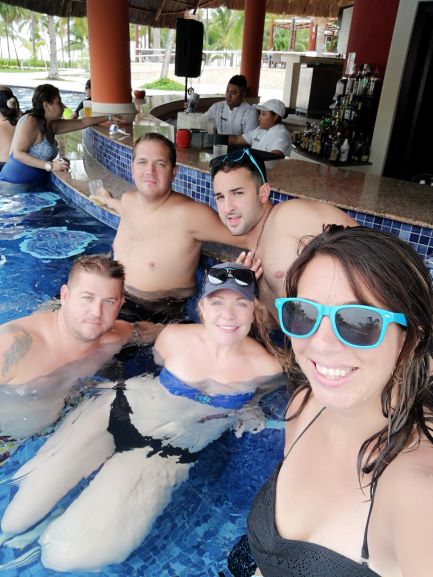 Unfortunately, it was soon time to say goodbye. We packed up, got our transfer back to the airport, and hopped on a plane back home.
As always, if you have any questions, feel free to contact us here.