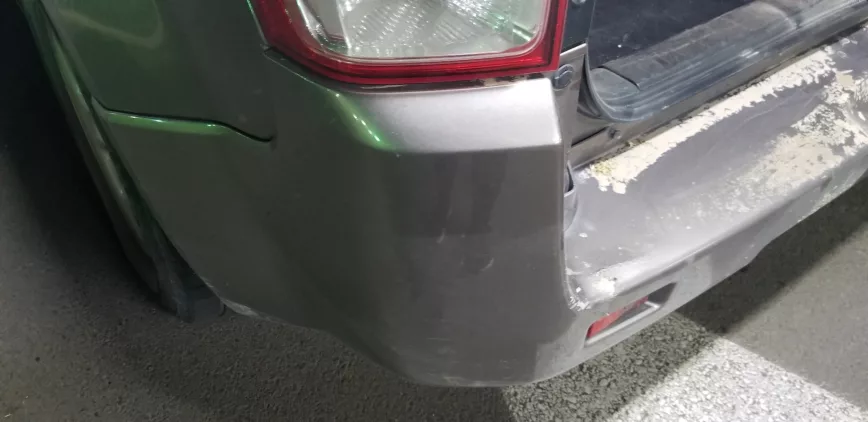 Renting a car in a foreign country may seem very overwhelming. However we find it worthwhile in some instances, so we don't have to rely on public transportation, or be stuck checking train and bus schedules. Renting a car allows you to have the freedom you want while traveling abroad!
We've rented cars in several foreign countries and never had an issue. Our time in Costa Rica wasn't any different, until we had a small incident in which we backed into a tree at night and severely damaged the bumper of the rental car ($700 worth of damage – YIKES).
As always, take many photos of the car PRIOR to traveling. This will ensure that the car rental agency can't blame you for more of the damage than you actually made (if any at all).
As mentioned in our previous post about Cost Rica, we learned the following about renting a car:
Third Party Liability (TPL) Insurance IS required. This is not negotiable.
CDW Insurance is NOT required. Most likely your credit card already covers this, but check with them before declining this coverage.
Book with a reputable company. We booked with Alamo but there is a an Alamo Costa Rica website that APPEARS to be the same thing but charged more. So just book directly with the rental car agency and avoid the hassle.
Car rental agencies in Costa Rica typically take large deposits. Ours was $1000, which wasn't charged to the card, but did put a hold on it, so if you don't have a lot of credit, be aware of this.
Prior to renting a vehicle in Costa Rica (and we would do this for any foreign country), we called our credit card company (the card you will use to book the rental car), United Mileage Plus, to ensure that we would book the rental car correctly and to understand what our insurance covered. We didn't want to pay extra at the rental car company for things that were already covered by our insurance. In addition, we wanted to make sure we knew what our coverage was in the event of an accident or theft. Luckily, we researched this and we were reimbursed 100% for the damage done to the bumper of the rental car!
There are many other credit cards that offer rental car insurance, but different cards offer different benefits. Please call your company as your mileage may vary (pun not intended).
Here is how we were fully reimbursed for the damage:
You

must

decline the Collision, Loss, Damage waiver for the rental.
Request a letter from your credit card company stating that you are eligible for worldwide coverage under the Auto Rental Collision Damage Waiver benefit and present it to the rental company upon arrival (this is in case they try to make you accept the Collision, Loss, Damage waiver).
Buy third party liability through the rental company.
The entire rental transaction must be charged to the eligible credit card.
The damage or theft to the car must have taken place during the rental period as outlined in the rental contract (make sure you contact the rental company if something happens to the car on your drip so it's documented).
Only Economy through Luxury cars are covered. The rental car can't exceed more than 9 passengers or be a truck.
We have primary coverage up to the actual cash value of the car as originally manufactured.
Insurance

does no

t apply to lost or stolen personal belonging, injuries to people, or other parties.
You

must

report any damage or theft within 60 days to your credit card company (this is a bit of a time-consuming process with several documents to upload and fill out online. Make sure you take pictures and/or have copies of the damage to your car, rental contract, and the estimate of the damage, which is assessed by the rental company once you return your vehicle)
Only buy the

minimum

coverage and then the insurance benefit is applied in excess of it.
We didn't notify Alamo about the damage until we arrived back at the car rental return. Upon notifying them of the damage, they told us they would have to charge us the full amount of the damage (roughly $700). Once we returned to the US, we sent all documents, photos, etc. to the credit card company and then were reimbursed the full amount.
As always, if you have any questions, feel free to contact us here.