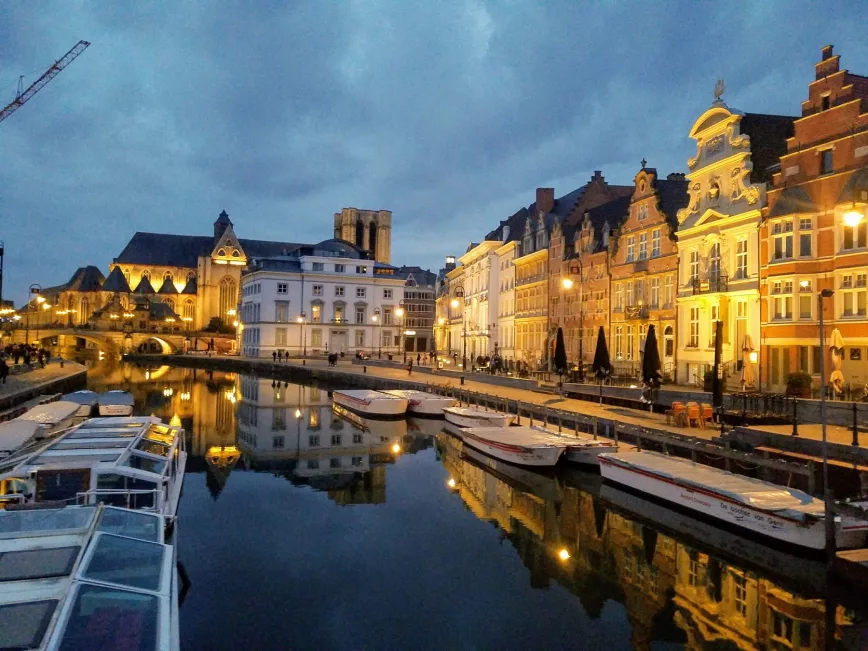 Let me start off by saying that I did this trip TOTALLY alone (solo female traveler!) and felt completely safe the entire time. If you haven't traveled alone before, this would be a good itinerary to start with.
Country: Beligum, The Netherlands
Cities: Ghent, Bruges, Amsterdam, Giethoorn, Zaandam, Marken, Volendam
Highlights: Gravensteen, Sint-Michielsbrug, St. Bavo's Cathedral, Graslei, Korenlei, Belfry of Bruges, Markt of Bruges, De 9 Straatjes, Anne Frank House, Zaanse Shanse Windmills
Day 1: Getting to Belgium and Exploring
After a bit of research, I decided my home base in Belgium was going to be Ghent, as it is easily accessible by train to most locations I wanted to see. This ended up being a great decision, as Ghent was adorable, welcoming and easy to navigate. I flew from the US into Brussels via Aer Lingus, due to it having a very cheap flight. From Brussels, I took the Belgian Rail to the Gent-Dampoort station, about a half hour journey. Tickets can be purchased in advance, but there was no need to and I simply bought them at the station.
In Ghent, I stayed at this Airbnb, which was a 10 minute walk to the train station, a 10 minute walk to downtown, and surrounded by many restaurants and shops.
After getting settled, I decided to explore the old town a bit. After a short walk, I came upon Sint-Michielsbrug, or St. Michael's Bridge, a beautiful old bridge right in the heart of downtown. The view from this bridge shouldn't be missed!
From here, I wandered around Graslei and Korenlei, two areas of the city filled with beautiful architecture and amazing restaurants. I stopped for dinner here (there are lots of waterfront dining options!), and finished just in time to watch the sun set on the Leie River.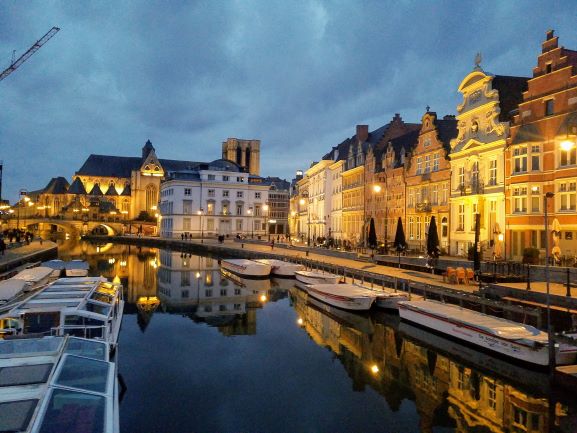 Day 2: Getting to know Ghent
As I had only had a small taste of Ghent the night before, I decided this day would be spent exploring more of what Ghent has to offer. My first stop would be Gravensteen, or the Castle of the Counts. This castle with surrounding moat has a very turbulent past, and is a great stop for any history lover. There is a torture museum inside and an audio guide is included with admission (tickets can be purchased here).
After the tour, I had worked up an appetite! As Belgium is known for their Belgian waffles, I stopped by one of the nearby cafes and indulged myself. They were, as expected, delicious!
Next, I decided to explore the Ghent Belfry, which is the tallest belfry in Belgium! After climbing the stairs, I was rewarded with a beautiful view of nearby St. Bavo's Cathedral and surrounding Ghent.
As it is just next door, St. Bavo's Cathedral (or Sint-Baafskathedraal) was next on the list of attractions. There is a small entrance fee to see this beautiful church, and tickets can be purchased at the door. If you are into art, you will be interested to know that "The Adoration of the Mystic Lamb" is found here. This altarpiece is described as one of the most influential pieces of art and is taught to all students in Belgium.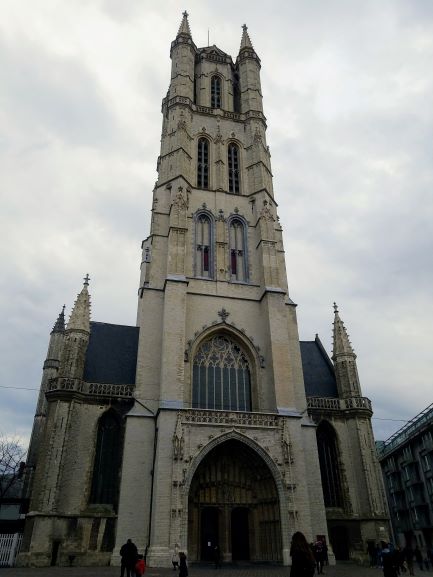 The rest of the day was spent exploring the small streets in this picturesque town. I went out for dinner and drinks and ended up making some friends, as the locals are very friendly!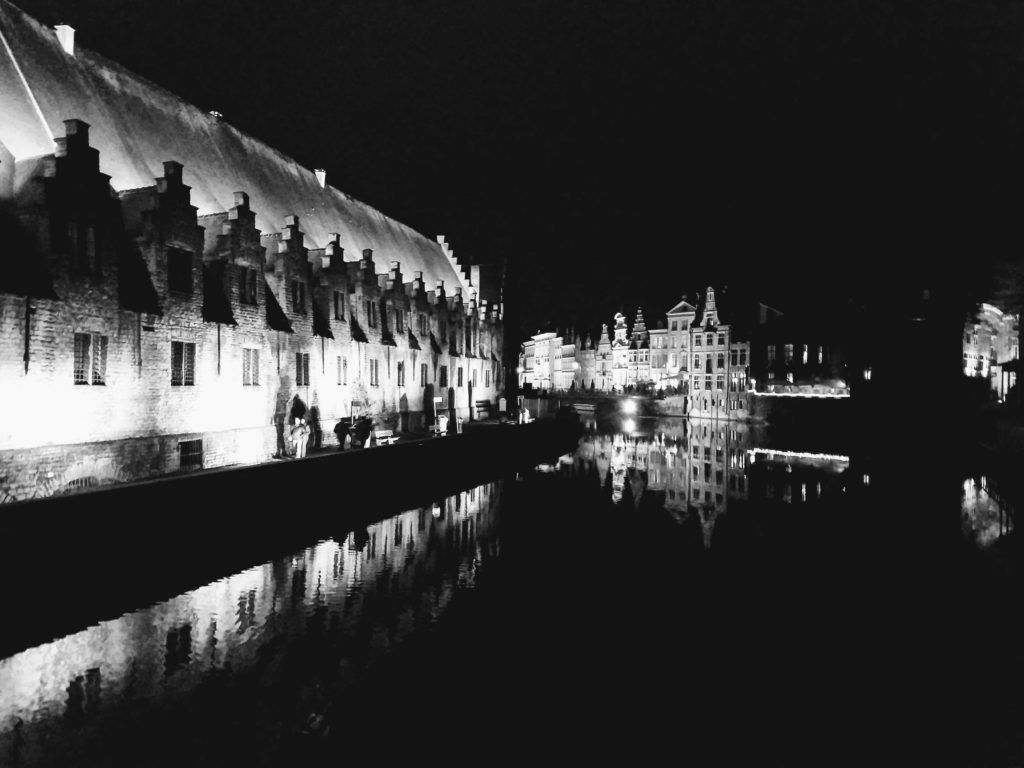 Day 3: Bruges
I had intended to make it to both Brussels and Bruges on this trip, but the weather did not cooperate with me so I only made it to Bruges. However, I believe normally it would be completely do-able, especially if you get an early start. There are also many guided day tours available for purchase, although most leave from Brussels.
After the 30 minute walk to Gent-Sint-Pieters train station, I bought my train ticket and boarded the 30 minute train ride to Bruges.
Bruges is another picturesque town, known for its canal rides, chocolate and leaning belfry. After exiting the train and heading towards the center of town, I passed Minnewater Lake (the Lake of Love) and Lover's Bridge. This scenic walkway along the river is a great place to relax and take in the sounds of the birds all around you. It is said if you kiss your loved one on Lover's Bridge, you make your love eternal. Unfortunately for me, this was a solo trip, so that was out of the question!
As I headed towards the center of town, I passed many canals. There were plenty of places to take a canal boat tour, which I was told is a great way to see the city.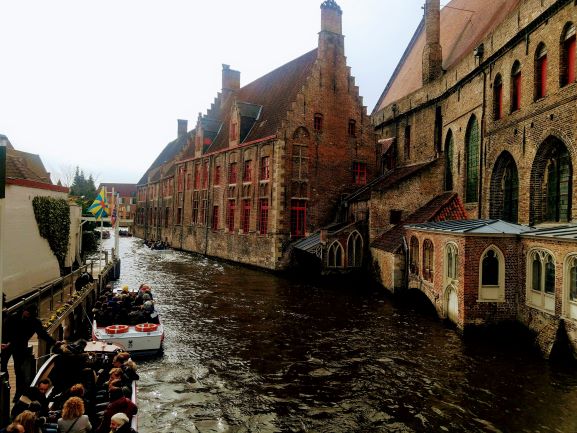 Next I headed towards the Belfry of Bruges, an iconic Belfry that leans over 34″ (87 cm) to the east! You can climb the 366 steps to get to the top and have a magnificent view over Bruges. However, space is limited, so get there early if you don't want to wait in line all day!
Next, I marveled at the gothic architecture of Stadhuis van Brugge, or Bruges City Hall, located in Burg Square. There is also a museum inside if you have the time!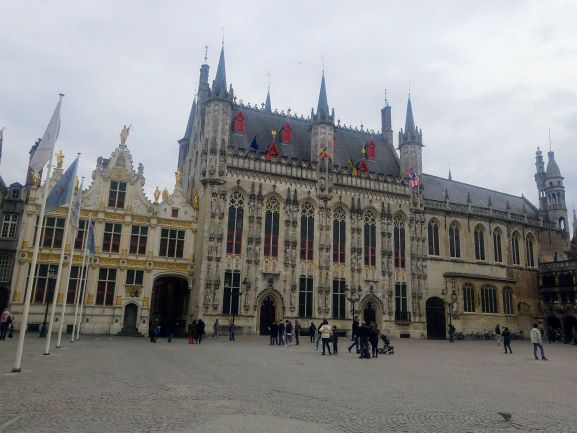 Right next door, you can find Basiliek van het Heilig Bloed , or Basilica of the Holy Blood. This basilica is a "double church" – the lower level maintaining it's Romanesque architecture, and the upper level a more neo-gothic style.
It wouldn't be a trip to Bruges without getting some chocolate! There are many options to choose from in Bruges, but I stopped at the Old Chocolate House. I'll just say this – you MUST stop at a chocolate shop while in Bruges. After having a treat and picking up some souvenirs to bring home, it was time to head back to Ghent.
Day 4: Journey to Amsterdam
Although I had enjoyed Ghent, I wanted to have enough time left to enjoy Amsterdam. I left early morning for the train towards Amsterdam. At the time of my travel, the only way to get there was through Thalys, with a connection in Antwerp. However, it looks like now the connection can be made through Brussels. Use this site to find the most up-to-date tickets. Travel time is approximately 2 hours.
Getting off the train at Amsterdam was complete chaos. There are tons of people, bikes everywhere, and people screaming. It was definitely a change from my arrival at Ghent.
PRO TIP: Watch for bikes ALWAYS! Stay off the bike paths other than crossing. Be alert. They cannot and often will not stop for you. I also DO NOT recommend riding a bike in Amsterdam if you are not a local or professional biker, unless you want to be completely stressed out.
My first order of business was checking into my hotel. At first I had decided to walk, but with the number of people around, dragging my suitcase through the streets of Amsterdam was just not going to happen. I caught an Uber and checked into my hotel, Moxy Houthavens. Note this is NOT a hotel I would typically be able to afford, but I had a stash of Marriot points I was able to use for a free 2 night stay.
Houthavens is a neighborhood located near Amsterdam's port, and it is a bit of a walk to the Center of Amsterdam (2.2 miles). However, I had time and wanted to see all that I could, so I opted for the walk (this time!).
Once I reached the center of Amsterdam, there is so much to see and do. I passed canal after canal, heading towards Rijksmuseum (Dutch National Art and History museum) as I knew the "I amsterdam" sign was there. It was IMPOSSIBLE to get a picture there, and was crawling with people, so I opted for just a "dam" picture, because I thought it would be funny.
PRO TIP: As of December 2018, the "I amsterdam" sign has been moved. Check here for a list of where you can now take a spot with these iconic letters.
If you are into art, now would be a good time to check out the Rijksmuseum. Instead, I headed towards Bloemenmarkt, Amsterdam's floating market. This market is full of gifts shops, fresh flowers, and more! Make sure to take a stroll by and smell the tulips!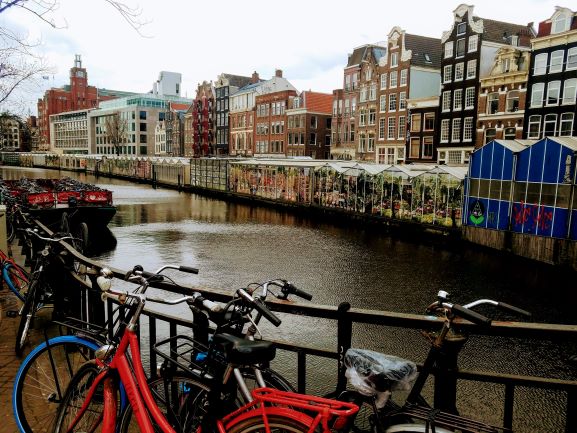 The rest of the night was spent getting lost through the maze that is known as De 9 Straatjes (the 9 Streets). These are the main streets full of restaurants and shopping. If you're into that sort of thing, Amsterdam also has over 100 "coffee shops", which act as legal dispensaries of marijuana.
Day 5: Giethoorn
This day was the entire reason for this trip. I had seen a picture of Giethoorn, a fairytale-like village in the Netherlands, and KNEW that I had to visit it! The rest of the trip was just a bonus. 🙂
There isn't an easy way to get to Giethoorn (Goat's Horn) from Amsterdam without your own car, so I booked a full day tour. This tour did not disappoint! This "Venice of the Netherlands" is completely car-free, making it such a peaceful destination (besides all of the other tourists – but it IS possible to get away from them). Once we got to Giethoorn, we took a canal boat ride and learned all about the history of the village (and how it used to be just one large swamp!).
After the informative canal tour, we were left on our own to explore the village for a few hours. I had a great time walking along the canals, looking at all of the adorable houses with thatched roofs. I grabbed lunch in the village and talked to some of the locals for a bit.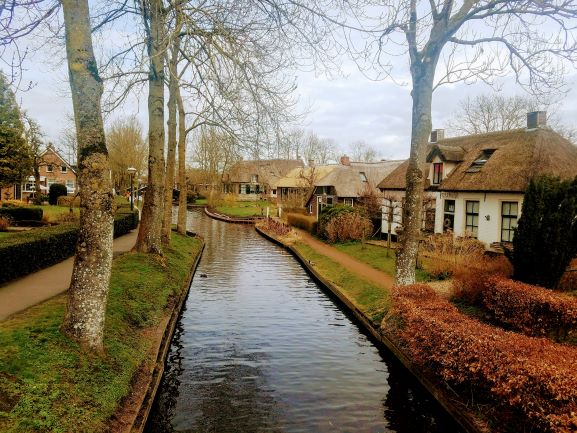 After a full day of exploration around this small village, we took the one and a half hour bus ride back to Amsterdam. When I arrived back at my hotel, I was surprised to find there was some type of Bacardi promotion party happening that night, with unlimited drinks for all hotel guests. You can probably guess how the rest of my night went. 🙂
Day 6: Zaanse Shans, Volendam and Marken
As I hadn't yet seen the infamous Dutch windmills, I decided to book another day tour from Amsterdam, featuring Zaanse Shans, Volendam, and Marken.
The tour started off with a stop at Zaanse Shans, a cute residential area located in Zaandam filled with windmills. We were able to go inside the windmills to watch demonstrations and learn how the windmills operate.
One thing I did NOT anticipate, although I should have, is just how windy it really is there! I guess they chose their windmill locations accurately!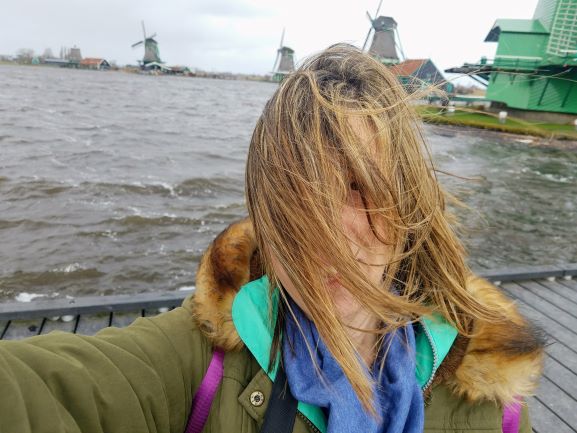 We were then given some time to walk around Zaandam, where I warmed up with some delicious hot chocolate from a local cafe and explored some more.
Next on our tour was Volendam, a fishing village known for it's colorful wooden houses. Our trip to Volendam started with a tour of the Cheese Factory and ended with a demonstration on the Stroopwaffel. Both were delicious, although I HAD to pick up some stroopwaffels to bring home with me.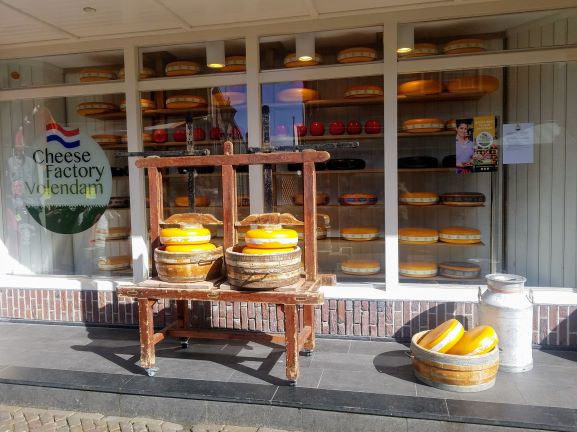 We grabbed lunch in Volendam and then headed on the boat towards Marken. Marken is very similar to Volendam, although maybe even more quaint, if that's possible. We walked through the colorfully painted houses towards the Wooden Shoe Factory.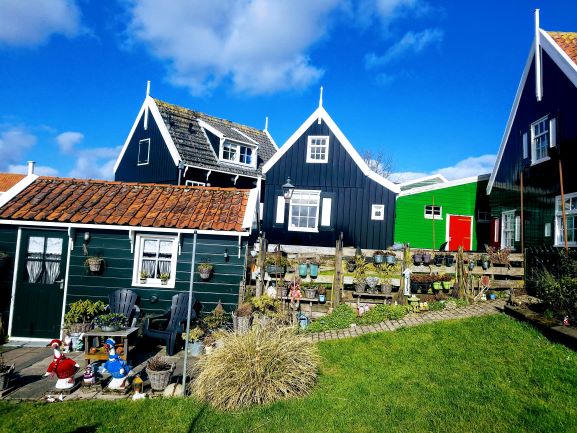 Here we watched a demonstration and learned how clogs are made. Afterwards, we were able to try on a variety of beautifully decorated clogs (and purchase them, if we so chose).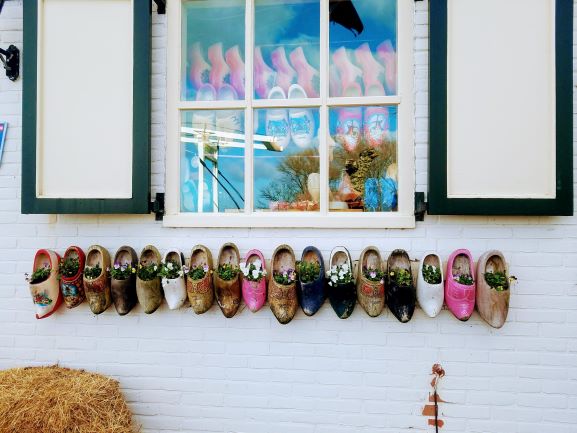 We returned to Amsterdam and it was time for me to check into my more affordable lodging for the next 2 nights, Flying Pig Uptown Hostel.
PRO TIP: There are 2 Flying Pig Hostels in Amsterdam – Uptown and Downtown. Downtown is closer to major transportation and the Red Light District while Uptown is closer to museums and Leidseplein, one of the main squares in Amsterdam.
That night I tried to make some friends at the hostel bar, but to be honest, everyone was in the smoking room. I am not a smoker, so after my strike-out I headed to Leidseplein for some dinner and drinks.
Day 7: Keukenhof, A'dam Tower, Anne Frank House
As it was springtime when I went to Amsterdam, I was ready to see some tulips! Keukenhof Gardens, located right outside of Amsterdam, has an annual tulip festival. Over 7 MILLION tulips bloom there every spring, so I knew I had to go check it out. I opted for a tour that included transportation and skipping the line.
The Gardens were magnificent, although a bit overcrowded. If I were to do this again, I'd opt for a tour through the bulb fields. I was told later that you can even rent bikes from Keukenhof and ride to a bulb field, so if you are serious about the tulips, I'd definitely recommend looking into this option.
After wandering the Gardens for a few hours, I hopped on the bus back to Amsterdam and ventured towards the A'DAM Lookout Tower. The elevator takes you up to an observation deck overlooking all of Amsterdam. To be honest, this is probably part of the day that I could have missed. However, I DID find at the bottom of the tower another "I AMsterdam" sign that was not completely overcrowded.
My last tour of the trip was one that I was highly looking forward to: a walk through Anne Frank's House. I purchased my tickets online way in advance, and read her diary in anticipation of the trip.
PRO TIP: Tickets to the Anne Frank House sell out VERY quickly. 80% of tickets are released exactly two months in advance at noon (Amsterdam time), 20% on the day itself. There are no tickets sold at the door.
The Anne Frank House was the HIGHLIGHT of my time in Amsterdam. Walking through those rooms was extremely moving. I could just feel the fear and pain those people endured, and being in that house made everything real for me. I recommend you DO NOT miss this tour!
As it was my last night in Amsterdam, I decided to take a canal cruise to make sure I didn't miss any highlights. Tours are available all over the place, and it's not necessary to book in advance, but you can do so here. You can even do one with pizza and drinks!
I thought the hour long tour was interesting, talking lots about the history and architecture of the city. We passed the Seven Province Houses (seen below), as well as many other prominent bridges and landmarks.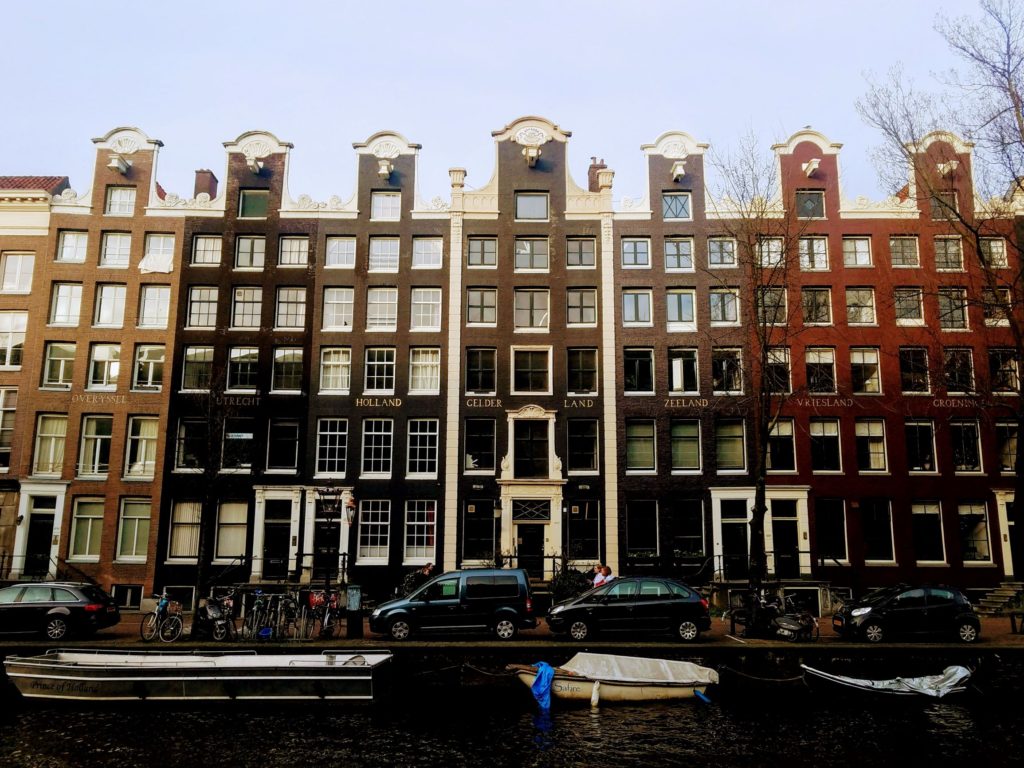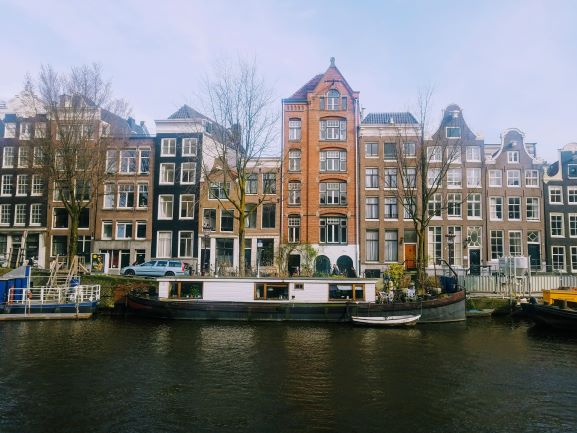 After grabbing dinner nearby, I watched the sun go down on the canals and multitudes of bikes.
For my last night in Amsterdam, I had to of course see the Red Light District, or De Wallen. This area was crazy – tons of people, lights everywhere, half naked women in the windows. I didn't stay very long, but it was definitely interesting to see. If this is up your alley, there's also a prostitution museum in the area!
PRO TIP: Do NOT take photos of any of the sex workers of the Red Light District without consent. They WILL come out to yell at you, and force you to delete the photo. Just don't do it.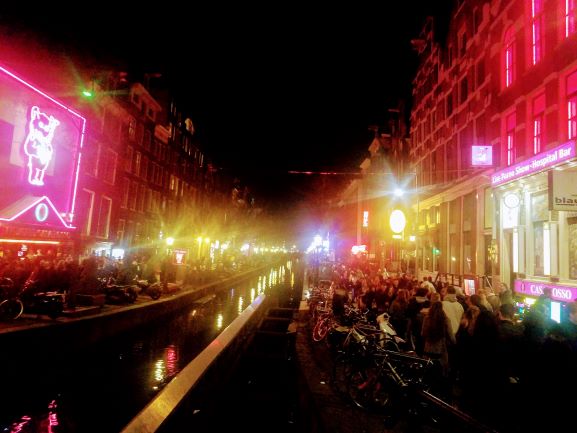 Day 8: Amsterdam to Dublin
After having the free breakfast provided by my hostel, I headed back towards Amsterdam Central Station and took the train to Schiphol Airport.
My flight home included a 24 hour layover in Dublin, which you can check out here.
Lastly, once I returned home, a friend made me aware of Below the Surface, a website that catalogs all of the items that have been recovered from the canals in Amsterdam. Over 20,000 weird and unique items have been cataloged, and gives us a sense of the every day life in the history of Amsterdam. I found it really fascinating!
As always, if you have any questions, feel free to contact us here.