Country: French Polynesia
Cities: Tahiti, Moorea
Highlights: Tahiti Safari Expedition, Belvedere Point, Magic Mountain, Moorea Jet-Ski tour
Ever wonder what it was like to travel to one of the most sought-after honeymoon destinations? Well, we did, and it was not on either one of our honeymoons. If you love adventure and relaxation, this is the trip for you! Keep in mind that this is a honeymoon destination, so coming across solo travelers is…rare!
And, if you're thinking that a place like this can't be done on a budget, here are tips to combat some of those misconceptions:
Look for discounted airfare on travel sites such as Travelocity, Expedia, Travelzoo
Track flights using Google Flights
Use miles to book accommodations at a resort
Book fares, or small guesthouses, "resorts" for budget travelers and eat most of your meals there if it's included
Borrow or rent bicycles from your hotel, this is actually one of the best ways to get around the island!
If you plan on island hopping more than us, consider getting an island hopping pass
Don't pay for the $13+ a day breakfast your hotel offers, you will find plenty of places to get food for cheaper!
Air Tahiti offers a free ferry shuttle from the airport to the mainland
In the summer of 2011, we traveled for 6 days through the islands of Tahiti and Moorea, located in French Polynesia. Being east coasters, it was not super easy to get there. We had to fly 6 hours to Los Angeles first, then an additional 8 hour flight to Fa'a'ā International Airport, also known as Tahiti International Airport, the international airport of French Polynesia.
PRO TIP: Since we had to go to Los Angeles first, we decided to make a trip out of that and stayed for a few days before flying out to Tahiti. BONUS TRIP!
This was one of very few trips we booked through the travel site: Travelzoo. We got discounted round trip tickets on Air Tahiti Nui out of Los Angeles International Airport. When we arrived at the airport in Tahiti we were greeted by ukulele musicians, singers, and lei flower necklaces.
For this trip, we planned to stick to our usual budget hostel accommodations. However, we quickly found that hostels are RARE. You can find small guesthouse accommodations (more for the budget traveler) and resorts. We were very lucky in that a family member provided us with their award miles and booked us a hotel at Le Meridien Tahiti – one of the NICEST places we have ever stayed (we would not have been able to afford this place had we not had the miles for it).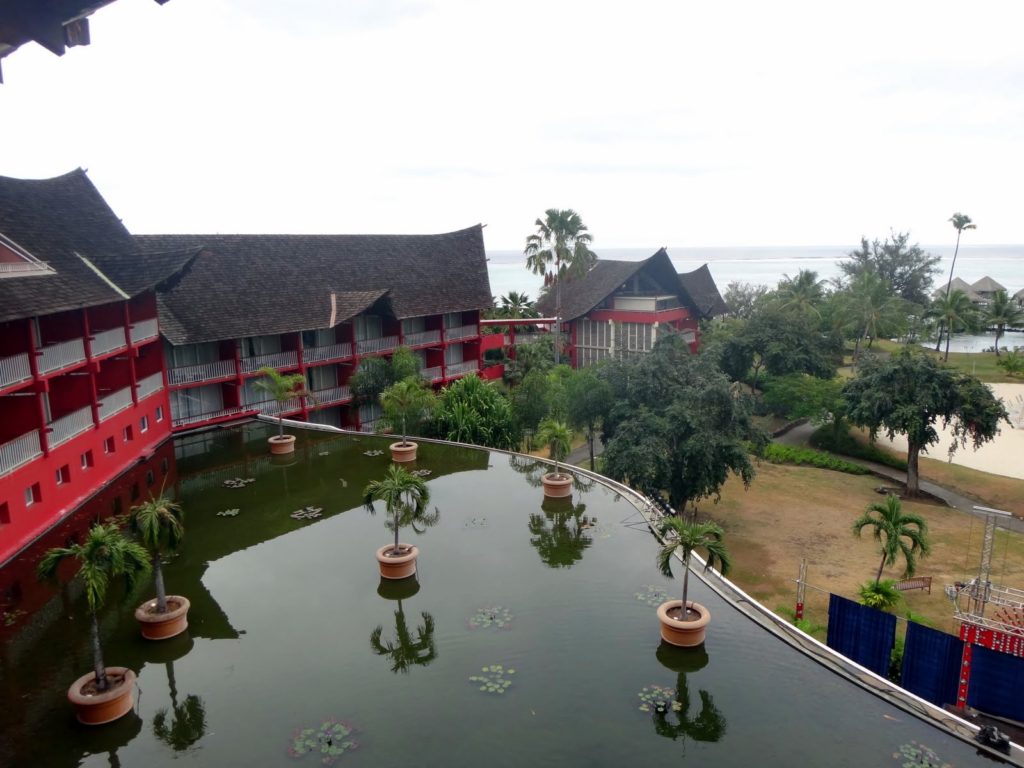 We spent our first full day in Tahiti exploring the grounds at the hotel. We laid on the beach and used kayaks and snorkeling gear (free!) at the resort.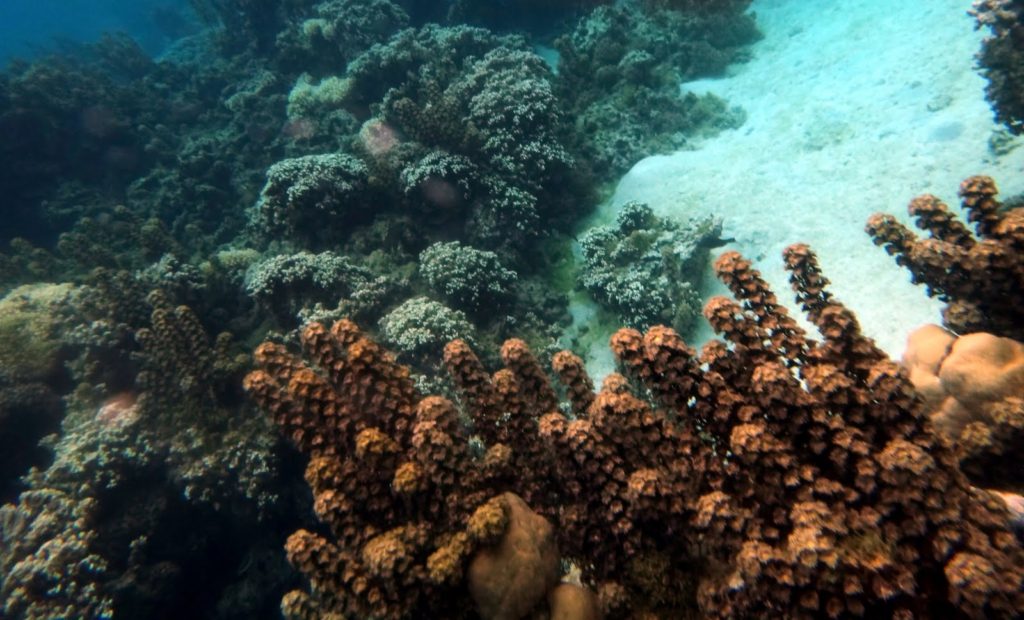 Later in the afternoon, we took a guided day tour of Tahiti with Tahiti Safari Expeditions. This was super cool, very jurassic-park like! We were conveniently picked up at our hotel by our driver and guide and rode in the jeep all day through the mountains and jungle viewing beautiful landscapes, flora, and waterfalls.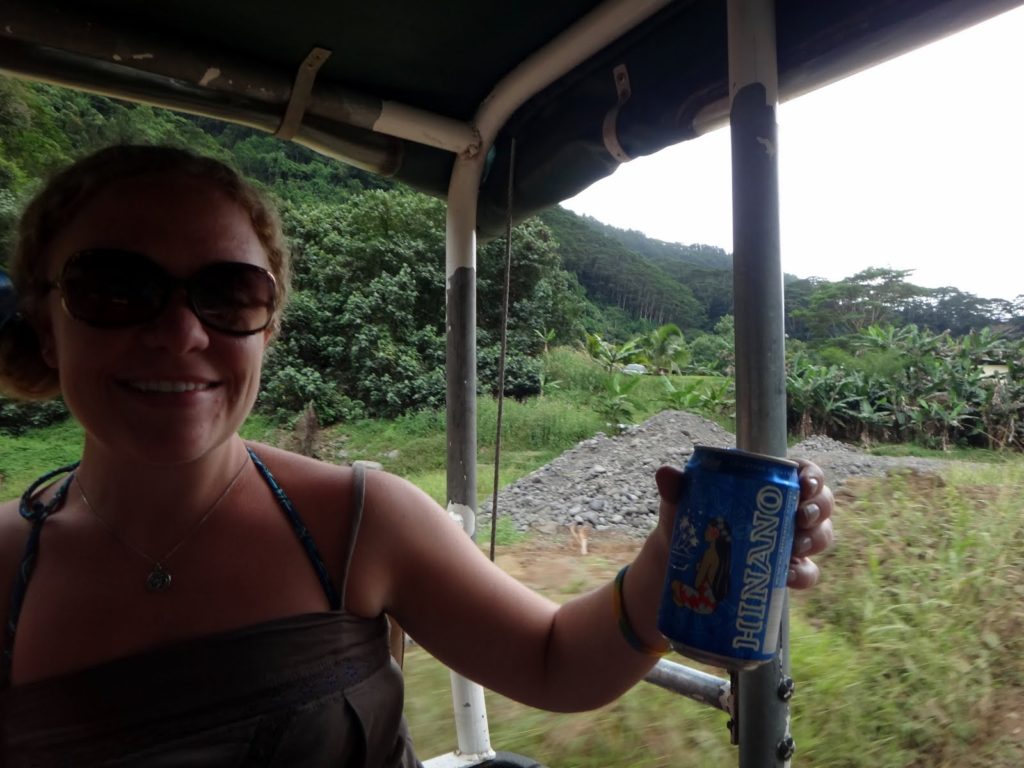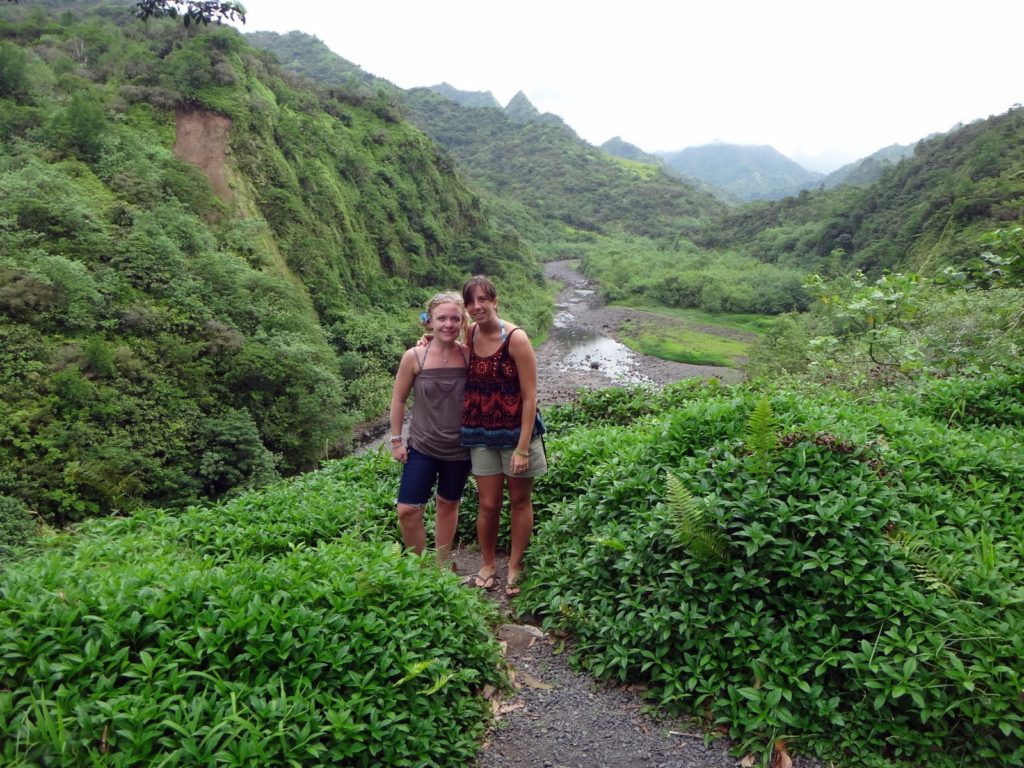 The next morning we spent more time at our resort's private beach, pool, and used snorkels and kayaks again 🙂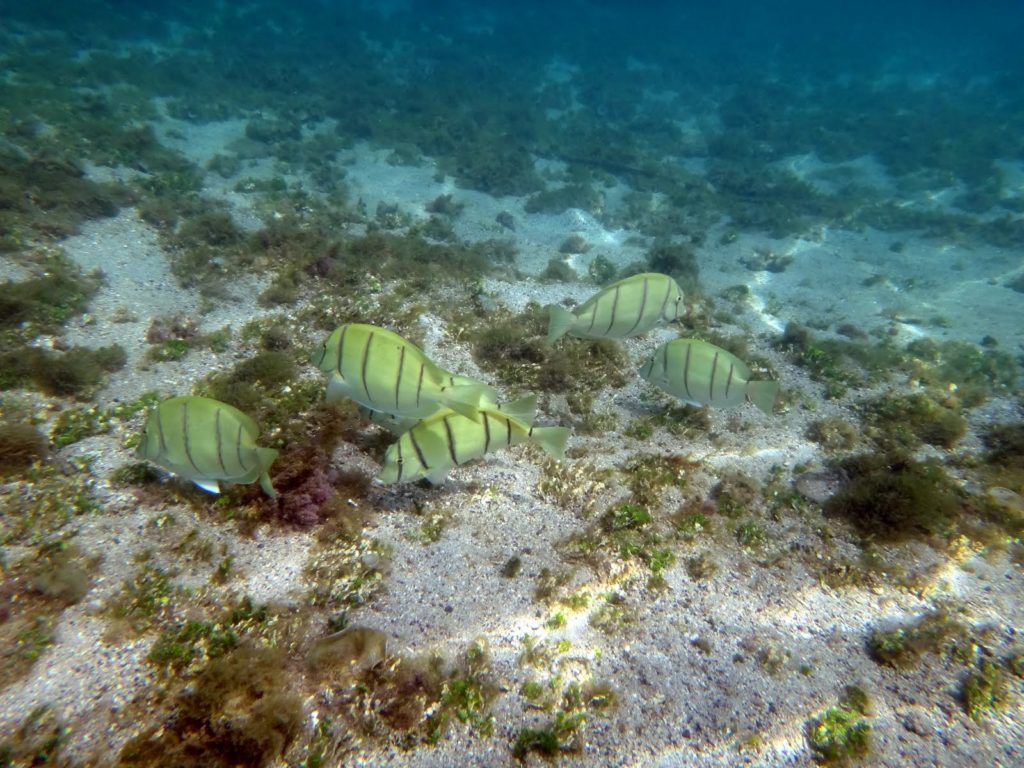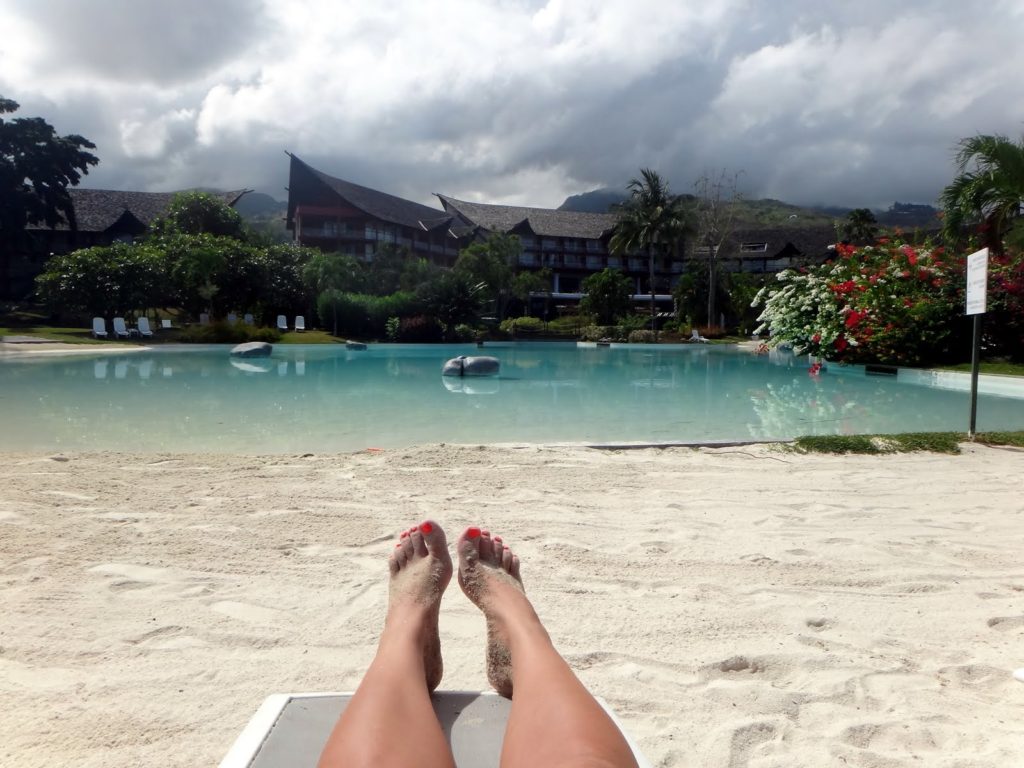 Later that day, we got on a ferry and headed to the island of Moorea! Moorea is clearly visible from Tahiti as it is only about 9 miles away. It's situated to the northwest of Tahiti in the South Pacific Ocean. It's surrounded by a vivd, blue lagoon, emerald green mountains, and a very diverse landscape. You can relax on the beach, or enjoy more thrilling activities like snorkeling, hiking, jet-skiing, and ATV rides. In our opinion, Moorea is the best-kept secret of the famous trio of islands: Tahiti, Bora Bora, and Moorea.
PRO TIP: There is currently just the 1 ferry route running between Moorea and Tahiti operated by 1 ferry company – Aremiti.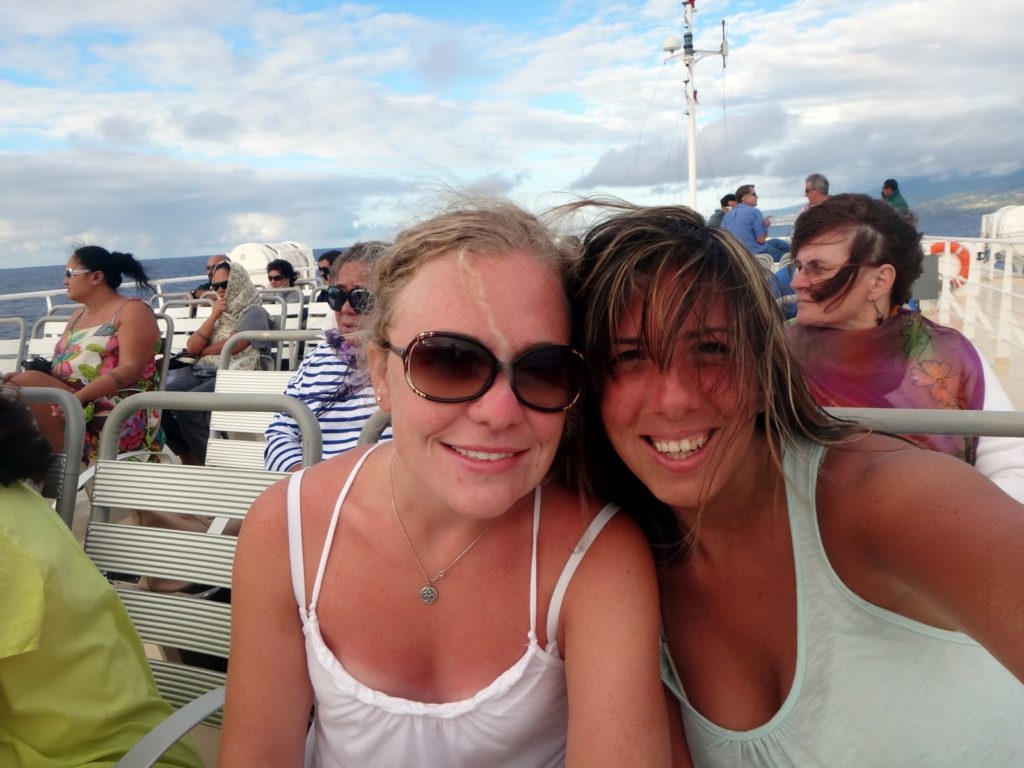 When we arrived on the island, we made our way to the hotel: Club Bali Hai. We splurged a bit so we could stay in a bungalow over the water, but considering we didn't pay for our resort in Tahiti, we were okay with this!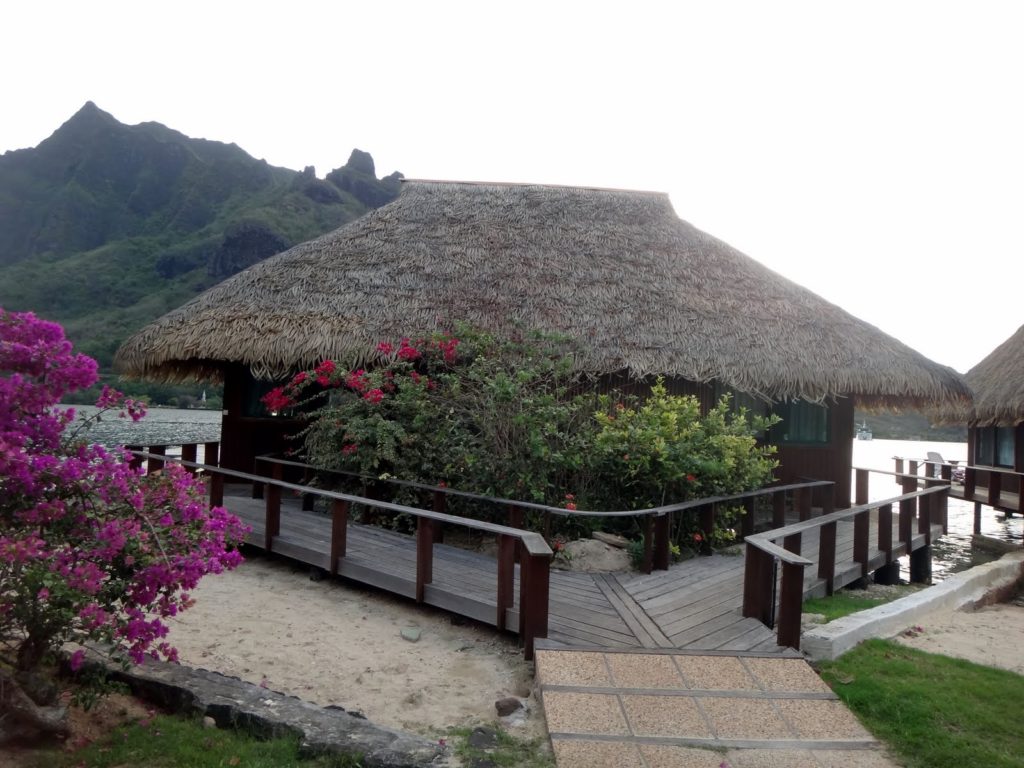 PRO TIP: Club Bali Hai now is called Aimeo Lodge and may or may not have the same amenities and activities that we mention.
That night, we enjoyed activities at our hotel. They had a free, interactive Polynesian dance show for guests to enjoy!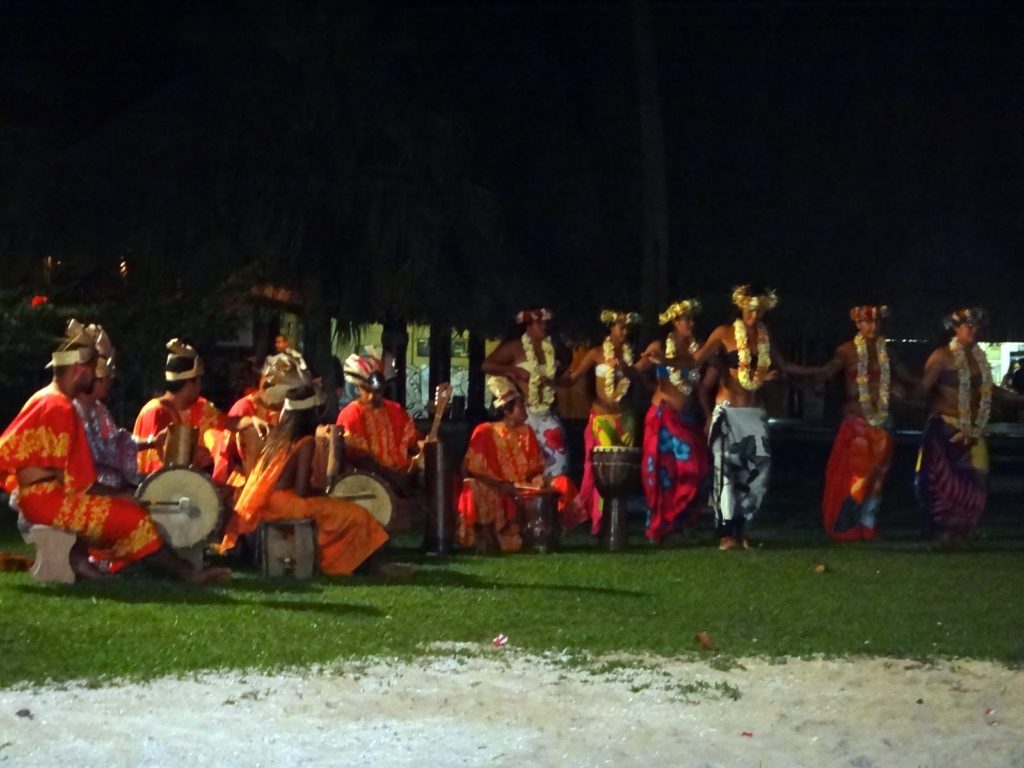 Have we sold you on French Polynesia? If we don't have your hearts yet, just wait! The very next day, we went out on a guided ATV tour through the island. We enjoyed viewing the diverse landscape, mountains, local homes, and pineapple plantations!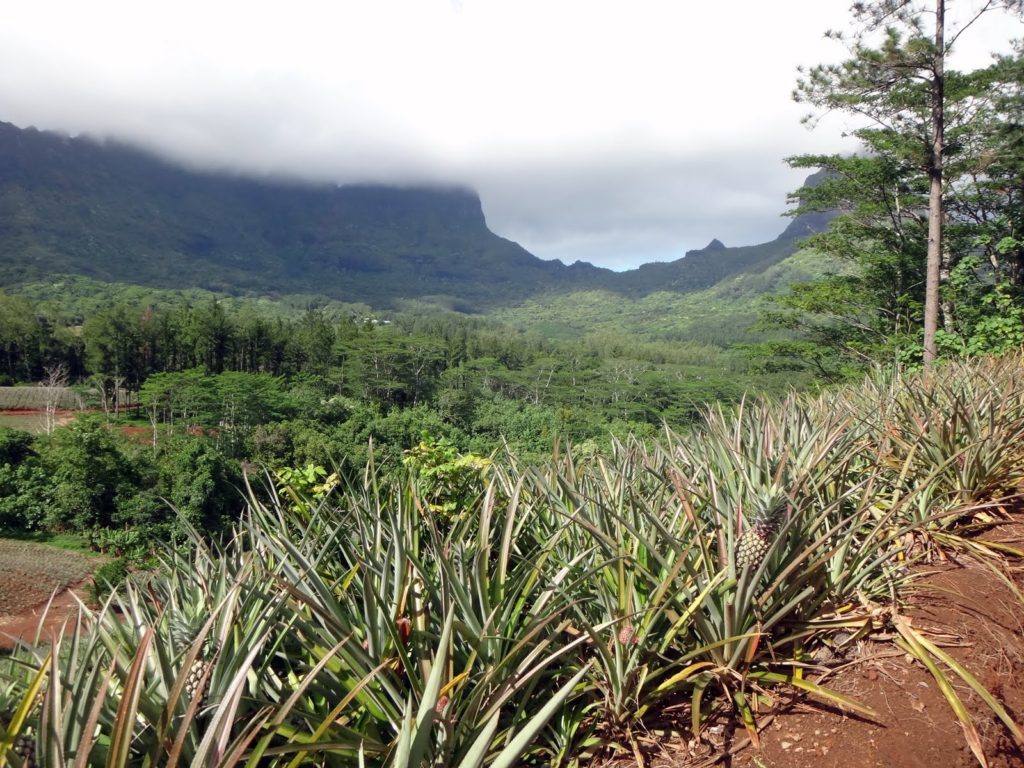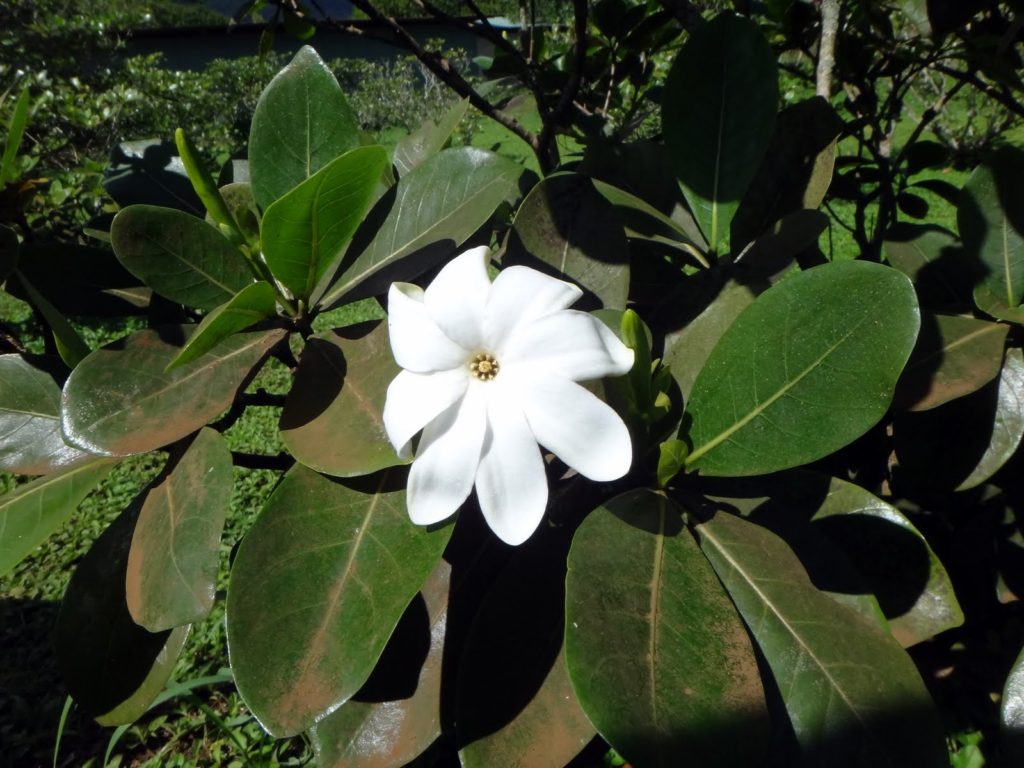 The next part of the ATV tour was quite scary and it not for the faint of heart! We kept climbing higher and higher, while the roads got narrower and narrower. But, it was worth it for the view at the top! We made our way to Belvedere Point, which is an amazing lookout with striking views of the mountains, bays, and agricultural fields.
After soaking in the panoramic views here, we continued to Magic Mountain. We had to climb more with our ATV and then we had to do the rest of the trek on foot up the hiking path. Once you reach the peak, you are rewarded with panoramic views of the region – with its mountain peaks lining the island's skyline and the beautiful turquoise and blue waters.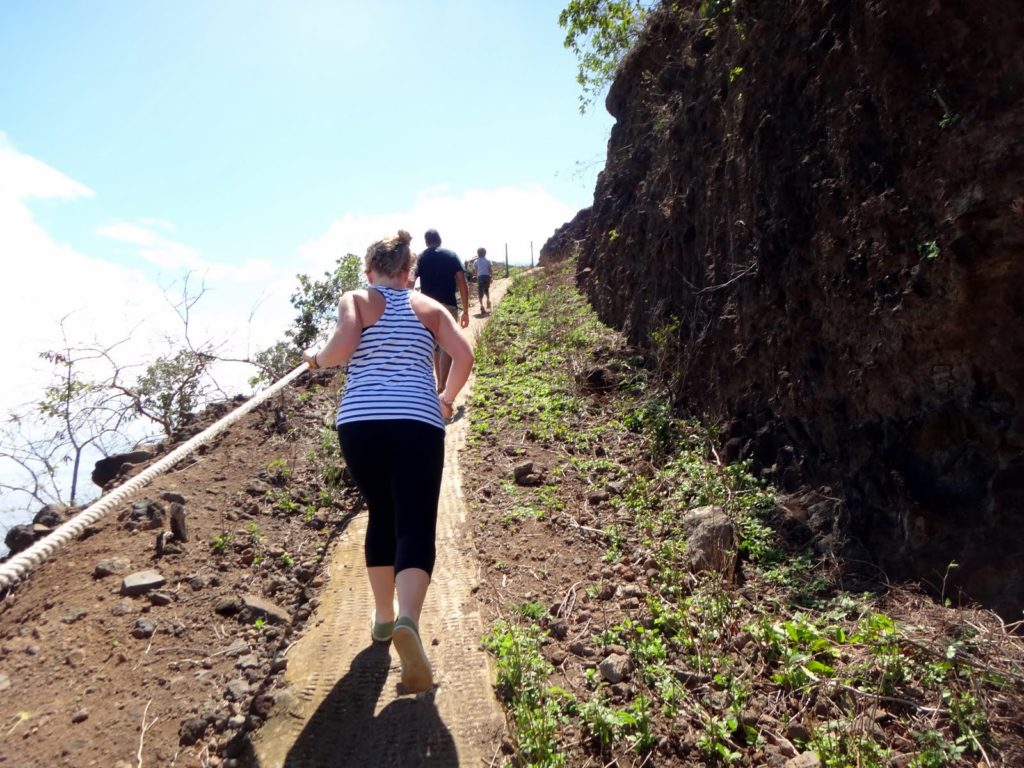 PRO TIP: Moorea is a volcanic island surrounded by a coral reef and lagoons, which protects the island from the adjacent ocean. You can see everything from the top of Magic Mountain, which makes it a popular trail for 4WD and ATV tours, which is how most people summit the trail.
When we got back to our hotel, we took some time to relax and get refreshed in the water at our bungalow. Then, we borrowed bikes (free) from our hotel and went out to explore more of the island on our own.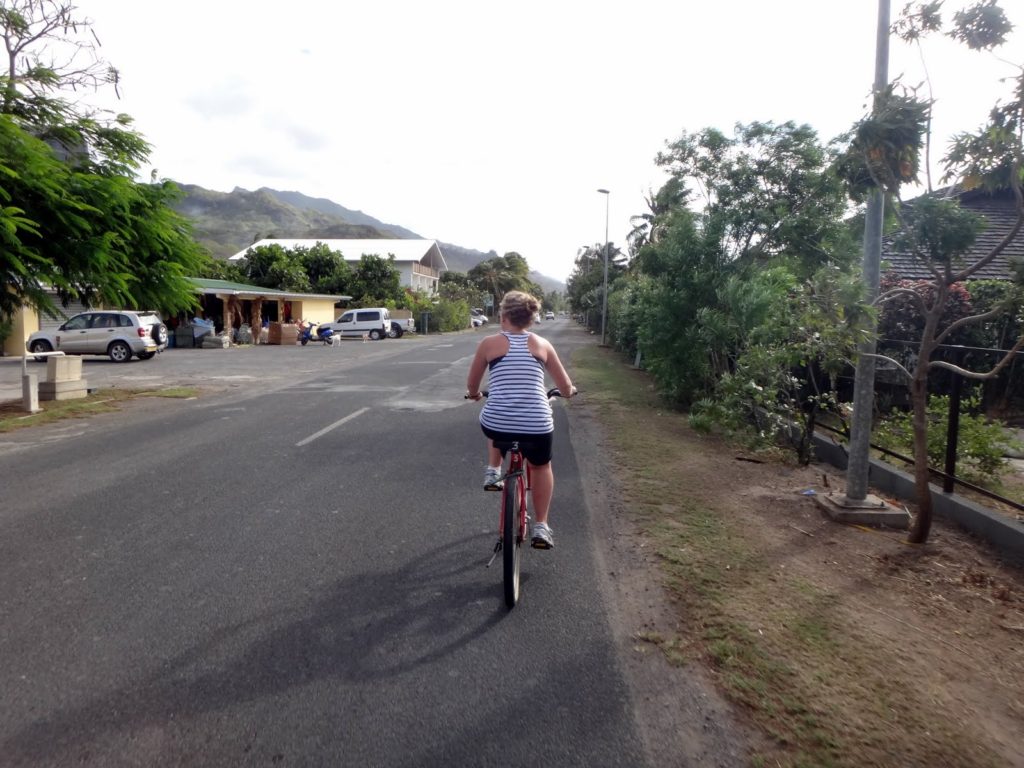 We came across the "Black Pearl Shop" on our bike ride. Moorea and Tahiti have the largest selection of Pearl boutiques. If you would like to know more about the black pearl industry in French Polynesia, click here.
Pearl necklaces can certainly break the bank, but we decided to select a loose pearl and then mounted it on a chain, which was much more affordable. We are not pearl experts by any means, so we can't speak to the quality of the pearl, but we enjoyed our souvenir from the island and the experience of working with the pearl dealer.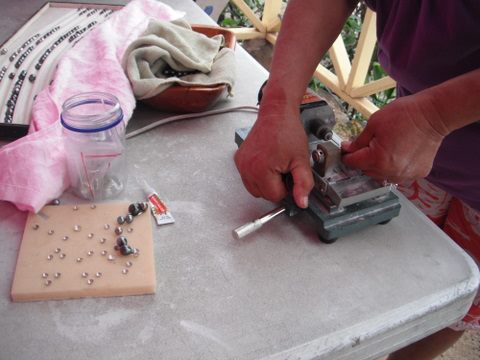 The next day we booked a guided jet-ski tour through the South Pacific Ocean into Cook's Bay and Opunohu Bay. The tour offered endless opportunities for photo ops of tropical scenery as we were on the lookout for dolphins, turtles, and whales, which are in season from July to November.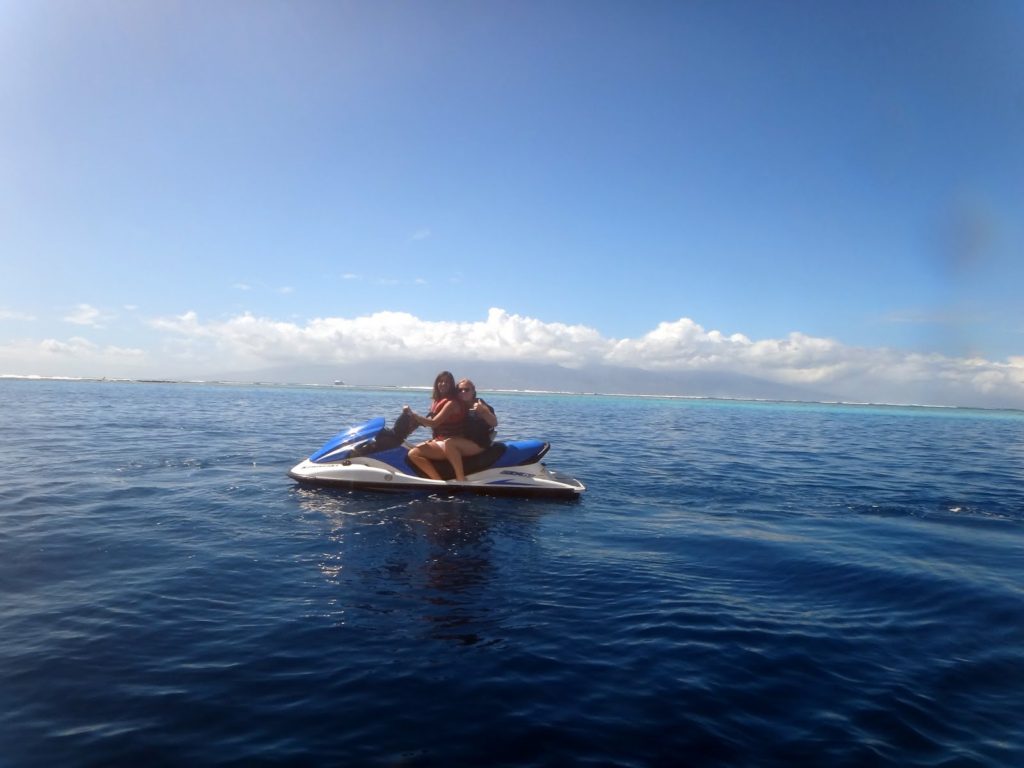 Honestly, this experience was super fun, but we were so scared the whole time on the jet-ski. We had a hard time controlling such a heavy vehicle and we even submerged the whole jet-ski under the water at one point. Also, our guide was so fast we couldn't keep up with the group and thought we were going to be left behind. But, we were riding next to a whale for the majority of the time, so at least there's that! 🙂
The guide led the group to an area in the bay where you have the opportunity to swim with stingrays and sharks! We were apprehensive to do this at first, but the stingrays and sharks are accustomed to the humans at this point and the guide feeds them the whole time, so nothing to worry about…
After our stop here, we got back on the jet-skis and turned around to go home! This was definitely a highlight of our time in Moorea!
When we got back to our bungalow, we packed up our belongings and returned to the ferry back to Tahiti where we would be checking back into Le Meridien Tahiti for the remainder of our trip.
The next day we enjoyed a Polynesian Dinner & Dance show at Le Meridien Tahiti. This was exceptional and somehow we got reserved VIP seats in the front (I'd like to shout out to 'Aunt' Karen for hooking us up!).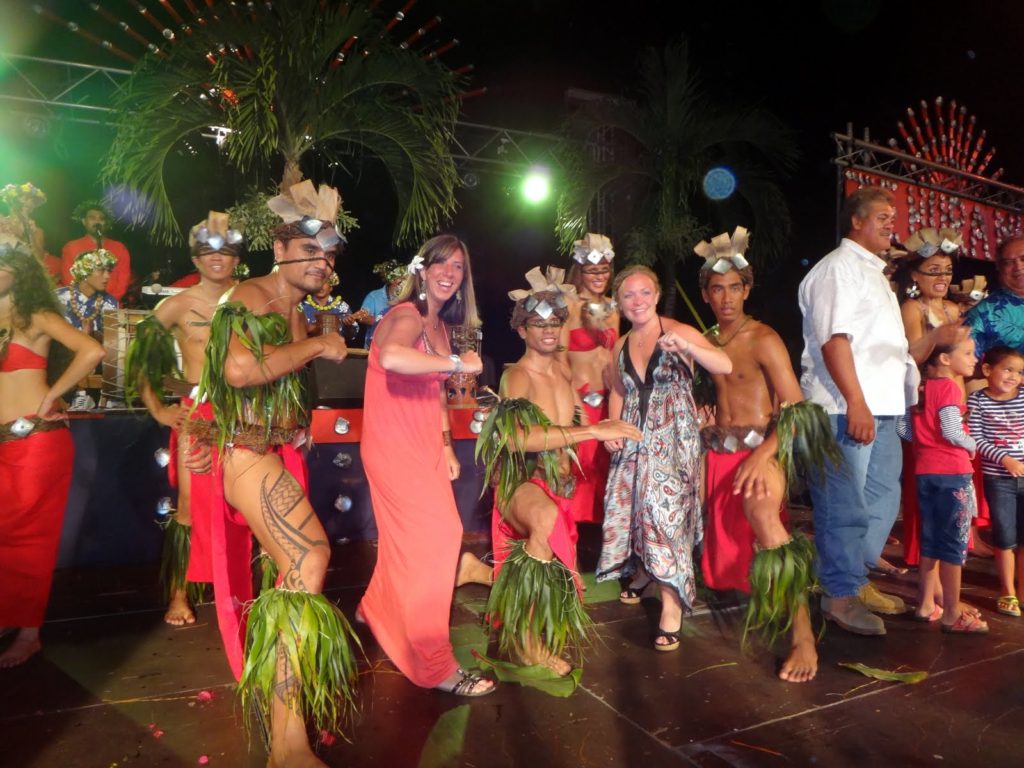 What a great way to end our time in French Polynesia! The islands did not disappoint at all. We would love to come back and visit some of the other inhabited islands. If you love adventure and relaxation, this is the trip for you and keep in mind that you don't have to break the bank to visit this stunning part of the world!
As always, if you have any questions, you can contact us here.