Country: Italy
City: Monterosso, Vernazza, Corniglia, Manarola, and Riomaggiore (Cinque Terre, collectively)
Highlights: Church of Santa Margherita di Antiochia, Tower of the Doria Castle, Parish of San Pietro
Cinque Terre, or five towns, is the name given to the collective group of fishing villages located along the coast of the Italian Riviera. With blue waters and colorful houses, this destination should not be missed! While staying longer is definitely an option, I only had one day to work this into my itinerary, so I did my best!
Leaving Milan (Milano Centrale Station) first thing in the morning, I used ItaliaRail to take the 3 hour train ride into Monterroso, the first of the five towns. I arrived around 11am, and the sun was beating down hard. I definitely recommend sunscreen if you're taking this trip! Just a short walk away, I found the beach, already packed with sunbathers.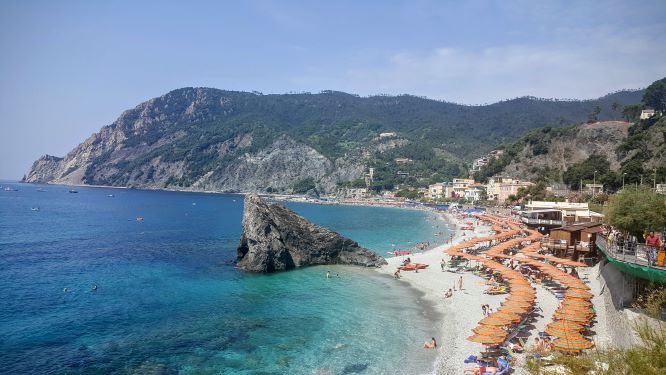 Cinque Terre is connected by a network of hiking paths that can sometimes be strenuous. Make sure to wear proper footing attire – you're going to get a lot of steps in! I easily found the path in Monterroso and started on my journey.
PRO TIP: The hiking paths are in a delicate state, and many are often closed. Check this website before heading out to check for possible closures.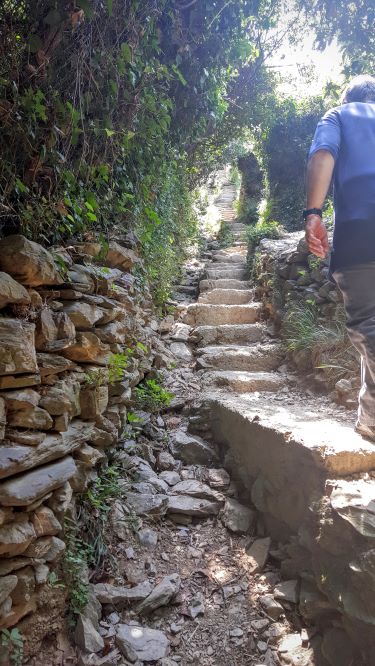 As you follow the path to Vernazza (the second of the five towns), you will pass many vineyards and orchards. Keep going until you finally see Vernazza in the distance! (This first portion is about a 2.2 mile hike.)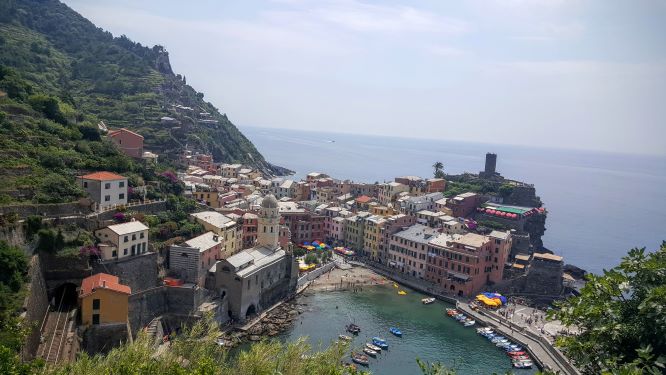 Vernazza was probably my favorite of the towns I saw (I did not get to all 5 due to trail closures). Besides the colorful houses, you can find here the Church of Santa Margherita di Antiochia, a quaint church that was built on the rocks overlooking the sea.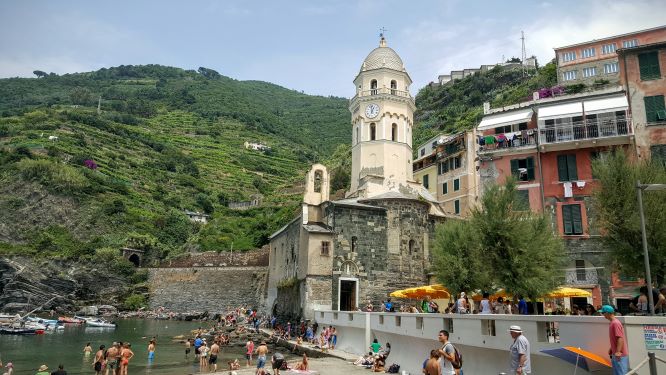 I was starting to get hungry, so I grabbed a bite at a nearby cafe. There are plenty of dining options here, but pizza is always my go-to.
From here, I headed to Tower of the Doria Castle, a small tower built in the 15th century to protect the town from pirates. You can climb to the top and get a great view of the town below.
After wandering the streets of Vernazza for a while, I decided to continue on the trail towards the next town, Corniglia. Turning around along the footpath, I captured this beautiful shot of the coast.
The next stretch of trail was about 2.5 miles long and it was HOT. Be sure to drink lots of water! When I finally saw Corniglia in the distance, I was thrilled.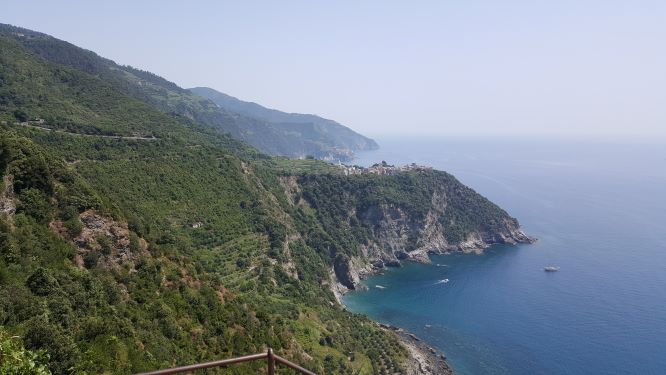 I wandered the cozy streets and found refuge in Chiesa di San Petro, or St. Peter's Cathedral. This charming little church offers superb views of the town below.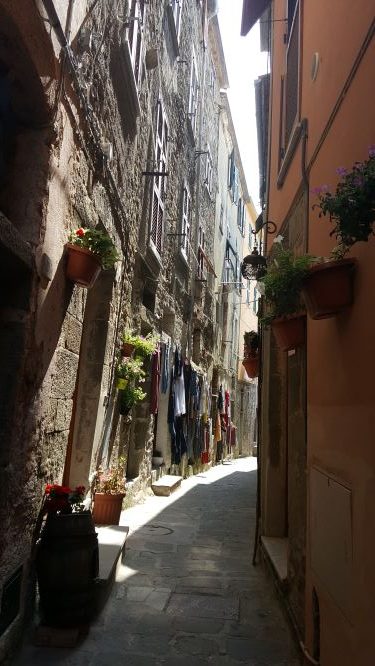 After exploring Corniglia for a bit, I ventured back to the trail to make my way to Manarola, the next town in line. Unfortunately, the trail was closed, but I could see it from a distance (approximately 1.5 miles away).
There is a train that connects all 5 villages (you can see in the picture above), so I debated doing that for the last 2 villages. Unfortunately, my train back to Milan departed around 5pm, and I didn't want to risk missing it.
Instead, I took the train back to Monterroso, where I grabbed dinner at Bar Della Stazione. The food was so-so, but the view was to-die-for! There are probably better restaurants to eat at if you have the time, but if you want to stay near the station, this is a great option!
After dinner, I boarded the train for the 3 hour ride back to Milan. If I had to do this trip again, I'd probably purchase a return ticket with a later departure time. The hikes took longer than expected, so I missed out on two of the towns. However, I still very much enjoyed the 3 that I got to see! If you have the time, you might even consider staying overnight!
PRO TIP: Check out the ferry schedule that runs between towns! This can be a great and faster alternative to hiking. Plus, you can get a panoramic view of the whole Ligurian coastline!
As always, if you have any questions, feel free to contact us here.