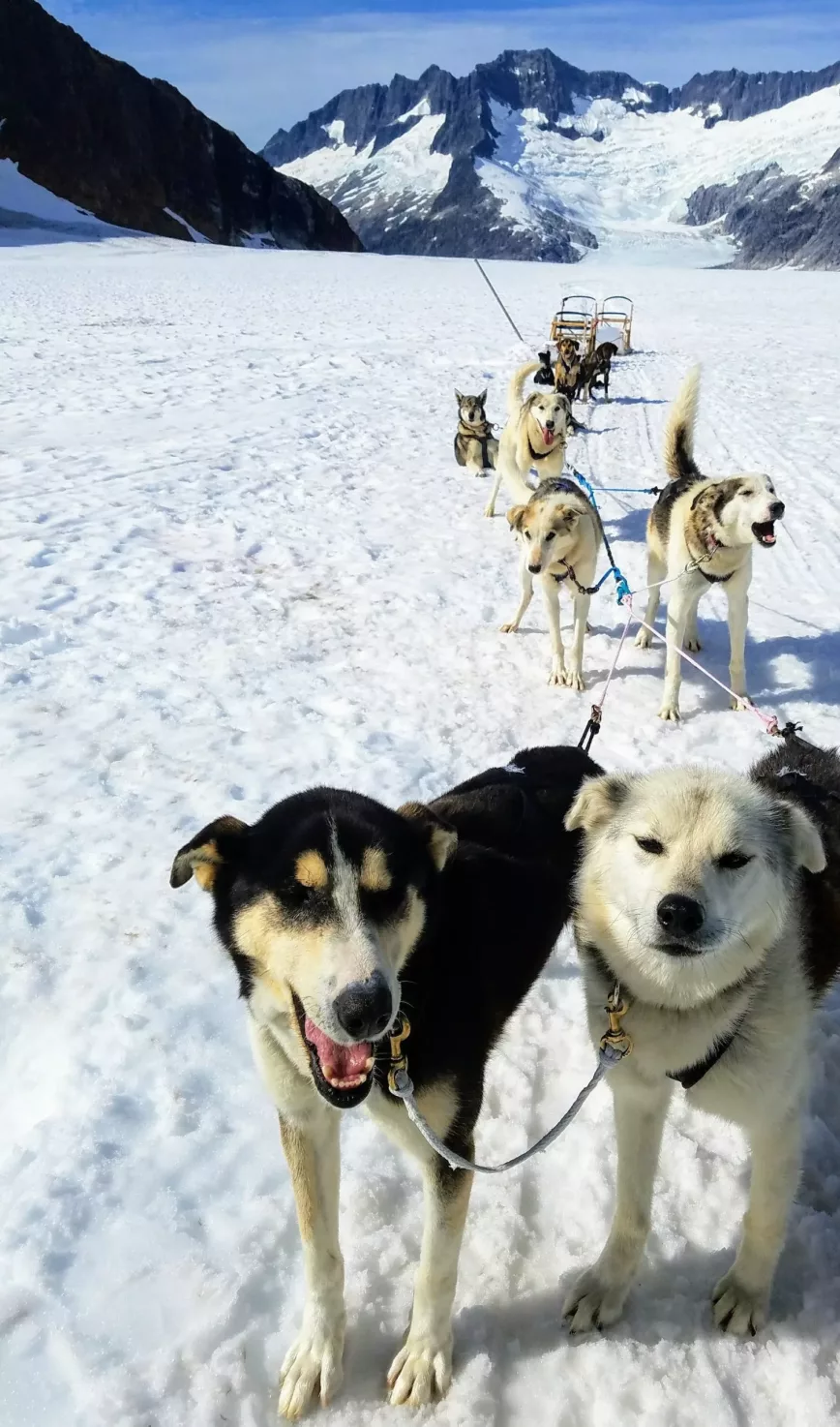 Country: USA, Canada
Cities: Fairbanks, Denali, Anchorage, Seward, Icy Strait Point (Hoonah), Juneau, Skagway, Yukon Territory, Ketchikan, Vancouver
Highlights: Denali National Park, zip-lining, helicopter glacier trek, glacial dog sledding, Yukon rail and bus tour, Emerald Lake, lumberjack show
Alaska was always a bucket-list destination for us. This gorgeous state offers an array of adventures with its rugged mountains, glaciers, and an abundance of wildlife. If you're going to spend the time getting here, we recommend a minimum of a week's stay. We planned an 11-day getaway through the 'Last Frontier' and it continues to be one of our most asked about destinations! Before booking your trip, we have a few tips for you to consider.
When to visit Alaska
You can visit Alaska year round, but for most, the best time to visit is in the summer months from June to August. You will undoubtedly have the best weather, least amount of rain, and the most daylight. If you're into hiking and camping, the backcountry will be a lot more accessible. However, this will be the most popular time to visit, so expect crowds and higher costs.
If you want to come to Alaska in its winter months of November to March you can expect fewer crowds, lower costs, and the possibility of seeing the Northern Lights. This would be the ideal time for winter sports enthusiasts! Opportunities for skiing, snowboarding, snowshoeing, snowmobiling, and ice skating are endless.
The shoulder season of May and September can be a great time to visit as well. Most of the tourists have headed home, it's still possible to see the Northern Lights (in September) with clear nights, and the snow is starting to melt (in May).
What to do in Alaska
Alaska is filled with adventure so before you plan your itinerary, decide on the types of activities that interest you.
Winter sports: skiing, snowboarding, snowshoeing, snowmobiling, and ice skating. You have the backcountry at your fingertips as well as several ski resorts from which to choose.
Glacier Adventures: whether it's trekking on a glacier followed by drinking the clearest glacial water, or dog sledding on top of a glacier, Alaska has a plethora of options.
Wildlife: Bears, caribou, moose, elk, whales, many more! A visit to Denali National Park or Kenai Fjords National Park will afford you with the opportunity for some top-notch wildlife viewing.
Adventures on the Water: Alaska has some of the most world known fishing! You can choose several adventures such as staying in a luxury lodge or chartering a boat. If you're in for a more thrilling adventure to really get that heart pumping, check out the many kayaking and white-water rafting trips available.
Hiking: Hike and mountaineer Denali, North America's highest peak! You can find hikes for all levels, so don't be discouraged.
Flying: Get above the mountains and glaciers in a flightseeing or helicopter expedition. It's one of the best way to see some of the most scenic places in Alaska!
Cruising: There are many cruises that take you to see wildlife and glaciers, while cruising the inner passage between Anchorage and Seattle.
Tips for visiting on a budget
Visit in May when tourism isn't in full swing yet and the weather is typically nice and clear. The flights, excursions, and rental cars will be a little bit cheaper.
Visit during the off season during winter time, if you can stand the cold and winter conditions! It will all be worth it if you see the Northern Lights!
Be on the look out for deals on sites like Booking.com or Travelzoo.
Compare and track flight prices using Google Flights
Use your miles if possible! I booked using my award miles connected to my  United MileagePlus Explorer credit card – check out the card to receive countless travel benefits and earn bonus miles!
Rent a car, use your smart phone, pitch a tent, get a map, and DO IT YOURSELF!
We knew we were going to visit Alaska during the summer of August 2017 and we wanted to see a bit of everything – mountains, glaciers, and wildlife. So, we settled on an 11-day land and sea tour through Norwegian Cruise Line. We typically aren't "cruise people", however, it really is a great way to see a little bit of everything, and the tour operators make it quite easy to see popular cities and sights without worrying about the logistics of how to get there.
PRO TIP: While booking with a cruise line or guided tour agency will make for some very easy planning, we are certain that with the use of a map, smartphone, and rental car, you could navigate yourself around this enormous state! The distances between places will be vast, but very doable.
We booked our 11-day land and sea Southbound tour through Alaska Cruises/WMPH Vacations on the Norwegian Sun.
PRO TIP: AlaskaCruises.com is a division of WMPH Vacations, which is a Florida-based travel company that partners with all major cruise lines. You can find almost every option to meet your needs for the best vacation ever!
Day 1: Fairbanks, Alaska
We flew into Fairbanks, Alaska, which is where we would meet the tour director the next day. We flew separately from each other since we each had miles we wanted to use to book flights (flights were not included in the travel package). Caroline arrived a day before me and spent the night at Billie's Backpackers Hostel (not included in the travel package).
PRO TIP: If you have enough miles saved up to get to Alaska, USE THEM! It's an expensive country even once you are here, so save, save, save! I booked using my  United MileagePlus Explorer credit card – check out the card to receive countless travel benefits and earn bonus miles!
Fairbanks is the second largest city (surprising to us) in Alaska nicknamed "The Golden Heart City" due to the gold found in the creeks around Fairbanks. It is also one of the best places in Alaska to chase the Northern Lights, as long as you leave the city's lights behind you. It didn't really seem like there was a whole lot to do here, but one of the coolest places to check out is the Aurora Ice Museum's Ice Bar. The museum was built in 2005 out of snow and ice harvested from Chena Hot Springs Resort. It has a display of ice carvings from world champion ice carvers.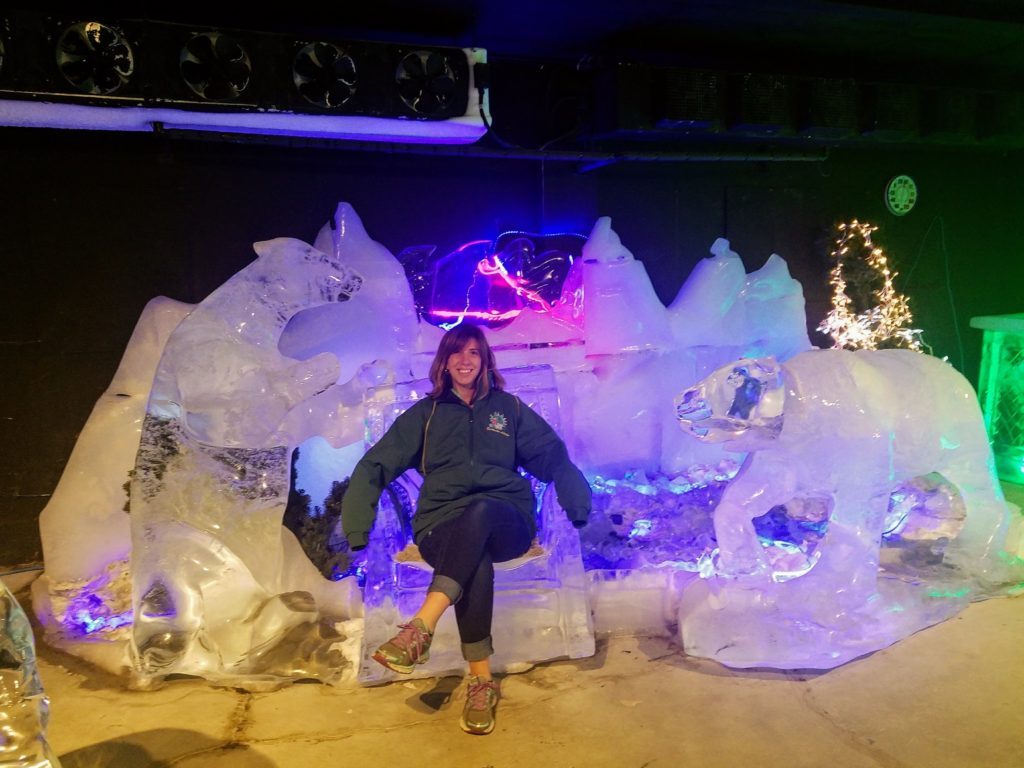 When I arrived the next day, I took the Springhill Suites hotel shuttle from the airport and met Caroline at Springhill Suites Fairbanks, where we checked in for the night (this was included in our travel package). Once we were both there, we spent the day and night exploring the town by foot. We found a great place to eat at Bobby's Downtown where we made good friends with locals and the owner, who treated us to some yummy desserts! (Bobby – if you're reading this – Hello! And, thank you for the great food and conversation!)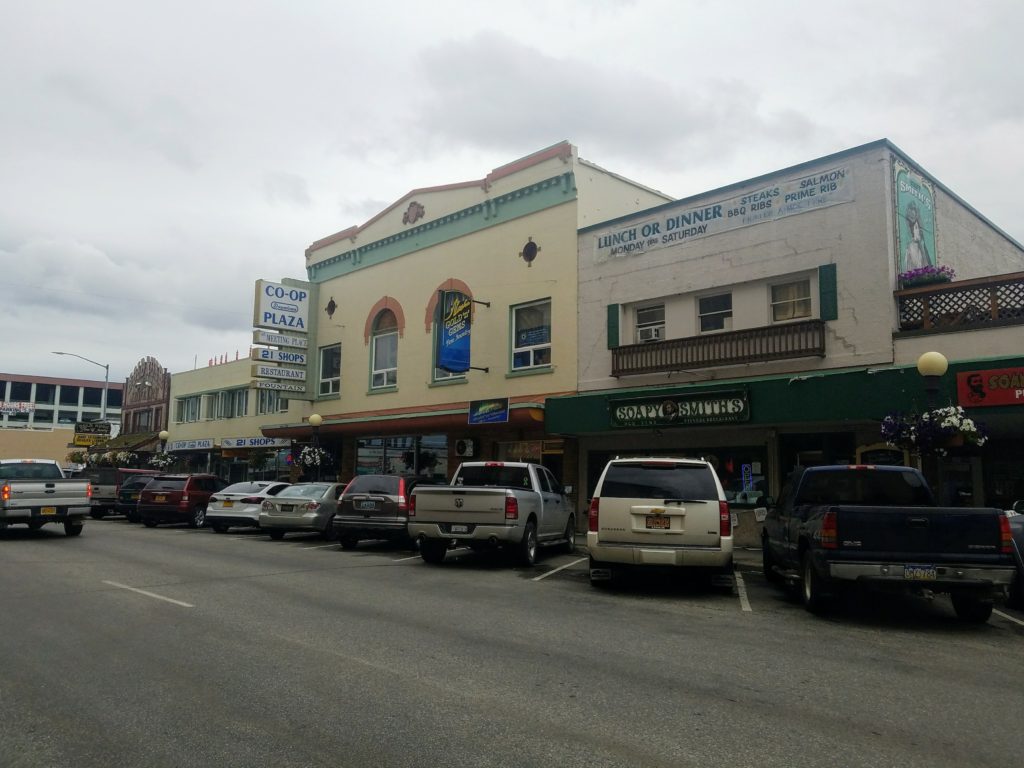 *From here on out, everything was included in our travel package unless otherwise noted.
Day 2: Fairbanks to Denali National Park
This morning we woke up to a complimentary breakfast at our hotel. We then met our tour director who navigated us to the Alaskan Railroad where we boarded the train for a 4 hour ride to Denali National Park. This train ride is amazing! You have 360-degree views of the scenery around you and of Healy Gorge and Canyon. There is a full bar and meal service available for purchase as well. Be on the lookout for wildlife on this part of your journey!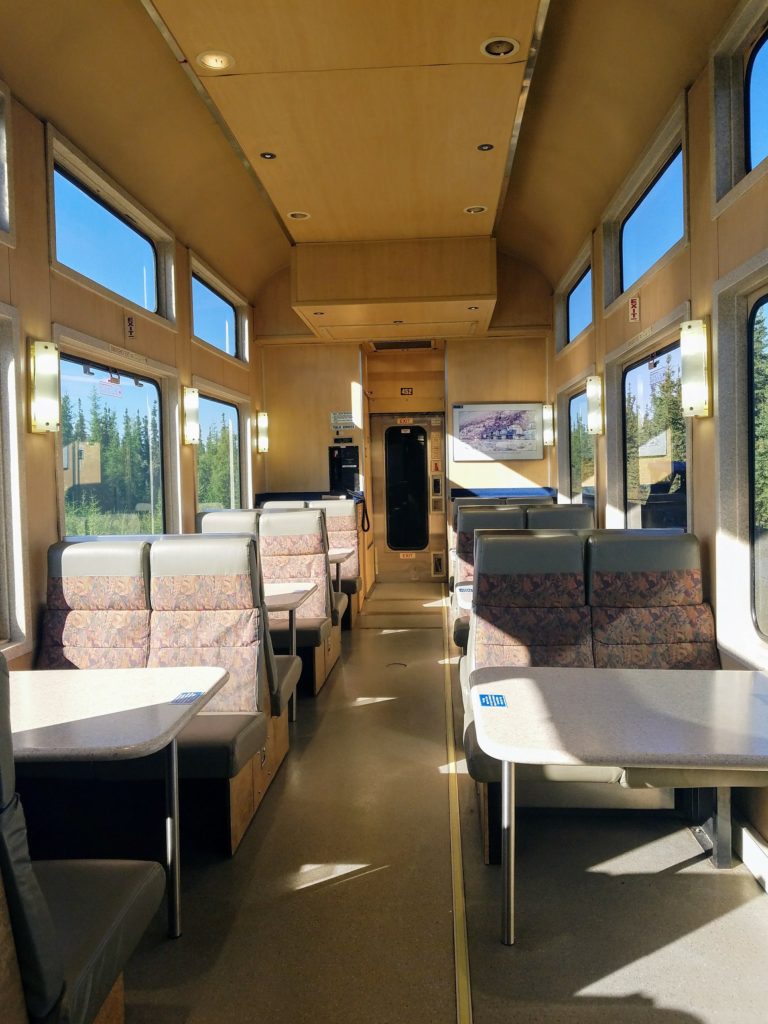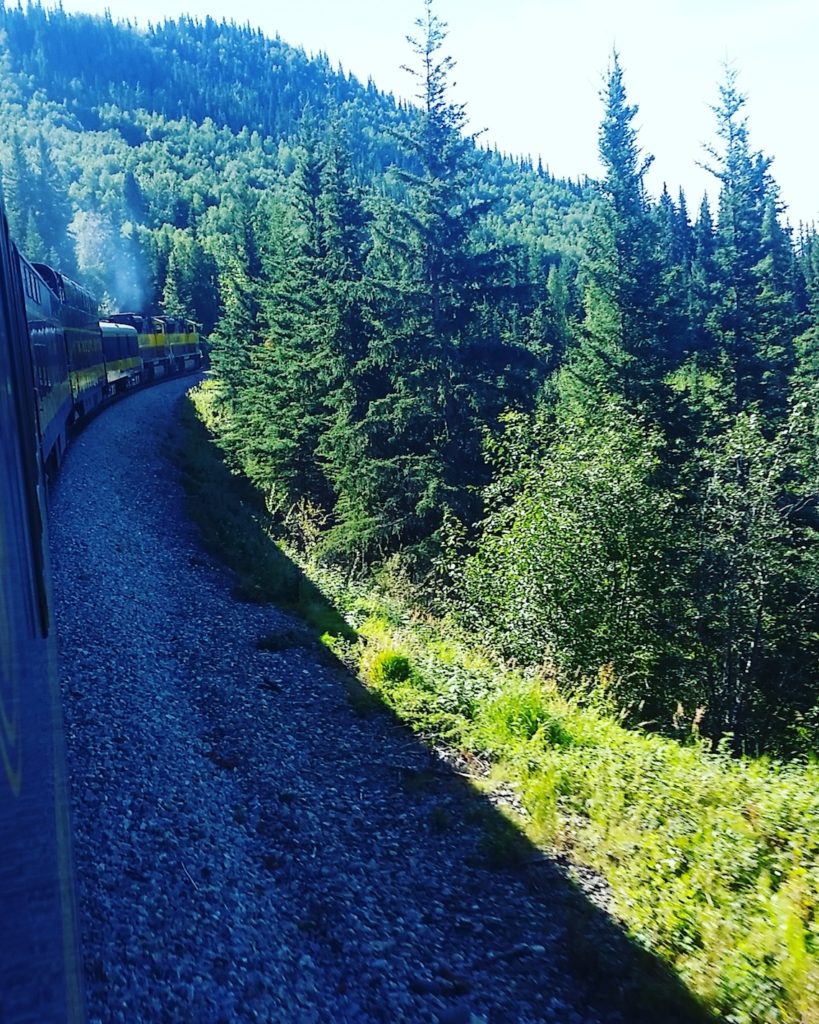 Once we arrived in the park, we checked into our hotel McKinley Chalets and then picked up some lunch at the famous Denali Doghouse. Check out their Reindeer Dogs!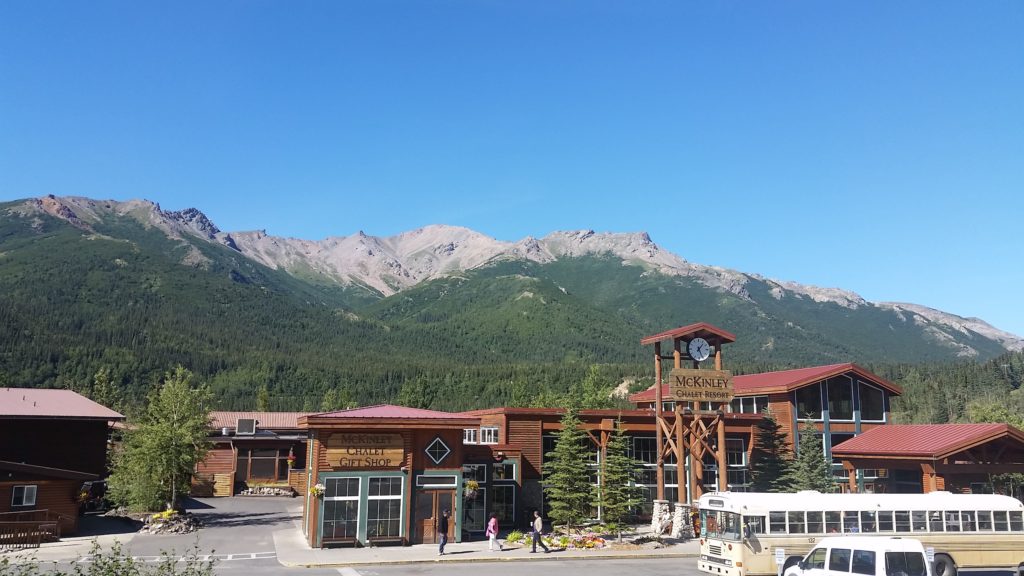 We then decided to do a hike on our own, which was especially needed after sitting on the train for 4 hours! We did the Mount Healy Overlook Trail, which had the most incredible views of the park. This hike is great for all you intrepid travelers! It's 2.7 miles one way, with a steady to steep incline the whole way up. To get to the trailhead from the Denali Visitor Center, hike about half a mile on the Taiga Trail, until you reach a trail junction with the start of the Mount Healy Trail.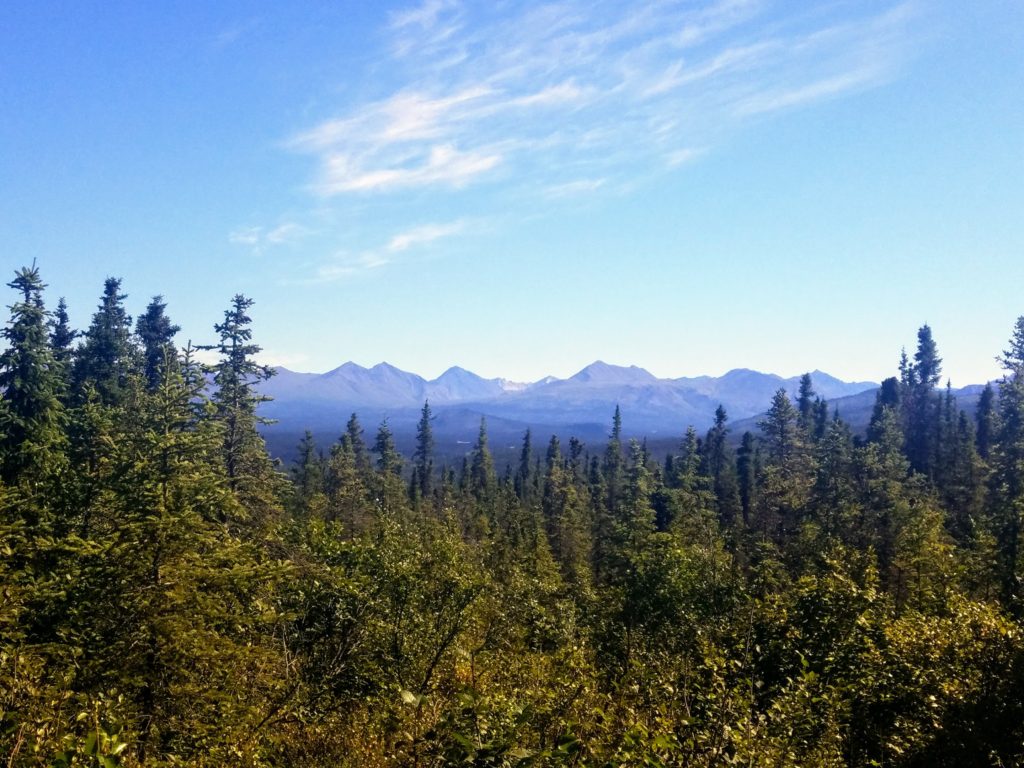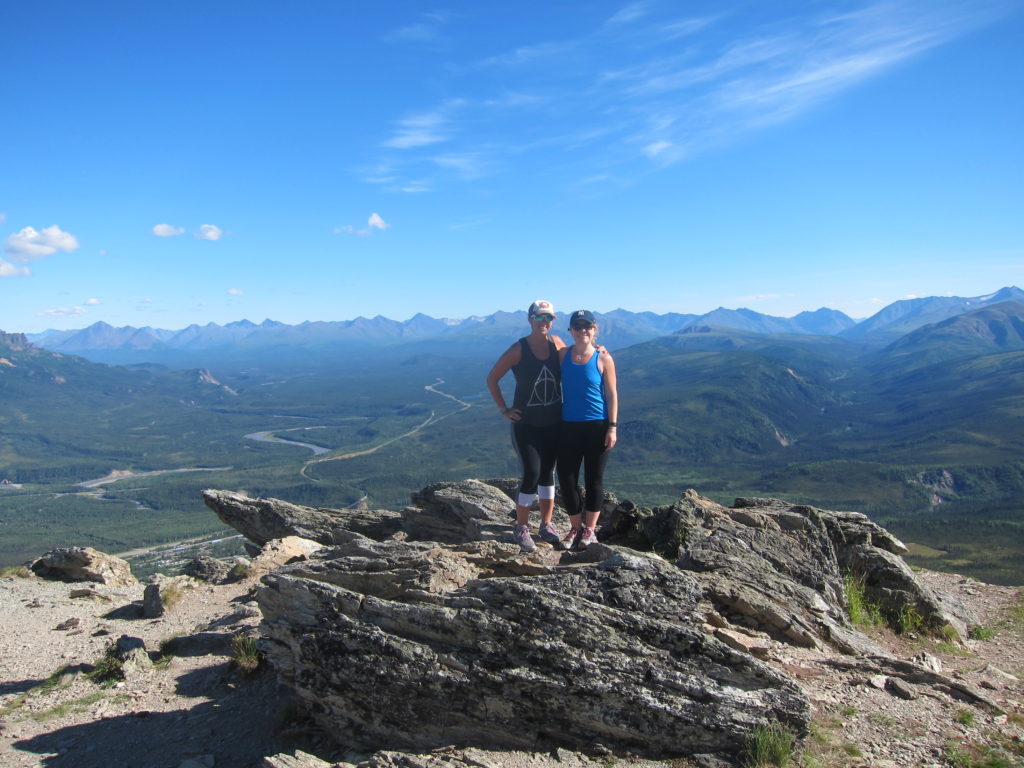 Following our hike back down Mt. Healy (there is only one way up and down) we headed to Prospector's Pizzeria and Alehouse. This place is very popular as it has delicious pizza, craft beer, and animal pelts, hides, and skins adorning the walls giving it a truly Alaskan feel.
Following our pizza and beer, we went out on a Denali Wilderness ATV tour!
PRO TIP: Being that it's summer time in Alaska, we have 15+ hours of daylight, so you have more than enough time to fit in multiple activities in a day!
We highly recommend this thrilling tour! Your guide will teach you about the history of Denali and the ecosystem, as well as take you to landmarks such as Otto Lake, Healy Valley, Alaska Range, all while on the lookout for wildlife. Expect to traverse a variety of terrains!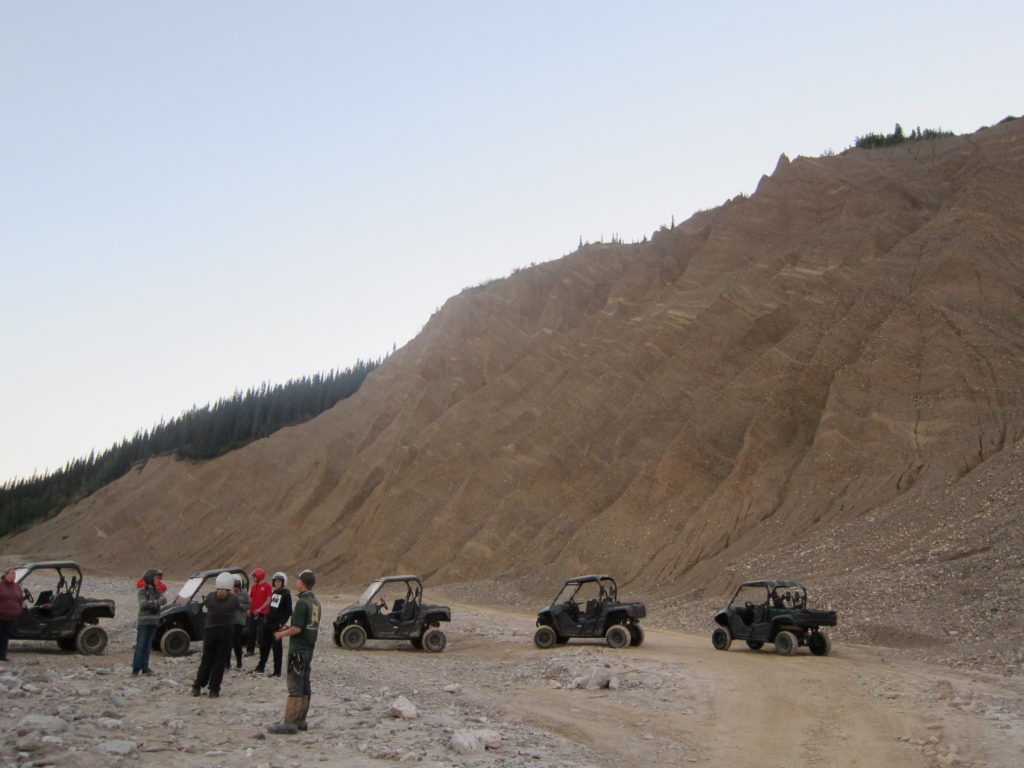 Because we took our tour in the evening, we were able to experience the sun setting and the moon rising at the same time!
Day 3: Denali National Park: Tundra Wilderness Tour
When we booked our travel package, we purchased an additional excursion to explore Denali National Park. It's a 6-8 hour narrated bus tour that takes you about 50 miles into the park. We had several opportunities to get off the bus to take pictures of the scenery and natural, free-roaming wildlife. A snack box was included 🙂 We were very lucky in that some of the fellow tourists on the bus were experienced hunters and were able to spot and point out bears, caribou, and birds from afar!
PRO TIP: We recommend bringing binoculars on this trip!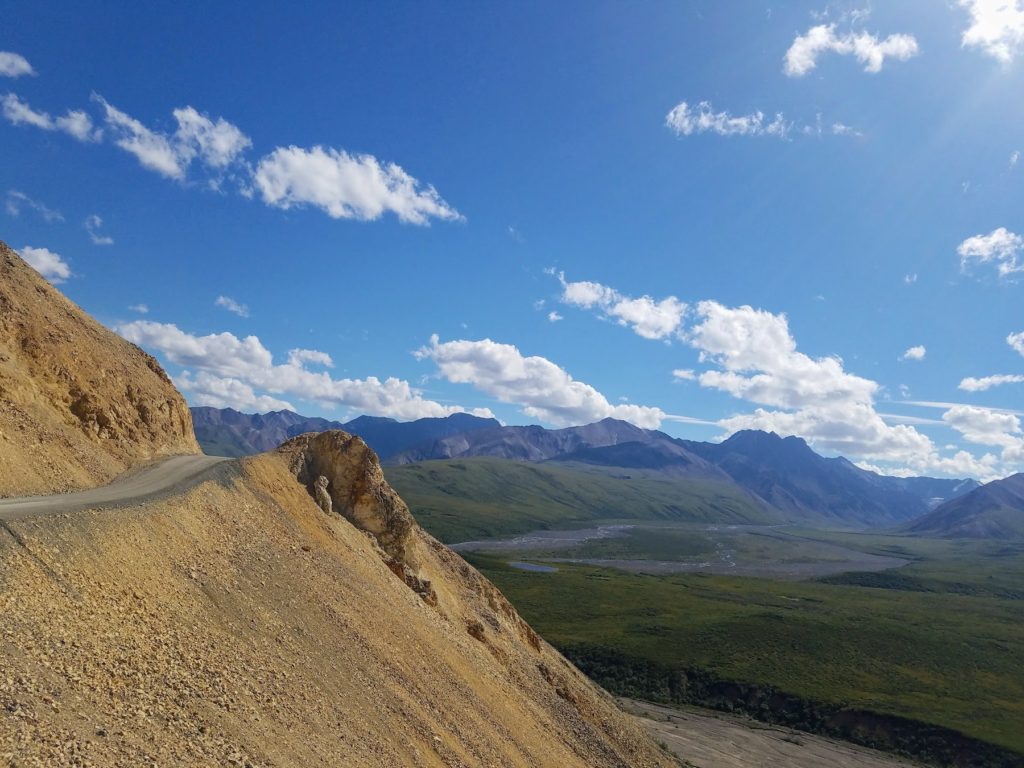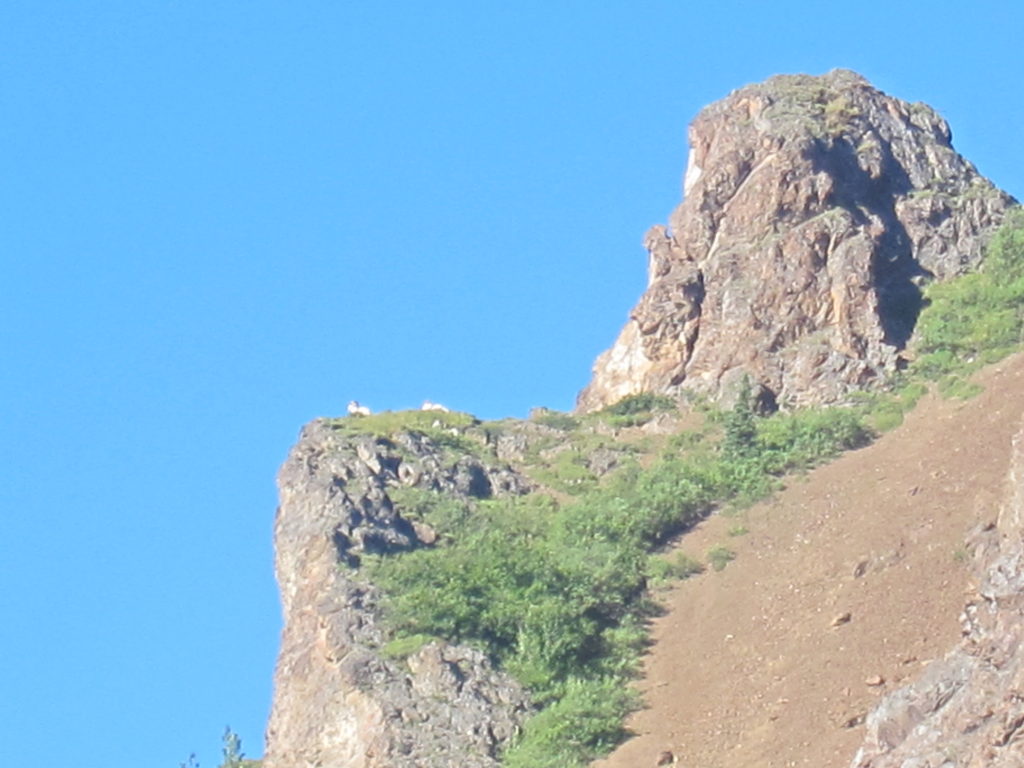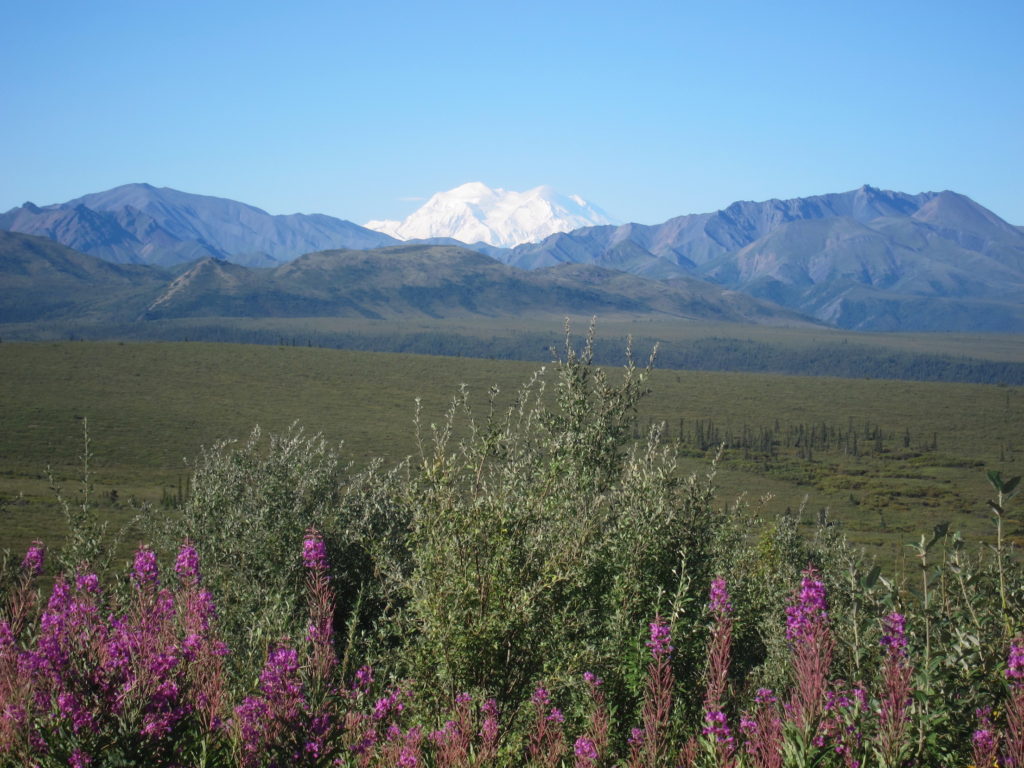 PRO TIP: It is RARE to get a picture of Mt. Denali without clouds, so if you happen to be so lucky, make sure you capture the moment!
After the bus tour dropped us off at our hotel, we headed to 49th State Brewing Company, considered the BEST brewpub in Denali, and it certainly held up its expectations. You can find local, organic food on the menu, and a variety of activities, such as bocce ball, corn hole, and horseshoes. Also, you can find a replica of the famous bus from the movie/book "Into the Wild".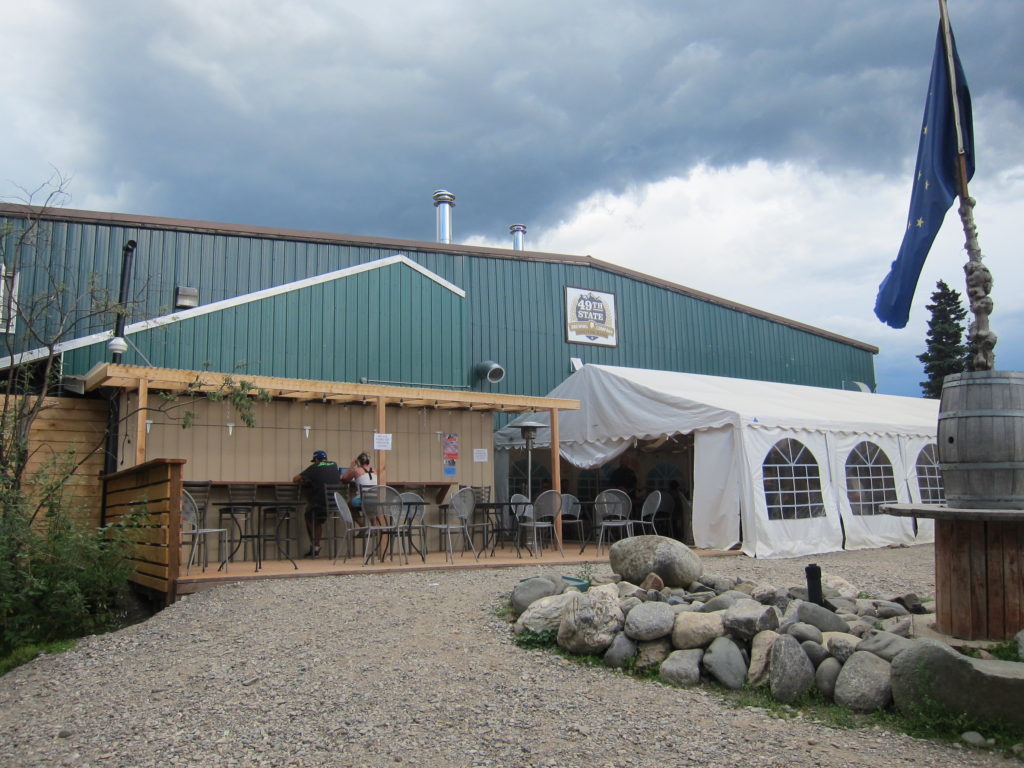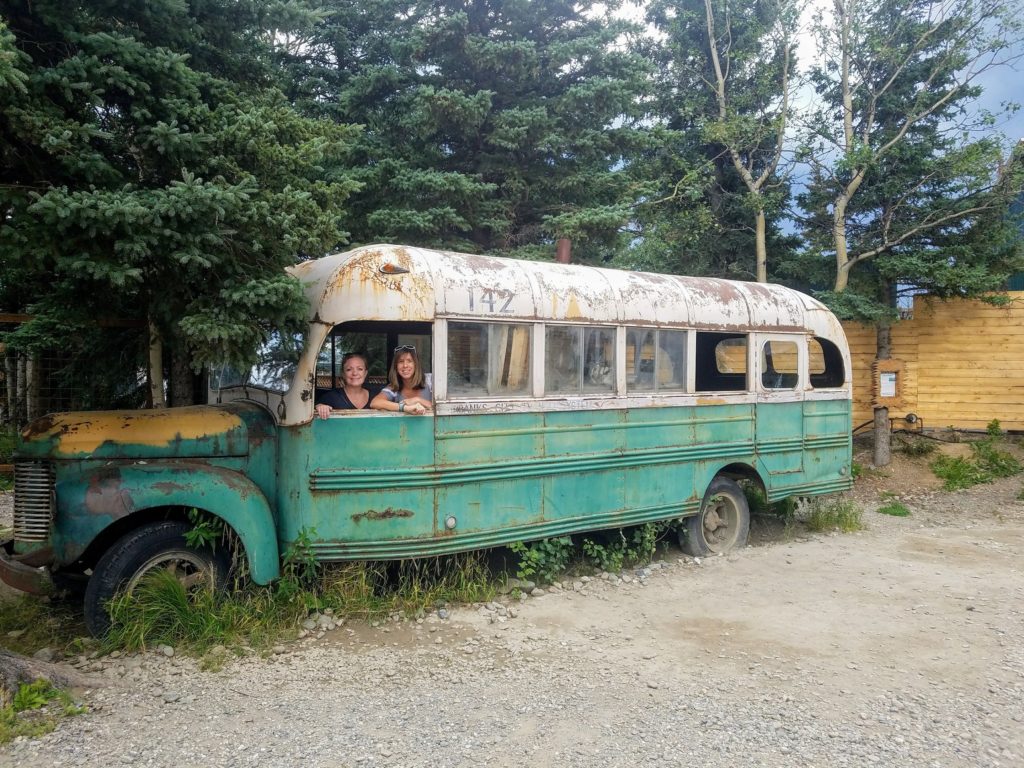 Day 4: Heading to Seward to board our cruise ship
This morning, we headed south to Seward with a stop in Anchorage for lunch before boarding our cruise ship. This is a longgg trek from Denali to Seward, I believe it was about a 9 hour drive. However, you make plenty of stops at rest areas with amazing views along the way, plus you can't beat this scenery!! And, the coach bus is comfortable with a bathroom.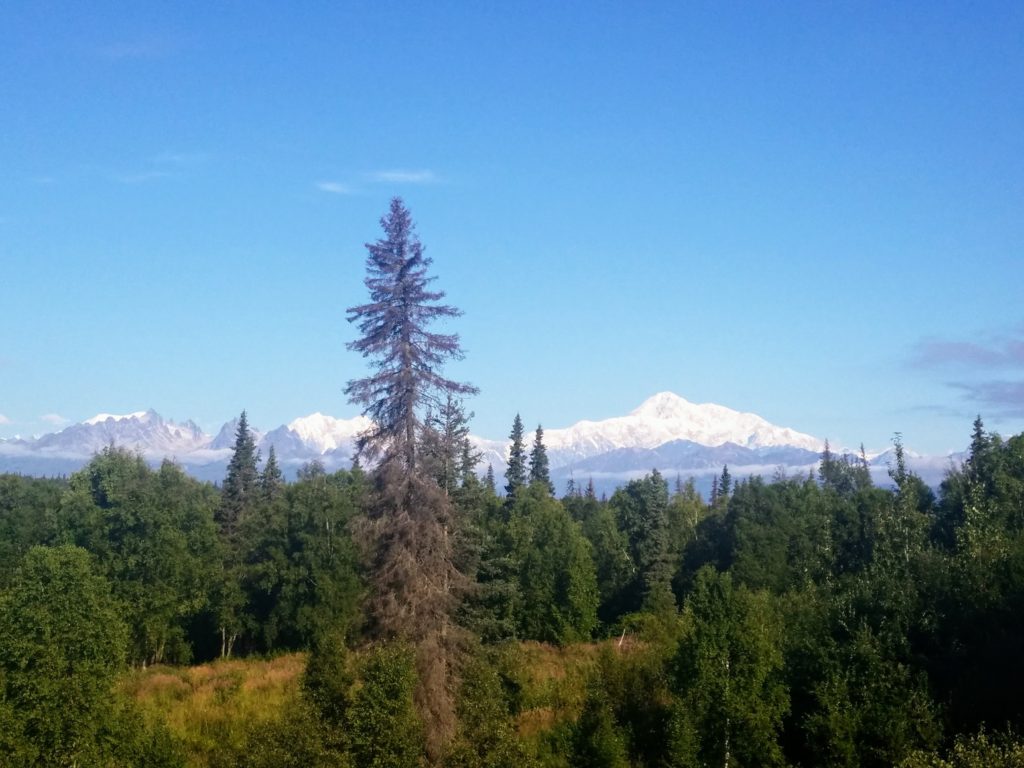 This marks the end of our land tour through Alaska. We loved being in Denali and highly recommend you spend some time inland. Our cruise ship left the port in Seward at about 9pm and our night was spent at sea!
Day 5: Cruising & Hubbard Glacier
Today, we continued to cruise the inner passage (southbound). We were working our way towards the Hubbard Glacier! The glacier is located in eastern Alaska and part of Yukon, Canada.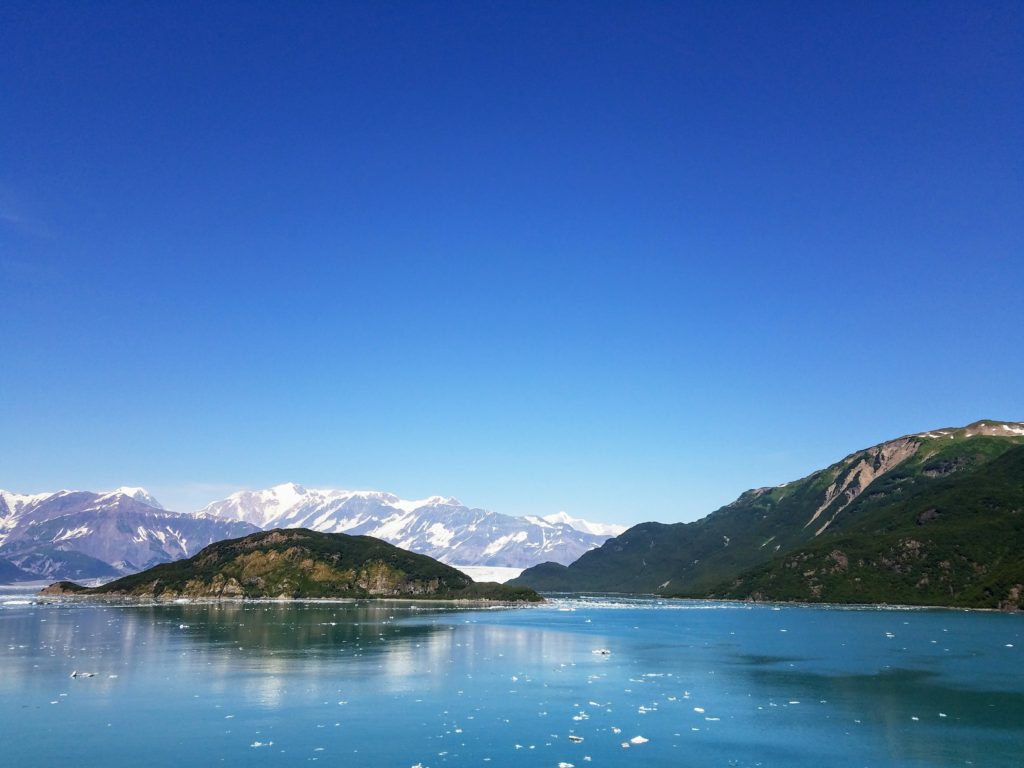 PRO TIP: Even though it's summer time, bundle up when you get near the glacier! You can feel the cold and wind coming straight off the glacier. We were constantly in shorts and t-shirts one minute, then long pants and jackets the next minute!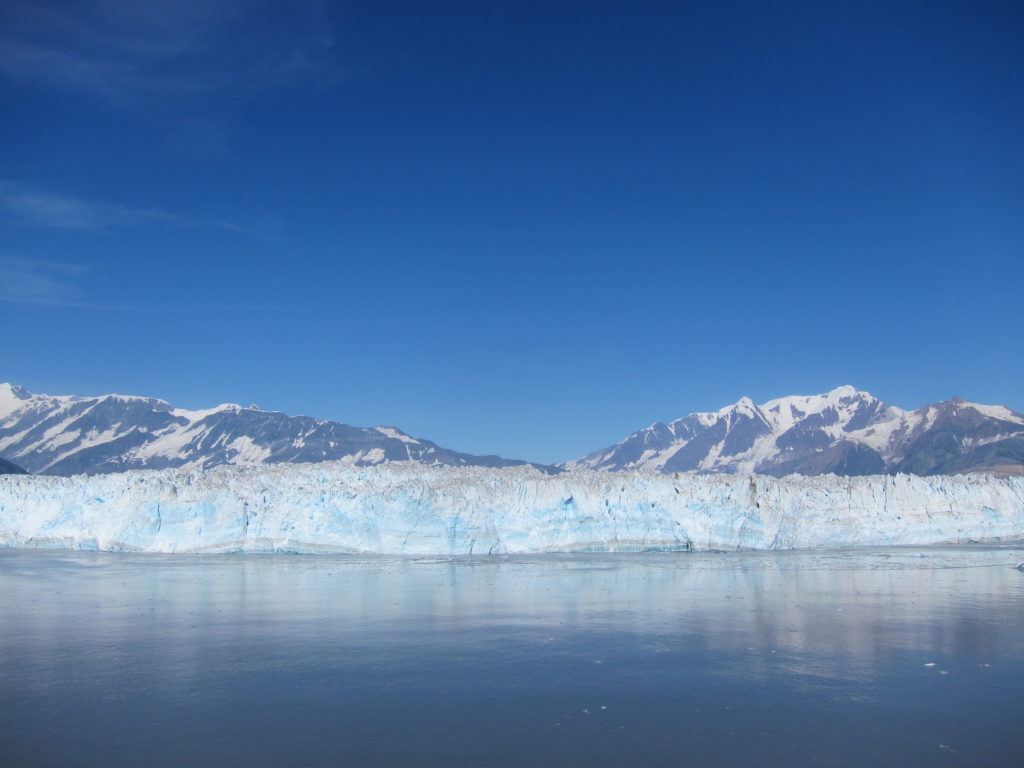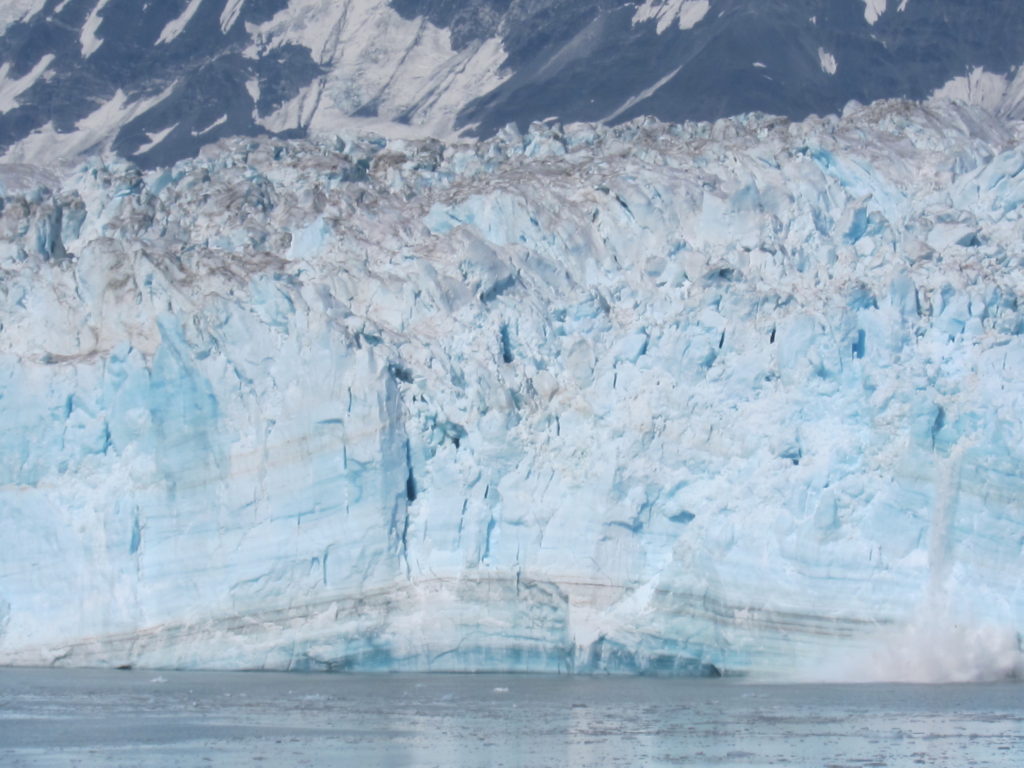 PRO TIP: Glacier calving is a very cool thing to experience. Listen for any loud cracks and ice breaks and you will likely encounter glacier calving!
The rest of our day was spent enjoying the activities onboard the ship. We played ping-pong, went to the casino, and relaxed in the pool and hot tubs! We had dinner reservations later that night at one of the nice restaurants onboard the ship and we were able to enjoy an amazing sunset view!
We were concerned that the majority of the passengers on the cruise ship would be much older than us and that we wouldn't find a younger crowd to hang with at night. However, we were pleasantly surprised and ended up finding a great group of people to hang with, and we did karaoke together every. single. night!!
Day 6: Icy Strait Point – Hoonah, Alaska
We arrived at our first destination at 9am, Icy Strait Point, which is located in Hoonah, Alaska. It functions as a cruise ship port and features various tours and trails through the Tongass National Forest. We had a total of 8 hours to explore here and venture off to our first excursion: Ziplining the world's longest ziprider! We booked our excursion through the cruise line for an 11:45am departure. This way, we had time to explore the area a bit before taking off.
PRO TIP: This excursion was an additional fee.
Our excursion started with a guided tour through the village of Hoonah and up to the top of the mountain. The views are breathing taking up here!
We then made our way to the zip line launching area, 1,300 feet high, where you will get strapped into a special harness seat. When it's your turn, you and 5 other people will launch off together accelerating as much as 60 mph and you pass along the treetops. The views from the zip line are incredible!!
PRO TIP: We were both SUPER scared to do this excursion, but had read so many amazing reviews about it. We consider this a must-do if you are here. You can't experience these sweeping views from anywhere else!
After surviving our zip line experience, we explored more of the town and some of the trails in the Tongass National Forest.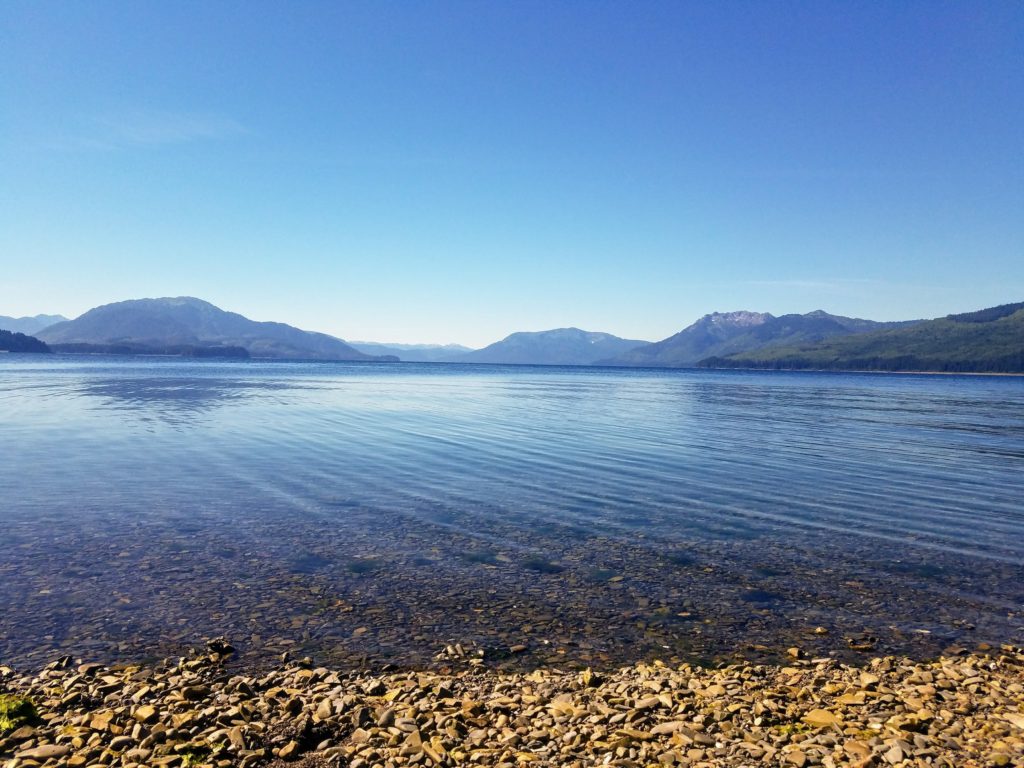 Back to the cruise ship for the rest of the evening!
Day 7: Juneau
We arrived in Juneau at 7am and had 6 hours here. We decided to part ways and do two different excursions. Caroline opted for the dog sledding and glacier helicopter tour and I did a helicopter glacier trek on Mendenhall Glacier. Both experiences were extremely worthwhile, you just have to decide what interests you more!
PRO TIP: Both excursions were additional fees.
The dog sledding excursion was about 3 hours and started with a helicopter ride from the Mendenhall Valley to the Juneau Icefield. The scenic helicopter ride takes you over glaciers and in-between mountain peaks until you land at the dog sledding camp on Herbert Glacier. The excursion includes a tour of the kennel, followed by your dog sled ride and close encounters with the huskies!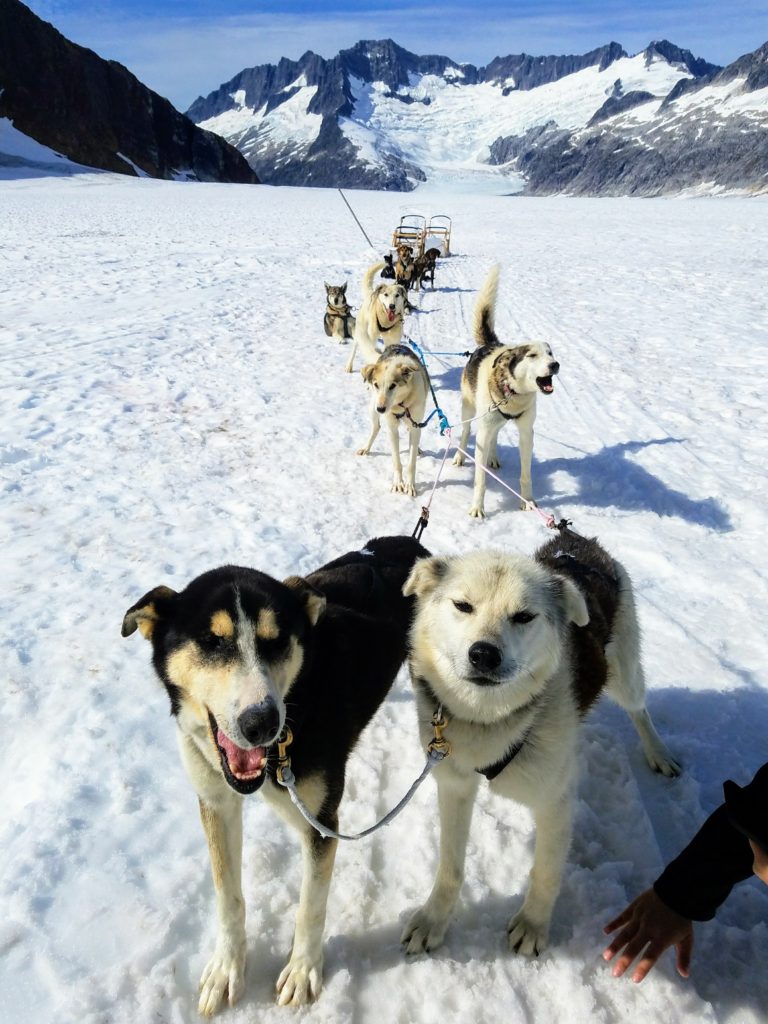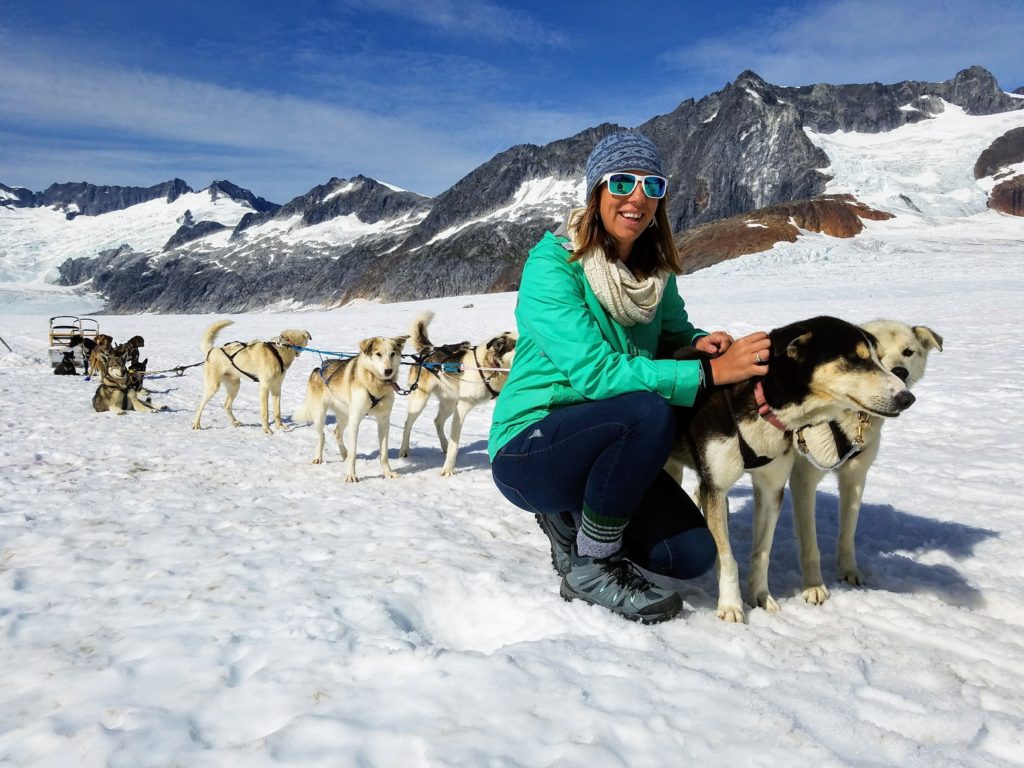 PRO TIP: You should dress in layers with a coat, warm socks, bring gloves, a hat, and sunglasses to protect your eyes from the glare off the ice. You are provided with glacier over-boots which fit over your sneakers.
The helicopter glacier trek is a 2 hour excursion with a trek through a glacial ice scape. After you are outfitted with your gear, you board a helicopter for a scenic flight that takes you to your trekking site. You will soar over the Tongass National Forest, viewing the dramatic mountain ranges, expansive flows of ice, until landing on a glacier of the pilots' choice (depending on conditions to give you the best views of the day). You may visit any of the following glaciers: Mendenhall, Taku, Norris, Herbert, Gilkey, Battle or Thiel. We went to Medenhall today!
PRO TIP: The guides teach you to how to properly use the mountaineering gear so remote ares of the glacier can be accessed. Everything you need to wear is basically included: wind/water-proof outerwear, boots, gloves, ice axe, gaiters, crampons, harness, and helmet. You should dress in comfortable layers and bring sunglasses to protect your eyes from the glare off the ice.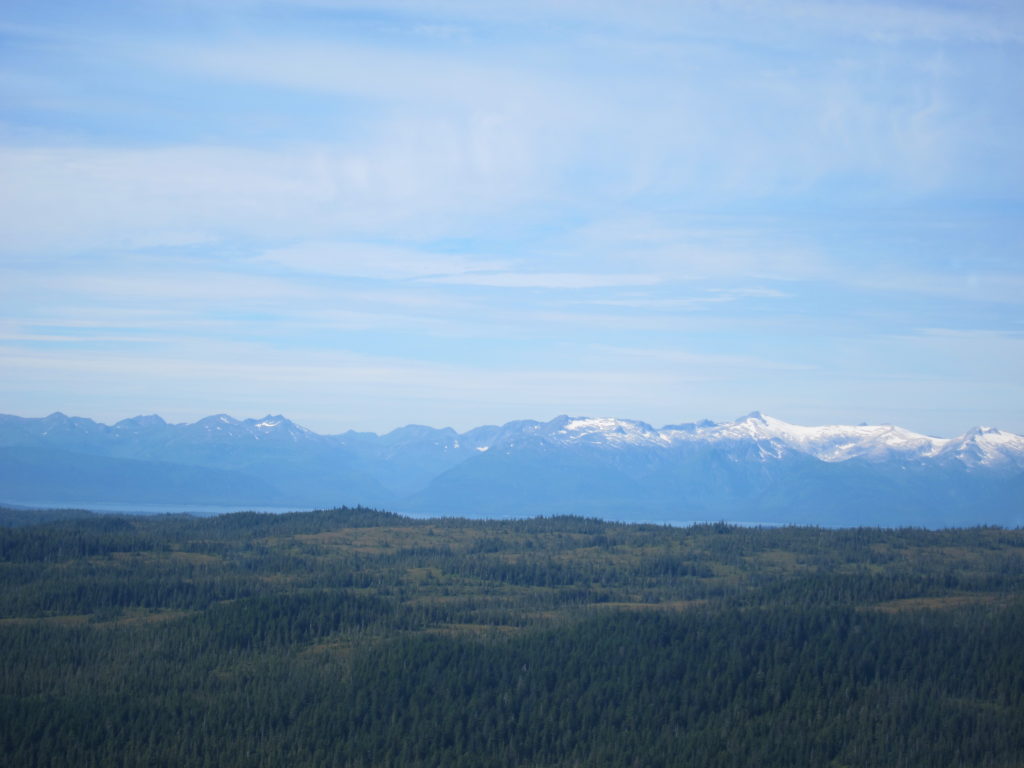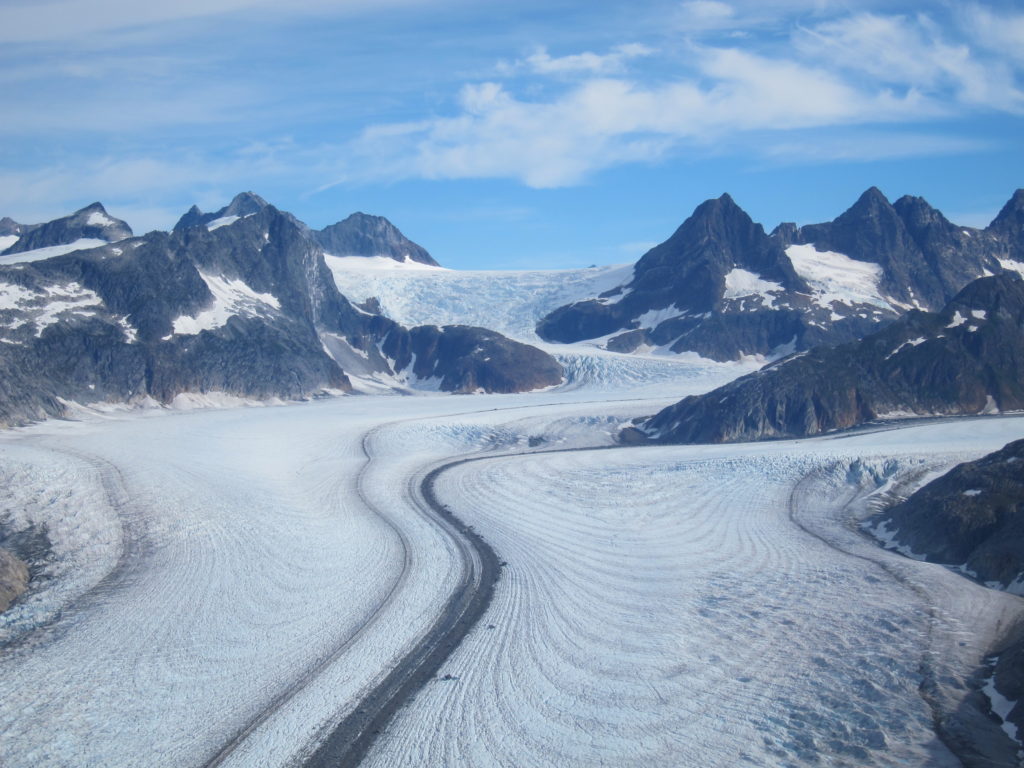 Upon landing at the base camp on the glacier, your guide will outfit you with crampons, a helmet, and an ice axe to make it easier to walk on the icy terrain.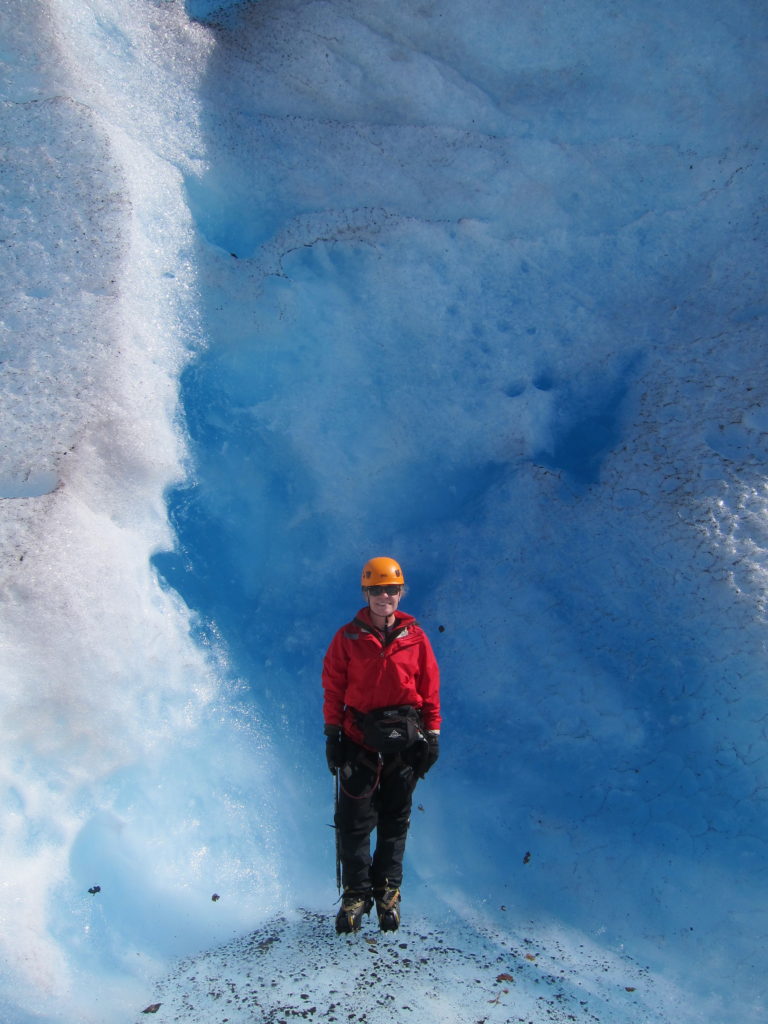 After our tours, we boarded the cruise ship and sailed from 1:15pm until docking at our next destination at 7am the next morning!
Day 8: Skagway
We arrived in Skagway around 7am and quickly had to board our rail/bus tour of the Yukon Territory in Canada.
PRO TIP: This excursion was an additional fee. Most of these ports/towns are small and very touristy. It is almost necessary to book an excursion to see anything!
We boarded the White Pass & Yukon Route Railroad for a 1 hr 45 minute journey following the Skagway River up to the White Pass Summit. Once we arrived in Fraser, British Columbia, we transferred to the tour bus for a beautiful, scenic journey of the famous Klondike Highway! Along the way you will make several stops at some of the most famous sites: the "Welcome to the Yukon" sign, Bove Island lookout, Carcross – the world's smallest desert, and Emerald Lake -the Yukon's most photographed lake.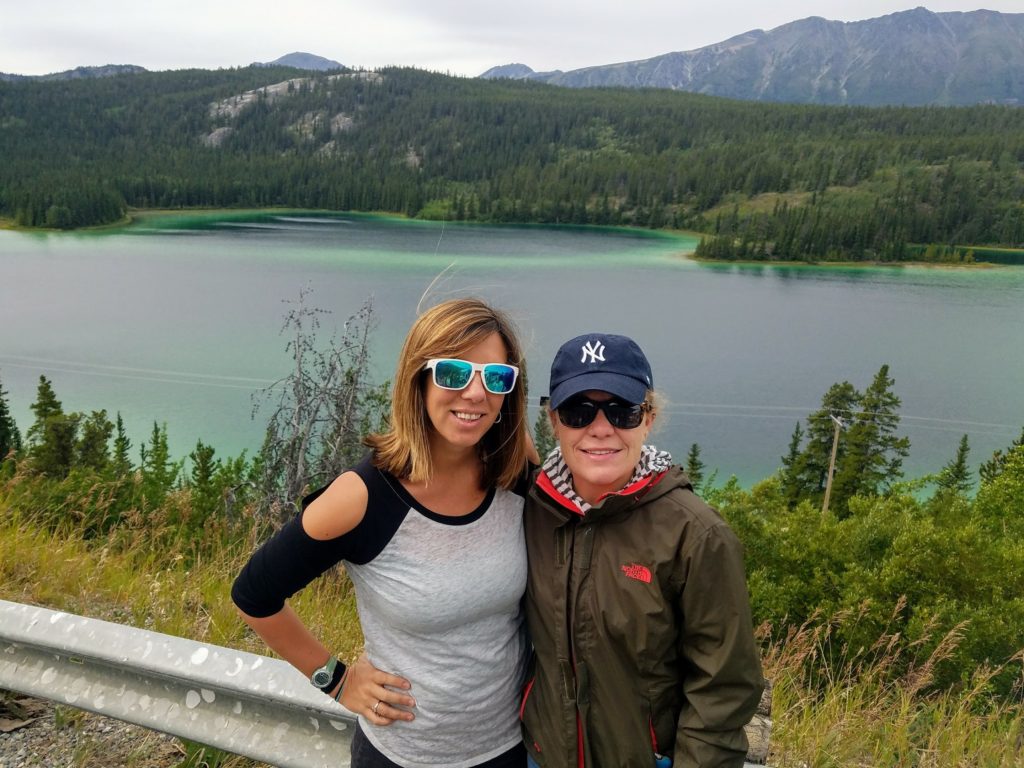 Our next stop was for a little over an hour at the Caribou Crossing Trading Post where we could get a hot, bbq chicken meal, view the Husky Puppy Camp, and the Yukon Wildlife Museum.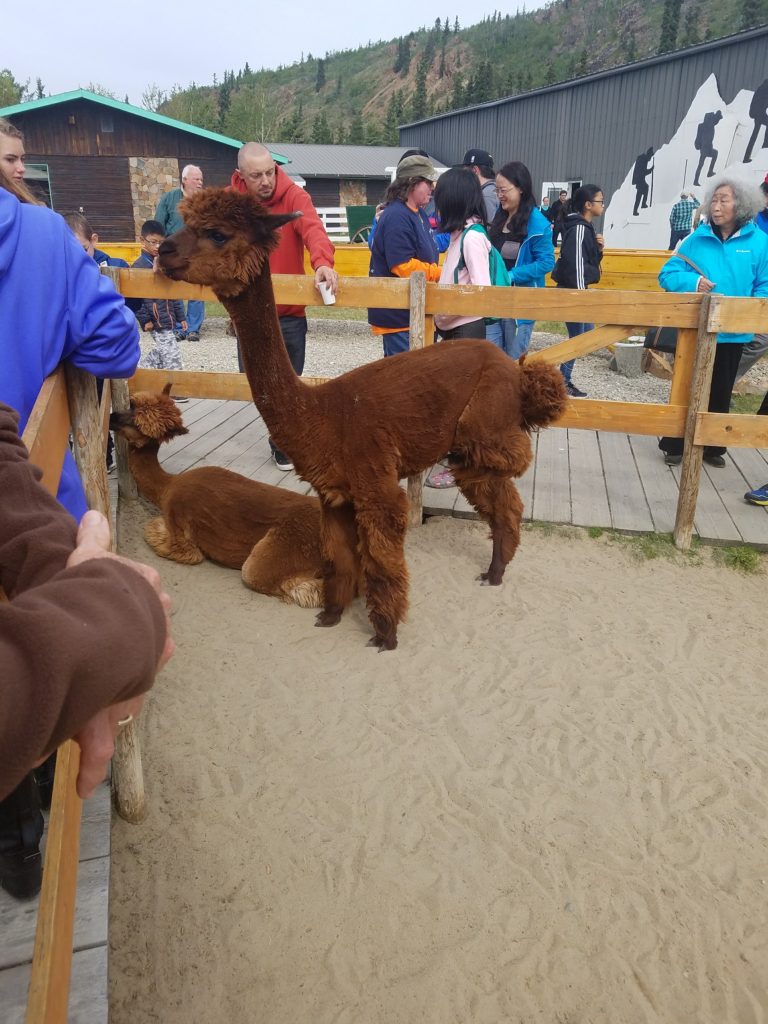 Back to the ship, where we will sail from 5pm until 1pm the next day!
Day 9: Ketchikan
We arrived in Ketchikan at about 1pm the next day. We had booked a flight seeing tour of the Misty Fjords in advance. However the weather did not cooperate that day and all flight tours were cancelled. We were refunded our money. Luckily, the famous Lumberjack show had availability in one of the afternoon shows, so we got tickets to that! This was so fun to watch! We recommend this experience if you have the time and money! (Although, we were still very disappointed about the cancelled flight tour…)
Following the show, we explored the town a bit, the shops and walked to the Totem Pole Heritage Center. Ketchikan seemed very touristy, like many of the other stops, so again, we feel it is necessary to spend the extra money for an excursion or show!
We boarded our ships and left Ketchikan around 8pm.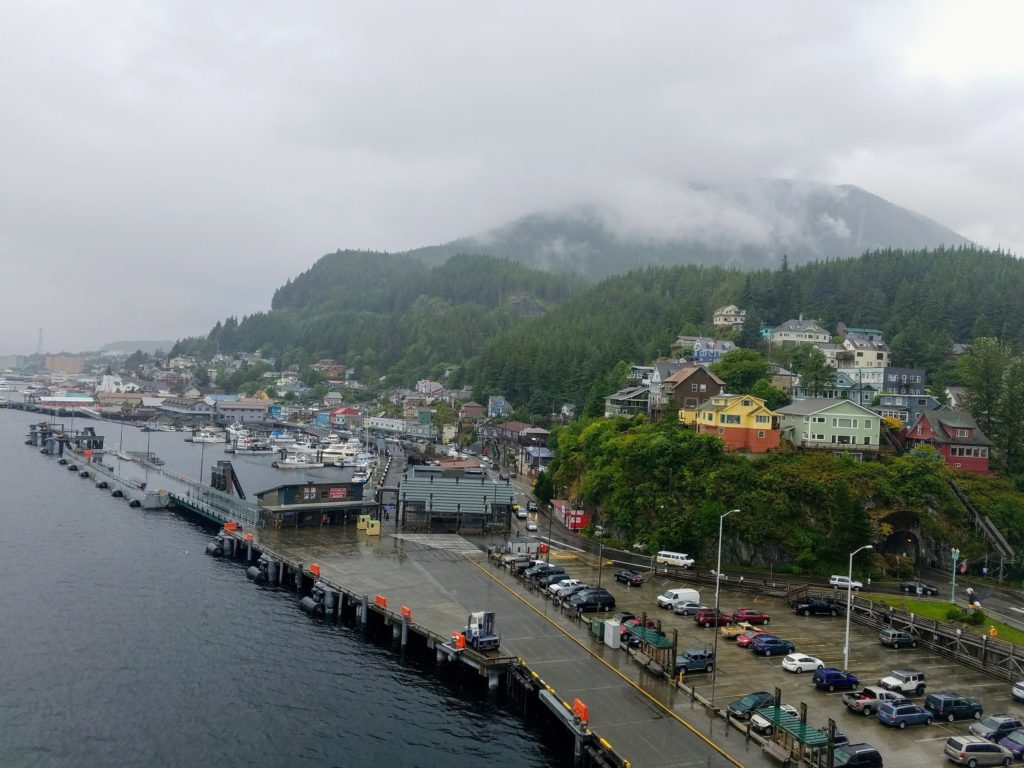 Day 10: At Sea
Today, we spent the day at sea cruising the inner passage. We are making our way to our final destination: Vancouver, British Columbia, Canada!
Day 11: Vancouver, B.C., Canada
We arrived in Vancouver! From this point, you could fly home (which is what Caroline had to do because of work) or you can stay in Vancouver (if your schedule allows) which is what I did. Caroline took the Canada Line (train) to the Vancouver Airport, which runs about every 8 minutes. I ended staying in Vancouver for 5 more days, since I had never been! And, my good friend Krista flew out to meet me 🙂 You need to make the most of your time, am I right?! We checked into the Metropolitan Hotel for the rest of our stay.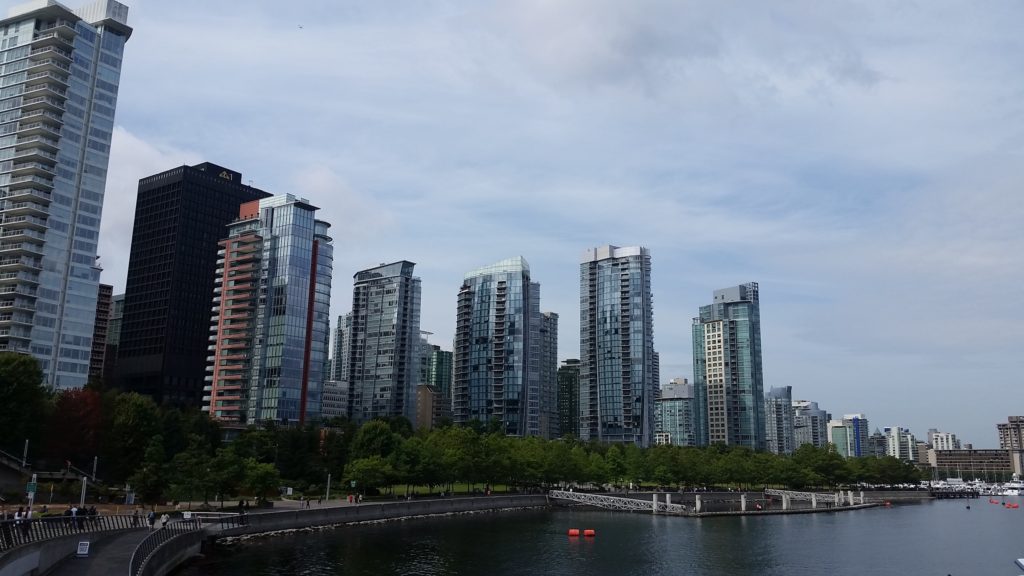 Check out our blog post about "The Best of Vancouver in 4 days".
As always, if you have any questions, you can contact us here.