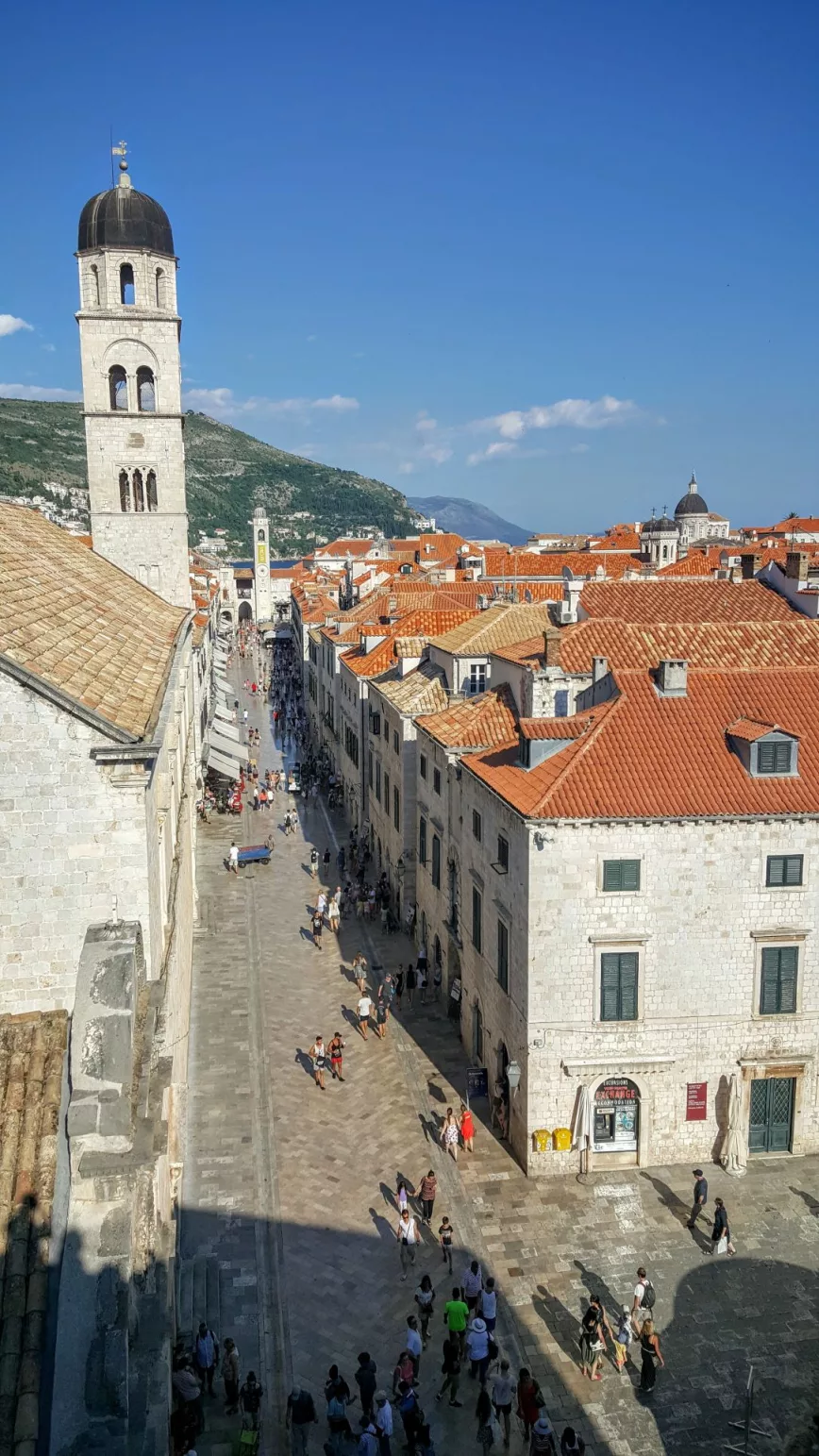 Countries: Italy, Croatia
Cities: Milan, Cinque Terre, Florence, Venice, Dubrovnik, Split, Zadar, Plitvice
Highlights: Gallery Vittorio Emanuele II, Duomo di Milano, Gondola Ride, Dubrovnik City Wall, Betina Cave Beach, Diocletian's Palace, Sea Organ, Plitvice Lakes National Park
Croatia has been on our bucket list for some time, but we didn't realize how much cheaper it would be if we flew to Milan first (note: your mileage may vary depending on flight prices at the time of booking). This itinerary starts with 4 days in Italy, making Milan our home-base and taking day trips, and then heads over to Croatia for the remainder of the trip.
Day 1: Exploring Milan
After an overnight flight landing in Milan Malpensa Airport, we grabbed train tickets to Milano Centrale, or Milan Central Station. As we were taking many day trips from Milan, we wanted our lodging to be easily accessible from the main station. Ostello Bello Grande fit the bill! This adorable and clean hostel is just 100m away from the station, making it a perfect home-base for our time in Milan.
After checking in and getting settled, it was time to start exploring Milan. We hopped on the metro and headed towards the Brera district, the artistic heart of the city. First things first: it was time to eat! How better to start our trip than some authentic Italian pizza!
After lunch, we walked over to La Scala, the Milan opera house. Some of the greatest singers of the past 200 years have sung here, and although we didn't have time for a show, it was still great to see it from the outside!
Our walk continued to Gallery Vittorio Emanuele II, Italy's oldest active shopping mall and one of the most luxurious boutiques in Milan. The gallery contains many brands such as Gucci, Prada, and Louis Vuitton, but is also home to many other boutiques and restaurants. Do not miss this iconic stop when in Milan!
From the Gallery, we continued walking towards Duomo di Milano, the Milan Cathedral. This beautiful cathedral was constructed over 5 centuries and is the 5th largest Christian church in the world! We recommend purchasing tickets in advance, as entrance lines can be quite long.
PRO TIP: There is a dress code to enter il Duomo. No bare shoulders, no shorts, no flip flops. Men must remove caps, and no sunglasses can be worn inside. If you do not have a jacket, there are usually people selling shawls outside of the entrance to cover yourself.
After a tour, we wandered around the beautiful streets admiring the gothic architecture. We passed several gelato stops and finally caved – it was totally worth it!
Our last stop of the night was at Sforzesco Castle, a historic castle once occupied by the Sforza dynasty, who ruled Renaissance Milan. Today it houses many interesting museums, which highlight the history of Milan. Tickets can be purchased in advance or at the door.
PRO TIP: The museums are closed on Mondays. There is free entry every first and third Tuesday of the month from 2:00pm on.
Day 2: Cinque Terre/Florence
After enjoying the free breakfast provided by our hostel, Jenny and I decided to part ways for our own day trips. Jenny had already been to Cinque Terre, but I had not, so I journeyed to Cinque Terre for the day . Jenny decided to visit the city of Florence for some art appreciation.
Day 3: Venice
On this day, we decided to take another day trip. We booked a full day tour to Venice! You can find the itinerary here.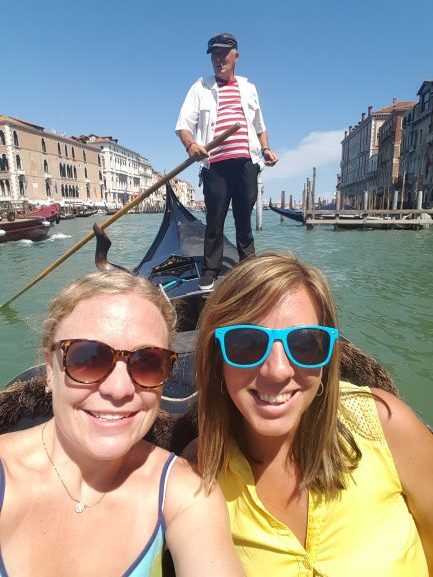 Day 4: Milan to Dubrovnik
After checking out of our hostel and boarding the train at Milan Central Station, we headed towards the airport to grab our easyJet flight to Dubrovnik, Croatia (purchased in advance). After landing in Dubrovnik, we had an airport shuttle service waiting to pick us up and take us to the city center, or Old Town Dubrovnik (also purchased in advance).
PRO TIP: There are many ways to get to the Old Town from the airport, including taxi, Uber, or private shuttle, but the cheapest seems to be the shuttle bus, which can be purchased at the airport. Make sure to check their time schedules before planning your trip!
The half hour drive from the airport to Old Town was beautiful. The roads wind along the blue coast and you can see Dubrovnik from up above. Make sure to sit on the left side of the bus!!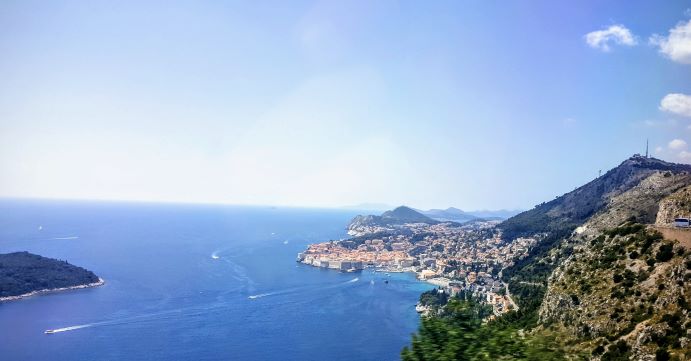 The bus drops you off at Pile Gate, or the main entrance into Old Town Dubrovnik. Although very crowded, this is a beautiful spot to stop and take some pictures of the wall that surrounds the city from the outside. Note that this wall is considered to be one of the greatest defensive systems in the Middle Ages, and were never breached by a hostile enemy during this time period!
After passing through the Pile Gate, you are on the Stradun, or the main thoroughfare through Dubrovnik. This limestone street is only open to pedestrians and is lined with restaurants and shops. The "street" is so polished that it almost is slippery at times, so be careful!
After passing many other landmarks (which we later come back to without all of our belongings), we finally managed to find our Airbnb and got settled.
It was time for lunch, and with plenty of nearby options, we settled for an outdoor cafe in nearby Gundulic Square.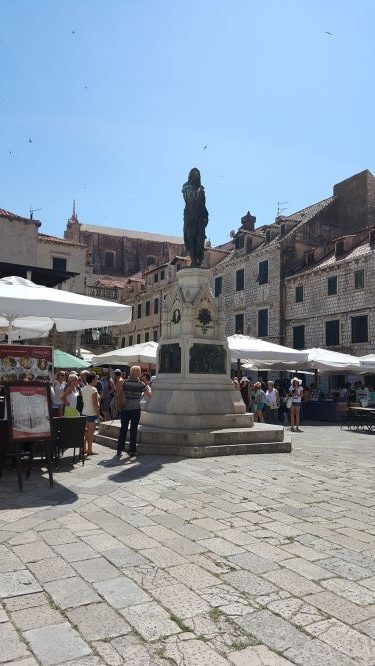 Next, we wanted to check out the cliffside bars that we had heard so much about. Just a quick walk and we found Buza Bar, a bar built into the side of a cliff! This would later become a great sunset spot (more to come on that later)!
Now it was time to walk the Dubrovnik City Wall! The walls that surround the city are roughly 2km in length and have plenty of steps (although it's not unmanageable). There are several entrances, and although we bought our ticket on the day of, it is now highly recommended that you buy them in advance.
Walking the walls takes about 2 hours, but probably more if you're like us and need to stop every 5 ft to take a picture of the marvelous surroundings. This walk should not be missed!!
After the city wall, we walked back to our Airbnb to meet up with our friend who would be joining us for the rest of our trip, Jess! We got ready and headed back towards Buza Bar to catch up over drinks and a beautiful sunset.
PRO TIP: It gets EXTREMELY crowded for sunset – make sure to get there EARLY if you want any kind of seat at all. Many people just made themselves comfortable on any rock they could find.
After the sun had set, we headed back towards Gundulic Square and ate dinner outside in the shadows of beautiful St. Ignatius Church.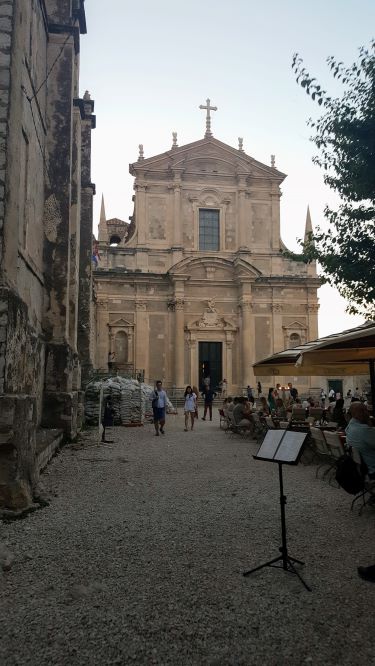 After dinner, we went out on the town to check out the nightlife. There are plenty of options, but we ended up at the Gaffe Pub, which was a lively pub with locals and tourists alike, before calling it a night.
Day 5: Kayak tour and drive to Split
Dubrovnik is well known for it's great kayaking and snorkeling destinations. We booked a kayak tour, leaving in the morning from the Pile Gate. The tour first took us around Lokrum Island and into the Betina sea cave, where we were free to get out and swim around the cave.
PRO TIP: If you are not an experienced kayaker, don't worry! This tour is for all skill levels and you can choose either a 1 or 2 person kayak.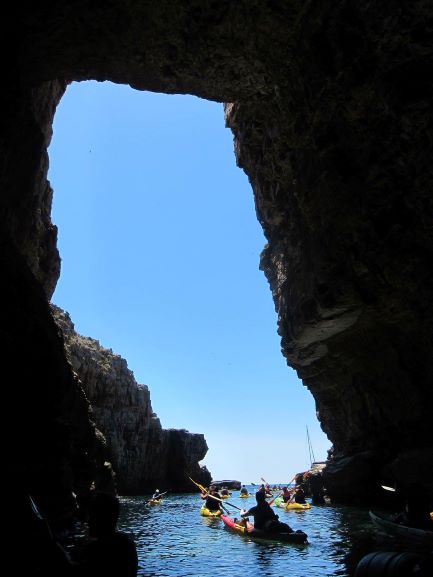 Next we headed to the Betina Cave Beach, where we were provided lunch and snorkeling gear. We had a wonderful time relaxing and swimming in the crystal blue waters.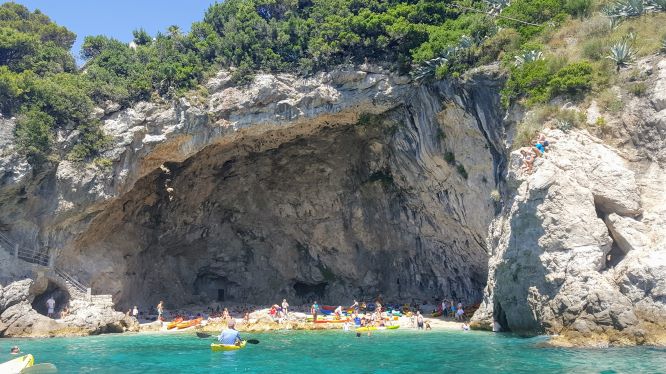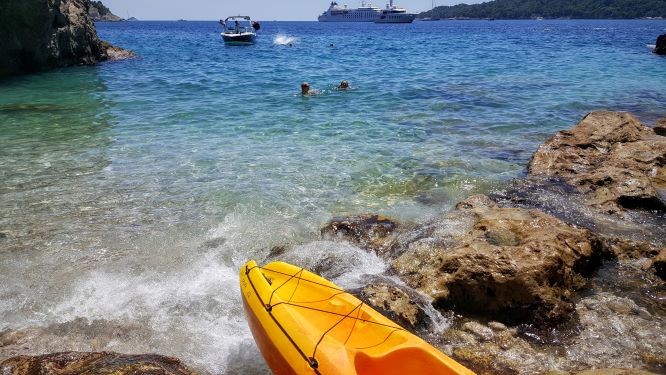 Eventually we were forced to leave the beach and head back past the Dubrovnik city walls and to Pile Gate. This was a great way to see Dubrovnik from a different perspective, and I'd definitely recommend a kayak tour if you get the chance!
After the tour, it was time to head back to our Airbnb, pack up, and hit the road. Our next stop would be the town of Split. We opted to rent a car through Discovery Car Rental, whose office was located near the cable car in Dubrovnik.
PRO TIP: There are several ways to get to Split from Dubrovnik, including bus or even boat! Because we eventually wanted to go to Plitvice Lakes, renting a car allowed us the flexibility we wanted at a reasonable cost! We had no issues using Discovery, so we would recommend them if you're looking to do the same.
After picking up our car, we started the 3 hour journey along the coast towards Split. This was a beautiful ride, and we even got to stop for lunch in another country – Bosnia and Herzegovina!
PRO TIP: There are two ways to get to travel north of Dubrovnik – coastal route or the highway route. The coastal route will take longer, but will be way more scenic! Also, you will only travel through Bosnia and Herzegovina for about 20 minutes. Have your documents in order when you reach customs and let them know you are just passing through. An easy way to add a stamp to that passport! 🙂
We arrived in Split around 7:30pm and made our way to our next Airbnb, located near the old town and the beach. After getting ourselves ready, we headed out for dinner (around 9:30pm!). Restaurants were still open and the streets were still bustling. We opted for an outside dinner at No Stress Bistro, which had a wonderful view of the Old Town Hall.
After dinner, we wandered around the Old Town and came upon Diocletian's Palace, one of the main attractions of Split. These ruins are some of the most valuable surviving buildings of the Roman era on the Adriatic coast. This site can't be missed, especially at night!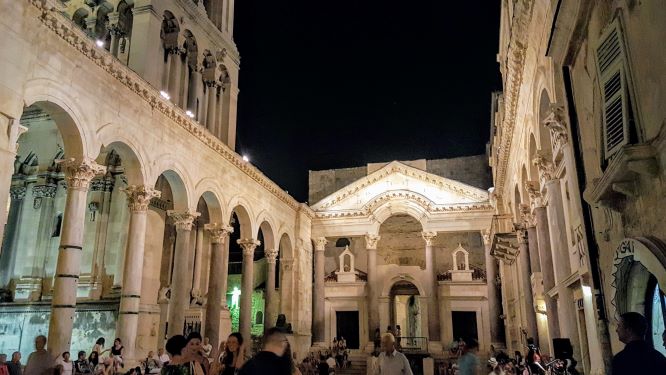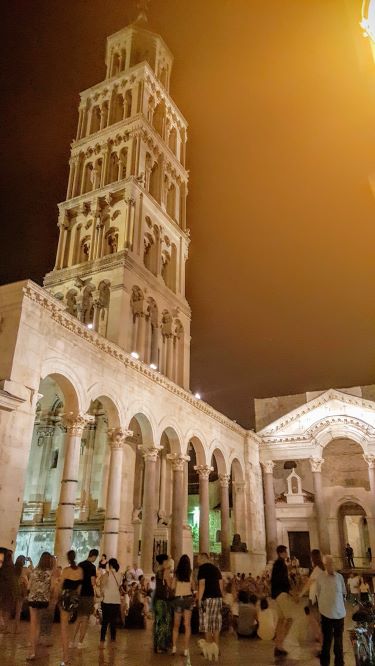 We continued walking around the various streets until we found the Silver Gate, a gate once used to enter the Palace grounds. The ruins are still very much in tact.
Finally, it was time to head back to our Airbnb and call it a night.
Day 6: Exploring Split
We left this day pretty open as the rest of the trip up to this point had been packed. It was time for a relaxing beach day! Bacvice Beach was the closest beach to us so we grabbed our towels and headed that way. We ate breakfast at one of the many cafes along the beach, Cafe Bar Zbriac.
This beach was VERY popular, with crowds as far as the eye can see. We opted to rent loungers and umbrellas, but it's not necessary to do so. The water was clear and beautiful and there were many concessions nearby (including towels, should you need to buy one). If you don't mind crowds, this is a good beach to visit.
We took a stroll along the beach and eventually found Firule Beach. The view was beautiful, but the beach was rocky, so we opted to stay at our sandy beach. However, if you have the time, we recommend this walk just for the view!
After a nice, long, relaxing day at the beach, we wanted to see what Split looked like during the day time. We went back to our Airbnb, freshened up, and headed back towards the Diocletian Palace. The Palace was just as beautiful in the day time, but now we had the option to climb the bell tower!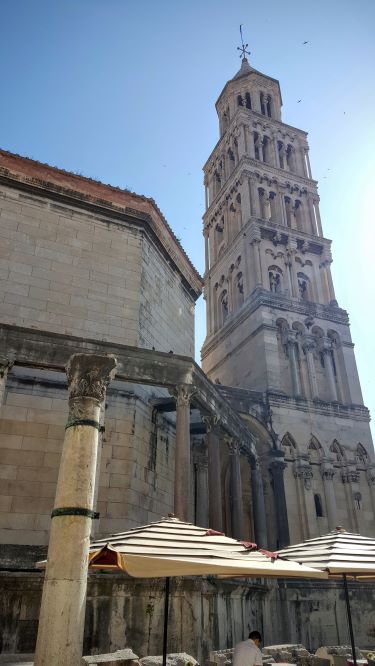 I will warn you – this is not for the faint of heart. Jenny barely made it halfway up before having to turn around, and although I'm typically not afraid of heights, this was VERY dizzying. The views at the top were totally worth it though!
Next, we headed underneath the palace and found many charming stalls filled with artwork and other various souvenirs. This is a great place to pick up a gift!
As it was going close to sunset time, we headed to the Split Ferry Port. This spot has a great view of the sun setting over the main promenade of Split!
After sunset, we grabbed dinner and drinks at Design Hostel Goli & Bosi, which is both a hostel and a restaurant with convenient outdoor seating. We had a night on the town, bouncing around the various bars Split has to offer.
Day 7: Split to Plitvice via Zadar
On this day, we decided to head to Plitvice Lakes National Park, about a 2.5 hour drive from Split. Zadar was pretty much right on the way, so we decided to make a stop in this city, home to the Sea Organ. Compared to the hustle and bustle of Dubrovnik and Split, Zadar seemed almost empty. It was actually a nice relaxing retreat, and we walked around the limestone streets looking at the various ruins.
The most crowded spot we found in Zadar was the Sea Organ, which is a set of stairs on the coast designed to push the wind through in an organ-like fashion. We sat and listened to the music for a bit, before heading on to Plitvice Lakes.
In Plitvice, we stayed at Falling Lakes Hostel, an affordable hostel nearby that offers free shuttle transport to the park. The area around the hostel was mostly cute houses and farmland, and we saw lots of sheep while walking to a nearby restaurant, Restoran Sapina, for dinner.
Day 8: Plitvice Lakes National Park
Plitvice Lakes is the oldest and largest of Croatia's National Parks. The park is made up of 16 turquoise-colored lakes connected by various waterfalls. As this is one of Croatia's most beautiful destinations, it is highly recommended you purchase tickets in advance. You can either purchase tickets through the park, or through Viator if you'd like a guide.
We arrived at the park early to try and beat the crowds. The entire walk through the park takes about 4-5 hours, mostly along wooden slats (sometimes uneven). However, if you're like us and stop to take a million pictures, it could take up to 8. There are restaurants inside the park, but I'd advise bringing water and snacks (or even pack a lunch!) to save money.
The next 6 hours was spent on the trails in the park taking pictures (you will be given a map upon arrival). Here are just a few: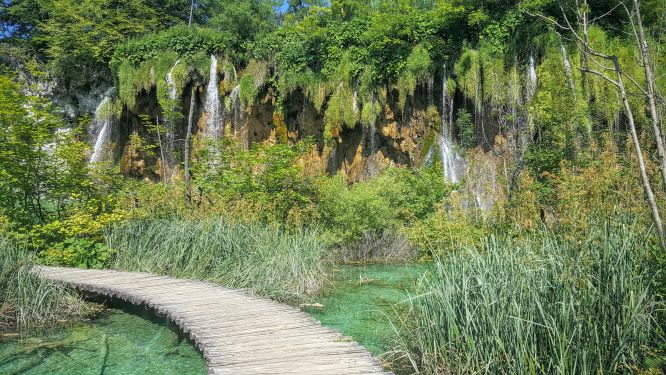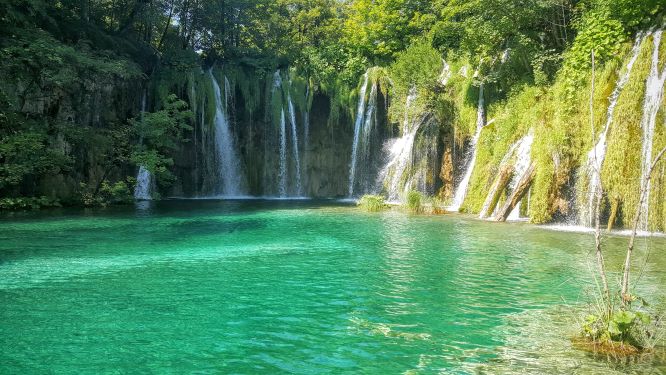 PRO TIP: Don't forget to explore the hiking paths that lead up above the water line! You will get some of the best overall views from the top.
After grabbing lunch, it was time to head back to Dubrovnik. The drive back is about 5 hours long, and again goes through Bosnia and Herzegovina for a very short time. We stopped several times to take pictures of the sunset, which was well worth it. We took the highway route back to Dubrovnik since we did the more scenic, coastal route on the way up.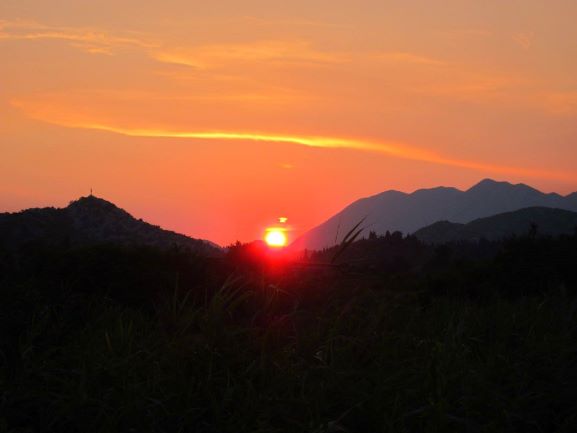 We arrived back in Dubrovnik after dark, returned our rental car, and checked in at our Airbnb, which is no longer listed but was out of Old Town and closer to the airport shuttle pick-up.
Day 9: Return to Milan
We spent the relaxing morning eating breakfast on our patio overlooking Dubrovnik.
After breakfast, we headed back to the Dubrovnik airport (our AirBNB owner drove us), caught our flight to Milan Malpensa, headed back to the Milan Central train station, and took the metro back to last hostel: Ostello Bello Medici.
We only had a couple of hours to see the last of Milan, so we headed over to Colonne di San Lorenzo, or the Columns of St. Lawrence. This is a group of columns from the 3rd century AD, probably at one time a public bath house.
Next, we went to Porta Ticinese, a former city gate of Milan.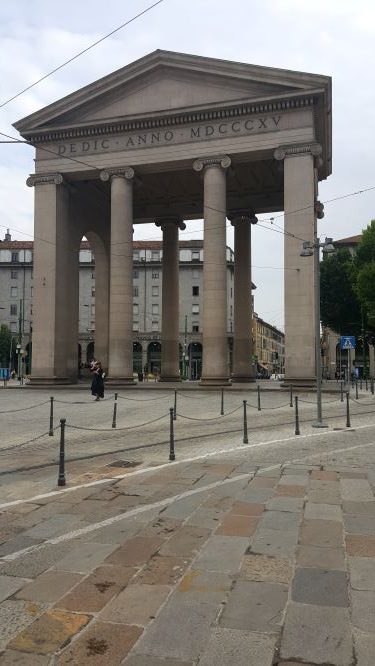 We found dinner at a nearby restaurant, and then took advantage of the free welcome drink back at our hostel. The rest of the night was spent making friends with other travelers and locals at the hostel bar. The friendly atmosphere of this hostel bar made our last night in Italy a fun one!
Day 10: Return to USA
Unfortunately all trips must come to an end. We took the bus (as advised by the hostel) back to the Milan airport and flew back to the USA. Luckily, we got a beautiful view of the Alps as we left!
As always, if you have any questions, feel free to contact us here.