Country: USA
Cities: Gatlinburg, Nashville
Highlights: Great Smoky Mountains, Country Music Hall of Fame, The Station Inn, Mammoth Cave National Park
Every year, we try to take a long weekend trip sometime in the fall. We typically choose our destination by cheapest/best flight we can find. Knoxville happened to have VERY cheap flights through AllegiantAir, so our decision was made for us. We would rent a car, check out the foliage in the Smoky Mountains, do a road trip to Nashville and be home in under 4 days.
Day 1: Smoky Mountains
Our flight landed in Knoxville in the early afternoon. We rented a car through Avis, located in the airport, and were on our way to Gatlinburg, a mountain town located at the base of the Smoky Mountains (about an hour's drive from Knoxville). We stopped for lunch at an adorable restaurant called Sweet P's, where we got a taste of some real southern BBQ. It was amazing!
In Gatlinburg we decided to stay at an Airbnb which was actually a camper! It was away from the hustle and bustle of Gatlinburg but still close enough to the Smokies, and we enjoyed the feeling of being in nature rather than in a tourist town (but to each their own).
We decided to start our day with a drive around Cades Cove, an 11 mile one-way loop which offers some of the Smokies' best views and chances to see wildlife. Unfortunately we had a bit of a cloudy day, but that didn't stop the foliage from showing off it's beautiful colors.
That night we grabbed a pizza at Taste of Italy in Gatlinburg, brought it back to our camper and relaxed for the rest of the night (a great way to save money as opposed to eating out!).
Day 2: Smoky Mountains and Nashville
As time was short, we woke up early to get started on the day. We wanted to spend most of the morning driving through the Smoky Mountains and then make our way to Nashville for the afternoon/evening. We made our drive through Gatlinburg to the entrance of the National Park and as is tradition, we stopped at the sign.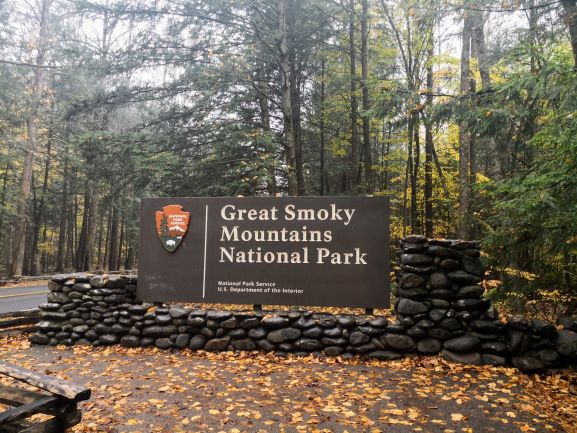 There was no schedule or itinerary here. We simply drove around the roads in the National Park (mostly HWY 441), stopping at any overlooks or interesting landmarks. It unfortunately rained all morning, making hiking a poor option.
We went to Clingman's Dome in the hopes that maybe the fog had moved on, but no luck. Below is the best view we had of any overlooks, although the tree-lined roads were still very beautiful.
Slightly defeated, we decided to head on towards Nashville and have more time there instead. It's about a 4 hour drive, and we arrived there around 2:30pm.
Our first stop in Nashville was the Country Music Hall of Fame. This museum is very interesting – even if you're not the biggest country music fan! We saw memorabilia, rare photographs and learned many interesting facts about specific artists, songs and events in country music history. We spent about 2 hours here, but you could definitely spend more if you read every display.
Next, we headed towards our Airbnb, which is no longer listed but was in East Nashville, about a 10 minute Uber ride into the heart of Nashville. We grabbed dinner at Whiskey Kitchen, which had a great atmosphere (we sat outside under the heaters!) and delicious food. This was also great because it was only a 5 minute walk to our next stop, The Station Inn. The Station Inn is known as one of the best bluegrass bars in Nashville and it didn't disappoint!
PRO TIP: The Station Inn only accepts CASH. Seats are first come first served and it gets PACKED, so be sure to get there early. Food options are limited, so eat dinner before-hand.
After the amazing bluegrass show, we opted for a night on the town. In Nashville, the most famous street is Broadway between 1st and 5th Avenues, better known as "Honky Tonk Row". Most bars offer live music with little to no cover charge (although the bands do appreciate tips!). We had a great time hopping from bar to bar, watching all of the different bands' different variations on famous covers.
We discovered one bar slightly off Broadway, the Wildhorse Saloon, that was HUGE. It was 2 levels with several bar areas and a giant dance floor! They even did line dance lessons, so we got up there and danced our hearts out (even if we weren't the best!). It was a great time, and we still use that dance at other events!
Most bars close in Nashville at 3am, so make sure you're ready for a late night! 🙂 After closing, we picked up some food from a nearby food truck and Ubered back to our Airbnb.
Day 3: Nashville and Mammoth Cave
As one might expect, we slept in on this day. At around 11am, we drove over to Centennial Park to visit the Parthenon. This is a full-scale version of the Parthenon in Greece and also serves as Nashville's art museum. Even if you don't go inside, this is an interesting stop (especially if you haven't made it to Greece yet!).
PRO TIP: The Parthenon is closed on Mondays. Otherwise, visiting hours are 9am-4:30pm Tues-Sat and 12:30pm-4:30pm on Sunday.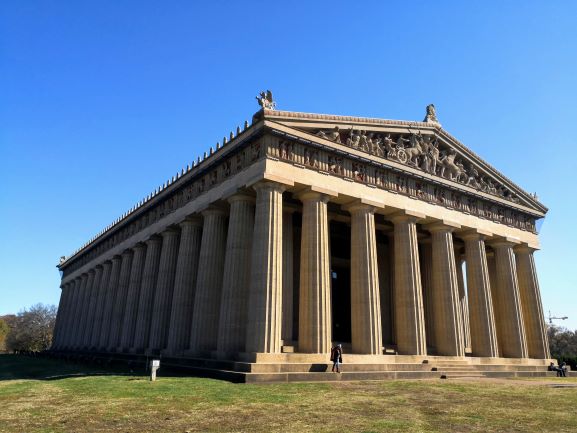 After that, we were on our way to Kentucky! After about an hour and a half drive, we arrived at Mammoth Cave National Park, the longest known cave system in the world! With over 400 miles to explore, there is plenty to see and do here! There are several tour options of varying lengths and difficulties, so be sure to research which one fits best for you!
PRO TIP: Purchasing tickets in advance is HIGHLY recommended. We arrived at around 1pm and tickets for EVERY tour were sold out except for their shortest, family-oriented tour.
We entered the cave with our tour guides and were blown away by the size of it! As you walk through the cave, marvel at the size of the different "rooms" and Native American artifacts left behind from thousands of years ago!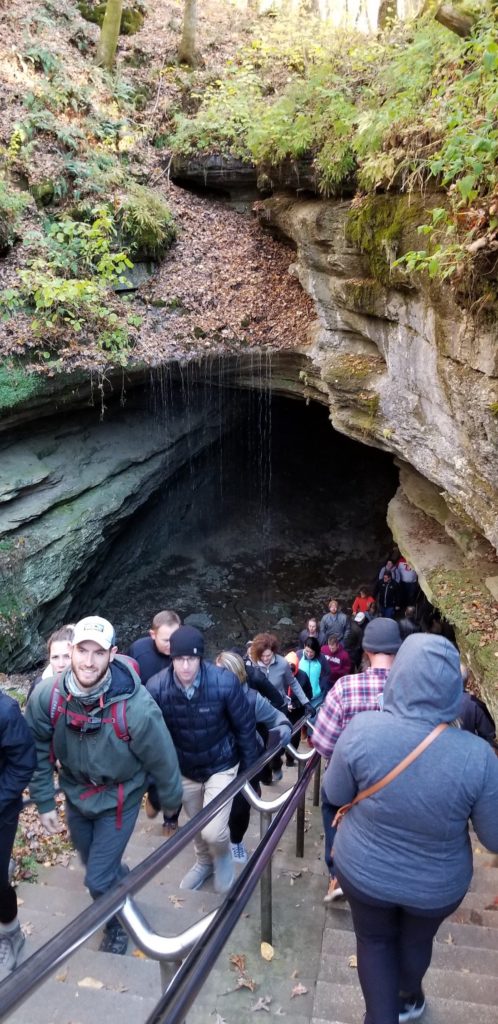 To be honest, this cave was VERY impressive, but the long drive (in the opposite direction of Knoxville) was probably not worth it for such a short tour. If you are following this itinerary, make sure to book a longer tour in advance to get the most of out it!
Lastly, we had our 4 hour drive back to Knoxville. We stopped at Lefty's BBQ for our last southern dinner of the trip and checked into our Airbnb right near the Knoxville airport.
Day 4: The Journey Home
We had an early morning flight, so we checked out of our Airbnb (taking some treats left behind by our hosts as airplane snacks!), returned the rental car and flew home. Unfortunately the weather put a bit of a damper (no pun intended :)) on this trip, but this just means we'll have to go back to try our Smoky Mountain hikes again next time!
As always, if you have any questions, you can contact us here.