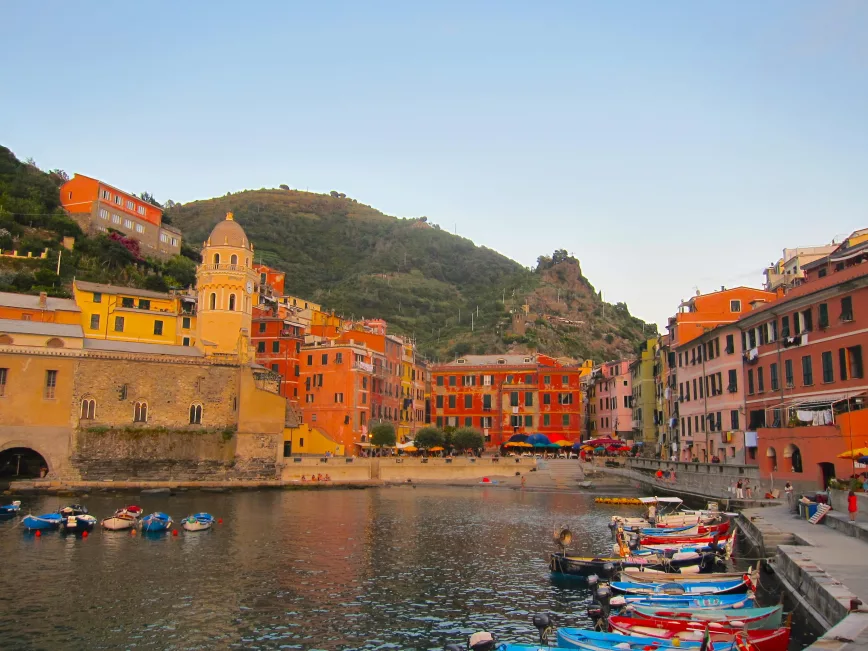 Country: Italy
Cities: Monterosso, Vernazza, Corniglia, Manarola, and Riomaggiore (Cinque Terre, collectively)
Highlights: Tower of the Doria Castle, Vernazza's beach, Chiesa di San Giovanni Battista, The Azure Trail, Cinque Terre ferry, Nessun Dorma
Cinque Terre, or five towns, is the name given to the collective group of fishing villages located along the coast of the Italian Riviera. Although there isn't a lot here in terms of "famous sights to see", Cinque Terre itself is the main attraction! The area is meant to be enjoyed leisurely, while hopping from one village to the next. It's famous for the hiking trails that connect the villages with each other, or you can take the ferry or train that connects the towns. Savor the pasta, pesto, focaccia, and gelato or spend your day basking in the sun next to the crystal clear, blue sea.
I arrived in Cinque Terre with my friend Marisa after spending 2 weeks traveling through Germany, Austria, and Venice (check out our suggested itineraries!). Cinque Terre was the perfect destination for relaxing after the chaos of city life! It's truly PARADISE!
To get the most out of your stay, I think you need a minimum of 2 days here. However, our summer vacation from school afforded us with the ability to spend 5 days here. If you're short on time, check out our post on Cinque Terre in One Day!
Riding the Cinque Terre Train
From Venice, we bought train tickets at Venezia Santa Lucia station to La Spezia station, the closest station to Cinque Terre. La Spezia is easily accessible from other major cities in Italy such as Florence and Milan. Once in Cinque Terre, the train ride in between the five towns is only about 5-10 minutes, but it does not run frequently, maybe just about once an hour. You can check the timetable here (as of 2020), but I recommend also checking on the Trenitalia site for the most up-to-date information.
To ride in between towns in Cinque Terre is very cheap! For example, to ride between Vernazza and Corniglia is about 2 Euros. However, if you plan to stay here for more than 2 days and hop between towns, I recommend getting a Cinque Terre card. It provides you with unlimited train travel to all the stops on La Spezia, access to hiking paths, and some museum entrances. To check out the card and updated prices, go here.
PRO TIP: For one of our train rides in between towns, we tried to cheat the system by not buying a train ticket. We thought we would arrive in the next town (5 minutes away) before the conductor would find us. We got caught without tickets by the conductor and were each fined $50!! Don't try this, just buy the 2 Euro ticket 🙂
Day 1: Vernazza
We decided to make our home base in Vernazza, the fourth town heading north. There are no cars or traffic here and it's famous for its elegant, colorful houses, and rocky beach. We booked a room at RooMartina for 5 days and highly recommend staying here if you want to see the BEST views of Vernazza.
They have 4 rooms from which to choose and offer a total of 12 beds. We first booked Room 4 (it was the cheapest because it didn't have a view and was equipped with an electric fan instead of air-conditioning). The room was great, however, we soon regretted not booking a room with a view. We contacted the owner and found out he could upgrade us to Room 3 the next day, where we would have a deck/patio area, double doors that opened to an incredible view, and air-conditioning 🙂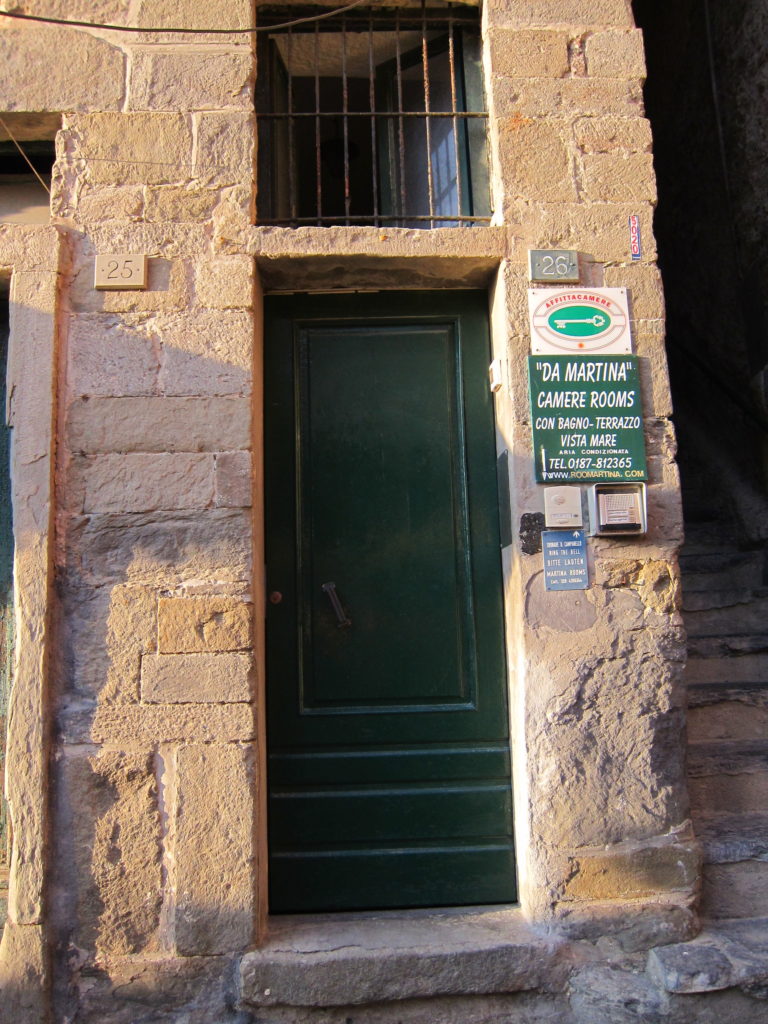 PRO TIP: We were very glad to have chosen Vernazza as our home base. After visiting the other towns, it seemed that they were much more "built up" and crowded. We enjoyed the slower, more relaxing pace of Vernazza.
We spent our first day wandering the streets of Vernazza, taking in the sights, people, and food!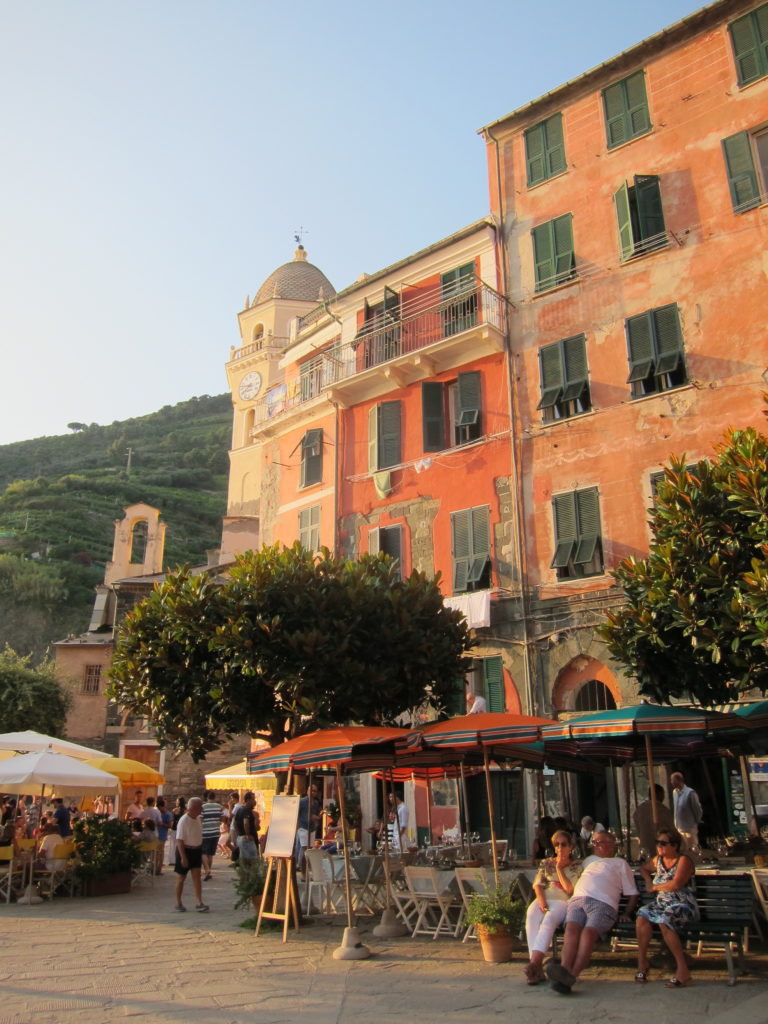 Locals say that the best focaccia is made in Cinque Terre (and Genoa), so naturally we had to get some for dinner! We also picked up some cheap wine to pair with it. This inexpensive meal was also THE BEST!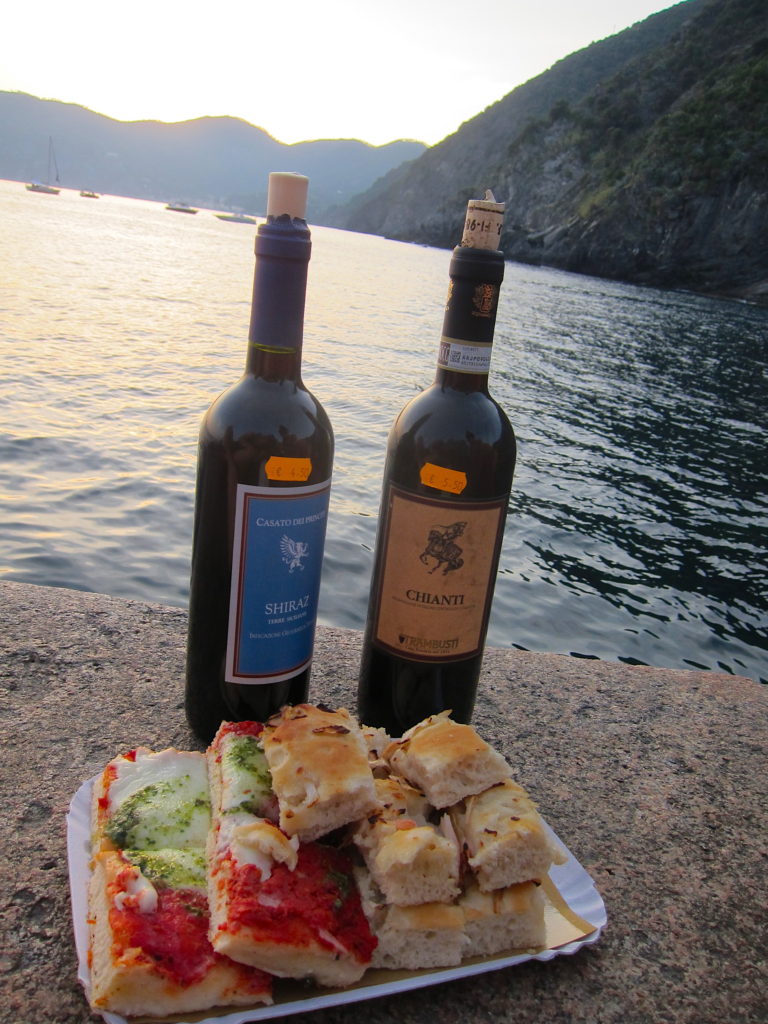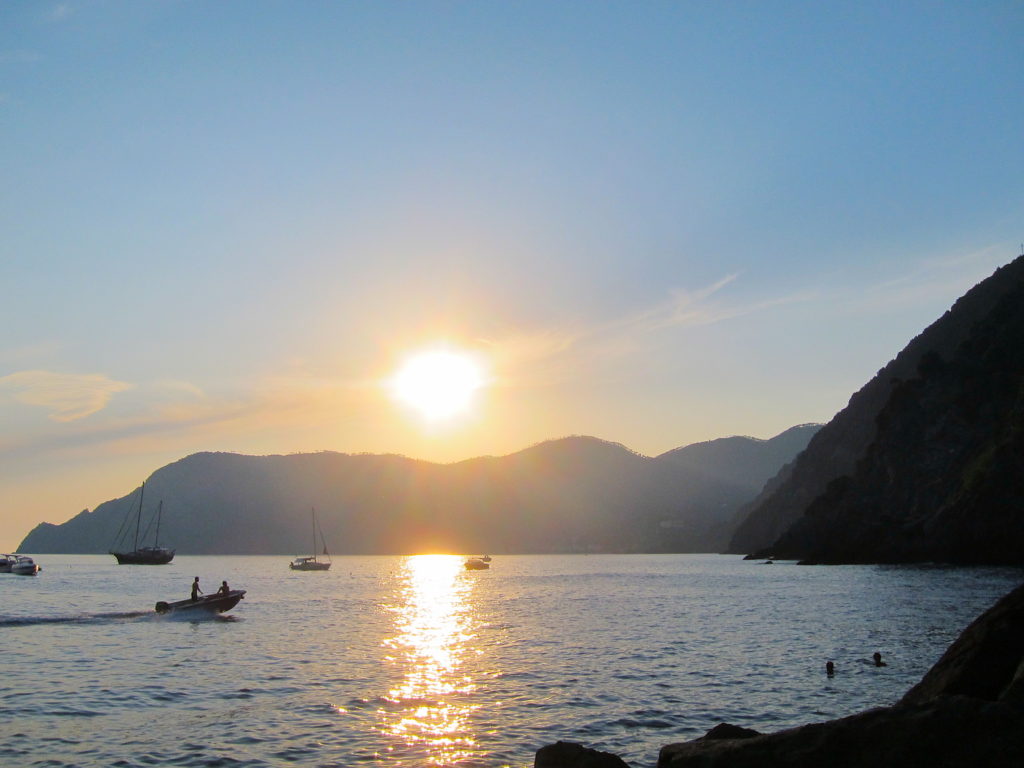 We had no idea that we arrived during a special festival in Vernazza! We aren't exactly sure what the festival was, but from our research we think it could have been the Festa dei Pirati, or the Festival of the Pirates. Each summer, locals celebrate their fight against the attack of the Saracens. We saw a great concert band and were treated to an amazing firework display!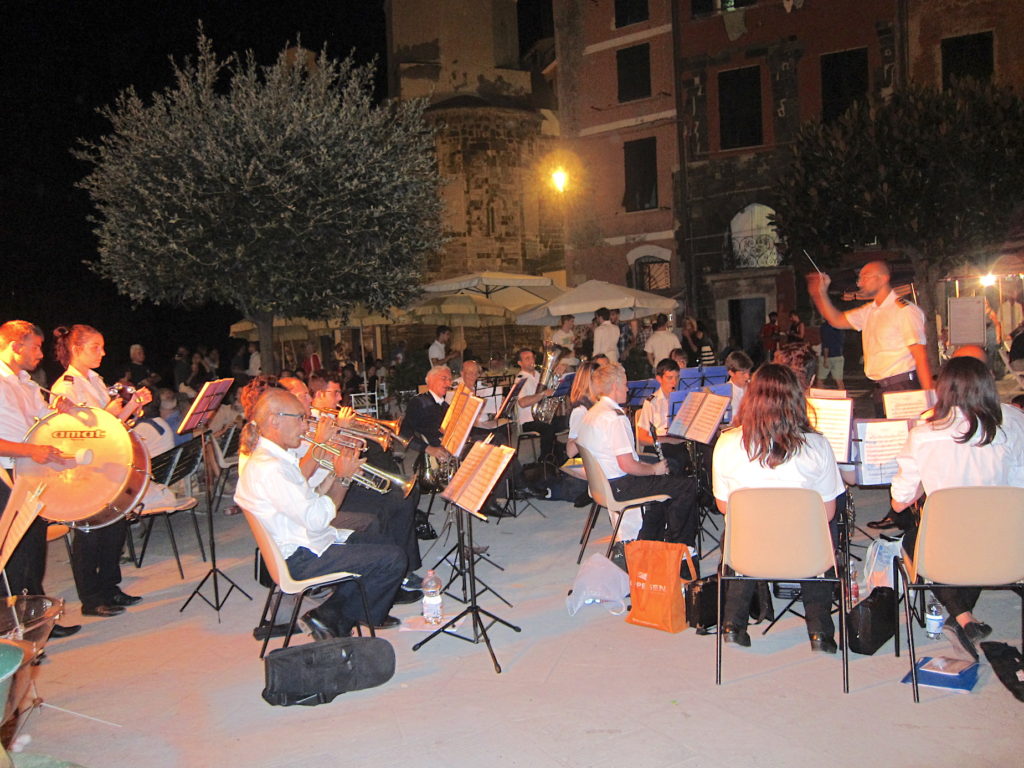 What a great first night in Vernazza!
Day 2: Vernazza
After making friends with locals and partying the night away, we slept in but later awoke to a beautiful beach day. After wandering the streets, we made our way to the Vernazza beach.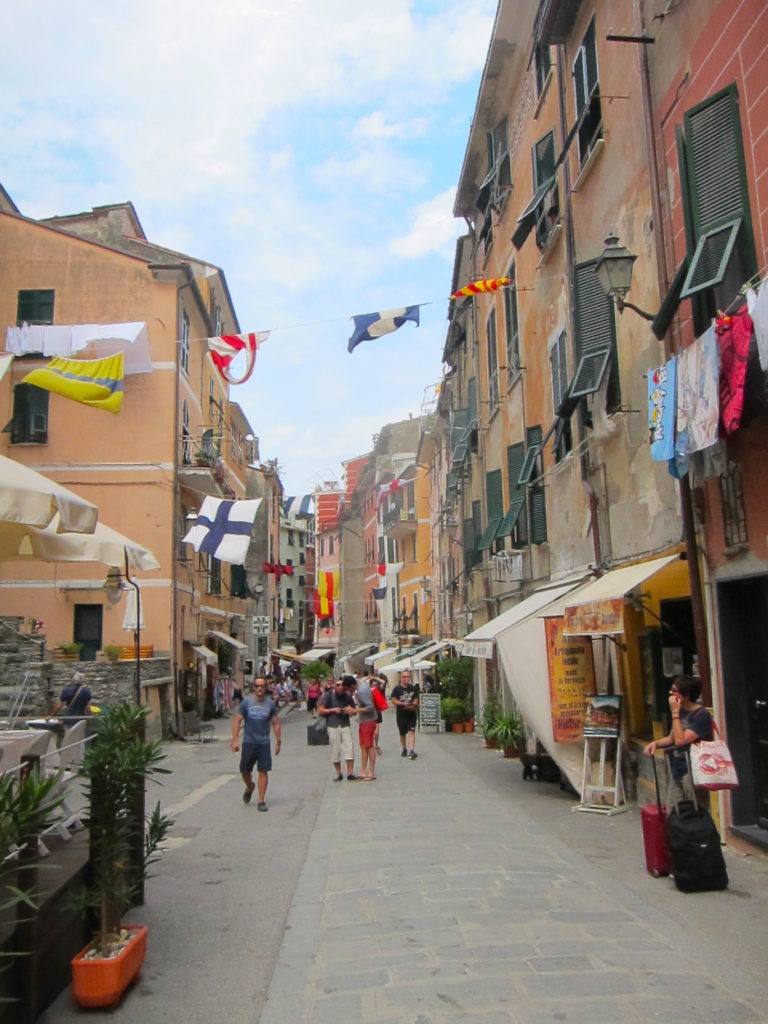 The harbor around the beach keeps the water calm and cool. The flat rocks provide you with the perfect spot for tanning!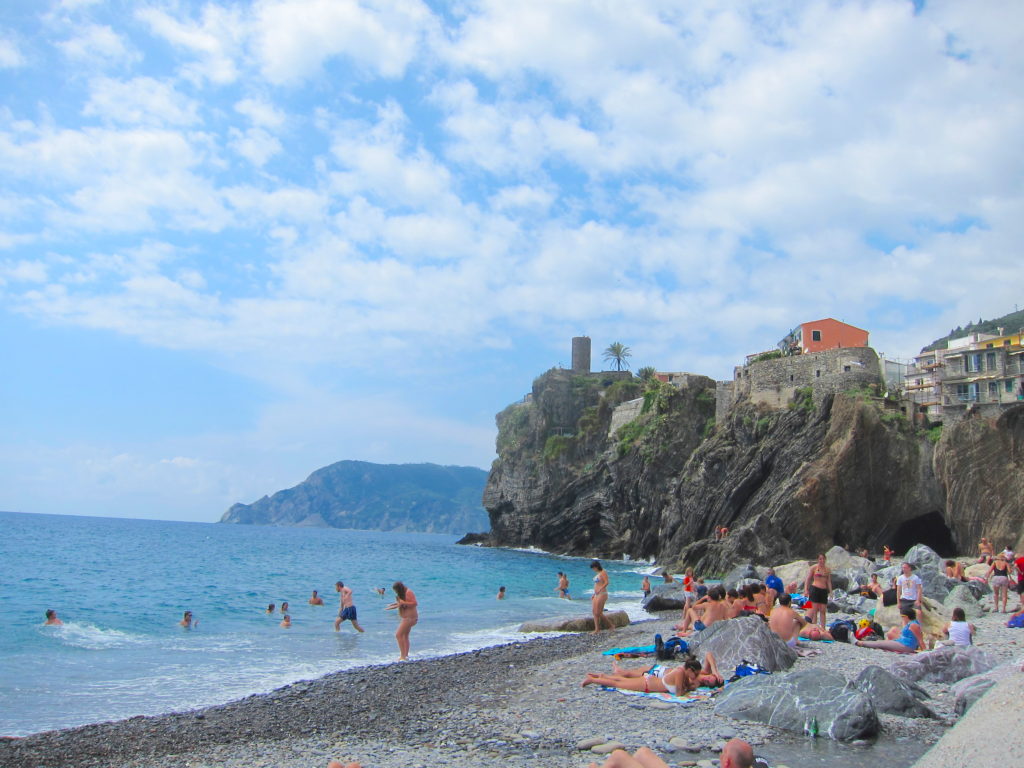 After getting rejuvenated at the beach, we made are way up the stairs to the Doria Castle. The castle was built in the 15th century as a lookout tower to protect the village from pirates! It's located on the left side of the harbor and stands 60 meters tall (can't be missed). For the best panoramic views of Vernazza and the coast be sure to climb up the tower!
PRO TIP: The umbrellas you see at the foot of each building are put up every morning by locals – mostly elderly men and women enjoying breakfast, coffee, and conversation. It's actually really adorable to watch!
After climbing down from the castle, we enjoyed another evening at Vernazza's harbor with a live "jam" session.
Day 3: Hike to Monterosso
Today we woke up early to hike from Vernazza to Monterosso. During this trip, we hiked parts of the Azure Trail connecting the villages because it is the easiest and shortest; great if you don't have a lot of time. The suggested hiking time is an hour and 20 minutes. However, Marisa and I are speed-hikers and completed the hike in well under an hour. That doesn't mean we didn't take in all the beautiful sights along the way. Be sure to look over your shoulder once in awhile. Within about 10 minutes into the hike can you admire Vernazza from an aerial view!
PRO TIP: There are more than 30 trails to be enjoyed in Cinque Terre, 4 of which you have to pay for to enter. You can buy the entrance ticket at the start of the hike and it's valid for one day, but you can visit all the stretches of the hike.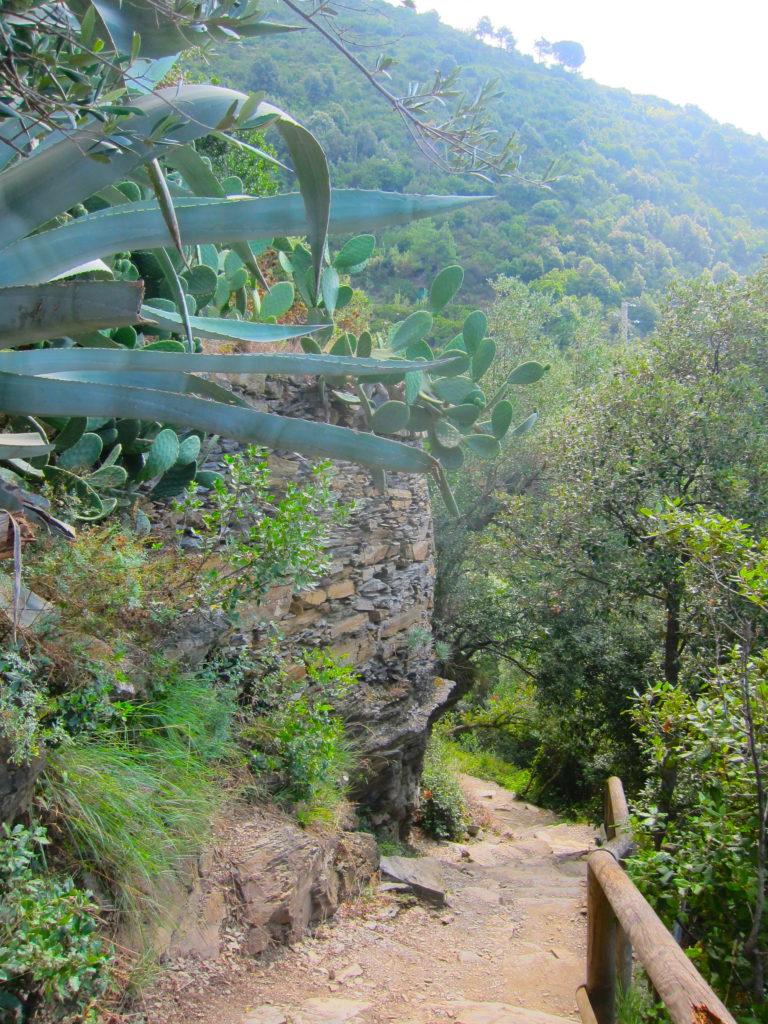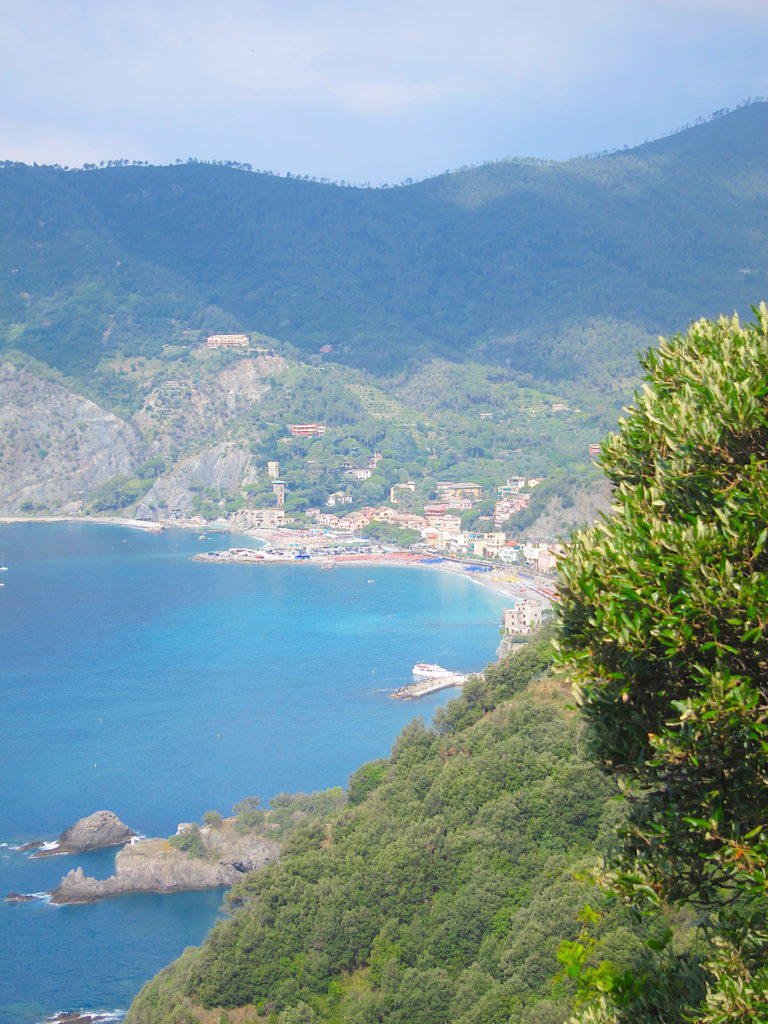 Once we arrived in Monterosso, the sunny day soon turned into dark, ominous clouds. So we decided skip the beach and explore the area for lunch, gelato, and anything else that came our way! We came across this incredible church, the Chiesa di San Giovanni Battista, with its distinctive black and white facade and rose window.
After enjoying lunch and some time at the beach (the sun finally came back out!) we hiked back to Vernazza. Remember that apartment upgrade we requested from RooMartina?! Well, we got upgraded to a room with a view (Room 3).
Here is the view from our new room! Totally worth the upgrade!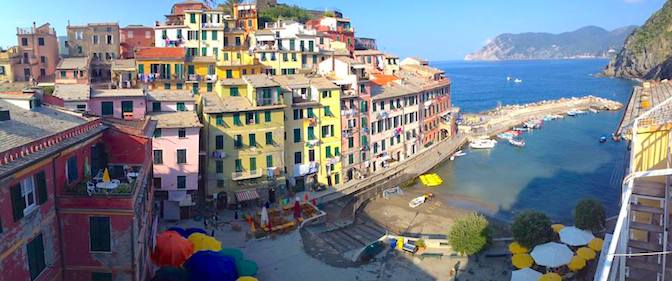 For dinner we made our way up to Ristorante Belforte at the top of Doria Castle.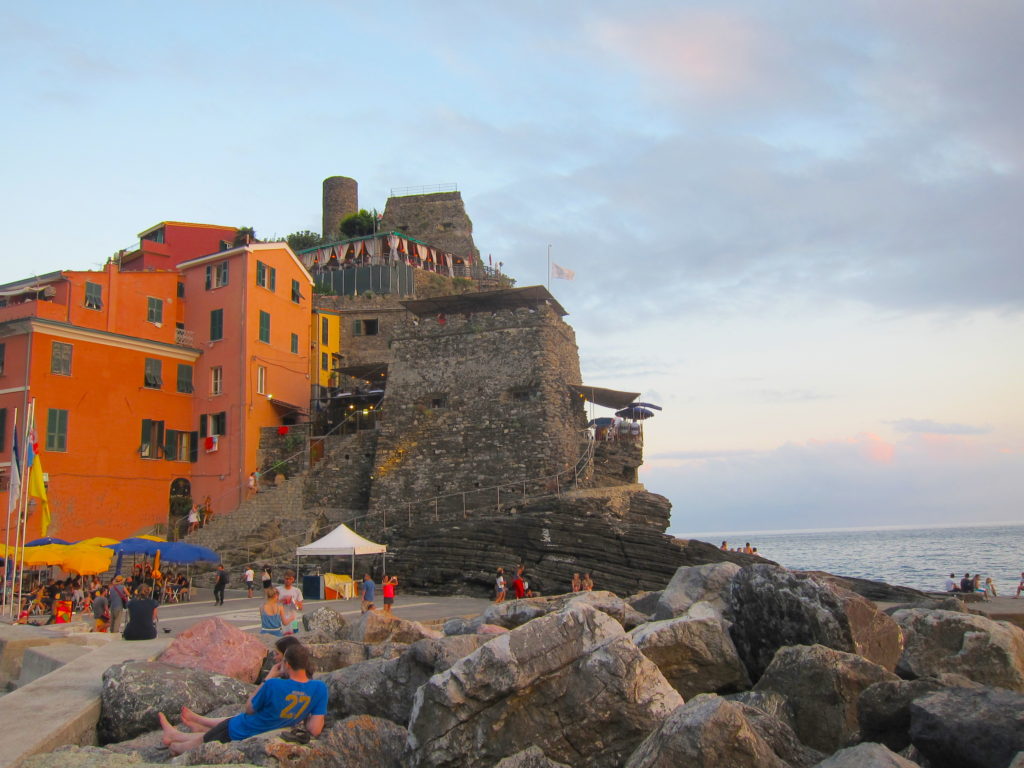 Day 4: Corniglia, Riomaggiore, Manarola
We woke up early this morning to hike to Corniglia, again on the Azure Trail. It's a 2 mile trail that should take around an hour and a half, but it took us only an hour 🙂 If you are up for a longer hike with aerial views of Corniglia, check out this trail.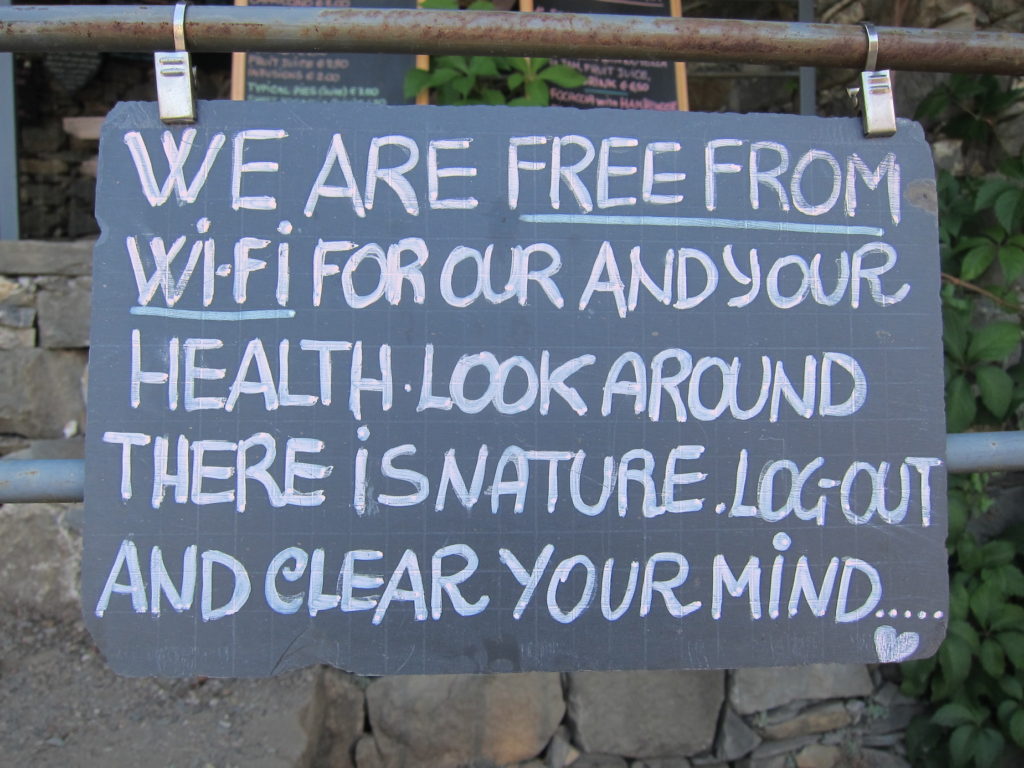 When we arrived, we explored the town and enjoyed the amazing views! We came across the Oratorio of Santa Caterina, an 18th Century church situated just off of the Piazzetta di Largo Taragi.
We had planned to hike from Corniglia to Riomaggiore, but the route was closed. So, we decided to take the ferry! We had to get on the train to Monterosso, which is where the ferry leaves from.
From the ferry port in Monterosso, we first passed Vernazza…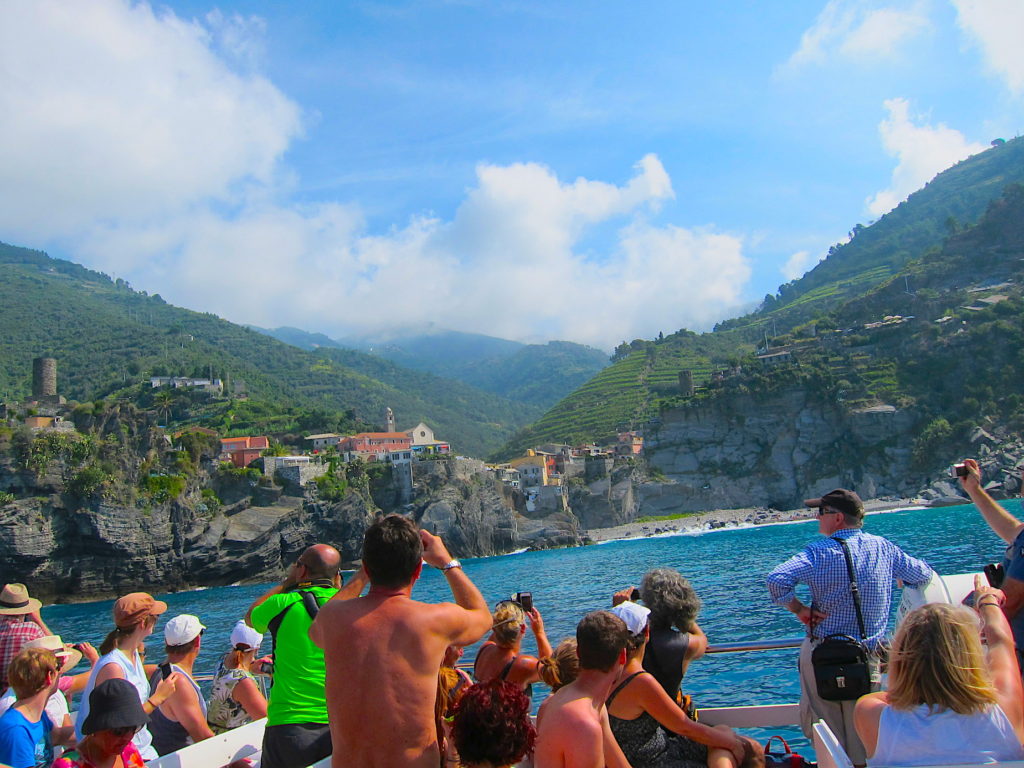 Then we passed Corniglia…
PRO TIP: The ferry DOES NOT stop in Corniglia – the whole town is on a cliff!
Followed by Manarola…(we came back to Manarola for dinner later)
And we finally got off the ferry in Riomaggiore!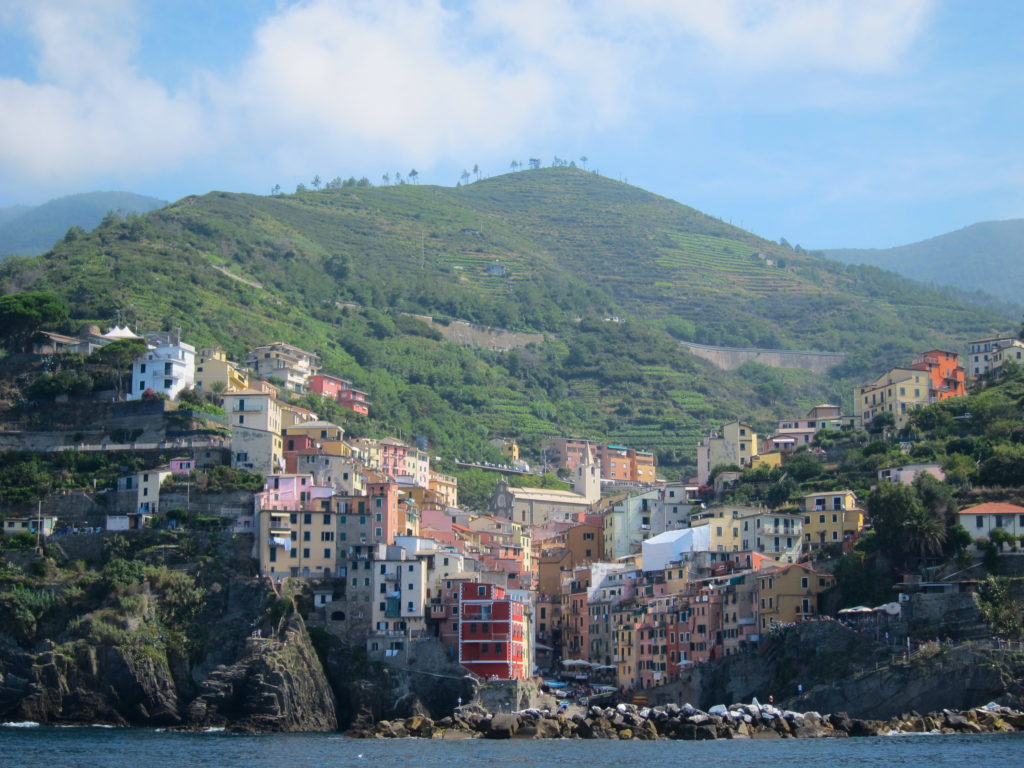 We explored the alleys and neighborhoods of this picturesque city and came across the Church of San Giovanni Battista. It's a lovely 14th Century church worth making a stop to see!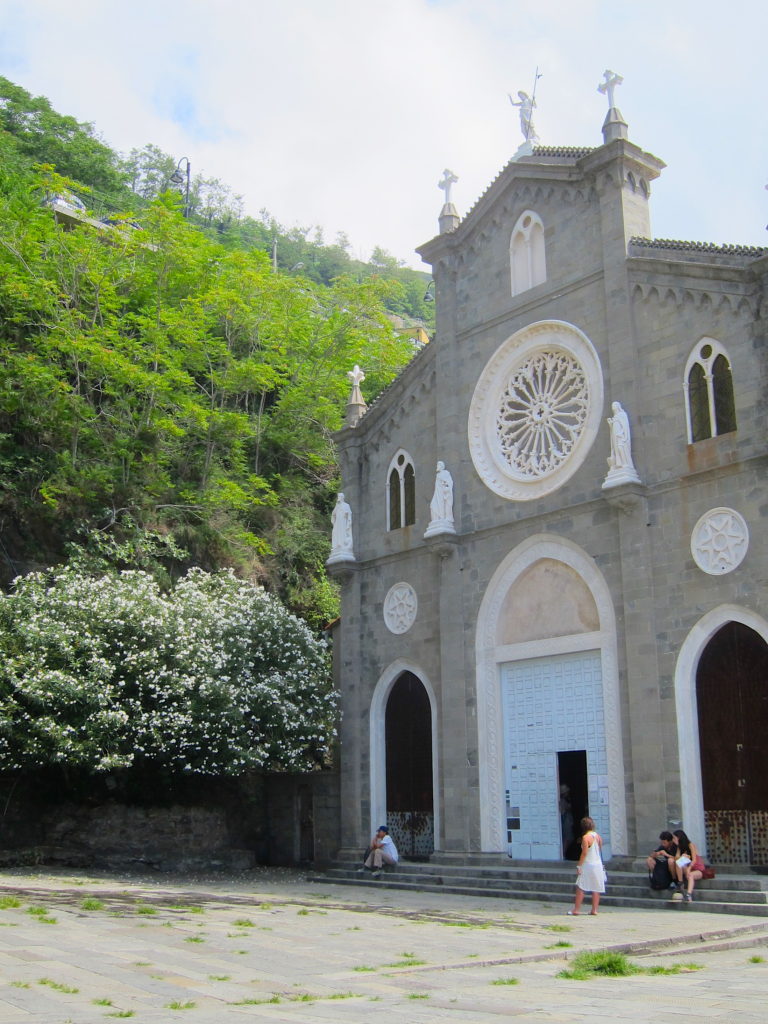 Being that Cinque Terre is on the coast (duh), the seafood here is to die for! I highly recommend trying some of this fried fish in a cone from Il Pescato Cucinato, it's delicious, inexpensive, and a great way to fuel your long hikes!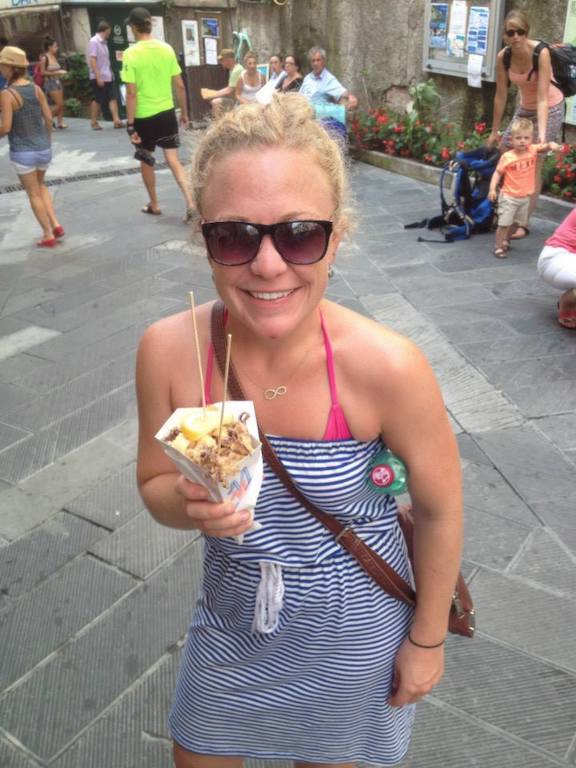 In the summer time, locals and tourists can be caught jumping off the rocky point near the main dock. If you follow the main street, Colombo, down to the harbor, you will find this spot!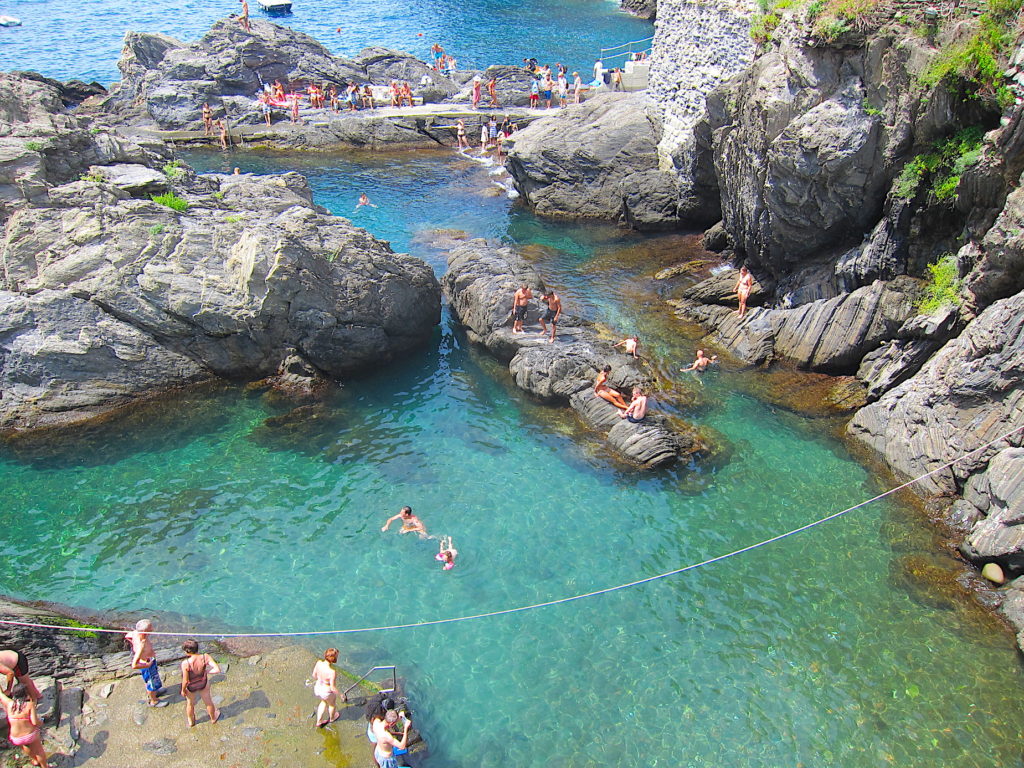 Our final stop for the night was Manarola, the second-smallest town in Cinque Terre. We took the train from Riomaggiore and explored the town once we arrived.
For the best spot to eat and to enjoy a SPECTACULAR view of the town, head to Nessun Dorma.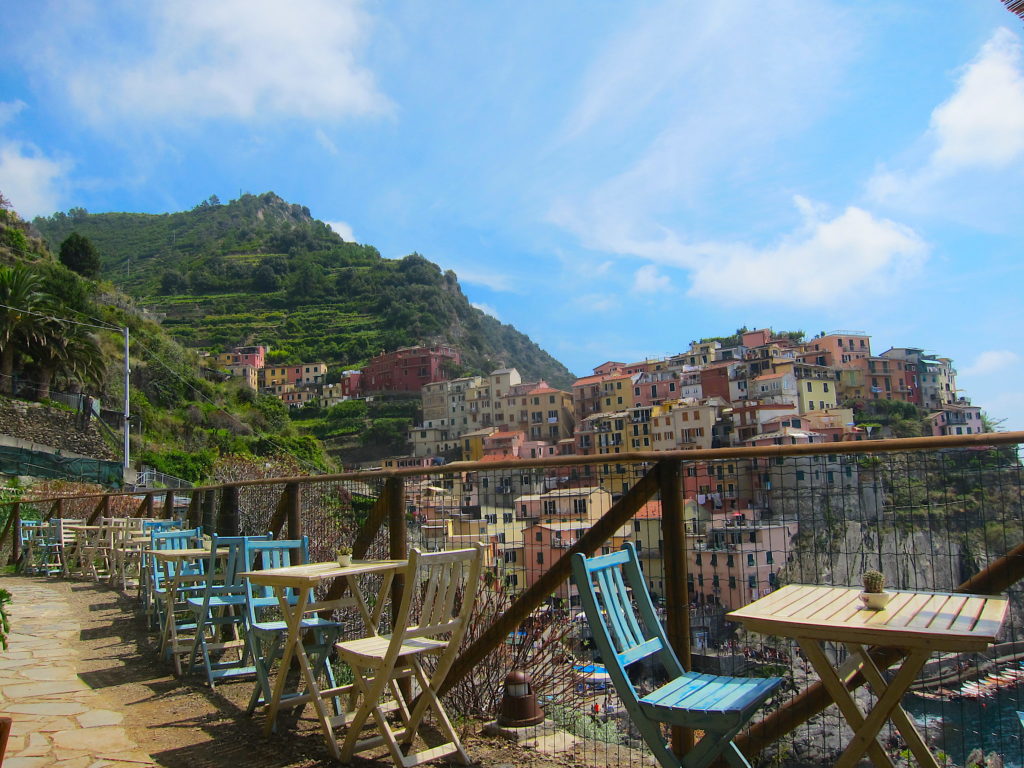 Day 5: Cinque Terre to Genoa, then Paris!
We woke up VERY early this morning and packed up our belongings. We sadly had to say good-bye to Cinque Terre. For the next leg of our trip, we were heading to Paris! We bought train tickets at La Spezia station to Genoa, Italy (about a 2 hour train ride). We had a 1:15pm flight booked from Genoa airport to Paris. The flight was only about an hour and a half. Check out our post on "The Perfect Paris Itinerary in 4 Days."
As always, if you have any questions, feel free to contact us here.