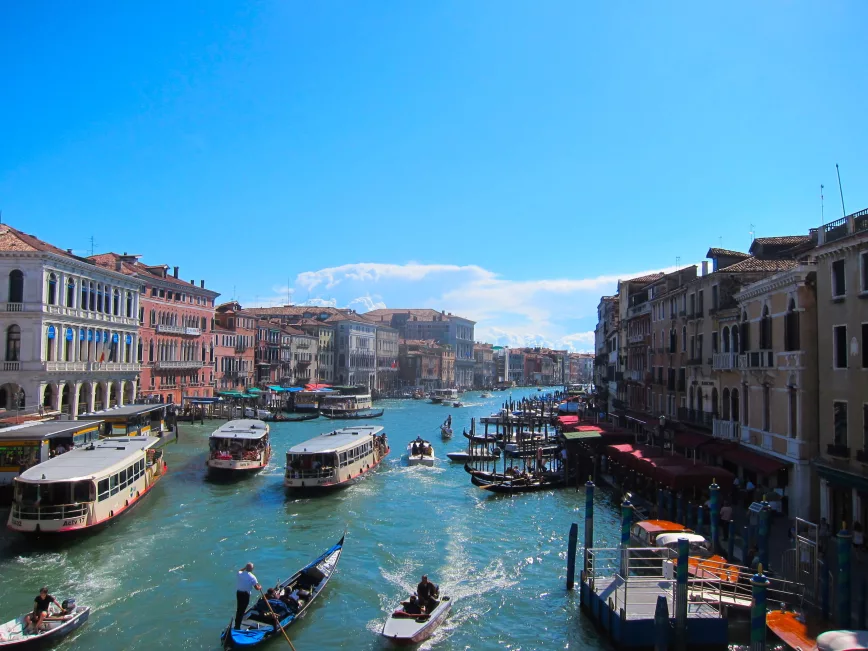 Country: Italy
City: Venice, Burano Island, Murano Island
Highlights: Santa Maria dei Miracoli, San Marco Square, Basilica di San Marco, St. Mark's Bell Tower, Bridge of Sighs, Rialto Bridge, The Grand Canal, Lido Beach, Murano Island, Burano Island
Venice is like a living piece of art floating on water! It's a labyrinth of streets, narrow alleyways, and with no roads or cars you must navigate it on foot! It's a romantic getaway for some, but with increased tourism over the last several years, you can easily fall into many tourist traps with over-priced dining and shopping. I'm not saying you shouldn't come to Venice, I've loved both of my visits here, but if you're planning a trip, you should be prepared in advance with some tips and tricks on how to have a fabulous trip and feel like a local, while sticking to a budget!
I have visited Venice on two separate occasions. This particular trip was for 3 days and part of a much longer backpacking trip through Europe (we started in Germany -> Austria -> Venice & Cinque Terre, Italy -> Paris, France). On a separate occasion, I came to Venice with Caroline as a day trip from Milan. You can check out that day trip itinerary here: "Venice in One Day".
I was super lucky this trip to be guided by my friend's cousin, Jacopo, a local and native of Venice! He graciously guided us to the popular, touristy sites (as requested), but he also insisted on taking us to the "hidden gems" of the city. This opportunity provided us with a much deeper understanding of the island. I hope this itinerary can inspire you to speak or stay amongst the locals and discover the reality of daily life for a Venetian! If you are interested in visiting Venice with a local (and don't know someone on the island), check out this tour!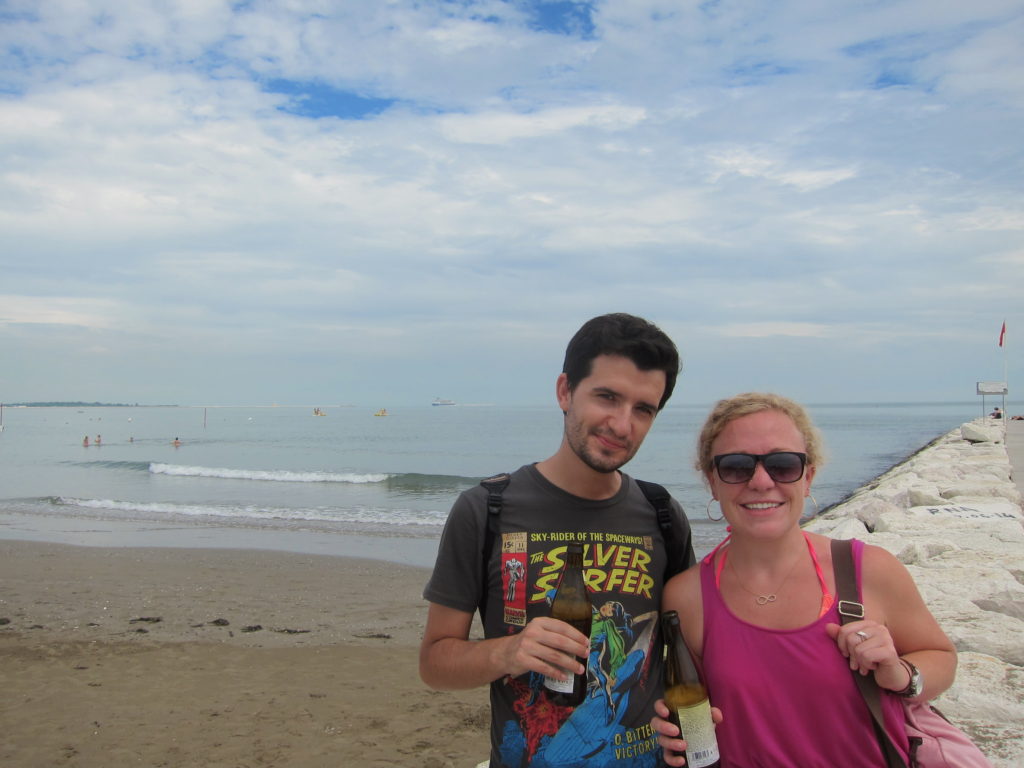 Day 1: Arrival in Venice & "The Hidden Gems"
I arrived in Venice after a 6 hour journey by train from Salzburg Hauptbahnhof to Venezia Santa Lucia train station. Be prepared for potentially old, hot trains on Italiarail. I vividly remember being quite uncomfortable on this ride! Bring water and food! The Santa Lucia station is located in Venice itself on the Grand Canal, just a 20 minute walk from the Rialto Bridge or a 27 minute walk from St. Mark's Square. The other Venice station is Venezia Mestre, but this is located on the mainland, not in Venice itself.
PRO TIP: All trains stop at Venezia Mestre station on the mainland before crossing over the lagoon to Venice Santa Lucia station, located in central Venice right on the Grand Canal.
Once I arrived at Santa Lucia train station, I bought a ticket to ride the vaporetto (waterbuses) to meet up with my 3 friends at our AirBNB in the San Polo district! Remember, there aren't any roads or cars in Venice. You only can get around by foot, vaporetto, or gondola.
PRO TIP: 200 years ago, there were at least 10,000 gondolas on the island. Now, there are roughly 400 gondoliers and 400 gondolas on the island. They are expensive to ride and only used by tourists! I did not take part in this activity on this trip, but on my second trip back in Venice, I splurged for the experience!
Venice is divided into 6 districts with 3 of them on each side of the Grand Canal. To have a more authentic experience in Venice, I highly recommend looking into staying in an apartment in neighborhoods such as Castello, San Polo, or Cannaregio and booking through AirBNB or another related site. You can visit the markets and pick up local ingredients to cook in your very own Venetian kitchen!
We settled on an apartment on Calle Perdon in the San Polo district. This smaller district is home to the oldest settlement, the Rialto (the eastern part of the district known for its palaces and houses). This area can trace its roots back to the 11th century! We were within walking distance to the Rialto Bridge and the Church of San Giacomo di Rialto. Piazza San Marco is also about a 10 min walk from the Rialto Bridge, so it's a great district for your home base!
After dropping my luggage off at the AirBNB, we went out with Jacopo to explore! He took us to some of the lesser known sights in Venice and they did not disappoint! I found some of these sights to be much more meaningful as I listened to his stories of the buildings, churches, and took in the environment along the way.
If you would love to see a lively picture of "everyday Venice," stop at the nearby Campo de la Pescaria. It's a vast neo-Gothic building on the Grand Canal, where the fish market is held five mornings a week (Tuesday to Saturday).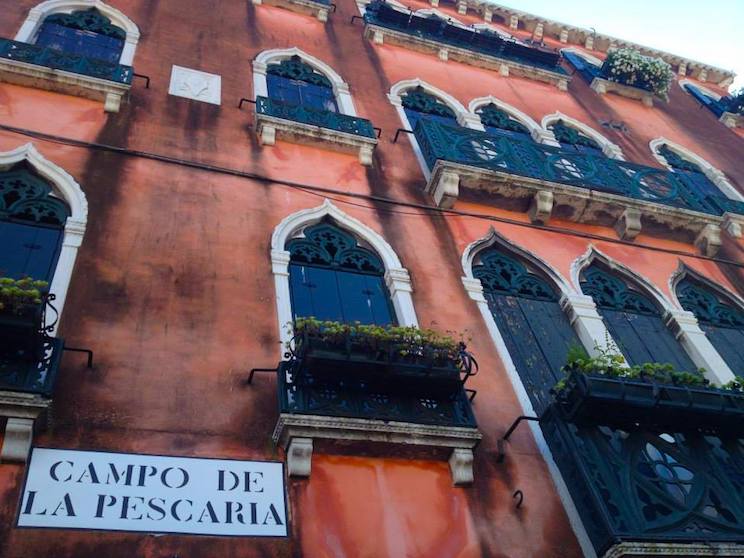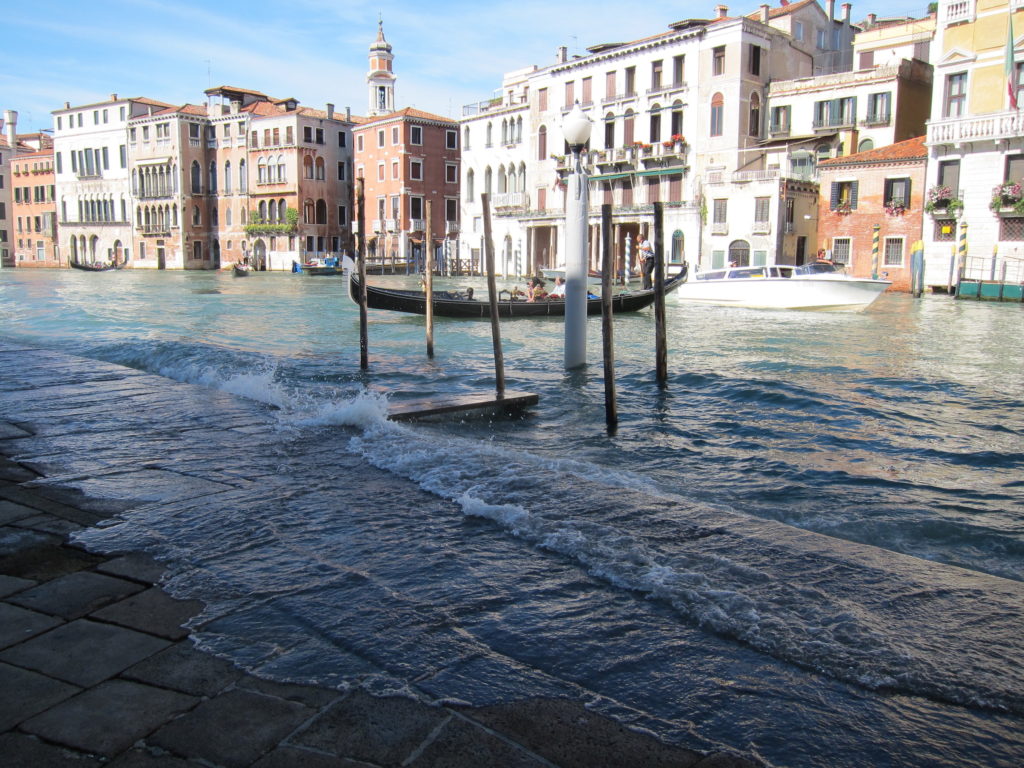 While there are well over 100 churches in Venice, most people come to see St. Mark's Basilica (more on that one later…). However, you would be remiss to neglect a stop at the Santa Maria dei Miracoli! It's a small church hidden away in the Cannaregio district, also known as the "marble church". It's an example of Venetian Renaissance and definitely worth trying to find!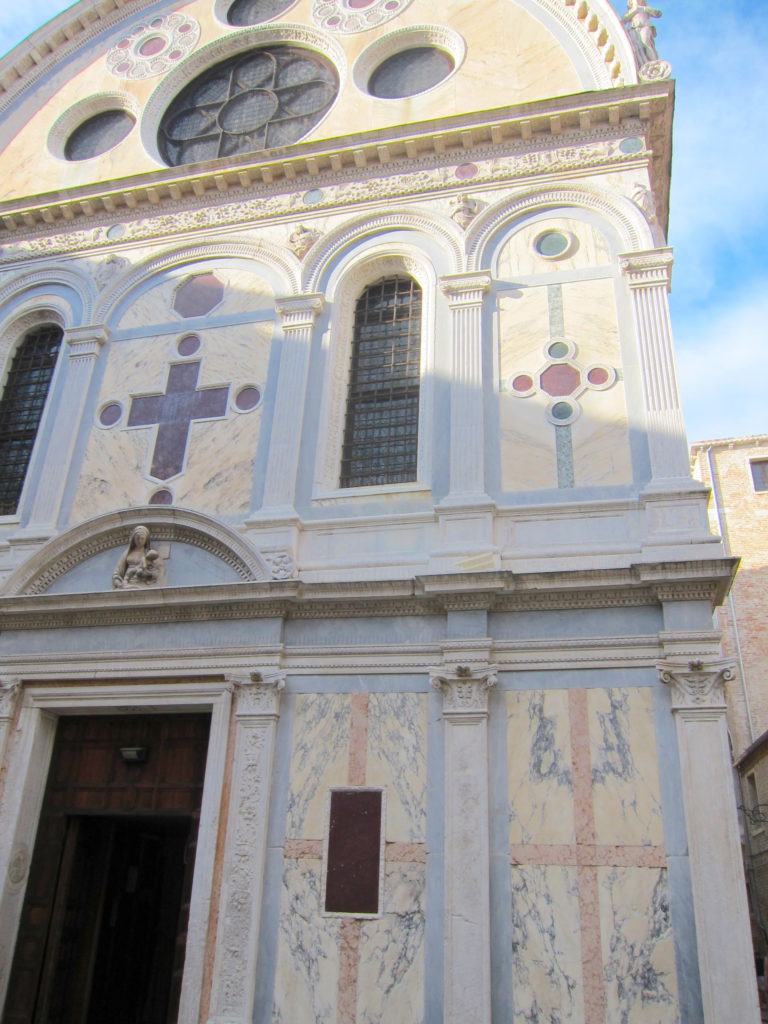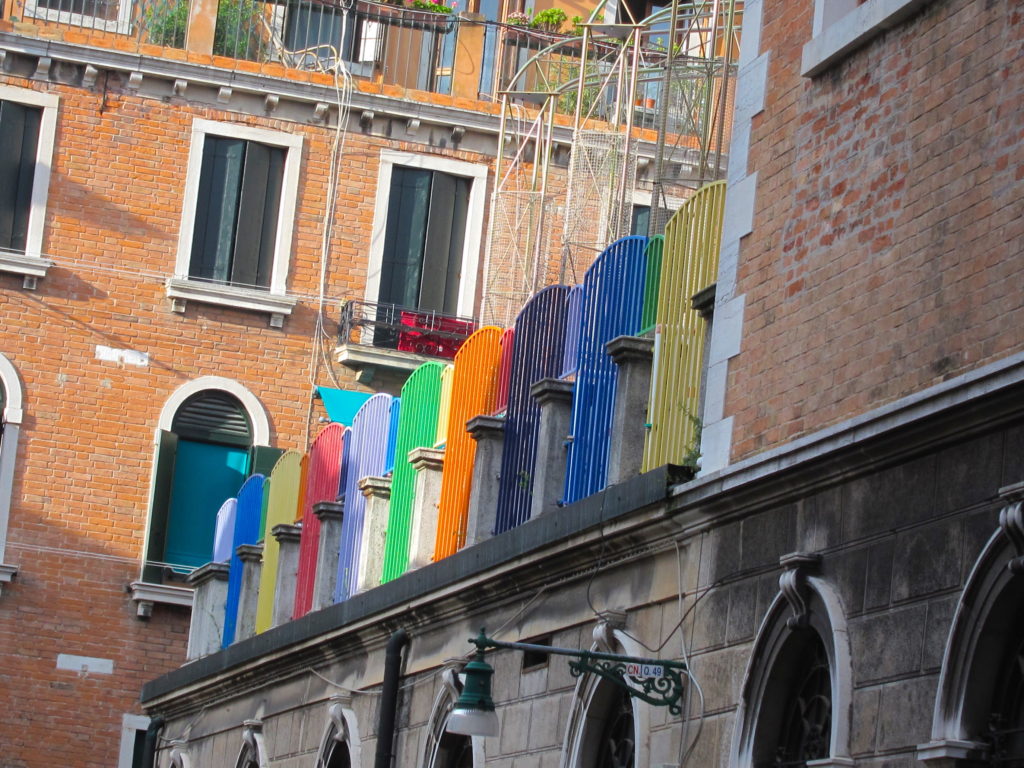 We visited another beautiful building in the Dosoduro district. Any guesses what this one is??
The Osepdale Civile is the Venice hospital! Can you imagine American hospitals looking like this?! This is a Renaissance masterpiece and has been a hospital since the times of Napolean! Make sure you stop for a moment and take in the gorgeous facade.
Basilica dei Santi Giovanni e Paolo, known in Venetian as San Zanipolo, is a church in the Castello district of Venice. It's one of the largest churches in the city! The basilica has tombs of 27 Doges (elected lords and chiefs) of Venice. For all you art history fans, it is also home to works by Bellini, Veronese, and Lombardo sculptors!
After a long day of exploring, we finally settled on a place to eat. We started our meal with Venice's "Spritz" aperitif, a staple among the locals! This fizzy drink is made with Aperol, Campari, Cynar or another select liqueur, and mixed with white wine and sparkling mineral water.
PRO TIP: An aperitif is an alcoholic beverage taken before a meal to stimulate your appetite.
Following dinner, we treated ourselves to some gelato, of course 🙂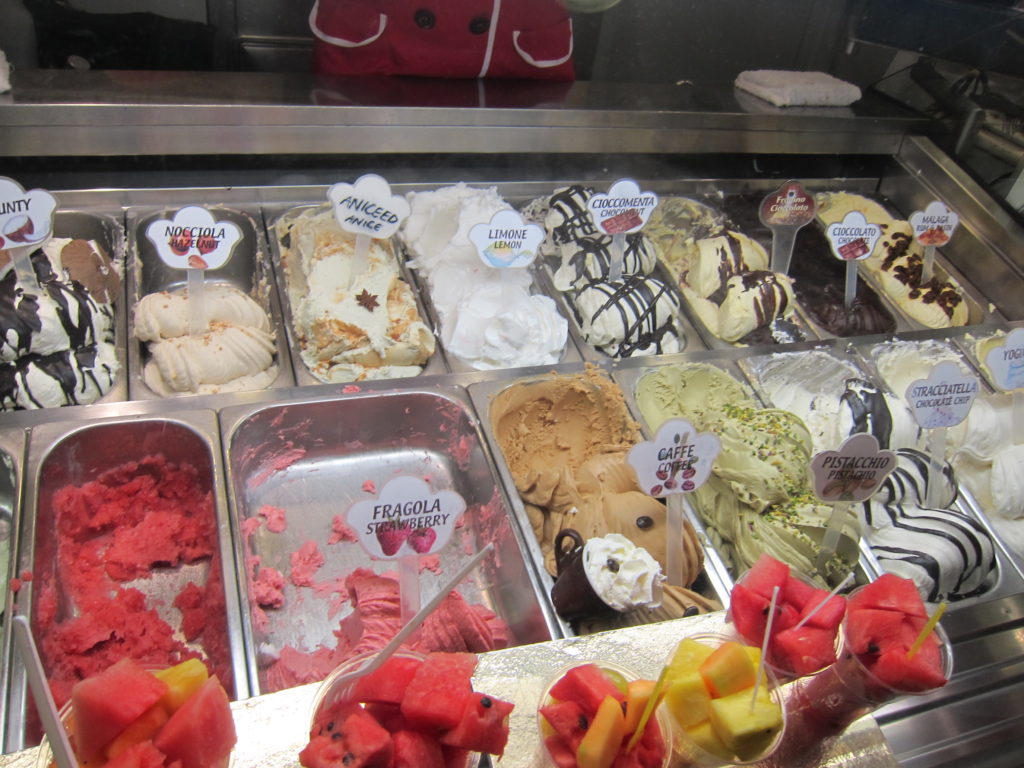 We later made our way to the Rialto Bridge, which is the oldest of four bridges spanning the Grand Canal. It's a stone arch bridge with rows of shops! Expect a large crowd here.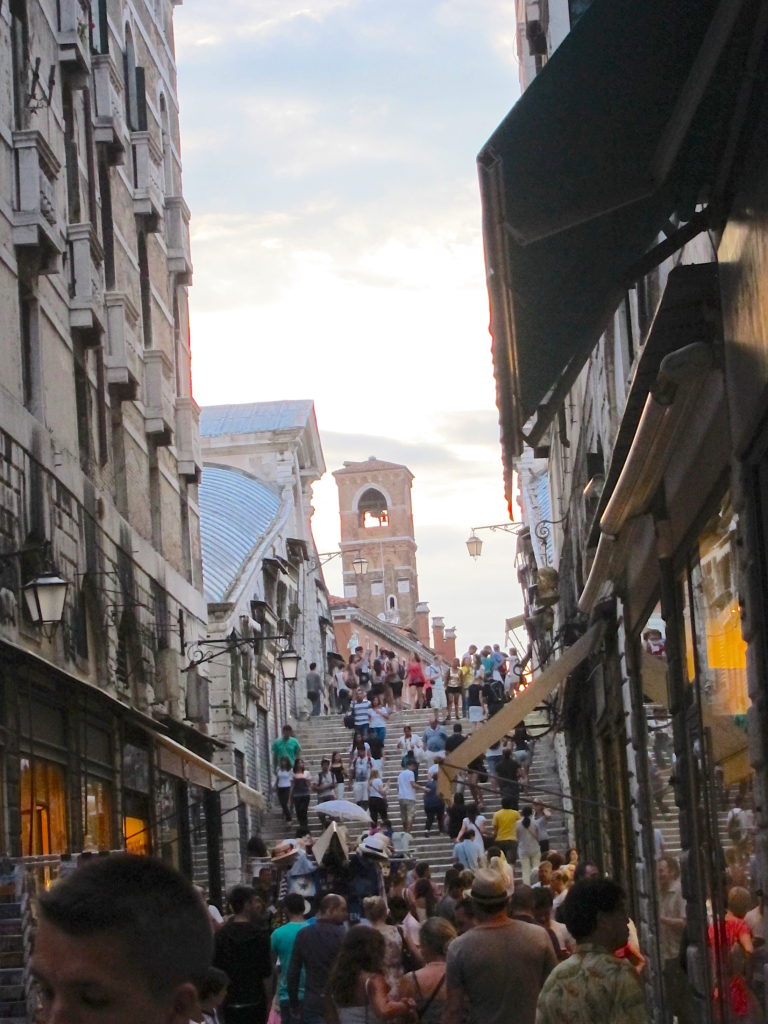 Day 2: Piazza San Marco, Lido Beach
Today started with a visit to Piazza San Marco. It is the tourist heart of Venice and home to iconic sights like St. Mark's Basilica, the Doge's Palace, and the Bridge of Sighs. In the summertime, expect the square to be swarming with visitors, while in the fall and spring, the crowds will be fewer.
St. Mark's Basilica is one of the most stunning, intricate churches in all of Venice making it one of Venice's top attractions! Visitors flock here to admire its golden mosaics, the relics of the apostle Saint Mark, and a golden altarpiece decorated with sparkling jewels.
Admission to the basilica is free but if you haven't arranged for a private tour or skip the line tickets, expect to wait for hours to get in. I did not arrange to go into St. Mark's Basilica on either one of my trips to Venice, so I still have not been inside. However, you can still experience the grandeur of this church from the outside.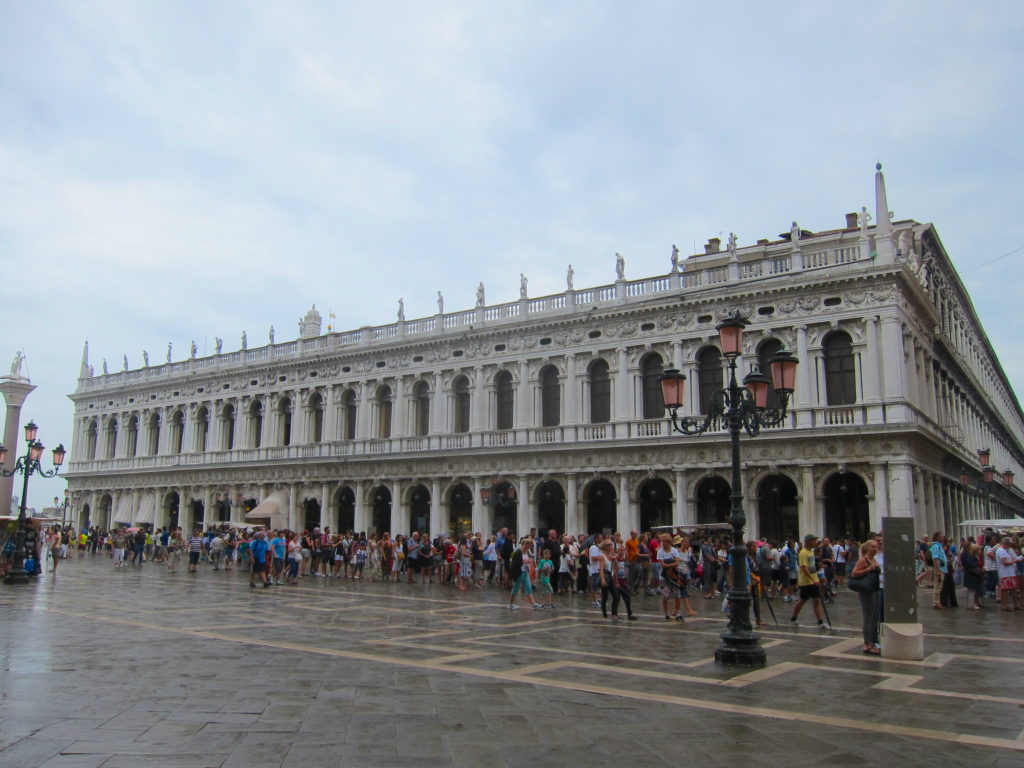 PRO TIP: Saint Mark's Basilica is open Mondays through Saturdays 9:30am until 5:00pm and Sundays until 4:30pm (5pm in the summer). To help manage the crowds, visitors are allowed approximately 10 minutes to walk through and admire the basilica.
Right next to St. Mark's Basilica is The Doge's Palace. This Gothic style building is one of the main landmarks of the city. The palace was the residence of the Doge of Venice, the ruler of Venice.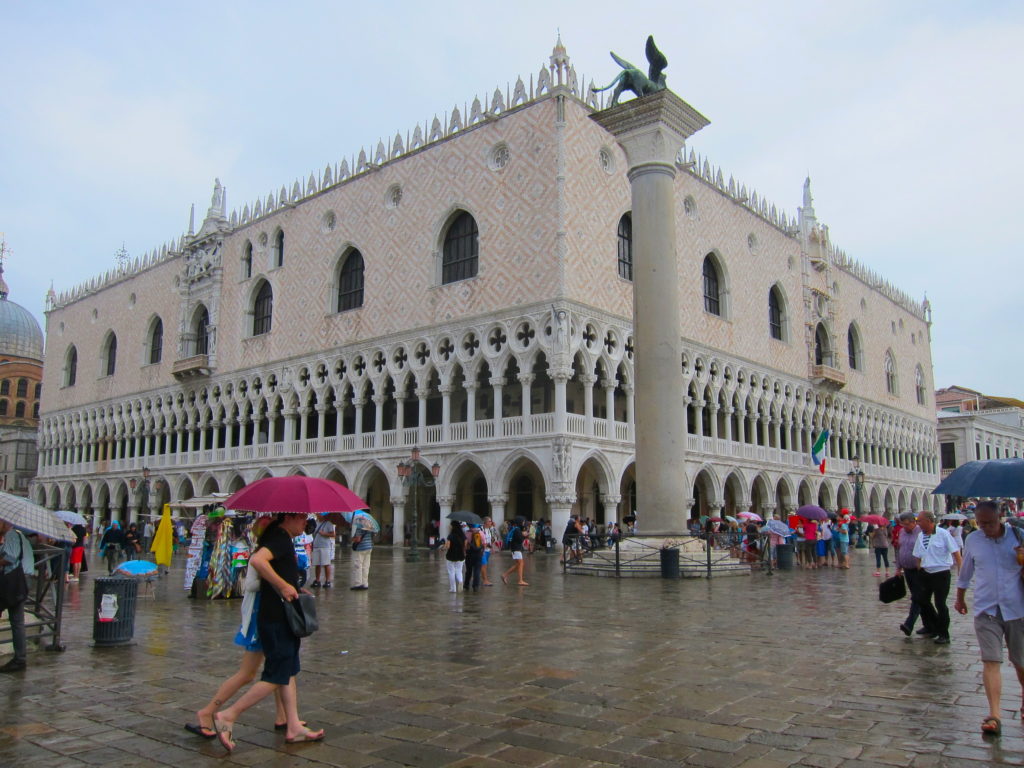 Notice the two darker colored columns at the palace. This would be the location where the Doge would say his speeches to crowds of people in the square!
Wander around the palace, or take a guided tour with entrance to the prisons!
Our next stop was right across from the palace, The Campanile di San Marco. This is the bell tower of Saint Mark's Basilica. It rises 323 feet above the Square. You MUST climb up the bell tower to see the most spectacular views of Venice! You can buy tickets on the spot for approximately 8 Euros.
PRO TIP: If you plan on climbing up the tower after visiting St. Mark's Basilica, we highly recommend that you buy tickets in advance to the basilica so you can skip the line.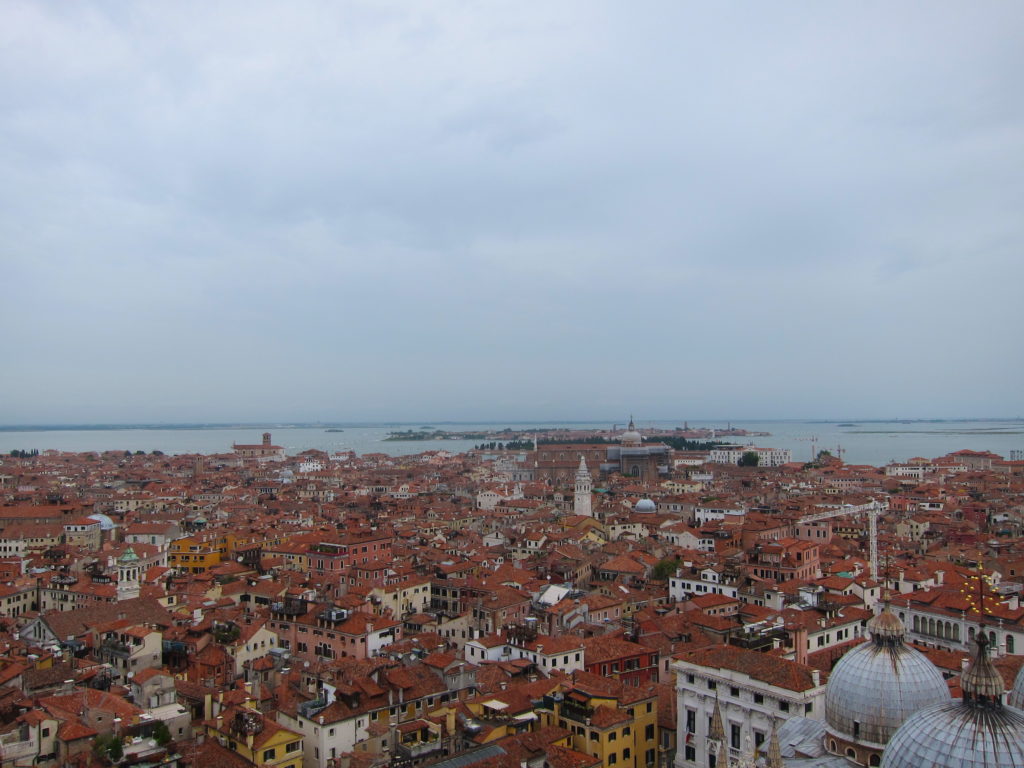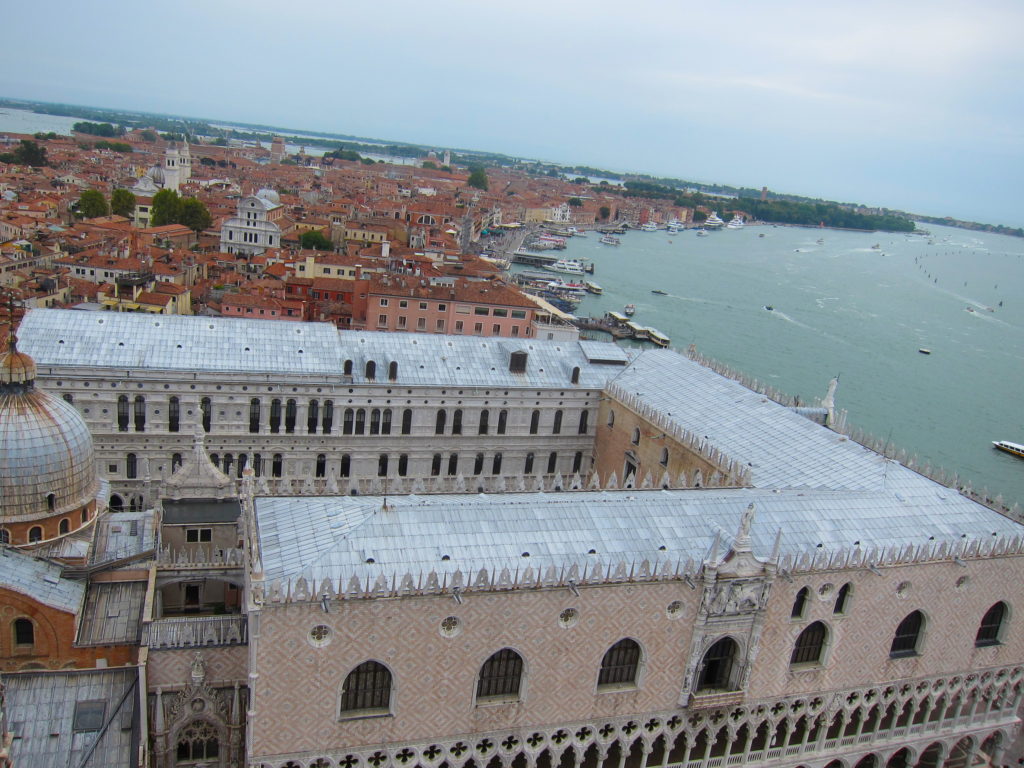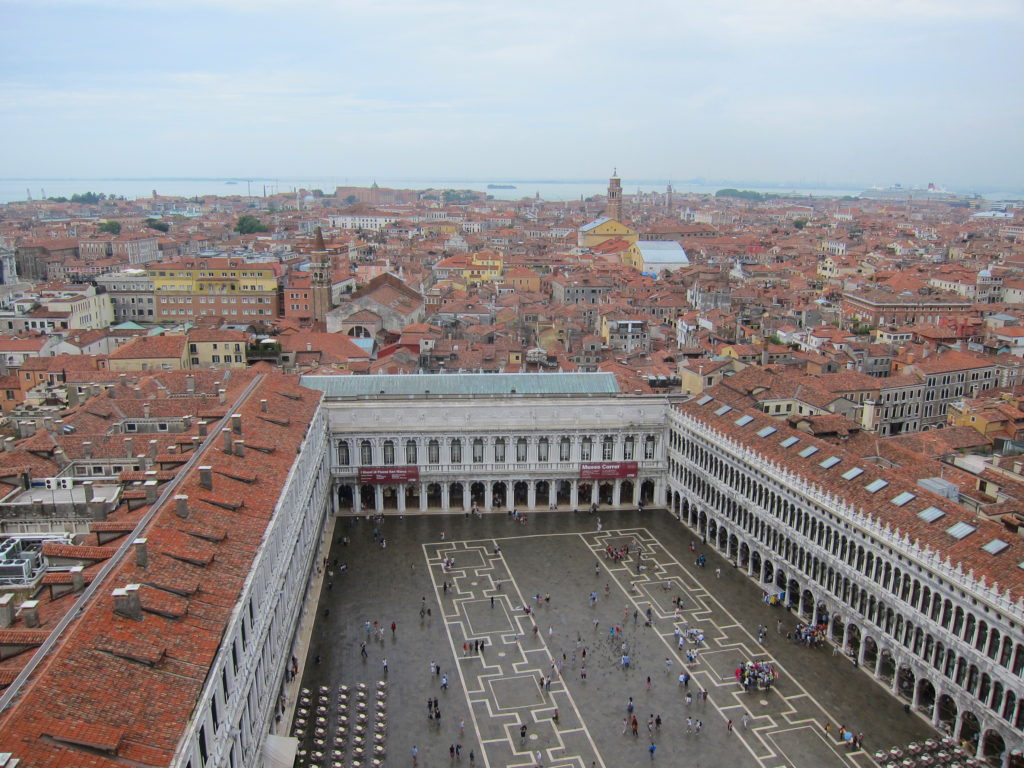 From the bell tower, we saw the Church of the Redentore sitting in the lagoon. It is one of the most famous and revered churches in Venice. It's also the centerpiece of one of the city's biggest public celebrations, the Feast of the Redentore, on the third Sunday of July. It's a 16th-century Roman Catholic church located in the Dorsoduro district.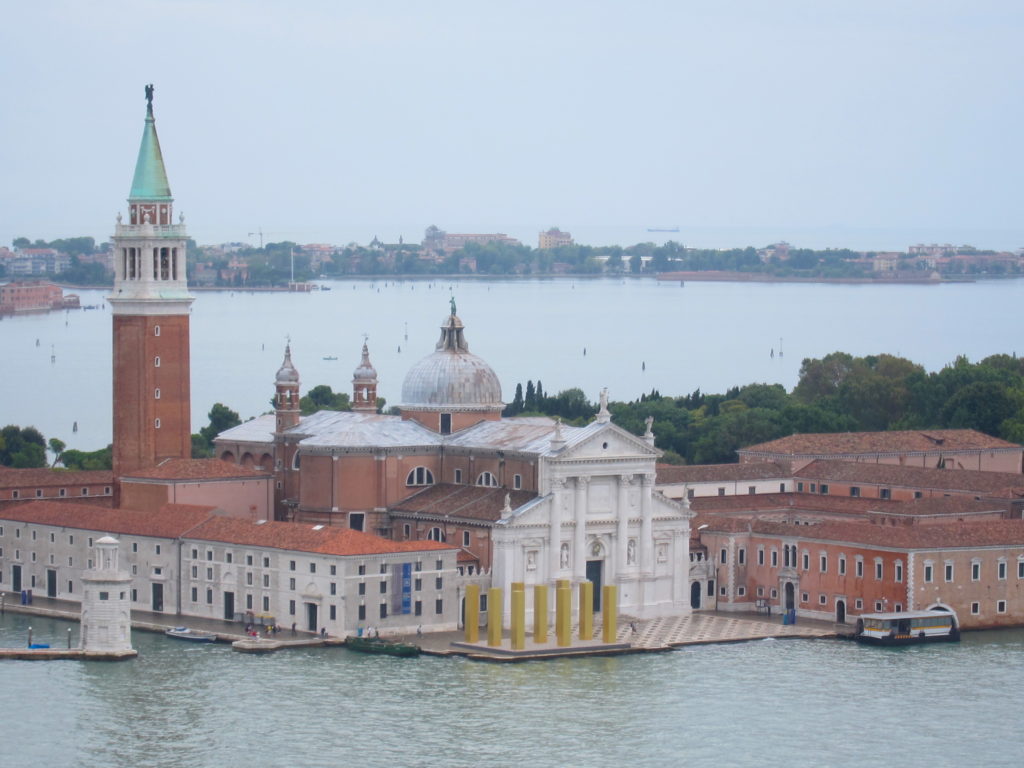 After spending a few hours at Piazza San Marco, we made our way to The Bridge of Sighs. The bridge is made of white limestone and has windows enclosed with stone bars. The bridge connects the New Prison to the interrogation rooms in the Doge's Palace. It is said that the prisoners would walk across this bridge prior to their execution and would "sigh" as they take in their final view of the city from the windows.
For our next stop, Jacopo guided us to the district of Castello. This is a much quieter area, away from the tourists, and with significantly more moderate prices for food and drinks. It's also steeped in culture and home to the Venetian Arsenale. In the 16th century, shipbuilders churned out a new ship here every day ! The Italian Navy is still visible with a base next door.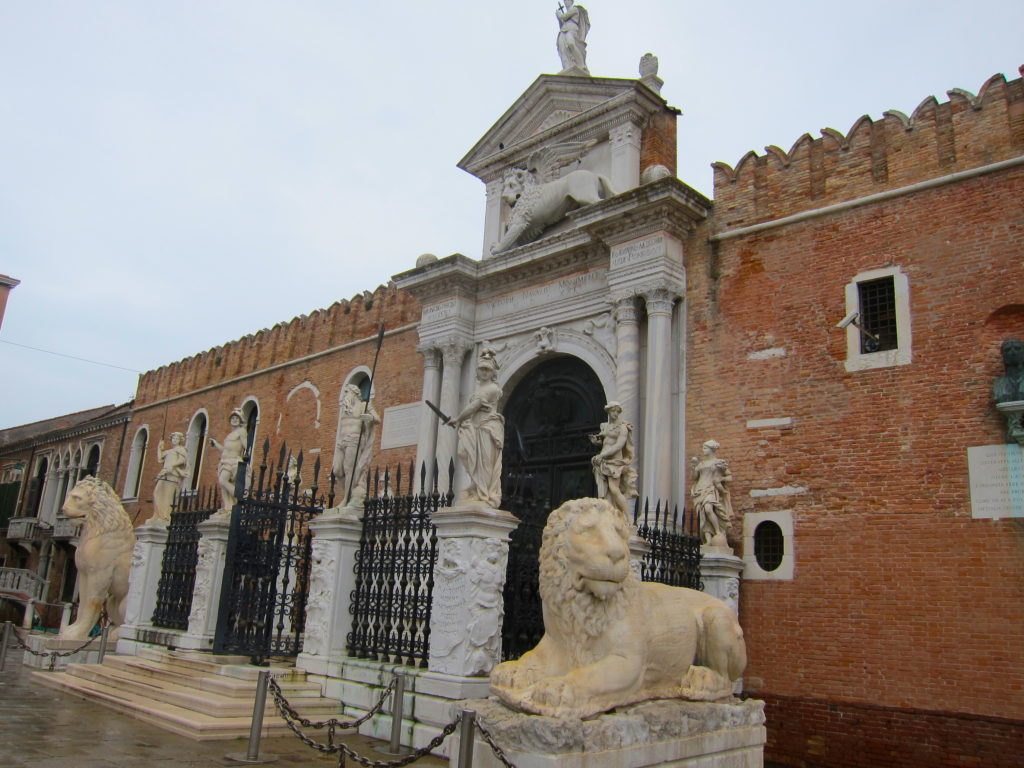 As you walk through the Castello district, notice the colorful laundry hanging out across the alleyways!
From here, we made our way to a vaporetto station to go to Lido Beach. The ride is 10-20 minutes depending on what part of Venice you depart from.
Apart from the beach in Lido, there isn't much to do. But, this would make a great day trip! We brought our own beverages and food and stayed for about an hour or two.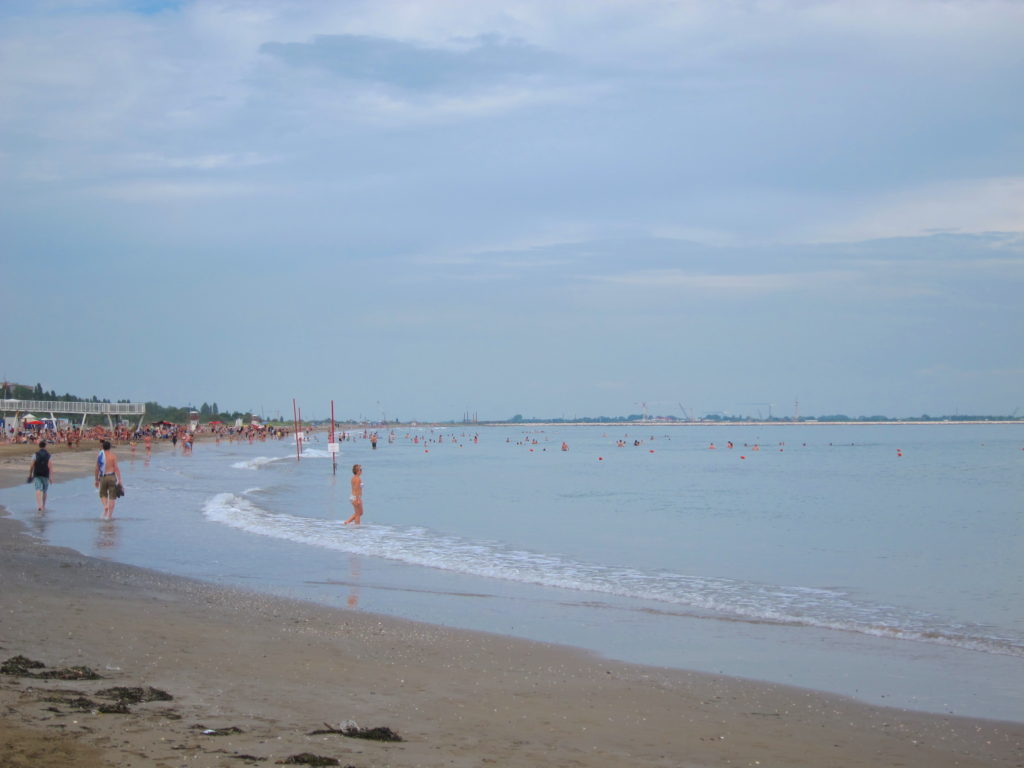 The trip back from Lido to Venice is gorgeous! We hit it at sunset, which was so breathtaking. You will see many sights along the way so have your camera ready!
On our way back, we also saw the Santa Maria della Salute, also known as Salute. It was constructed in 1631 to commemorate the end of the outbreak of the plague. This impressive dome can be see from all of Venice! It's located in the Dorsoduro district and entrance is FREE if you'd like to go in.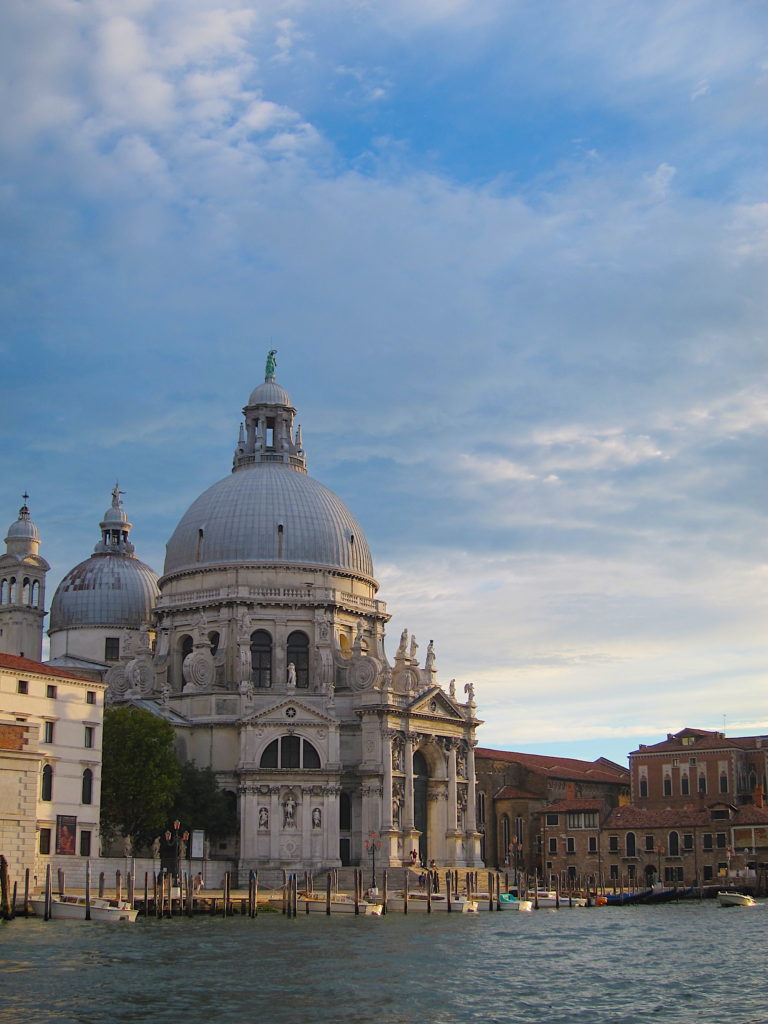 The Ponte dell'Accademia is right outside of the Accademia (museum gallery of pre-19th-century art in Venice) and is one of four bridges that spaces the Grand Canal. It's also the only "wooden" bridge we saw during our stay in Venice!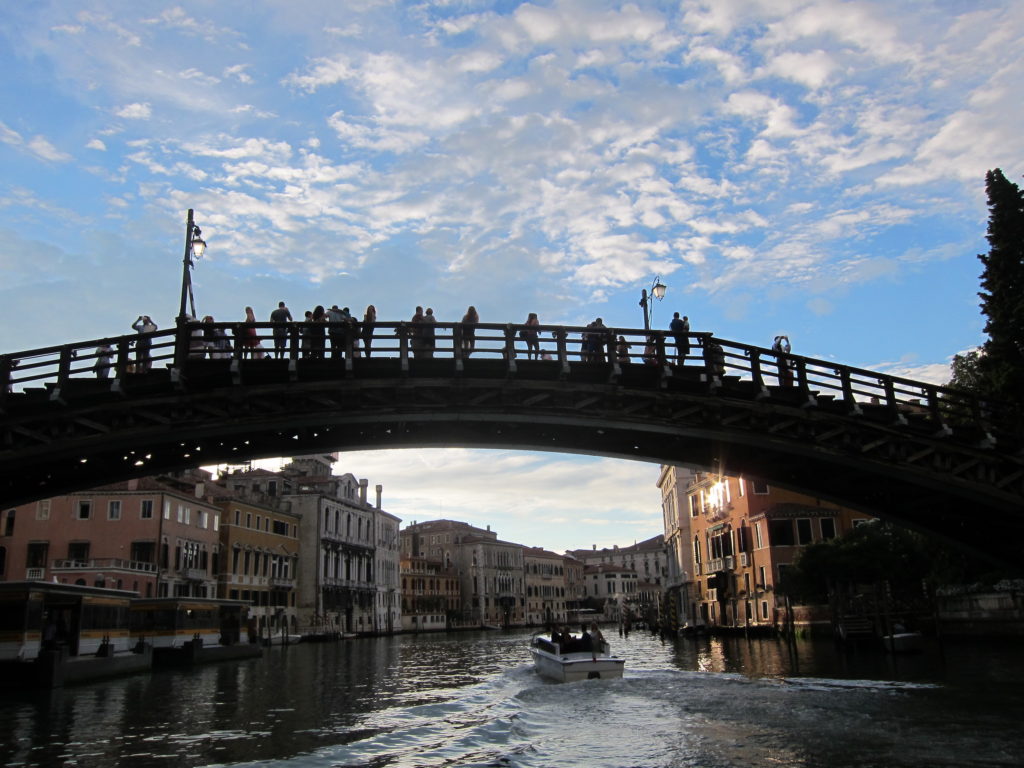 Day 3: Murano & Burano Island
Today I set out alone to explore the outlying islands of Murano and Burano. While Venice has so much to offer, I highly recommend setting aside a day to visit these islands. You will have plenty of time to visit them in a day with time leftover to go back and enjoy an evening in Venice. To reach Murano, take a vaporetto to the Fondamente Nove stop and transfer to line 12. The first stop on line 12 is the island of Murano. If you stay on the boat, you'll eventually reach Burano, which I saw later.
PRO TIP: Line 12 vaporetto travels from Venice making stops at Murano, Mazzorbo, Torcello, Burano and Treporti.
Murano is a small, yet charming island known for its glass (Murano glass!). There are plenty of things to do and see outside of glass making. However, I decided to check out a glass blowing demonstration. Along my walk, I came across a sign that said "fornace" on Calle S. Cipriano street offering a free glass blowing demonstration. I had to wait in a small line, but it was so worth it. This should not be missed! Although the demonstrations are free, you should graciously leave a tip a the end 🙂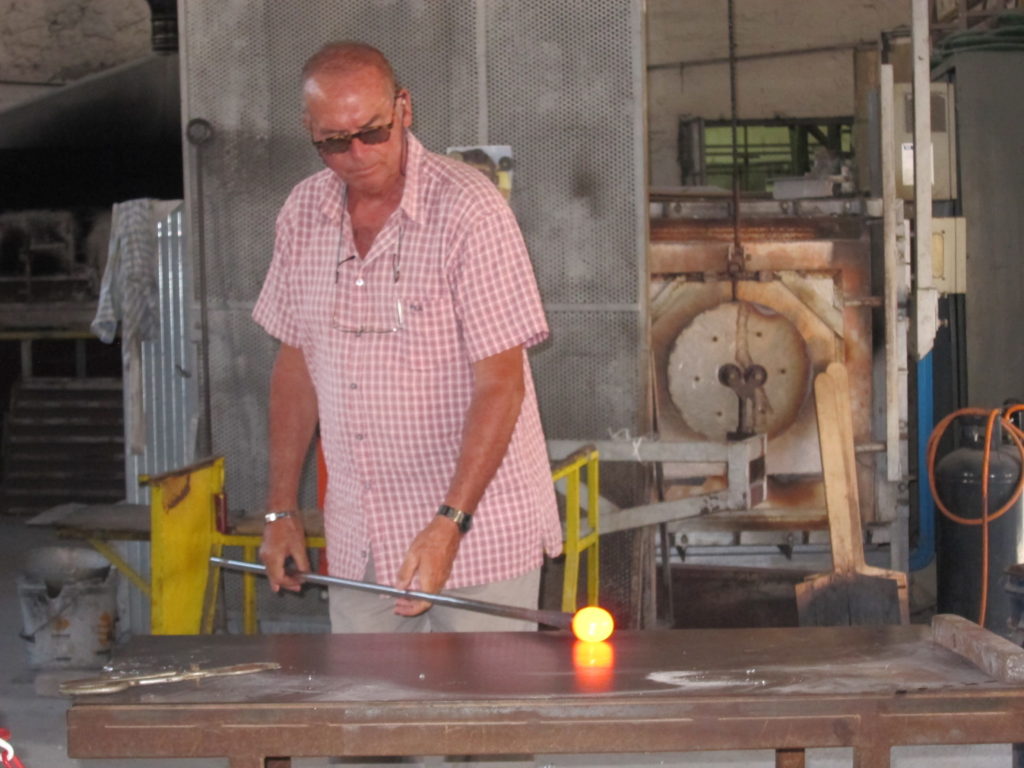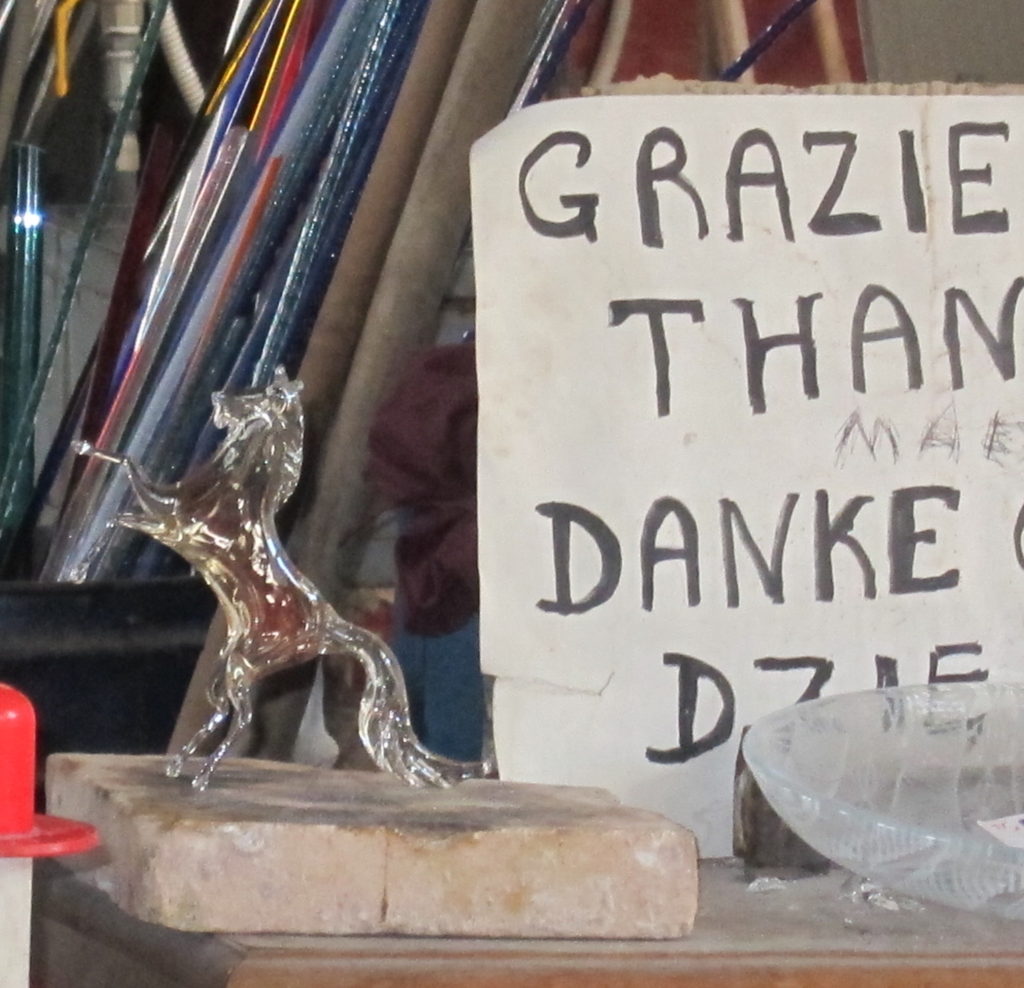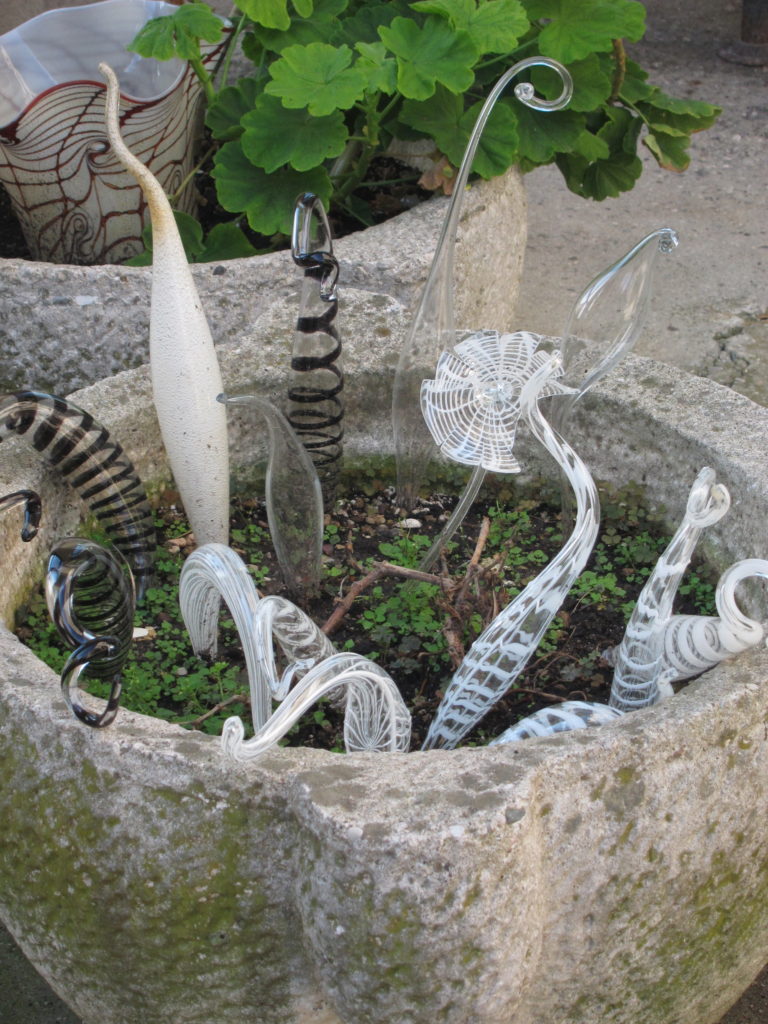 After spending about 2 hours on Murano Island, I got back on the line 12 vaporetto and headed straight to Burano Island, known for its homemade lace products and the colorful homes! I think this has to be the most colorful place IN. THE. WORLD! After exploring Venice and Murano, I noticed the stark contrast in the looks of the buildings and homes. So what's the story behind Burano's colorful homes?
Burano's main industry is fishing and legend has it that fishermen painted their homes with bright colors so they would be easily identifiable upon returning from a day's work.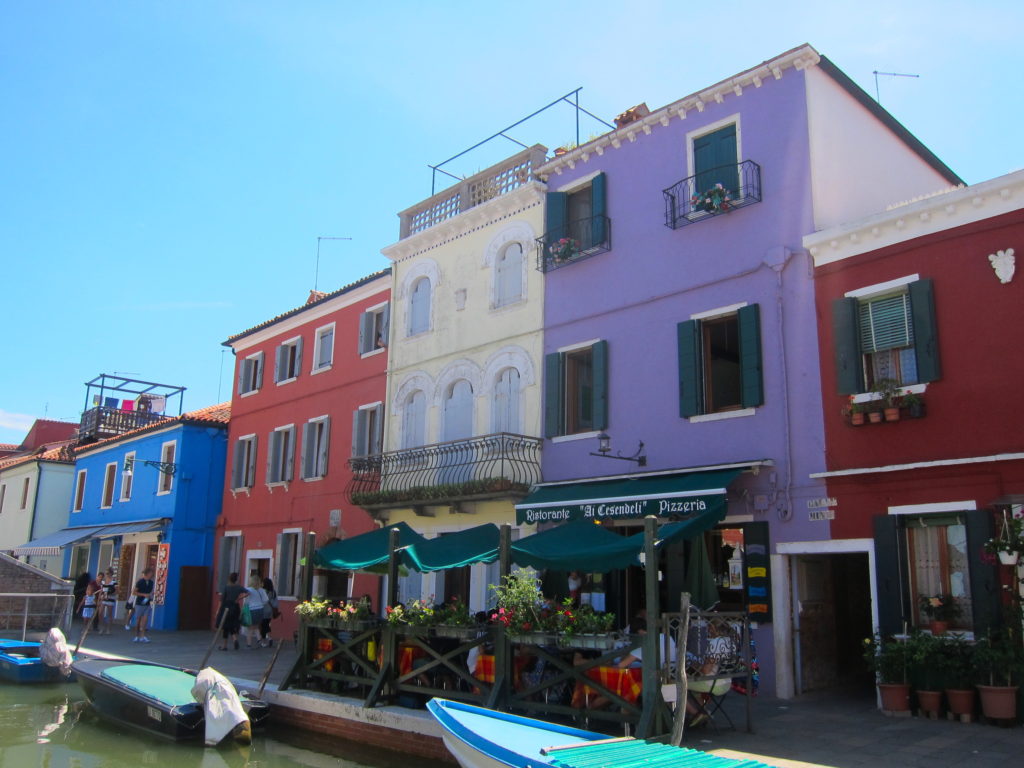 The tradition of colorful homes is maintained and regulated by the Italian government. If you want to change the color of your home, you have to send a formal, written request to authorities. Upon receipt of your request, they will let you know what color you can use.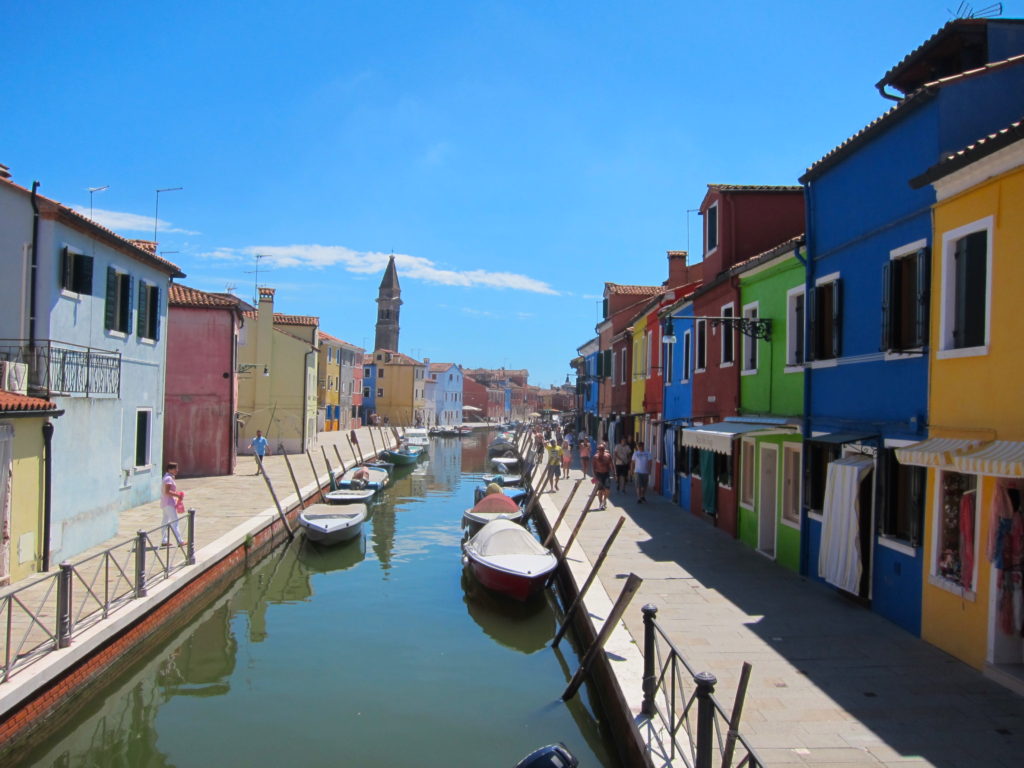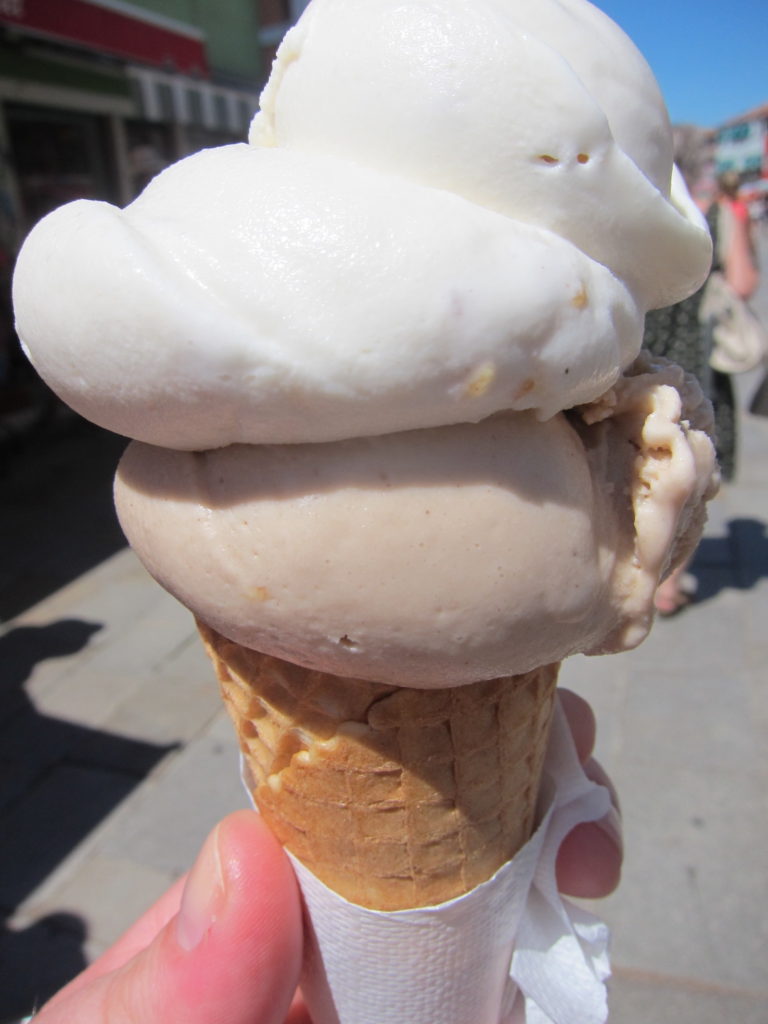 When you want to head back to Venice, just get back on the line 12 vaporetto.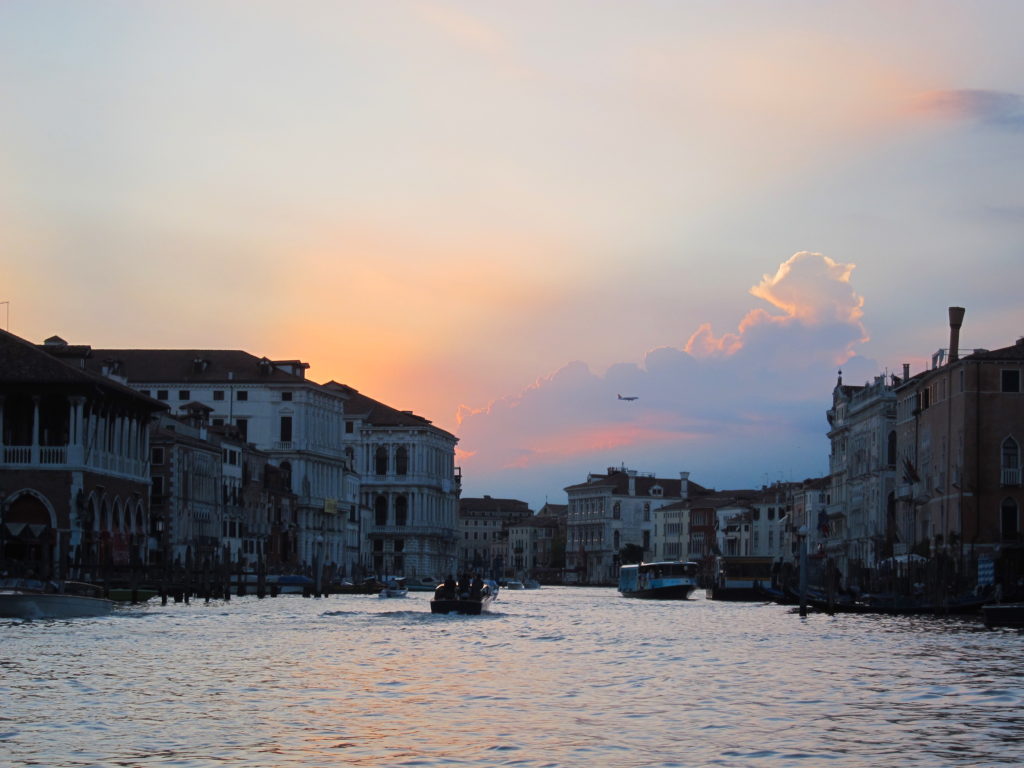 When I arrived back in Venice, we enjoyed one last dinner and sunset together near the Rialto Bridge! I wish I could remember where this spot was, but there was a dock near the restaurant where we could bring our aperitifs and sit and watch the sunset!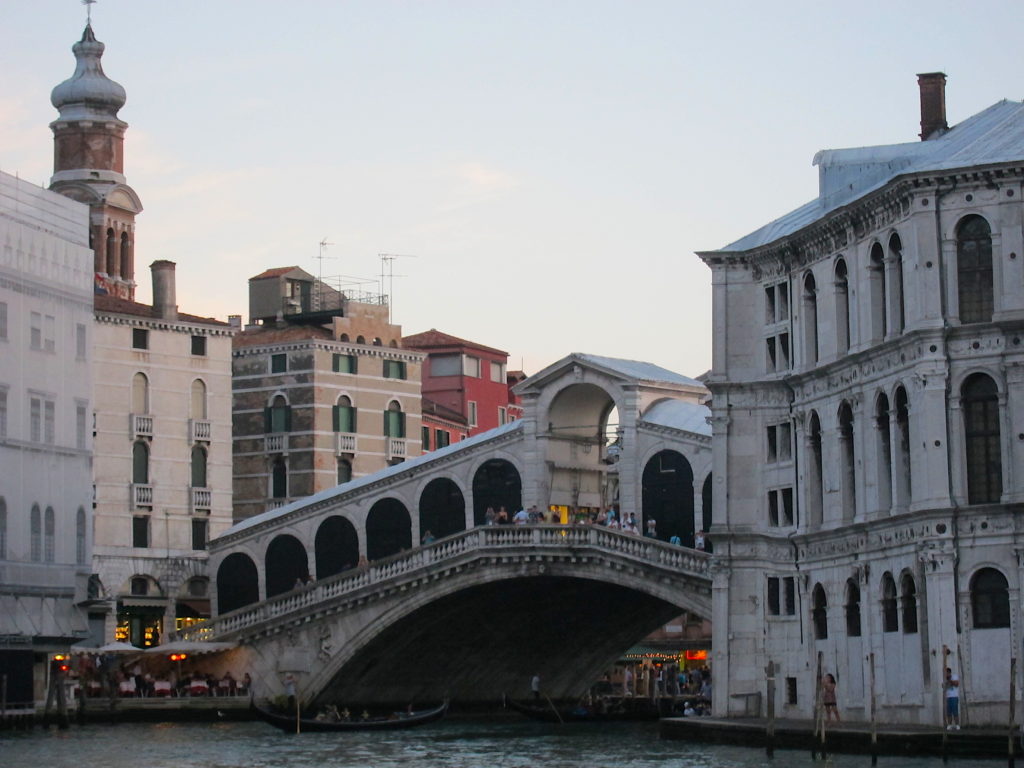 *Following our stay in Venice, we traveled to Cinque Terre the very next morning. We bought tickets at Venezia Santa Lucia station to La Spezia station. You can check out how to spend "One Day in Cinque Terre" or "An Easy Guide for Spending 5 Days in Cinque Terre."
If you're strapped for time in Venice, you can check out our post on how to visit "Venice in One Day".
As always, if you have any questions, feel free to contact us here.