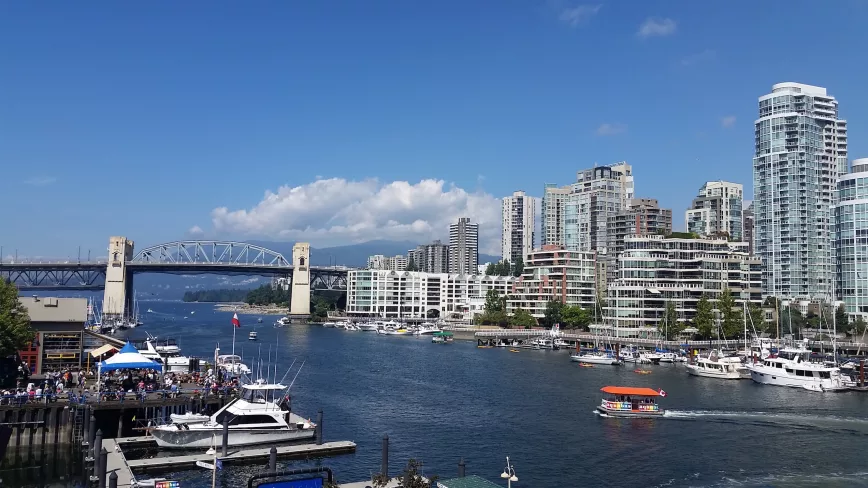 Countries: Canada
Cities: Vancouver (British Colombia)
Highlights: Stanley Park & Seawall, Grouse Mountain, Capilano Suspension Bridge, Gastown, Frasier Valley Vineyards, Chinatown & Dr. Sun Yat-Sen Classical Chinese Gardens, Granville Island, VanDusen Botanical Gardens
Perched on the Pacific Coast and surrounded by mountains, lies the cosmopolitan, yet outdoorsy city of Vancouver, British Columbia. Vancouver is a great place to explore any time of year (but expect rain). However I would recommend visiting from June to September when life moves outside! You will be able to make the most of your time at the beach, hiking trails, and enjoy the outdoor restaurants and breweries.
I absolutely LOVED my time in Vancouver. I wouldn't really consider-myself a city-girl, but if I were to move off the east coast, I would have no problem settling here. Vancouver offers a bit of everything, including beach and water activities, skiing in the winter, upscale shopping, an art and music district, mountains for hiking, tons of bike trails, FREE beautiful parks, fabulous restaurants, and dozens of unique neighborhoods to explore. What is not to love about a city where you can do it all?!
We arrived in Vancouver via cruise ship after an 11- day Alaskan cruise that ended in Vancouver. Caroline had to fly home, but this afforded me with the opportunity to explore the city for a few days before flying home on United Airlines. To save on airfare, I booked the trip using my award miles connected to my  United MileagePlus Explorer credit card – check out the card to receive countless travel benefits and earn bonus miles!
Day 1: Arrival in Vancouver, B.C.
Our cruise ship docked near Canada Place, which is located at the heart of Vancouver's waterfront. It's the home of the Vancouver Convention Center, World Trade Center, and a virtual flight ride. Also, many shuttles and tour buses leave from this central location. My friend Krista met me here for this leg of the trip 🙂 We met up and checked into Metropolitan Hotel, located in the heart of downtown Vancouver!
From our hotel, we made our way to Stanley Park and walked for several hours this afternoon to explore the city and park. A trip to Vancouver would not be complete without a visit to Stanley Park & the Seawall. The 1,000-acre park has a 5.5 mile perimeter, known as the Seawall, for running & biking with views of the snow-capped mountains and city buildings. The park and Seawall are free to visit and can be explored on foot, bike, rollerblades, or even on a horse-drawn carriage.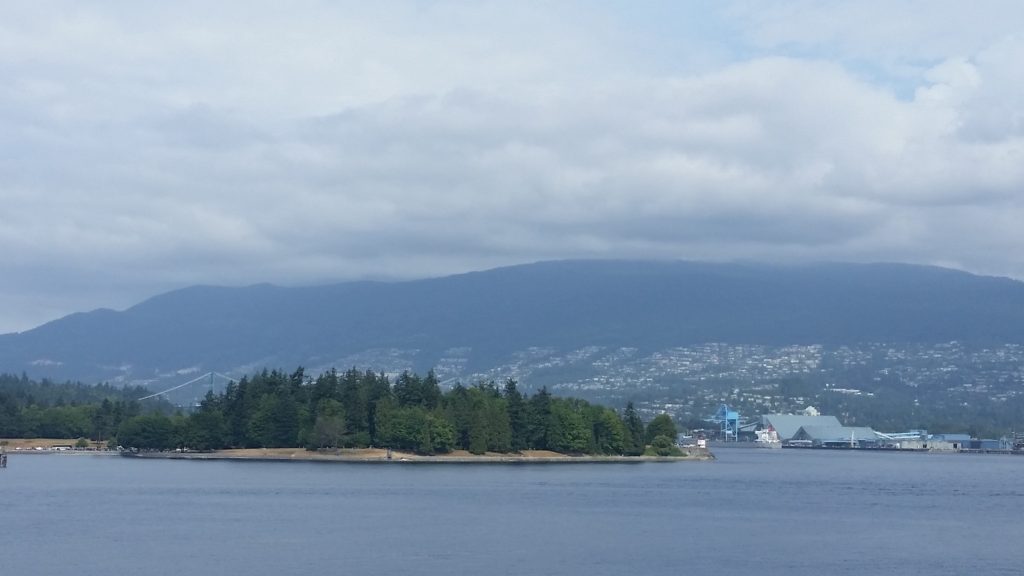 Make a stop at the Brockton Point Lighthouse in the park. It was established in 1890 and has a very distinctive white, square tower with a red horizontal stripe running through the middle.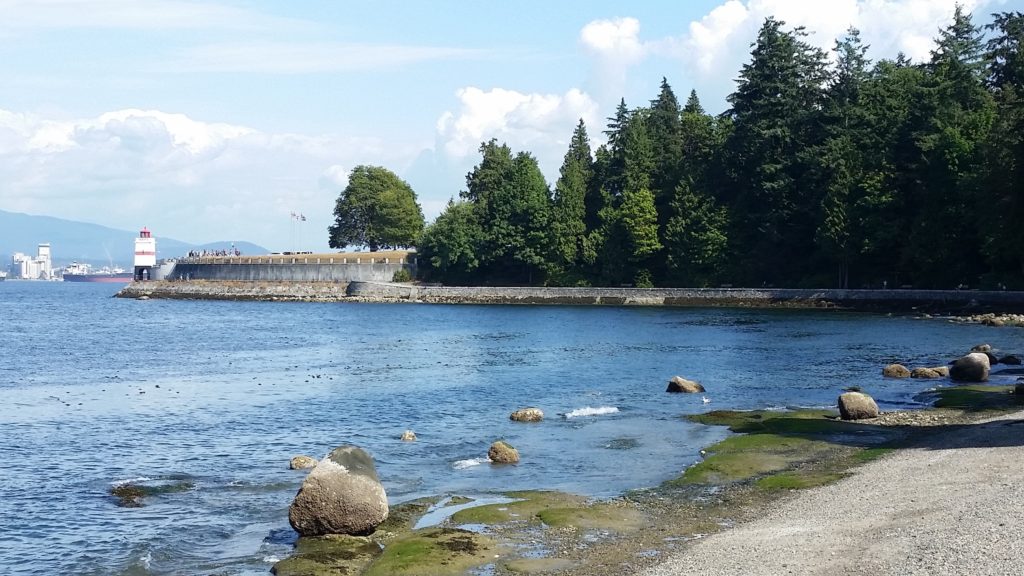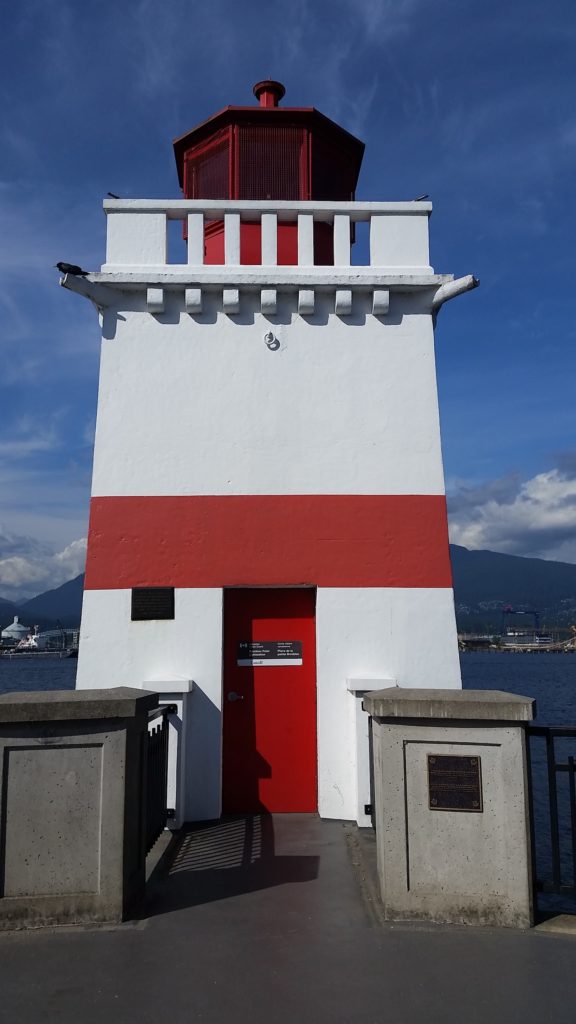 When we got to Stanley Park, we decided to buy tickets on the spot to check out the Vancouver Aquarium (located within in the park). Although it is a major attraction, you do not have to buy tickets in advance. We timed it just right and got to see a seal show!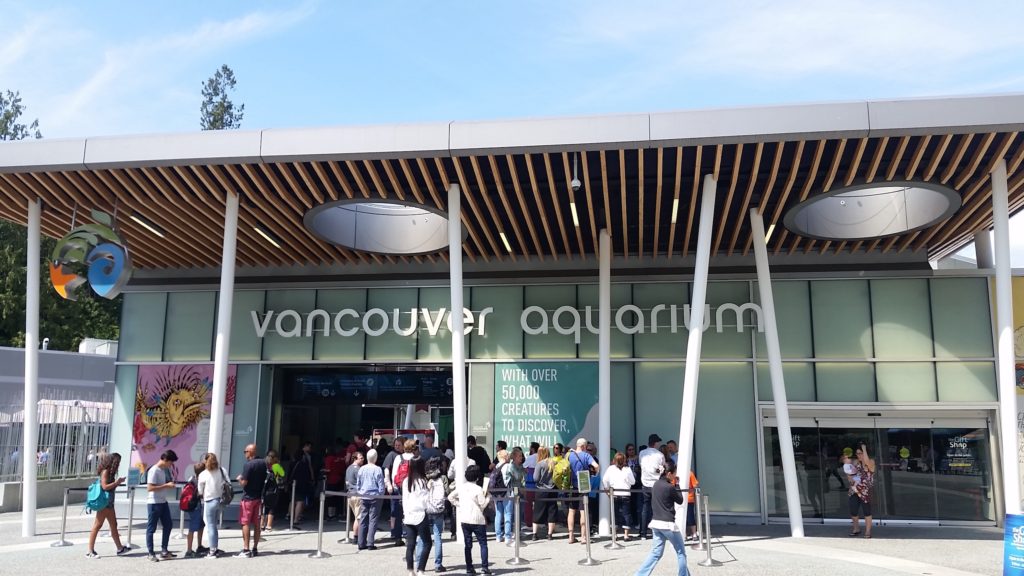 On our way back into downtown Vancouver, we visited the Olympic Cauldron, near Canada Place, which was a massive torch built for the 2010 Olympic Games.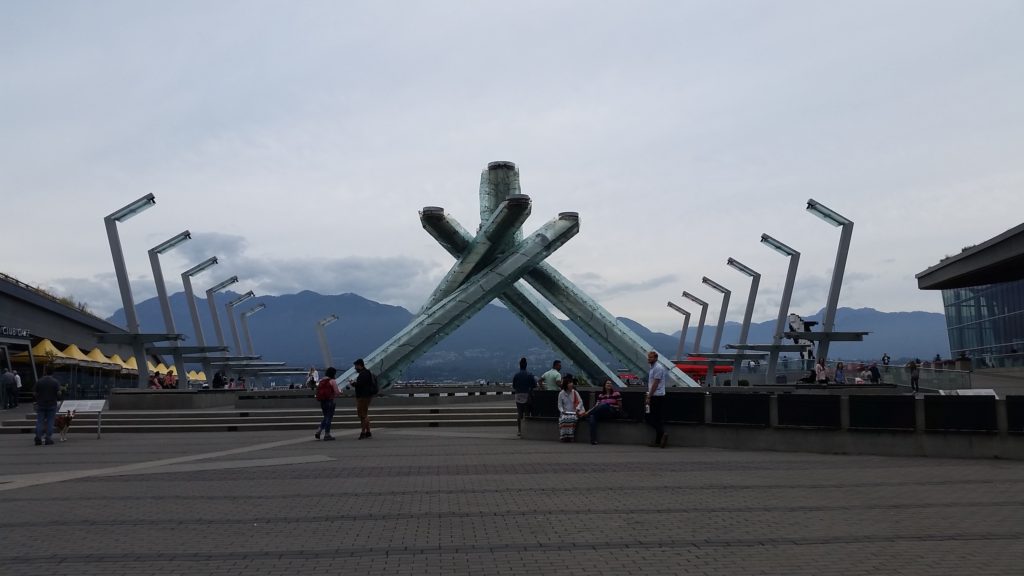 There are tons of places to eat and enjoy waterside dining near Canada Place, the Convention Center, and of course throughout downtown Vancouver. Come to Vancouver with an adventurous appetite!
PRO TIP: You can find Asian food everywhere (about 43% of residents are of Asian descent). Expect some very authentic dim sum, naan, curry, and sushi! Delicious!
Day 2: Grouse Mountain, Capilano Suspension Bridge, & Gastown
Today we set out to conquer the Grouse Grind at Grouse Mountain, also known as "Mother Nature's Stairmaster" 🙂 We took the FREE shuttle to Grouse Mountain from Canada Place. It's a 20-minute drive from downtown.
PRO TIP: In the summer months, the shuttle leaves every 30 minutes from 9am-6pm. There is a 1 hour gap in the shuttle from 1-2pm every day.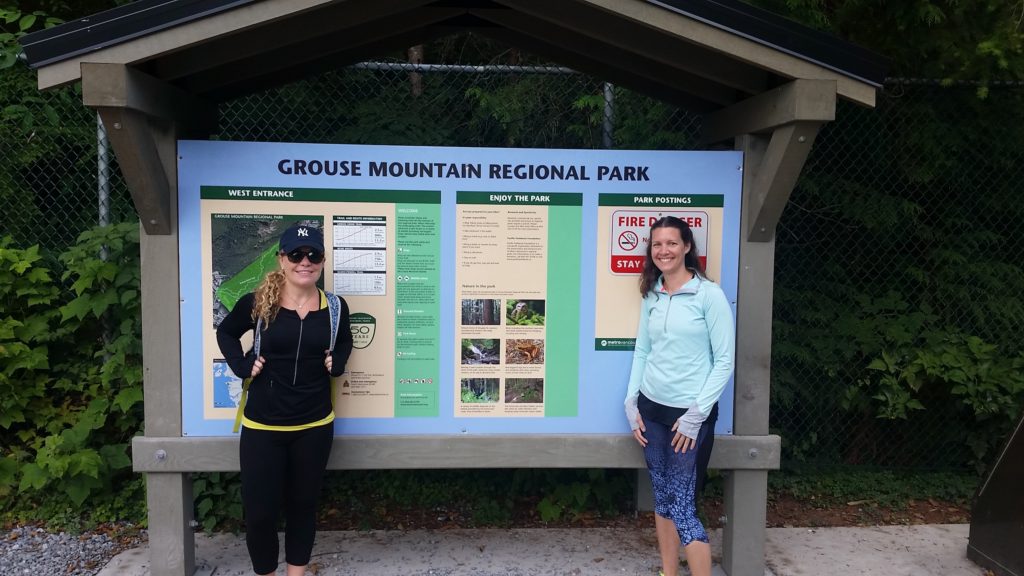 THIS HIKE IS NO JOKE. You climb 1.8 miles up the face of the mountain, which ascends about 2,800 feet. You are not allowed to hike down the mountain because it is too steep and narrow, it was designed to be an uphill hike only. To prepare for this climb, you should bring water and a light snack. There are no garbage cans or bathrooms, or really any convenient places to stop (it's not that kind of a hike), so be prepared to carry everything you bring. It is free to climb, however, it costs $15 to take the mandatory aerial tramway back down.
PRO TIP: If you are not into finding out why it's called "Mother Nature's Stairmaster," you could always take the aerial tramway up to the peak of the mountain. But, I think that's cheating 🙂
The first quarter of the climb is the longest, but the least steep, while the second and third quarters are the most steep, and the last quarter is not as steep.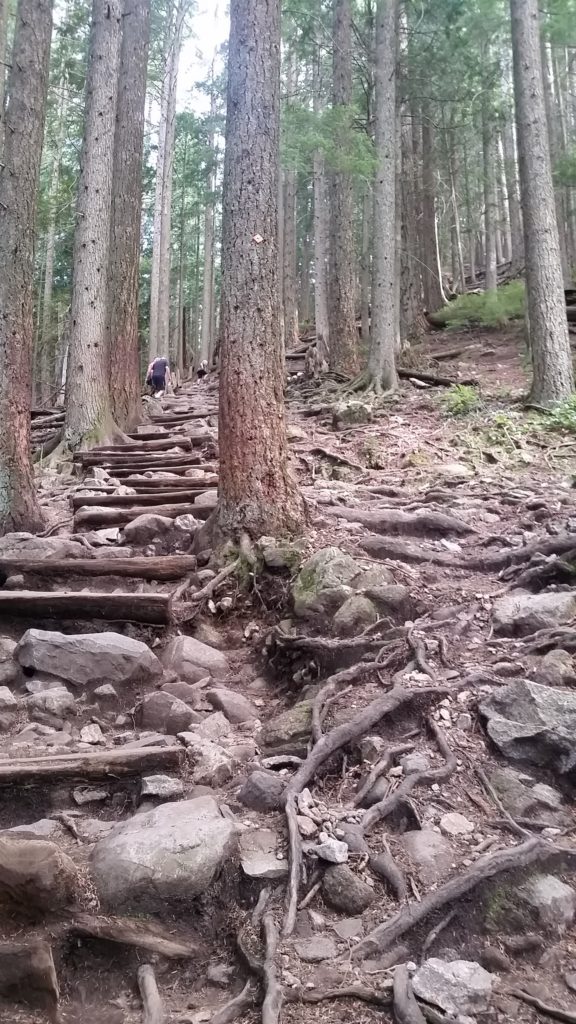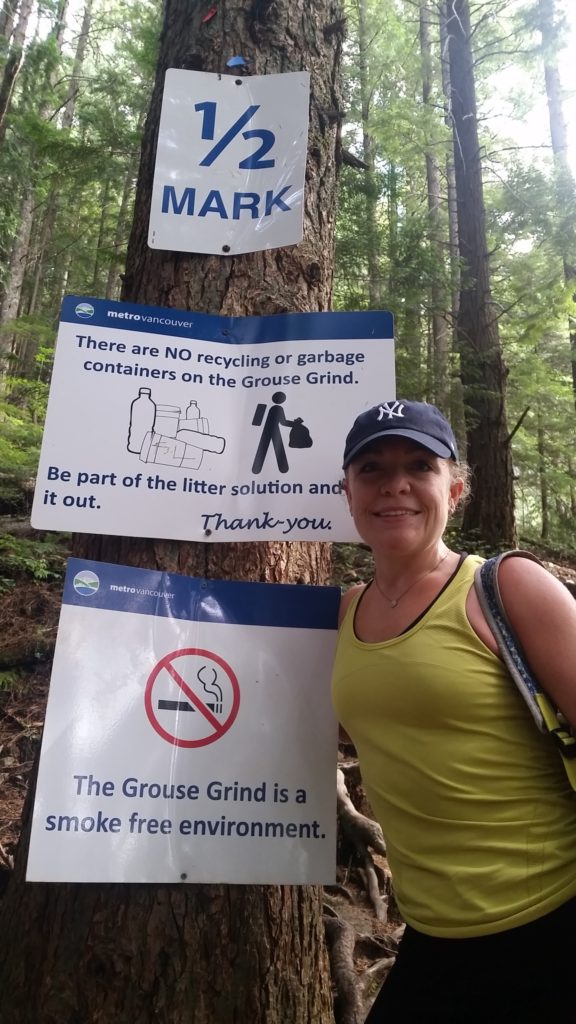 …But once you get to the top…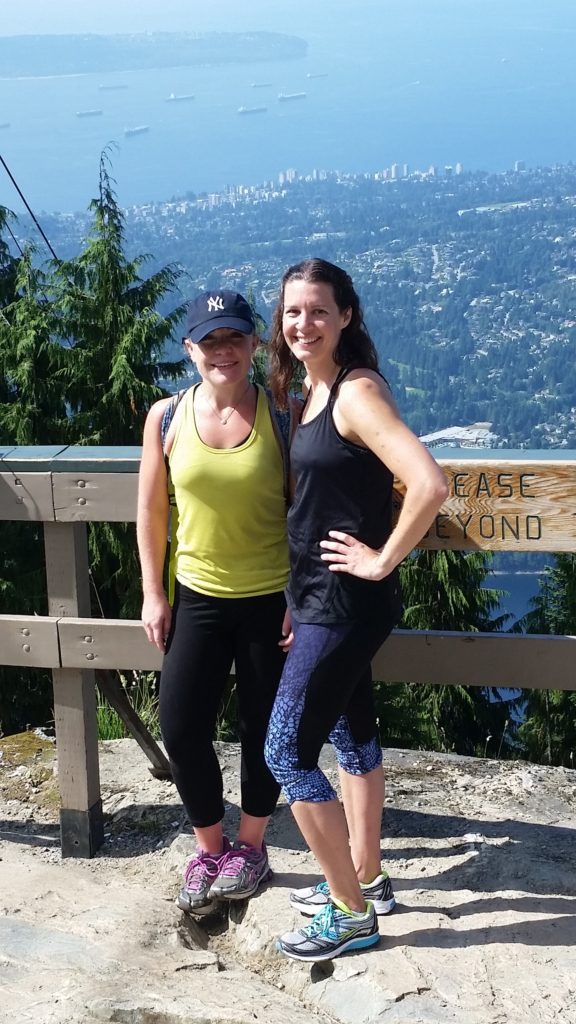 …You are rewarded with the most spectacular views of Vancouver 🙂
At the peak of Grouse Mountain, there are full service facilities for food, drinks, and bathrooms. Most people like to grab a beer, burger, and enjoy the views from Peak Chalet!
Grouse Mountain is also a refuge for endangered wildlife. We were able to see Grinder and Coola, the grizzly bears found in 2001, orphaned and alone on a highway.
After exploring the peak of Grouse Mountain, we took the $15 tram back down the mountain. We got back on the Grouse Mountain shuttle, which will transport you for free over to the Capilano Suspension Bridge park, located just 5 mins away.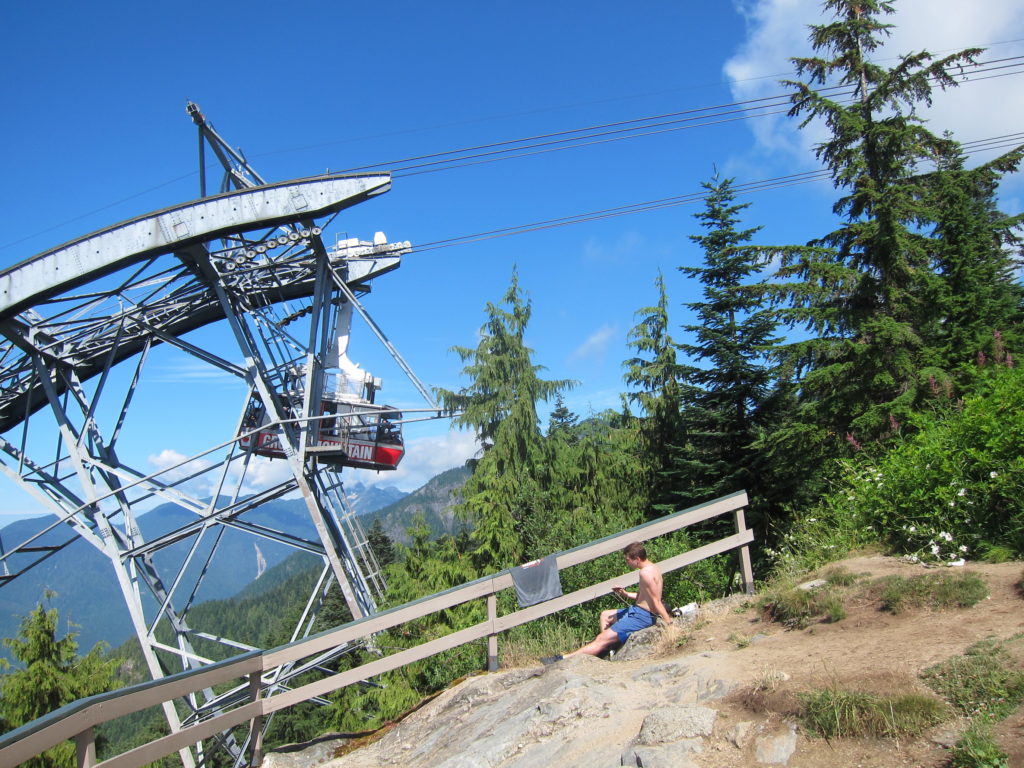 There are tons of activities here, which makes it one of the top tourist attractions in Vancouver. You can plan you trip to Capilano and buy tickets here. The suspension bridge crosses the tops of evergreen trees in a cedar rainforest! There are 7 suspended footbridges offering views above the treeline!
The cliffwalk follows a path high above the Capilano river with a labryinth-like set of bridges to cross.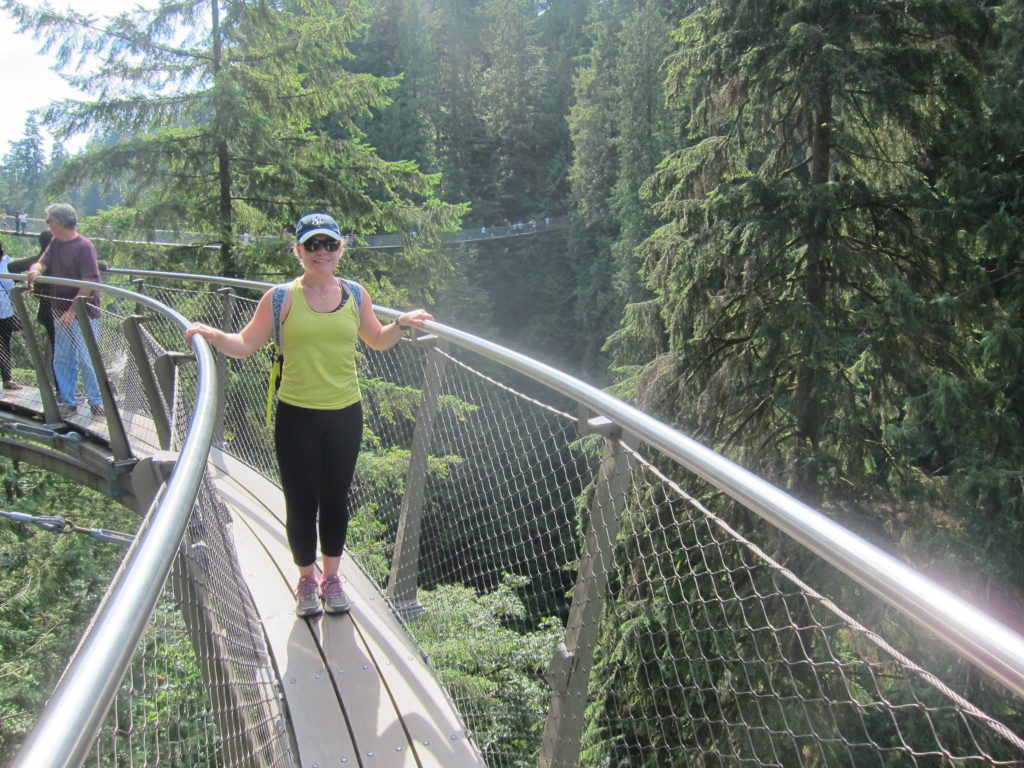 If these activities are a little too fear-inducing, feel free to check out the guided history and nature tours, a little bit more low key.
After spending about 2 hours at Capilano, we got on the shuttle back to downtown Vancouver and made our way over to Gastown! Gastown is the oldest neighborhood in Vancouver with super cute, cobblestone streets. This is a great spot for all those Instagram photos! We found a place to eat dinner: The Greedy Pig. Their menu features seasonal items and an extensive beer and cocktail list. The room is a century old and captures the city's history!
After dinner, we took a stroll through the neighborhood and did a little window shopping. There are a lot of cute, hipster-esque shops. Gastown is also know for its fully-functional, whistling Steam Clock, one of only a few in the world! It whistles and shoots steam at the top of every hour.
Day 3: Frasier Valley Winery Tour, Top of Vancouver Revolving Restaurant
Today we went out on our wine tour and tasting through Frasier Valley, which we booked in advance. Transportation was included (we met near Canada Place), as well as lunch and several local wine tastings! The tour was about 5 hours, so be prepared to be out for half of the day. Find this great tour here!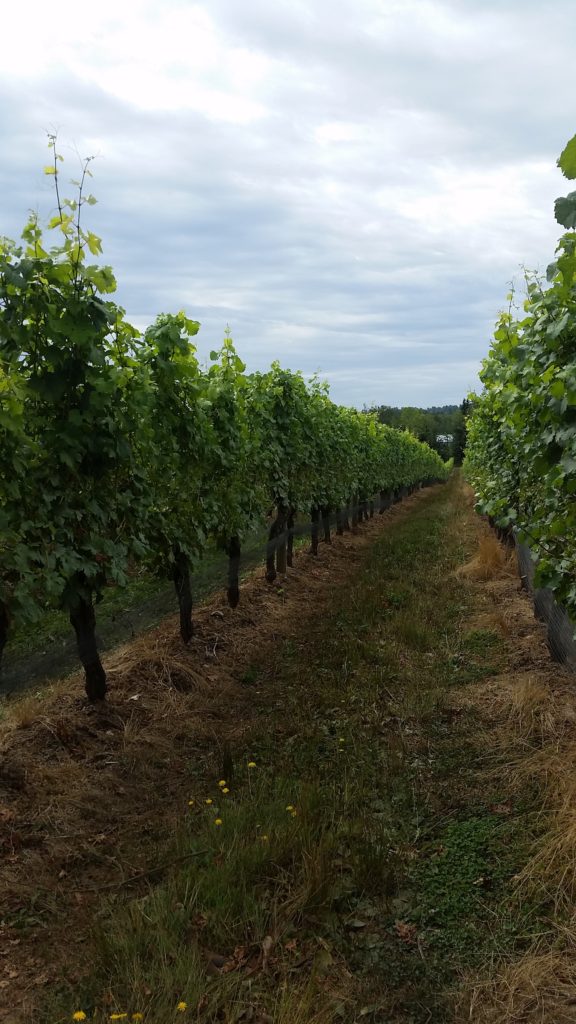 After getting dropped off back in downtown Vancouver, we headed over to the Top of Vancouver Revolving Restaurant. This fine dining restaurant is 553 feet high and offers unobstructed views of Vancouver and the mountain. The restaurant makes one complete revolution in an hours time. If you are interested in eating here, we recommend making reservations in advance.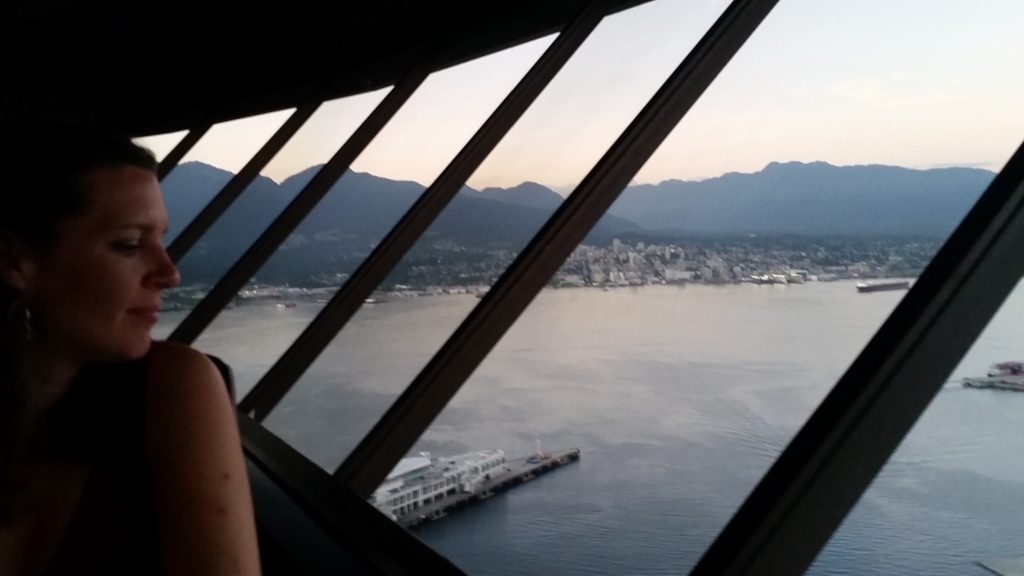 Unfortunately, I experienced some motion sickness during dinner. We tried switching seats, as I was first sitting "backwards" (when we were revolving I was going backwards). That didn't help, so we then moved our seats more inside the restaurant, so we weren't near the window. But that also didn't help. We sadly had to leave the restaurant. The restaurant doesn't revolve very quickly, it's actually hardly noticeable, but for some reason it hit me hard that day! We still enjoyed our delicious dinner as take out 🙂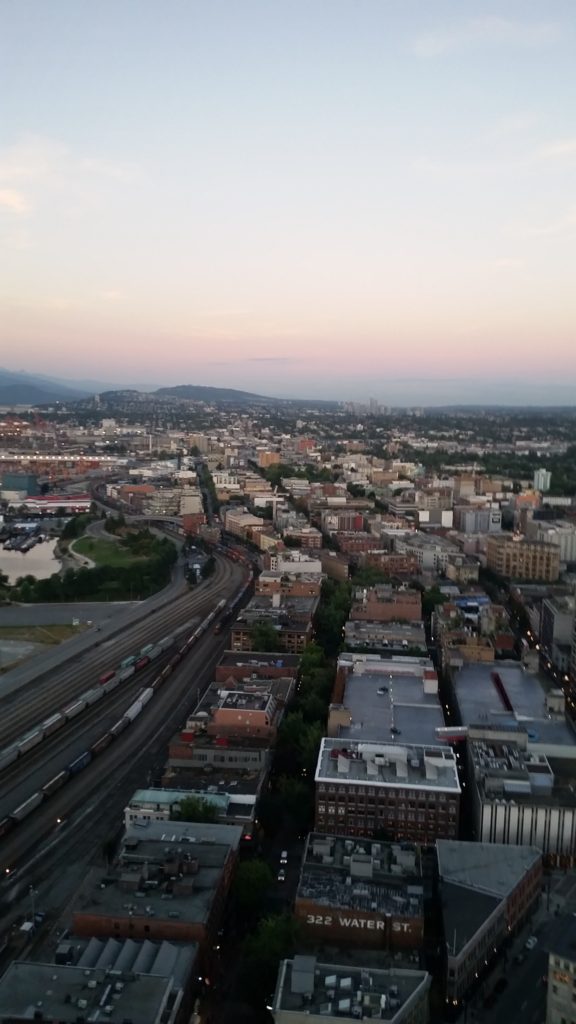 Day 4: Chinatown and Dr. Sun Yat-Sen Classical Chinese Garden, Granville Island, VanDusen Botanical Gardens
This morning we walked into Chinatown, which was about a mile walk from our hotel. It was a beautiful day to walk, but you can also take the city's bus. Vancouver's Chinatown is definitely vibrant with its unique shops, smells, and food markets. However, it did seem a little dirty and rundown. I'd recommend visiting during the day.
From here we headed to the Dr. Sun Yat-Sen Classical Chinese Garden. The garden's grounds are very tranquil and serene, a nice break from the hustle and bustle of the city. The garden became the first authentic Chinese garden built outside of China, upon its completion in April 1986. 53 master artisans from Suzhou and a team of local architects were enlisted to construct the garden using techniques closely related to those used centuries ago in Suzhou. The garden's name also pays homage to "the father of modern China", Dr. Sun Yat-Sen. He strove to promote cultural understanding between China and the rest of the world and he even visited Vancouver several times.
You can buy tickets here and it's open from 10-4:30pm, so make sure your plan your time accordingly.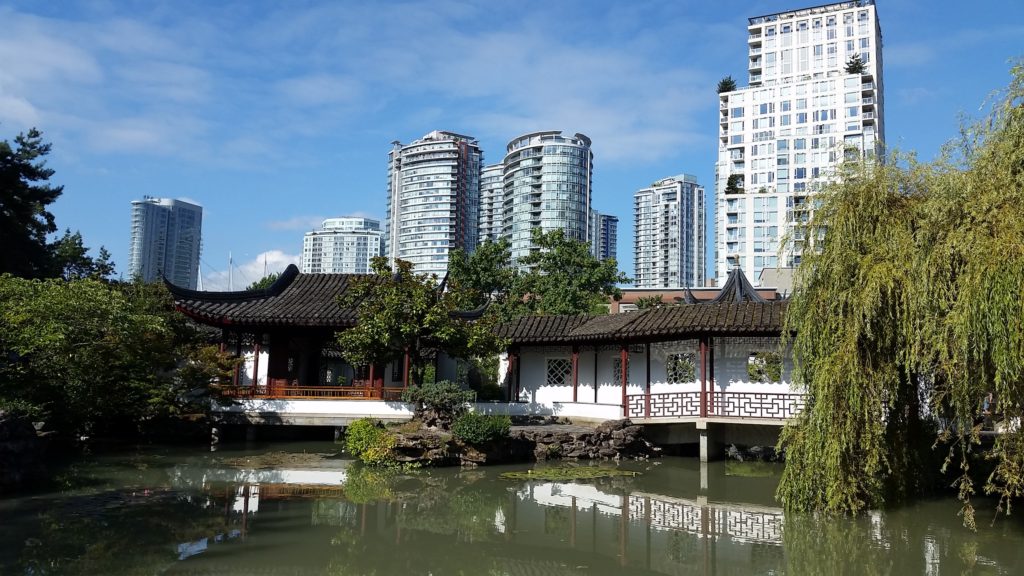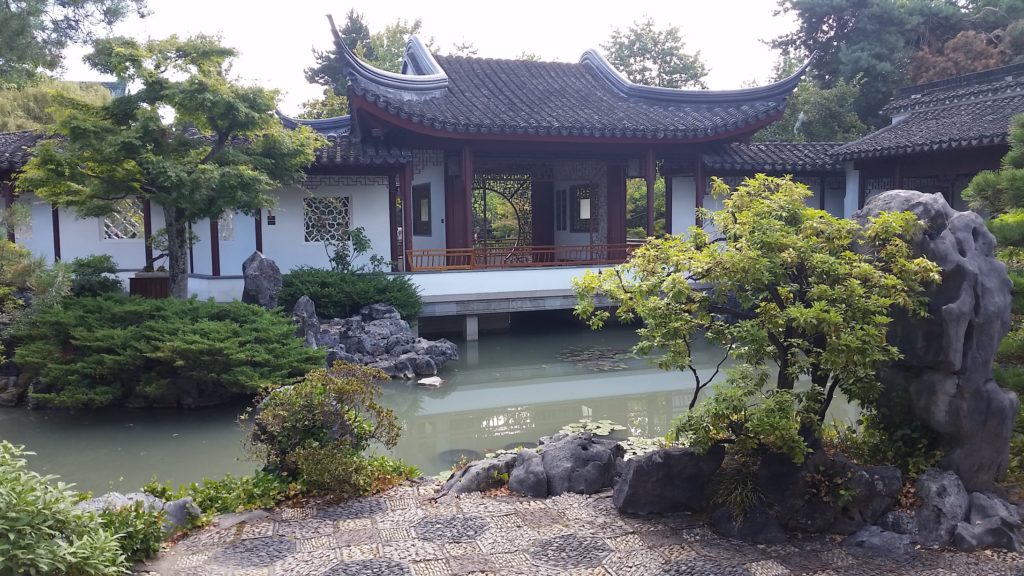 After spending a few hours in Chinatown and at the gardens, we walked back towards downtown Vancouver, where we got on a bus and headed to Granville Island! We took the #50 False Creek bus that comes from Gastown in the downtown area and stops just off Granville Island.
PRO TIP: To learn to more about the Vancouver bus system and schedules, go here.
Granville Island is located right on the waterfront in a fairly urban area. The famous indoor public market is open from 9am-7pm each day and is home to over 50 independent food vendors. The shops on the island feature some of Canada's best artists and designers. You will also find countless places to dine with some of the best views of the water, mountains, and city's skyline. Millions of visitors come here each year, so definitely expect a crowd!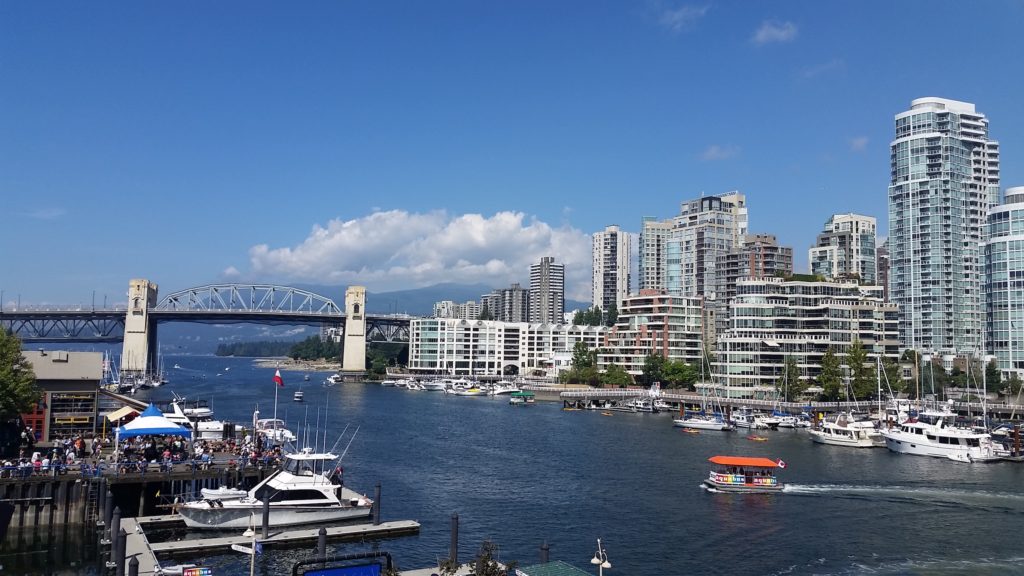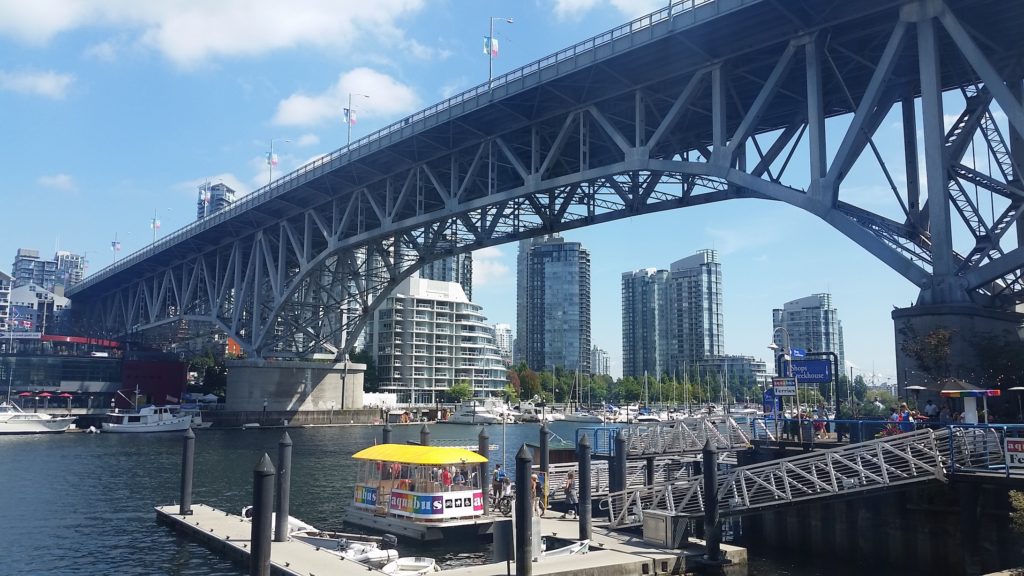 If you come to Granville Island in May – October, you will also see one of the best farmer's markets!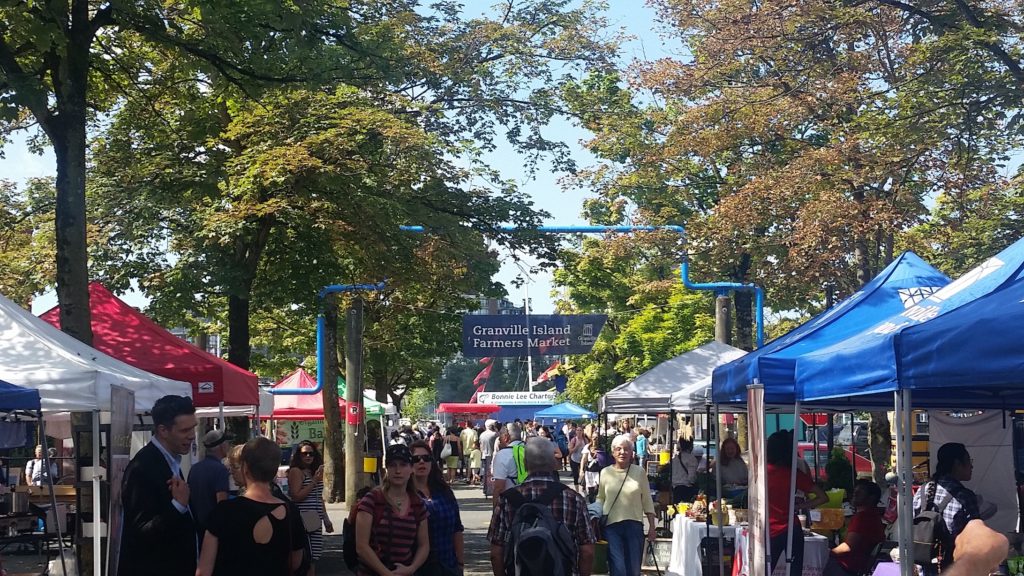 After eating our way through Granville Island, we got on a bus and headed to the VanDusen Botanical Gardens. There are several ways to get here depending on your location, so check out this map for some options. We bought our tickets to the gardens when we arrived without a problem. Check out prices and hours here.
VanDusen houses a collection of several stone sculptures from internationally-renowned sculptors.
The gardens house anywhere from 35,000 to 50,000 honey bees!
VanDusen is an ideal area for wildlife, offering plenty of trees, shade, water, and open lawns.
Today was sadly our last day in Vancouver. We flew home in the morning the next day. Our evening was spend enjoying food and drinks in downtown Vancouver!
As always, if you have any questions, feel free to contact us here.