Country: France
Cities: Paris
Highlights: Eiffel Tower, Champs Elysees, Arc de Triomphe, Jardin des Tuileries, Musee du Louvre, Sainte Chapelle, Notre Dame, Catacombs, Luxembourg Gardens, Montmartre, Sacre Coure, Moulin Rouge
So you're planning a short trip to the "City of Love?" Paris has an unlimited amount of amazing things to do, see, and eat! But with only a few days to spend here, it's important to plan your trip carefully so you see as much as you can without burning out!
I've been to Paris on 3 different occasions and it continues to surprise me every time I visit! On this particular trip, we arrived in Paris after traveling for 5 days through Cinque Terre, Italy (check out our post An Easy Guide to Spending 5 Days in Italy's Cinque Terre). We boarded the train at La Spezia station (in Cinque Terre) to Genoa, Italy (about a 2 hour train ride). We had a 1:15pm flight booked from Genoa to Paris. The flight was only about an hour and a half 🙂
Day 1: Arrival in Paris, Eiffel Tower, Champs-Elysees, Arc de Triomphe
Once we arrived in Paris, we headed to our hotel Auteuil Tour Eiffel hotel. We found a great deal for this hotel online, and it was actually cheaper than staying in a private room at a hostel. It's about a 10 minute drive or a 25 minute walk to the Eiffel Tower. It also has a grocery store in the neighborhood, which helped us save on some meals and snacks. Overall, we found it to be a great spot and a beautiful hotel!
It was already late afternoon when we arrived, so we decided to see what we could on foot. And of course, a trip in a new country can't start without a celebratory drink!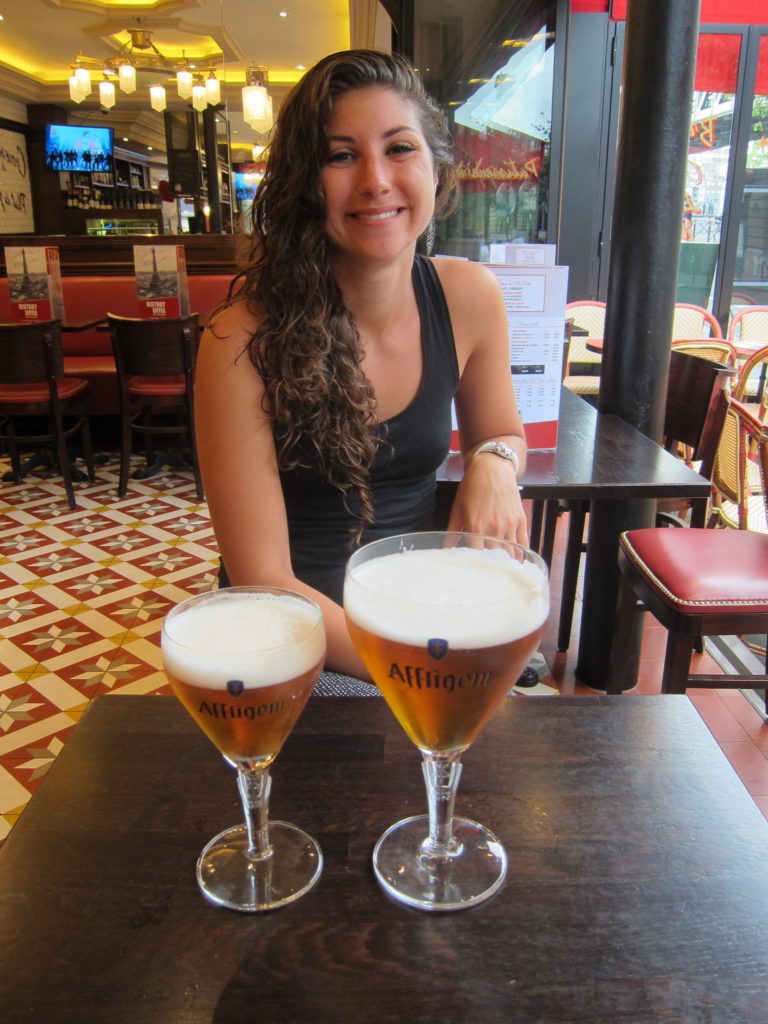 We walked about 25 minutes to the Eiffel Tower and enjoyed sights along the Seine River.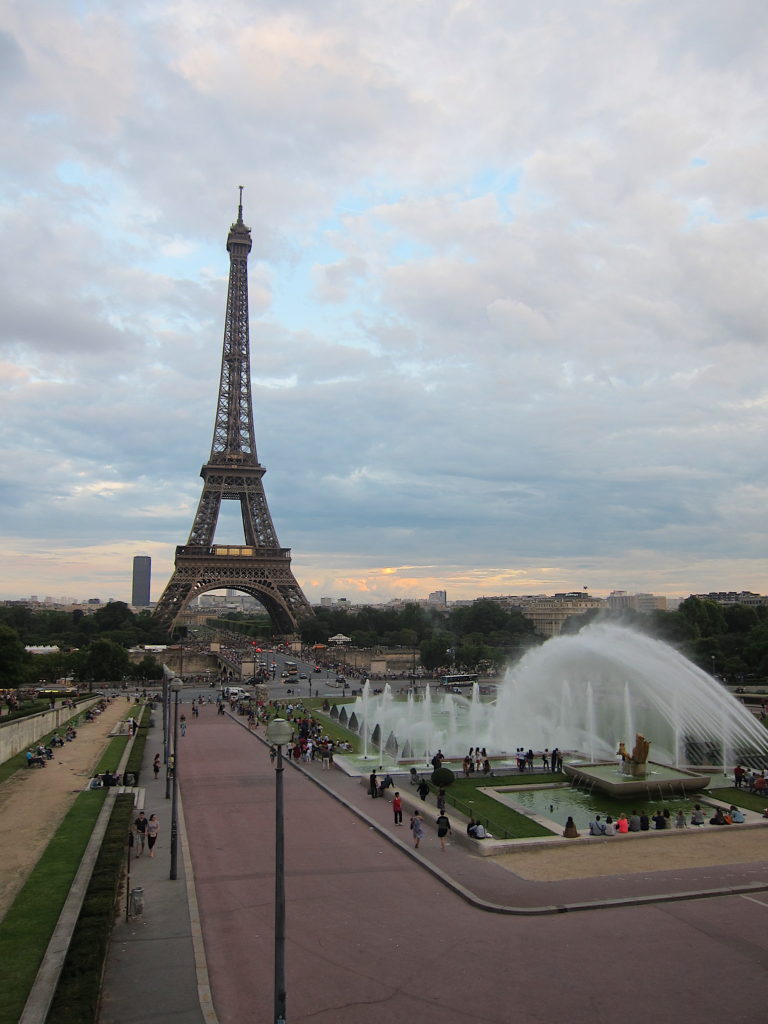 We walked up and down the Champs-Elysees, which runs right into the Arc de Triomphe.
The Champs-Elysees is the world-famous avenue running about 1.2 miles long between Place de la Concorde and the Place Charles de Gaulle, where the Arc de Triomphe is located. It definitely falls under the category of "top attractions" with over 300,000 visitors each day! With its swanky shops, monuments, and frequent festival events, the Champs Elysee can be enjoyed during the day or at night and it should not be missed.
Stop at Laduree for a world-famous macaron! And, if the macarons aren't calling you, don't worry, you have plenty of other pastries from which to choose!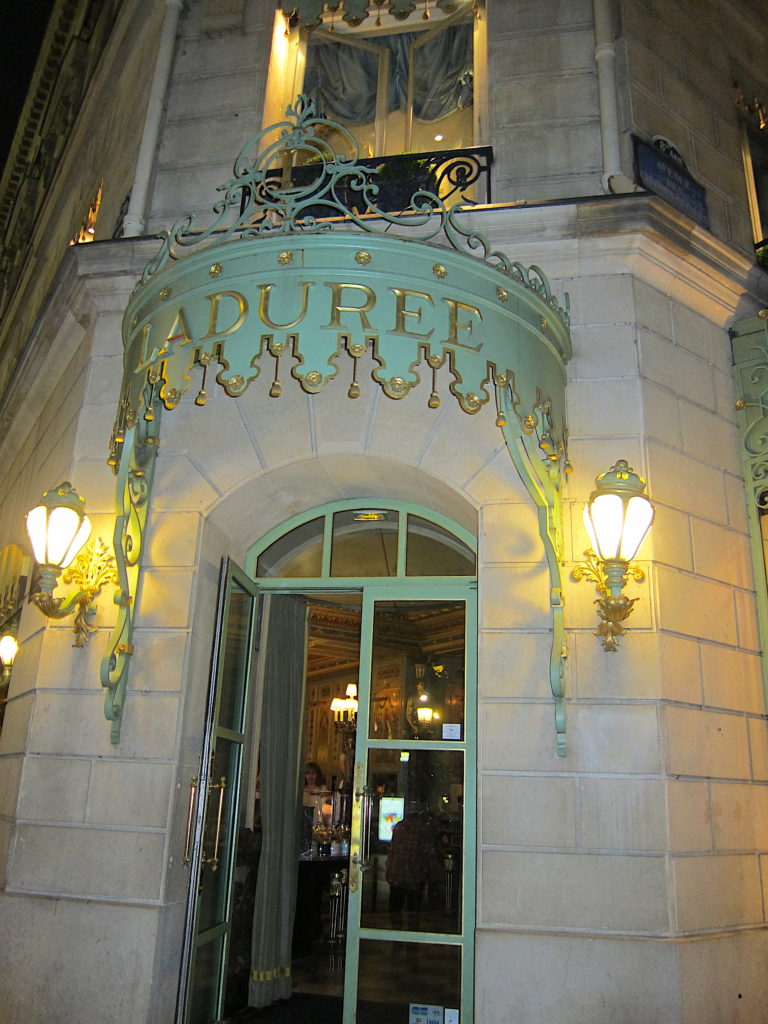 PRO TIP: Expect a long line just to get into Laduree!
PRO TIP: You can climb to the top of Arc de Triomphe to witness the Paris skyline from above! But, like every other "attraction" in Paris, you can expect a long line to climb to the top. Get skip-the-line tickets here!
After meandering around Paris, it was time to make our way back to the hotel. But first, we stopped at Eiffel Tower to see it all lit up! Definitely stop here after sundown to view the tower's illumination. It sparkles for 5 minutes every hour on the hour!
Day 2: Place de Concorde & Obelisk, Jardin des Tuileries, The Louvre, Saint-Chapelle, Jardin du Luxembourg
We set out again today on foot to explore more of what Paris has to offer! We walked by Les Invalides, which is in the 7th arrondissement (district) of Paris. It contains monuments and museums relating to France's military history, as well as a hospital and retirement home for war veterans. And, one of the most notable tombs here is that of Napolean! You can get a ticket to skip-the-line and visit the museum and tomb here!
From here, we headed to Place de Concorde, which is the largest public square in Paris in the 8th district, situated at the end of the Champs-Elysees. You can also find the Luxor Obelisk here, which is a 3,300 year old Egyptian monument standing 73 feet high!
PRO TIP: Did you know the Obelisk was once situated at the entrance of the Luxor Temple in Egypt? It was given to France by the ruler of Ottoman Egypt in exchange for a French mechanical clock!
From here, we headed straight to the Jardin des Tuileries, located between Place de Concorde and The Louvre in the 1st district of Paris. The gardens are free to stroll around. You can take a ride on the ferris wheel for about 8 Euros from 10am – midnight!
Our next stop was at the spectacular Louvre, located in the 1st district and on the right bank of the Seine. It's the world's largest art museum and a major landmark of the city! We bought tickets to return another day (more on that later), but we enjoyed strolling around this marvelous building!
From here, we walked over to Saint-Chapelle, which remains one of my favorite cathedrals (of course La Sagrada Familia is my #1). Don't be fooled by the dark, first floor. Once, you climb to the second floor (and you MUST not miss this), your breath will be taken away by the highly adorned, 50 foot walls covered in stained glass!
PRO TIP: Purchase Skip-the-line Saint-Chapelle tickets here!
Our next stop is another major icon in Paris, the impressive Notre-Dame Cathedral! Yes, two cathedrals in one day 🙂 We highly recommend booking your ticket to visit the cathedral if you are tight on time. You can book your visit the day of at the terminal (just arrive as early as possible), or book it the day of on the app 'Jefile'. There are no advance bookings!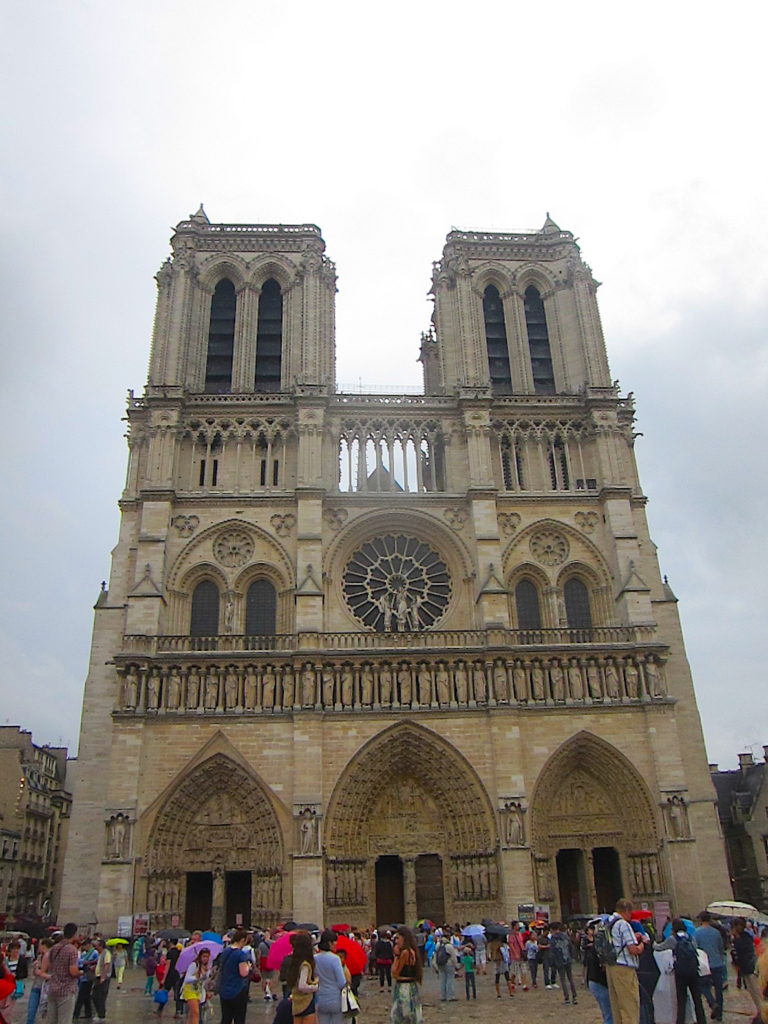 PRO TIP: Due to the awful fires in 2019, parts of the cathedral and towers are closed until further notice. Check here for updated information.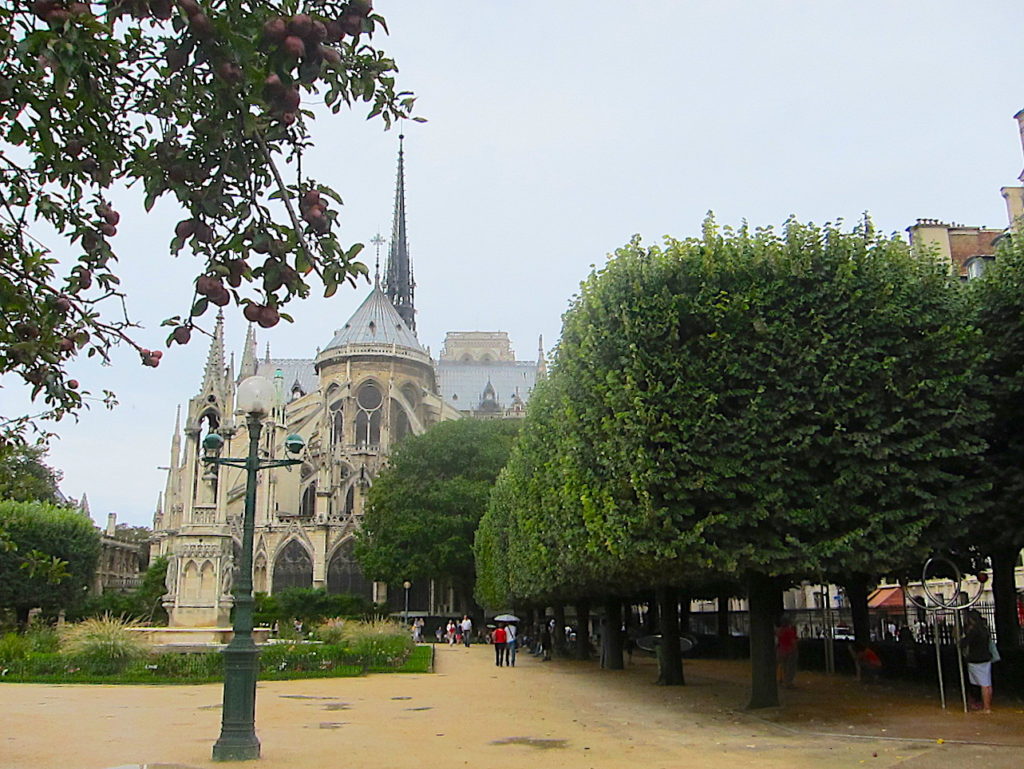 From the cathedral, you can take a 15 minute walk across the Seine and over to the Jardin du Luxembourg, located in the 6th district. The gardens were created by Marie de' Medici, the widow of King Henry IV, for the new residence she constructed, the Luxembourg Palace! Entry to the gardens are free. Today, the palace houses the French Senate.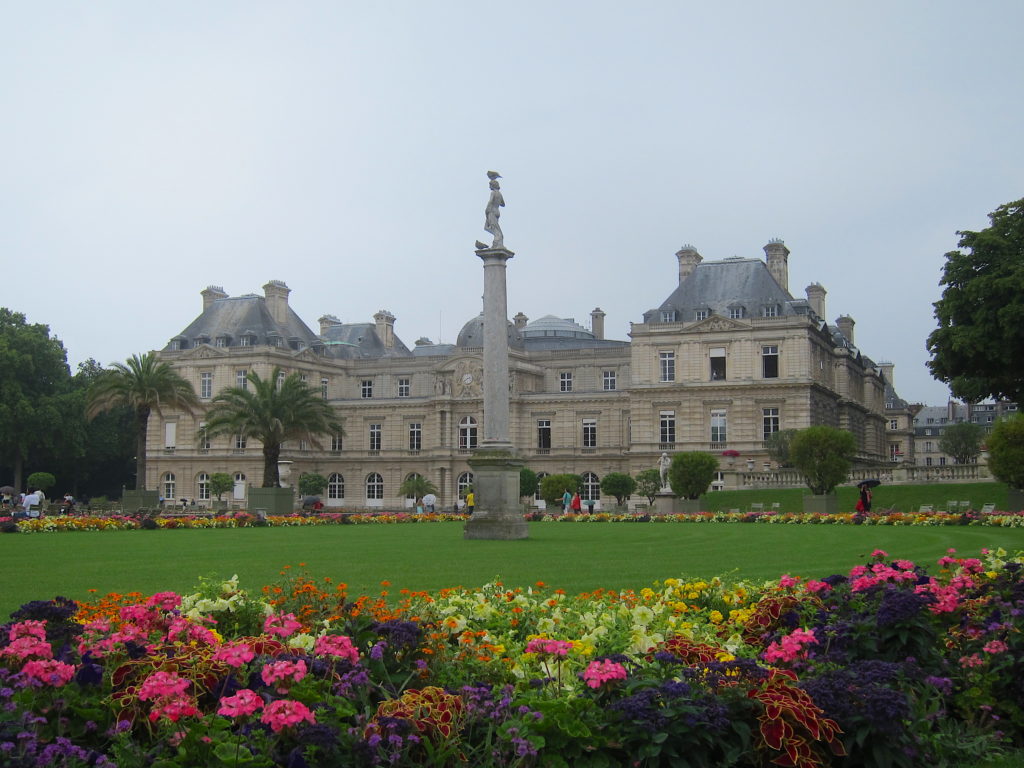 Enjoy the beautiful flowers, statues, monuments, or sit down for a picnic!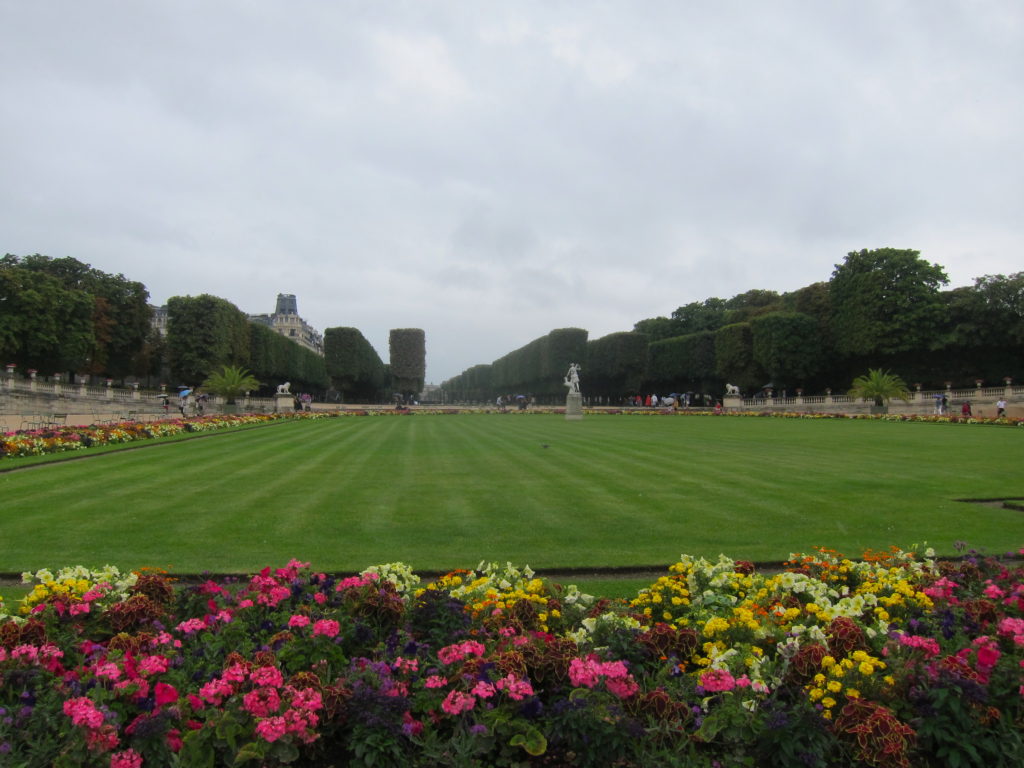 That night, we picked up food from a local market near our hotel. We enjoyed an evening in resting our feet after a long day of walking and exploring!
Day 3: Montmartre, Sacre Coeur, Moulin Rouge, Paris Catacombs
This morning we took the metro to Montmartre, home to the Sacre Coeur, the Moulin Rouge, and adorable streets, cafes, and bakeries.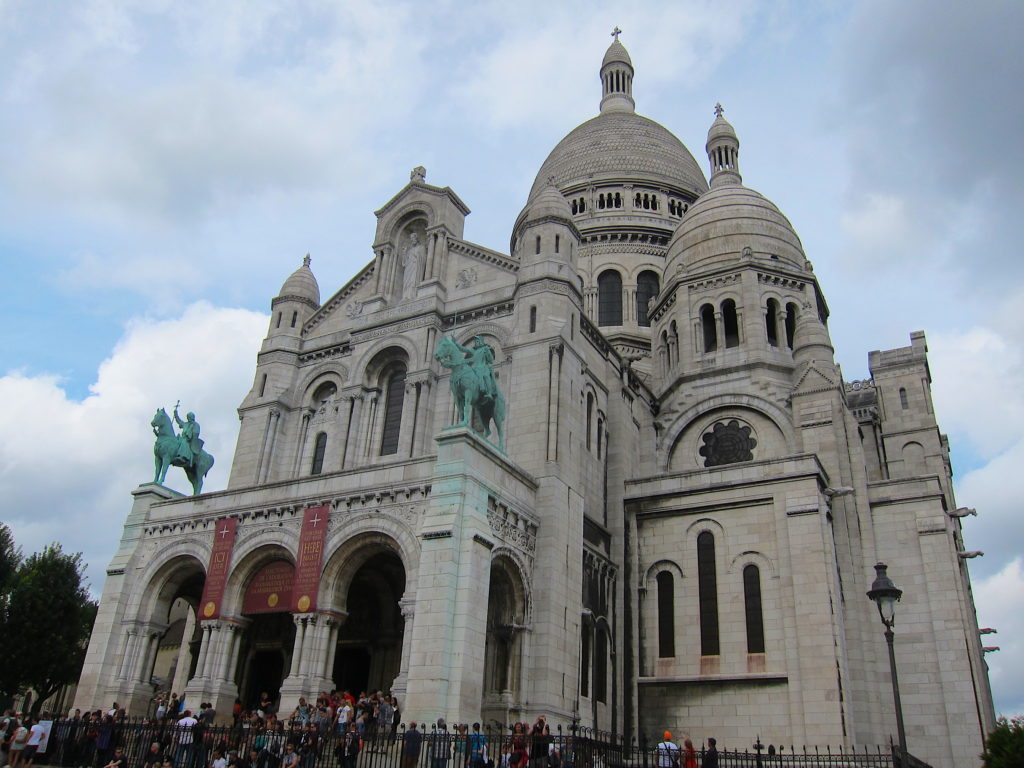 Access to the basilica is free, but you have to pay an admission fee to climb the tower. If you are up for the 234-step spiral staircase, it's worth if for some of the most spectacular panoramic views of Paris!
We couldn't visit Montmartre without stopping at Moulin Rouge! If you are up for dinner, a show, and popping some champagne, then this is the tour for you: Moulin Rouge show tickets.
Following Montmartre, we got back on the subway and set out to see a completely different side of Paris- the Paris Catacombs! The catacombs were formed in the 1700s from an old underground quarry. During the 18th & 19th centuries, more and more bodies were brought here from overcrowded cemeteries and as cemeteries were emptied out due to health concerns.
The tour took us 135 feet underground to explore the skeleton remains and to learn about old burial practices. It will take about 45 minutes and you will cover roughly 1 mile. We did not book a tour in advance, so we had to wait for over 2 hours to get in! They limit capacity to 200 at a time. We recommend booking a tour in advance if you are short on time. Here is a skip-the-line and audio guide tour!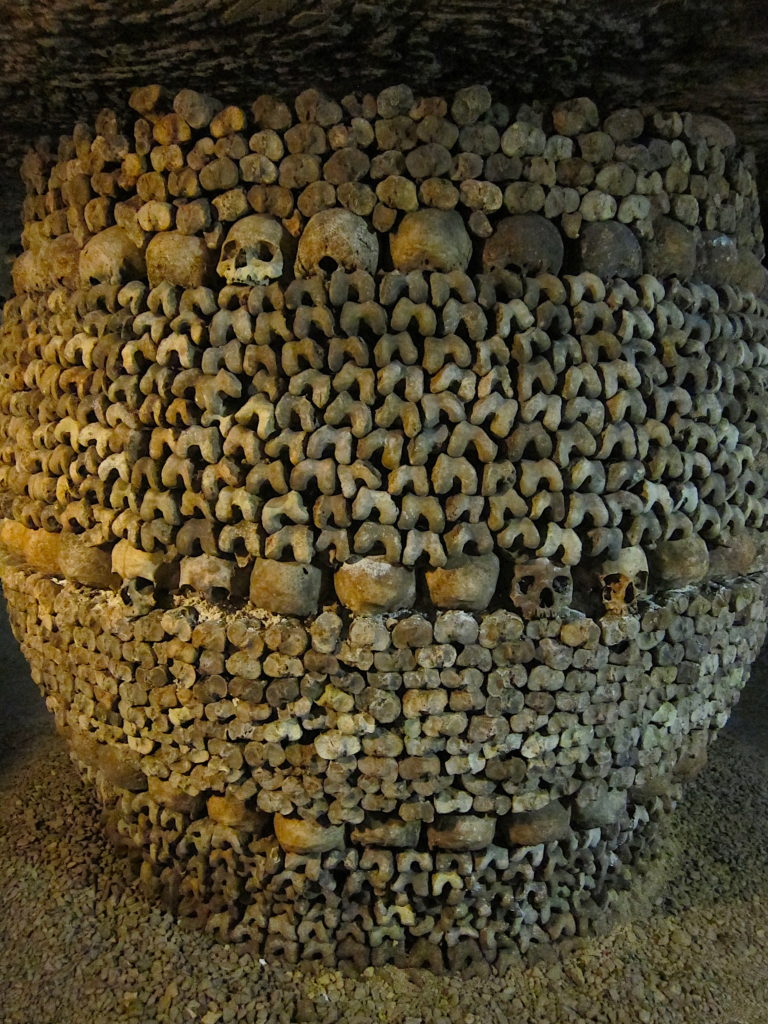 The catacombs are a bizarre mix of historical, biblical, artistic, spooky, and bone-chilling (pun intended 🙂 )!
Following our tour of the catacombs, we enjoyed a classic croque-monsieur ("crunch sir"), a hot, grilled ham and cheese sandwich, topped with bechamel sauce.
Day 4: The Louvre, Latin Quarter, Shakespeare & Co.
This morning we went back to the Louvre to spend a few hours at the museum. We did not purchase tickets in advance because we didn't know what day or time we would want to go during our trip. So, if this is YOU, we recommend getting to the Louvre 30-60 minutes before it opens so you can get tickets – there will be less of a crowd. Plan to spend a minimum of 3-4 hours at the Louvre.
But, the best way to maximize your time here is to buy your tickets in advance (I recommend this tour because you can skip-the-line and move at your own pace with an audio guide). Once you arrive, you only have to wait in the one security line to get in. Make sure you stand in the correct line – there is a line for ticket holders and a line to get your ticket (followed by a second line to wait to get through security).
The Louvre is the most famous museum in the world with over 10 million visitors a year! But with its extensive collection of notable pieces of art, you can understand why. Be on the lookout for the Mona Lisa, Venus de Milo, Dying Slave, Grande Odalisque, Liberty Leading the People, and many others!
PRO TIP: You could spend a whole week in the Louvre, but who has time for that? Know precisely where your favorite masterpieces are located so you can plan your best course of action!
Don't forget to admire the Louvre's Pyramid from inside!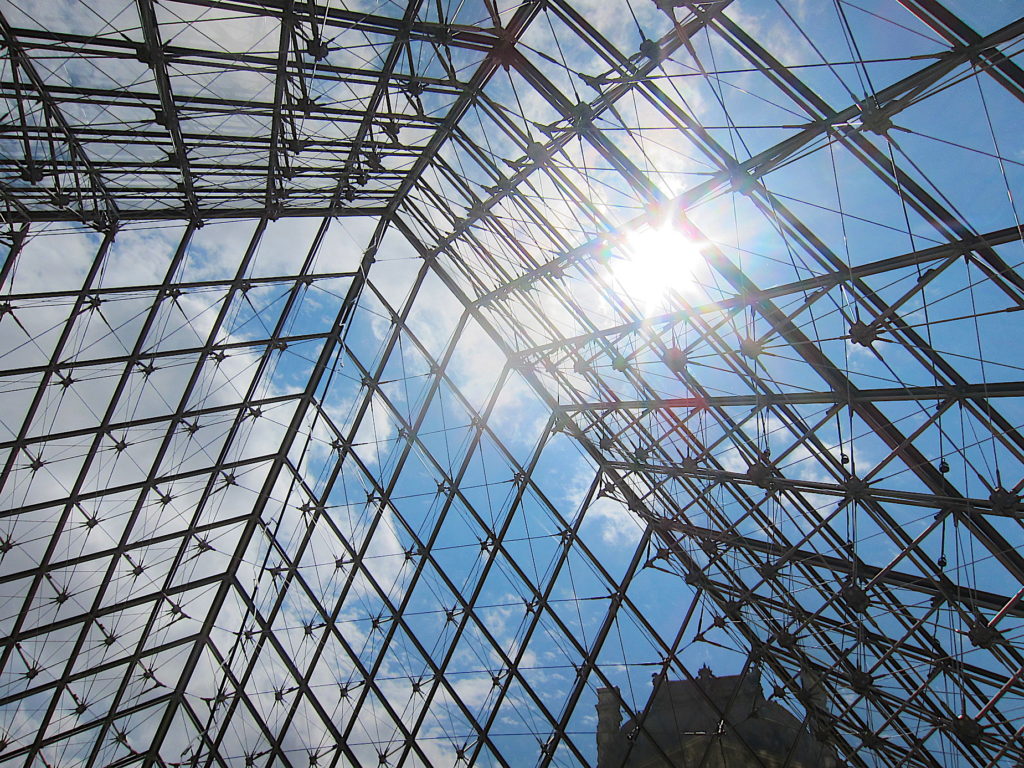 After spending about 4 hours at the Louvre, we made our way back towards Notre Dame and stumbled upon Shakespeare & Company! It's Paris' most notable bookstore which nurtured writers such as F. Scott Fitzgerald, Ernest Hemingway, Langston Hughes, and many others.
The bookstore itself is quaint and comfortable. There's a cat that lives upstairs, you may run into a reading or music session, and they will stamp any book you buy with their seal (a great souvenir!)
PRO TIP: You are NOT supposed to take pictures inside, which I learned the hard way after snapping some…
The last spot we wanted to check out before flying home tomorrow was more of the Latin Quarter, which is in the 5th district of Paris and on the left bank of the Seine (the Luxembourg Gardens are nearby here). If the small, cobblestone streets don't draw you in, then surely the lively music and cafes will! We found a great spot with outdoor seating and enjoyed half priced appetizers and drinks with tons of people watching! We wish we had come to this part of the neighborhood sooner! It's an ideal spot for going out and nightlife in general!
Day 5: Au Revoir Paris!
4 days in Paris went by so fast! We woke up early to catch our flight from Paris (CDG airport) to Newark on United. I booked our flights using using my  United MileagePlus Explorer credit card – check out the card to receive countless travel benefits and earn bonus miles!
As always, if you have any questions, feel free to contact us here.