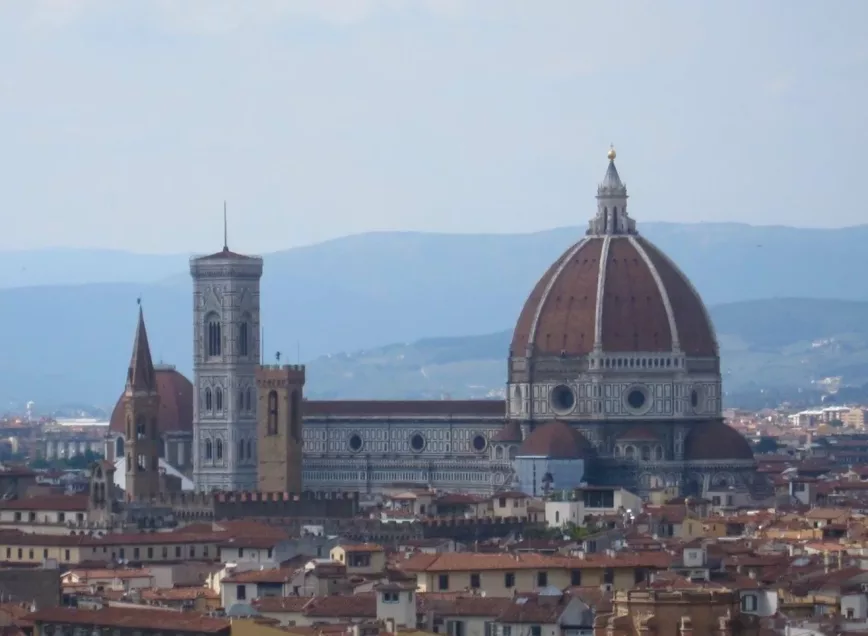 Country: Italy
City: Florence
Highlights: Piazza del Duomo, Santa Maria Novella Church, Florence Cathedral, Uffizi Gallery, Ponte Vecchio, Piazzale Michelangelo
Florence, or as the locals call it, Firenze, is the capital of the Toscana region, known for its food, wine, art, architecture, and beautiful landscapes. The city can seem quite overwhelming upon researching all the "must-see" sights and it's nearly impossible to tackle it all in a day, a week, or even a month! In the summer of 2016, I set out to Florence, alone, for the day, as part of a bigger trip to Italy and Croatia. My home base was in Milan (mainly because the flight was so cheap).
From Milan, I took the train from Milano Centrale to Firenze SMN. It was about 1 hour and 40 min train ride and cost $90 USD RT. I arrived in Florence at 10am and left at 8pm. I booked train tickets using Italia Rail. Be prepared to clock in 25,000+ steps with this itinerary!
Stop 1: Piazza del Duomo & Santa Maria Novella Church
Would it even be a visit to Florence without a stop here?! Directly across the street from the train station, this Gothic-Renaissance church is a must see! There is an entrance fee to go in, or you can do what I did, take a million pictures of it from the outside.
Stop 2: Duomo & Cathedral of Santa Maria Fiore
The "Florence Cathedral" is just a 10 minute walk from the SMN train station. This is the iconic "Dome" you see when you look at any panoramic photo of Florence. The Duomo is a cathedral with a terracotta-tiled dome and a bell tower. The cathedral is free to enter, but to visit the Dome was about 8 EURO and you had to wait in an insanely long line to get inside. I hadn't planned to go inside, so I took several photos from outside.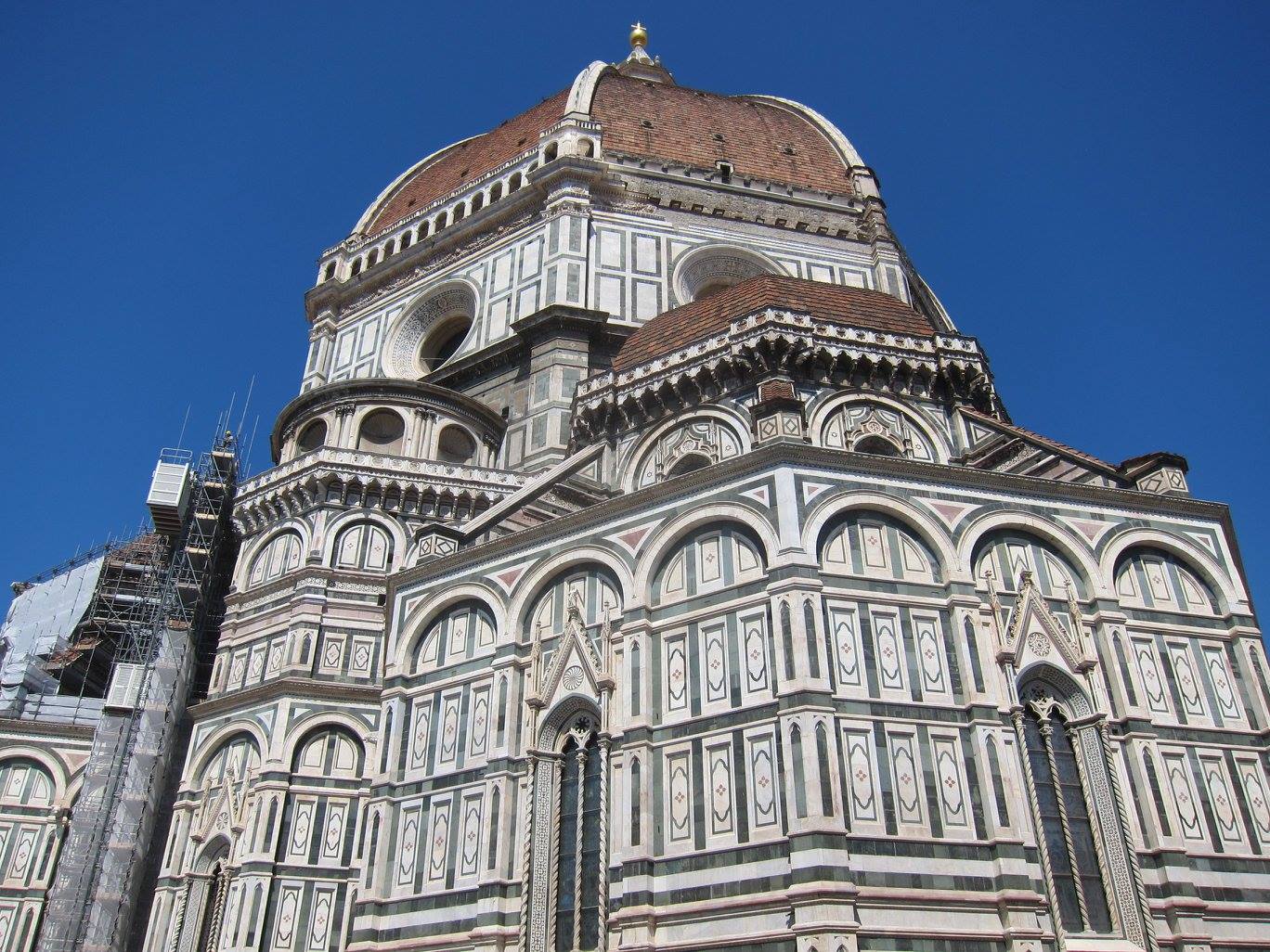 PRO TIP: The Duomo is open to visitors Monday, Tuesday, Wednesday and Friday from 10 a.m. to 5 p.m., and on Thursdays from 10 a.m. to either 4 or 5 p.m., while the cupola climb is open Monday to Friday from 8:30 a.m. to 7 p.m.
Stop 3: Piazza Della Signoria
Less than 5 minutes away from the Florence Cathedral is this "L" shaped square. The best part part about this stop is it's FREE! There are lots of sculptures and artwork to check out here and it's a great spot for people watching. This Piazza is worth a walk through, plus it's on the way to your next stop – the Uffizi Gallery (and lunch).
Stop 4: Uffizi Gallery
Da Vinci, Botticelli, Titian, and Bronzino! Oh my! For art lovers, this would probably be the #1 attraction in Florence. I took an art history class in college, so I was on a pursuit to find some very specific works of art. I highly recommend getting your entrance ticket in advance, as well as the audio guide to make your visit more enriching. You're only here once! My ticket was about 16.50 EURO and I bought tickets here. You have a 15 min window of time to enter after you pick up your ticket. You will still have to wait in the entrance line, however you will bypass the "purchase tickets" line.
PRO TOP: Uffizi is closed on Mondays and it is a 15 minute walk from SMN train station.
Stop 5: Lunch
Although most of this day trip was highly planned, I didn't plan where and when to eat in advance; there is no need for it! Florence has many local outdoor markets, a staple to the Italian lifestyle. You have plenty of options including sit down places and stands to grab-and-go. I tend to gravitate towards the fresh fruit & produce, cheese, and bread stands – to me this is the best lunch, plus it's cost effective.
Stop 6: Ponte Vecchio "Old Bridge"
This bridge is a quick 2 minute walk from the Uffizi. It was built in 1345 and is comprised of cute, tiny jewelry shops (once butcher shops!) built on the bridge. Walk on the bridge and take in a little piece of history (and maybe purchase a souvenir).
Stop 7: Palazzo Pitti
"Pitti Palace" is an enormous Renaissance style Palace located on the south end of the Arno River, making it a quick walk from the Ponte Vecchio and a 10 minute walk from the Uffizi. The palace was bought by the famous Medici Family and was the primary residence for ruling families. Approx. 8.50 EURO to enter, you can see the notable gallery- Galleria Palatine and the Royal Apartments with art by Raphael, Titian and Rubens. *Due to time constraints, I decided to just take in this spectacular view from the outside.
Stop 8: Basilica de Santa Croce
Stop here if you want to pay your respects to Michelangelo and Galileo. I opted to just view it from the outside, but it's fairly inexpensive to enter.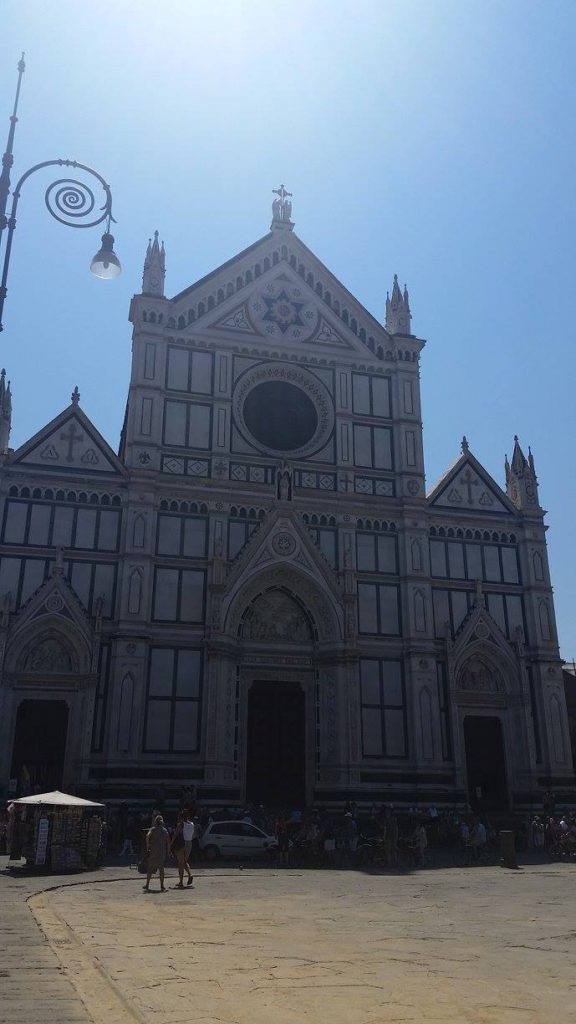 Stop 9: Piazza Michelangelo
If you want THE BEST PANORAMA VIEW of Florence, climb this hill and you won't regret it! Be prepared for about a 25 minute walk to here from the Uffizi.
PRO TIP: If you plan on being here at sunset, I would view it from this spot!
Stop 10: Galleria dell' Accademia
The "Gallery of the Academy of Florence" is an art museum best know for Michelangelo's David. As a music teacher, I was also really interested in the musical instruments gallery. They house about 50 instruments dating back to the 1600s, you can trace the roots of the first piano, and view the coveted Stradivari string instruments. Again, you have a 15 minute window of time to enter and I recommend getting an audio guide here.
PRO TIP: I opted to visit the Gallery a several hours after the Uffizi so I had time to digest everything I saw at Uffizi and to catch some other sights en route. You could also consider booking a tour, which is a great way to avoid the lines and learn more about the art.
Stop 11: Medici Chapels
If you have time, the Medici Chapels are close by to the Galleria dell' Accademia. There is a 6 EURO entrance fee, or you can walk around and view from the outside, which is what I did.
Stop 12: Dinner
Once again, I did not plan when and where to eat. I had about an hour left in my day before catching the 8pm train back to Milan. I found a small restaurant near the train station on a cute little street where I ate a giant bowl of spaghetti, drank some red wine, and enjoyed the ambiance!
As always, if you have any questions, you can contact us here.
Florence in 1 Day – Itinerary Map