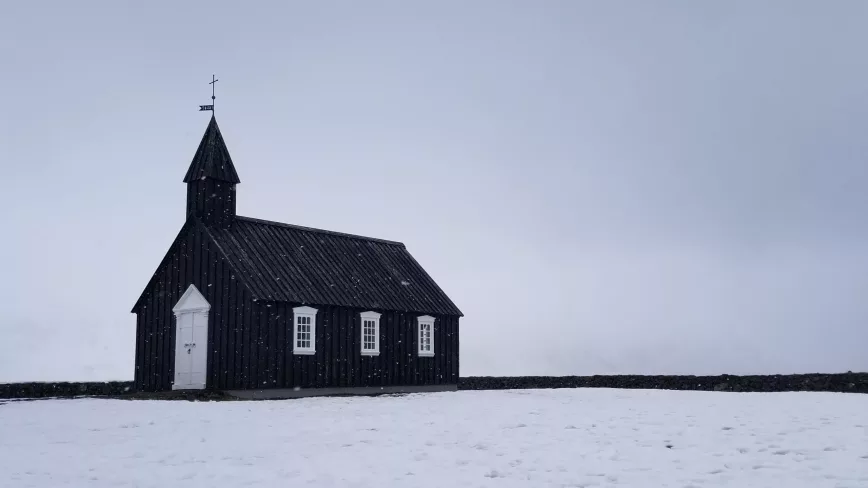 Country: Iceland
Cities: Reykjavik, Vik, Hofn, Egilsstadir, Myvatn, Snaefellnes Peninsula
Highlights: Hallgrimskirkja, Blue Lagoon, Seljalandsfoss, Skogafoss, Dyrholaey, Reynisfjara Beach, Skaftafell National Park, Svartifoss, Jokulsarlon Glacier, Diamond Beach, Godafoss, Stykkisholmur, Budir Black Church
Iceland is the ultimate adventure of a lifetime! It's perfect for solo travelers, seasoned travelers, and families. The locals are friendly, the scenery is breathtaking, and the Ring Road makes all of the tourist attractions easily accessible. I went on a road trip around the Ring Road in April 2018 with two of my closest friends chasing the Northern Lights, fighting blizzard conditions on the road, and warming up in geothermal pools. Iceland's unpredictable weather makes it perfect for those seeking some spontaneity in their travels!
Ring Road, or Route 1, encircles the whole country covering 827 miles, which makes it very easy to stop and see as much as you'd like. You will find that many of the Ring Road guided tours are 10 days, so we were concerned about fitting everything into 8 days. Once we started mapping out our destinations, we realized we could do it all in our time frame, but at the expense of spending a lot of time at each stop. We agreed we wanted to see more of the country and it was SO. WORTH. IT!
As a side note, Caroline also went to Iceland and spent 6 days on various guided tours seeing the highlights of souther Iceland, without renting a car! Her itinerary can be found here.
PRO TIP: Iceland is a very expensive country. Although flights here tend to be reasonably priced, once you arrive, expect to pay a pretty penny for food and drinks – I'm talking $15 for a pint of beer! For our trip, we did a lot of shopping at the grocery store and made cheap meals on the road to save money and time!
When is the Best Time to Visit?
This is a difficult question to answer because it really depends on what you want to do and see. Here is the low down on their seasons:
April – May is considered their spring time. The snow and blizzards from the winter start to subside and turn to rain, gusty winds, and some sunny days. The days are starting to get a little longer. The temperature during the day is around 40-50 degrees, but the evenings can still go below freezing. The high winds also makes it feel a lot colder than it actually is. We went in mid-April and still wore winter attire for the entire trip.
June – August is considered their summer time. This would be the best time to go in terms of weather. Temperatures will hover around 50-60 during the day, the grass is green, and flowers have bloomed! You will have 24 hours of daylight! This is also the height or tourist season because most of Iceland is accessible and the roads are easy to drive. Expect crowds, surge pricing, and overbooked hotels.
September – November starts the season of the Northern Lights. Temperatures start to be come cooler and tourism slows down a bit compared to the summer season they just had!
December – April is Iceland's winter season. You can expect snow, ice, blizzards, storms, and high winds. The average temperature is about 32 in Reykjavik, which is fairly mild compared to the rest of the country. Many roads will be closed during this time so you will need to check https://safetravel.is/ every day for updates. If you are planning to travel the whole Ring Road, I would advise you to not come during their winter season.
Packing for Your Road Trip
If you're curious as to what to pack for this great escape, visit my post on What to Pack on a Road Trip on Iceland's Ring Road
Tips for viewing the Northern Lights
Northern Lights season runs from about Sept. 1st – April 15th
Pure darkness (no light disturbance from the town or streets)
Clear skies
Track Northern Lights activity using Aurora Borealis app called "My Aurora Forecast" and the website Northern Lights Forecast
Patience & luck 🙂
Day 1: Reykjavik
Iceland's small airport is located in Keflavik, about 45 minutes south of Reykjavik. Most of the flights land extremely early in the morning (our flight landed at 5:55am). We walked about 3 minutes to the car rental headquarters where we picked up our car from Blue Car Rental and then hit the road! We were supposed to get a Suzuki Vitara, but Blue Car kindly upgraded us to Mercedes for free!
PRO TIP: We recommend getting a 4×4 if you plan on accessing the highlands, mountain roads, and unpaved roads, especially in the winter months. We would not have been able to access all the sites on this itinerary without it. Many sites can be accessed with a small car, so plan out your destinations first, then rent the appropriate vehicle. Rental places will ask you if you want gravel/ash insurance. We opted to get it because we were traveling in the South at the end of winter when it's very windy. There is an extra fee for this, but it's totally your call!
We arrived in Reykjavik around 8:30am, but couldn't check into our AirBNB until 3pm, so we had plenty of time to explore the city and all the wonderful sites it has to offer. I highly recommend this AirBNB, it's centrally located in downtown Reykjavik, and the famous Hallgrimskirkja church is within view! Our first stop was at a cafe! We were in desperate need of some rejuvenation (and WIFI).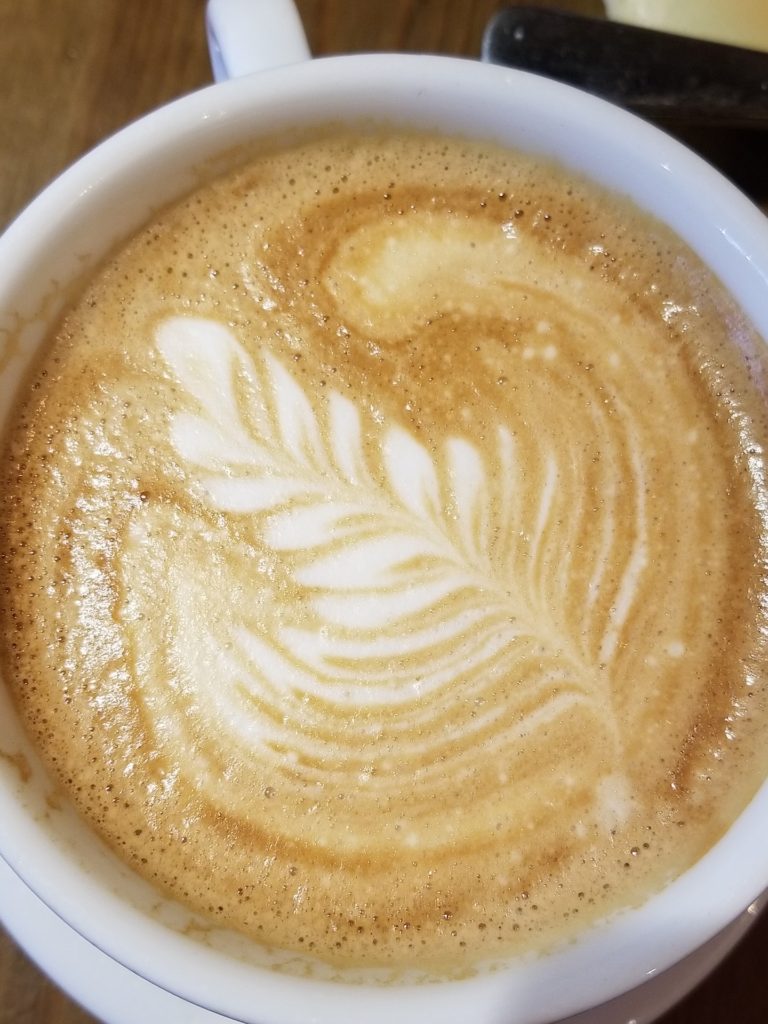 After caffeinating, we headed out to explore this magical city!
Points of Interest in Reykjavik
The city is very walkable, in fact, I recommend that you check out all these sites on foot if you have the energy. You will get to see way more of the city without having to worry about parking.
Hallgrimskirkja & Tower: Iceland's largest church. $7 to enter, but has the best view of the city!
Solfar Monument (The Sun Voyager): Incredible steel structure overlooking Mt. Esjan
Harpa Concert Hall: free to walk around inside. This place is quite the engineering marvel!
Baejarins Bextu Pylsur: Iceland's famous hot dog stand. I don't even like hot dogs, but these $4 dogs were irresistible!!
Pay the small entrance to climb the tower in the church for this amazing view of Reykjavik!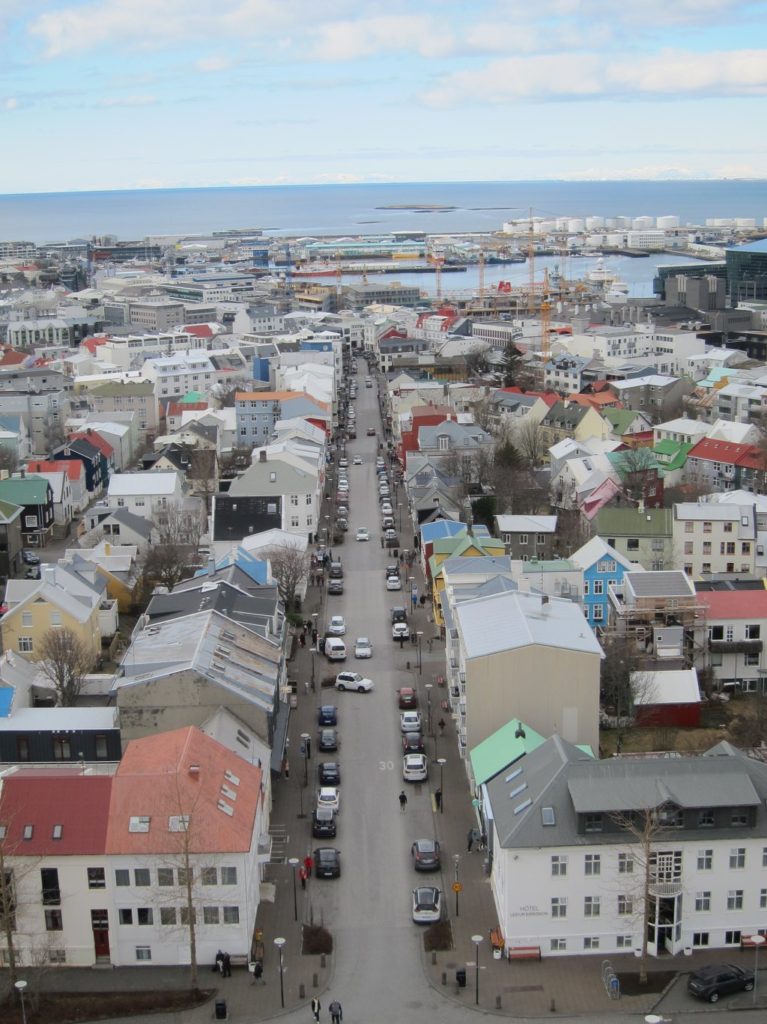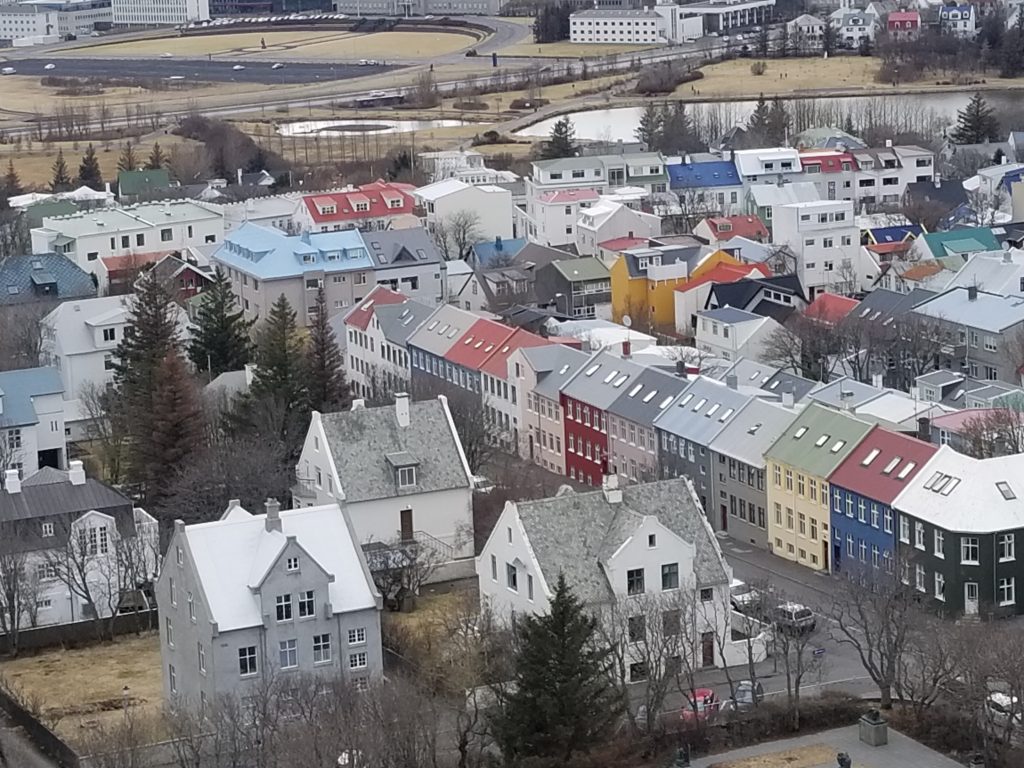 From here, we walked toward the water…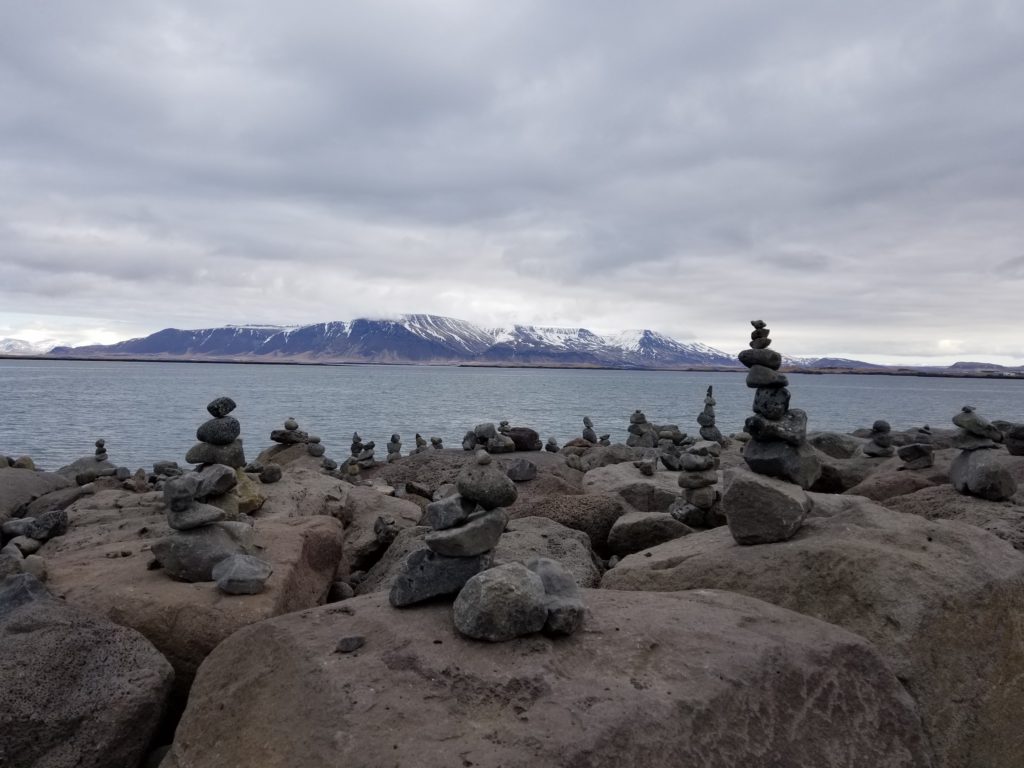 …And stopped at the famous Sun Voyager overlooking Mt. Esjan.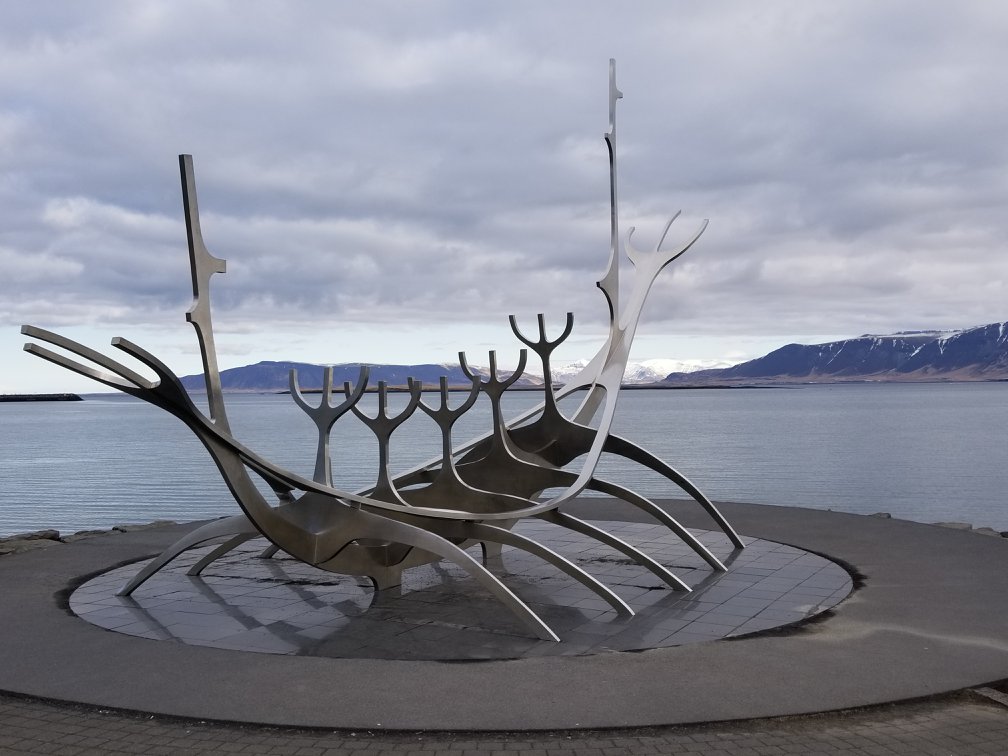 Our next stop was at the Harpa concert hall, whose outside is meant to mimic the looks of the basalt columns found throughout Iceland.
The Harpa is free to go in, so feel free to check out the wonders of this building!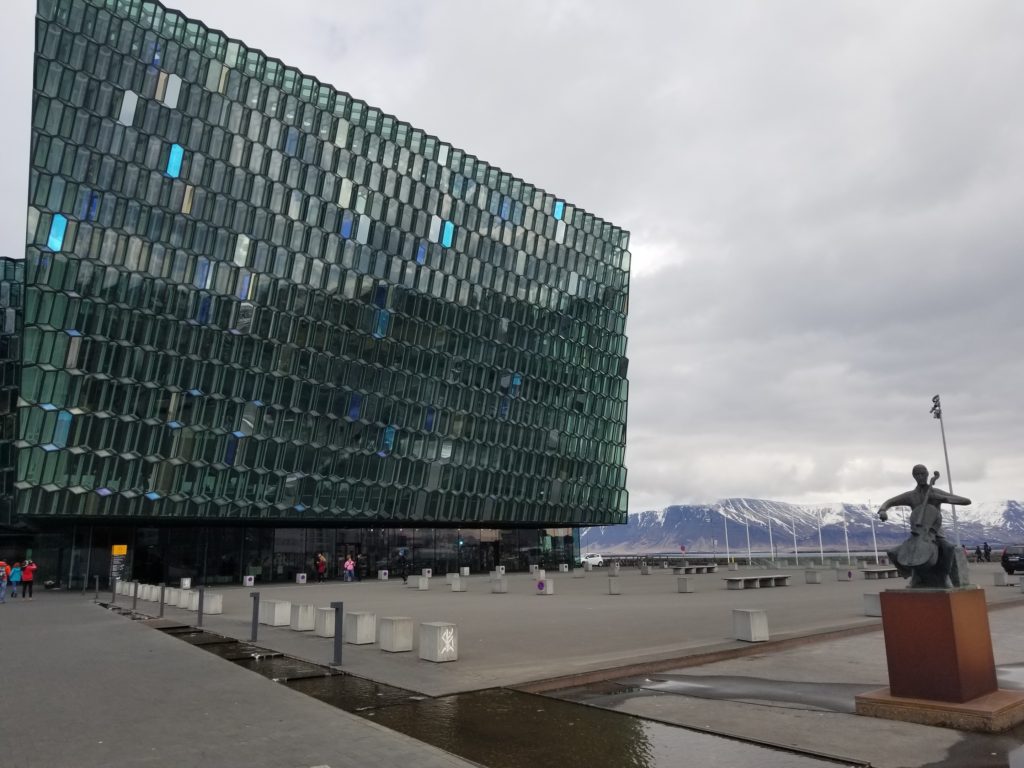 After leisurely strolling around the city, it was time to find a place to eat and warm up. A quick search on the internet led us to what turned out to be the BEST soup place ever! Icelandic Street Food. They had UNLIMITED seafood soup and Icelandic lamb soup in bread bowls, FREE bite-size desserts, and not to mention, the friendliest staff. You should 100% stop for food here!
We eventually made our way back to our AirBNB to unpack and nap (jet lag caught up with us) before leaving for The Blue Lagoon. There is much debate about whether to spend the time and money visiting The Blue Lagoon; after all, the water comes from a nearby geothermal power plant – not quite the "natural" environment one looks for when visiting Iceland. Despite this, we decided to splurge and got tickets to go!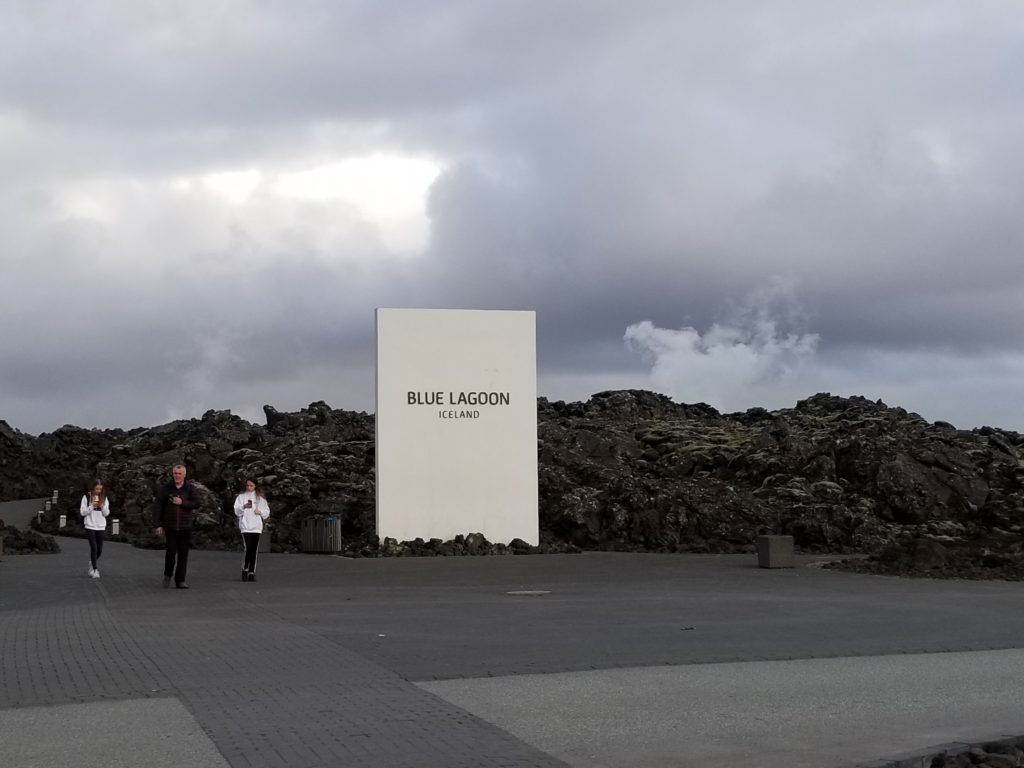 In my opinion, it is worth it to visit The Blue Lagoon. The milky-blue water set against the black lava fields is unlike anything I've ever experienced. When you arrive, you will be given your wristband and appropriate amenities based on the ticket you purchased (comfort, premium, or luxury). You will head to the locker room to undress and shower naked, before putting on your bathing suit and heading to the lagoon. Don't miss the mud bar in the lagoon, where you can get a silica mud mask for your face, and swim up to the lagoon bar to retrieve your beverage (if included in your ticket).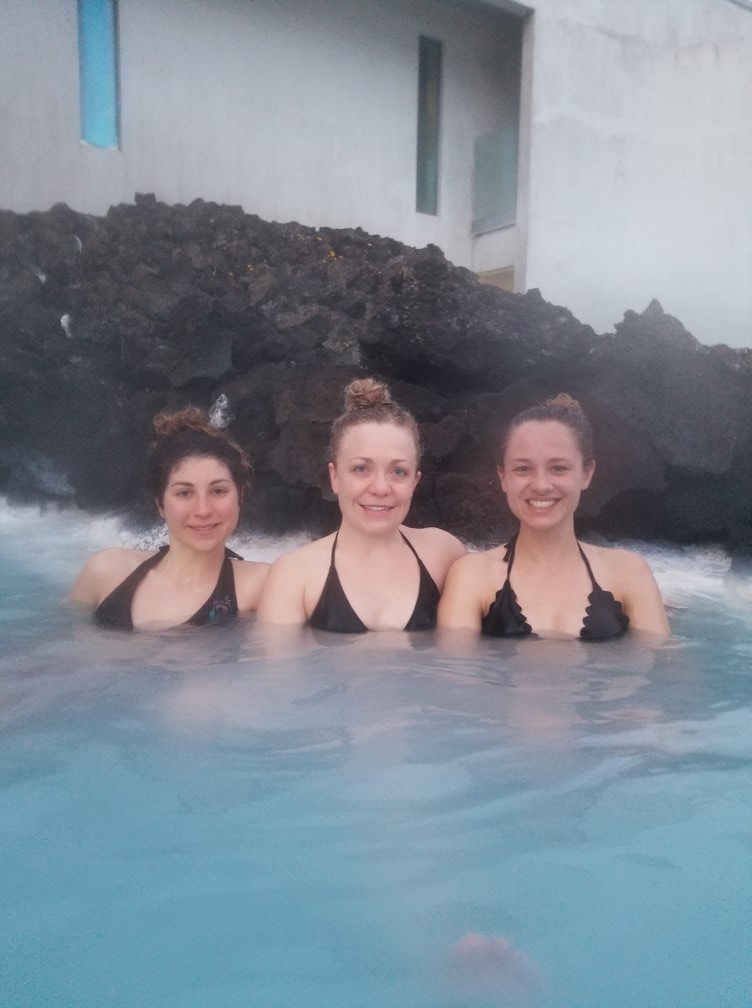 PRO TIP: The Blue Lagoon is located 15 minutes from the airport and about 30 minutes from Reykjavik. Tourists tend to go first thing in the morning after they land. I recommend going in the evening when it's less crowded. And, book your tickets in advance to ensure you get the lowest rate.
Showering (naked) before entering any public swimming pool in Iceland is mandatory.
Day 2: Vik (pronounced Veek)
When leaving Reykjavik to travel the Ring Road, you have two options: travel clockwise (North) or counterclockwise (South). We opted to go counterclockwise, which is what most travelers do their first time. The roads are a little easier to drive so you have time to adjust to the driving conditions before hitting the more challenging roads up North.
We woke up early in the morning to hit the road for Vik, known for its famous black sand beach. We had a 2.5 hour drive ahead of us, which we knew would take much longer with the amount of stops we wanted to make. We first stopped for groceries at what came to be our most visited "attraction" this trip – the Bonus budget food store 🙂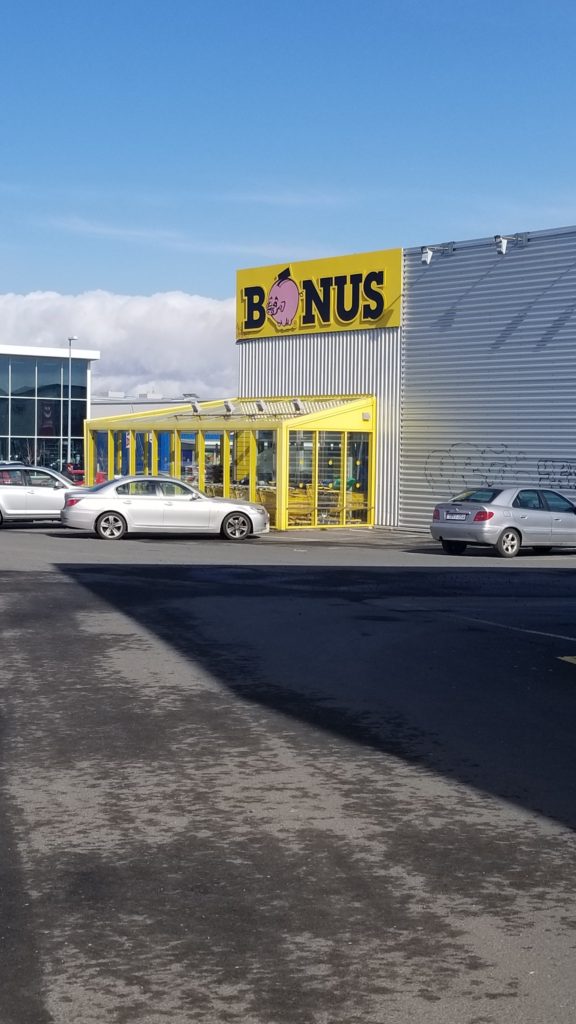 PRO TIP: I recommend stocking up on food and water because the stops can be far and few between once on the Ring Road. You can sometimes go for an hour or more before finding anything to eat!
Stop 1: Seljalandsfoss Waterfall
The waterfalls in Iceland are truly the biggest I've ever seen! They really are a spectacular sight and worth every stop. Seljalandsfoss has a short trail (about .4 mile loop) that runs behind the waterfall. It would be a great spot to see the sunrise! If there are wintry conditions and ice, I recommend putting on your crampons for the trail which can be quite slick behind the falls.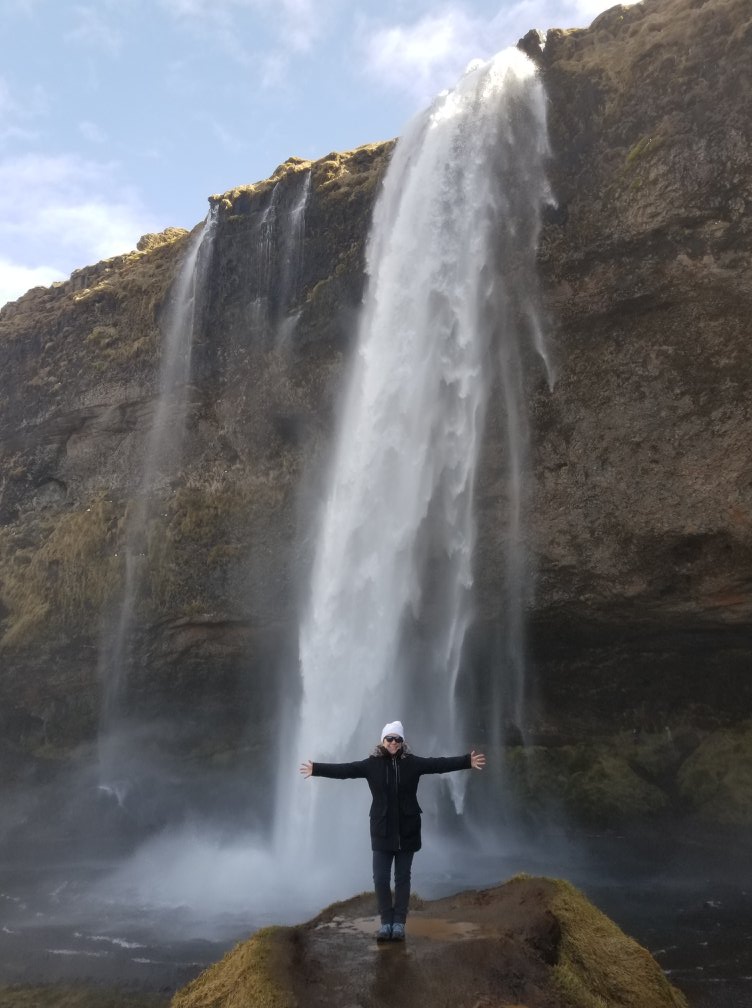 PRO TIP: "Foss" at the end of anything means it's a waterfall!
Our next stop was about a 25 minute drive away to Skogafoss Waterfall!
Stop 2: Skogafoss Waterfall
Skogafoss waterfall has a 1 mile trail going up the side of the mountain. I definitely recommend hiking the wooden pathway for great views of the coast and the waterfall when you get to the top. Don't forget to hike up the wooden pathway for great views of the coast and the waterfall.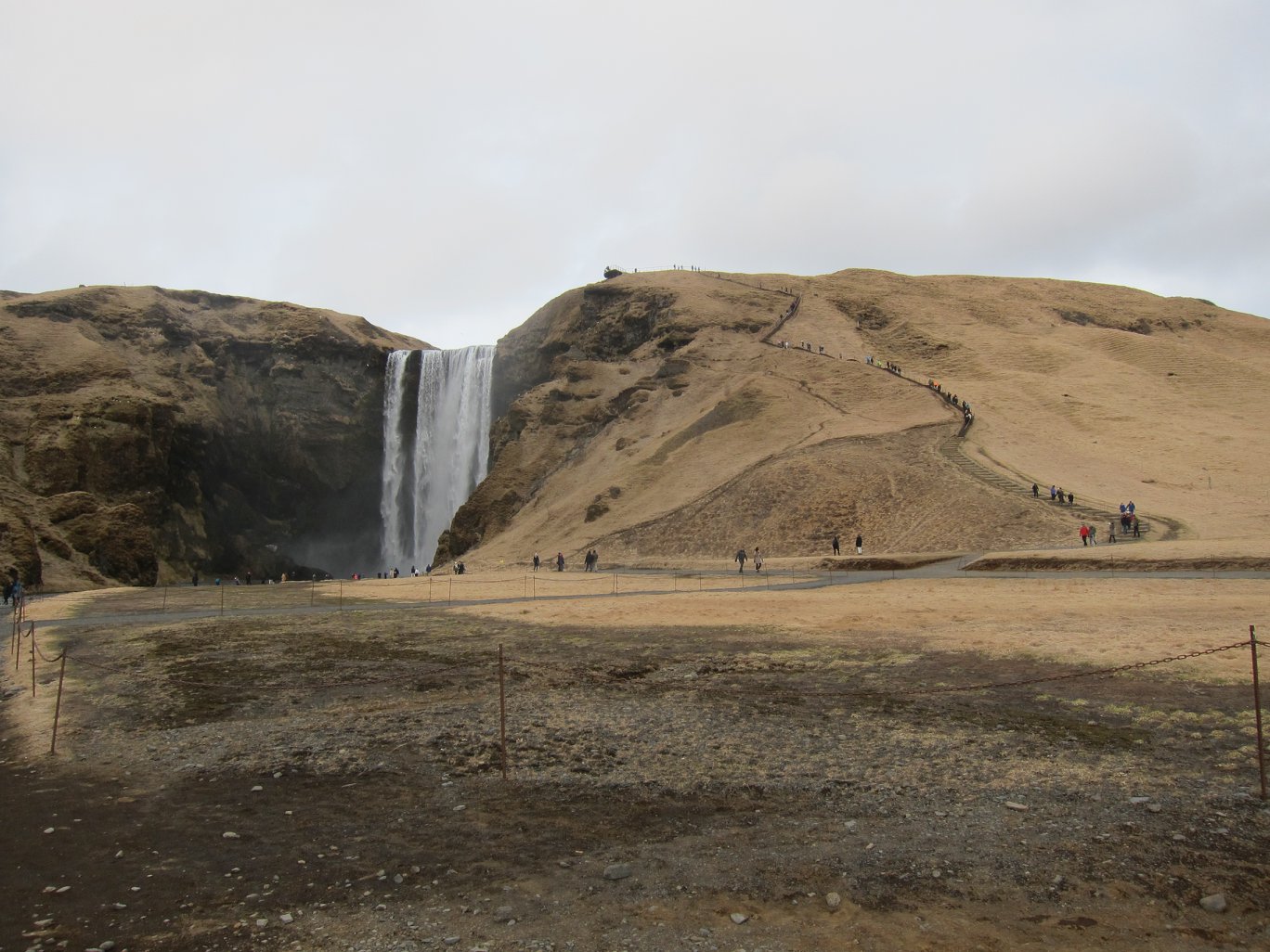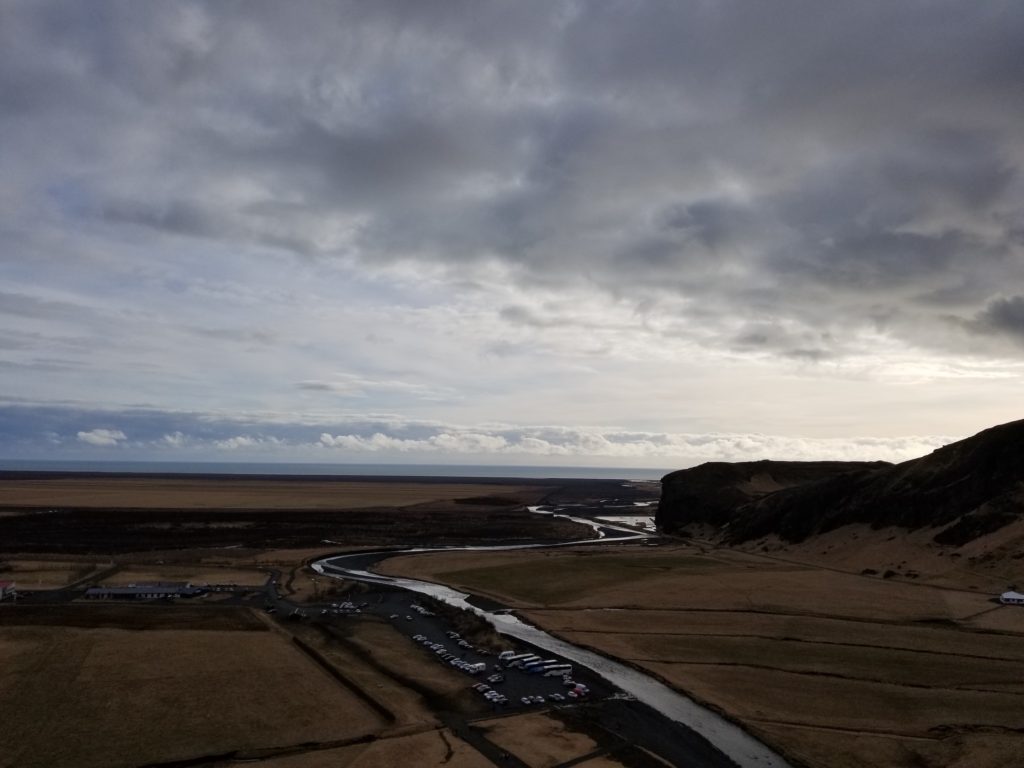 Our next stop was about a 30 minute drive away to Dyrholaey.
Stop 3: Dyrholaey – "The Arch with the Hole"
Dyrholaey is truly a unique sight. It's a rocky piece of land shaped like an arch that juts out into the ocean. You need a 4X4 car to drive up to the arch. Once up there, you can walk around and view black sand beaches, a lighthouse, and if you're lucky, some puffins! We waited here for the sunset, opened up a bottle of wine, and took in the scenery.
Be sure to explore the area and check out the lighthouse from afar!
As we waited for the sun to set, we opened up our wine and warmed up in the car!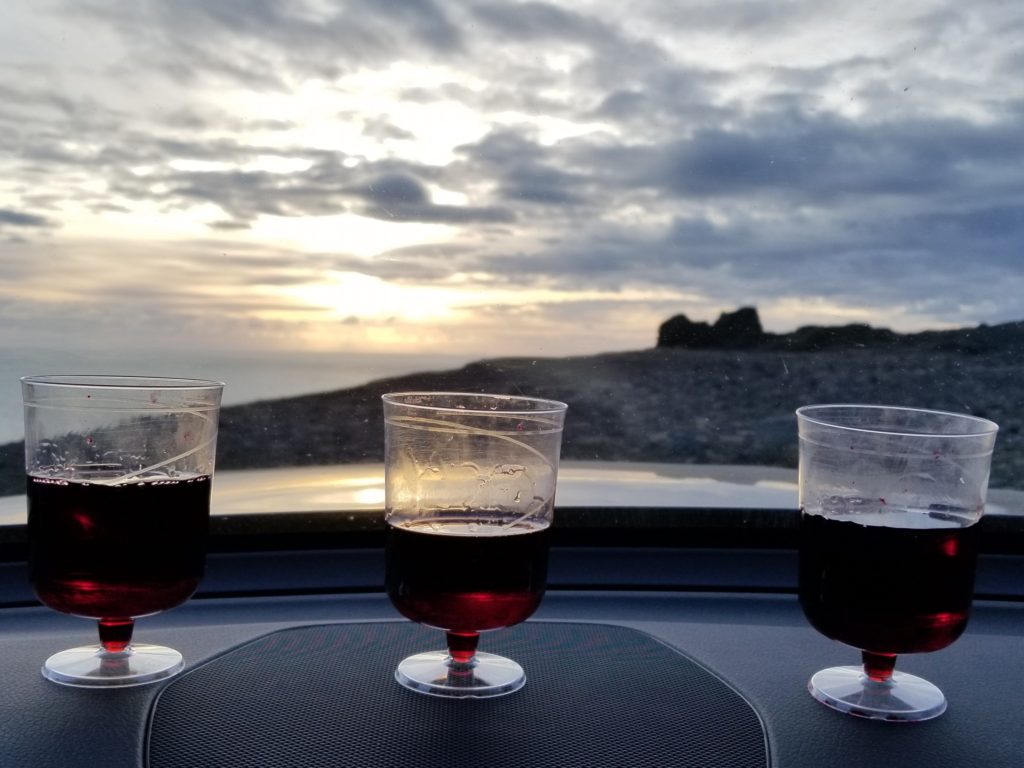 PRO TIP: Here's a money-saving hack!! We saved these cups (as well as plasticware) from a restaurant and reused them throughout the trip 🙂
Our next stop, Vik, was only 20 minutes away! We drove up to the famous red roof church for some great views of the town!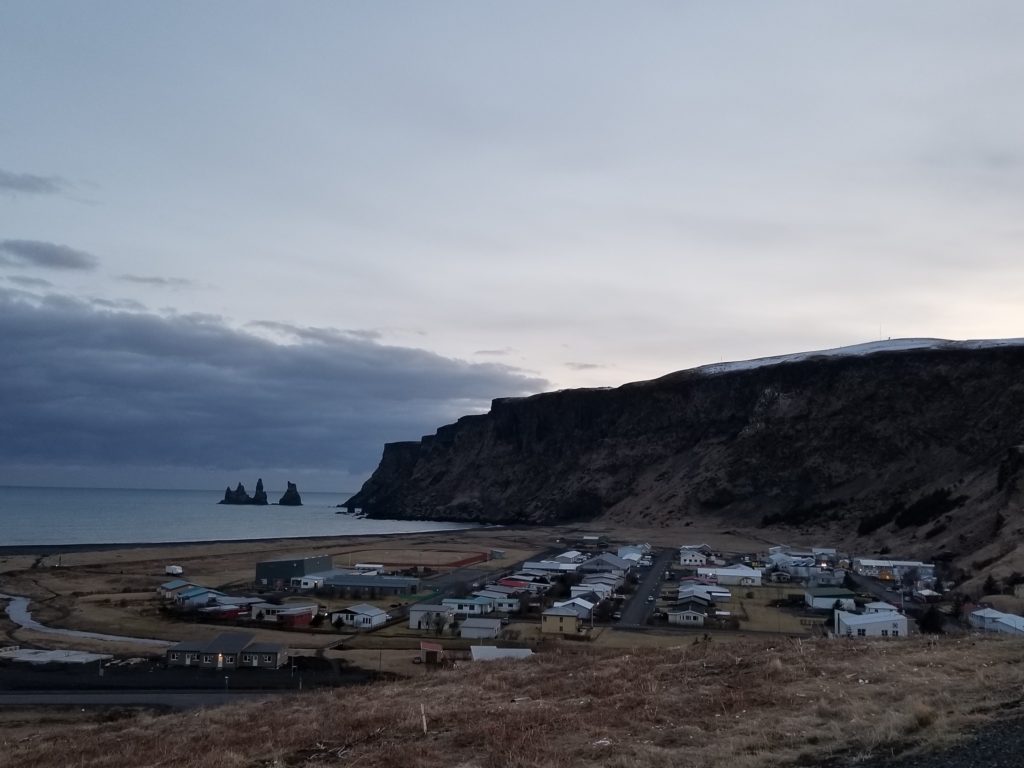 Then we checked into our hostel: Puffin Hostel . This hostel was clean, in a great location, and offered an AMAZING breakfast buffet!
Day 3: Hofn
Stop 1: Reynisfjara Beach, Vik
Reynisfjara Beach, located in Vik, is famous for its basalt stacks that stick out of the ocean and the Hálsanefshellir cave.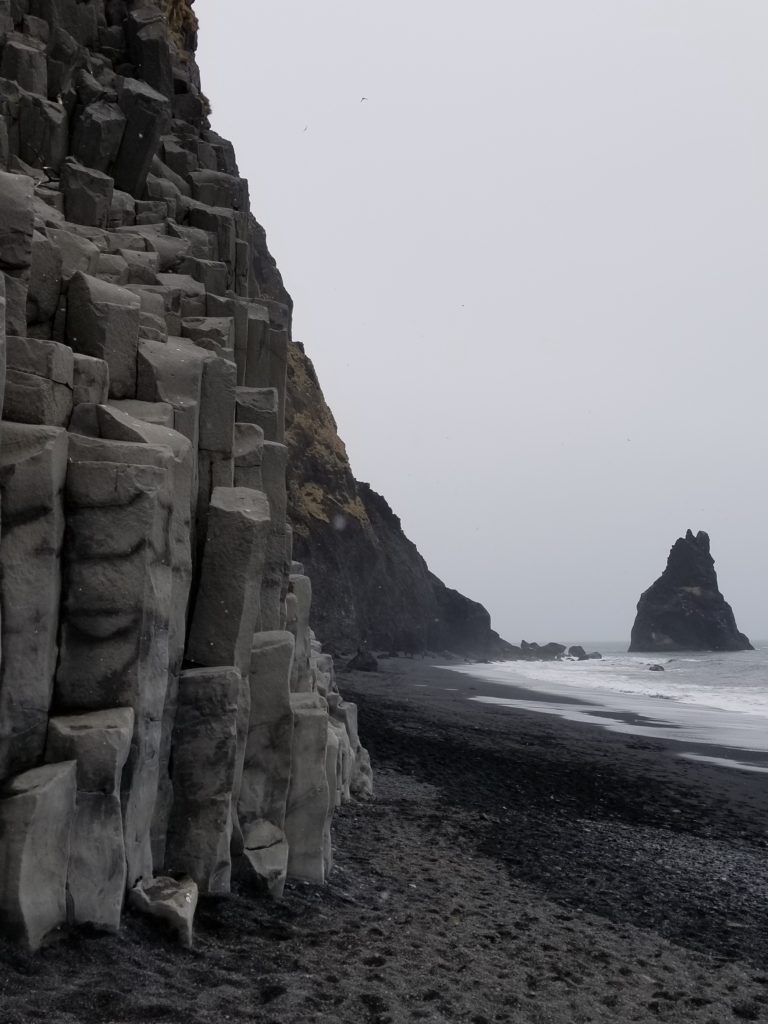 Our next stop was a 2 hour drive up to Skaftafell National Park. Make sure you have food, water, and go to the bathroom!
Stop 2: Skaftafell National Park
Skaftafell National Park is a nature preserve filled with several trails and waterfalls. It is located in the southern part of the the greater Vatnajokull National Park and is open from 9am to 6pm.
We chose to do the Svartifoss waterfall trail. It's 1.5k one way starting at the visitor center with basalt columns. The weather changed drastically on us when we arrived. We had rain which soon turned to snow and the trail was like a beautiful winter wonderland! Reserve about 2 hours of your day to hike the trail roundtrip and to take pictures along the way.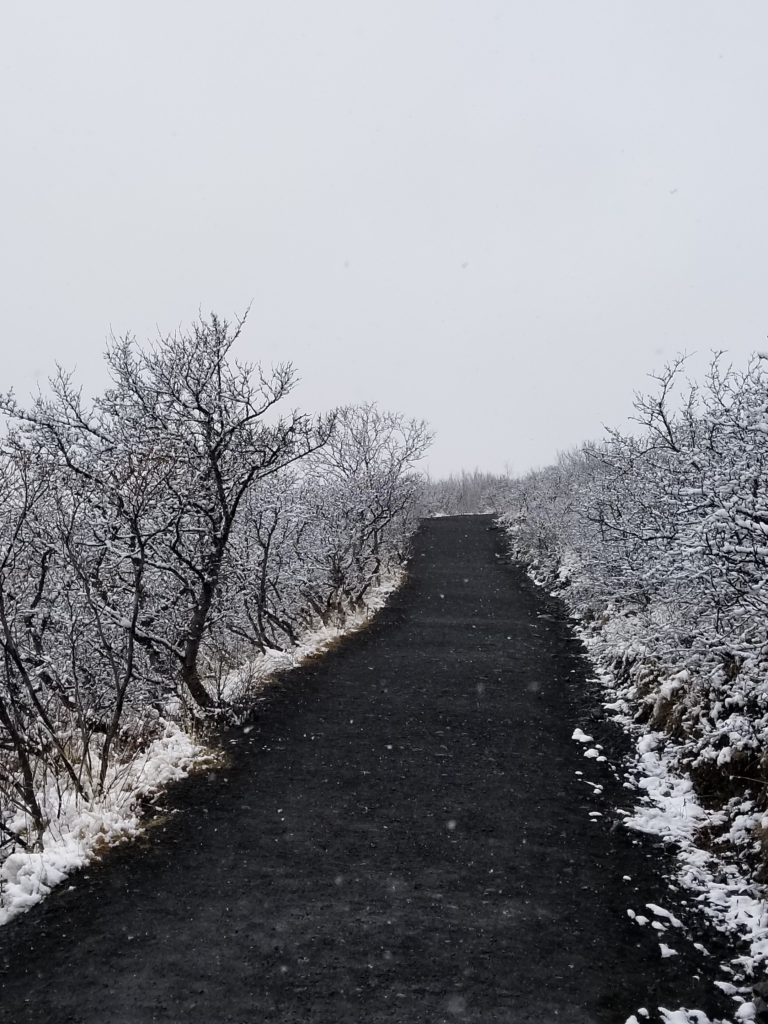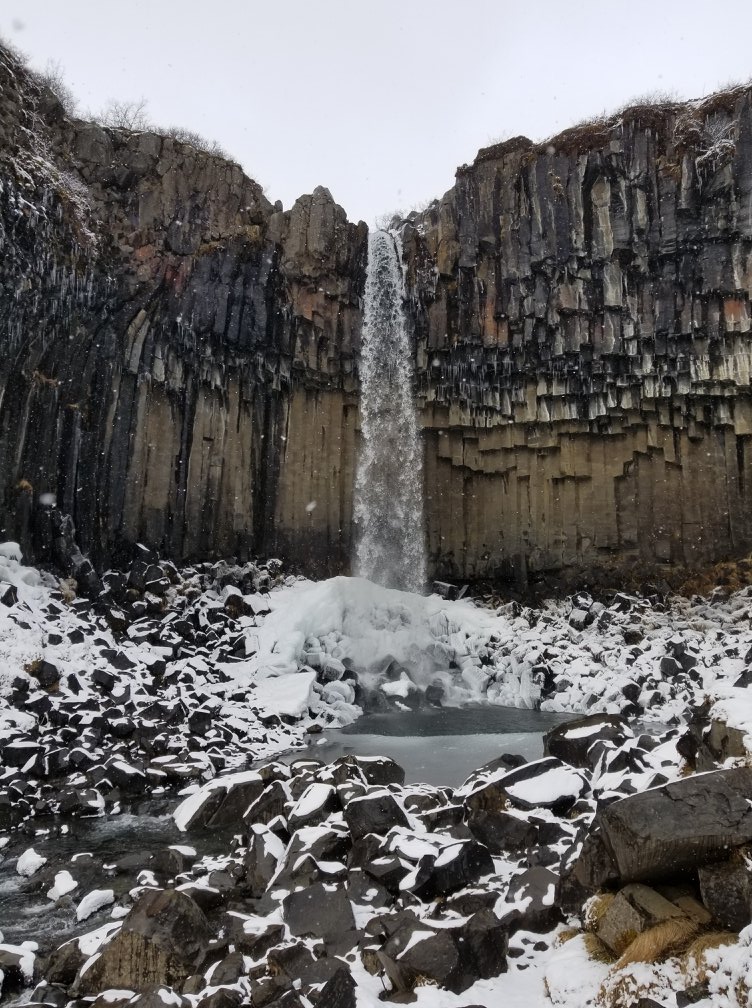 The next stop was about 40 minutes away – Jokulsarlon Glacier Lagoon.
Stop 3: Jokulsarlon Glacier Lagoon and Diamond Beach
Jokulsarlon Glacier Lagoon borders Vatnajokull National Park in southeastern Iceland. It has glacial ice, black sand beach, and floating glacial icebergs. Sunset is a good time for photographs, but it can be crowded of course.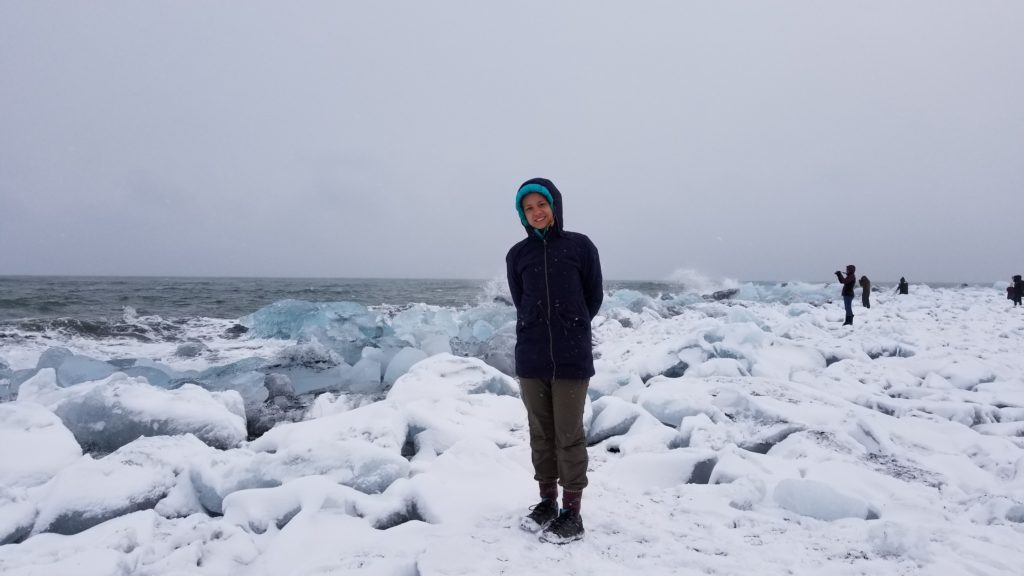 Diamond Beach is nearby to Jokulsarlon Lagoon. You can walk or drive to it. Diamond Beach gets its name for the icebergs, which fill Jökulsárlón glacier lagoon, that wash up on shore and sparkle against the black sand beach.
PRO TIP: We visited Iceland in April over spring break, so I think the icebergs were a lot smaller than anticipated because it was towards the end of their winter season.
Stop 4: Hofn
From here, we headed to our final destination of the day, Hofn, a small fishing town nestled in the eastern border of Iceland. We made several unanticipated picture stops along the way because the scenery was just so breathtaking!
We checked into Hofn Inn, relaxed, and made dinner from the groceries we had left over. We made it just in time to take some great sunset photos.
Now, up until this point, I haven't mentioned anything about the Northern Lights. The whole trip I had been tracking the Northern Lights forecast using the Aurora Borealis app called "My Aurora Forecast" and I used the website Northern Lights Forecast. Tonight, the forecast looked good for visibility so we went out hunting for the lights and we got lucky! I set up my camera on its tripod and we waited in the car for over an hour (it was unbearably cold and windy outside). Just when we were about to give up, we noticed movement in the sky and soon we were viewing the majestic Aurora Borealis.
PRO TIP: If you see something moving in the sky, like wispy clouds or some hazy movement, take a picture and if it turns green in your camera you are about to encounter the Northern Lights!
Day 4: Eglisstadir
Our next destination, Eglisstadir, was a 3.5 hour drive from Hofn without stops. We took our time driving on the east coast as there were many wonderful photo opportunities.
Including, the Icelandic horses, which are truly native to their land.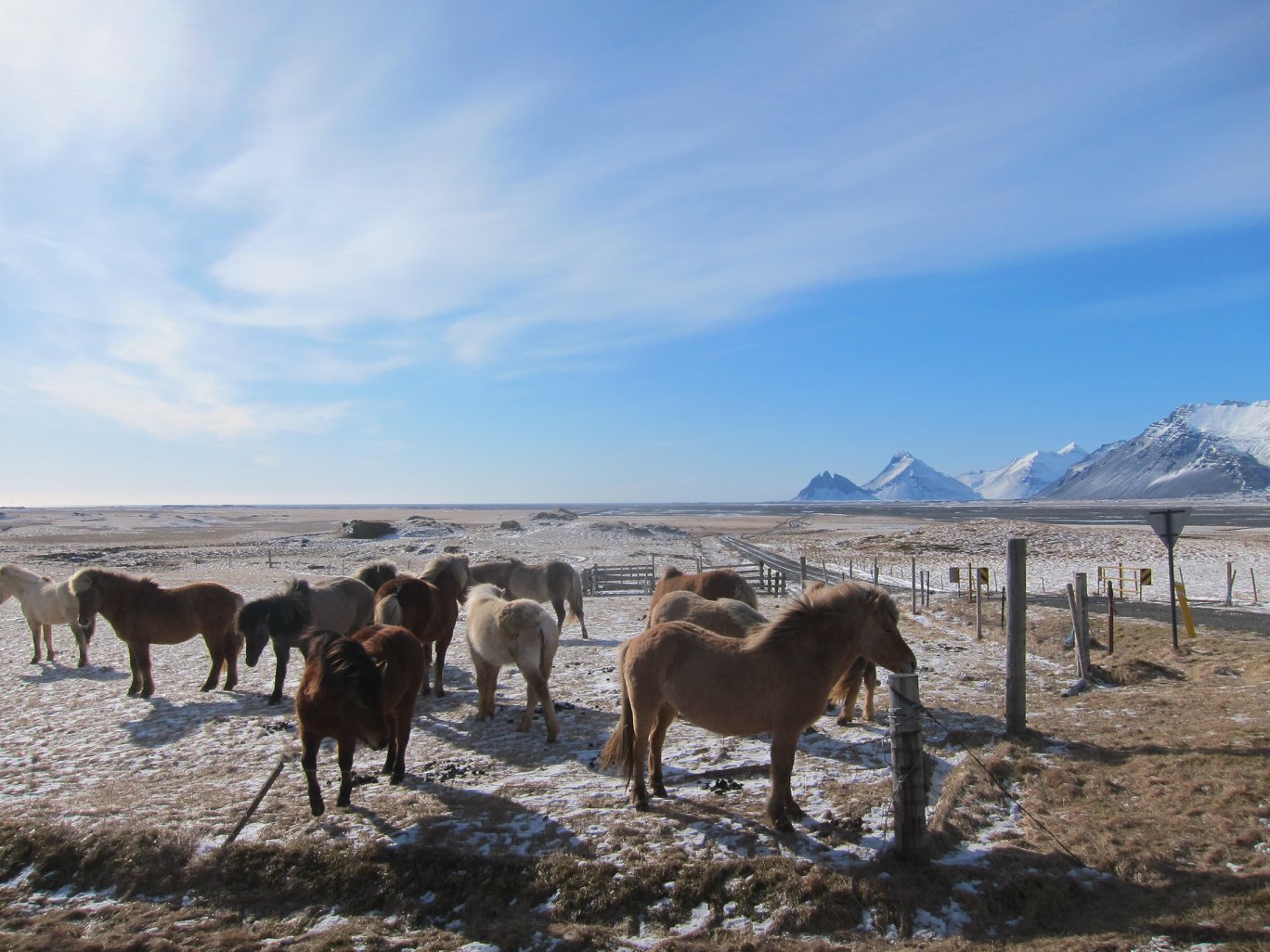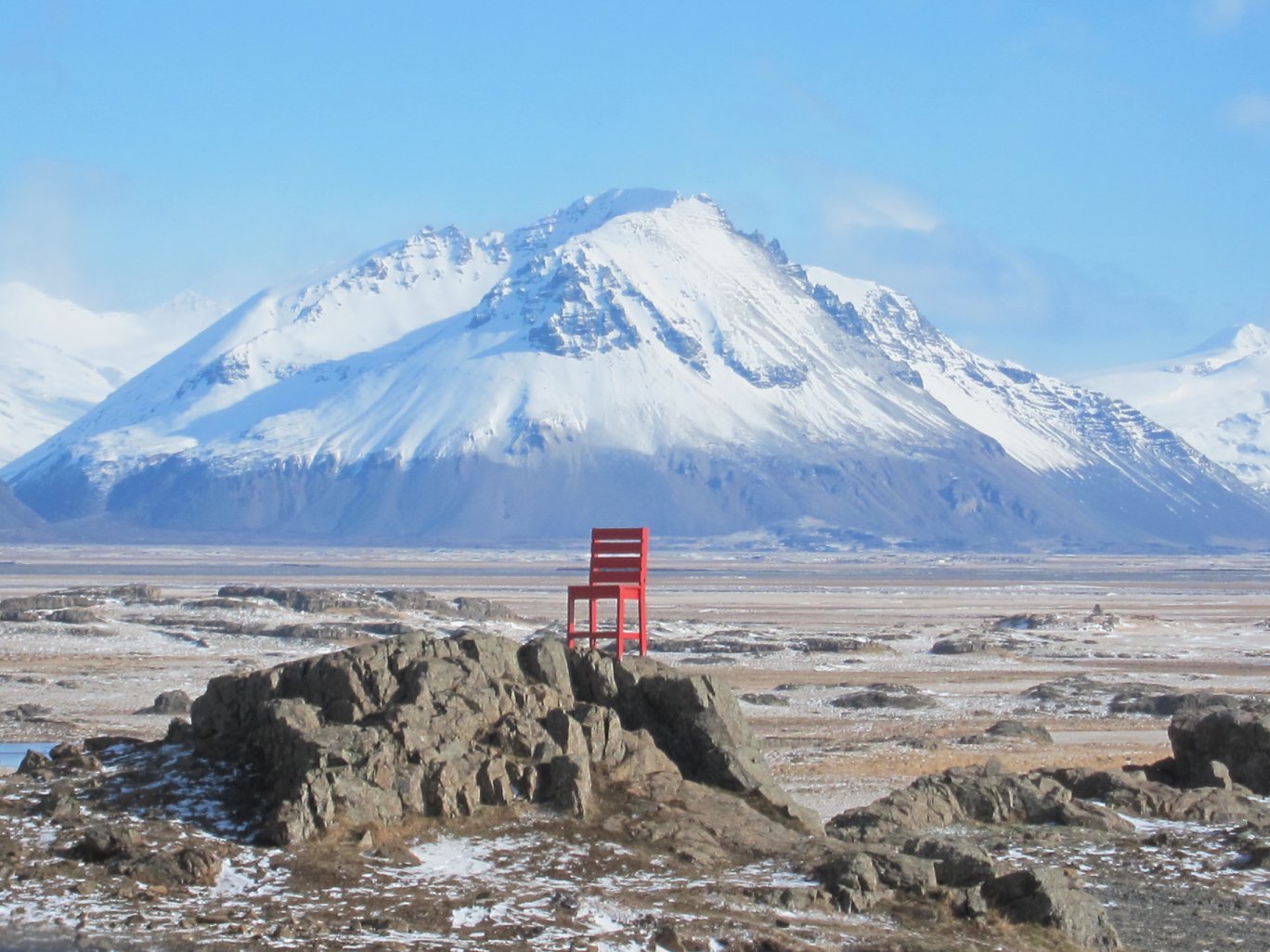 Later in the day, we hit some very scary winter weather driving through the mountains on the east coast. There were blizzard and avalanche warnings and at times we literally couldn't see more than a foot in front of our car. We were very thankful to have our 4×4! Once we got out of the mountains, the weather cleared! It's crazy how erratic the weather can be!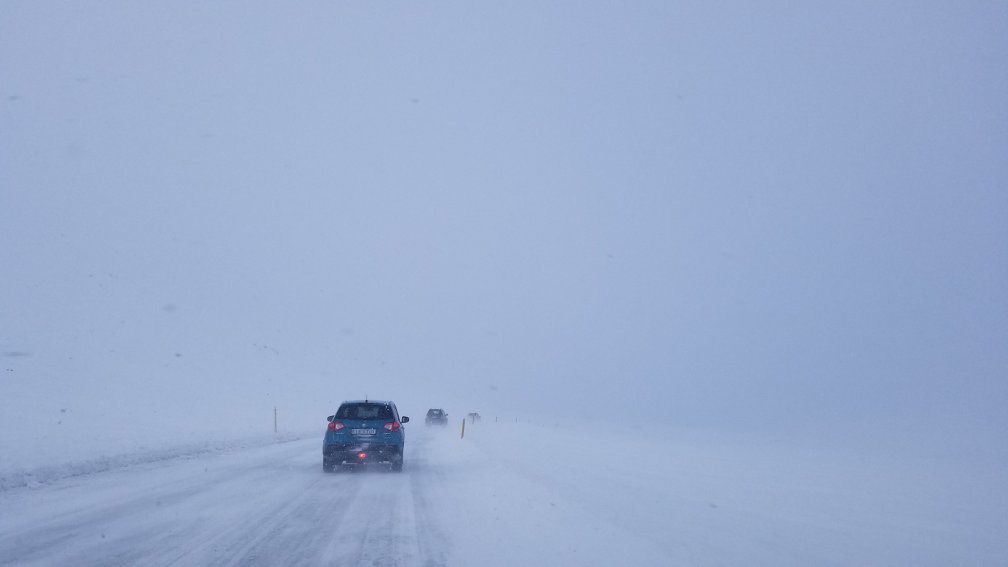 PRO TIP: We used https://safetravel.is/ daily to check for winter weather advisories, road closures, etc. This site saved us!
Stop 1: Djupivogur
On our travels eastward, we made a pit stop in Djupivogur, a small fishing town on a peninsula. This is supposed to be a good spot to see puffins and seals, but we didn't have any luck. So, after finding a bathroom, snapping a few photos, we jumped back in the car and headed to our next stop!
Stop 2: Hengifoss and Litlanesfoss Waterfalls
We stopped for a hike to view two more waterfalls, Hengifoss and Litlanesfoss. This trail is a 2.8 mile round trip trail. The waterfalls weren't as spectacular looking as the ones we had previously seen in the South, but the hike was still beautiful and snowy. If you don't have a lot of time, I would skip this hike.
PRO TIP: The trail is primarily used for hiking and walking and is best used from March until October.
After we finished our hike, we headed to our accommodation in Eglisstadir: Birta Guesthouse. This is a charming house in the city center with several private bedrooms and shared bathrooms.
That night, we did some grocery shopping and made ourselves a home cooked meal and dessert with whatever we had in our bags 🙂
Day 5: Myvatn
The next morning we woke and hit the road on a 2 hour journey north to Lake Myvatn, capital of the Northern Lights. This ride was proably the most barren and lonely. There were not many cars or people at all for miles and miles.
We specifically made Myvatn a destination in hopes of seeing the Northern Lights, but we didn't have any luck 🙁 However, Myvatn and Northern Iceland offer a unique landscape where volcanic eruptions have played a critical role in its topography. You will experience wide-open landscapes, fumaroles (sulphur steam vents), geothermal waters, boiling mud pots, and volcanic craters!
Stop 1: Hverir Viewpoint at Mt. Namafjall
Hverir is a geothermal area at the foot of Mt. Namafjall, not far from Lake Myvatn. This is an extremely volcanic area with colorful sulfurous mud springs, geothermal waters, and fumaroles. You will really feel like you're on Mars here!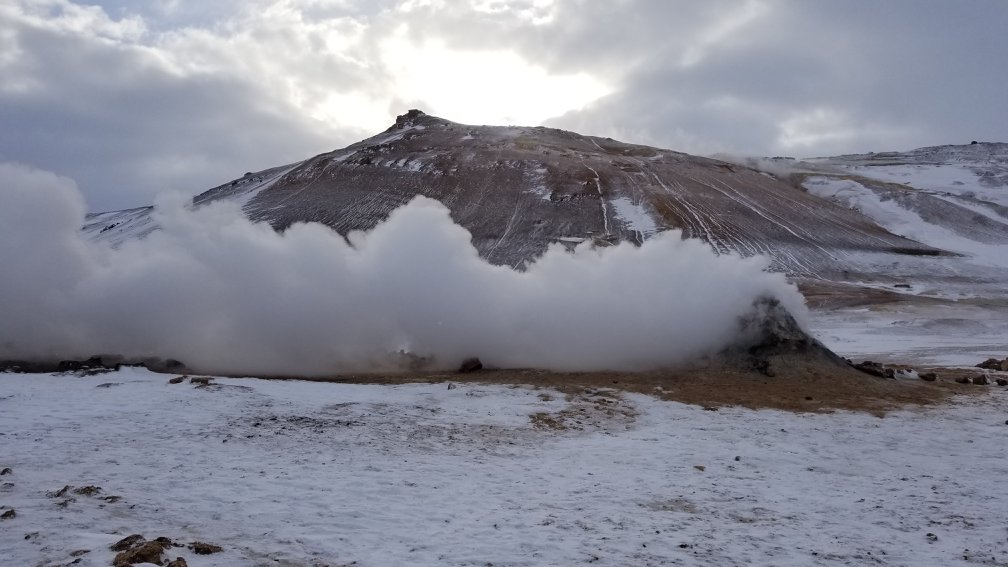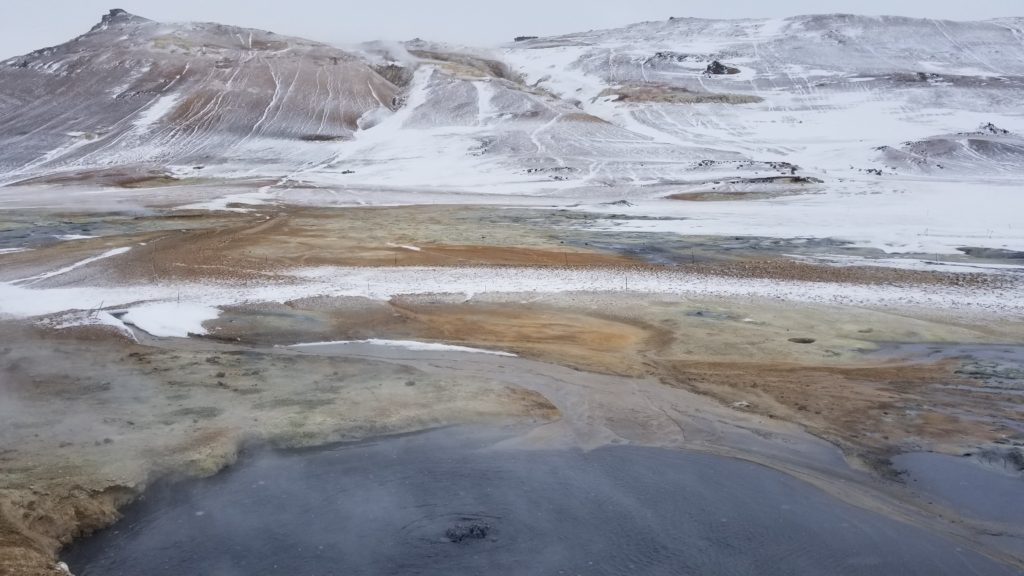 Stop 2: Grjotagja Cave
This small lava cave is near Lake Myvatn. It has bright blue, thermal water inside. In order to climb down we needed our crampons! The water was super hot, but we were able to dip our toes in it!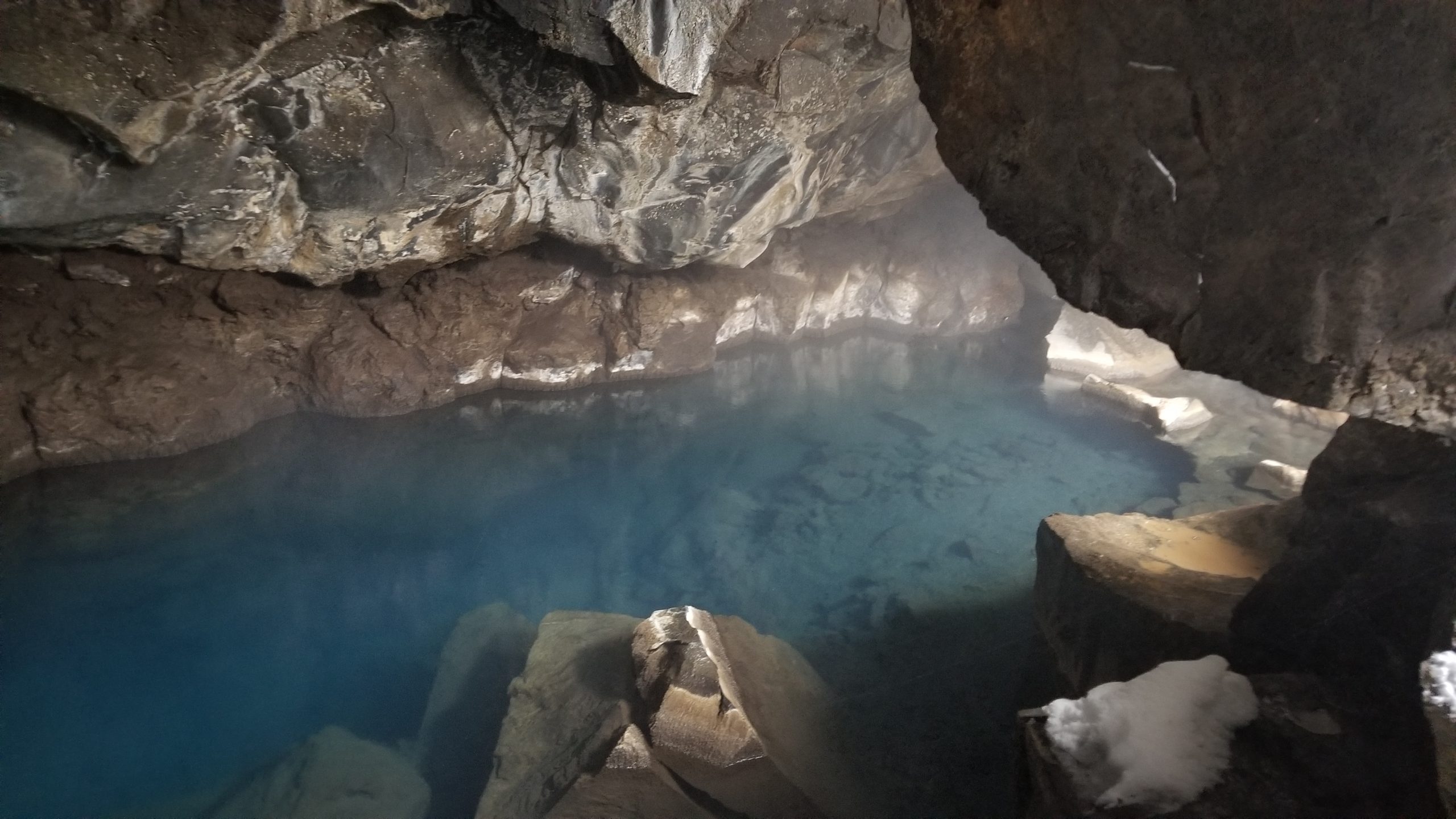 PRO TIP: Recently due to increased tourism, the cave is no longer accessible.
Stop 3: Hverfjall Crater
Hverfjall, also known as Myvatn Volcano, is one of the best preserved volcanic craters. We were hoping to do a hike around this volcanic crater, but the weather started to take a turn for the worse and locals advised us to not take the risk. But, we still captured some great views of it from our car!
PRO TIP: If you are able to do the hike, you can reach the rim and experience magnificent 360 degree views!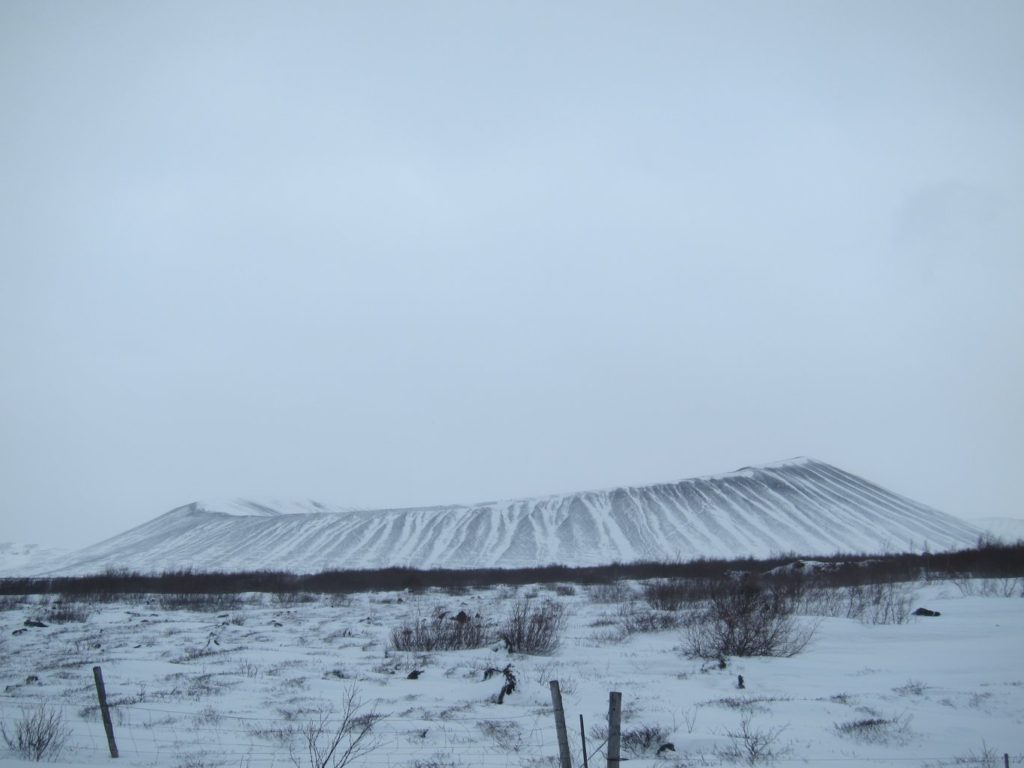 After our day meandering around Lake Myvatn, we finally checked into our guesthouse, Vogar Travel Service (it was more of a hostel vibe, but a really nice on that we highly recommend!).
Day 6: Snaefellnes Peninsula
We had the biggest drive ahead of us this day, 5.5 hours to the Snaefellnes Peninsula. Some of the biggest draws to the peninsula are the black sand beaches, diverse bird and sea life, and the Budir Black Church. If you are here in winter, be prepared with food and water ahead of time, the peninsula suffers from a lack of available services. You might have to settle for gas station food!
PRO TIP: Due to time constraints, we decided to skip the West Fjords portion of the Ring Road. If we had another 1 or 2 days, we would totally make the trip up there!
Stop 1: Godafoss Waterfall
Our first stop on the way to the peninsula was Godafoss Waterfall, or "Waterfall of the Gods". It's a 45 minute drive from Myvatn and easily accessible from the road.
Stop 2: Akureyri
Akureyri is an urban city 45 minutes from Godafoss. There isn't a lot there beyond its own natural beauty, but it's worth a quick stop. The city vibe definitely provided us with some relief from the barren landscapes we had been experiencing for a few days now. You can walk along the waterfront and view some special landmarks and sculptures, such as the Sigling (Sailing) Plaque, sister to the better known Solfar (Sun Voyager) Monument in Reykjavik.
PRO TIP: If we had time, I would have liked to have experienced the Beer Spa!
Stop 3: Hvammstangi
Hvammstangi is a 2.5 hour drive from from Akureyri. The fishing town is known for its seal population! I wanted to see a seal so badly on this trip, I think I kept "believing" I saw them in the water. I'm not sure if I actually saw one, but we did visit the seal center where we learned more about this town and seals!
PRO TIP: Snaefellsnes Peninsula would be a 4.5 hour drive straight from Akureyri. Stopping in Hvammstangi is a great way to break up the trip!
Stop 4: Stykkisholmur
The next stop is in Stykkisholmur, a 2.5 hour drive from Hvammstangi. It is the biggest town on the peninsula with a lighthouse, fishing harbor, and the Sugandisey lookout point.
The Sugandisey lookout point has an easy walking path up to the top and it offers a great view over Stykkisholmur and Breidafjordur bay. Don't miss this walk with unbeatable views of the harbor, North Atlantic, and if it's a clear day, the West Fjords, which we were lucky enough to experience!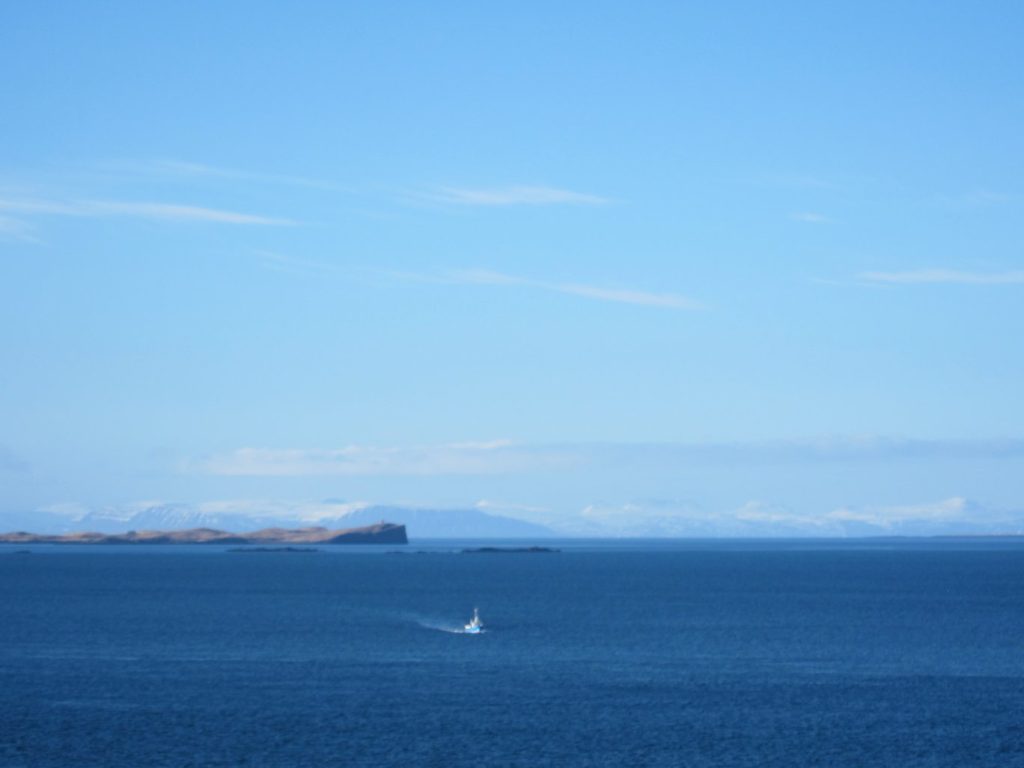 Driving on the peninsula was quite different than the rest of the island. We encountered the bumpiest dirt roads; it felt like we were off-roading the whole time. Again, we were thankful for our 4×4! By the time we got to the peninsula, the snow on our car was quickly replaced by dirt!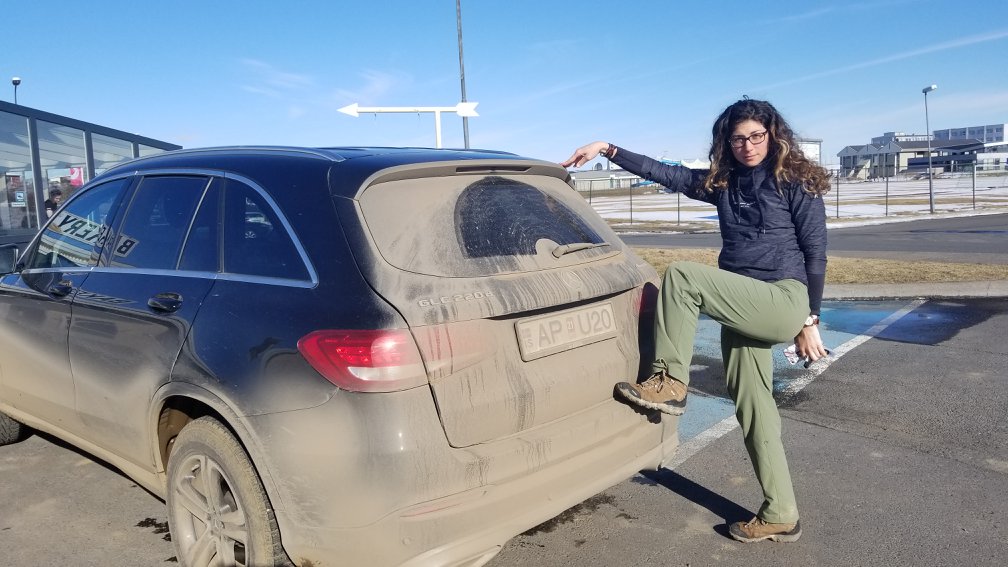 At this point, we were ready for some local food! We stopped at the well-known bakery, Nesbraud Bakari for coffee and a kleina, the famous Icelandic donut.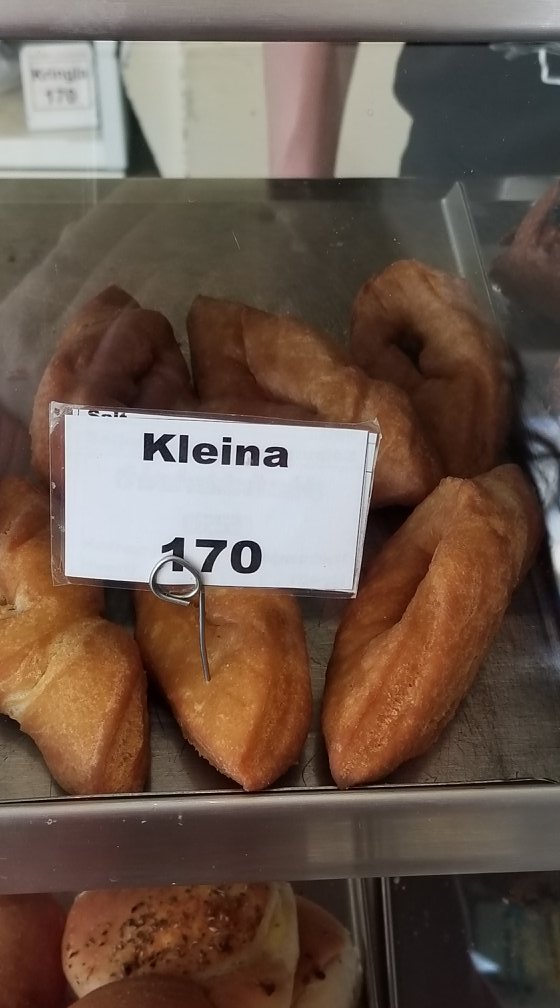 You will cross several black sand beaches on the peninsula. The sand is so soft, like powdered sugar!
Stop 5: Hellissandur
We finally made it to the town of Hellissandur, where we would be staying for two nights in a 2 bedroom apartment: Freezer Apartment (now called Bookstore Family Apartments). The funniest thing about this place was the note in the entrance that read: "This is small town Iceland. We usually leave our doors open and it is perfectly safe for you to do the same. The crime rate here is 0%". We had no key for the apartment or anyway to lock/unlock the entrance. This truly sums up the friendly, welcoming feeling you get when traveling through Iceland! It's okay 🙂
Day 7: Snaefellnes Peninsula
Stop 1: Arnarstapi – Hellnar Hike
Hellnar and Arnarstapi are both small fishing villages on the south coast of the peninsula. There is a 2.6 mile hiking trail, lightly trafficked, that runs through a lava field between the glacier and jagged cliffs into the ocean. It's accessible year-round and has some gorgeous photo opportunities!
Don't miss the Bardur Snaefellsas statue in Arnarstapi! Actually, it's really hard to miss because it's an enormous troll-like stone statue. It's the mythical protector of the Snaefellnes Peninsula!
Stop 2: Budir Black Church
Once we finished our hike, we drove about 20 minutes to see the Budir black church in the town of Budir. This iconic church lies on the southern edge of the peninsula. It is one of 3 black churches in Iceland!
Pro Tip: this area also offers beautiful opportunities for photos of Snaefellsjokull National Park.
We then made our way back to our apartment to cook our final dinner together, and to plan our route back to Reykjavik.
Day 8: Drive Back to Reykjavik
We had an early wake up call with a 4 hour drive ahead of us back to Reykjavik. We had 6:15pm flights to catch back to the USA and wanted to leave some time in case we wanted to make any stops along the way…
We had one unplanned stop just about an hour from the city, The Iceland police pulled us over for speeding – oops! This was a very bizarre experience, they approached our car, asked me to get out of the vehicle and to sit in their car. I told them that I didn't feel comfortable doing so as it is not customary in the USA (I think because of the winter weather and high winds, this is their typical procedure). Nevertheless, I got out of the car and received about a $375 speeding ticket for going maybe 20 mph over the speed limit (I did not receive points on my license because that is an American policy).
PRO TIP: The police take speeding very seriously! The general speed limit is 30-50 km/hour in populated areas, 80 km/hour on gravel roads in rural areas and 90 km/hour on paved roads. Car headlights must be turned on at all times of day or night.
Once we arrived back in town, we had our last meal at the Kaffivagninn – Iceland's oldest restaurant! The food was so good and the vibe was very much like an American diner on the water.
We followed our meal with some delicious ice cream. Did I mention Iceland is known for having some of the best ice cream?! We got ours at Valdis, near the restaurant.
After eating, we still had some time left before our flight, so we visited the Perlan Museum. The museum is an architecture marvel and has amazing panoramic views of Reykjavik. There is a rotating glass-domed restaurant inside too!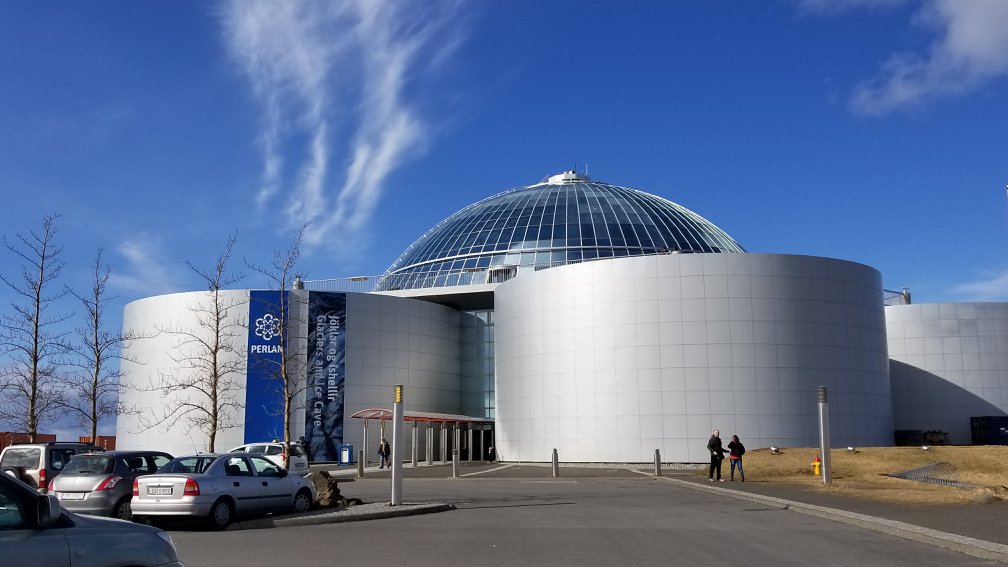 This concluded our trip around Iceland's Ring Road. This trip was more magical than I ever expected. I would love to come back and visit during their summer months; I would have a whole new set of photos and experiences to share! Until next time Iceland…
To see what we suggest you pack on a road trip in Iceland, click here.
As always, if you have any questions, you can contact us here.