Country: Iceland
Cities: Reykjavík, Vik
Highlights: Hallgrimskirkja, Skógafoss, Reynisfjara Black Sand Beach, Ice Cave, Jökulsárlón, Diamond Beach, Svínafellsjökul, Seljalandsfoss, Golden Circle, Secret Lagoon, Northern Lights
Iceland wasn't really on my radar of possible destinations until one day out of the blue, my brother messaged me with, "Hey, cheap flights to Iceland in January. Wanna go?" It was the end of December, I had never traveled with him before, and nothing was booked, but I decided to go for it. It ended up being one of the best decisions I've ever made!
As a side note, Jenny also went to Iceland and did a road trip in the spring (April). Her itinerary can be found here. The itinerary that follows is if you don't want to rent a car, but you still want to see all of the highlights!
A few things you need to know if you decide to travel to Iceland in January:
Fairly obvious but it is COLD. Bring your warmest jackets, socks, boots, etc. Everything should be waterproof as you will be surrounded by snow and ice most of the time!
There isn't a lot of sunlight. The average amount of daylight is about 5 hours. However, this leaves plenty of time for beautiful "sunrise" and "sunset" pictures, as well as a higher chance of seeing the Northern Lights!
If you do plan on driving, be VERY careful. Roads can be quite hazardous in the winter months, often with closures.
Day 1: Getting to Reykjavík and Exploring
Taking an overnight flight from the US, I landed in Keflavík International Airport at about 6:30am. I had booked the FlyBus in advance and took the 45 minute bus trip to downtown. FlyBus dropped me off in front of my hostel, Loft HI Hostel. For my entire time I stayed in Reykjavík, I stayed at this hostel and I highly recommend it! It was in a great location, affordable, and everyone was super friendly.
After checking in and getting settled, I decided to walk around downtown Reykjavík. My first stop would be the famous Hallgrimskirkja, Reykjavík's iconic church that can be seen from almost anywhere in the city. I paid the small fee to enter and climb the tower, which offers panoramic views of all of Reykjavík!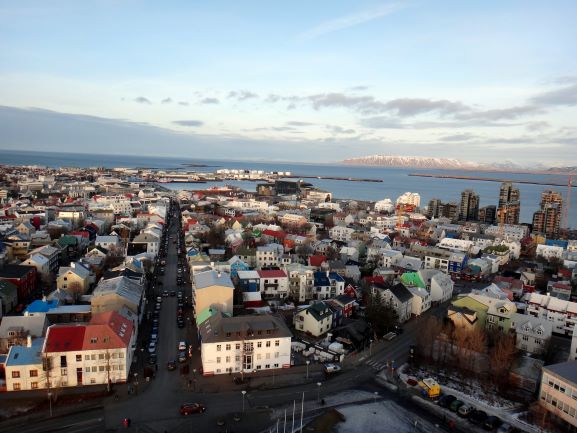 I wandered around the streets some more, but I was getting hungry and tired, so I stopped for lunch at Prikið, a welcoming pub right across from my hostel. After lunch, I gave into the jetlag and napped for a few hours. When I woke up, it was only 6pm, but it was pitch black out!
My brother had arrived by this time, and we opted to grab dinner at the Lebowski Bar. While I've never seen it, this bar is themed around the movie, The Big Lebowski. My brother seemed to really enjoy the theme, and I really enjoyed the food and drinks!
We called it a night after dinner in order to wake up early for our tour the next day!
Day 2: Skógafoss, Reynisfjara Black Sand Beach, Vik
We booked our tour with Extreme Iceland in advance (only about a week before!). We opted for the 2 day Jokulsarlon, South Coast and Ice Caving Tour due to time and money constraints. It was TOTALLY worth it though, and I recommend this tour to anyone!
Our guide picked us up at the hostel early and we were off! Our first stop was about 2 hours in, when we stopped on the side of the road to get pictures of some Icelandic horses. These horses actually look more like ponies due to their size, but don't let that fool you. They are tough!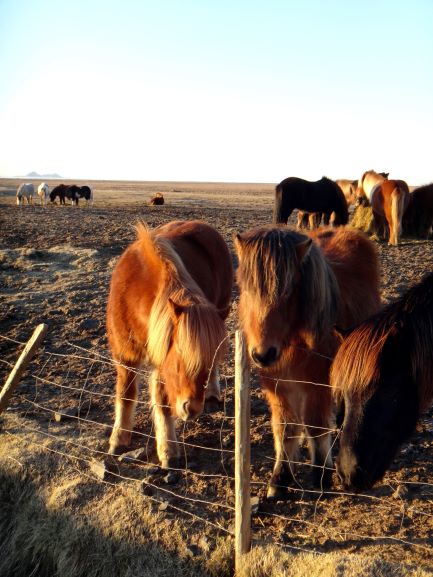 About a half hour later, we reached Eyjafjallajökull, the ice cap that covers the volcano that erupted in 2010 causing a travel disruption for almost a week in most of Europe!
In another half hour, we reached Skógafoss waterfall. Skógafoss is one of Iceland's biggest and most impressive waterfalls. Make sure to climb the 527 steps to the top! The view from there shouldn't be missed.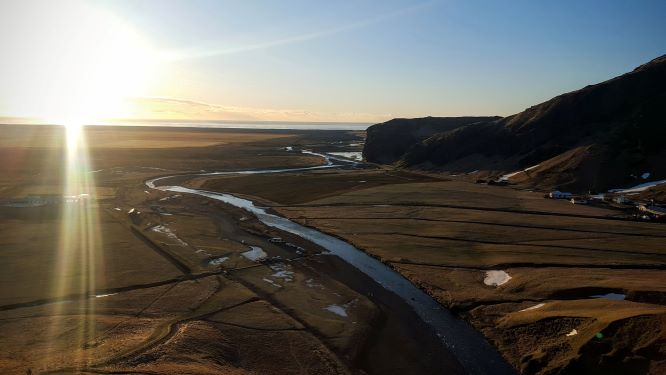 We hopped back on our tour bus, and about an hour and a half later arrived at Reynisfjara Black Sand Beach, located in Vik. This stunning beach is known for it's interesting basalt columns, and of course it's deeply black sand.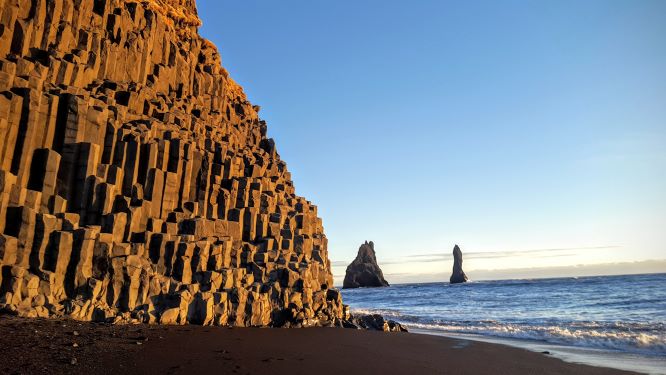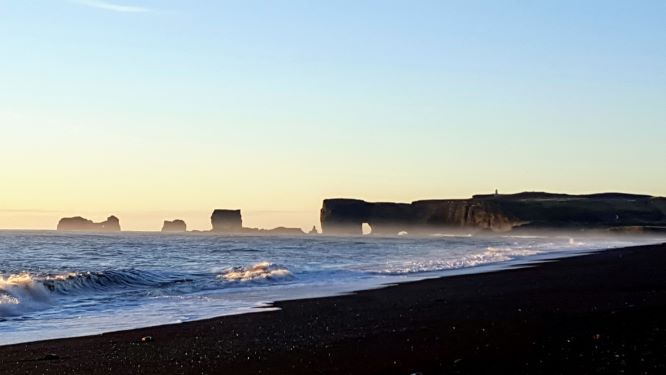 Next we drove through the town of Vik to a beautiful sunset spot on the beach. It was only 4pm, but as I mentioned earlier, the days are short! This sunset was absolutely breathtaking.
After sunset, we headed towards our lodging for the night, Hotel Gierland, a great spot to see the Northern Lights. After dinner, we waited in the cold to see the Northern Lights, but no luck. 🙁
Day 3: Ice Cave, Jökulsárlón, Diamond Beach, Svínafellsjökul, Seljalandsfoss
This day, BY FAR, was the coolest day of the trip! We woke up early, hopped in our tour bus, and headed to what looked like the surface of Mars. We were actually outside of an ice cave! Do not ask me for directions, because we were NOT anywhere near a road!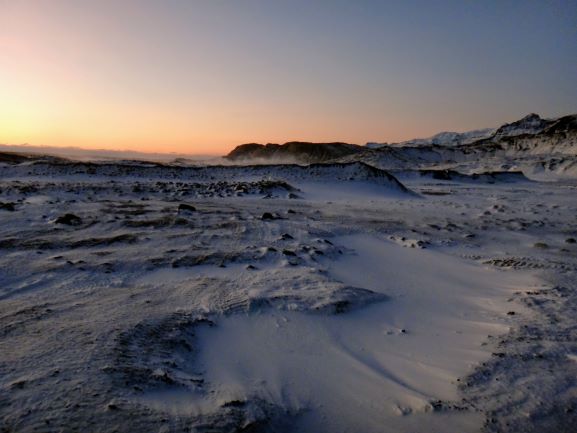 We were then suited up with crampons (little spikes for your boots) and helmets. The next two hours were truly an experience I will never forget. We entered the ice cave and explored pretty much every inch of it.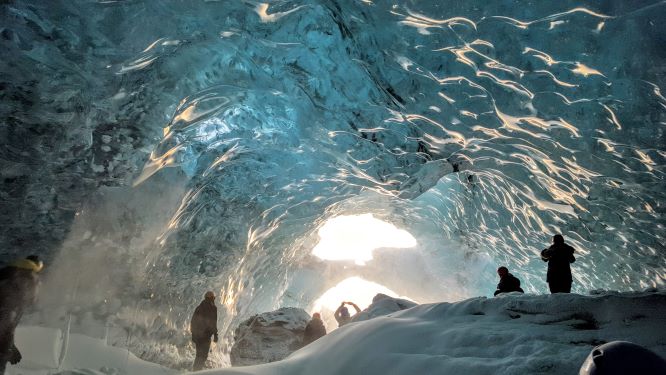 By the time we were made to leave the ice cave, it was 11am and the sun was just starting to cross the horizon. The wind was picking up and we rushed back to our tour bus to warm up as best we could.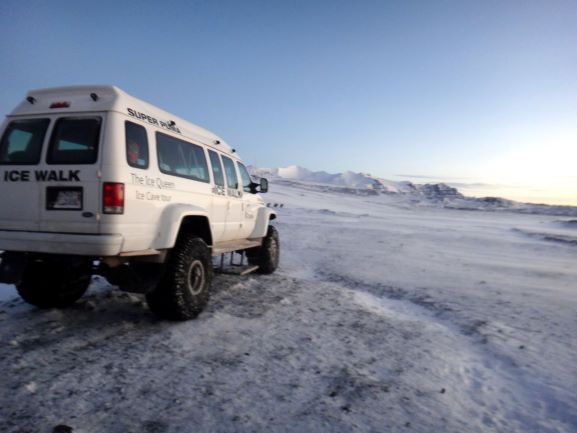 Our next stop would be about 2 hours away, at Jökulsárlón Glacier Lagoon. This beautiful lagoon is dotted with icebergs that have come from surrounding glaciers. This was one of the more "crowded" spots on our trip, but the shoreline was so long it was definitely easy to find a more secluded spot for photos.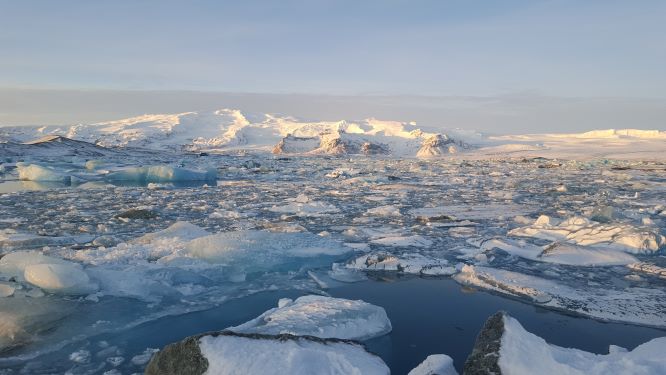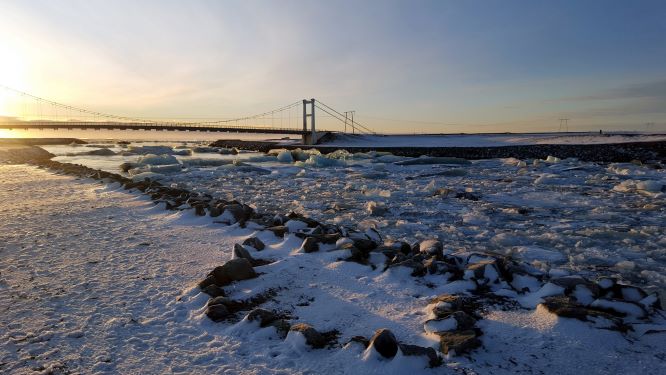 Just a short drive away, we next went to Diamond Beach. Besides the ice cave, this was probably my favorite stop of the trip! We wandered through the icebergs that had found themselves on the shores of this black sand beach.
Next, we drove to a nearby parking lot with an overlook of the highest peak in Iceland. This was just a short drive around from Diamond Beach. There are hiking trails you can take to view a glacier, but we were running out of daylight and decided to skip it.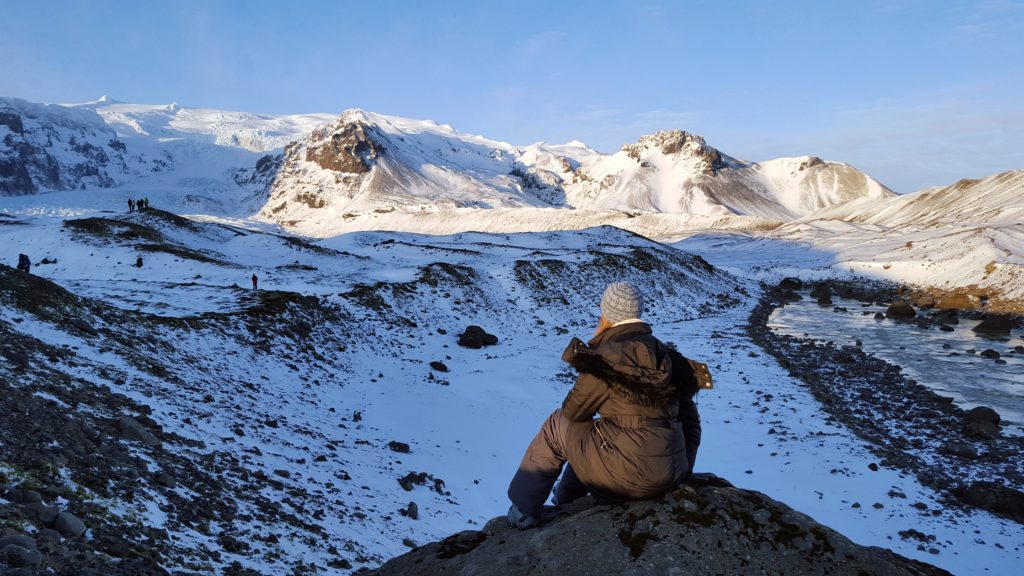 Our next stop was a hike to a different glacier! After driving about an hour and a half, we came to the parking lot for Svínafellsjökull Glacier. This walk was a bit treacherous, and some of the tour group decided to skip it due to safety concerns. However, for me, the view was totally worth it!
Our final stop of the trip would be Seljalandsfoss, a waterfall that can be fully encircled (you can hike around the back of it). By the time we arrived there, the sun had already set and the entire trail was ice. This was, by far, our coldest spot, as the mist coming off of the waterfall made my hair also turn to ice. We did NOT make it around the back. We hardly made it up the stairs.
Two hours later, we arrived back at our hostel, Loft HI Hostel, in Reykjavík.
Day 4: Reykjavík and Northern Lights
I hadn't had much time to explore Reykjavík on my first day there, so I used this day to catch up on what I had missed. I headed towards the Harbor and made the long walk towards the Grótta Island Lighthouse. This actually ended up being about a 3 mile walk (one way!) and took up most of my daylight time. To be fair, I did get a late start. Regardless, I probably would not recommend this unless you took a taxi to save some time.
The walk back along the promenade was quite beautiful with the setting sun. Although I started to get tired of walking, sitting was not an option. 🙂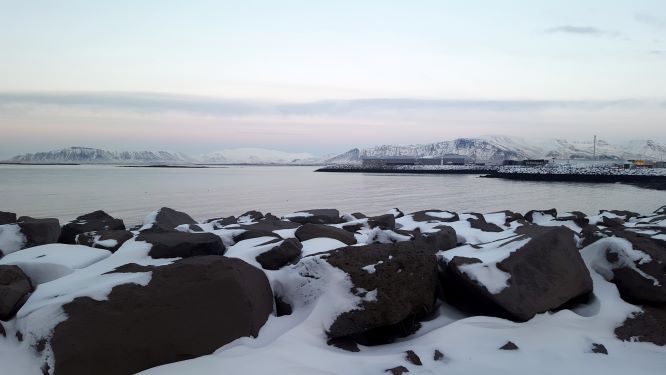 That night, the Northern Lights forecast was excellent, so I quickly booked a tour to help me in my search. The tour bus was gigantic, and completely full, and at every stop there were 3-4 buses full of people hoping to catch a glimpse. However, it was totally worth it!! We got to see a fantastic showing of the Northern Lights!! At the time, I only had my cell phone on me, so I apologize for the poor quality.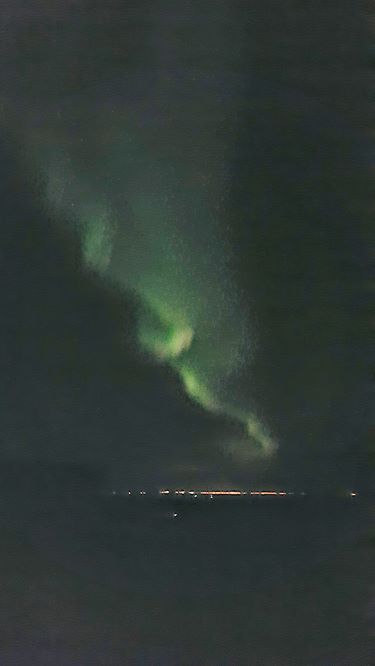 That night I went to bed ecstatic, checking off an item on my bucket-list.
Day 5: Golden Circle and Secret Lagoon
Many people in my hostel suggested I use this day to go to the Golden Circle. The Golden Circle is a loop with some of Iceland's most visited attractions.
As the Blue Lagoon was closed at the time, I booked a tour with both the Golden Circle and Secret Lagoon. I was picked up from my hostel early in the morning, and we were off to Þingvellir, an Icelandic national park where the American and Eurasian tectonic plates meet! You can even go snorkeling here, but I opted against it.
We were given free time here to walk along the paths, exploring as we wished.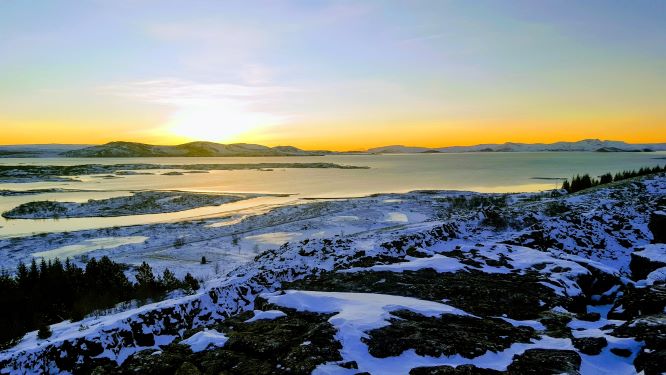 Our next stop would be Strokkur, a geyser that erupts typically every 6-10 minutes. It was my first time seeing a geyser, and I was amazed by the power that was expelled.
We were given ample time to walk around the park to the other geysers in the area, of which they were plenty (although less powerful).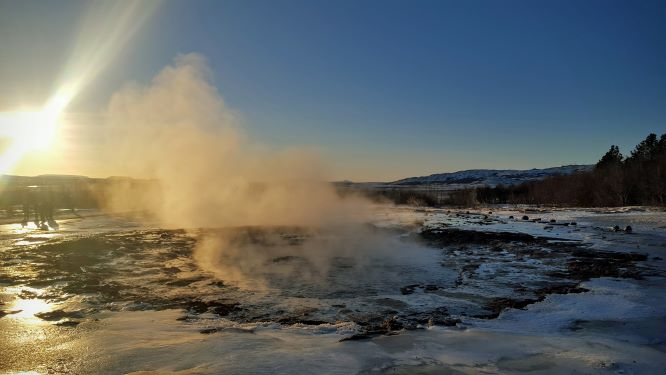 Next, we headed to Gullfoss Falls, one of Iceland's most iconic waterfalls. It was mostly ice at this time, but still an amazing site to see! Make sure to stop at the multiple viewpoints!
Our next stop was the Faxi Waterfall. This waterfall was slightly less impressive, but still a nice stop.
Our final stop would be the Secret Lagoon. I was SUPER nervous about this part, as I did not want to get completely naked in front of a bunch of strangers (in Iceland, it is mandatory to shower naked in a big room before entering a lagoon). To be honest, yes, it was a bit weird. I had just spent the entire morning talking to my tour mates and now we were getting naked together. But surely enough, I kept my head down, didn't lock eyes with anyone, kept quiet and it was soon over.
The lagoon itself was amazing. The waters were around 100 degrees, and it is much more natural than the Blue Lagoon (which actually gets it's water from the geothermal plant next door). I relaxed in this pool as the sun set.
Our Golden Circle tour ended up back in Reykjavík. While still VERY cool, I was a little underwhelmed after coming back from the ice cave/Diamond Beach. If I were to do it again, I would do this tour first.
Day 6: Last Full Day in Reykjavík
Throughout my various tours, I had asked people what else there was to see in Reykjavík. One of the most common answers I received was Baejarins Beztu Pylsur, or "the best hot dogs in town"! I decided to check it out for lunch on my last day. It was a little stand near the center of Reykjavík. They had a sign hanging up with notable people who had eaten there before, including Bill Clinton!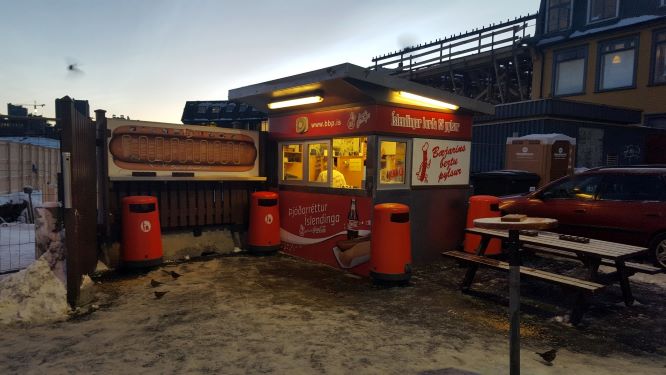 To be honest, the hot dogs were good, but they didn't change my life. My next stop would be the Prime Minister's Office. It's right in town and I barely even noticed it. Very cute, though!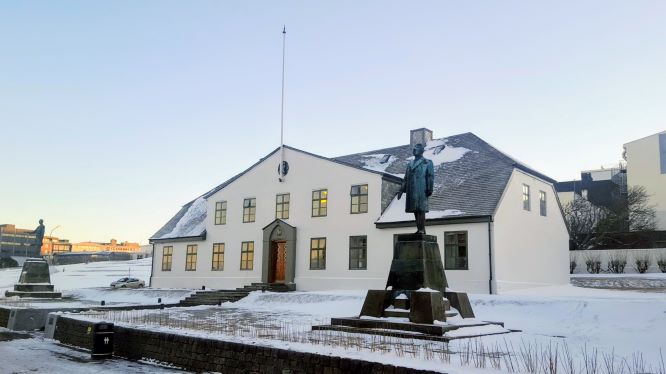 Next, I walked over to the Harpa Concert Hall. This building is famous for it's honeycomb architecture which mimics the basalt columns found in Iceland. You can take guided tours of the inside if you wish.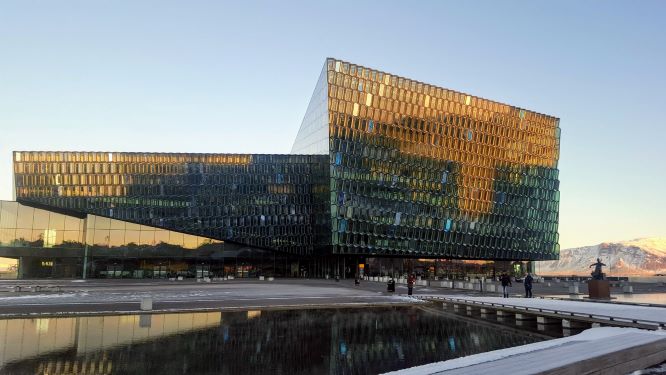 I grabbed dinner at the nearby Chuck Norris Grill, because why not? Then I made some friends at the hostel and we all spent the night partying in downtown Reykjavík before saying our goodbyes.
Day 7: The Journey Home
After checking out of my hostel, I took the FlyBus back to the airport and flew home. This trip is definitely the most unique that I've taken (I typically travel in the warmer months), but it was also one of the best.
I traveled with a GoPro on this trip and made a YouTube video, if you want to check it out here. Fair warning: I don't really know how to use a GoPro and the video is a bit jumpy.
I also broke down my finances for this trip, and although on the higher side of what I typically spend since I used mostly guided tours, this trip ended up coming me around $1,725. Here is the breakdown (in 2016):
| | |
| --- | --- |
| | Cost |
| Flight | $380.00 |
| Extreme Iceland Tour (2 day) | $518.00 |
| Loft Hostel | $280.00 |
| Northern Lights/Golden Circle Tours | $108.00 |
| FlyBus | $40.00 |
| Misc Food and Drink | $400.00 |
| Total | $1,726.00 |
As always, if you have any questions, feel free to contact us here.